Coin Race: Top Winners/Losers of May; BTC, ETH in Red, Cardano Led Top 10
Disclosure: Crypto is a high-risk asset class. This article is provided for informational purposes and does not constitute investment advice. By using this website, you agree to our terms and conditions. We may utilise affiliate links within our content, and receive commission.
March was mega green, April was really green, and May was…well, let's take a look.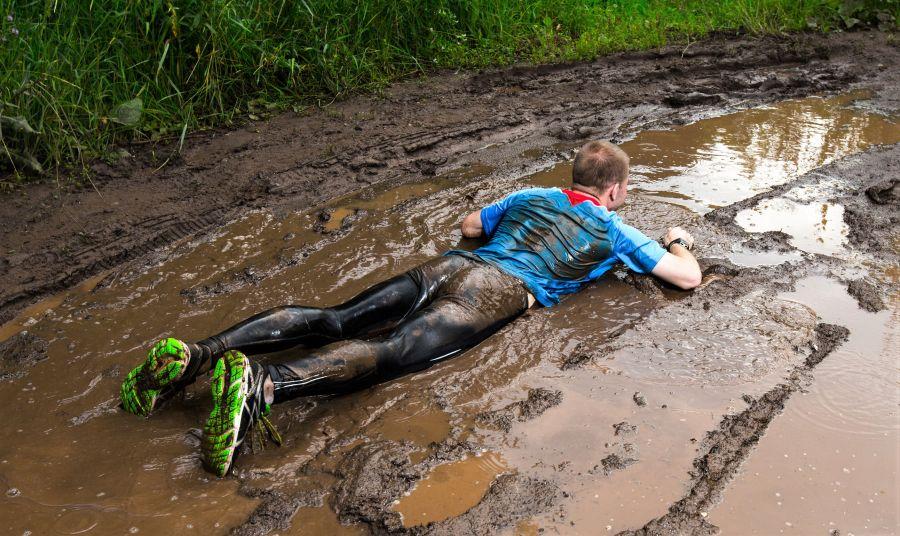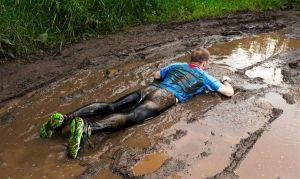 The month was certainly marked by the dramatic selloff, followed by the expected consolidation. Bitcoin (BTC) was trading between USD 31,000 and USD 40,000 in the second half of the month, while ethereum (ETH) bounced back over USD 2,000 after the brief dip below this level, and continued trading between some USD 2,200 and USD 2,600.
After ETH had been outperforming BTC consistently over the month of April, it also had a much better month percentage-wise than bitcoin in May as well – even though both have dropped over the past 30 days, BTC is standing on the higher drop side, so to say, while ETH stands on the lower one.
Both also saw significant drops from their all-time highs: BTC fell 43% from USD 64,804 reached on April 14, and ETH 39% from USD 4,356 hit on May 12 (per CoinGecko).
Co-Founder & CEO of Digital Asset Capital Management, Richard Galvin, noted that May was the second-worst month on record for bitcoin, while per Messari's Mira Christanto, it was the worst month so far. She added that "other than excess leverage (has since been normalized), everything still points to a bull market."
Analysts and commenters at large pointed to a wide range of possible causes behind the selloff. This includes overheating market, large liquidations of leveraged positions, Elon Musk's tweets about bitcoin and Musk-run car giant Tesla stopping the just recently enabled payments in this currency, environmental concerns that permeated much of the Bitcoin conversation, as well as the tighter regulation on crypto mining and trading in China. On top of that, there are some signals of possible tighter regulations in the US as well.
The combination of these had led quite a few new investors to panic and enter the sell mode.
Meanwhile, as Ethereum pushes toward EIP-1559, one of Bitcoin's biggest upgrades, Taproot, now appears to be in sight with a possible success of the Speedy Trial activation method.
But let's take a closer look at the top coins' performance over the past 30 days.
Top 10 Coins in May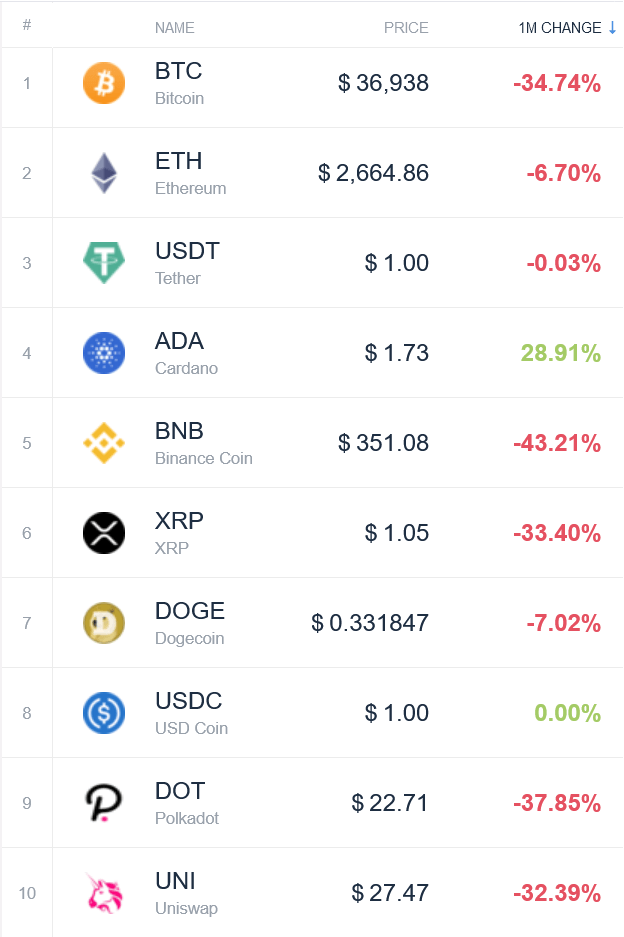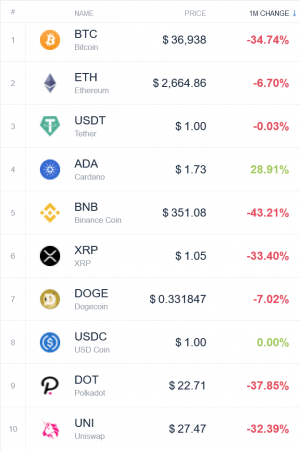 The top 10 coins by market capitalization, it's safe to say, did not have a good month. With one exception.
As prices were dropping left and right, cardano (ADA) appreciated 29%. As for the latest developments, IOHK announced a ERC-20 converter, which they said will allow Ethereum tokens to run on our proof-of-stake blockchain, adding that it will come to the testnet in June. Once the Alonzo hard fork and Plutus smart contracts are deployed, users can migrate ERC20 tokens to Cardano.
Additionally, Cardano development firm IOHK is developing a suite of Marlowe products to "democratize finance and enable easy access to financial agreements," they said.
Meanwhile, the rest of the top 10 coins dropped between 6% and 44%. The red leader here is binance coin (BNB), whose price dropped 44% during the month of May.
The relatively close second place is taken by polkadot (DOT)'s 38%, followed by bitcoin's 35%.
Between 30% and this bitcoin's percentage are also XRP and uniswap (UNI).
The least to drop are dogecoin (DOGE) with nearly 8% and ethereum with almost 7%.
Top winners in May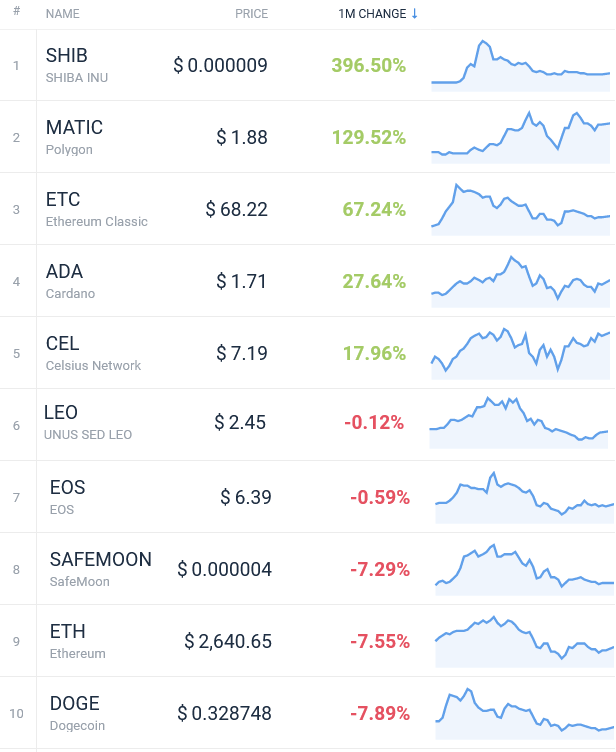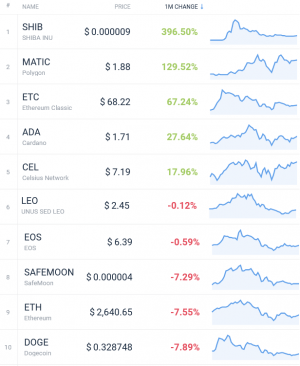 Having such a selloff as May had, it's not surprising then that we'd have very few coins that got out of the month green. Nonetheless, we have some – just five of them out of the top 50 by market capitalization.
The winner is shiba inu (SHIB), which appreciated 397% over the past month. SHIB found itself in the centre of attention last month, calling itself the DOGE killer, with quite a few commenters alleging it to be a scam. However, the team had put 50% of SHIB's total supply into the wallet of Ethereum co-founder Vitalik Buterin, who then burned nearly all of the SHIB tokens in his possession and donated the rest. The month of May brought quite a few listings on the exchanges as well.
Next in line is polygon (MATIC), which is up by 130%, followed by ethereum classic (ETC)'s rise of 67%. Both of these were among the winners in April as well.
At one point, Polygon surpassed Ethereum in the number of transactions, and has been discussed as a possible competitor to Binance Smart Chain (BSC). The team also announced Polygon Software Development Kit (SDK), and billionaire investor Mark Cuban added the platform to his list of backed companies.
And as for ETC, as mentioned last month, IOHK has a dedicated team working on the ETC Mantis project – the only client written natively for Ethereum Classic. Near the end of May, this team announced that developers can now deploy smart contracts onto the Sagano testnet with Truffle, a development environment, testing framework, and asset pipeline for Ethereum.
These are then followed by ADA, as well as celsius network (CEL) with a nearly 18% increase to its price. Among other announcements, Celsius made an exclusive partnership with Brooklyn Nets' star Spencer Dinwiddie at the end of May "aimed at building awareness around the value of earning and lending on the blockchain and advancing cryptocurrency as the asset class of the future," as they said. Dinwiddie will be paid entirely in CEL for participating in campaigns and media events. The team also announced that users will soon be able to earn yield on their BNB in the Celsius app, while in partnership with partnership with B21 Crypto, they launched the Earn feature for users to earn up to 18% APY on all their crypto assets.
Top losers in May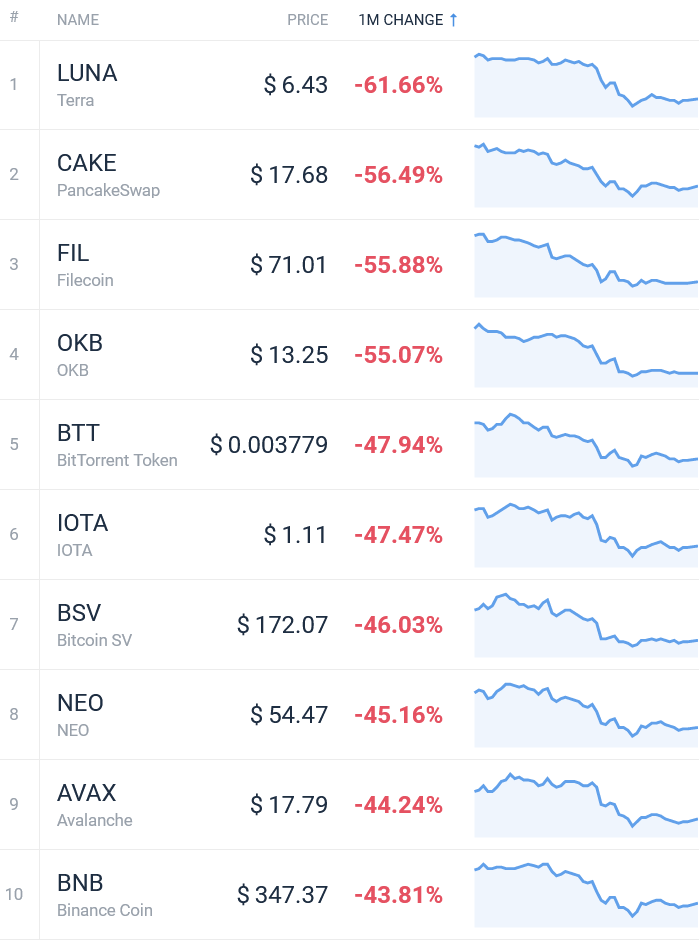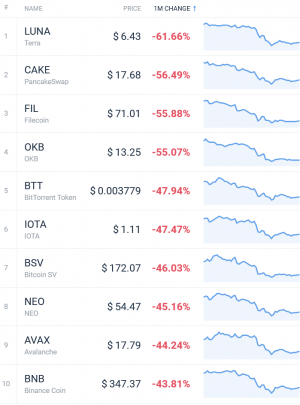 We may not have had many green coins to show for the past month, but we certainly have plenty of red ones – a full list of the 10 highest falls, all double-digit, and none lower than 40%.
At the top of this list is terra (LUNA), the price of which decreased 62%.
It's followed by a last month's winner (actually, a few on this list were the winners last time) – pancakeswap (CAKE), which dropped 57%. Also in the 55% range are filecoin (FIL) and OKB.
The remaining coins' drops all sit in the range between bittorrent token (BTT)'s nearly 48% and avalanche (AVAX)'s 44%, with the lowest being the mentioned BNB's drop.
Winners & losers from top 100
Zooming out to check out the situation among the top 100 coins by market capitalization…and it's not much better. And even when expanding the list, we still don't have a full list of 10 green winners.
The list we do have is also led by SHIB, followed by telcoin (TEL)'s increase in price of nearly 220%. Then, we have the mentioned MATIC, ETC, ADA, and CEL. Fei protocol (FEI) and gatechaintoken (GT) take the last two places here, appreciating 4% and 2%, respectively.
On the red side, the list is led by LUNA, with fantom (FTM)'s 58% on the second place, and siacoin (SC) following it closely with 57%. Then come the mentioned CAKE, FIL, and OKB, as well as digibyte (DGB), the graph (GRT), and chiliz (CHZ), with the later three dropping between 50% and 55%. The last on the list are BTT and IOTA's 47%.
Top NFTs
Non-fungible tokens (NFTs) have been absolutely everywhere within and outside the Cryptoworld – one couldn't go a day without an abundance of NFT launch announcements – but that also came with the possibility of oversaturation. The NFT tokens market capitalization at the time of writing on Tuesday morning (UTC) is USD 17.2bn, with a total trading volume of USD 1.7bn in the last 24 hours.
That said, the top 10 NFT-based tokens, in the past 30 days, have all dropped between roughly 30% and 60%.
Alien worlds (TLM) saw the biggest fall among the ten we're looking at – 58%, and it's relatively closely followed by ecomi (OMI)'s 57%, and flow (FLOW)'s 55%. Axie infinity (AXS) also dropped just over 50%.
In the next category, that of the 40-percenters, are chiliz (CHZ), decentraland (MANA), wax (WAXP), and enjin coin (ENJ), with drops between 50% and 40%.
The least to drop among the ten are theta network (THETA) with 36% and bakeryswap (BAKE) with 34%.
___
Learn more:
– DeFi Spectacular Returns Unsustainable In Long-Term – Research
– Weeks Of Sideways Trading Ahead as Bitcoin Newbies Panic Selling to Hodlers
– Fundstrat's Tom Lee Boosts Bitcoin Target 25% Despite Musk's Criticism
– Bitcoin May Double This Year Despite Energy Concerns – Pantera CEO
---