Cardano Rally Continues as Hoskinson Suggests Litecoin Collaboration
Cardano (ADA) continued its rise higher today, after also seeing massive gains in price on both Monday and Tuesday this week. At the same time, Cardano-founder Charles Hoskinson raised the idea of a collaboration between Litecoin (LTC) and his platform, just as Cardano undergoes one of its most important upgrades to date.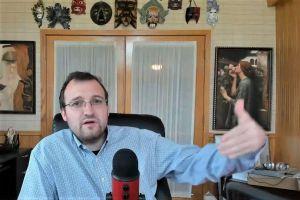 As of press time on Wednesday (12:19 PM UTC), ADA, ranked 6th-7th by market capitalization, was up by 20% in a day, making it today's third-best performer in the top 100, following only vechain (VET) and dogecoin (DOGE) (read more about the DOGE rally here). The asset has also seen a rise of a whopping 52% over the past 7 days, and is currently trading at USD 0.13. The price is also by 55% in a week and 69% in a year.
This week's massive rise for ADA compares to a 7-day gain for competing smart contract platforms Ethereum (ETH) and Tezos (XTZ) of 7% and 10.5%, respectively.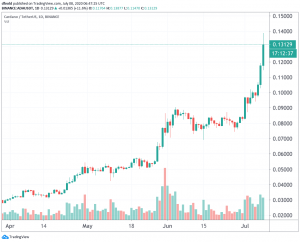 Meanwhile, as mentioned, Charles Hoskinson reached out to LTC creator Charlie Lee on Twitter yesterday, telling him that "it would be great to do something together." Specifically, Hoskinson seemed eager to test out cross-chain communication between the two blockchains, saying his team "got a lot of ideas."
A few hours later, Charlie Lee replied "sure," before suggesting that Hoskinson should reach out to project director David Schwartz at the Litecoin Foundation.
In addition to the potential collaboration with Litecoin, Cardano is also in the midst of upgrading to its highly anticipated Shelley mainnet. As previously communicated by Hoskinson, who is also the CEO of the Cardano development firm IOHK, the upgrade was to be shipped out to users in June, and according to IOHK, the first Shelley node on the mainnet went live on July 1.
While the previous "Byron era" in Cardano's development plan focused mainly on community-building, the Shelley upgrade promises to bring increased decentralization to the platform.
The gains over the past few days also come after Cardano last week announced a partnership with Coinbase for custody and staking support of ADA. According to the deal, institutions and other large ADA holders will get the option to store their assets in Coinbase Custody's cold storage, without losing the ability to delegate their stake. The feature should be available sometime in the fourth quarter of 2020.
---