Can You Buy a Car with Crypto? How to Buy Cars with Bitcoin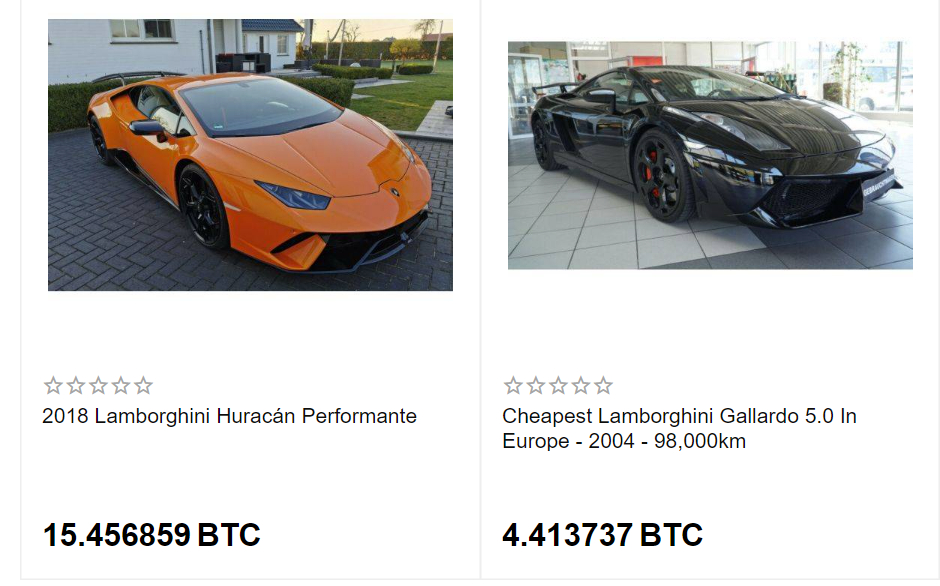 There are many things that can be bought with Bitcoin and other cryptocurrencies - and cars are no exception.
In this guide, we explore how to buy a car with Bitcoin in 2023. We also discuss where to buy a car with Bitcoin, reviewing the top six dealers in the market.
Can You Buy a Car With Bitcoin? Quick Guide
Below, we explain how to buy a car with Bitcoin on Crypto Emporium - a leading marketplace for vehicles of all budgets:
Step 1: Open a Crypto Emporium Account - First, visit the Crypto Emporium website and open an account. Simply enter some personal information and contact details to complete the registration form.
Step 2: Browse Cars - Crypto Emporium lists cars from dozens of manufacturers. This ranges from Fiat, Ford, and Toyota to BMW, Lamborghini, and Tesla. Use the search filters to find the perfect car.
Step 3: Review Shipping Information- After selecting a car, review the shipping information displayed by Crypto Emporium. This will display the estimated delivery time and the total shipping fees.
Step 4: Choose Crypto and Pay - To complete the payment process, choose a preferred crypto, with options including Bitcoin, Ethereum, Dash, Dogecoin, Tether, and more. Crypto Emporium will then display the wallet address to send the funds.
Step 5: Wait for Shipment - Crypto Emporium will then begin the shipping process to the stated delivery address. At any given time, the buyer can contact Crypto Emporium should they need assistance.
Further down in this guide, we provide a more detailed explanation of how to buy a car with Bitcoin.
Where to Buy a Car With Bitcoin - Top 8 Crypto Car Dealers
When answering the question - 'can you buy a car with Bitcoin?' - it is important to do some research on potential dealerships.
In this section, we discuss the six best places to buy a car with crypto in 2023.
1. Crypto Emporium - Best Place to Buy a Car With Bitcoin
Overall, Crypto Emporium is the best place to buy a car with Bitcoin. This online marketplace was launched in 2018 and lists cars from over 40 manufacturers. This includes everything from Lamborghini, Tesla, Ferrari, Porsche, and BMW, to Rolls-Royce, Land Rover, Audi, Mercedes-Benz, and Toyota.
There are cars to suit all budgets, with more cost-effective options including Honda, Fiat, Ford, Hyundai, Citroen, and Volvo. We found that choosing a suitable car is simple on Crypto Emporium, as the platform offers plenty of custom filters. In addition to the car manufacturer, this includes the total mileage, price, and the year the car was made.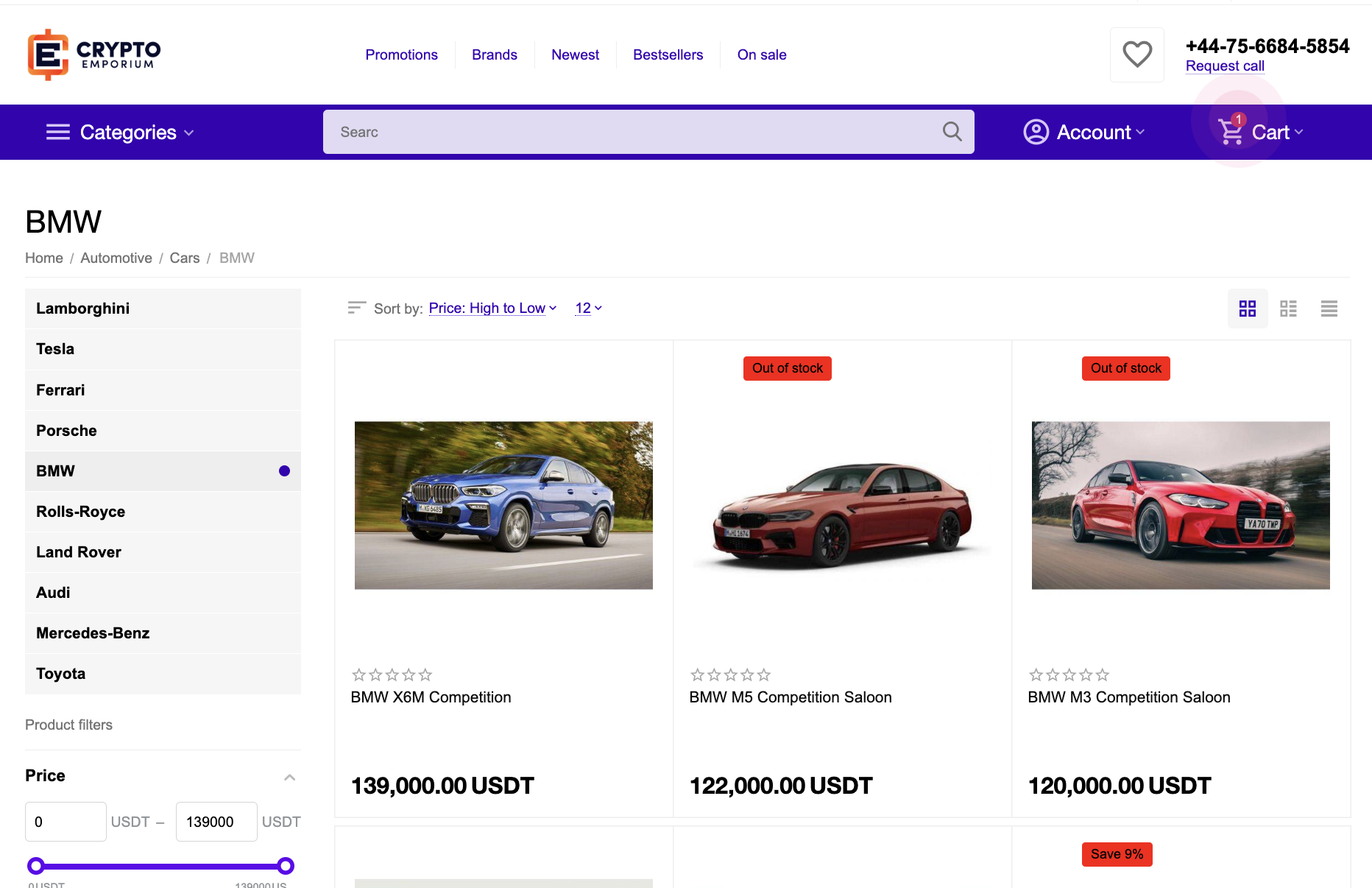 We found that prices on Crypto Emporium are competitive too. For example, a 2020 BMW M340i xDrive is listed for $70,750, while a BMW M3 Competition Saloon is available at $120,000. Moreover, a Honda Civic Type R 2.0 Hatchback is listed at just $47,000, and a Ford Mustang 5.0 at $62,000.
Those with a huge amount of crypto to spend will find plenty of supercars. For example, Crypto Emporium lists an Aston Martin Valkyrie for just under $4 million. While a 2020 McLaren Speedtail is available for $3.25 million. When it comes to shipping, Crypto Emporium takes care of the end-to-end process. Crucially, cars are delivered directly to the buyer's door.
Those based in the UK and Europe will have all custom fees taken care of. Those based in other regions might need to pay additional importation fees. In this instance, Crypto Emporium can assist with the process. Either way, we like that Crypto Emporium clearly displays the shipping fee and estimated number of days for the car to arrive.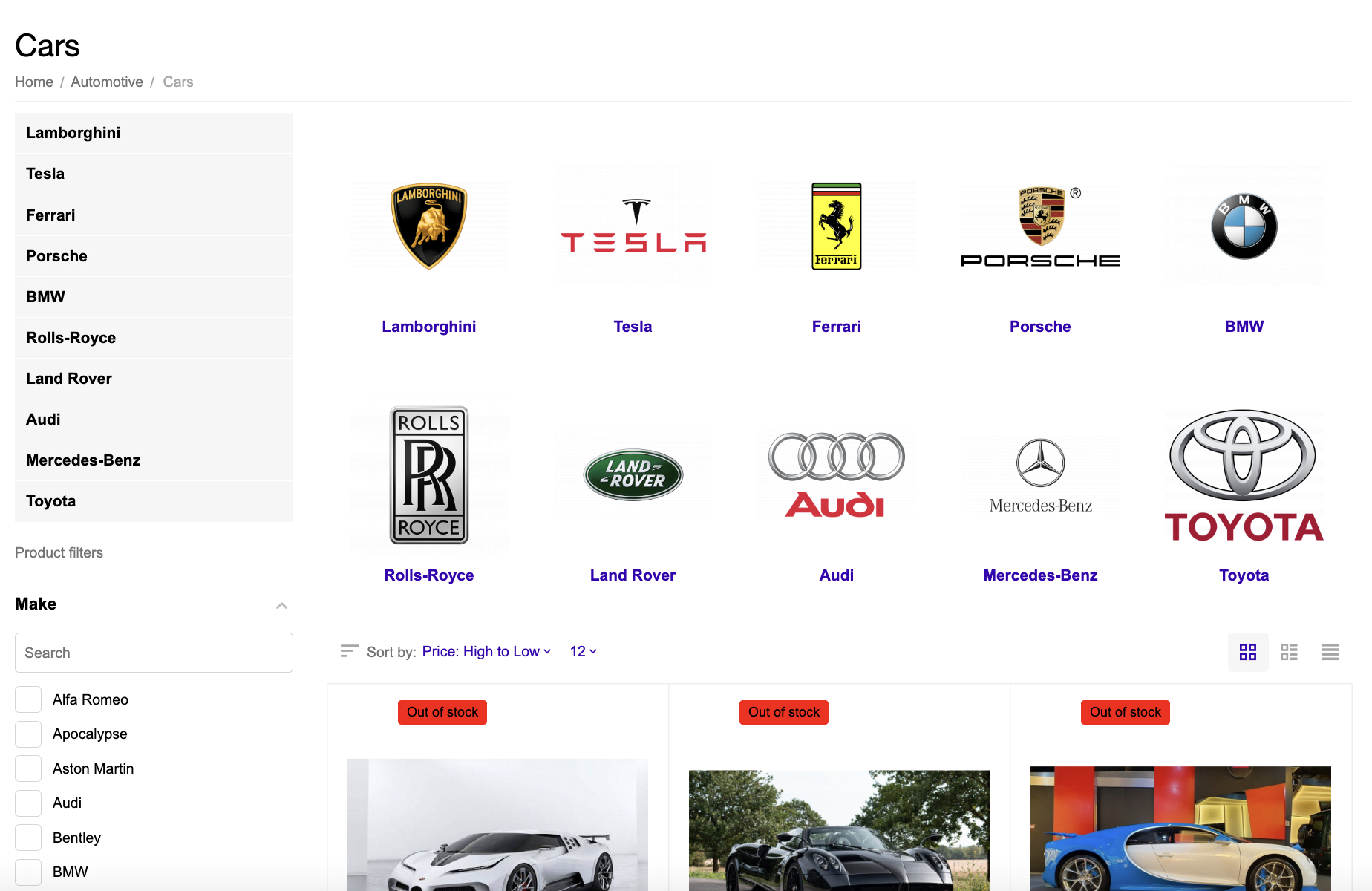 For example, shipping a Ford Mustang 5.0 to the UK will cost just $400 and the estimated delivery time is between 20-30 days. Another benefit of choosing Crypto Emporium when buying a car with crypto is that it offers a generous cashback program. All purchases are eligible - including cars. The cashback amounts to 4% and is paid in crypto tokens.
We also like that the customer care team is just a click away via the live chat box. This operates 24/7. Those that prefer speaking with customer care on the telephone are also supported. Buyers can request a callback to any supported country. In terms of payments, this is also seamless at Crypto Emporium.
Buyers can select their preferred cryptocurrency, and the platform will display the wallet address. Payments are then made on a wallet-to-wallet basis, ensuring complete safety and security. We should also note that Crypto Emporium lists many other products on its marketplace. For instance, it's possible to buy watches with Bitcoin.
Popular brands include Rolex, Richard Mille, Patek Philippe, Omega, and dozens more. Other product categories include electronics, online courses, designer clothing, fine art, and even real estate. The latter includes apartments and houses in over 40 countries, covering Europe, North America, Asia, and much more.
Read our full Crypto Emporium review here.
2. Bitcars - Buy Premium and Luxury Cars With Bitcoin
Bitcars is also worth considering when exploring how to buy a car with Bitcoin. This online platform largely specializes in premium and luxury cars. Some of the car brands supported include BMW, Ferrari, Jaguar, Bugatti, Audi, Bentley, Aston Martin, and Lexus. Others include Mercedes-Benz, McLaren, Lamborghini, Jeep, and Tesla.
There are also brands for cost-effective purchases, such as Ford, Honda, and Volvo. To offer some insight into pricing, an Aston Martin DBS V12 Satin Jet Black is listed for 15.4 BTC. A more luxurious Vanquish Zagato Shooting Brake model is available for 41.1 BTC. If money is no object, Bitcars lists a Bugatti Chiron for 157.6 BTC.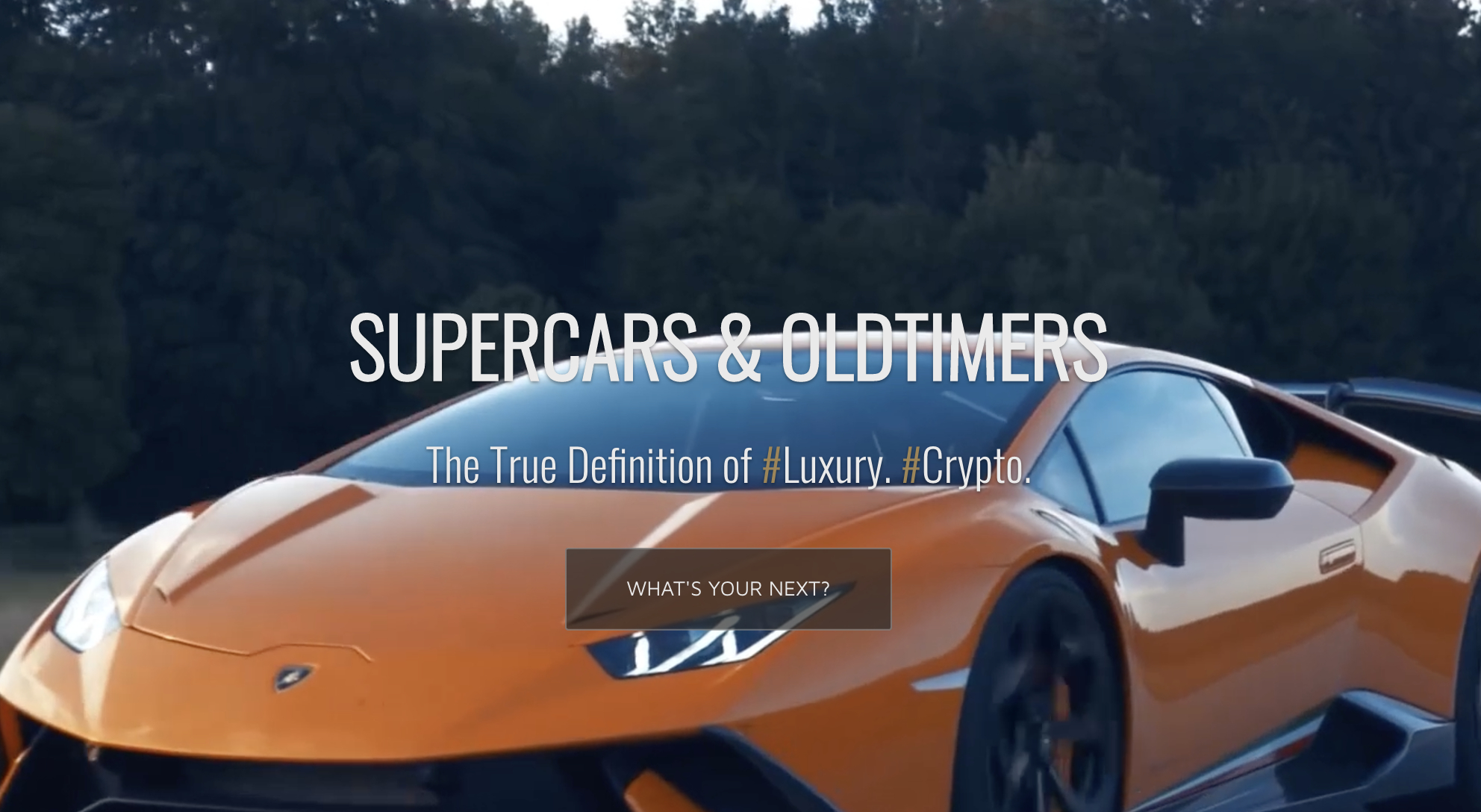 Those on a budget might consider a Mercedes-Benz S 600 Factory armor B7 at 1.7 BTC. A Tesla Model 3 Standard Range can also be purchased for just 1.7 BTC. In addition to cars, Bitcars also supports other vehicle types. This includes motorbikes, off-road UTVs, classics, and even motorhomes. Bitcars even lists a range of luxury yachts.
In terms of the specifics, we like that Bitcars guides the buyer through the entire end-to-end process. It only sources cars from well-established dealerships and ensures that new purchases come with a warranty. The platform offers full worldwide delivery in addition to collection services. If needed, Bitcars can even assist with the documentation process.

If a particular vehicle isn't listed on Bitcars, the platform offers a free finder service. This means that Bitcars will utilize its network of dealerships to find the buyer's perfect model. When it comes to delivery times, Bitcars notes that most vehicles can be shipped as soon as the payment is received.
Bitcars supports Bitcoin and some of the best altcoins. This includes Bitcoin Cash, Ethereum, Litecoin, Dogecoin, and Stellar. Payments are processed by OpenNode and Colorcrypto, and specific exchange rates are provided on the invoice. Buyers can then transfer the exact amount in their chosen crypto to complete the process.
3. AutoCoinCars - UK-Based Platform Connecting Crypto Buyers With Dealerships
AutoCoinCars is a UK-based platform that connects crypto buyers with car dealerships. This option is best suited for those on a budget, with many cars listed for under $10,000. For example, AutoCoinCars lists a SEAT Leon 1.6 CR TDI SE COPA 5d 103 BHP at just $5,343.
While an Audi A3 2.0 TDI Sport Euro 5 (s/s) 3dr is available at just $9,923. Thousands of other cars are available to suit all budgets. For example, a 2022 Isuzu D-Max 1.9 TD DL40 Double Cab Pickup Auto is listed at just under $60,000.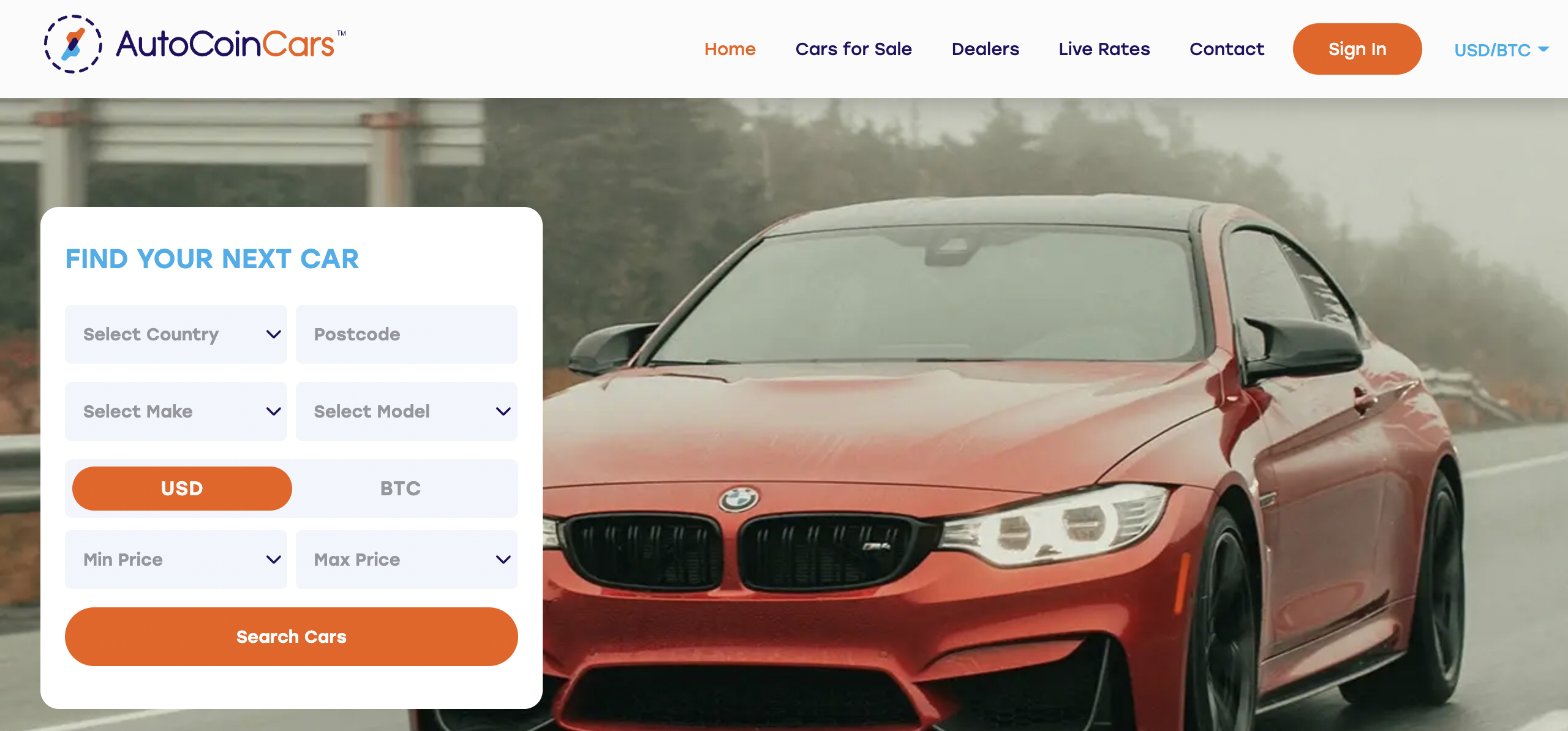 We like that AutoCoinCars offers plenty of filters, making it simple to find a suitable car. This includes the make, model, body type, mileage, engine size, and minimum/maximum price.
The main drawback with AutoCoinCars is that the platform charges a processing fee of between 3-8%. In comparison, Crypto Emporium charges just 0.87%. Moreover, the vast majority of cars are listed in the UK.
4. Carriage Auto Group - New and Used Cars for US-Based Buyers
Carriage Auto Group is a US-based network of car dealerships. It offers both new and used cars across selected manufacturers, KIA, Nissan, and Mazda. This dealership has been in business for over 25 years, so buyers can expect a bespoke customer experience.
To find the perfect car, use the filters on the Carriage Auto Group website. This includes the make, model, body style, color, mileage, transmission, price, year, and much more. Unlike many traditional car dealers, Carriage Auto Group offers live customer support via a chat box.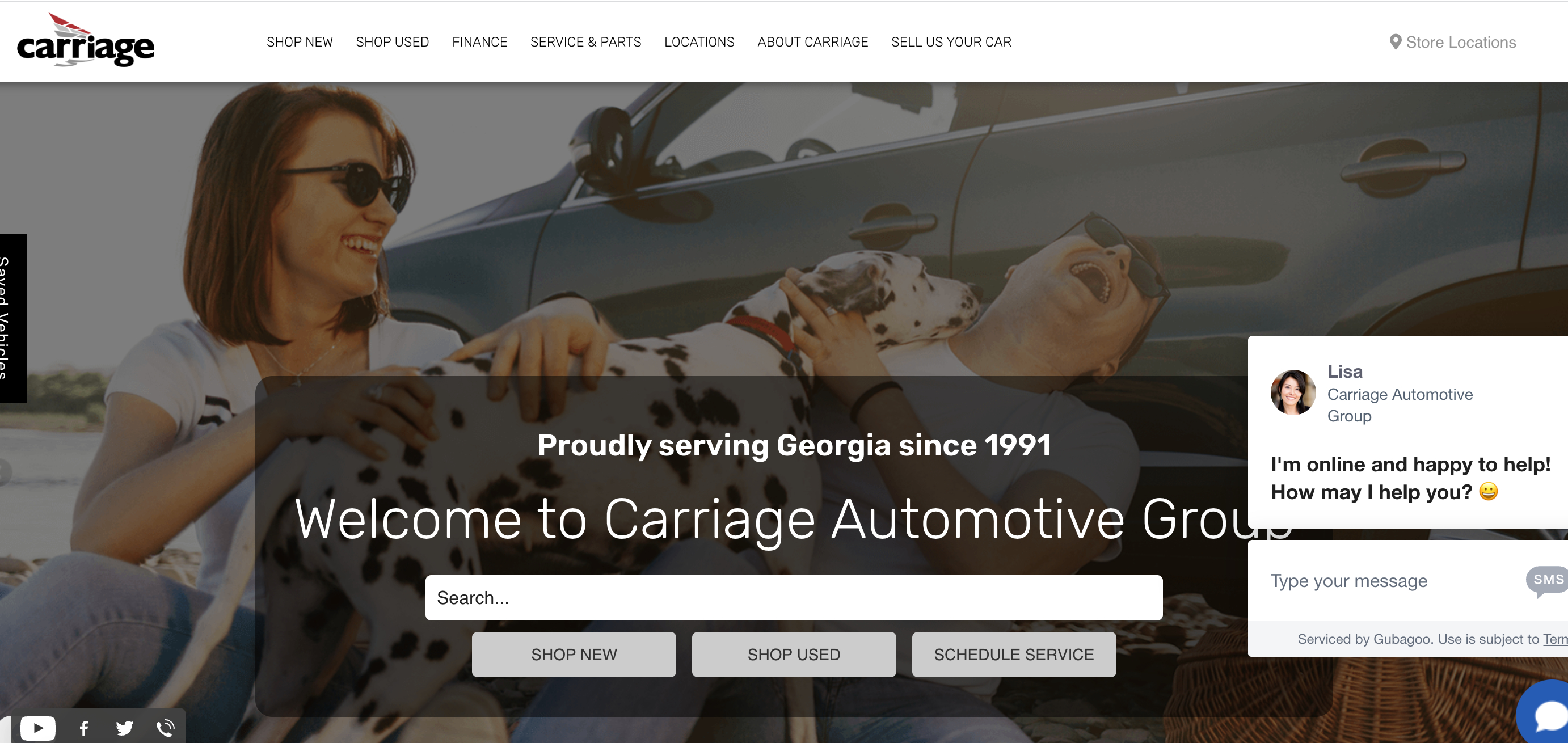 This makes it seamless to receive real-time assistance when choosing a car. In terms of payments, Carriage Auto Group has partnered with Coinbase to accept crypto. Buyers will need to transfer the full purchase amount, including tax and title deeds. Other cryptocurrencies are not accepted, and when using Bitcoin, financing is not available.
5. Karabakh Motors LLC - Buy Ultra-Luxurious Cars With Crypto
Based in Dubai and wondering how to buy a car with Bitcoin? Look no further than Karabakh Motors LLC. This established car dealership specializes in ultra-luxurious vehicles. Ferrari 812 Superfast is available at just over 2.5 million AED.
While a McLaren can be purchased for just over 1 million AED. Karabakh Motors LLC also has a Mercedes-Benz G63 listed for 4.5 million AED. This car dealership offers two purchasing options. First, those based in Dubai can visit the dealership for a test drive and complete the Bitcoin payment in person.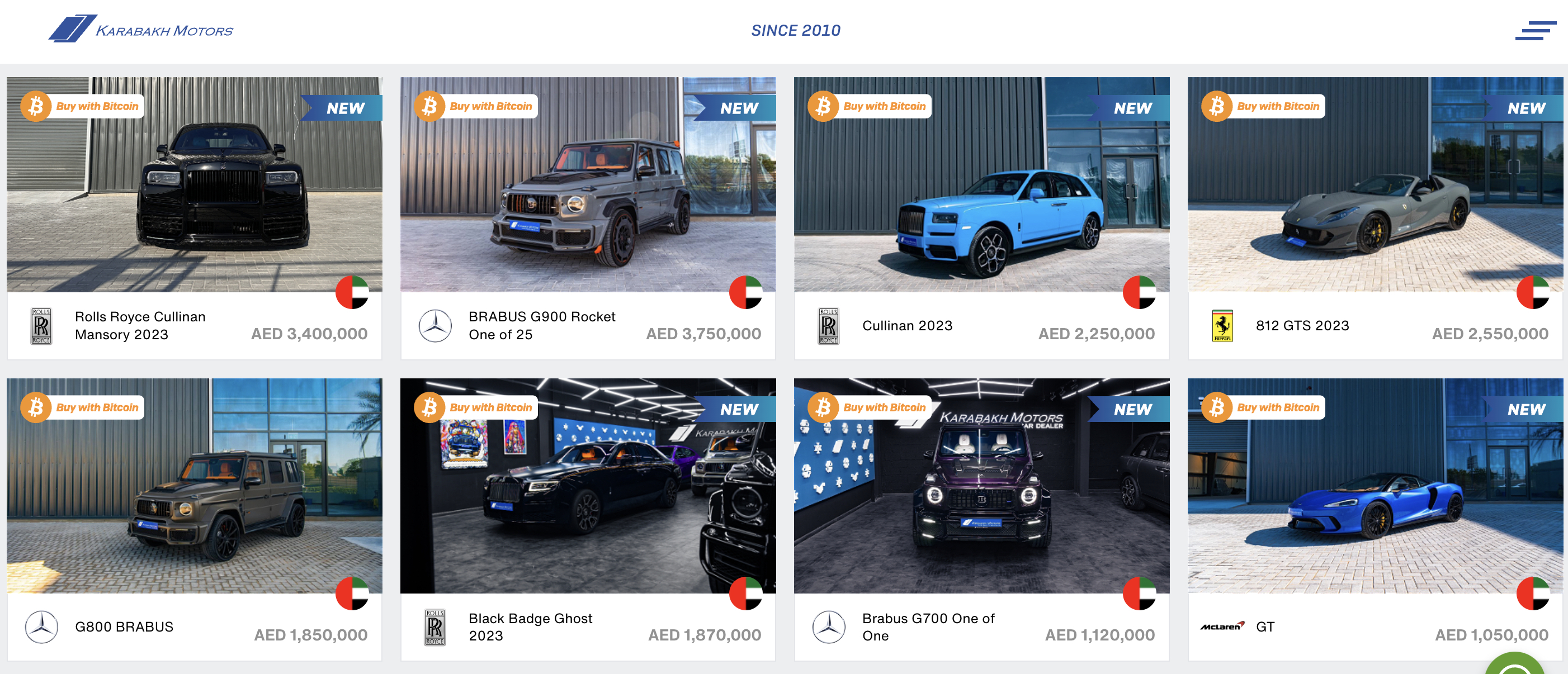 Alternatively, Karabakh Motors LLC also offers worldwide shipping. This enables buyers to purchase their desired car, pay with Bitcoin, and then have it delivered to their door. Karabakh Motors LLC offers one-on-one support via Whatsapp.
6. Stephen James Group - Established BMW Dealership Accepting Bitcoin
Founded in 1973, Stephen James Group is an established and authorized BMW dealership based in the UK. While the vast majority of BMWs are brand new, the dealership also has a selection of used vehicles.
In addition to car sales, Stephen James also offers servicing, parts, and a body shop. It also offers car financing, but this is not available when using Bitcoin.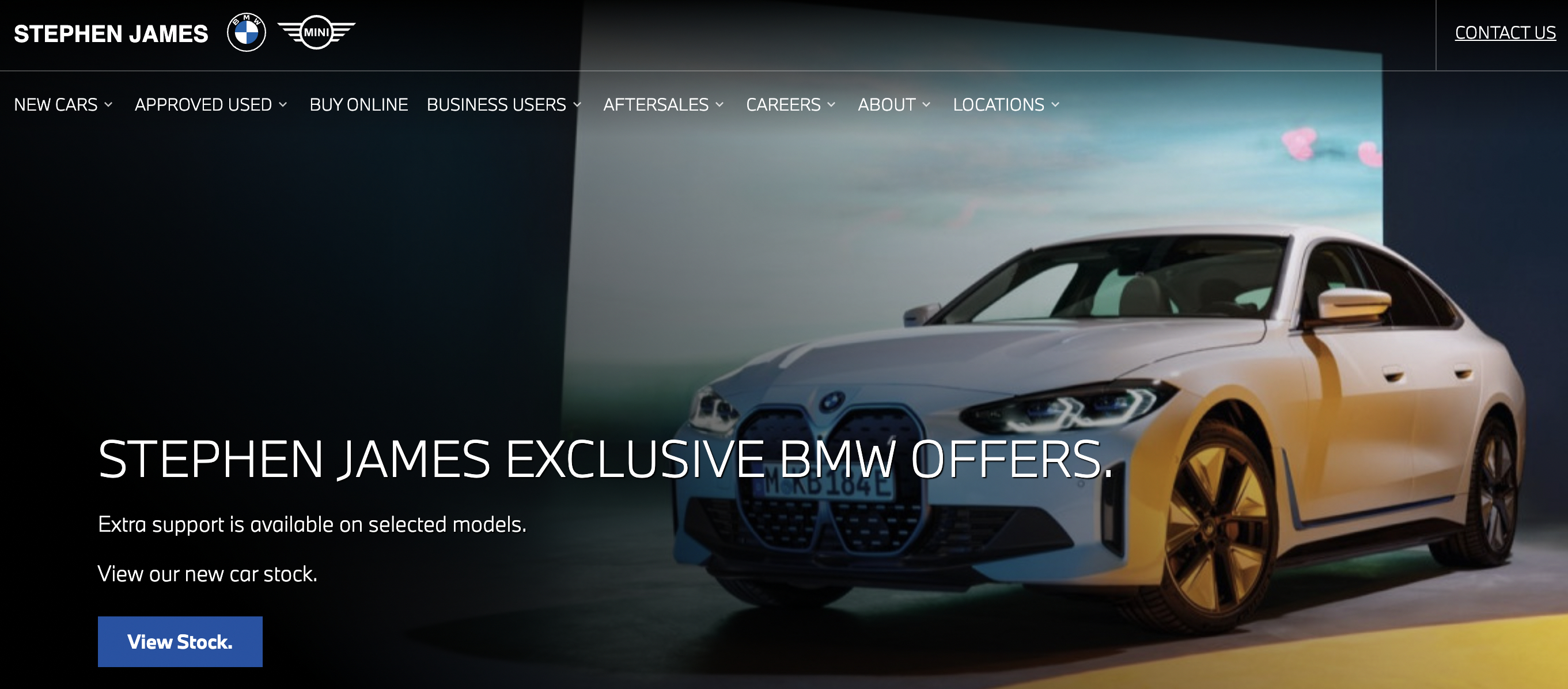 Buyers can visit a Stephen James dealership in the south of England, with locations in Bromley, Woolwich, Enfield, Blackheath, and Ruxley. Alternatively, buyers can also complete the process directly on the Stephen James website.
Can I Buy a Car With Bitcoin? Key Factors to Consider
There are many reasons why more and more people are looking to buy things with Bitcoin, including cars and other high-value items.
In many cases, buyers are crypto investors that have made a sizable amount of money. Instead of exchanging crypto for fiat, many opt to buy a car or other luxury product.
In some cases, people looking for a new car might not have access to fiat. Instead, they opt to use some of their crypto holdings.
Another reason to buy a car with Bitcoin and other cryptocurrencies is that the payment process is significantly smoother when compared to bank transfers.
This is because large-value transactions often need to be investigated by the bank, as per anti-money laundering controls.
This can delay the process by several days or even weeks.
When paying with Bitcoin, however, the transaction process rarely takes more than 10-20 minutes.
And best of all, regardless of the size of the transaction, Bitcoin fees are super-low. We also found that some car dealerships will offer a discount when paying with Bitcoin. This might be because it is more cost-effective for the dealership or they are bullish on the future of crypto.
How Safe is it to Buy a Car With Bitcoin?
When learning about how to buy a car with Bitcoin, it is important to understand the safety aspect of the process. In most cases, the actual buying process is the same, whether Bitcoin or fiat money is being used.
However, if the purchase is being made online, it is important to do some homework on the dealership or marketplace.
In particular, look at the platform's track record and reviews in the public domain.
Crypto Emporium, for example, has been selling cars for crypto since 2018 and it has a great reputation in this market.
This is also the case for Bitcars, which was founded in 2016.
Both of these car marketplaces offer a safe purchasing procedure.
The chosen platform will display their wallet address, and the buyer will transfer the crypto accordingly.
As always, buyers should be aware of the risks of making a mistake when completing the transfer. If the crypto tokens are sent to the wrong address, it is unlikely that the funds can be recovered.
This is another reason why we like Crypto Emporium, as the platform displays its wallet address as a QR code. Scanning the code from a mobile wallet will avoid unnecessary mistakes.
Wondering what else can be purchased with Bitcoin? Read our guide on who accepts Bitcoin in 2023.
Full Guide on How to Buy a Car With Crypto?
Ready to enter the world of web3 by purchasing a car with crypto? Read on to complete the process with Crypto Emporium.
Step 1: Open an Account
The first step is to open an account with Crypto Emporium, which takes under a minute. Fill out the registration form by entering a name, phone number, email, and password.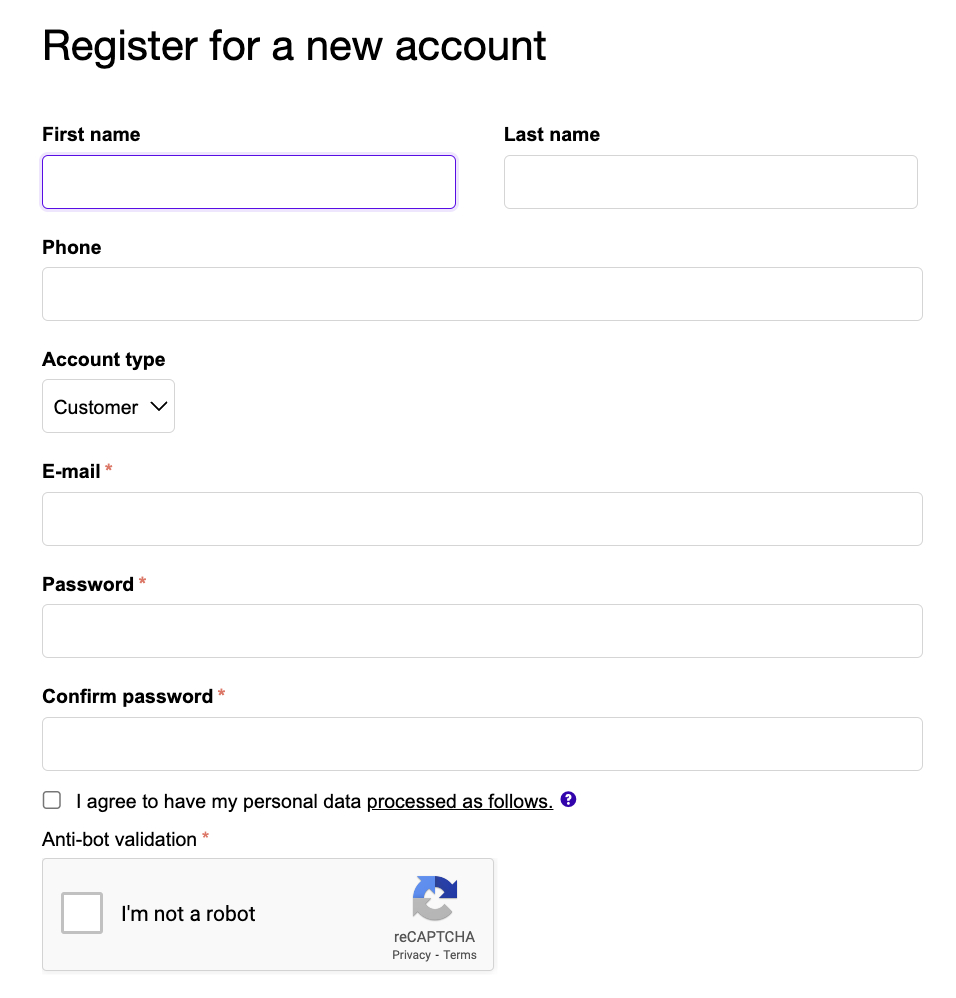 Crypto Emporium will then send an email. Open the email and confirm the account by clicking the link.
Step 2: Browse Cars
Click on 'Categories' followed by 'Automotive'. Then, click on 'Cars'. There are hundreds of cars available, so it's. best to use the filters.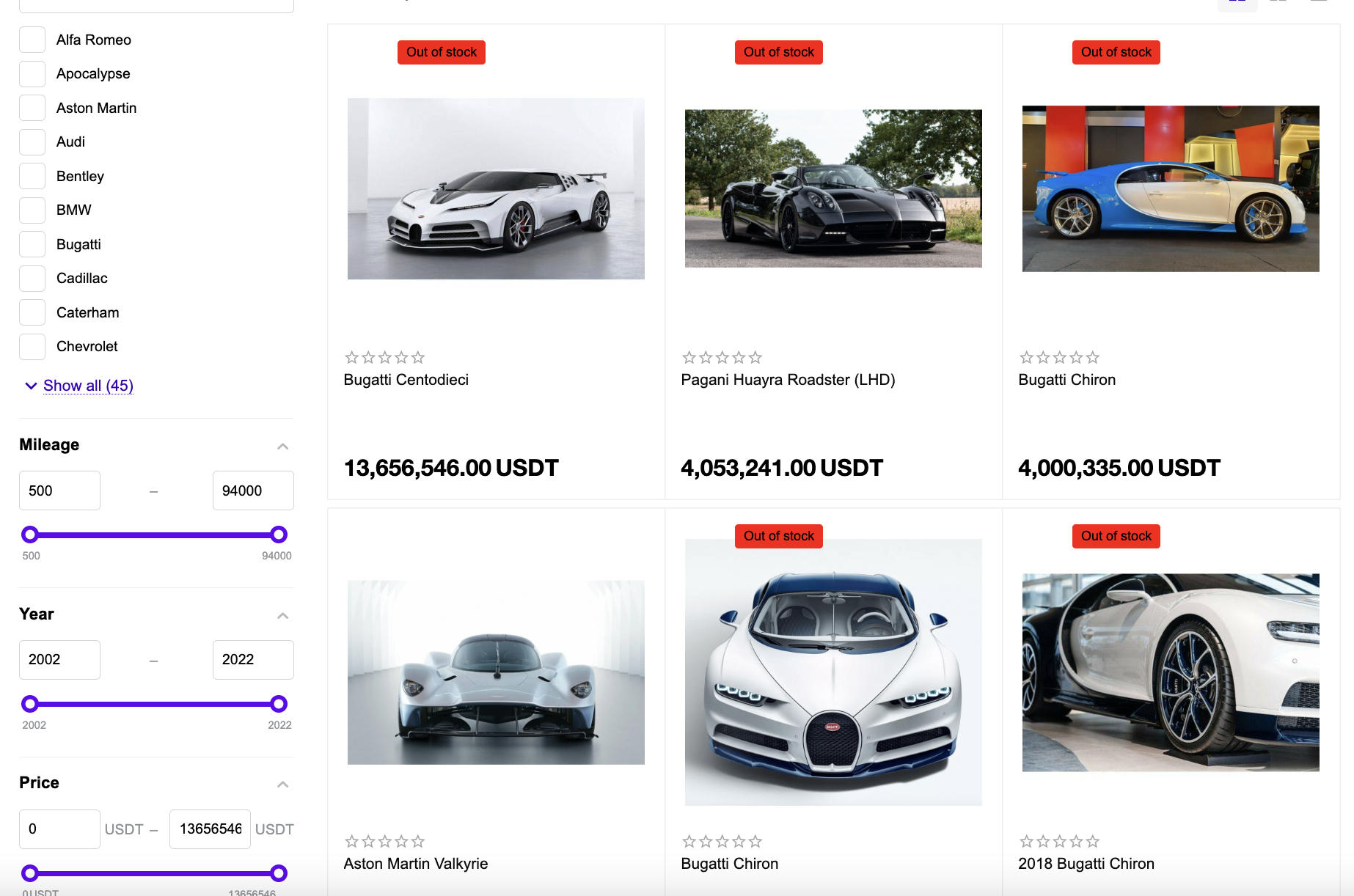 This includes the car manufacturer, mileage, production year, and price. Clicking on a car will then reveal additional information about the vehicle.
Spend some time researching the car specifications before clicking on 'Add to Cart' to proceed.
Step 3: Review Shipping Information
Click on 'Cart' followed by 'Checkout' to review the shipping information for the selected car. In this example, we are being quoted $400 to deliver a Ford Mustang 5.0 to the UK.
We can also see the 0.87% service fee clearly displayed. While in our example the default currency is USDT, this can be changed at the click of a button.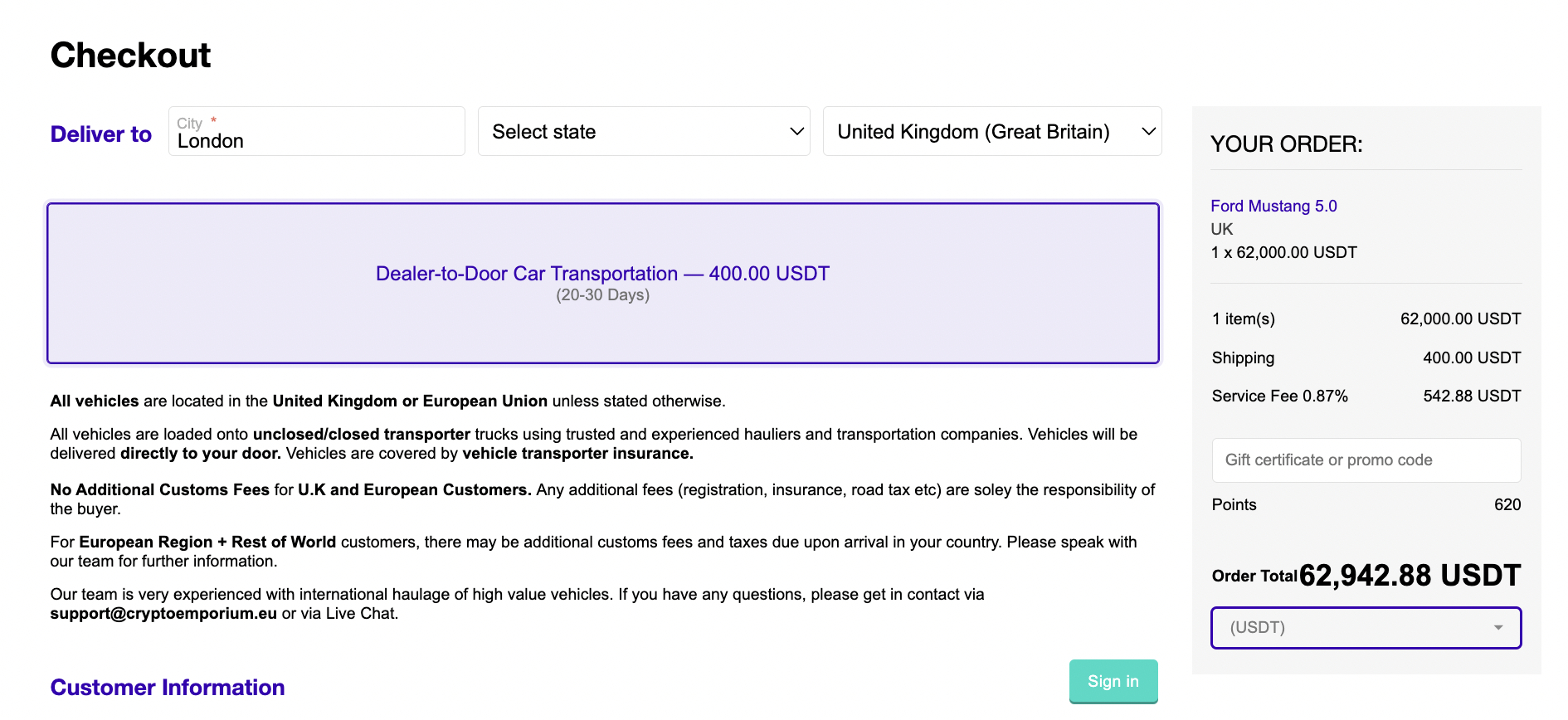 As noted earlier, Crypto Emporium accepts some of the best cryptos to buy, including Bitcoin, Ethereum, and Dash. It also accepts some of the best meme coins, including Dogecoin.
Step 4: Pay for the Car With Crypto
Crypto Emporium will now display the wallet address that the funds need to be transferred to. It will also display a QR code, which is the safest approach.
Simply scan the QR code from a mobile wallet and proceed to transfer the exact amount. Crypto Emporium will send an email on receipt of the funds. It will then begin the shipping process.
For an update on the shipment, contact Crypto Emporium via live chat or request a telephone callback.
What Cars Can You Buy With Crypto?
There are many different cars that can be purchased with Bitcoin and other cryptocurrencies.
Here's an overview of what's in the market:
Regular Cars
Looking to buy a regular car with Bitcoin that doesn't break the bank? We found a huge selection of competitively-priced models on Crypto Emporium.
For example, a Dacia Sandero 1.0 SCe Hatchback can be purchased for just $12,533, while a Citroen C11 1.0 VTI Hatchback retails for $14,200. Similarly, Crypto Emporium also lists a Fiat 500 1.2 Lounge for $16,750.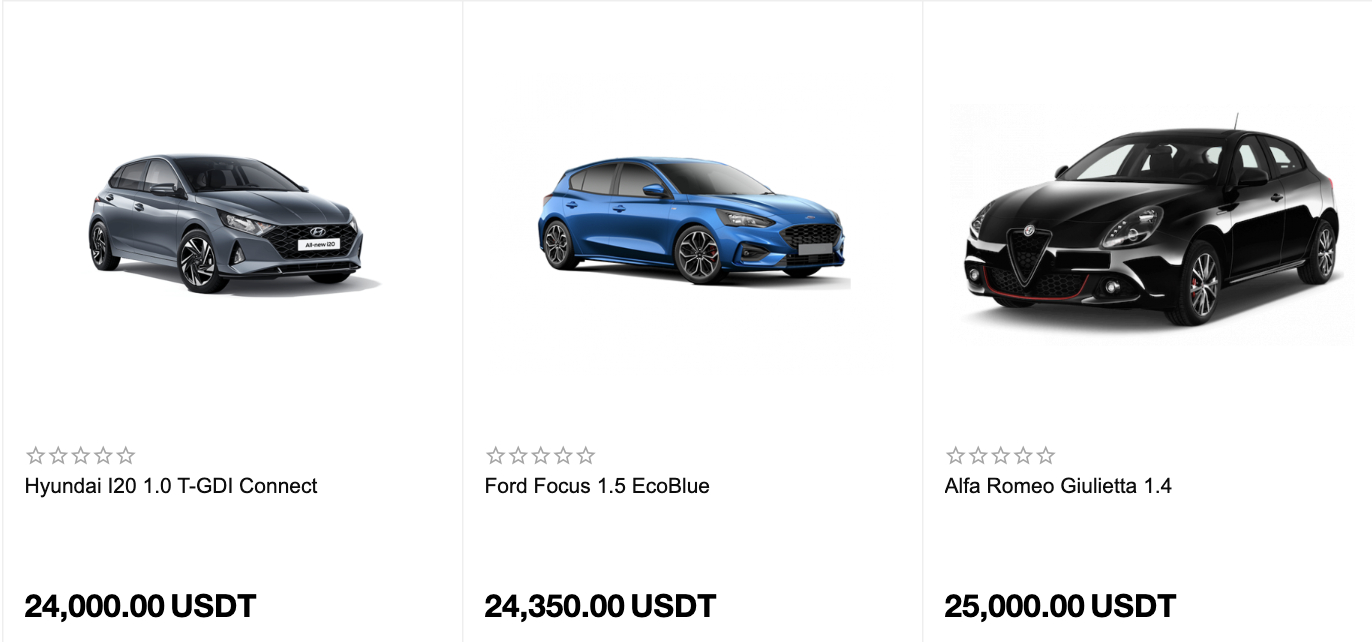 Those with a higher budget might consider an Alfa Romeo Giulietta 1.4 or Ford Focus 1.5 EcoBlue - both listed at approximately $25,000.
Supercars
We found that Crypto Emporium is also the go-to marketplace for buying the world's most sought-after supercars. This includes Lamborghini, Bugatti, Ferrari, McLaren, and many others. A Bugatti Chiron, for instance, is available at $3.2 million.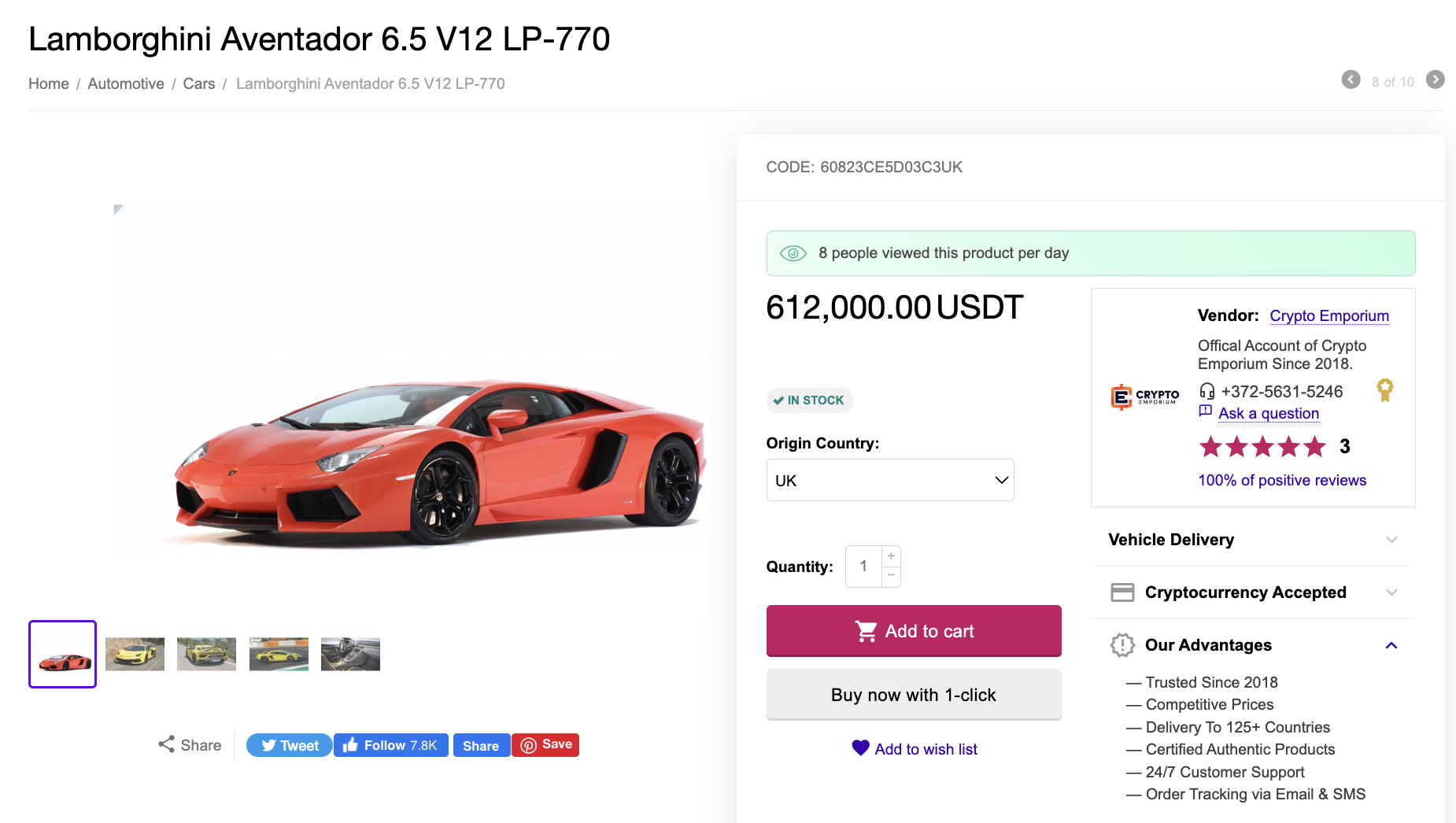 While a Bugatti Centodieci is listed for over $13 million. Another option for ultra-luxury buyers is a Lamborghini Aventador 6.5 V12 LP-770, listed at $612,000.
Classic Cars
Looking to buy a classic car with crypto? We found that Crypto Emporium is also a great option. It lists classic cars from 20 different manufacturers, ranging from Rolls-Royce, Bentley, Cadillac, Volvo, and many others.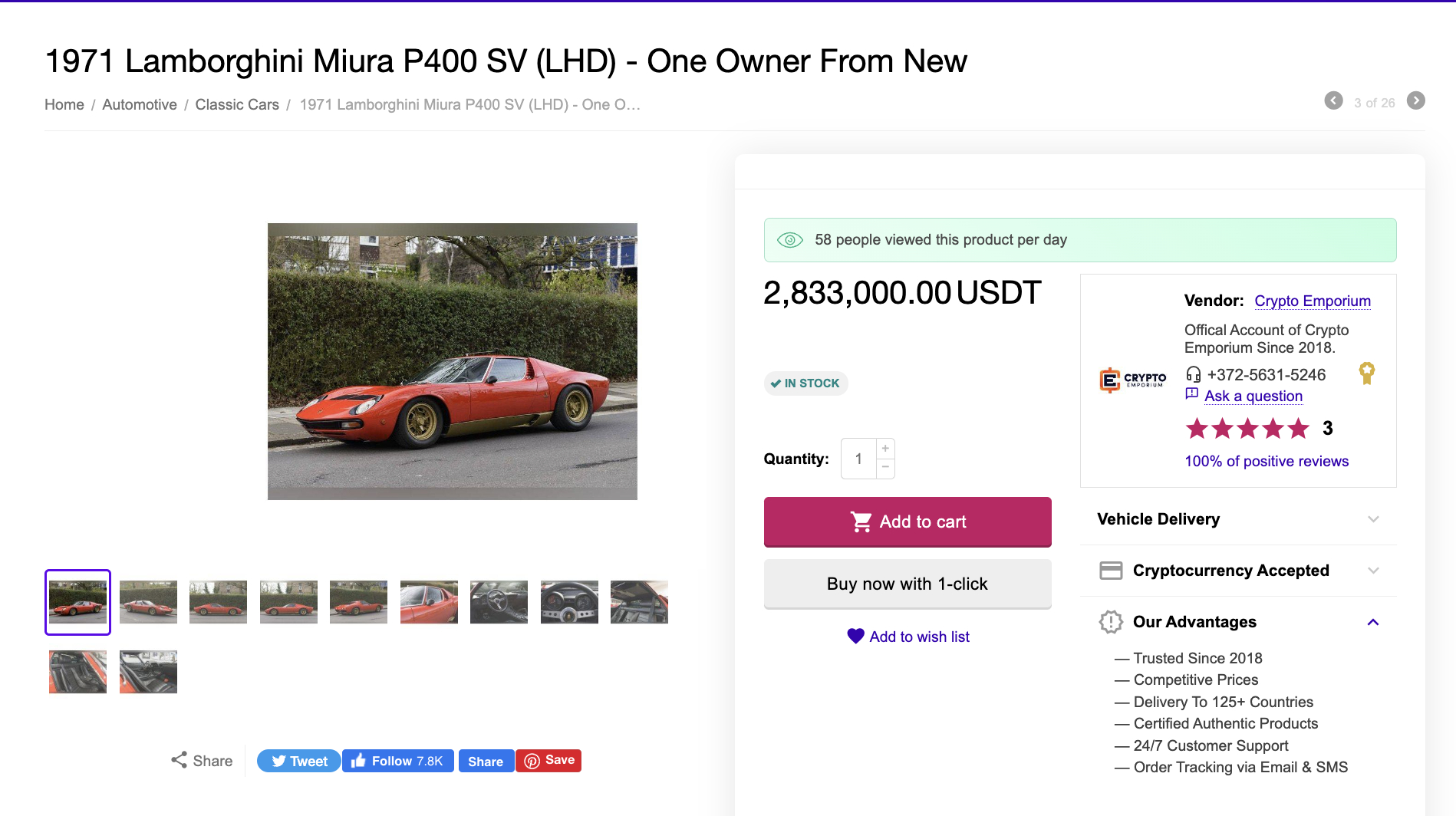 For example, a 1990 Rolls Royce Silver Spirit II can be purchased for $29,000, while a 1971 Volvo 1800 E is listed for $49,000. At the other end of the scale, there is a 1971 Lamborghini Miura P400 SV listed for just over $2.8 million.
Vans and Trucks
Crypto Emporium also offers a great range of vans and trucks. This includes Citroen Berlingo 1.5 BlueHDI and a Ford Transit Custom 2.0 300 EcoBlue at $20,000 and $34,500 respectively.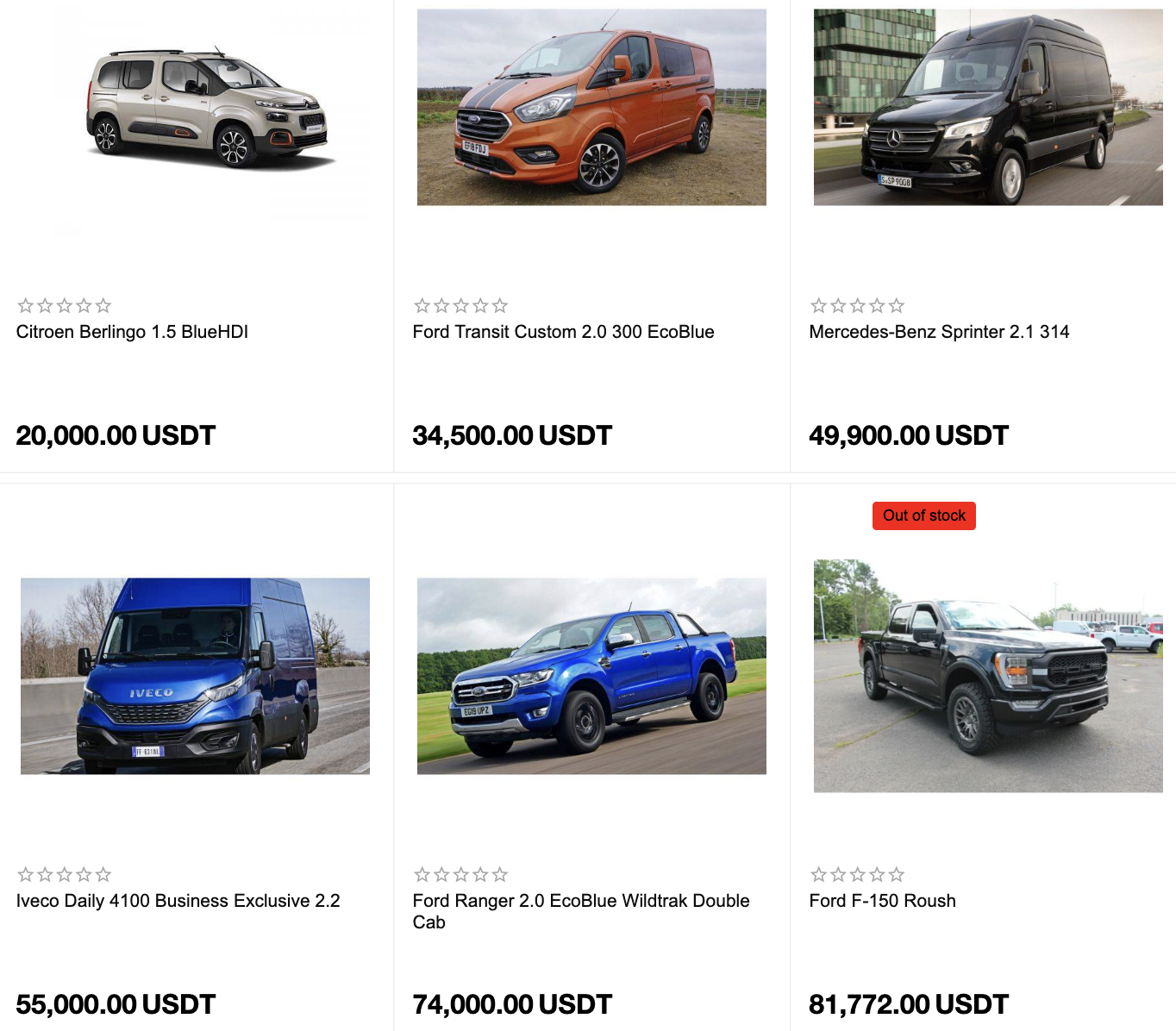 Buyers will also find a Mercedes-Benz Sprinter 170 EXT SS, listed for just over $200,000.
Motorbikes
In addition to cars, vans, and trucks, Crypto Emporium also lists motorbikes to suit all budgets. At the lower end, buyers will find a Mutt Sper-4 Blue 125 and a Yamaha MT-125 listed for $5,300 and $5,800 respectively.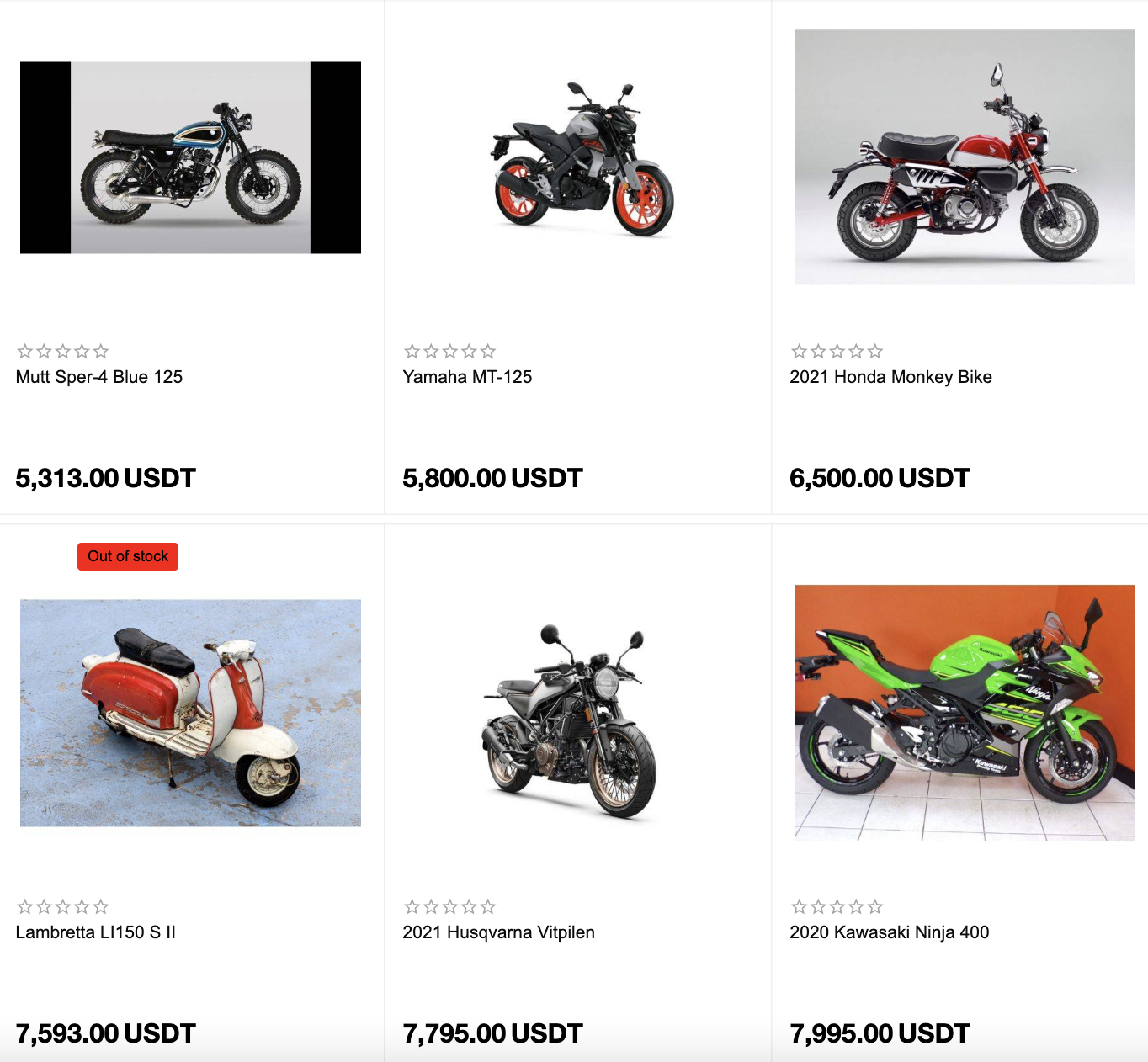 For the best superbike experience possible, consider a Ducati Diavel 1260, which Crypto Emporium lists for $117,000.
Conclusion
In summary, buying a car with Bitcoin and other cryptocurrencies has never been easier. Top-rated marketplaces like Crypto Emporium have a car to suit all budgets.
This includes everything from Ford, Tesla, Toyota, and BMW, to Ferrari, Rolls-Royce, Land Rover, and Lamborghini.
After finding a suitable car, Crypto Emporium will take care of the end-to-end shipping process. This ensures that buying a car with crypto is seamless.

FAQs
Can you buy a car with crypto?
Yes, buying a car with crypto is now a seamless process, with Crypto Emporium offering regular, premium, and supercars to suit all budgets.
Which car websites accept crypto?
One of the best car websites to accept crypto is Crypto Emporium, with the marketplace supporting more than 40 vehicle manufacturers.
Is it possible to buy a Lamborghini with crypto?
Yes, Crypto Emporium lists a wide range of Lamborghini models at competitive prices - including classics.
Can you buy a BMW with Bitcoin?
Yes, you can buy a BMW with Bitcoin from Crypto Emporium, with prices ranging from $70,000 to $140,000.
---