What Can You Buy with Bitcoin? 30 Ways to Spend Cryptocurrency
Disclosure: Crypto is a high-risk asset class. This article is provided for informational purposes and does not constitute investment advice. By using this website, you agree to our terms and conditions. We may utilise affiliate links within our content, and receive commission.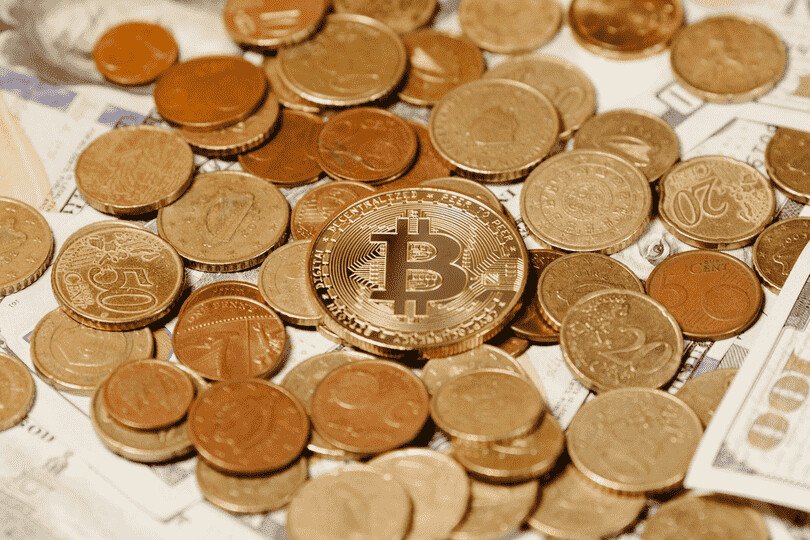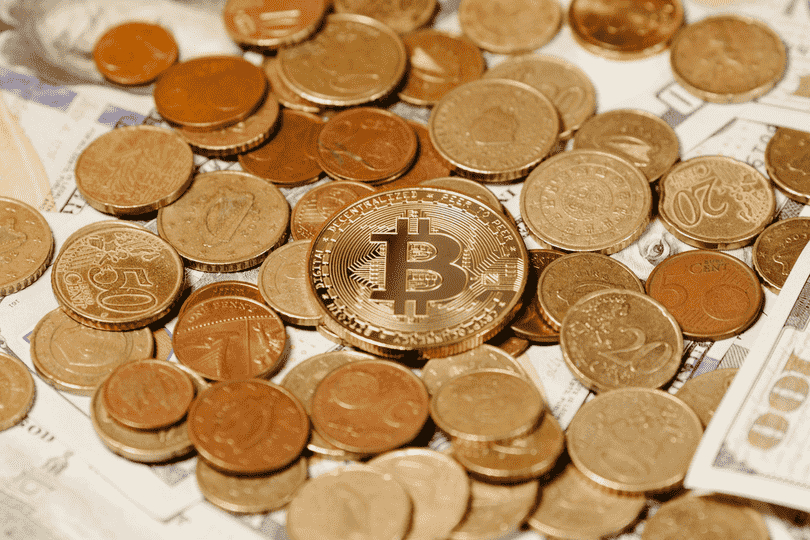 Disclaimer: The Industry Talk section features insights by crypto industry players and is not a part of the editorial content of Cryptonews.com.
Global crypto adoption continues to ramp up, with reports estimating that over 420 million people worldwide now own digital currencies. This level of adoption means an abundance of items can be purchased online using popular coins like Bitcoin – a process that brings a whole host of benefits.
With that in mind, this guide discusses what you can buy with Bitcoin in 2023. We'll explore an array of items and services you can purchase online using BTC (and other cryptos) before highlighting the cheapest and safest platform for making crypto-based purchases.
The 10 Best Things You Can Buy with Bitcoin in 2023
Those wondering what you can buy with Bitcoin should look no further – as listed below are ten of the most popular items that can be purchased online using BTC:
Luxury Watches
Game Consoles
Crypto Presales
Electronics
Cars
Clothing
High-End Jewellery
Property
Artwork
Online Courses
All of these items can be bought from Crypto Emporium – the world's first crypto-only e-commerce store. This store accepts Bitcoin (and other cryptos) and has been around since 2018. We'll discuss Crypto Emporium later in this guide, although those looking to check out what the platform offers can click the button below.
An In-Depth Look at How You Can Spend Cryptocurrency Online
If you research the best crypto to buy regularly, you'll be well aware of the growing shift taking place online. More online stores than ever are beginning to accept crypto as a payment method, which increases safety and lowers fees.
With that in mind, detailed below are 30 popular items that you're now able to buy with Bitcoin easily:
1. Luxury Watches
If you're wondering how to spend Bitcoin, the chances are you've already got a fair amount saved for a decent-sized purchase. If that's the case, then you may be interested in learning how to buy watches with Bitcoin in 2023.
There is an array of luxury watch brands now available to crypto holders online, ranging from Audemars Piguet to Rolex. Since more people than ever own cryptocurrency, a selection of watch stores will now accept Bitcoin (and other cryptos), which is an excellent way of ensuring there are never any ownership disputes over these items. For those still wondering how to buy a Rolex with BTC in 2023, we've covered everything you'll need to know in a simple guide here on CryptoNews.com.


As mentioned above, Crypto Emporium is one e-commerce platform that accepts crypto as a purchase method – and the platform also has a broad selection of luxury watches. If you're wondering how to spend crypto easily, you can browse this selection and find watches that range from 0.12 BTC up to 4.72 BTC!
Crypto Emporium's watch selection includes exclusive options that can't be obtained anywhere else. For example, the platform holds a Roger Dubuis Excalibur Skeleton, one of the rarest Swiss-made watches in the world.
As one of the best places to spend crypto, Crypto Emporium also has low and mid-range watches, ensuring everyone has an option. If you decide to buy a watch from Crypto Emporium, the purchase comes with 24/7 customer support and real-time order tracking, along with the watch's original box and paperwork.
2. Game Consoles
If you've previously opted to buy Bitcoin, game consoles are another item you can buy online with this digital currency. Games consoles have traditionally only been offered by stores accepting FIAT; for example, GameStop and Walmart. However, this has changed in the past few years since these items can now be bought using crypto.
The most popular game consoles are the latest iterations from Microsoft and Sony – namely the Xbox Series X and the PlayStation 5. If you're wondering how to spend Bitcoin, you'll be glad to know that these items can be purchased with digital currencies. Moreover, their prices have dropped significantly since they've been out for a few years.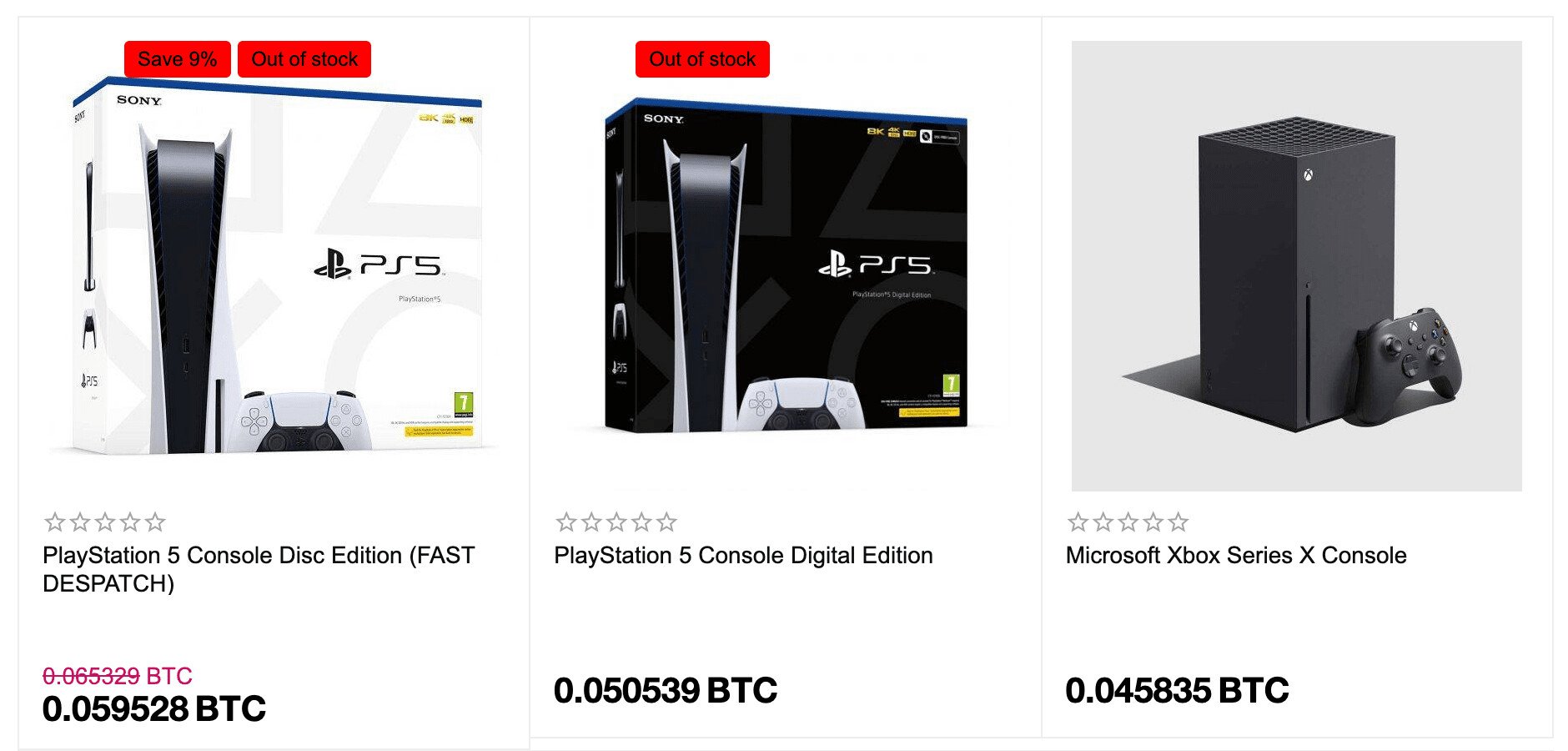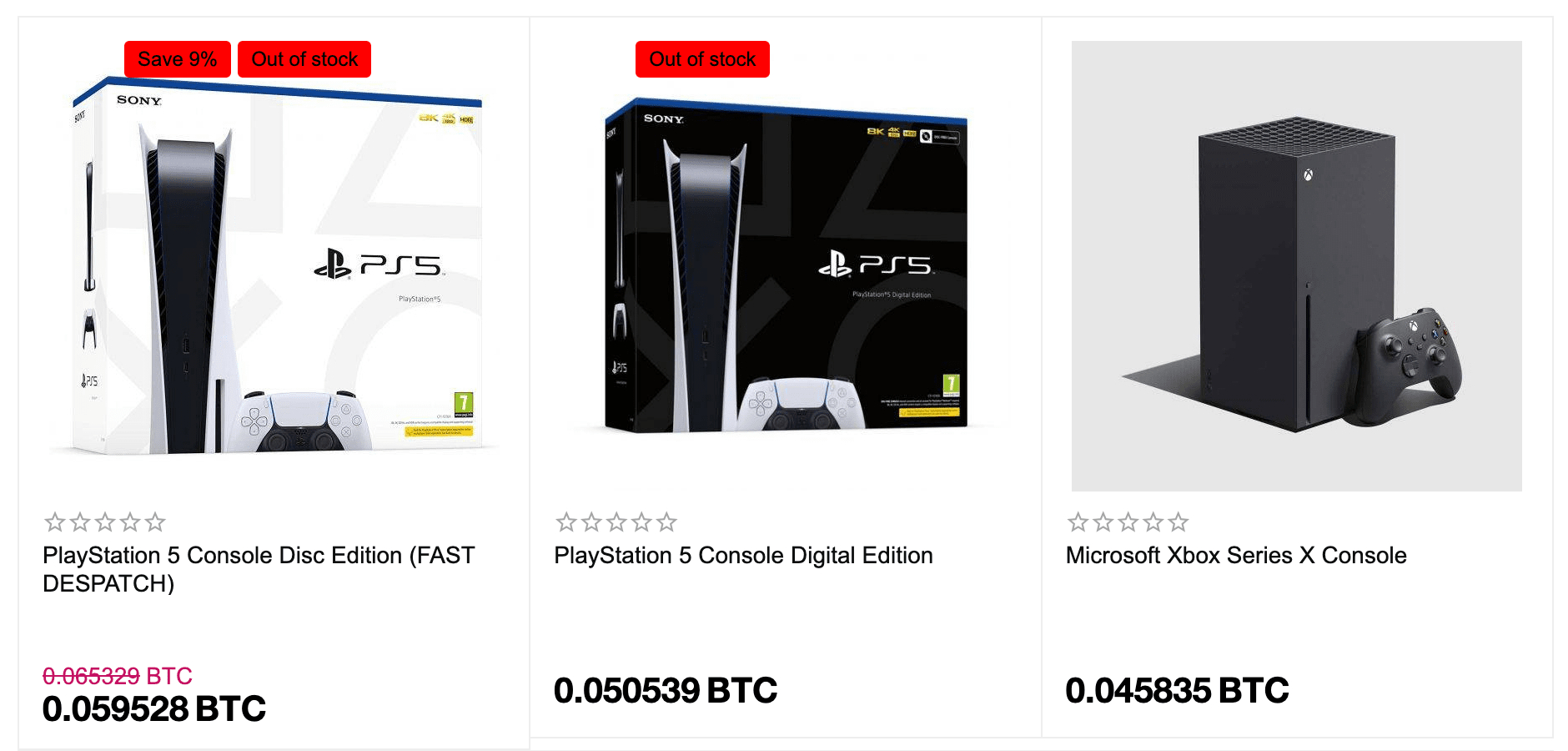 In terms of where you can spend Bitcoin to buy these consoles, there's now a selection of online stores that offer them – although Crypto Emporium is likely the easiest to use. At the time of writing, Crypto Emporium stocks a wide range of consoles, including a few "legacy" versions.
Interestingly, Crypto Emporium even has the PS5 Digital Edition in stock, which is often sold out in other merchants. As such, those holding crypto can quickly obtain it and benefit from quick shipping timescales using this platform.
3. Crypto Presales
If you're wondering what you can buy with Bitcoin, another popular option is crypto presales. For those unaware, crypto presales are a way for new cryptocurrency projects to raise funds and generate awareness before release.
The key benefit of investing in these presales is that tokens are usually offered at a discounted price relative to the eventual listing price. Thus, early investors can put themselves in line to generate exceptional returns – if the project experiences value increases in the future.
But which crypto presale is the best? Thankfully, hundreds of presales are ongoing at any one time, meaning you'll always have options. However, two presale projects currently stand out from the crowd:
Love Hate Inu – New Vote-to-Earn Meme Coin with Huge Potential
Love Hate Inu is a brand-new meme coin that looks to capitalize on the success of coins like DOGE and SHIB. However, it also incorporates a "Vote-to-Earn" (V2E) mechanism that enables users to earn tokenized rewards simply for participating in the platform's polls.
There's no cap on these rewards – so the more polls a user enters, the more LHINU tokens they'll earn. Love Hate Inu's team also intends to launch a staking protocol whereby users must stake their LHINU tokens for at least 30 days before being able to cast votes.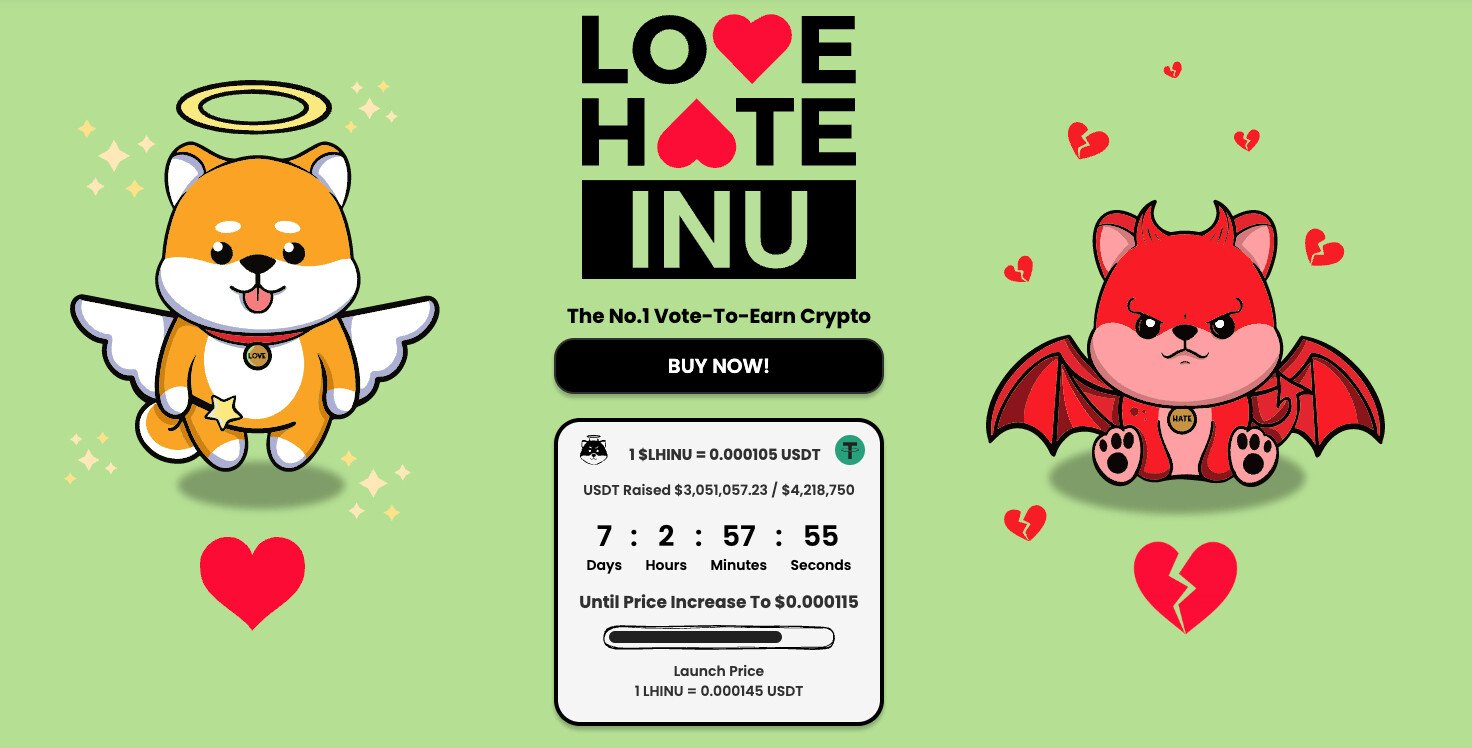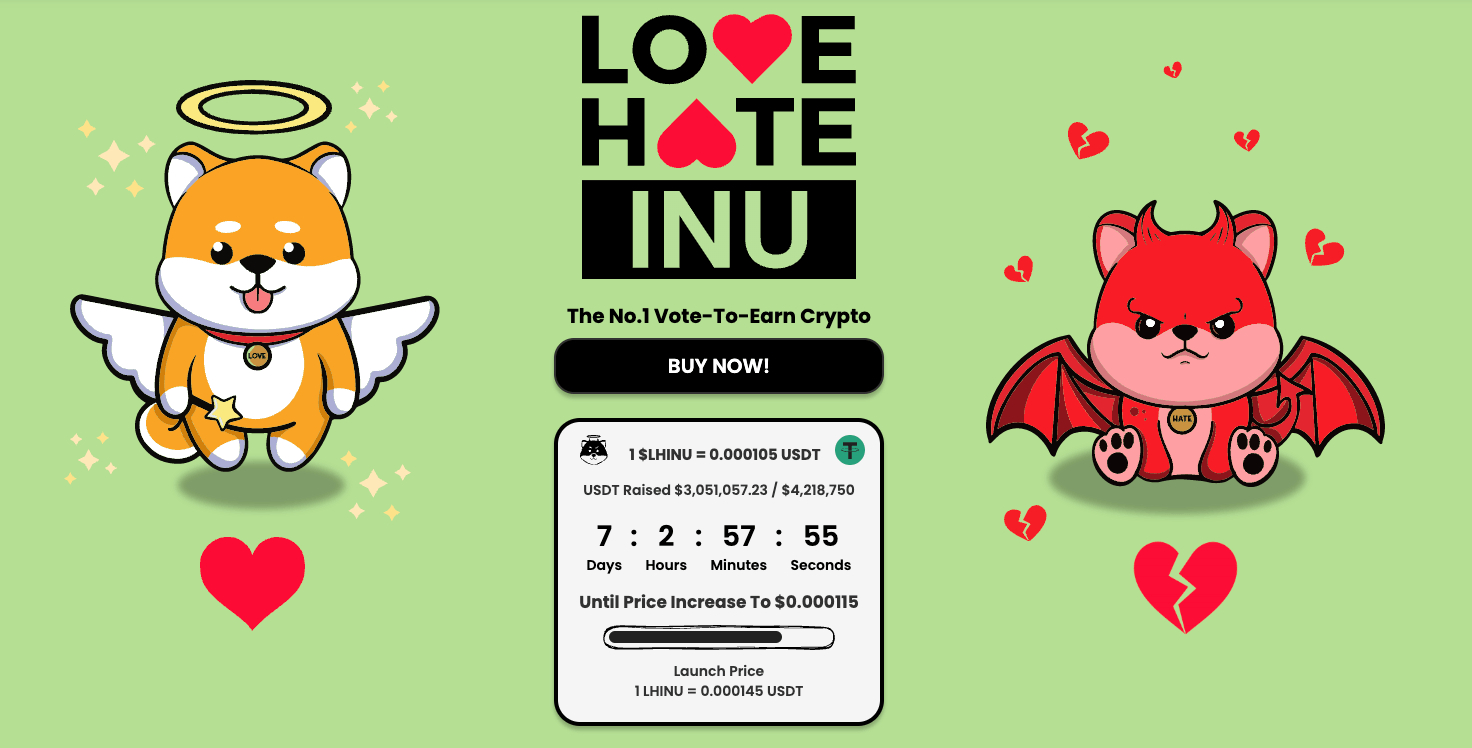 Given Love Hate Inu's meme coin style, the hype is already building around this crypto presale. The presale will have eight stages, each with its own price point, meaning those who invest earliest will receive the most appealing entry level.
DeeLance – Disruptive Recruitment Platform Leveraging Web3 Technology
Another popular crypto presale to consider is the one being offered by DeeLance. DeeLance is a Web3-powered freelancing platform where freelancers and clients can connect seamlessly. This platform has low fees and leverages blockchain technology to ensure that disputes can be handled instantly.
DLANCE is the native token used on this platform. Clients can pay freelancers using DLANCE, although the token is also needed to pay for virtual office space in the DeeLance metaverse. It can even be used to purchase NFTs from DeeLance's planned marketplace.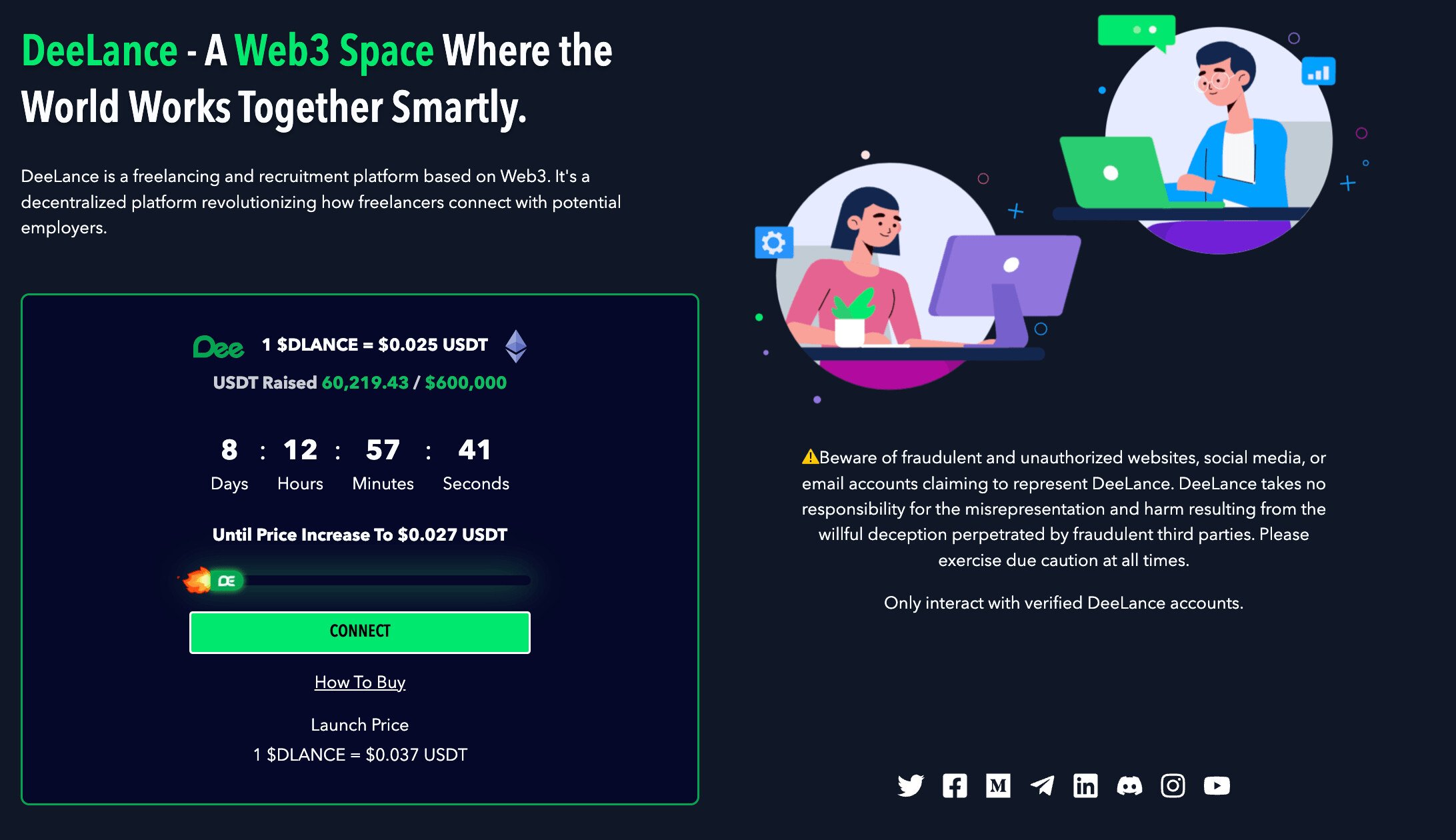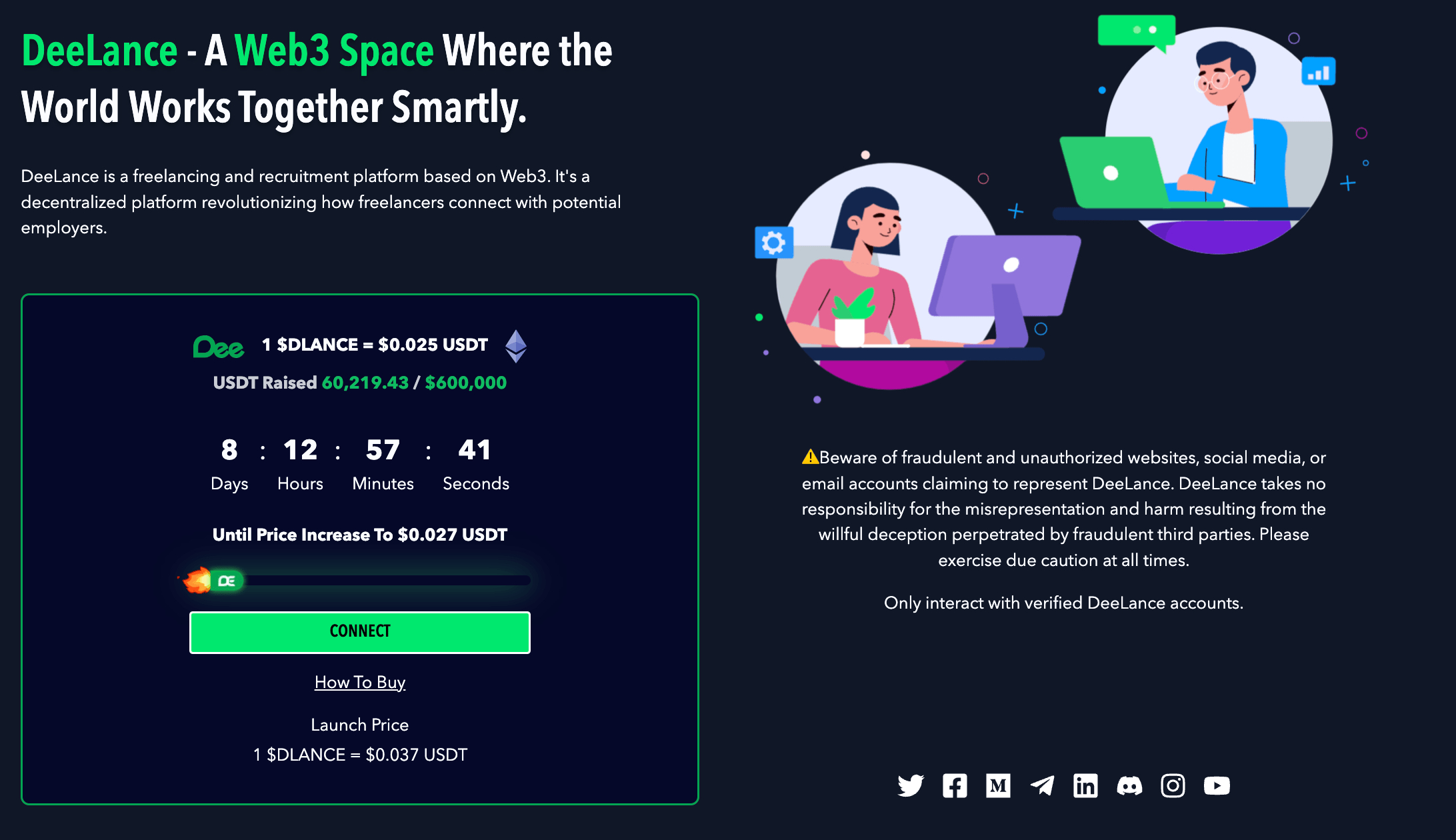 The "traditional" freelancing platforms continue to be plagued by various issues, meaning DeeLance has a huge opportunity to capitalize and offer a more effective service. The project's presale is ongoing, meaning early investors can buy DLANCE tokens at a significant discount ahead of the planned CEX listings.
4. Electronics
Many continue to wonder, "What can you buy with Bitcoin?" – but this should be changed to "What can't you buy with Bitcoin?" since there's now an abundance of electronic items available to crypto users.
Instead of holding your BTC in one of the best crypto interest accounts, it could be better to use it to purchase some electronic assets. By electronics, we mean items that can be used at home; for example, televisions and home cinema systems.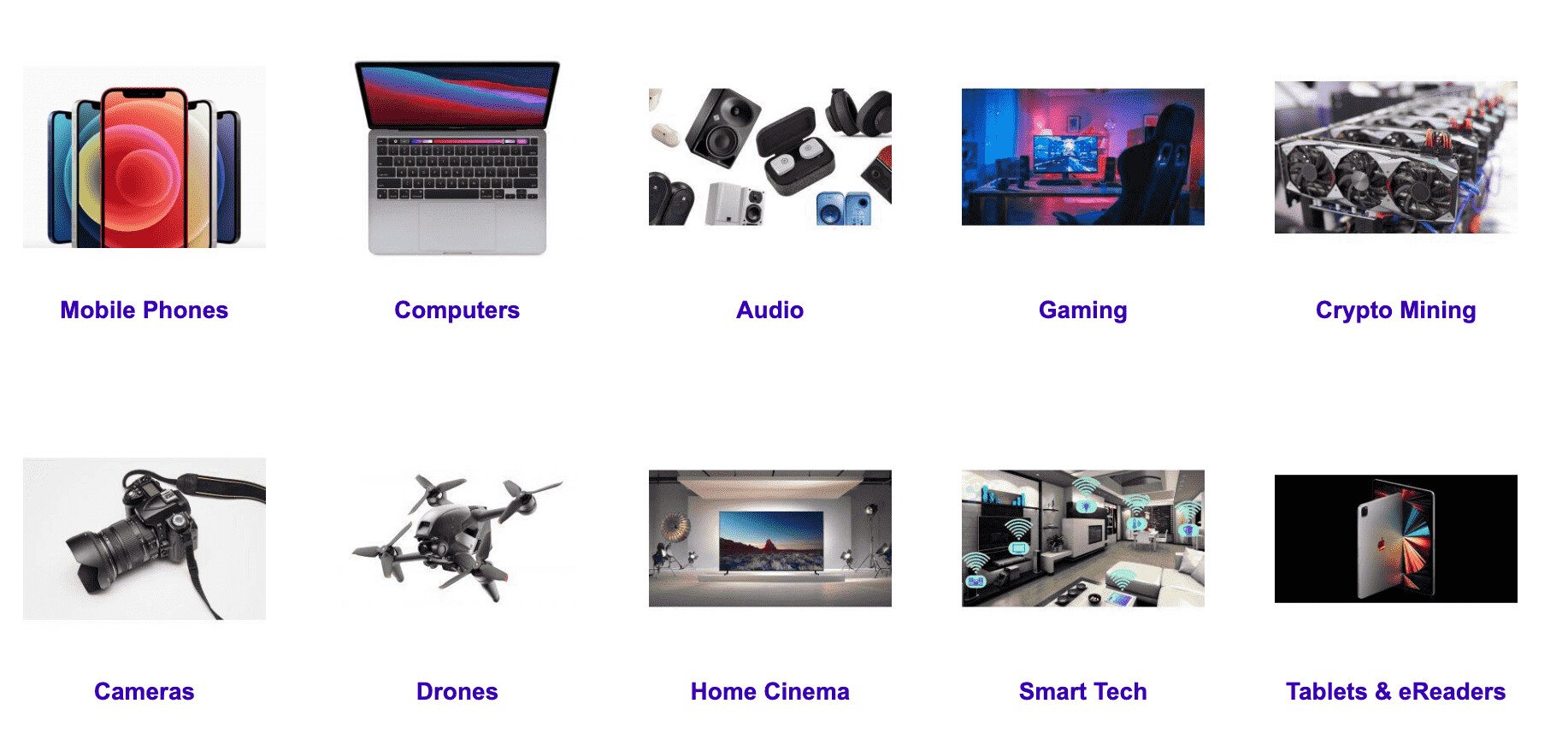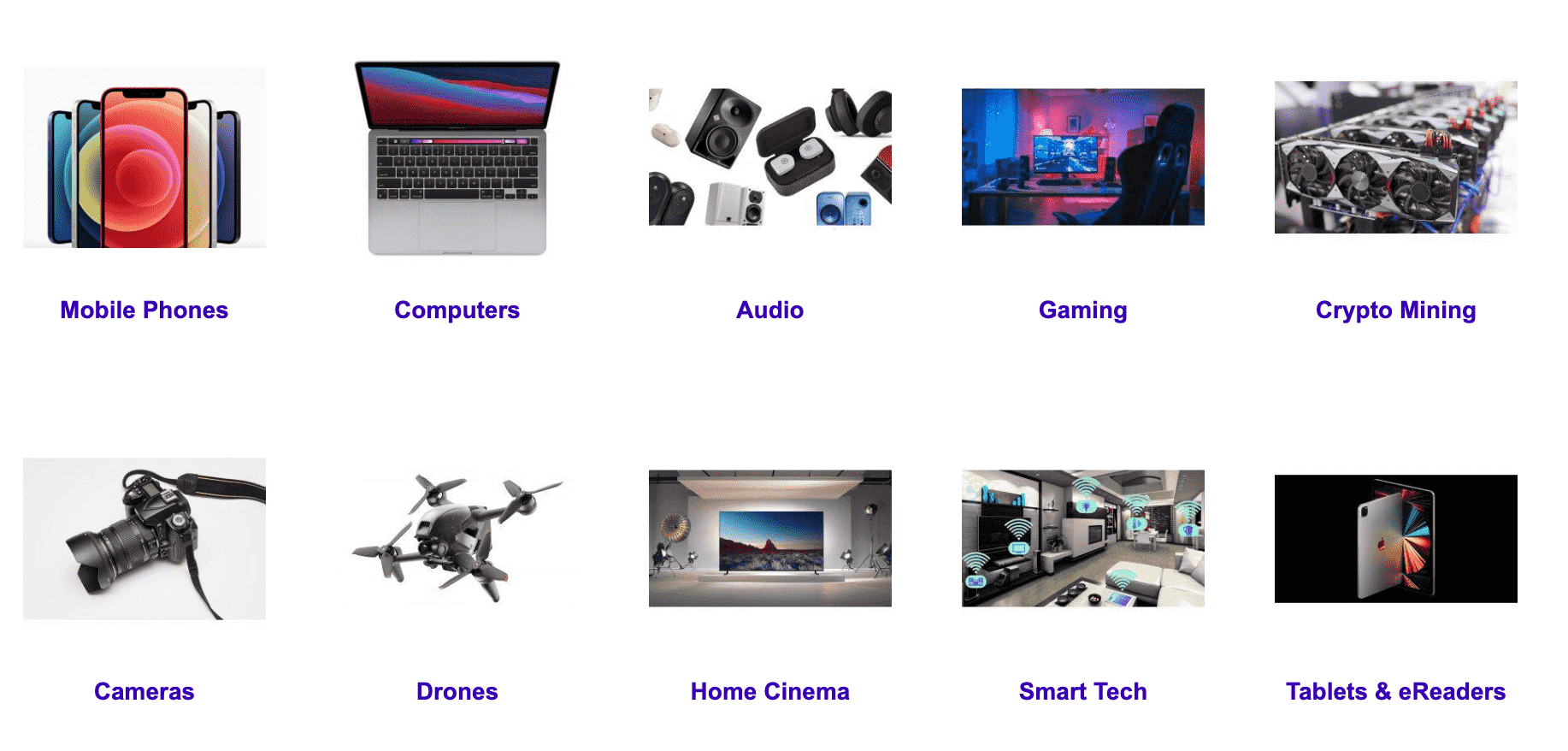 Since many of these items are relatively expensive, using crypto can be a better option, as there are no foreign transaction fees or processing fees to worry about. Moreover, payment can be sent instantly, and the transaction is recorded on the blockchain – ensuring disputes never need to be an issue.
If you want to buy electronics, we recommend checking out Crypto Emporium. This platform has pretty much every electronic device you'd need, ranging from projectors to sound bars – and much more. Crypto Emporium even stocks the latest Samsung Neo QLED TVs, which offer a full 8K experience!
5. Cars
Many people are unaware that cars are now one of the most popular purchases made online when it comes to what you can buy with Bitcoin. This may come as a surprise, considering that cars have traditionally been reserved for FIAT-based transactions – but times are changing!
BTC holders can now buy a range of new and pre-owned cars online. Notably, there are options for all preferences and budgets, which is crucial to understand since there's an incorrect preconception that crypto-based car payments are solely for the super-rich.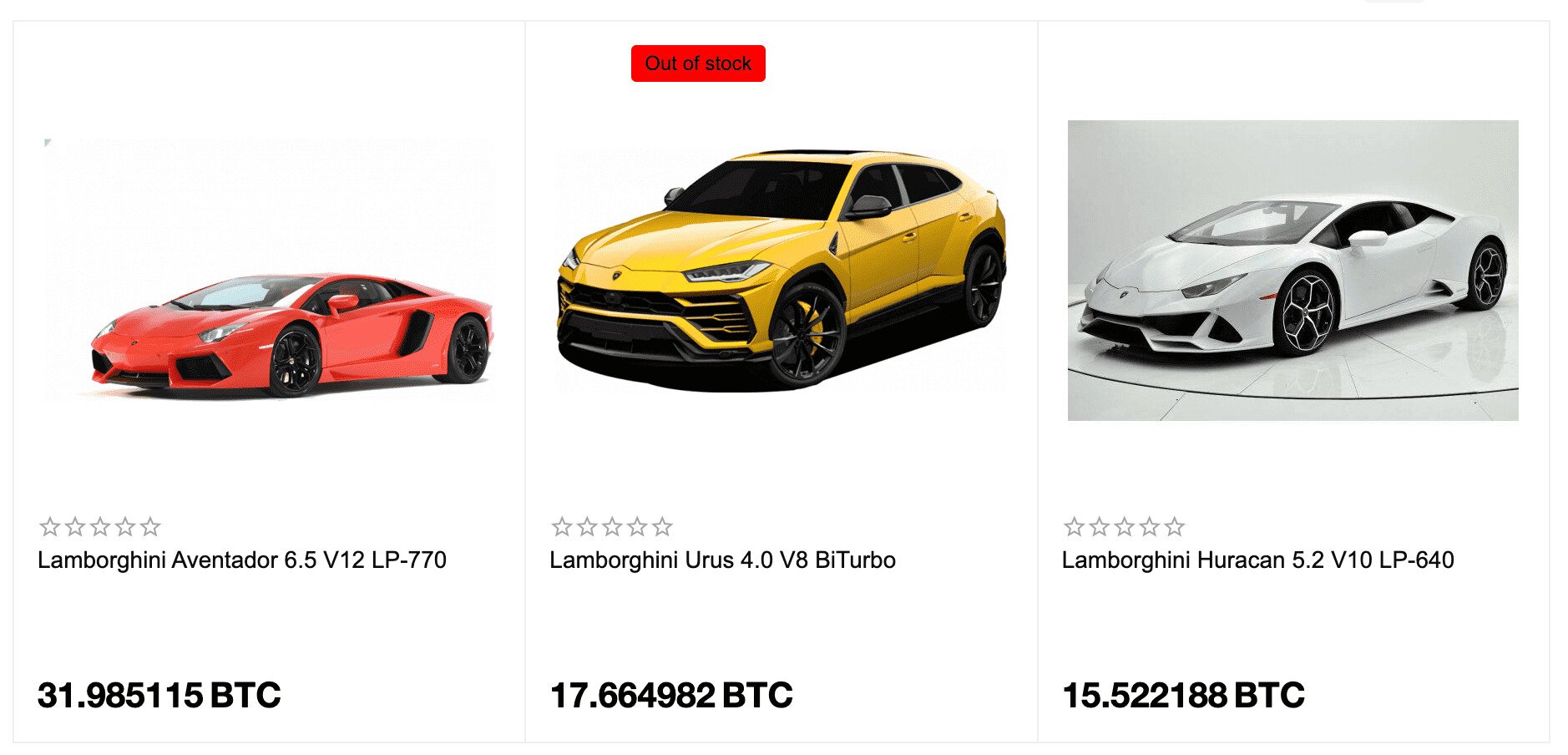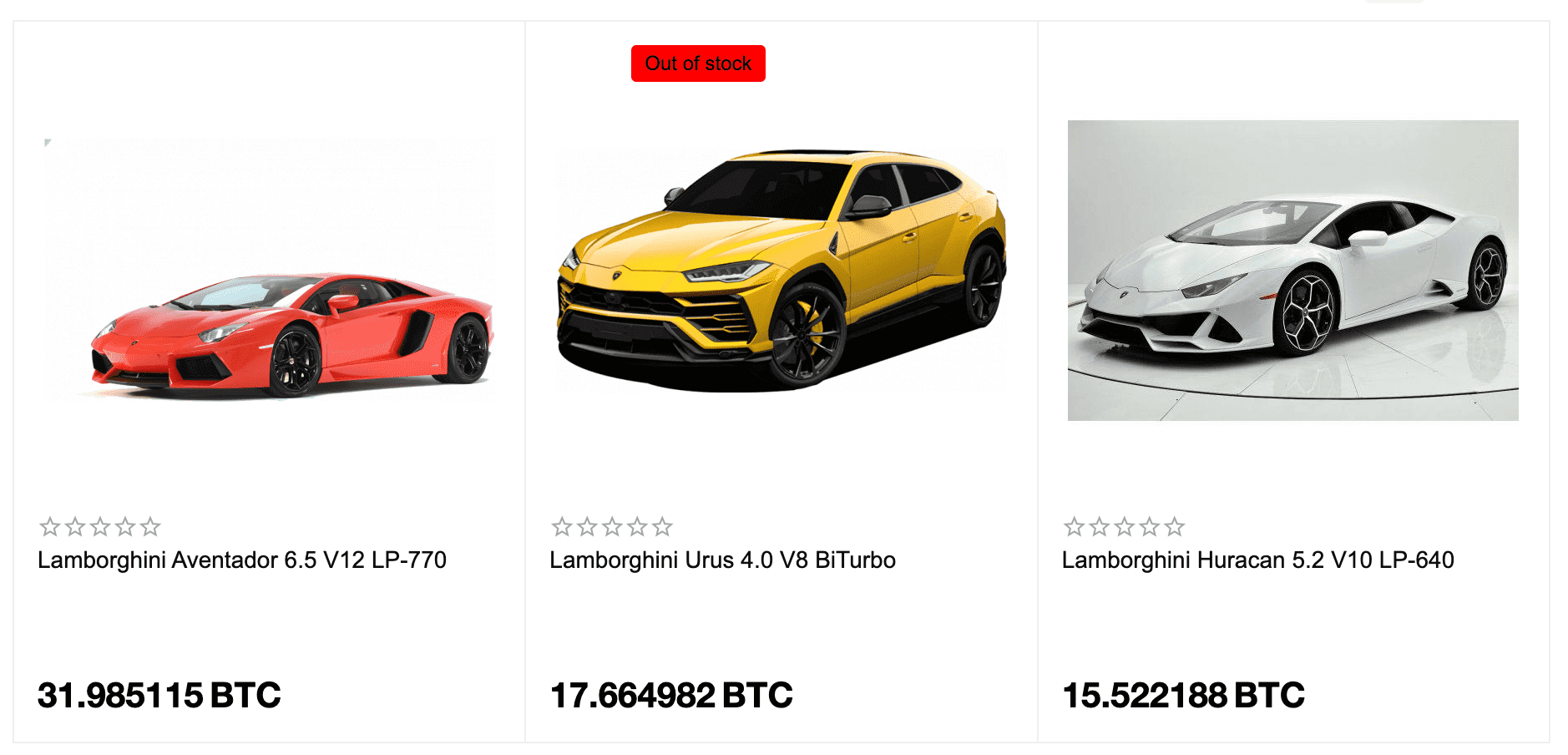 Given the scale of the purchase when acquiring a car using Bitcoin, it's wise to partner with a well-respected and credible platform. Crypto Emporium fits the bill in this regard since it has been around since 2018 and sold countless cars in that timeframe.
For those looking to buy a lamborghini with Bitcoin Crypto Emporium offers a range of car brands, including Lamborghinis and BMWs. The purchasing process is straightforward – you need to find your desired model and transfer the required amount of BTC to the provided wallet address.
6. Clothing
According to Statista, the luxury fashion market is valued at over $111bn in 2023 – and is expected to grow even higher in the coming years. Due to this, we can expect more and more online stores to begin accepting Bitcoin (and other cryptos) to help meet consumer demand.
Whether you're seeking new Gucci trainers or a Louis Vuitton handbag, there's now a selection of online stores that support crypto purchases. However, if your budget is different, many stores offer cost-effective clothing options, too.


For example, Crypto Emporium has several "trending" items on its bestsellers page. These include a "Run BTC" sweatshirt and a "DOGE" sweatshirt, priced at 0.0028 BTC.
Crypto Emporium also has an array of retro items, which are coming into fashion these days. The platform is also one of the first to stock clothing items related to viral topics – such as Elon Musk's takeover of Twitter.
7. High-End Jewelry
Wondering what can I buy with Bitcoin? Another increasingly popular option for those interested in luxury accessories is high-end jewelry. This is because buyers can now access exciting pieces from around the globe while also being able to pay for them in a secure and decentralized manner.
This simplifies the process of purchasing jewelry and makes these items more accessible to people worldwide. There are now many renowned brands that you can buy using Bitcoin, with options for those with a thing for diamonds, white gold, and much more.


Platforms like Crypto Emporium are ideal if you're looking to acquire high-end jewelry. You can browse an extensive collection of exciting items, including bracelets, earrings, and wedding rings.
Again, all that's involved in the purchasing process is simply adding the item to your cart and then transferring the required amount of BTC to the provided wallet address. Once this has been confirmed, Crypto Emporium will ship the item to your home address – it's that simple!
8. Property
Considering buying a house with Bitcoin? Another area that has seen a surge in BTC-based transactions is the real estate market. Both buyers and sellers can benefit from using Bitcoin (and other cryptos) to facilitate property transactions – meaning this area looks set to explode in the coming years.
There are many advantages to using BTC for these purchases, such as reduced fees, faster processing, and increased privacy. Another key advantage is that buyers from other countries can make payments more straightforwardly since they don't need to deal with foreign banking systems.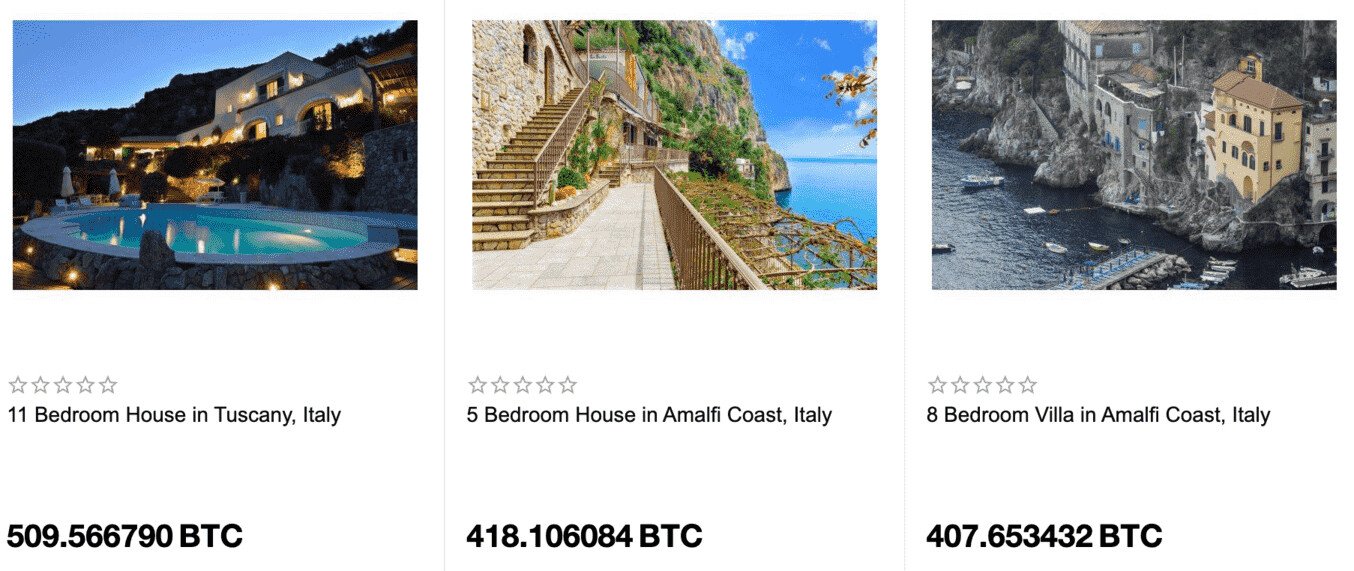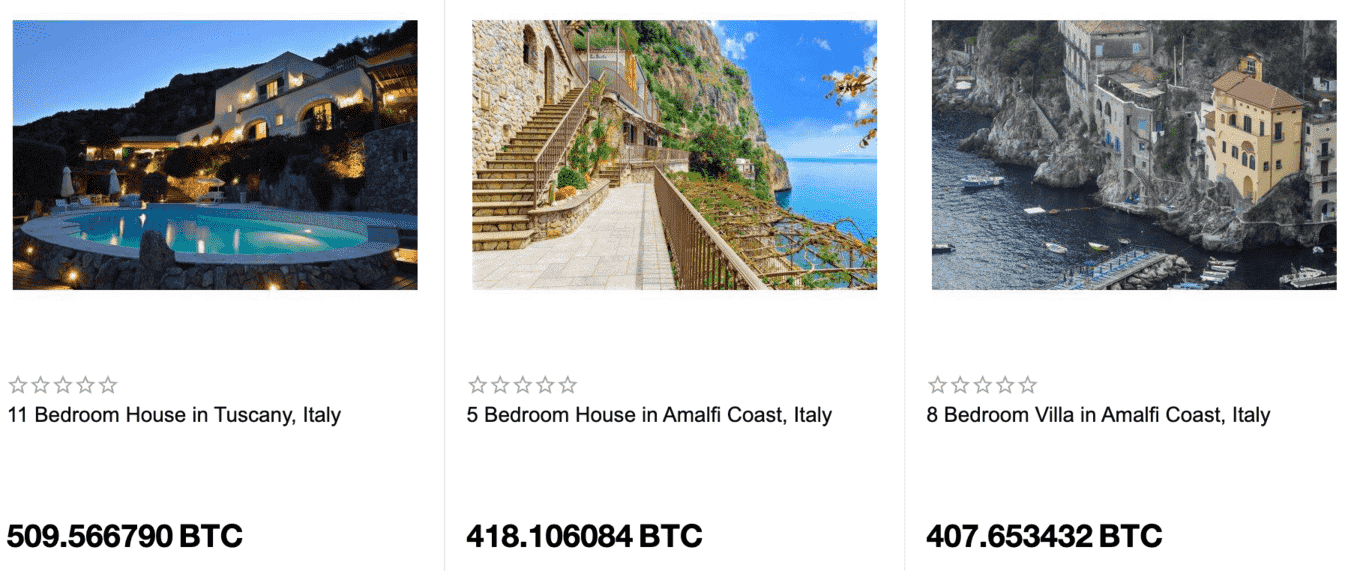 Whether it's a cheap flat or an ultra-expensive villa, there are plenty of options online for those wondering how to spend Bitcoin on real estate. One platform pioneering the BTC-based property purchasing process is Crypto Emporium, which we touched on earlier.
Using Crypto Emporium, buyers can explore a wide range of property listings worldwide – including Frankfurt, Mallorca, and New York. The buying process is as convenient as possible, making this a great alternative to the "traditional" purchasing process.
9. Artwork
If you have a Bitcoin-only software wallet and want to invest in an appreciating asset, another option is artwork. The act of buying art with Bitcoin is gaining traction globally, which is again down to the benefits offered by crypto-based transactions.
Art owners often look for privacy when buying expensive pieces, and this is undoubtedly something that Bitcoin-based purchases can offer. Again, much like with properties, buyers from foreign countries will often find using Bitcoin easier since they don't have to deal with banking systems that are alien to them.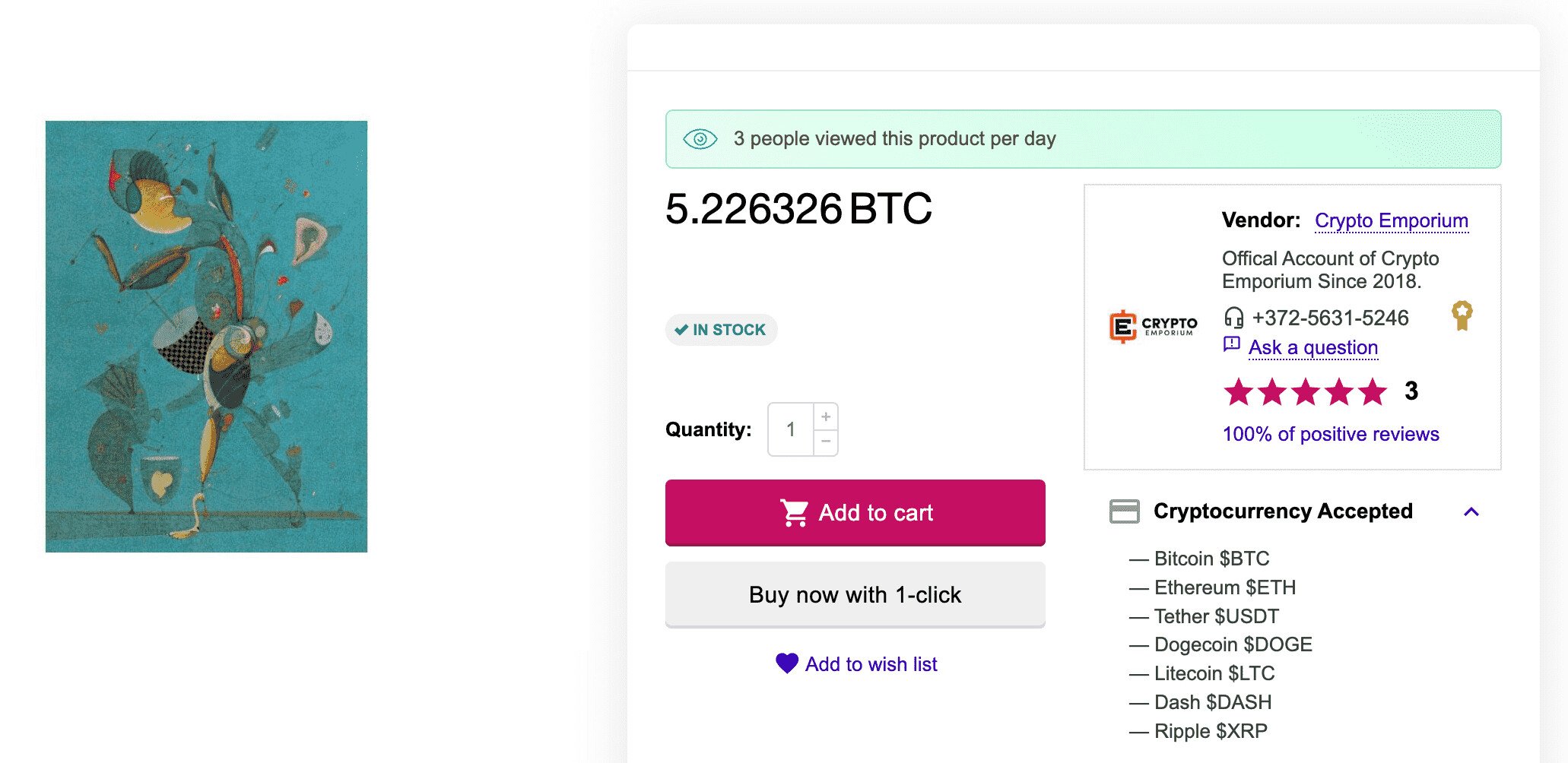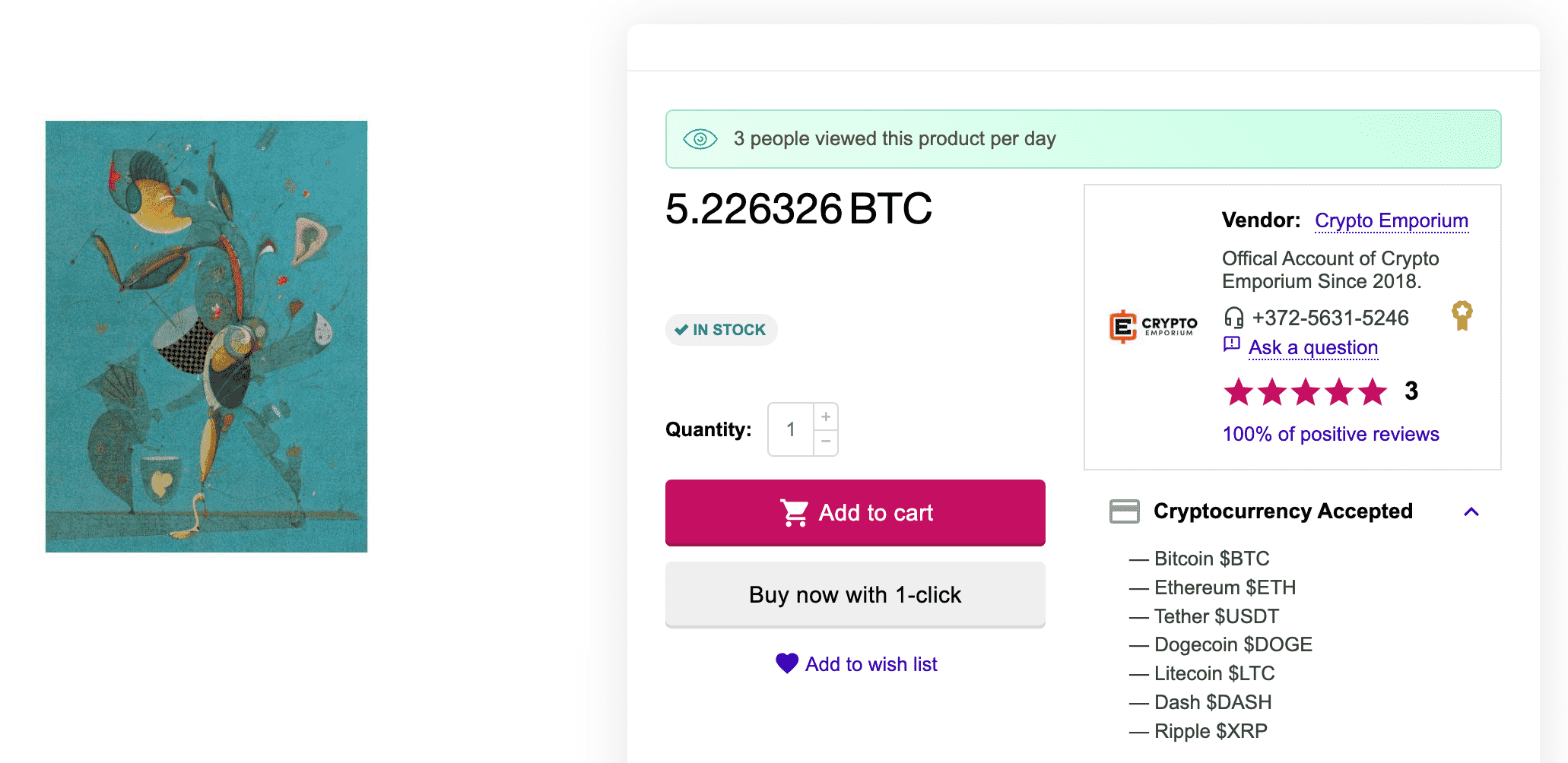 Most of the focus on artwork remains tailored towards inexpensive pieces – although we're sure that expensive items will soon become increasingly common. Crypto Emporium is once again a trailblazer in this regard since it offers a selection of incredible pieces that can't be found elsewhere.
These include prints from Alexander Vorobyev and Marco Battaglini, among others. Crypto Emporium also allows you to filter based on the artist's name and theme, making it easy to find precisely what you're after.
10. Online Courses
Education is another way of how to spend crypto and Bitcoin online. Online courses are growing in popularity – and the adoption of Bitcoin as a payment method for these services is increasing rapidly.
Several online course providers have now recognized the advantages of accepting BTC as payment. These providers span a range of focuses, from technology to data science.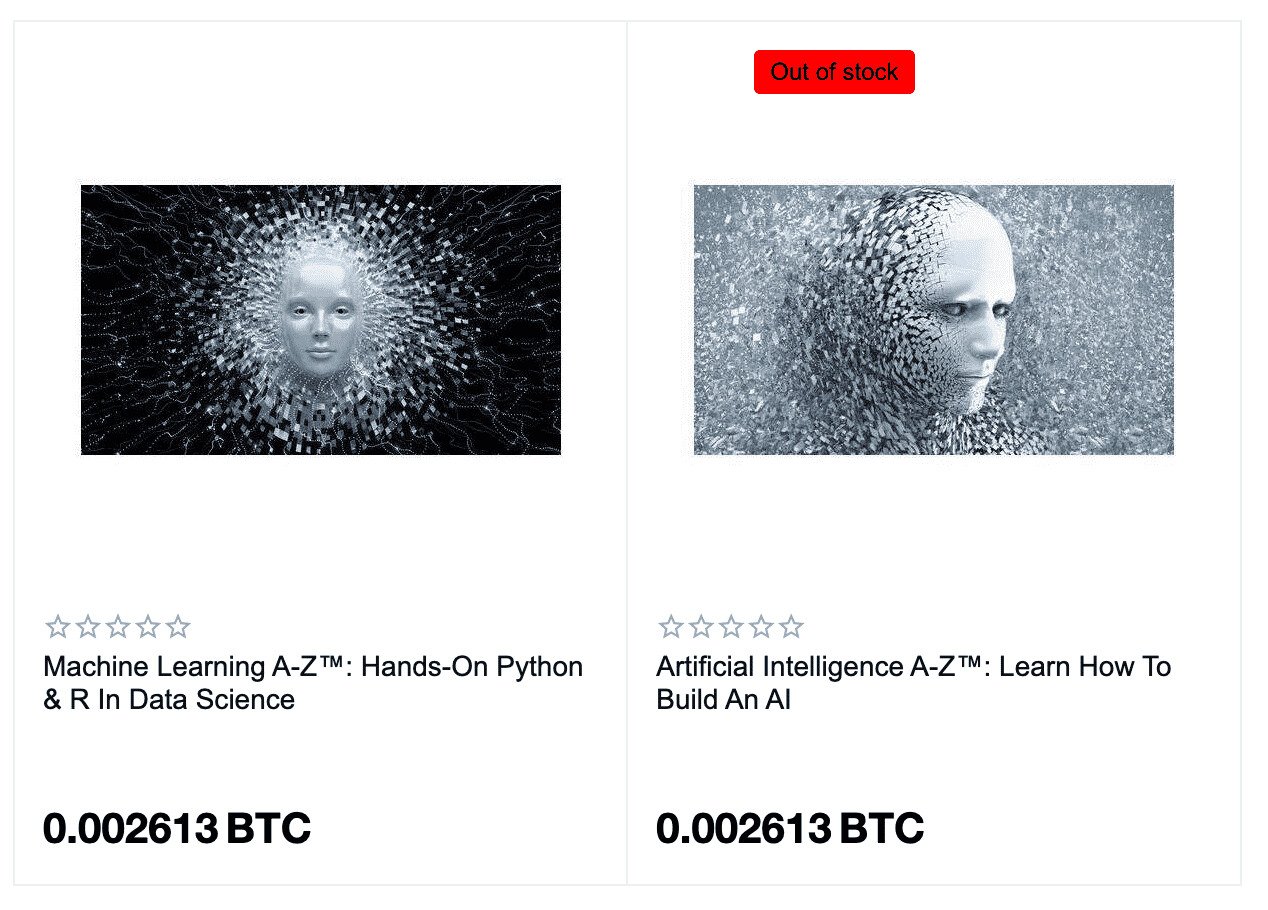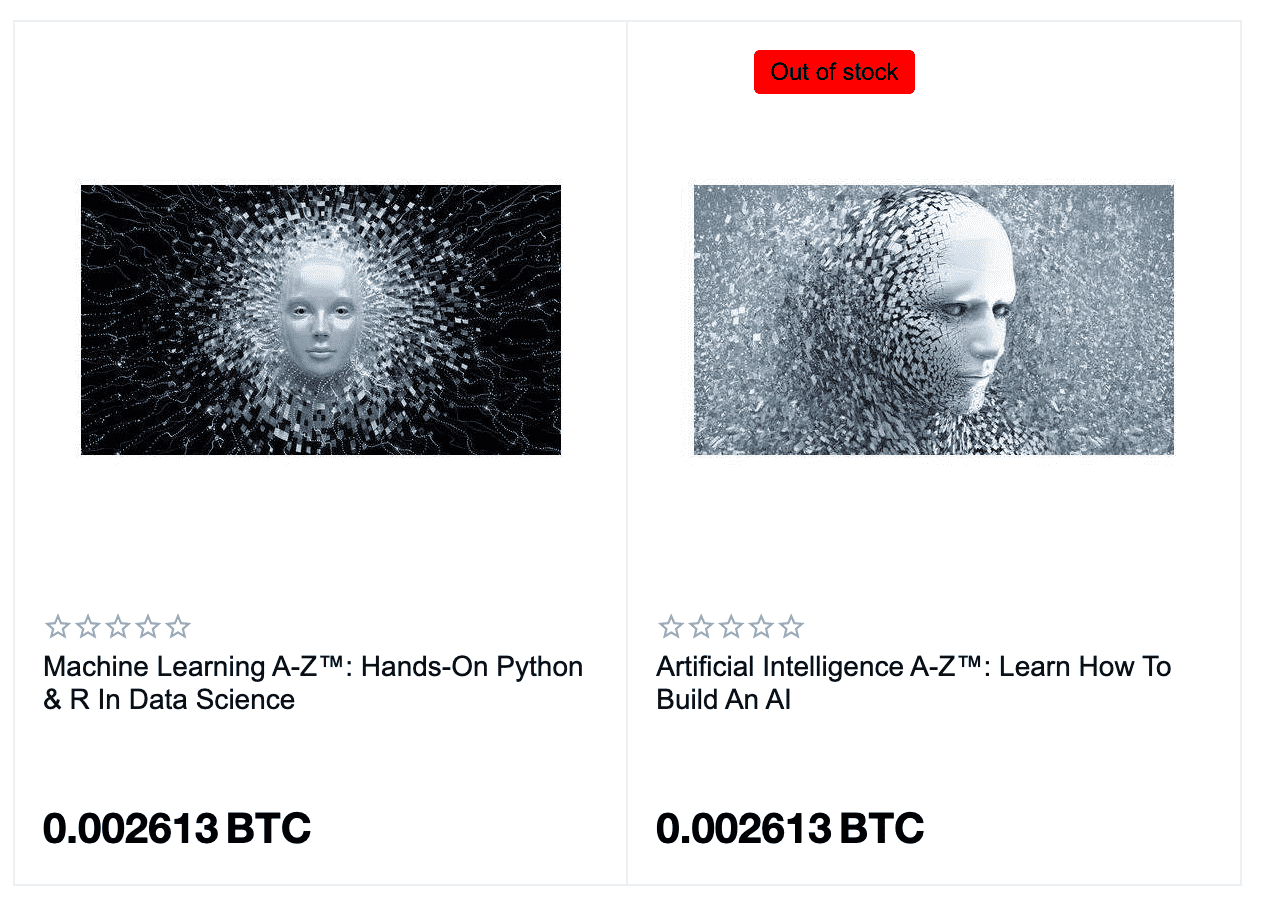 Crypto Emporium is a valuable gateway to some of these enticing courses. There's a diverse selection of courses on offer at this platform, including artificial intelligence and machine learning.
These topics are becoming increasingly popular today, meaning BTC holders can quickly pay to learn more about them. The courses themselves only cost 0.0026 BTC each, making them accessible to a broad demographic of potential students.
11. Bicycles & e-Bikes
With the need for eco-friendly actions growing more drastic by the week, there's a growing demand for "green" transport options. Bikes and e-bikes are two popular options – and BTC can now be used to purchase both.
Crypto holders can invest in an array of bikes from well-known suppliers. Not only that but there's also scope to pay for bike repairs and enhancements using crypto at a growing number of merchants.
Crypto Emporium has a diverse selection of bikes, including road, race, and mountain bikes. There's even a Penny Farthing for those seeking a Victorian vibe!
12. Collectibles
The collectibles market has also embraced cryptocurrencies, with Bitcoin being the most popular payment method. There are many different types of collectibles – although trading cards are the ones being integrated into the crypto market the quickest.
The demographics involved in trading these cards tend to be crypto savvy, so more transactions than ever use BTC, ETH, and other digital currencies. Pokémon and Yu-Gi-Oh are the two leading brands receiving attention in this regard.
Crypto Emporium offers cards from both these collections, along with classic sports memorabilia. You can even check out some "retro" electronic items, including a super-rare 1st-generation iPod!
13. Health Supplements
The level of privacy offered by Bitcoin means that the health supplement industry is also gradually accepting BTC as a payment method. Health-conscious customers may prefer BTC due to its speed and low transaction fees.
Health supplements can encompass various items, from protein powders to herbal remedies. Crypto Emporium is a frontrunner here since the platform offers a wide range of supplements – including nootropics. However, other options exist for those seeking more "personalized" products.
14. Crypto Merchandise
Those familiar with the best crypto to buy Reddit will realize that certain digital currencies can "trend" on social media. Once a coin is trending, it attracts vast attention and leads to other products being launched that leverage its popularity.
Many retailers understand this process and offer merchandise with logos and branding from trending coins. For example, many online merchants offer DOGE-branded merchandise or mugs with Elon Musk's face on them.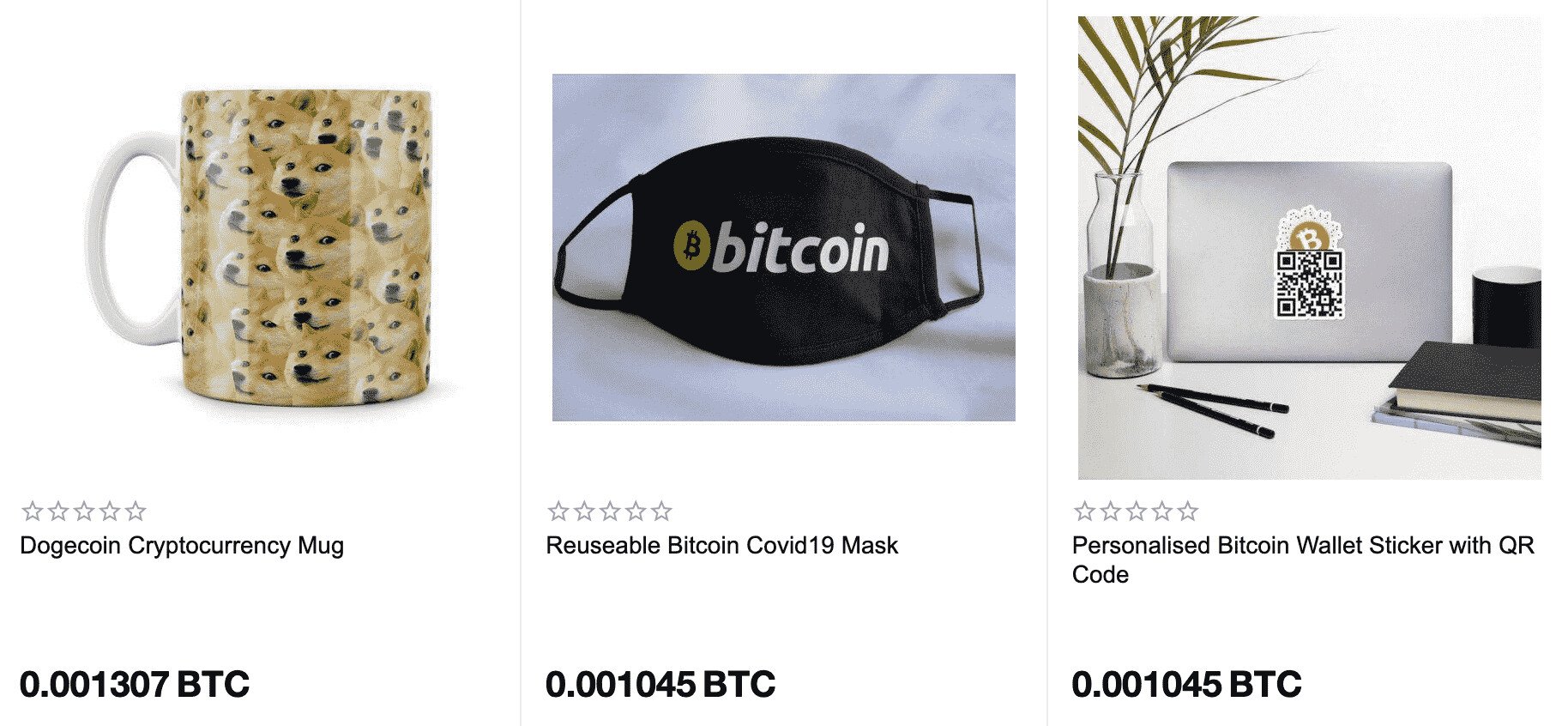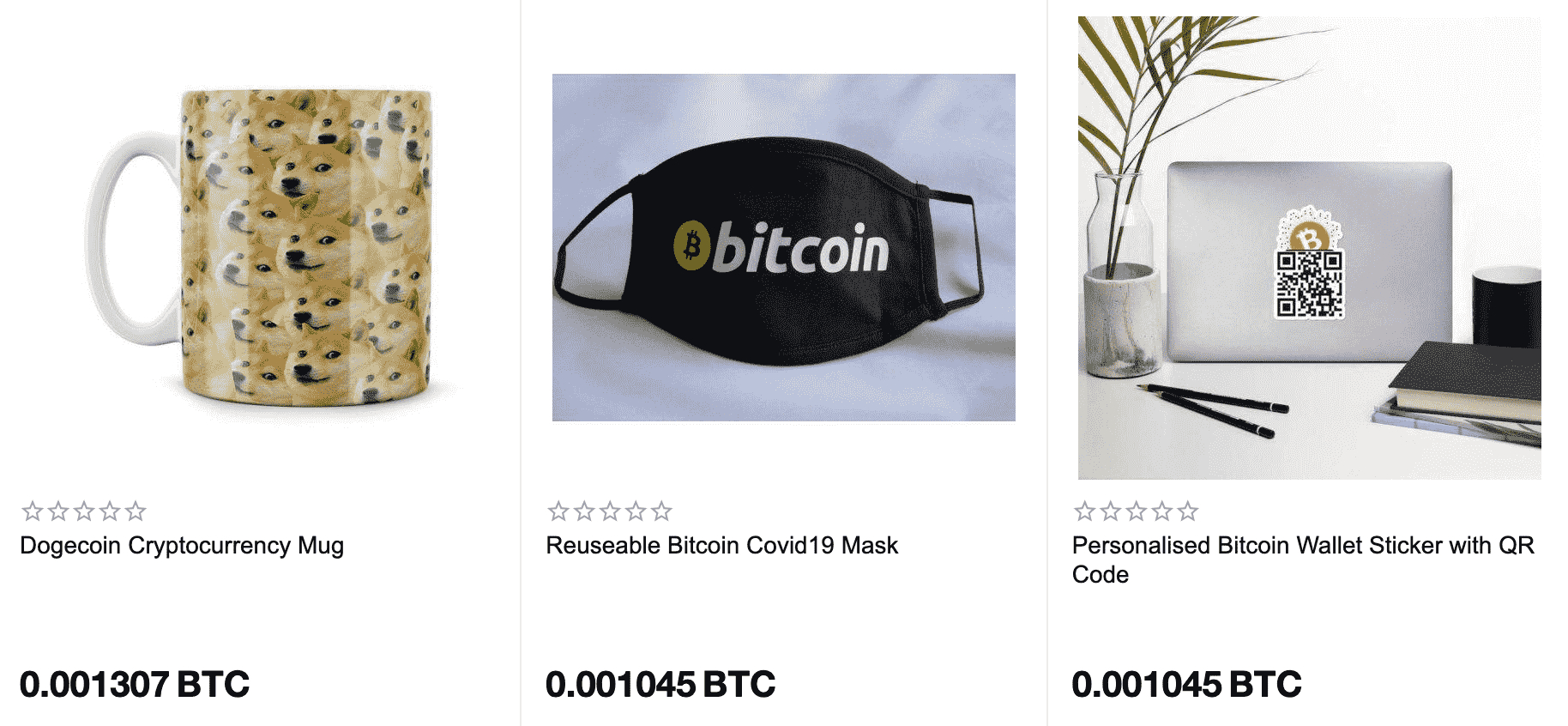 These merchandise items allow holders to display their passion for crypto and use crypto to fund the purchase! Expect this market area to grow exponentially in the years ahead as more and more crypto coins create strong communities on social media sites.
15. Motorcycles
Some of the best places to spend crypto allow crypto holders to buy motorcycles. This enables bike enthusiasts to obtain their dream ride while avoiding the hefty fees associated with large purchases.
Moreover, if you're one of these people, you'll also be able to dive into the international market. Since you won't have to worry about the volatility of currency conversion rates, you'll have thousands more biking options to choose from.
As crypto adoption grows, more motorcycle dealers may begin accepting digital currencies to make themselves appealing to customers. We're already seeing this trend, with Crypto Emporium now offering bikes from high-profile brands like Yamaha, Ducati, and Kawasaki delivered directly to your door!
16. Mobile Phones
Smartphones, budget-friendly phones, and other mobile devices can now be purchased online using Bitcoin. This approach will appeal to tech-savvy enthusiasts who already hold crypto and wish to upgrade their current setup.
In addition, we're already seeing some mobile service providers begin integrating crypto-style aspects into their service. For example, Conflux has partnered with a Chinese telecom company to offer "BSIMS," which mirror the services provided by traditional crypto wallets.
The additional fees charged by mobile phone stores are often off-putting, so using Bitcoin is a great alternative. Crypto Emporium offers a range of mobiles, from iPhones to Samsung Galaxy models – along with a selection of high-end accessories as well.
17. Sculptures
Regarding what can you buy with Bitcoin, most items are priced mid-range. However, if you have extra cash to burn, you may wonder whether you can buy sculptures online with BTC.
Thankfully, you can! If you're an art collector or sculpture lover, you can purchase these items using your Bitcoin holdings. This can also be viewed as an investment opportunity since artwork (and sculptures) often appreciate in value.
Crypto Emporium is playing an essential role in driving this area of the art market. You can buy some extremely rare sculptures through the site, such as Jeff Koons' "Baloon Dog," without going through a dealership.
18. Music & Video
Like the best NFTs to buy, digital versions of music and video are becoming increasingly popular amongst the crypto community. This could be a wide range of items, from rare albums to brand-new indie productions.
An exciting area of the market involves new musicians and actors selling their wares and accepting crypto. This is an excellent way of "marketing" themselves since it naturally appeals to a growing demographic of crypto-savvy people.
Alternatively, these musicians and actors can sell their creations on e-commerce platforms like Crypto Emporium. This is much easier than finding a buyer themselves and provides excellent exposure while streamlining the payment process.
19. Scooters
Eco-conscious crypto investors may also wish to purchase scooters with their digital currencies. Scooters are becoming incredibly popular within urban environments since they're cheaper and more accessible than many transport networks.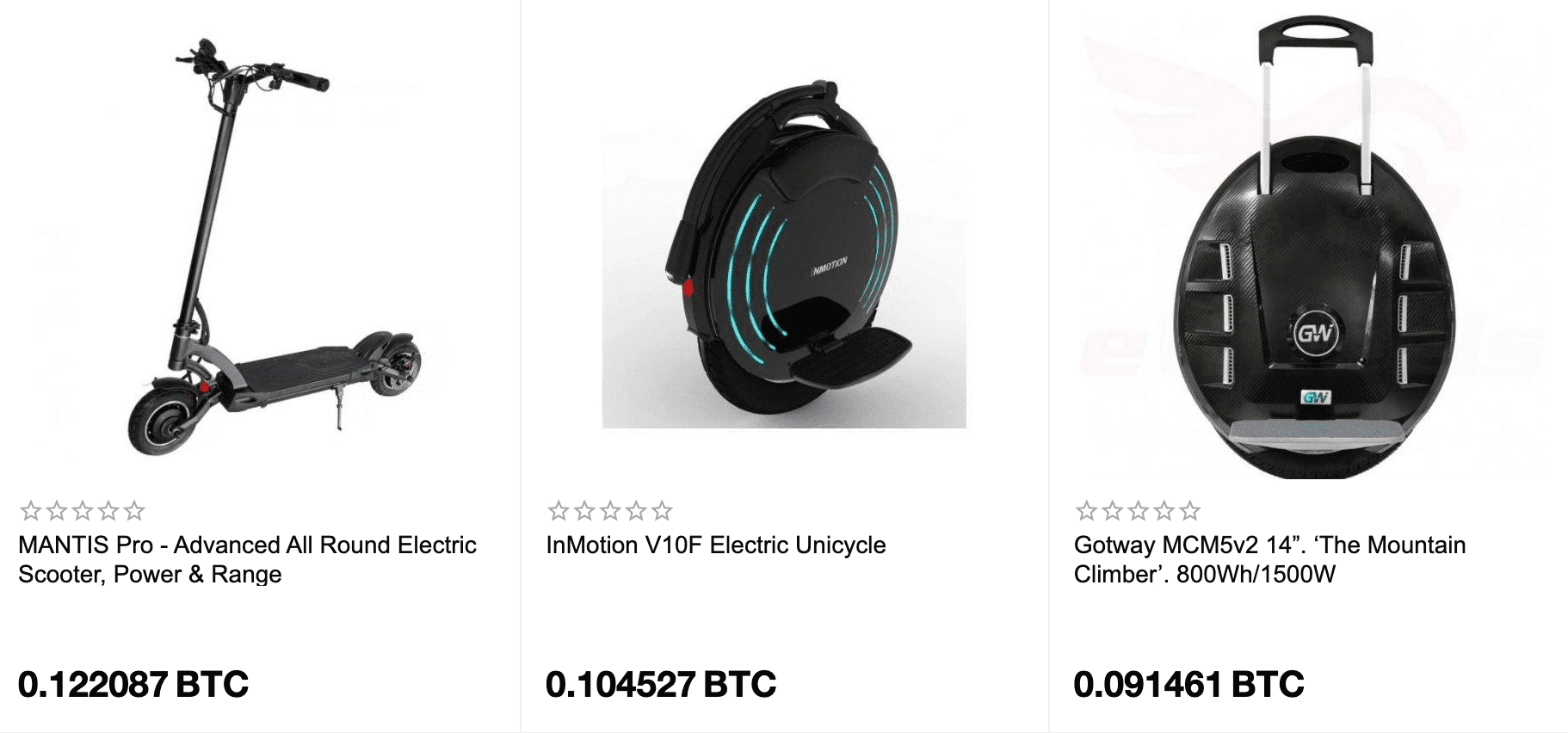 However, only a few physical retailers offer electronic scooters, meaning most purchases are made online. Thankfully, many merchants now accept BTC as a payment method, which is excellent news for thousands of people.
At Crypto Emporium, not only can you buy scooters, but you can also buy other electric-powered items. These include unicycles, skateboards, and mountain climbers.
20. Sporting Goods
You can also spend cryptocurrency to buy sporting goods, which is a great alternative to going into physical stores. The term "sporting goods" covers a broad range of items, but in this context, we're referring to things like surfboards, kayaks, dartboards, and other similar products.
All of these items can be bought directly from Crypto Emporium. Notably, the items that Crypto Emporium stocks are from industry-leading brands like Carver and Radiin. Excitingly, you can also add extras if you decide to use Crypto Emporium; for example, carbon fiber handles when you purchase a brand-new jet board.
21. Health & Beauty Items
Health and beauty is another area that's seeing rapid crypto adoption. This area includes skincare, cosmetics, supplements, wellness items, and appliances.
For example, Crypto Emporium offers the rare Crème de la Mer moisturizer, priced at 0.0065 BTC. In addition, you can also purchase a Dyson Supersonic Hairdryer – one of the most popular hairdryers on the market.
22. Arcade Games
A more unusual item that falls under what you can buy with crypto is arcade games. By arcade games, we mean "retro" games that used to be found in arcades throughout the 70s and 80s. These are often considered collectible items and have high sentimental value.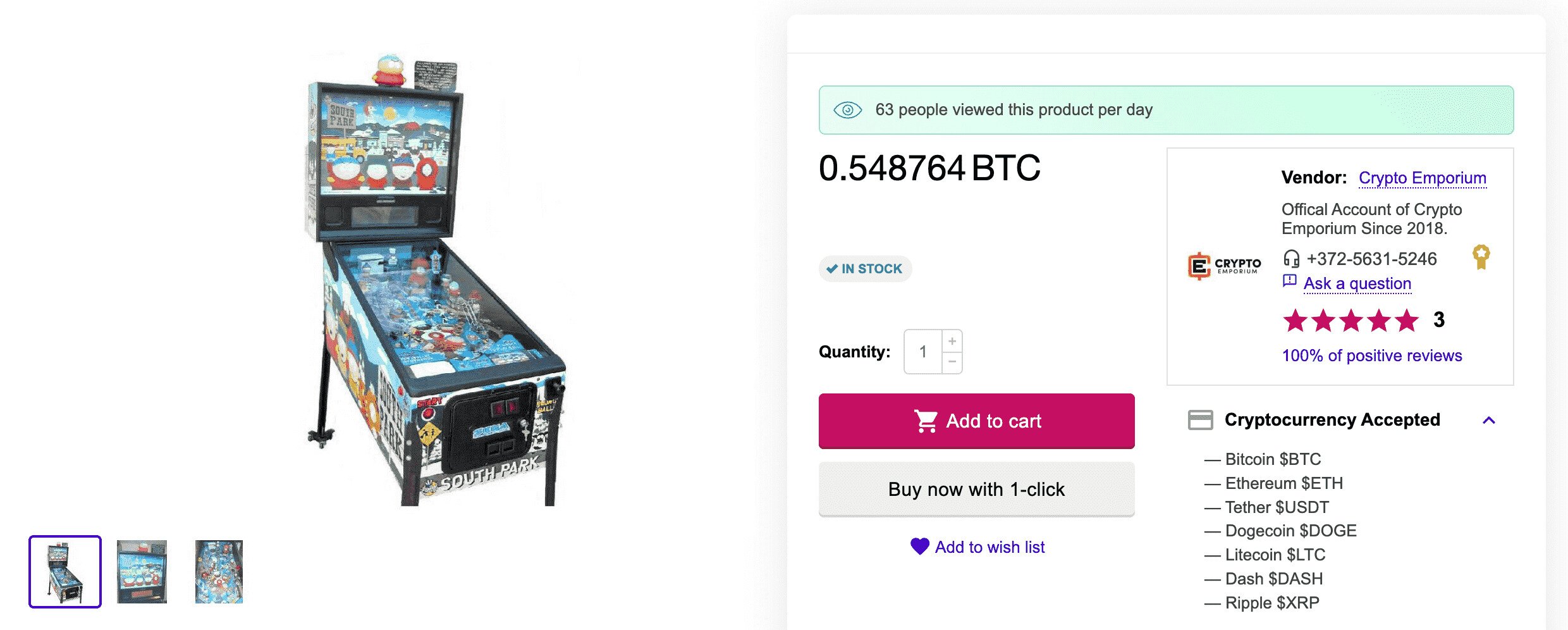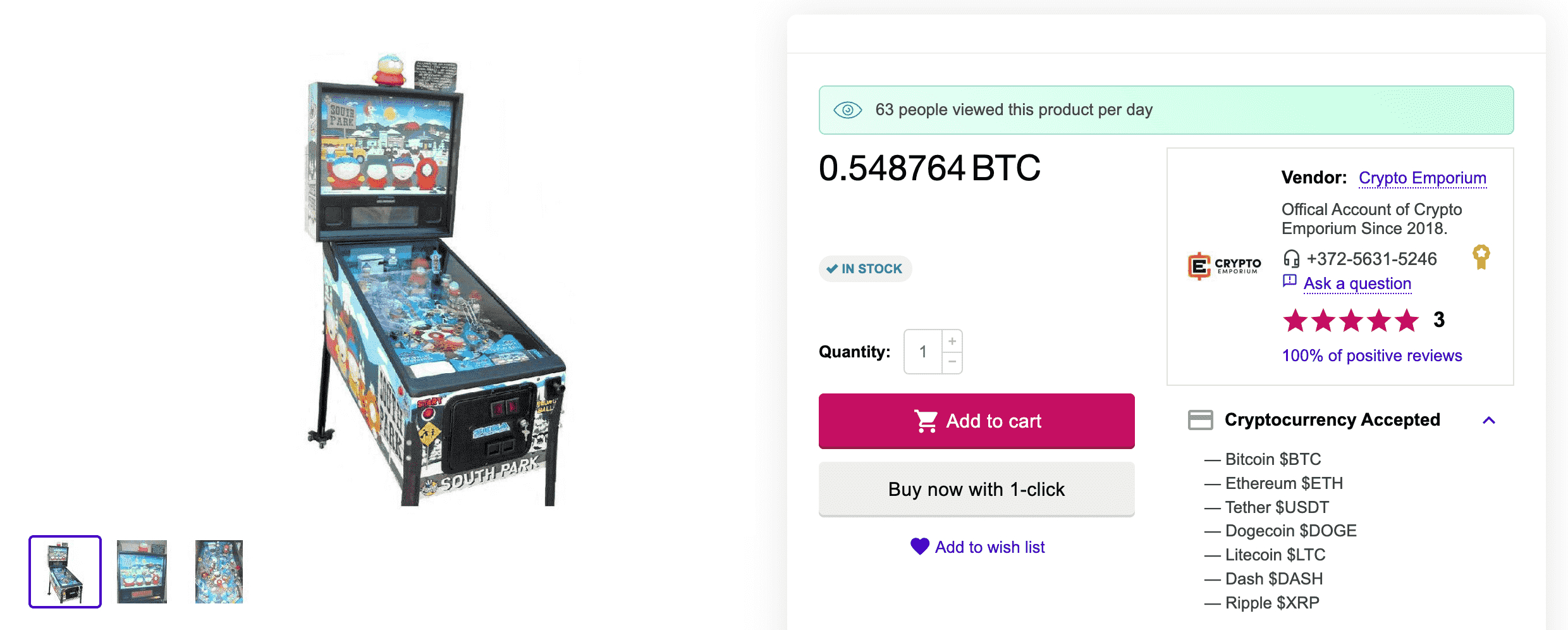 The most popular arcade games you can buy with Bitcoin include pinball machines and air hockey. Crypto Emporium offers both game types and some rare pieces, such as the Stern South Park pinball machine, priced at 0.548 BTC.
23. Pet Products
Another of the best things you can buy with Bitcoin is pet products. This may seem strange, but many people have exotic animals that require items sourced from overseas. Merchants that offer these items often accept BTC so that customers don't have to worry about currency conversion fees.
Various pet-related items can be purchased online using crypto, from food sources to custom-built cages. Crypto Emporium offers a range of these items, meaning pet owners can find what they require without scouring the internet.
24. Classic Cars
Several innovative e-commerce platforms have also begun offering classic cars for purchase using Bitcoin. These platforms cater to car enthusiasts looking to acquire vintage vehicles using digital currencies instead of FIAT.
Since BTC allows borderless transactions, the classic car market could expand globally if more merchants began accepting it for payments. Crypto Emporium has already hopped on this trend, offering a selection of highly sought-after vehicles – including a super-rare 1971 Lamborghini Miura costing just over 148 BTC!
25. Crypto Mining Equipment
With the crypto market bouncing back in 2023, BTC mining revenues are increasing. However, due to the size of the Bitcoin network, miners now require advanced rigs that can handle the network validation process.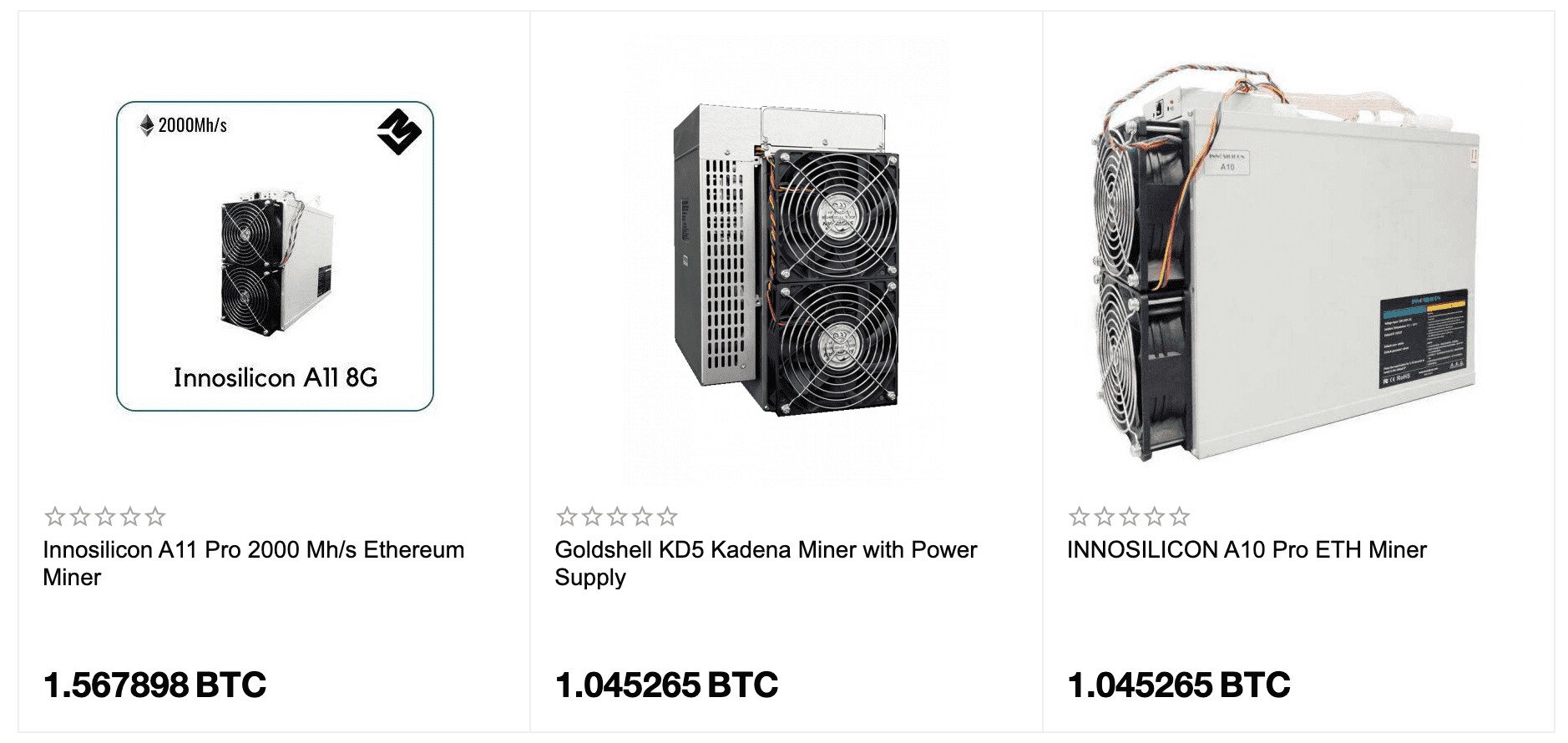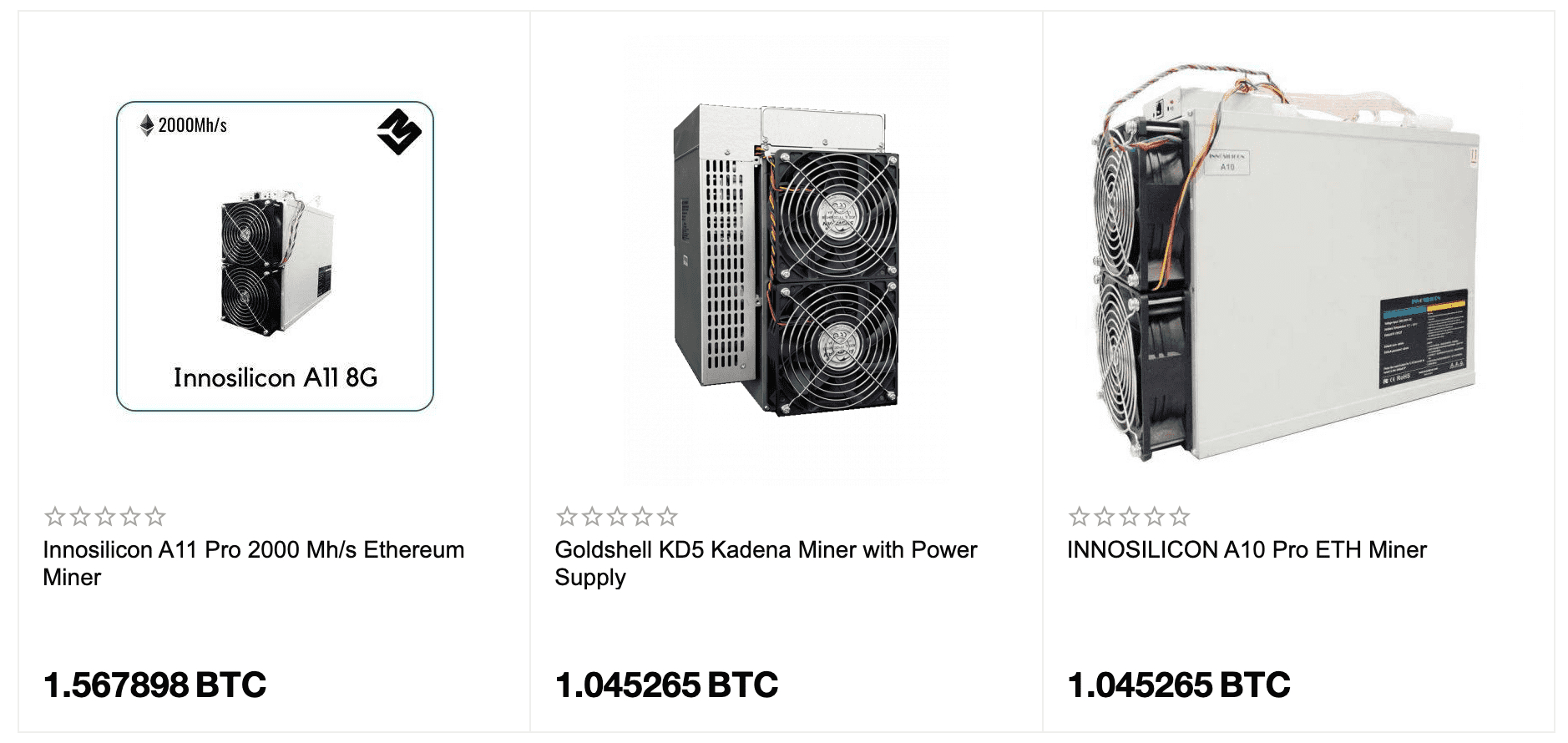 Naturally, most sellers of these rigs accept BTC as payment due to the anonymity and speed it offers. Crypto Emporium offers a selection of these rigs from top names like Innosilicon and Goldshell. There's also an array of mining accessories, ensuring this platform is an "all-in-one solution" for miners globally.
26. Cameras
The rise of platforms like YouTube and TikTok over the past few years has meant hundreds of camera brands offer new and exciting options for content creators. Many of these brands accept Bitcoin as payment, making it easy for crypto-savvy creators to get their hands on the latest iterations.
If you use Crypto Emporium, you can check out a massive selection of DSLR cameras, mirrorless cameras, compact digital cameras, and more. These cameras have detailed product pages, making it easy to compare and contrast the options available.
27. Headphones
Bitcoin can also be used to purchase headphones online, which is great if you're seeking a new pair of Dre Beats. These days, many headphones brands charge a high price point for their top-of-the-range models, so using BTC (and other cryptos) can be a great way of ensuring costs remain low.
Crypto Emporium offers a range of headphones that rivals most specialty electronics dealers. This range includes the latest models from Sennheiser and Apple – two of the most respected names in the space.
28. Smartwatches
Another option for people looking for what you can with cryptocurrency are smartwatches, including Apple Watches and Garmins. These watches are becoming hugely popular worldwide since they allow wearers to monitor their biological metrics, whether their heartbeat or daily steps.
You can instantly buy many of these watches through Crypto Emporium – often at a lower price than other retailers. Moreover, Crypto Emporium ships to 125+ countries globally, which is great if you're based somewhere that doesn't have an Apple or Garmin store nearby.
29. Drones
Content creators worldwide have embraced drone footage over the past few years since it offers a perspective that can't be achieved with "traditional" cameras. Drone prices are coming down rapidly, so no longer are they reserved solely for this with lots of cash to spend.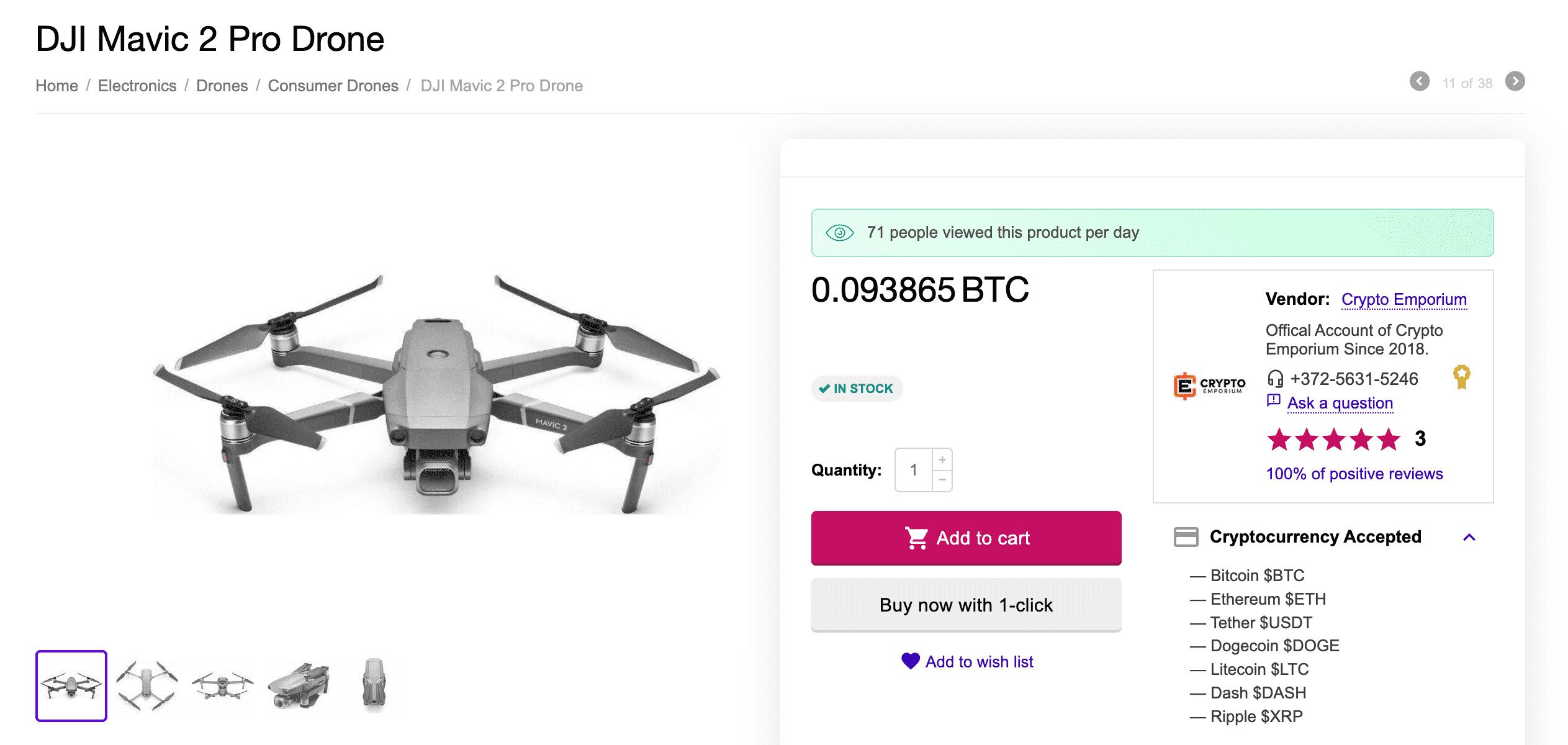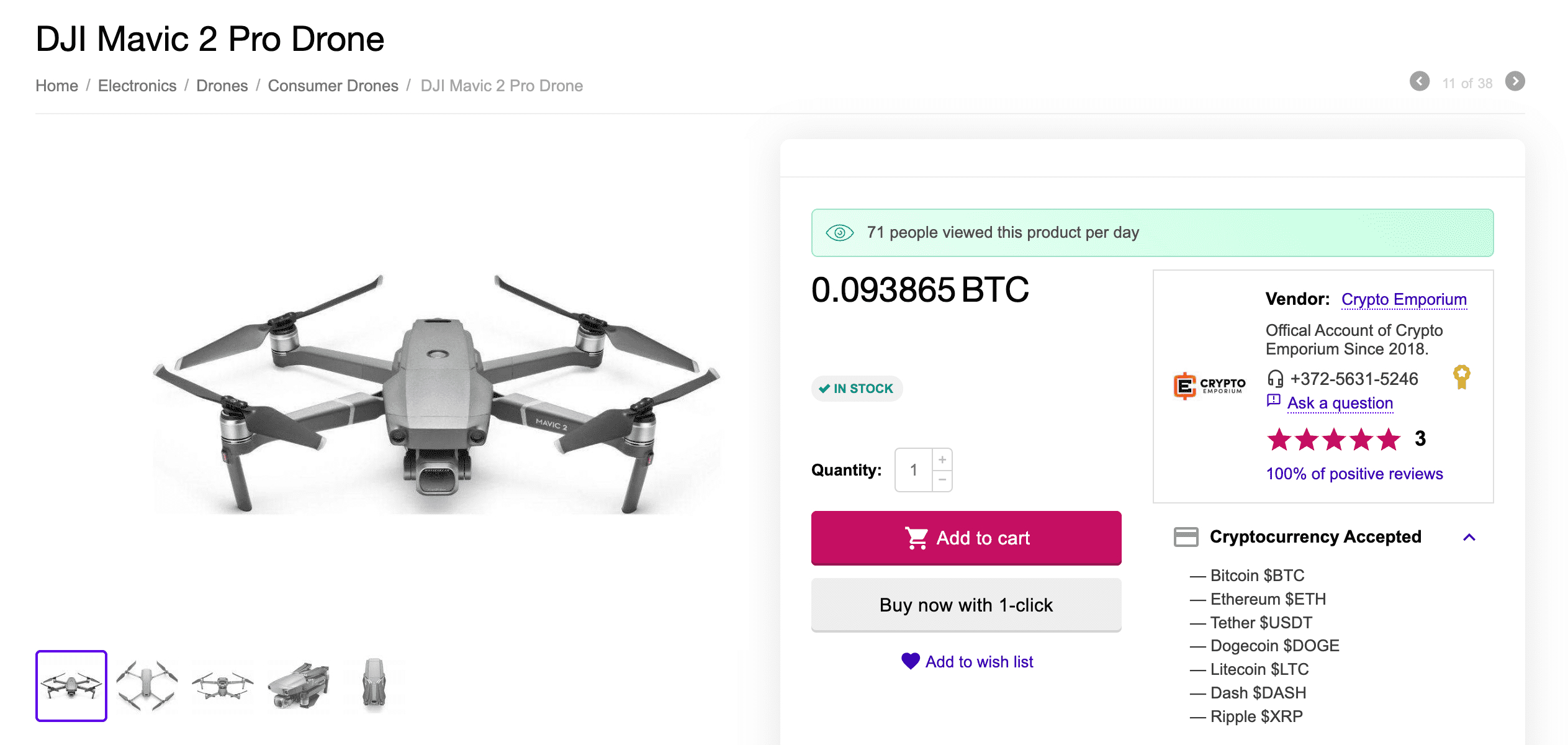 Crypto Emporium currently offers the DJI Mavic 2 Pro Drone, priced at just 0.093 BTC. Moreover, Crypto Emporium ensures the authenticity of all its drone products, ensuring you'll never be sent a knock-off item with disappointing qualities.
30. Gaming PCs
Concluding our discussion of how to spend cryptocurrency is gaming PCs. Much like the previously-discussed BTC mining rigs, gaming PCs are becoming increasingly advanced – meaning their starting price point continues to creep higher.
Due to this, many gamers prefer to use BTC to fund their payments, as payments are easily trackable on the blockchain and ensure that disputes can be handled quickly. If you fall into this category, you can buy some top-notch gaming PCs at Crypto Emporium for attractive prices – including the new Alienware Aurora R11, which features 16GB of RAM and an Intel Core i7 processor.
Where is the Best Place to Spend Bitcoin & Crypto Online?
Now that we've discussed what you can buy with Bitcoin, it's important to discuss where to purchase these items safely. A recent article from Yahoo Finance highlighted that around 25% of all online businesses will look to offer crypto payment methods by 2025 – highlighting the remarkable rate of crypto adoption.
One business that caters specifically to crypto users is Crypto Emporium. This groundbreaking platform has been around since 2018 and has gained a loyal following from all corners of the market. By offering a vast range of items and 24/7 customer service, Crypto Emporium has solidified itself as the "go-to" for online crypto purchases. It also allows users to avoid crypto taxes by spending altcoins on a wide range of goods such as watches and cars.


Crypto Emporium offers diverse products, from luxury watches to real estate. The platform offers something for every budget, with its user-friendly interface making it easy to filter the results and find exactly the type of item you're looking for. If you're wondering who accepts Dogecoin in 2023, Crypto Emporium has you covered.
One of Crypto Emporium's best features is the wide range of cryptos that it supports. You can pay for items using Bitcoin, Ethereum, Litecoin, Dogecoin, and other well-known digital currencies. This is important since it means you can choose the cryptocurrency that offers the lowest fees and speediest transactions.


If you're wondering what you can buy with Bitcoin, you'll also be concerned with the level of customer service on offer. Fortunately, Crypto Emporium excels in this regard since the platform has a dedicated customer service team available 24/7. This means that even if you're a complete newcomer to the space, Crypto Emporium's team can walk you through the purchasing process.
Finally, Crypto Emporium even offers real-time item tracking and delivery notifications, meaning you'll always know where your purchased item is and when it'll arrive. Moreover, Crypto Emporium delivers its products to over 125 countries – all while offering attractive shipping rates across the board.
What Cryptos Can You Use to Buy Real Items?
Now you know the answers to the question of "what can you buy with cryptocurrency", you may be wondering what tokens you can actually use to buy things – aside from Bitcoin.
Once you've identified where you can spend crypto and which item(s) you'd like to purchase, it's crucial to research which digital currency you can use. This will vary depending on the merchant, although it's safe to say that the vast majority will accept Bitcoin – due to its perceived "safety" relative to others.
However, many of the best altcoins are now being accepted by online stores, meaning you have more options than ever regarding funding purchases. Merchants constantly seek payment methods that save them money on fees while ensuring that transactions are as safe as possible.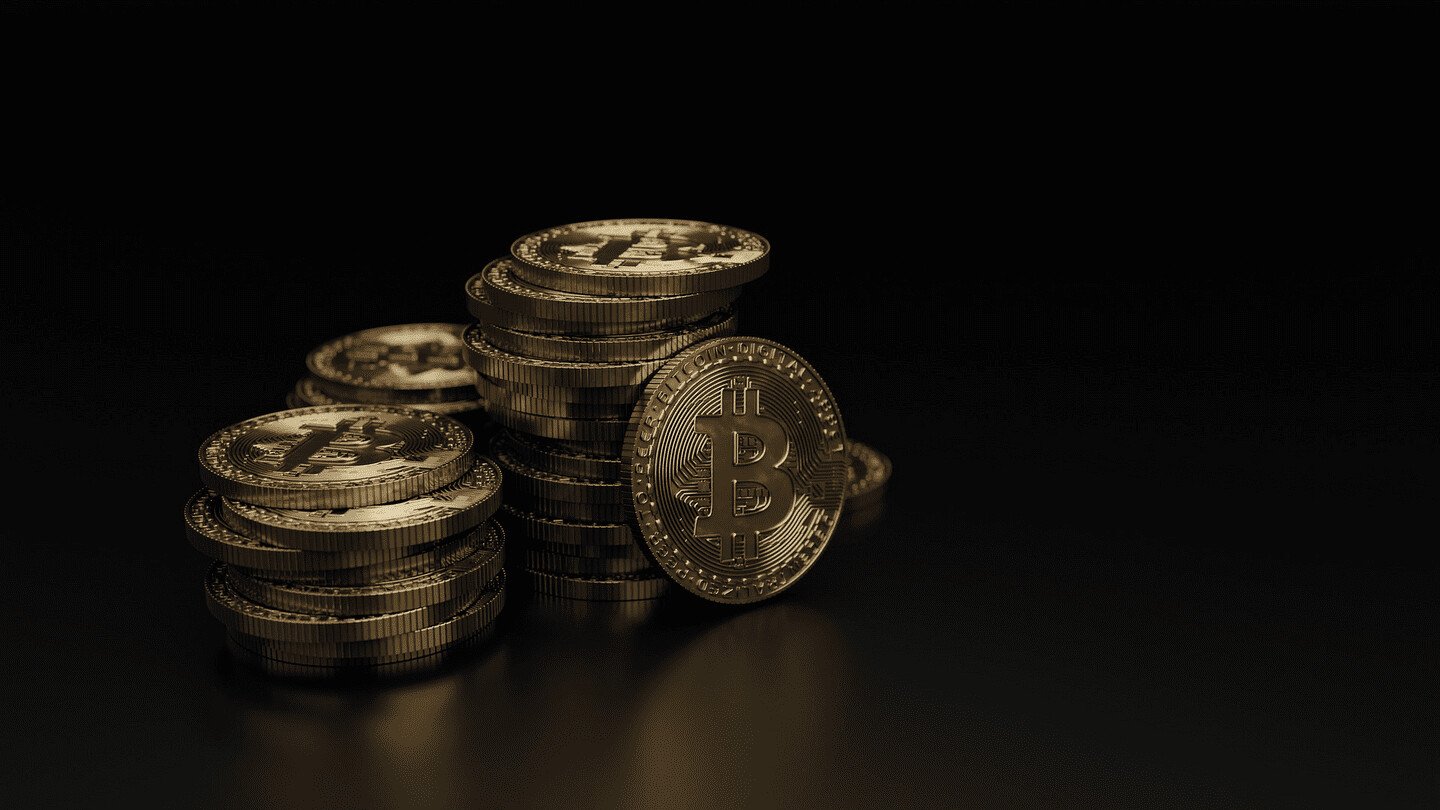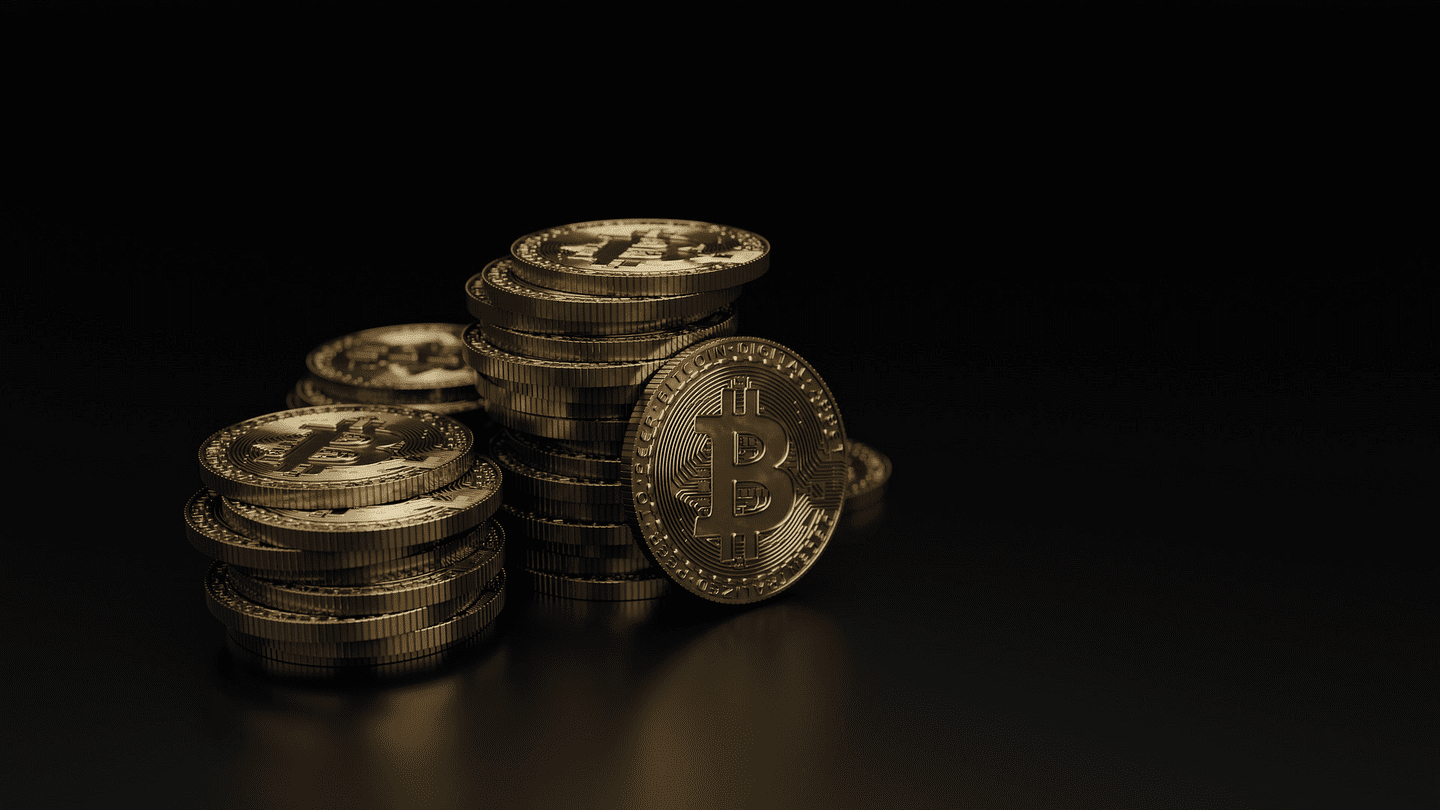 Aside from Bitcoin, Ethereum (ETH) and Tether (USDT) are the two most popular digital currencies accepted online. When researching where to spend crypto, it's a good idea to check whether any of these three currencies can be used in the buying process.
To make things easier, presented below is a bullet-point list that highlights the most popular cryptos that online merchants accept:
Bitcoin (BTC)
Ethereum (ETH)
Tether (USDT)
Dogecoin (DOGE)
Litecoin (LTC)
Dash (DASH)
Ripple (XRP)
USD Coin (USDC)
Stellar (XLM)
Binance Coin (BNB)
Bitcoin Cash (BCH)
Is It Safe & Legal to Buy Items with Bitcoin?
According to Polaris Market Research, the global crypto market is expected to be valued at over $3.1bn by 2030 – representing a compound annual growth rate (CAGR) of 7.2% between now and then. This growth will naturally raise questions regarding what crypto can be used for and whether it will completely replace FIAT currencies.
As most crypto exchanges have found out, crypto regulations can change anytime. However, these regulations are more to do with buying and selling digital currencies – not using these currencies to purchase items online.
So, whether you're looking to buy gift cards with Bitcoin or purchase new clothes with Ethereum, it's completely legal to do so – in most countries (including the US). In a few countries, cryptocurrencies aren't permitted, so it's essential to research this beforehand.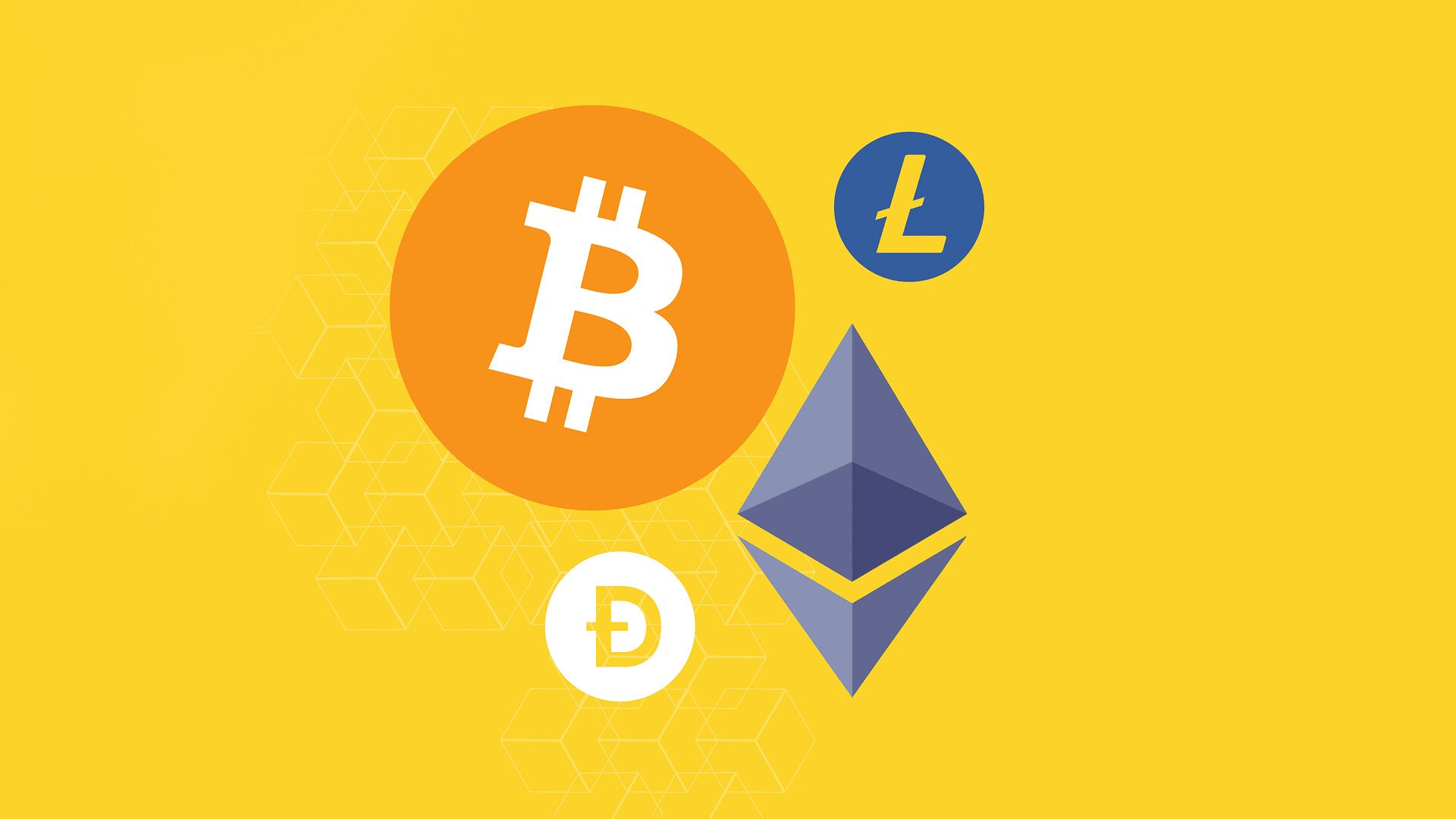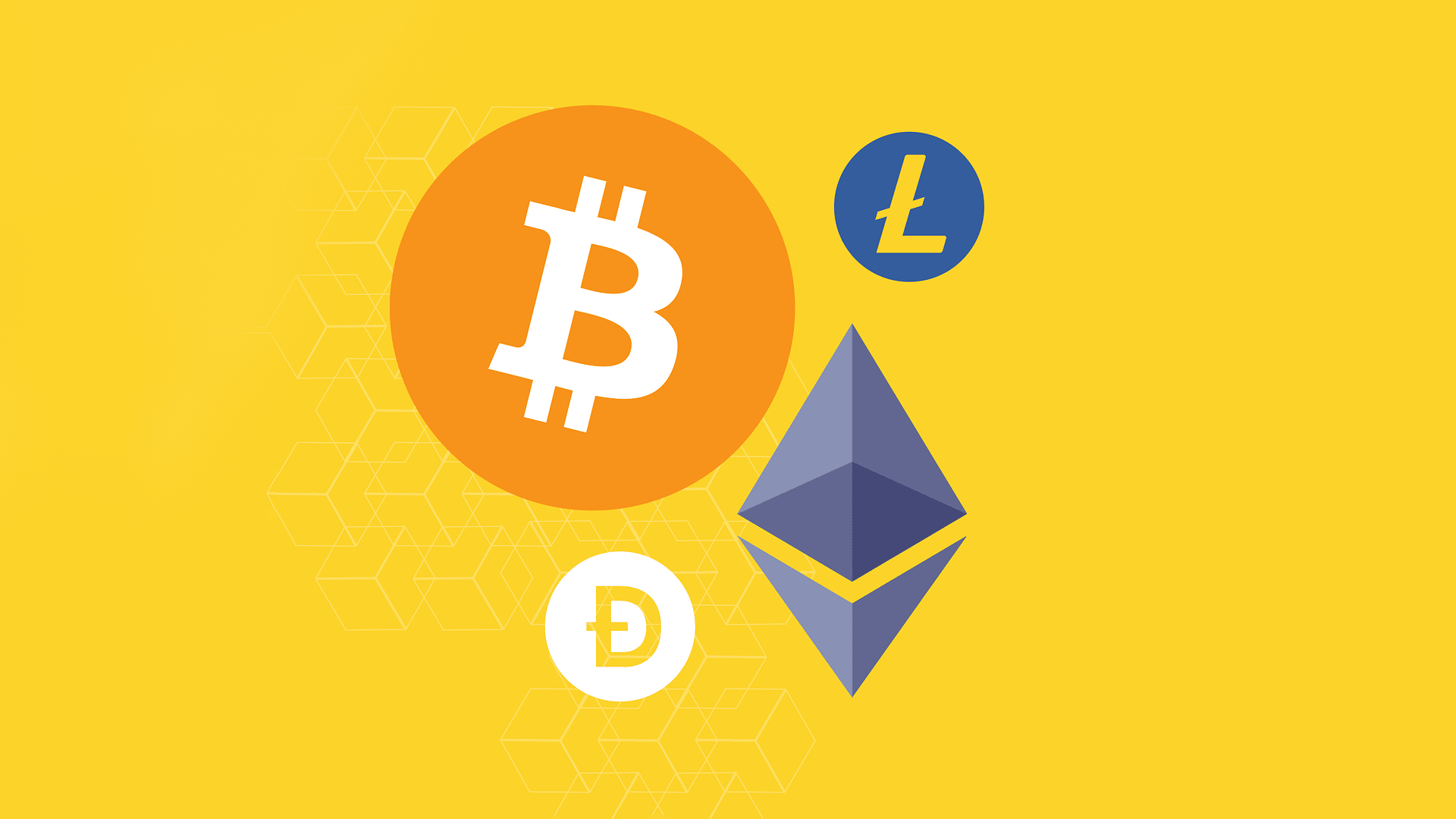 But is it safe to buy items with Bitcoin? This is trickier to answer, as it all depends on the merchant you use. Bitcoin itself is designed to be incredibly safe and anonymous, the latter point being one of the main reasons it's such a popular option for buyers.
However, since Bitcoin transactions are irreversible, finding a credible merchant (e.g., Crypto Emporium) is crucial when researching how to spend crypto. If you purchase with a scam buyer, which many unfortunately do, there's no way to recover the funds – meaning they'll be lost forever.
How to Spend Bitcoin – Quick-Step Guide
Before concluding our discussion of what can you buy with Bitcoin, let's take a brief look at the intricacies of the purchasing process – since they differ significantly from FIAT-based transactions.
Below are the four simple steps you must be aware of when researching how to spend Bitcoin. We'll use Crypto Emporium as an example due to its level of safety and credibility within the space:
Step 1 – Create a Crypto Wallet
To start with Crypto Emporium, you'll need a crypto wallet to store your digital currencies. There are various wallet providers, so feel free to choose one that suits your preferences. Setting up the wallet is simply a case of heading to the provider's website and following the instructions to create a password.
Step 2 – Acquire Bitcoin
You'll then need to buy Bitcoin (or another supported crypto) to fund your purchases on Crypto Emporium. This can be easily achieved using the best crypto apps, brokers, or decentralized exchanges (DEXs).
However, we recommend using eToro if you're looking for the most seamless (and cost-effective) process. The eToro Exchange allows you to instantly swap FIAT to a wide range of different cryptos with low fees, and is one of the few crypto exchanges that's licensed by tier 1 regulatory bodies like the FCA and ASIC, so it's the safest place to buy Bitcoin.
Step 3 – Register a Crypto Emporium Account
Head over to the Crypto Emporium website and click "Register ."Fill in the required details, including providing an email address and a strong password. Once all the fields have been filled, click "Register" again.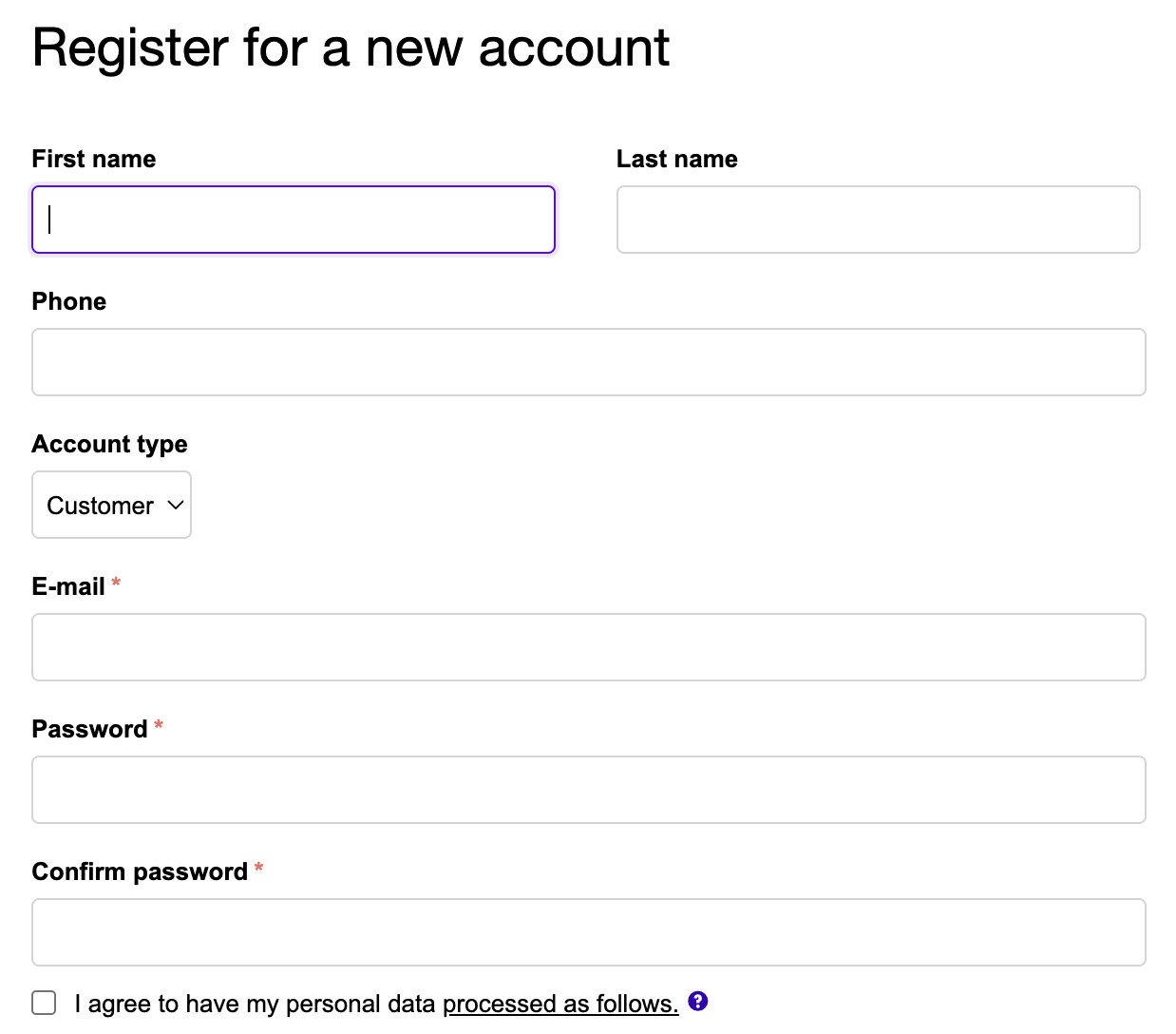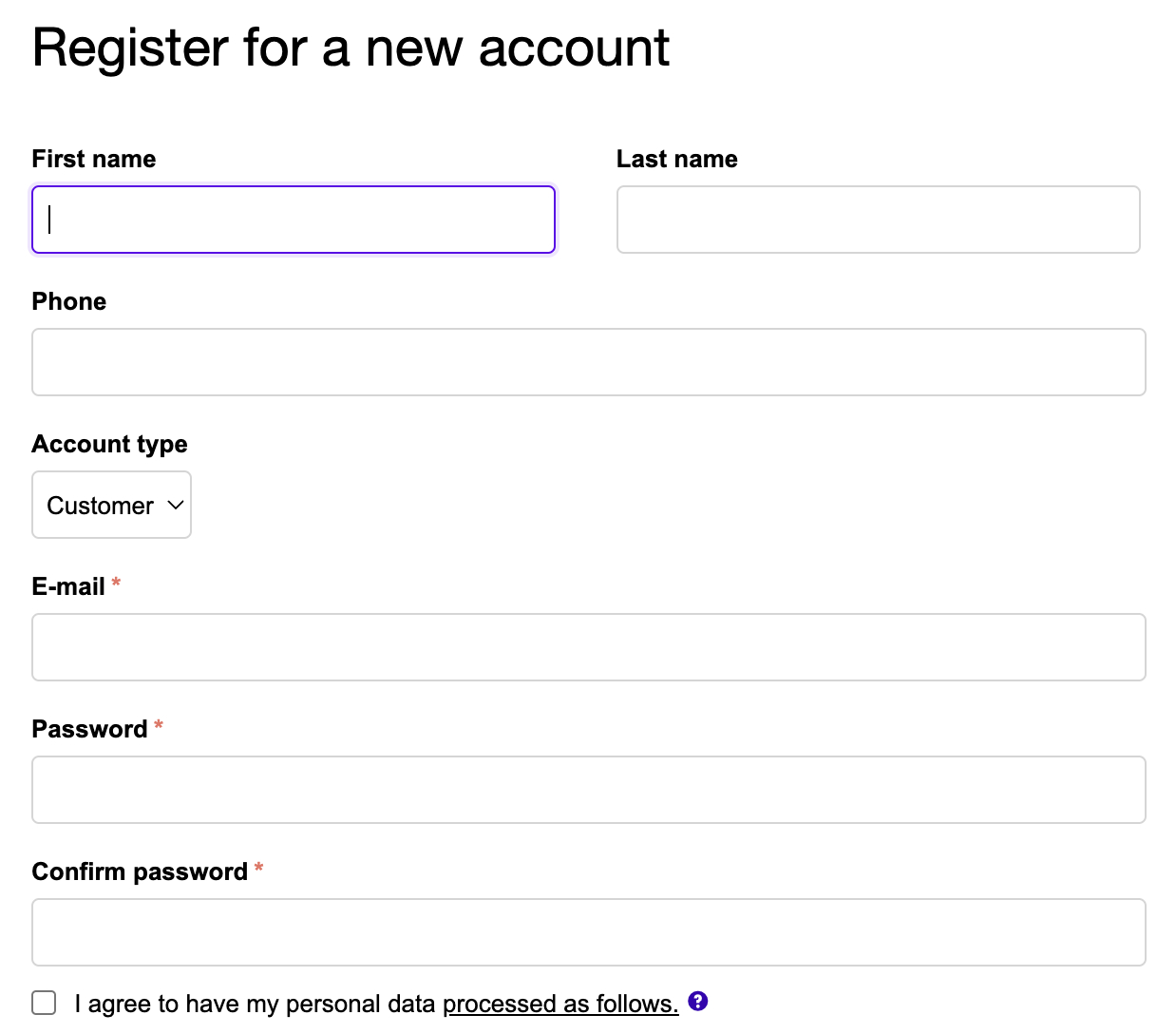 Step 4 – Find an Item to Purchase
You can now browse Crypto Emporium's extensive catalog of items, filtering as you see fit. Once you see an item you like, add it to your shopping cart and proceed to the checkout page.
Step 5 – Send Payment
Choose the crypto you'd like to use as a payment method on the checkout page from the drop-down menu on the right. You'll also be asked to input your address to update the shipping fees and delivery timescale.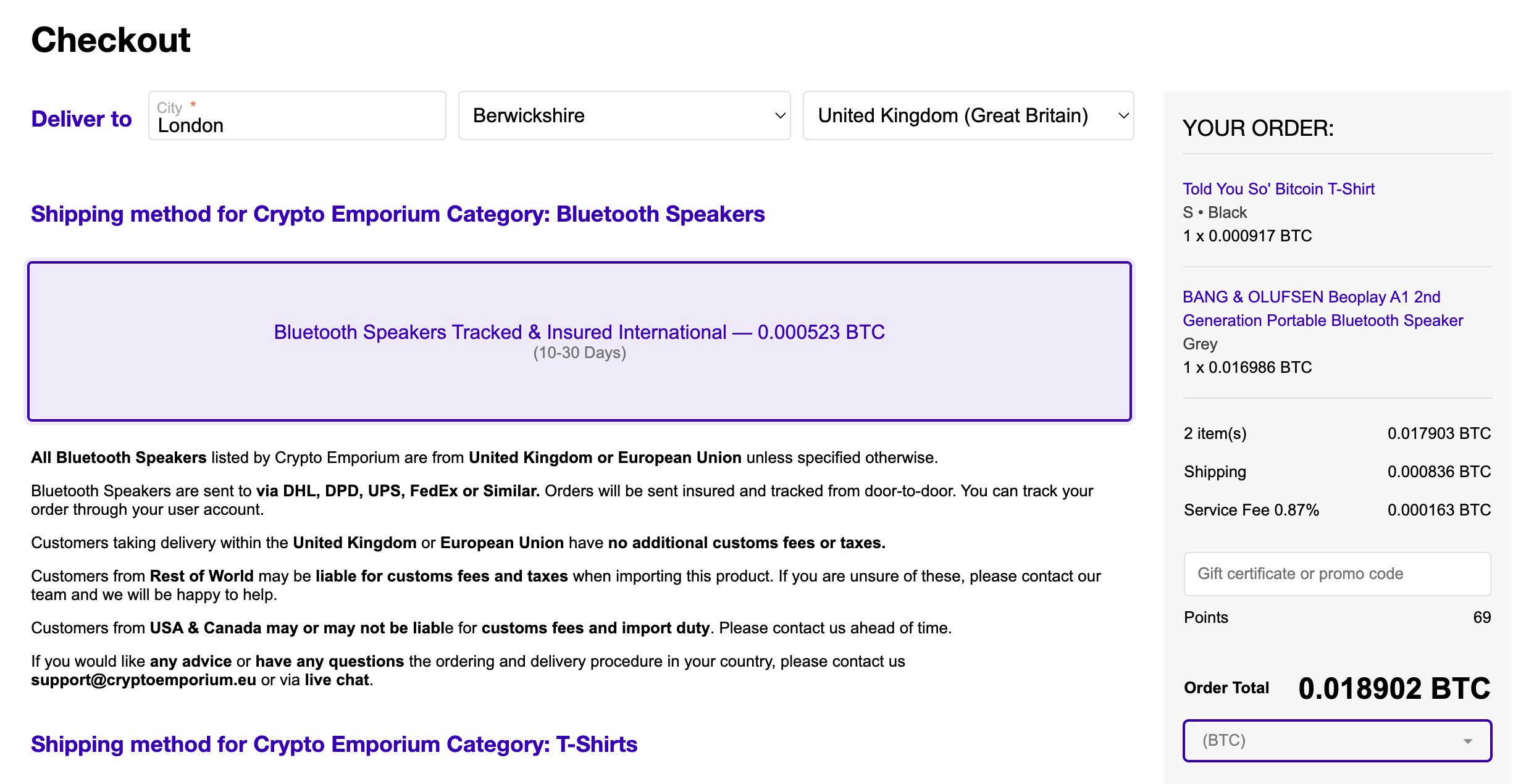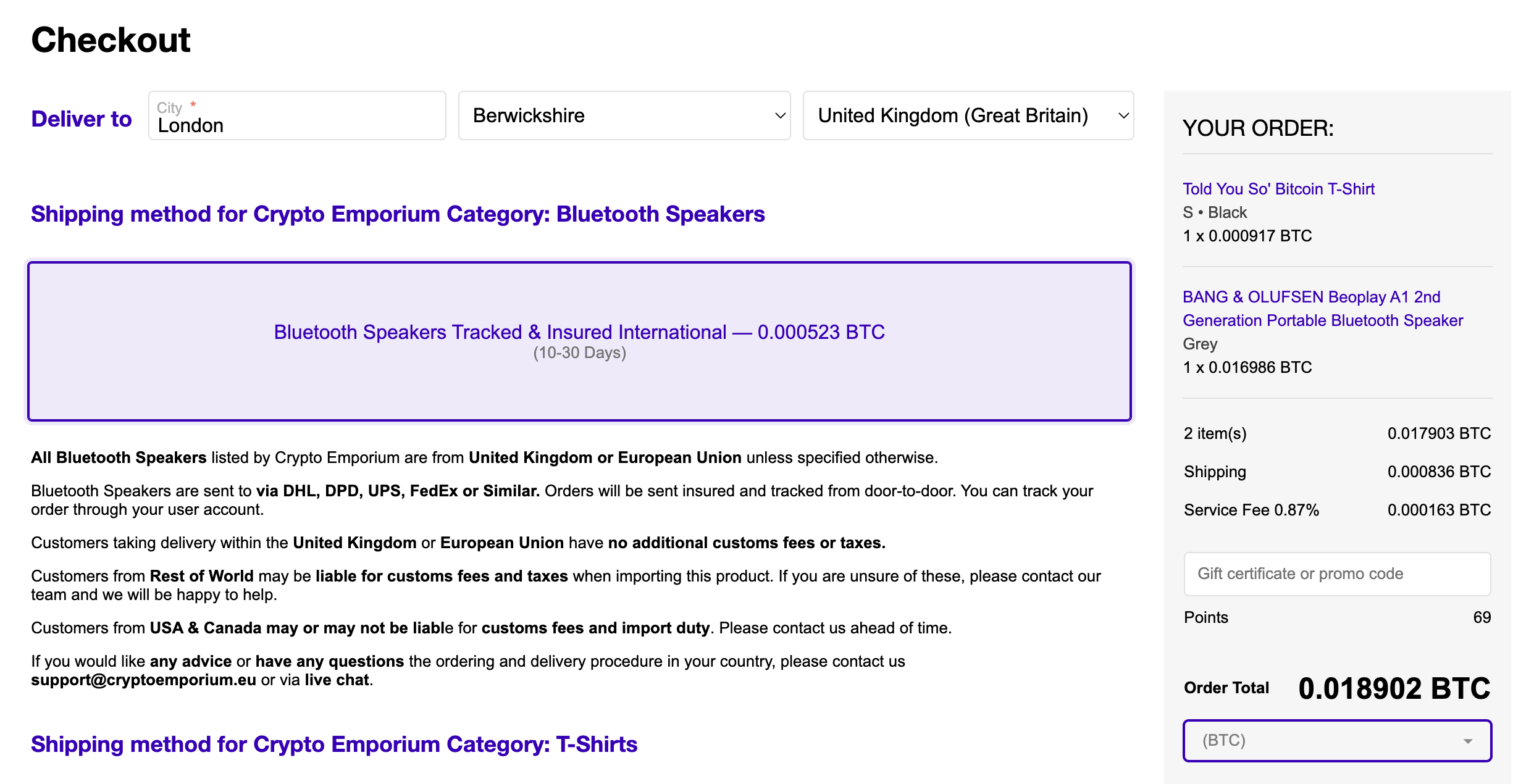 Once all of this is completed, Crypto Emporium will provide a unique wallet address and the final total for the purchase. All that's left is to send the total amount to the provided wallet address within the specified time frame.
Step 6 – Wait for the Item to Be Delivered
Crypto Emporium will then process and ship the order to your address. You will also receive tracking information to monitor the delivery's progress.
What Can You Buy with Bitcoin? – Final Thoughts
Overall, this guide has been created to help you discover what you can buy with Bitcoin online – detailing 30 popular items that can be purchased easily using various digital currencies.
As highlighted throughout this article, Crypto Emporium is a highly-regarded platform that stocks most (if not all) of the products and services we've talked about.
Offering 24/7 support, real-time tracking, and delivery to 125+ countries, Crypto Emporium is an excellent option for those seeking a seamless buying process. Moreover, all of the products offered by Crypto Emporium feature competitive prices – meaning it's a great alternative to expensive FIAT-based stores.
FAQs
Can Bitcoin be used like cash?
If you're wondering how to spend Bitcoin, you'll be glad to know it can be used like cash. All that's required is a crypto wallet and somewhere to spend it – then it's simply a case of making a purchase and facilitating the crypto transfer.
How do I use Bitcoin to buy things?
There are various ways to use Bitcoin to buy things, including crypto credit cards and wallet transfers. Regardless of which method is chosen, you'll need to purchase some BTC from a broker or exchange before attempting to make purchases.
What items can I buy with crypto?
You can now buy hundreds of different items with crypto, from luxury watches to designer clothing. Crypto Emporium is a popular e-commerce platform that supports crypto-based payment methods and offers various products and services for all income levels.
Is it possible to buy a house with Bitcoin?
Buying a house using Bitcoin is theoretically possible, although this approach is still relatively uncommon. A better option is to use an online platform like Crypto Emporium, which handles the property buying/selling process, much like a real estate broker.
Where can you spend Bitcoin online?
You can now spend Bitcoin online at any website that accepts cryptocurrency payments. A prime example is Crypto Emporium, which accepts Bitcoin (and six other cryptos) as a payment method.
---