Bullish Options Data Fuels Speculations on New Bitcoin Rally
An unusually large number of bitcoin (BTC) calls to puts across bitcoin options exchanges hints at increased bullishness on the number one cryptocurrency among options traders.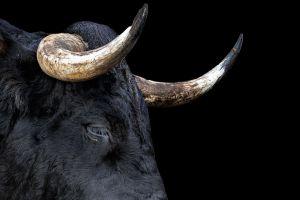 The news of the unusually low put-to-call ratio was first shared by the crypto market analytics firm Laevitas, which pointed out yesterday that the put-to-call ratio on the crypto derivatives exchange Deribit is now "at its lowest since [the] end of Dec. 2020."
In options trading, a "call" is the term used for a bet that prices of an underlying asset will be higher in the future, while a "put" is a bet on lower prices. As a result, more calls than puts means that the majority of traders have a positive outlook on the market, expecting prices to move up.
Confirming the picture from Deribit is also data from across all bitcoin options exchanges compiled by the derivatives analytics company Skew, which showed an even lower reading. According to Skew's data, yesterday's put-to-call ratio by open interest across all exchanges stood at 0.48, below the 0.49 low point during the bitcoin bull-run in December last year.
Yesterday's number was up slightly from an even lower reading of 0.47 on August 28 and 29. A put-call ratio above 1 is considered to be an indicator of a selloff, while a put-call ratio below 1 is considered an opportunity to buy.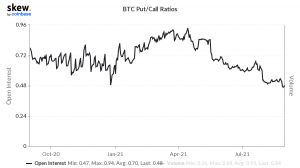 As history has shown, however, the majority in a market is not always right, and it could well be that most of the options bets will fail and instead expire worthless.
The bitcoin options exchanges currently covered by Skew includes the said Deribit, as well as Chicago Mercantile Exchange (CME), Bit.com, OKEx, and LedgerX, of which Deribit is by far the largest one by both open interest and volume.
The news of the unusually bullish-looking options market was also picked up by Zhu Su, CEO of Three Arrows Capital, who casually commented "Anyone remember what happened in Dec 2020?"
Three Arrows Capital is affiliated with Deribit.
Worth noting, however, is that the picture is not clear-cut for bitcoin, with for instance crypto investment firm CoinShares reporting yesterday that bitcoin saw outflows from investment funds for its eighth consecutive week last week, totaling USD 3.8m. According to CoinShares, this occurred despite the fact that cryptoassets, on the whole, saw inflows over the same period, which the firm attributes to "improved sentiment in altcoins rather than bitcoin."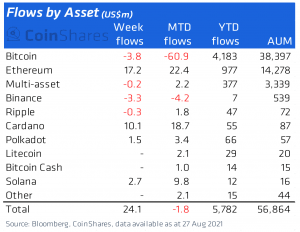 At 12:50 UTC, bitcoin was almost unchanged over the past 24 hours, trading at USD 47,950. The price was down by 3% for the past 7 days.
The stagnant price action for bitcoin has come at a time when many altcoins - and particularly those connected to smart contract platforms like Solana (SOL) and Fantom (FMT) - pumped, contributing a drop in bitcoin's market dominance.
____
Learn more:
- Fiat-to-Crypto Versus Crypto-to-Crypto: How Should You Trade?
- 5 Leverage Trading Platforms (for Experienced Margin Traders) in 2021
- Learn These 5 Key Crypto Terms – and Start Trading Like a Pro
- Three Solutions for Crypto Traders When Markets Get Volatile
- 3 Bitcoin Sentiment Analysis Tools: How They Work & How to Use Them
- How to Apply Forex Scalping Strategies to Crypto Trading
- How to Bet on Bitcoin Volatility Using Bitcoin Options
- The Bitcoin Perpetuals Swaps Market Is Growing: What You Need to Know
---