Buffet's Gold Investment Triggers Schiff's Attack on Bitcoin
Disclosure: Crypto is a high-risk asset class. This article is provided for informational purposes and does not constitute investment advice. By using this website, you agree to our terms and conditions. We may utilise affiliate links within our content, and receive commission.
Crypto skeptic and gold enthusiast Peter Schiff has welcomed legendary investor Warren Buffett's latest decision to invest in Canadian miner Barrick Gold, and not in crypto, as proof that bitcoin (BTC) "is just a passing fad."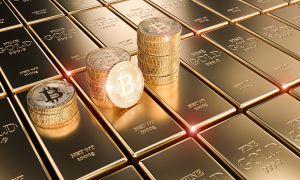 Source: Adobe/tiero
Bitcoin's so-called arch nemesis believes that gold will continue its "dominance as a safe-haven asset" despite the fact that Berkshire Hathaway's CEO, Buffett, had previously shied away from investing in gold mining and claimed the metal had "no utility."
Buffet's u-turn on gold brought a USD 563.6 million investment by his fund in the miner, spurring hope among the cryptosphere that the investor might too, one day, change his mind on cryptocurrencies. It did not, however, shake Schiff's belief in gold's superiority over crypto.
Schiff tweeted:
"Bitcoin pumpers are exploiting Buffett's decision to buy Barrick Gold. Since Buffett changed his mind about gold, he may change his mind about Bitcoin too. While he called gold a non-productive asset, he called Bitcoin rat poison squared. Buffett will never buy Bitcoin! Gold is not valuable because it's scarce. Gold's value comes from all of the unique properties that it has as a metal. Utility makes gold valuable. Scarcity just makes it expensive. Bitcoin has no unique properties. Scarcity without utility is meaningless."
Buffett's decision to buy Barrick Gold and not Bitcoin or GBTC is a further condemnation of Bitcoin. Buffett clearly doesn't think Bitcoin represents a threat to gold or its dominance as a safe-haven asset. Buffett knows #gold is here to stay and #Bitcoin is just a passing fad.

— Peter Schiff (@PeterSchiff) August 15, 2020
Schiff's rock-solid belief in gold's utility did not impress a number of Twitter users hailing from the cryptosphere.
"No unique properties in Bitcoin? So the fact that I can store millions in value within my mind and take it with me anywhere in the world without censorship isn't unique? I can send it to anyone, anywhere, any time without a 3rd party to dictate. Seems unique to me…," commented one user.
Another user said SchiffGold's chairman was, in fact, making "a strong argument against gold. It is possible that researchers will be able to replace gold's utility with other materials (e.g. how wood got replaced by plastic and concrete). Gold would crash."
Another argument raised by a user was that "due to its massive utility properties, physical silver has potentially so much more value than gold. Would you agree?"
Undaunted by those questions, Schiff continued his attack on crypto by blasting Morgan Creek Digital co-founder Anthony Pompliano who recently forecasted bitcoin's market cap will surpass gold's market cap by the end of 2029. The triggered a reaction by Schiff who rebuffed the statement in his typical straightforward fashion:
By 2029 you'll be lucky if the market cap of #Bitcoin still exceeds the market cap of a baseball cap.

— Peter Schiff (@PeterSchiff) August 15, 2020
__
Learn more:
Demand for Non-Sovereign Safe Havens – Bitcoin & Gold – Expected to Rise
Bitcoin to Gold Correlation Rises, Physical Metal Buyers Pay Premium
Crypto CEO Urges Savers to Own More Gold than Bitcoin
---