'Blockchain Alternative' Hedera Skyrockets Over 200% on Google Cloud News
Hedera Hashgraph (HBAR), deemed as a blockchain alternative, has surged in the market over the past couple of days after news came out that the blockchain platform is working with Google Cloud, a suite of cloud computing services, in several areas.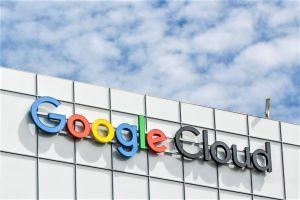 As of pixel time on Thursday (11:00 UTC), HBAR had secured the spot as the 40th most valuable cryptoasset by market capitalization, after posting gains of more than 73% over the past 24 hours and 222% over the past 7 days. The price is up 560% in a month. On average, the token was trading at USD 0.072, although relatively large price differences could be found across exchanges.
HBAR entered the market in September 2019 with a price of c. USD 0.096 and tumbled to USD 0.029 a few days later.
HBAR price chart: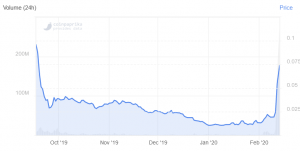 The new partnership involving the public distributed ledger platform for corporations was announced in a blog post by Google Cloud on Tuesday, saying Hedera has selected Google Cloud as its "preferred cloud provider," both for its public testnets and the larger Hedera ecosystem.
More significant, however, is that fact that Google will become a member of the Hedera Governing Council, which according to the announcement "leads strategic planning for the Hedera network and works to ensure the stability and reliability of network protocols and operations."
Further, the announcement – written by developer advocate Allen Day at Google Cloud – said that Google Cloud will set up and run its own Hedera network node:
"As part of our council membership, Google Cloud will operate a Hedera network node, and make the ledger data available for analytics alongside GCP's [Google Cloud Platform] other public DLT datasets, bolstering GCP's position as the cloud provider of choice for DLT networks and decentralized applications."
Following the recently strong price gains for the token, however, some traders are asking themselves how long the currently parabolic rally can last. "The FOMO [fear of missing out] to this is real, hope people will burn their hands on it," one user wrote on Twitter, while others pointed out that "altseason" is surely back.
HBAR is mainly traded on Binance, with roughly 87% of the total trading volume taking place on the popular exchange.
The total volume reached USD 274 million in the past 24 hours and is the 24th largest in the market today, according to Coinpaprika.
______
This is how Mance Harmon, Co-Founder and CEO of Hedera Hashgraph, explained the hashgraph technology in an interview with Cryptonews.com:
"Blockchain is very linear in the sense that you can only put one block on top of the chain at a time, and it's slow because it takes a while for the community to come to agreement on which block to put on top.
Hashgraph, however, is not linear. Everything runs in parallel; any time any member of the network wants to add something to the graph, they can simply do so at their whim. The community is always coming to agreement in real time about the order of the nodes within the graph, so there's nothing there like Proof of Work that's normally used in blockchain to slow things down. And for those reasons, because it doesn't use Proof of Work and it's a graph that runs in parallel, it's significantly faster and more performant than blockchain."
---