Bitstamp, Korbit Owner Set to Take Control of Bithumb - Report
The owner of Nexon, the South Korean gaming giant and the owner of the Bitstamp and Korbit crypto exchanges, has reportedly agreed on a deal worth USD 458m to buy a controlling stake in Bithumb, the nation's market-leading trading platform.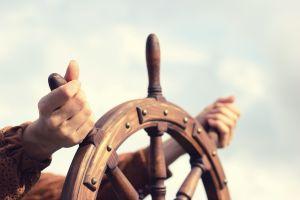 Bithumb has been looking for a sale for several months after a failed takeover and accusations of fraud against two key executives. The exchange was placed on the market last year, with Samjong KPMG placed in charge of finding a buyer.
A number of parties expressed an interest in the exchange, but many have been put off by a new set of stringent compliance and regulatory measures set to promulgate in March, as well as an unresolved legal issue that could cost the platform USD 67 million in unpaid taxes.
But, per Maeil Kyungjae, Nexon supremo Kim Jung-ju has decided to take the plunge, in a deal that will see him take up a controlling 65% stake in the trading platform.
Lee Jong-cheol, a blockchain business consultant based in Seoul, told Cryptonews.com,
"If this report is true, Mr. Kim appears to have got a very good deal. Buying the country's biggest exchange for a discounted price when the crypto market is booming is a remarkable coup."
The exchange was valued at just under USD 600m, but it appears that the owners' desire to exit the market post haste drew them to consider a much lower price.
Kim's involvement in the crypto industry has been very eventful. His Nexon firm (and the NXC holding company) made its first crypto buy, Korbit, in September 2017, later moving to buy the European exchange Bitstamp in October 2018. Last year, NXC announced it was launching a third exchange from scratch.
However, in 2019, Kim spent much of the year looking to exit the business world altogether, putting his whole company up for sale, before making a u-turn and deciding to stay in the game.
Lee added,
"Expect the unexpected seems to be the rule of the game in South Korea's crypto industry these days."
Trading volume on Bithumb: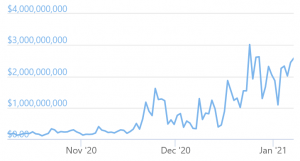 Cryptonews.com has contacted both Nexon and Bithumb for comment.
___
Learn more:
Crypto Exchanges to Spend 2021 Focusing on DeFi, UX, and New Services
Order Book Sharing Ban Could Shake South Korean Exchanges to the Core
'Kimchi Premium Return' Reports 'Exaggerated'
---