The Oldest Bitcoin Exchange Bitstamp Sold
The world's oldest surviving Bitcoin exchange, Bitstamp, has been bought by NXMH, a Belgium-based investment company. This represents yet another example of traditional investors moving into the cryptocurrency industry - a recent trend that has been on the uprise throughout 2018.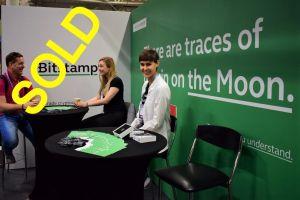 Bitstamp CEO, Nejc Kodrič, writes in the official announcement, "Bitstamp has been regularly approached by suitors for quite some time. The reason why we finally decided to sell the company is a combination of the quality of the buyer, the quality of the offer and the fact that the industry is at a point where consolidation makes sense. A major factor in agreeing to the sale is that the mission, leadership and vision of the company remains the same."
Through the purchase, NXMH acquires an 80% stake, while Kodrič retains a 10% ownership interest in the exchange, according to Reuters. Pantera Capital Management LP, which made a USD 10 million investment in the company in 2014, also sold part of its stake in Bitstamp to NXMH, the report added.
NXMH, with assets under management of more than EUR 2 billion, is the European subsidiary of South Korea-based NXC, which invests in digital technologies. NXC also owns South Korean cryptocurrency exchange Korbit and Nexon, a South Korean gaming company.
Back in April this year, the exchange had been rumored to be in talks with Nexon regarding the acquisition. Nexon Korea CEO Lee Jung-hun denied the rumors that pegged the price of the exchange at around USD 350 million. In 2016, Bitstamp was valued at USD 60 million, Kodrič told Reuters today.
Kodrič stresses that nothing about Bitstamp's services will change: "We do anticipate that this acquisition will strengthen Bitstamp's positioning for growth, which will provide opportunities to better serve our customers. Customers should not have any concerns about their accounts or changes to the way we operate," he adds.
Bitstamp was founded in 2011 in Slovenia by Kodrič and Damian Merlak. However, Marlek sold his entire 30% stake in Bitstamp with the deal, and has not been active since 2015, according to Reuters.
The registration of the company was moved to the UK in April 2013, then to Luxembourg in 2016. The company was founded as a European-focused alternative to then-dominant bitcoin exchange Mt. Gox. While the company trades in US dollars, it accepts fiat money deposits for free only via the European Union's Single Euro Payments Area, a mechanism for transferring money between European bank accounts.
Top markets on Bitstamp: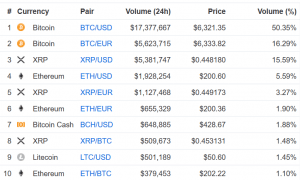 As traditional investors are moving into the space with increasing frequency, this seems to be the boost many companies need: after the Singapore-based BK Global Consortium bought a controlling share in South Korean cryptocurrency exchange Bithumb, trading shot up by some 25% over the following weekend.
Japan is another example of this trend. Coincheck was taken over by financial services company Monex earlier this year after falling victim to a hack in January, with another financial sector company, Fisco, set to complete the takeover of last month's hack victim, Zaif, late next month, as Cryptonews.com previously reported. "Major companies are likely to continue targeting [exchanges] for a while yet," wrote Japanese business media outlet M&A Online in an editorial piece.
---