Bitcoin vs Gold Debate Continues as Both Assets Rise Following Ukraine War
Disclosure: Crypto is a high-risk asset class. This article is provided for informational purposes and does not constitute investment advice. By using this website, you agree to our terms and conditions. We may utilise affiliate links within our content, and receive commission.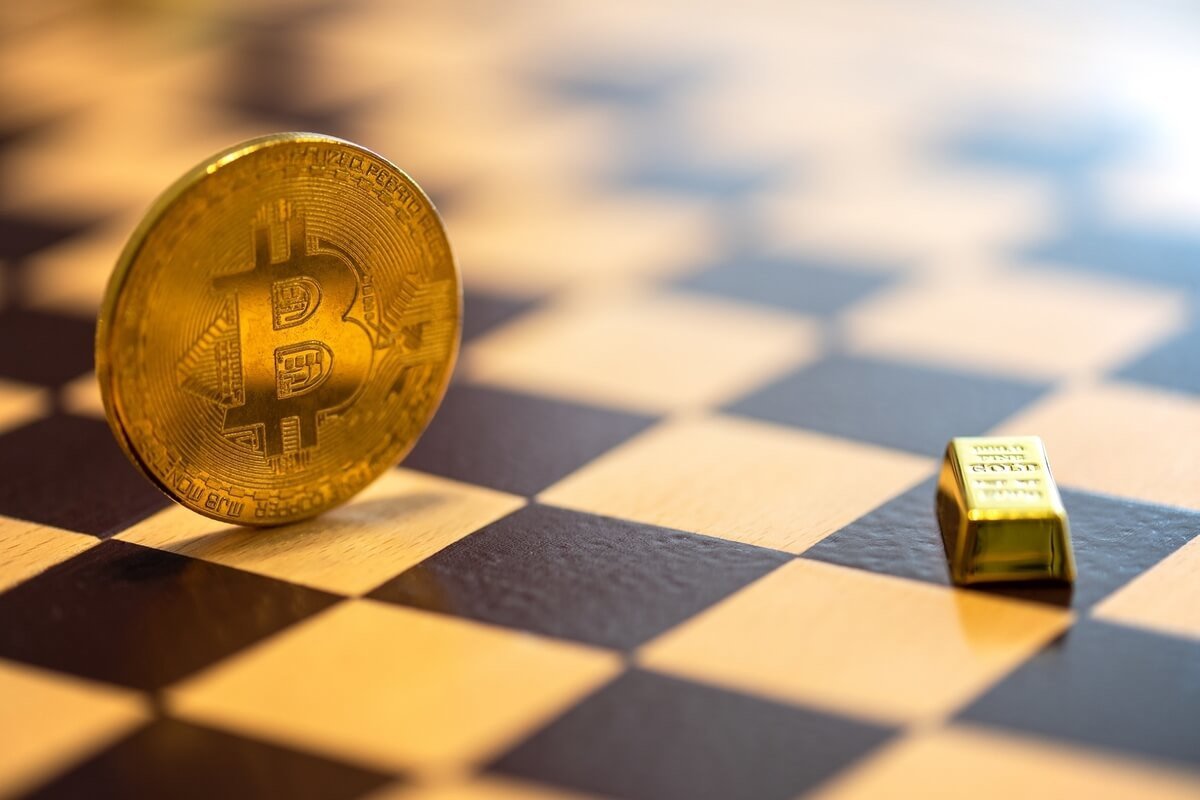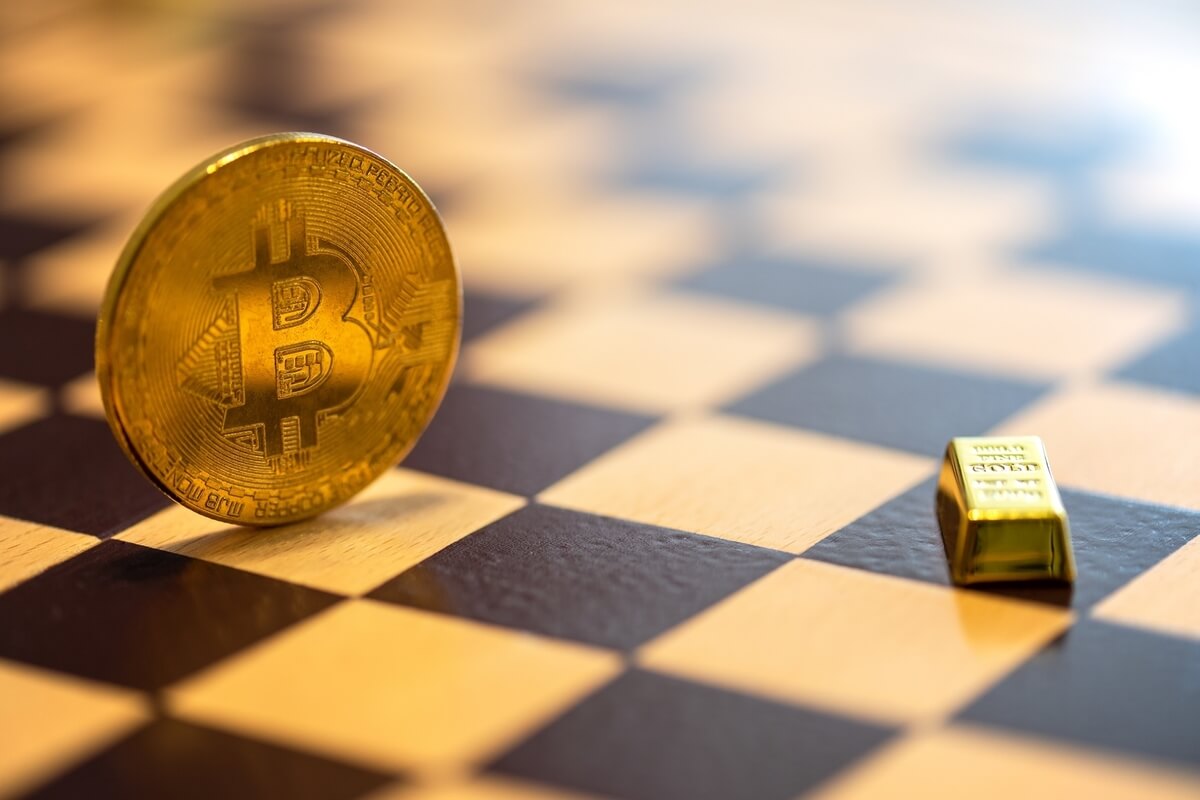 The never-ending debate around bitcoin (BTC) versus gold is once again in the spotlight, as both assets have risen after the onset of the Ukraine war — and bitcoin's properties as censorship-resistant money has come back into focus.
Given gold's age-old status as a financial safe haven, the yellow metal's rise since Russia invaded Ukraine is hardly a surprise. More surprising to some people, however, was bitcoin's initial resilience and gains, although followed by a smaller correction, as fighting on the ground in Ukraine continued and even intensified.
#Bitcoin correcting as tensions around Ukraine are increasing, and fear is increasing too as #Gold is rushing upwards.

Might be seeing a bounce, if we do, I'm looking at $43.1-43.5K as a potential resistance point.

Overall shaky markets, #altcoins dropping too. pic.twitter.com/nRydGOhvBH

— Michaël van de Poppe (@CryptoMichNL) March 4, 2022
Notably, the rise in bitcoin since the onset of the war has been helped by the focus on its role as sovereign money that can be transferred and spent regardless of any capital controls, money transfer restrictions, or cash withdrawal limits, as has been seen happening in Ukraine.
These unique properties of bitcoin were highlighted by the crypto influencer Layah Heilpern in a debate with the Euro Pacific Capital's founder Peter Schiff earlier this week, with Heilpern pointing out that "bitcoin is saving people's life" in Ukraine.
"You can flee tyranny […] whatever it is your government is throwing at you, you can flee that with the keys in your head. Nobody needs to know what you own, and I certainly will not be fleeing any kind of dangerous tyrannical government with gold bullion bars," Heilpern told Schiff during the debate.
Schiff, on his end, countered with his usual talking points, saying bitcoin has "no underlying value," and that both the technical and fundamental picture look "very bright for gold" at the moment.
Since the war in Ukraine broke out on February 24, BTC has risen by close to 12% to a price of USD 41,700 as of 12:00 UTC on Friday. And although gold has also risen, the price increase has been much smaller than that of bitcoin. Since the war broke out, gold is now up by 2% to USD 1,947.
Price of gold (blue line) and bitcoin (orange line) since 2020: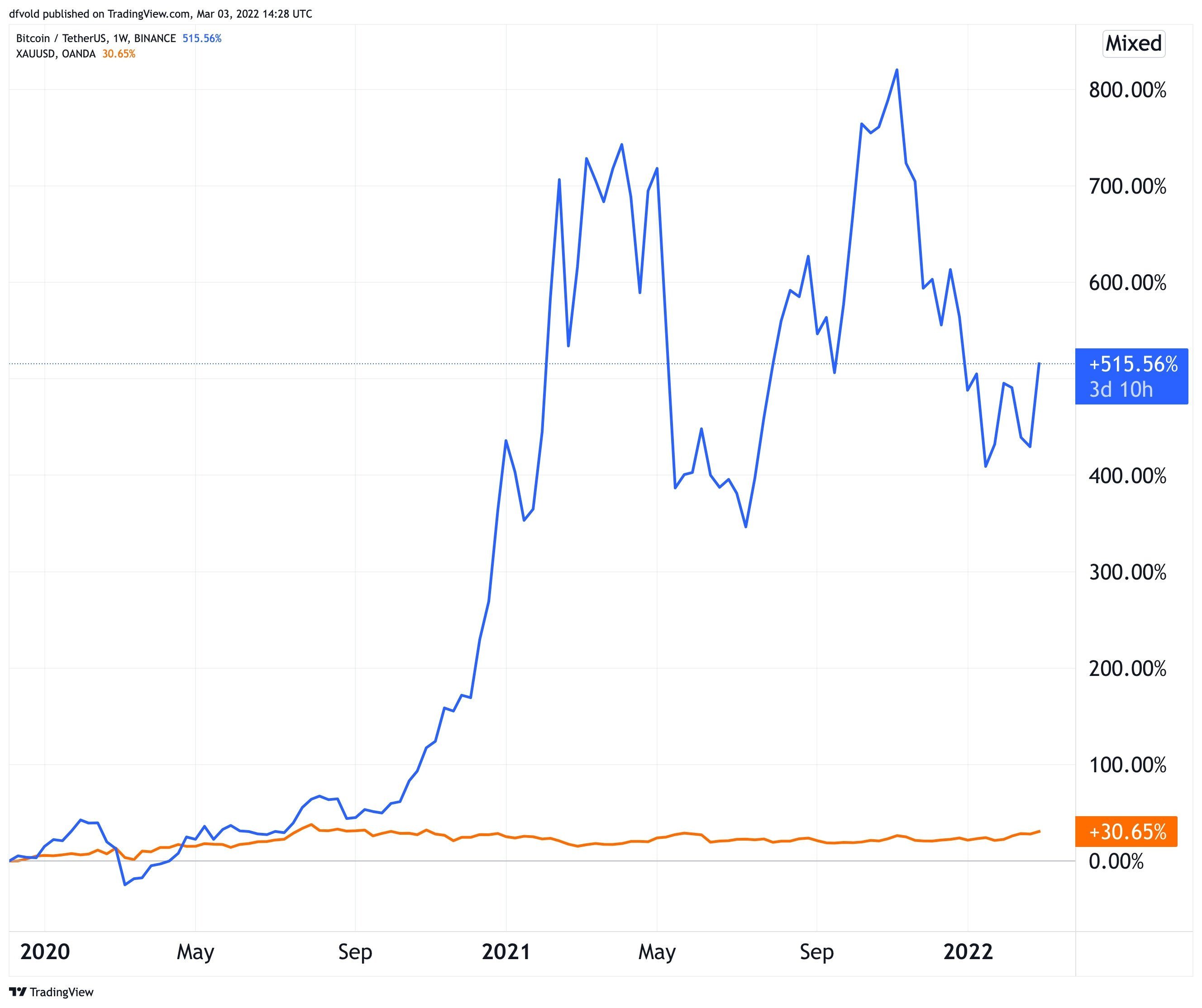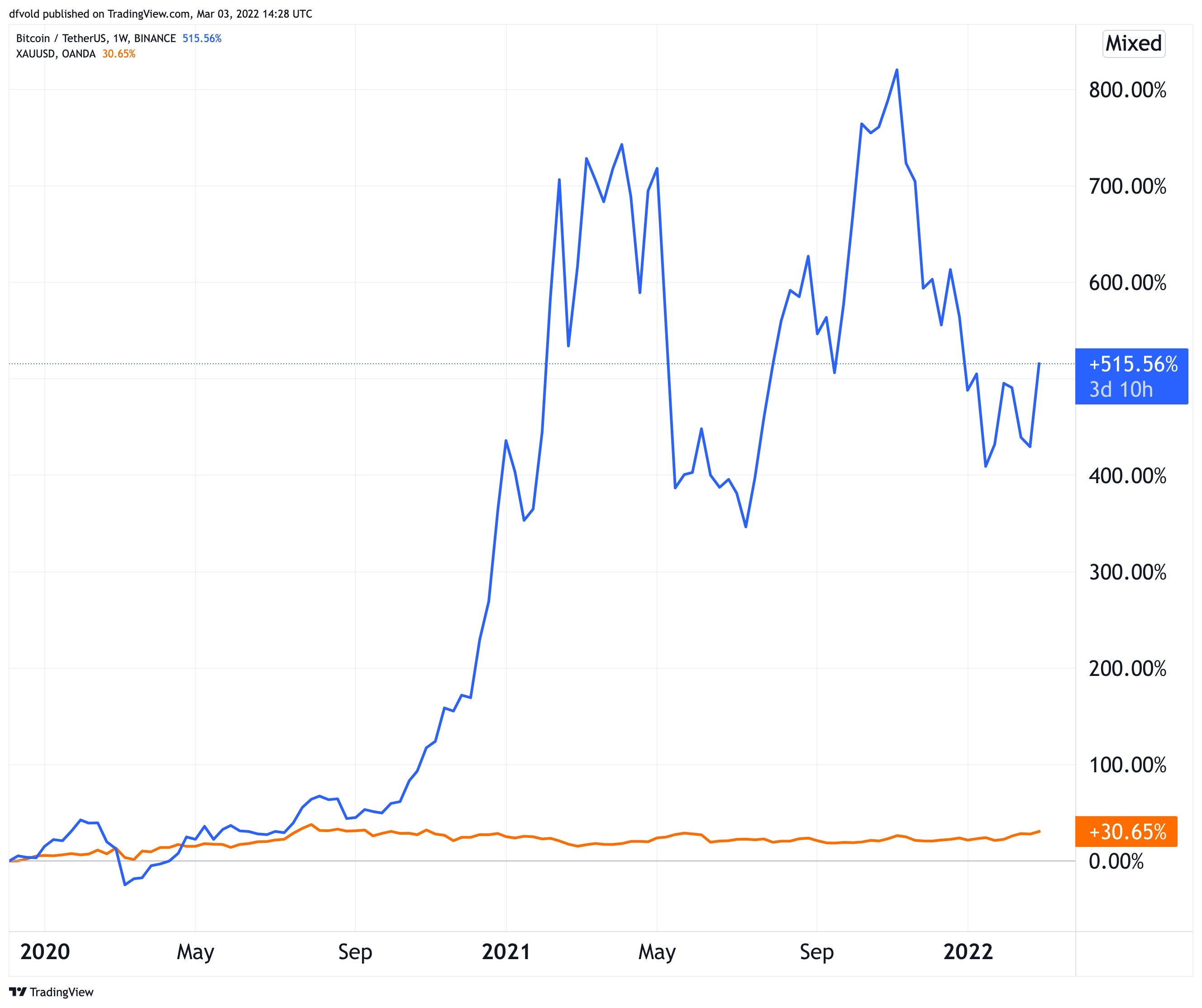 Gold-bitcoin combination balance
And while Peter Schiff remains one of the investment world's most notorious bitcoin-bashers, others appear to have more of an open-minded approach to both bitcoin and gold.
Among them is Charlie Morris, founder of the digital asset data provider ByteTree, who in comments shared with Cryptonews.com said that "optimising the combination between gold and bitcoin is key" for investors who want to protect against inflation.
"As the tensions in Russia and Ukraine unfortunately grow worse, Gold is rising again, just as it normally does when geopolitics heats up. It is well-established and a beneficiary during times of stress," Morris, who remains a gold bull, said.
Many assume #gold is overpriced, but bang in line with my model. Recent strength as long-term bond yields have fallen and inflation expectations have risen. (ByteTree model currently down as data provider outage. Fixing it ASAP). pic.twitter.com/XKATvWB14O

— Charlie Morris (@AtlasPulse) March 4, 2022
However, the ByteTree founder also argued that just as there will be more bad times in the future, there will also be good times. And bitcoin has a track record of performing well in good times, thanks to its correlation with risk assets such as tech stocks, he noted.
As a result, finding the balance between bitcoin and gold in a portfolio is important, Morris explained, while highlighting his company's own Bold Index, described as an inflation protection strategy that allocates to both bitcoin and gold based on the volatility of each asset.
For now, the discussion on what is the superior inflation hedge and store of value remains open, although the investment community has certainly seen a trend of more traditional investors embracing the new digital gold.
Additionally, there is also no doubt that gold remains a much larger asset than bitcoin, or the entire digital asset space for that matter.
As of this writing, bitcoin's market capitalization stood at approximately USD 0.83trn, while gold's market capitalization was a much more significant USD 12.276trn, according to data from Infinite Market Cap.
By comparison, the entire crypto market was worth just under USD 2trn, data from the same source showed.
But although gold's market capitalization is still far away from being threatened by bitcoin, members of the crypto community are under no illusion that Peter Schiff is going to change his mind about what he calls "fool's gold" anytime soon. One commenter expressed what many have already suspected, saying:
"The reality is Peter sells gold. Layah doesn't sell Bitcoin. Which information is more likely to be accurate. The salesman, or the person fighting for personal liberties."
____
Learn more:
– Ukraine Crypto Donations Exceed USD 63M
– Bitcoin Pushes Higher Again with Ukraine War Turning into 'Great Test Case' for BTC

– Bitcoin Shows Surprising Resilience Amid Russia Aggression-Provoked Selloff
– Bitcoin Could Reach USD 100K in Five Years If It Takes on Gold – Goldman Sachs

– Turkey (Unintentionally) Builds Case for Bitcoin as It Plans to Convert Citizens' Gold to Lira
– Bitcoin Holders Search for 'Hopium' as BTC Breaches USD 40K, Gold Rises
---