Bitcoin Skyrockets, Smashes Through USD 67,000, Ethereum, Altcoins Rally
The price of the number one cryptocurrency, bitcoin (BTC), has just smashed through its all-time high of around USD 64,800, rallying above USD 67,000. (Updated at 16:24 UTC: a new section has been added at the end of the article.)
The upwards move happened in an explosive way over the course of just 5 minutes, starting at 13:40 UTC, before a slight reversal came, followed by even more upside later.
At 15:02 UTC, BTC trades USD 67,106 and is up by 7% in a day and 18% in a week, per Coingecko data.
Following the move in bitcoin, ethereum (ETH) also rose higher. At the same time, it trades at USD 4,089 and is up by 7% in a day and also 18% in a week. Other than that, the period between May 10 and 15 this year is the only time in ETH's history when it has traded above the USD 4,000 mark. Other major altcoins are up by 2%-10% in a day.
As usual, liquidations also followed, with data from Bybt showing that short positions on bitcoin worth nearly USD 77m were liquidated across major exchanges during the last hour.
As reported, the new all-time high in US dollars today follows highs in a number of other fiat currencies earlier, including the euro and the Japanese yen.
As the underlying spot bitcoin market, the newly launched bitcoin futures-backed ETF, BITO, also soared higher today, reaching a price per share of USD 43.60 at 14:36 UTC. That compares to a price of USD 40.99 for the first recorded trade yesterday, when the ETF launched.
The same was also the case for the futures contracts backing the fund, which are traded at the Chicago Mercantile Exchange (CME). Worth noting, however, is that the futures did not trade at a very large premium over spot, as some have forecasted, but instead stayed within USD 400 to 500 of the spot price of Coinbase.
Meanwhile, a filing with the US Securities and Exchange Commission (SEC) today revealed that ETF issuer VanEck has received approval to launch its own bitcoin futures-backed ETF, following Tuesday's successful launch of ProShares' fund.
According to the filing, the ETF is approved for listing effective October 23, which happens to be a Saturday. It is therefore likely that the first trading day for VanEck's bitcoin ETF will be Monday, October 25.
VanEck's bitcoin ETF will trade under the ticker XBTF, and will be listed on the Cboe BZX Exchange, the fund's prospectus said.
Commenting on the approval of the ETFs, Kay Khemani, Managing Director at crypto trading platform Spectre.ai, said in an emailed comment to Cryptonews.com that the "bitcoin story has been in somewhat of a holding pattern this year."
"Favorable regulation for bitcoin which would see it being weaved into the existing financial fabric has been one of the biggest upside catalysts for the bull run," Khemani said, adding that the ETF approvals "will allow for further institutional adoption of the asset over time and thus lead to increased demand."
Similarly, Jesse Proudman, Co-founder and CEO at crypto advisory Makara, told Bloomberg that crypto as an asset class is here to stay.
"It's a validating moment. It's no longer a question of does this asset class continue to exist – I think that's a really meaningful mark in the history of the broader digital-asset class," Proudman said.
BTC price chart: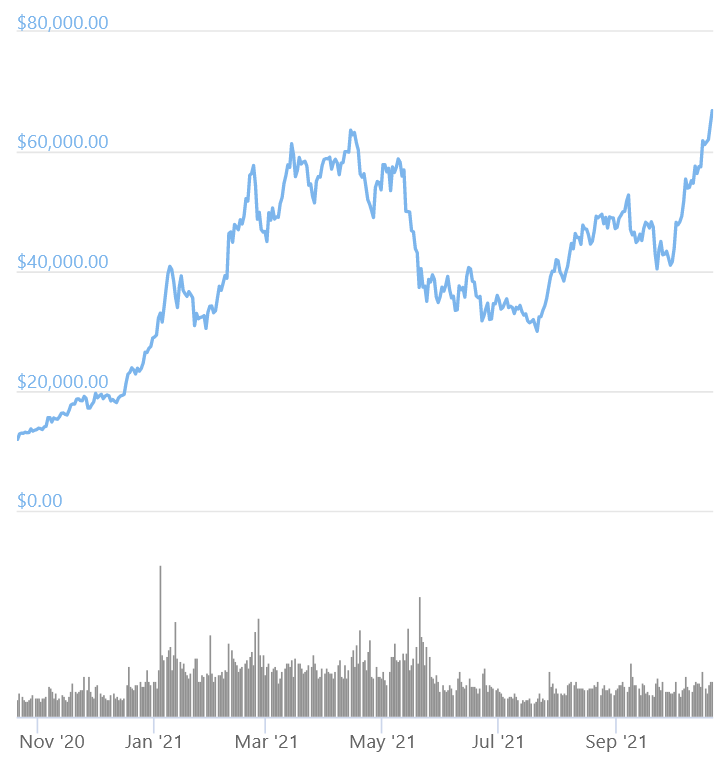 Optimism increases
Bitcoin is set to peak at USD 80,021 in 2021 before ending the year at USD 71,415, according to the average prediction by 50 fintech specialists, surveyed by comparison website Finder.com.
This number is roughly 8% higher than the panel's end of year prediction back in July and 37% higher than the panel had predicted back in December 2020.
"The longer-term predictions for BTC look even brighter: By the end of 2025 and 2030, panelists expect BTC prices to skyrocket to an average of USD 249,578 and USD 5,237,082, respectively. While a significant increase from BTC's current price, the forecast for the end of 2025 is roughly 20% lower than the panel had predicted in July," per the report.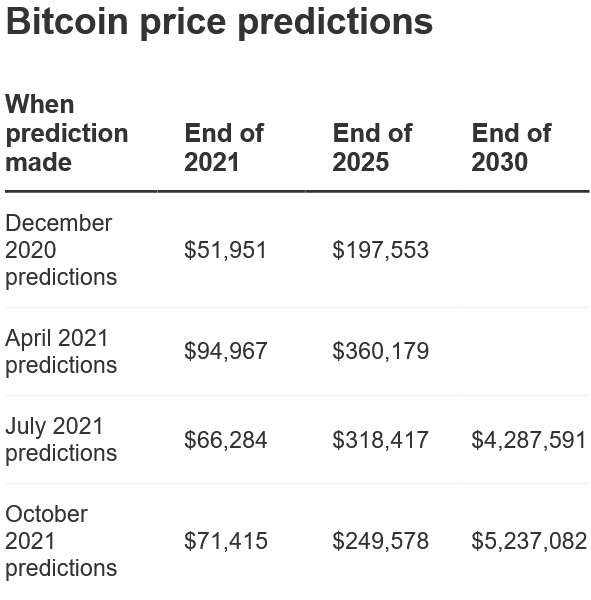 Martin Fröhler, CEO of the trading platform Morpher and one of the respondents in the survey, said that he considers bitcoin a good buy now thanks to "a macro environment of central banks printing money at will, strong on-chain fundamentals, institutional adoption and a futures-based bitcoin ETF in the US" that he believes will drive BTC to new highs in 2021.
On the whole, Finder.com found that 46% out of a panel of 50 "industry experts" surveyed claimed that now is a good time to buy bitcoin. 8% said they would recommend to sell now, while 46% recommended to "hodl."
____
Reactions:
_____
Learn more:
- 'Extreme Volatility' Expected as Bitcoin Investors Learn to Value It
- Bitcoin Price to Face Another Test as Central Banks Eye Rate Hikes
- Bitcoin May Surpass USD 66K in 2021 and USD 400K by 2030 - 'Panel of Experts'
___
(Updated at 15:11 UTC: updates throughout the entire text).
---