Bitcoin Fluctuates as US Inflation Reaches Its Highest Since 1982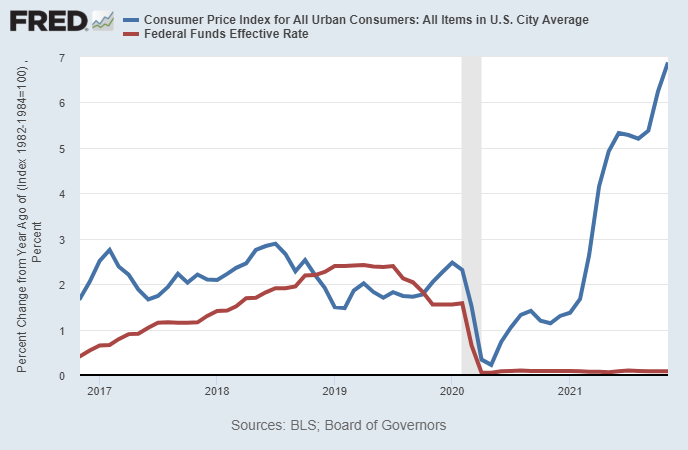 The bitcoin (BTC) price rose by about 2.5% in a matter of just 10 minutes today after US inflation numbers reached 6.8% from a year ago, marking the highest increase since 1982. However, BTC's gains were short-lived.
At 14:24 UTC, BTC stood at USD 49,575, up 0.9% for the past 24 hours and up 1.4% for the past hour, after initially moving above the USD 50,000 mark as the inflation reading came out. Meanwhile, at USD 15:11 UTC, BTC was already below USD 48,300.
Immediately following the release of the record-high inflation numbers, US S&P 500 stock index futures also reacted by trading higher, gaining about 0.5% in a matter of 10 minutes after the release.
At 6.8% year-over-year, the inflation figure came in slightly above a Dow Jones estimate of expectations of 6.7%.
Meanwhile, the so-called core consumer price index (Core CPI), which excludes food and beverages, came in at 4.9%, in line with expectations. However, the figure still marked the sharpest uptick since mid-1991, according to CNBC.
The inflation figure was largely expected to be high by market participants, partly thanks to a statement from US President Joe Biden yesterday who stressed that energy prices have dropped since the data for the latest inflation report was collected.
"The information being released tomorrow on energy in November does not reflect today's reality, and it does not reflect the expected price decreases in the weeks and months ahead, such as in the auto market," the President's statement said.
Commenting on today's numbers, crypto trader and economist Alex Krüger wrote on Twitter that he sees it as "peak inflation," and that it has likely topped for now.
He argued that putting the peak behind us is "very bullish," since continued high inflation could have triggered the US Federal Reserve to accelerate interest rate hikes, which he called "the single most important threat to the crypto bull market."
In addition to the US, Europe's largest economy, Germany, also reported inflation figures today.
The German inflation rate came in at 5.2% in November compared to a year earlier, marking the highest increase since 1992. The German inflation figure for November follows a 4.5% increase in October.
____


Reactions:
_____
Learn more:
- Eurozone's Fiat Is Plunging – And Probably Won't Bounce Back Soon
- Interest Rates: Why the Era of Cheap Money Is Finally Ending

- 'Paper Money' Hits All-Time Low Against Bitcoin & Other Hard Assets – Pantera's CEO
- Inflation Scares in an Uncharted Recovery
___
(Updated at 15:12 UTC with the latest market data.)
---