Bitcoin Rallies Towards USD 40K On Amazon Speculation, Liquidations Soar
Bitcoin price rallied by 12% and it even traded close to USD 40K. Ethereum climbed above USD 2,300, XRP surged above the USD 0.65 resistance. AMP surged over 50%, and BTT is up 24%.
Bitcoin price formed a strong support base above USD 32,000. As a result, BTC started a strong increase and it broke the USD 35,000 resistance. It even surged above USD 39,000 before correcting lower but it is currently (04:05 UTC) still showing bullish signs above USD 38,000.
Similarly, most major altcoins are gaining bullish momentum. ETH surged above the USD 2,250 and USD 2,300 resistance levels. XRP is up over 10% and it even broke the USD 0.650 resistance zone.
Liquidations in the crypto derivatives market are nearing USD 900m in the past 4 hours, led by short positions (92%), per bybt.com data. Over 80% of the total liquidations are BTC trading positions.
Total market capitalization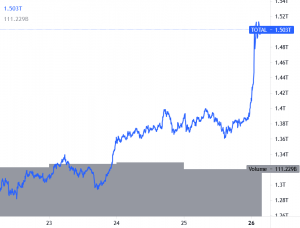 E-commerce giant Amazon is looking to accept BTC payments "by the end of the year" while other top cryptoassets will be accepted later, CityA.M. reported, citing an undisclosed insider.
"This is a full-on, well-discussed, integral part of the future mechanism of how Amazon will work," and "the directive is coming from the very top… Jeff Bezos [the founder of Amazon] himself," the report added.
As reported last week, Amazon is looking to hire a new executive to oversee its digital currency strategy.
"We're inspired by the innovation happening in the cryptocurrency space and are exploring what this could look like on Amazon. We believe the future will be built on new technologies that enable modern, fast, and inexpensive payments, and hope to bring that future to Amazon customers as soon as possible," an Amazon spokesperson told Cryptonews.com back then.
Bitcoin price
After forming a base above USD 32,000, bitcoin price gained bullish momentum. BTC broke the USD 35,000 and USD 36,500 resistance levels. It even spiked above USD 38,500 and traded close to the USD 40,000 barrier. A high has formed near USD 39,800 and the price is now correcting gains.
An initial support on the downside is near the USD 37,800 level. The first major support is now forming near the USD 36,500 level. On the upside, the key weekly resistance is now forming near the USD 40,000 level.
According to Mike McGlone, Bloomberg Intelligence Senior Commodity Strategist, "bitcoin is more likely to revert toward USD 60,000 resistance vs. USD 20,000 support, if its history of recovering from similar too-cold conditions are any guide."
Ethereum price
Ethereum price also started a strong increase, similar to bitcoin. ETH broke the USD 2,200 and USD 2,250 resistance levels. ETH even spiked above USD 2,300 and it is now consolidating gains. If there is a close above USD 2,320, the price might accelerate higher in the near term.
If there is a downside correction, the price might test the USD 2,250 support. The first key support is now forming near the USD 2,200 level.
ADA, LTC, DOGE, and XRP price
Cardano (ADA) gained 9% and it broke the USD 1.25 resistance level. ADA even climbed above the USD 1.30 level and it is now showing positive signs. The next major resistance on the upside is near USD 1.40. On the downside, the bulls might remain active near USD 1.25.
Litecoin (LTC) surged above the USD 125 and USD 132 resistance levels. LTC even broke the USD 135 level, but it is struggling to clear the USD 140 level. If there is a close above USD 140, the price might accelerate higher towards the USD 150 level.
Dogecoin (DOGE) gained almost 15% and it broke the USD 0.20 resistance zone. The price is now showing positive signs above USD 0.20. If it settles above USD 0.22, there could be a steady move towards the USD 0.25 level.
XRP price started a strong increase after it broke the USD 0.600 resistance. The price even surged above the USD 0.635 and USD 0.655 resistance levels. The next major resistance on the upside for the bulls is near the USD 0.700 level.
Other altcoins market today
Many altcoins gained over 10%, including AMP, BTT, ZIL, SUSHI, DGB, QNT, ALGO, RUNE, LINK, BTCB, HOT, RVN, BAKE, and QTUM. Out of these, AMP rallied over 50% and it broke the USD 0.075 level, before correcting lower.
Overall, bitcoin price is showing positive signs above the USD 37,500 level. If BTC settles above USD 39,000 and USD 40,000, there could be more upsides in the coming sessions.
_____
Find the best price to buy/sell cryptocurrency: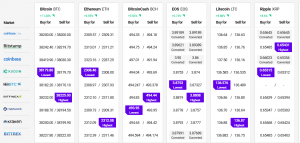 ---