Bitcoin, Major Altcoins Correct As Jenet Yellen Signals 'Concern' Over Crypto
Bitcoin price is moving lower and it broke the USD 36,000 support. Ethereum corrected lower from USD 1,440, XRP is back below USD 0.300. HBAR surged almost 80% and ENJ extended its rise by 45%.
Bitcoin price failed to stay above the USD 37,000 level and declined below the USD 36,500 support. BTC even traded below the USD 36,000 level and it is currently (05:00 UTC) trading below USD 36,000. If it continues to move down, the bulls might try to protect USD 34,500.
Besides, there was a downside correction in most major altcoins. ETH/USD traded towards USD 1,440 before correcting below USD 1,400. XRP/USD is also declining and it is back below the USD 0.300 and USD 0.295 pivot levels.
Total market capitalization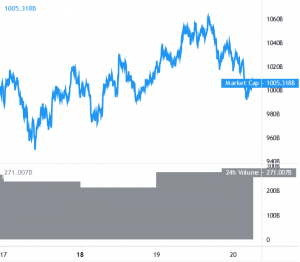 Meanwhile, US Treasury secretary nominee Janet Yellen said during a hearing at the Senate Finance Committee yesterday that "cryptocurrencies are a particular concern," when it comes to terrorist financing, and "we need to make sure that our methods for dealing with these matters, with tech terrorist financing, change along with changing technology."
"I think many [cryptocurrencies] are used, at least in transactions sense, mainly for illicit financing and I think we really need to examine ways in which we can curtail their use and make sure that anti-money laundering doesn't occur through those channels," she said.
As reported yesterday, the criminal share of all cryptocurrency activity fell from 2.1% (USD 21.4bn) in 2019 to 0.34%, or USD 10bn in transaction volume in 2020.
Bitcoin price
After another failure above USD 37,200, bitcoin price started a fresh decline. BTC broke the USD 36,500 and USD 36,000 support levels to move into a short-term bearish zone. The price is down 3% and it might continue lower towards USD 35,000. The next major support is near the USD 34,500, where the bulls might take a stand.
An initial resistance on the upside is near the USD 36,000 level. The first key resistance for a fresh increase is now forming near the USD 36,500 level.
Ethereum price
Ethereum price gained pace yesterday and it even broke the USD 1,400 level. ETH traded close to USD 1,440 before starting a downside correction. The price traded below USD 1,400 and tested the USD 1,340 support zone. If there are more downsides, the price could continue to move down towards the USD 1,275 support.
On the upside, the price is facing hurdles near the USD 1,400 level. The next key resistance is near the USD 1,440 and USD 1,450 levels, above which it could test USD 1,500.
Bitcoin cash, litecoin and XRP price
Bitcoin cash price tested the USD 550 resistance level before correcting lower. BCH traded below USD 520 and it is now testing the USD 500 support. A clear break and close below the USD 500 level may possibly call for a push towards the USD 485 support level. On the upside, the USD 525 level might act as a pivot zone.
Litecoin (LTC) tested the key USD 165 resistance level before correcting lower. LTC traded below USD 160 and it is approaching the USD 150 support. If there are more downsides, the bears might test USD 140. On the upside, the USD 160 and USD 165 levels could act as strong hurdles for the bulls.
XRP price spiked towards the USD 0.330 level before retreating lower. It failed to stay above the USD 0.300 support zone again and it even broke the USD 0.295 level. The price is declining, but there are many important supports near USD 0.265 and USD 0.255.
Other altcoins market today
A few altcoins gained over 5%, including HBAR, ENJ, NXM, REN, MANA, OCEAN, STX, LUNA, and VET. Out of these, HBAR outperformed and rallied towards the USD 0.10 level.
Overall, bitcoin price is declining and extending losses below USD 36,000. If it fails to stay above USD 35,000 and USD 34,500, there is a risk of a larger decline in the near term.
_____
Find the best price to buy/sell cryptocurrency: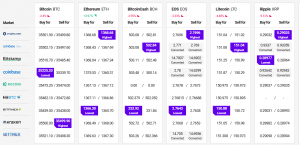 ---