Bitcoin Maintains Dominance Despite Massive Proliferation of Altcoins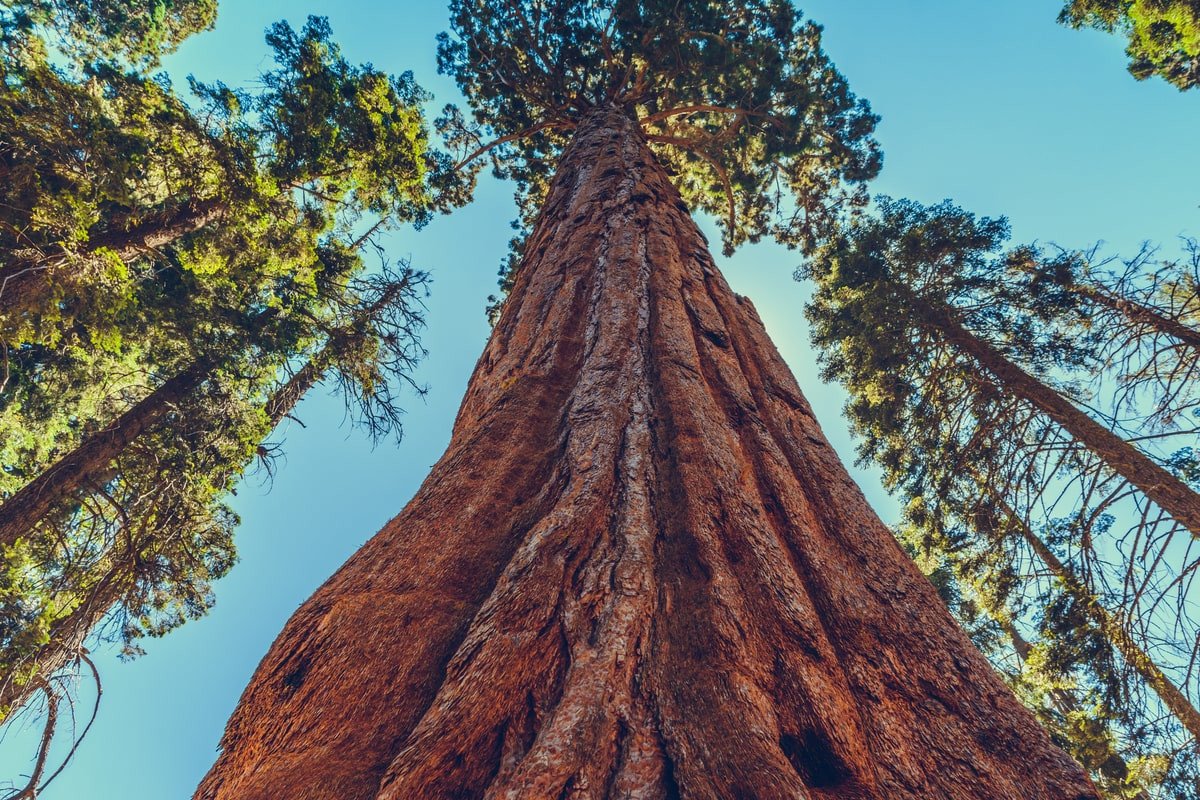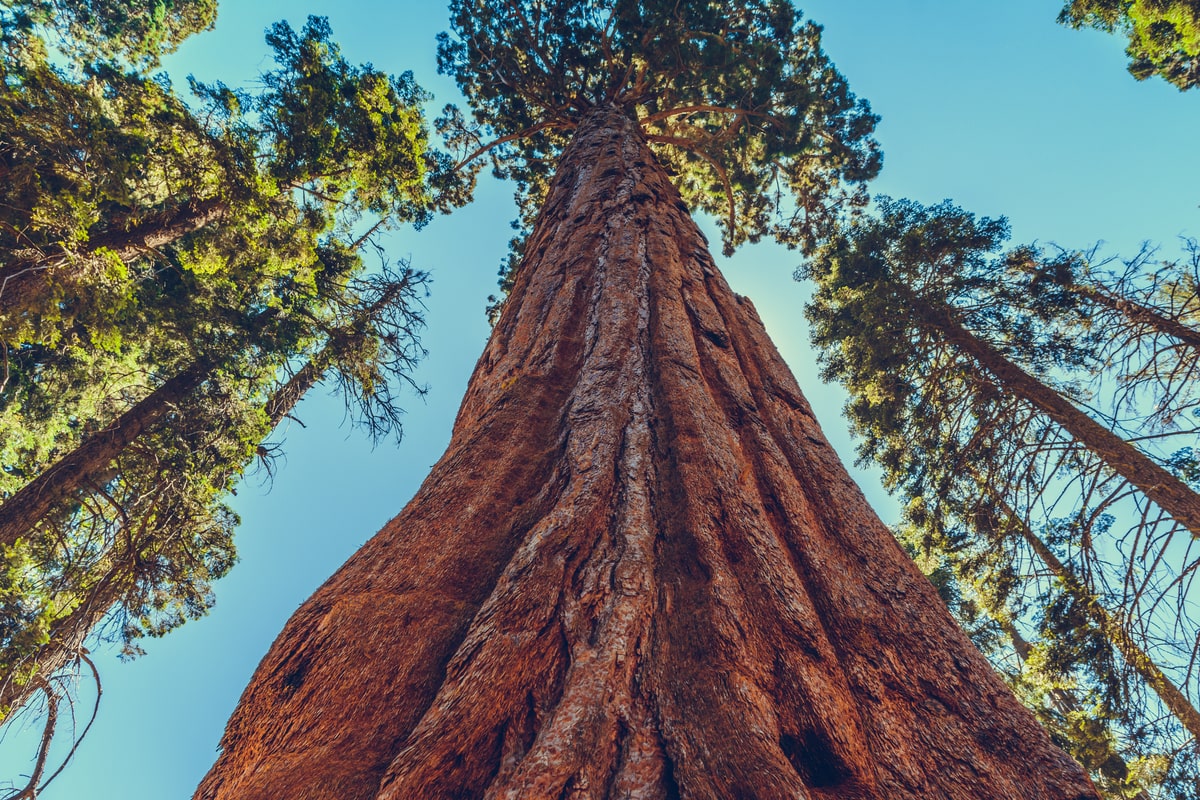 The bitcoin (BTC) dominance, or bitcoin's share of the overall crypto market capitalization, has remained at almost the same level as four years ago, despite a massive proliferation of altcoins in the meantime.
Prominent bitcoiner and chief technology officer of bitcoin wallet Casa, Jameson Lopp, pointed out that the bitcoin dominance in April 2018 stood at 42%, with approximately 1,500 other cryptoassets – or altcoins – in existence at the time.
In April 2022, however, bitcoin had a dominance that had ticked down marginally to 41%, with more than 15,000 altcoins now competing with it.
April 15 2018: Bitcoin holds 42% market cap dominance over 1,500 shitcoins.

April 15 2022: Bitcoin holds 41% market cap dominance over 15,000 shitcoins.

— Jameson Lopp (@lopp) April 15, 2022
Lopp didn't specify his source for the number of altcoins. Meanwhile, on its website, the crypto market data provider CryptoMarketCap shows that there are almost 19,000 "cryptos," while CoinGecko gives a number closer to 14,000.
In either case, the stat could be seen as a testament to the staying power that the number one cryptocurrency has managed to achieve versus other cryptos over the past five years.
Bitcoin dominance since 2018: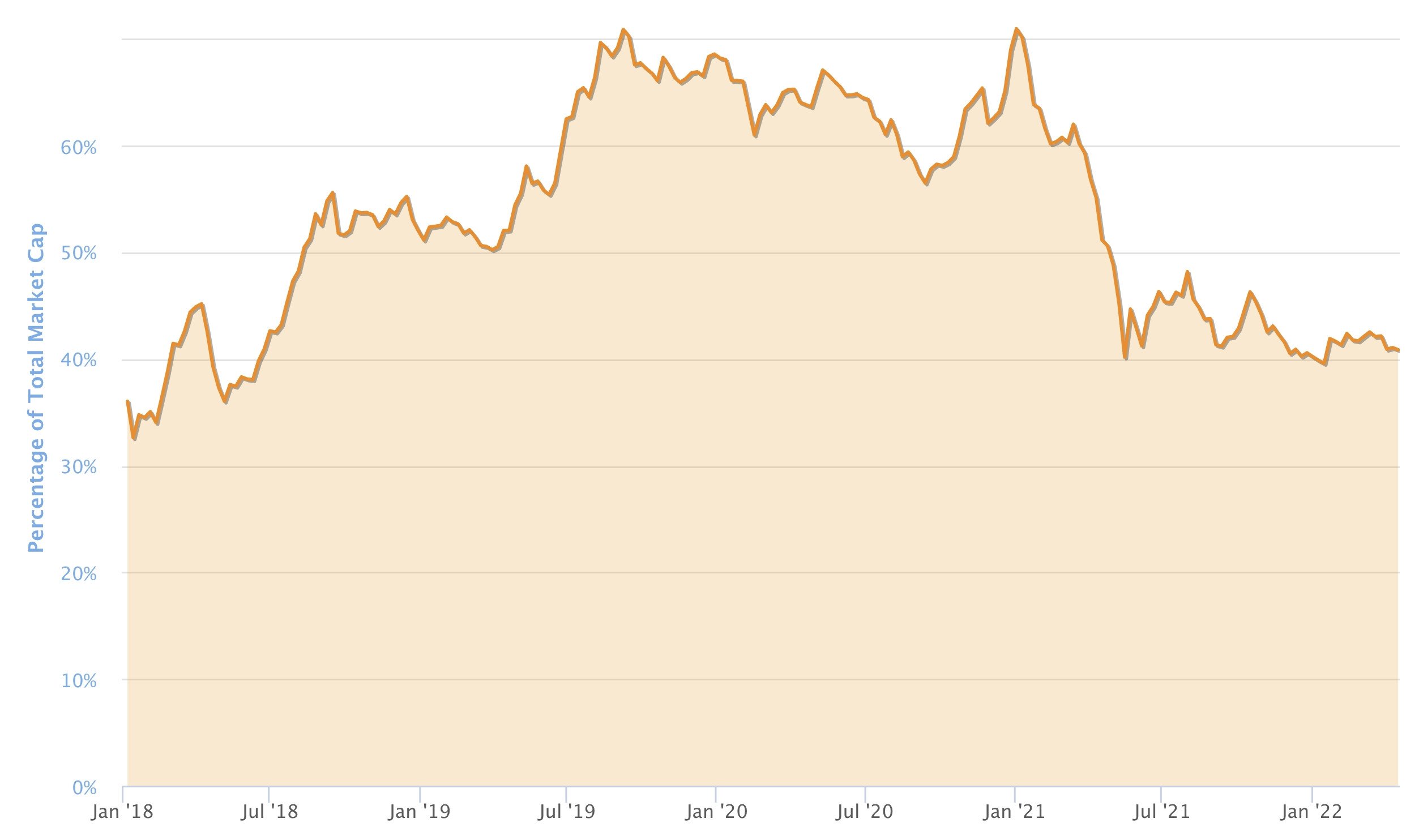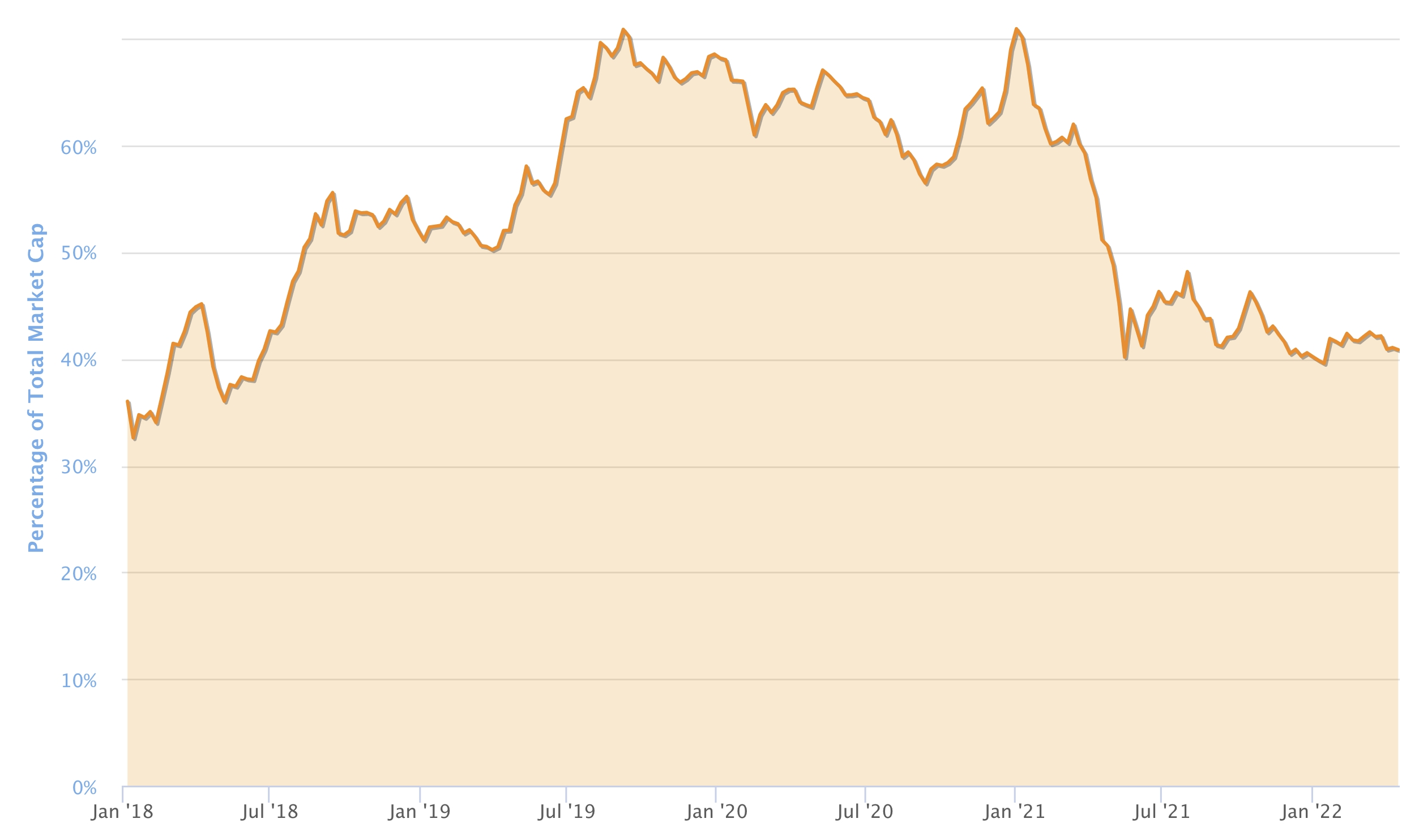 As pointed out by several of Lopp's followers, bitcoin's price is also up by about 350% during the same period, despite the increased competition.
"All those shitcoins and not one can effectively challenge dominance. It's only a matter of time before this starts to become obvious to all," one follower wrote.
On a similar note, another user argued that if ethereum (ETH) is taken out of the equation, bitcoin's dominance jumps to over 90%.
"Take out Ethereum (which plans to try and centralize further by switching to proof of stake) & it's around 94%. And the others are so illiquid that one large holder dropping can eliminate the entire marketcap," Richard "Dick" Whitman, wrote.
He went on to refer to what he called the 'Real Bitcoin Dominance Index,' which measures BTC's dominance without the proof-of-stake coins and currently sits at around 65%. (Ethereum is still a proof-of-work blockchain, while its transition to proof-of-stake is now estimated a "few months after" June.) (Learn more: 'Fiat-Like' Proof-of-Stake Chains Favor Centralization & Rich Players)
'The Real Bitcoin Dominance Index':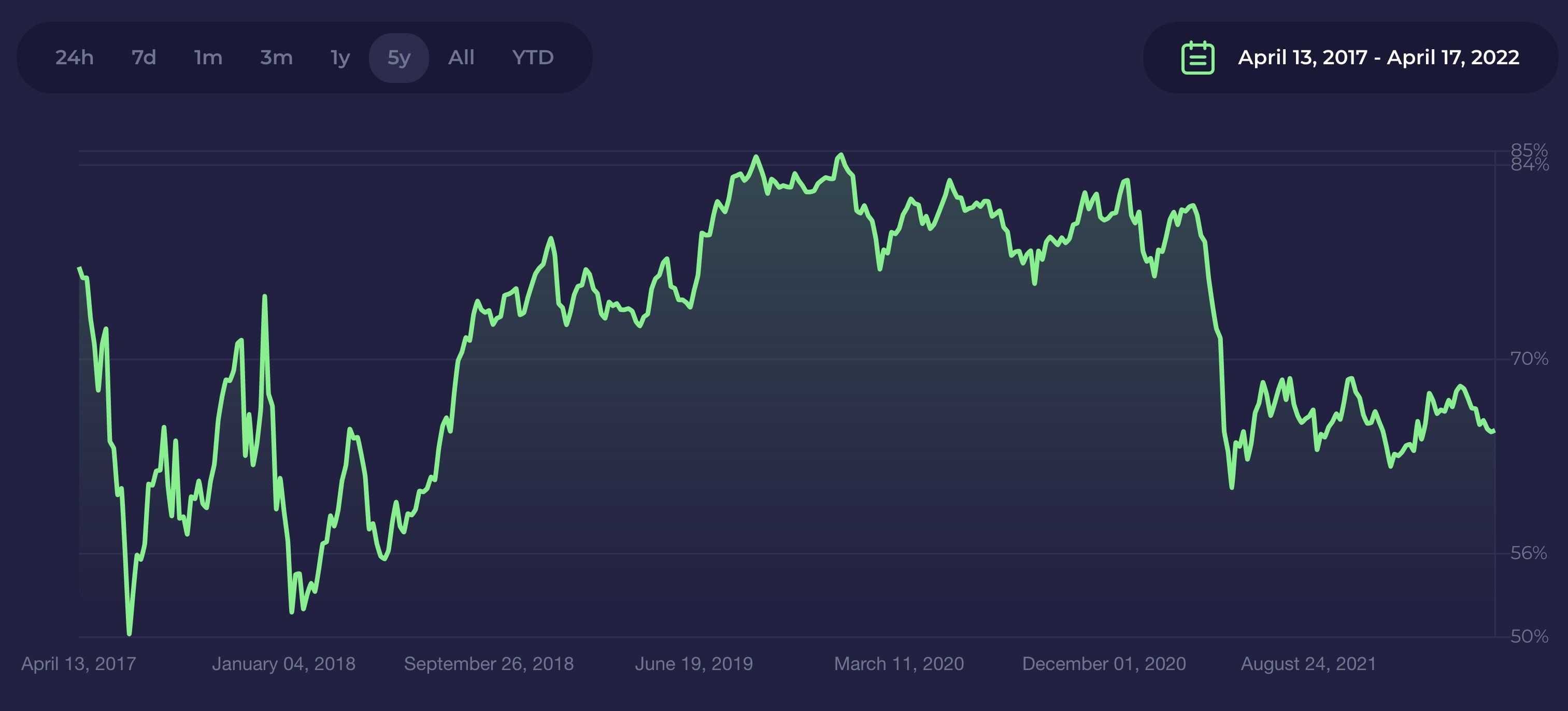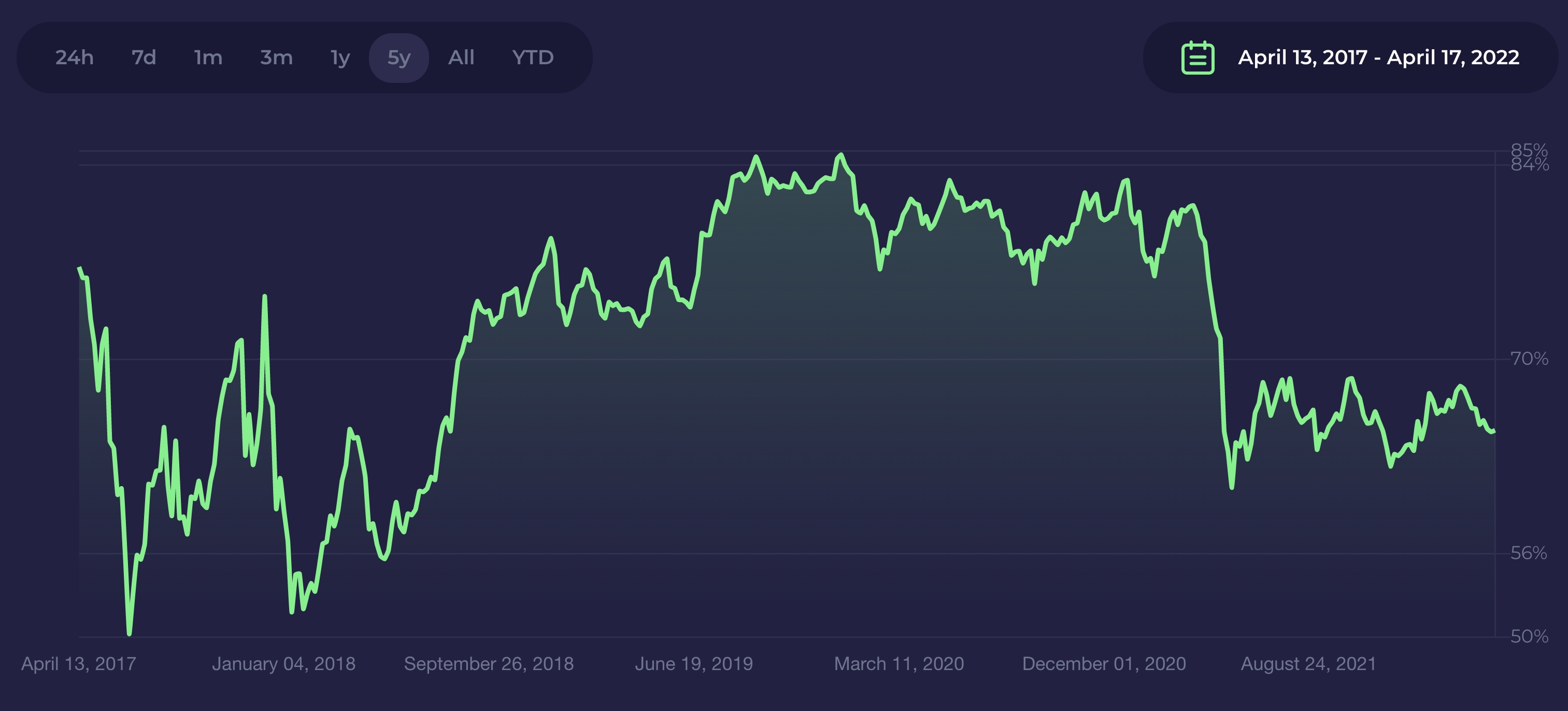 As usual, however, not everyone is in agreement that bitcoin will remain the best bet going forward.
"April 15 2024: Bitcoin holds 20% dominance and maxis are running out of reasons to not buy ETH," one person with the username crypto_advisory predicted, while another suggested, responding to Lopp: "So what you are saying is in 164 years [bitcoin] will hold 0% market cap against 600,000 shitcoins."
At 14:00 UTC on Tuesday, BTC is trading at USD 41,386, having appreciated 5.1% in a day and 4.5% in a week. At the same time, ETH is up 5.4% in 24 hours and 3.1% in 7 days, currently changing hands at USD 3,088.
____
Learn more:
– ETH Can Flip Bitcoin, But It Can't 'Have Its Cake & Eat It Too' – Arthur Hayes
– Taproot Adoption Remains Low, But Devs Say It Isn't a Problem for Bitcoin

– Stablecoins See Growth With Crypto Market Stuck in 'Bearish Lull'

– April is Historically 'Very Strong Month' for BTC; AVAX & LUNA Show Potential – Analysts
– 'Challenges' to Crypto Traders as Lower Volatility Expected; Solana Derivatives Wanted
---