Bitcoin-Loving Nasdaq Companies Surge On Multimillion BTC Deals
After US-based business intelligence company MicroStrategy (MSTR) revealed its relatively small USD 10m bitcoin (BTC) deal last Friday, Marathon Patent Group (MARA), another Nasdaq-listed entity, said it purchased BTC 4,812.66 for an aggregate purchase price of USD 150m. Shares of both companies jumped in the first trading hour on Monday. (Updated at 15:06 UTC with comments from Bill Miller IV.)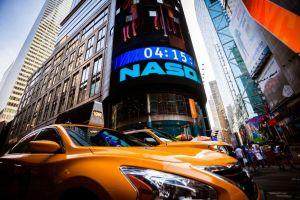 MARA rallied by around 8%, reaching USD 19.83, while MSTR advanced by almost 4%, hitting USD 597.88.
The Marathon's stash is now worth around USD 167m.
"By purchasing USD 150m worth of bitcoin, we have accelerated the process of building Marathon into what we believe to be the de facto investment choice for individuals and institutions who are seeking exposure to this new asset class," Merrick Okamoto, Marathon's Chairman & CEO, said, adding that they "believe that holding part of our Treasury reserves in Bitcoin will be a better long-term strategy than holding US Dollars, similar to other forward-thinking companies like MicroStrategy."
The CEO said the company has "contracted to purchase 103,060 miners, all of which are currently expected to be delivered and fully deployed by the end of the first quarter of fiscal 2022." If all miners were operational today, based on the Bitcoin network's current difficulty rate, they would produce approximately 55-60 bitcoins per day, according to Okamoto.
"However, by leveraging our cash on hand to invest in Bitcoin now, we have transformed our potential to be a pure-play investment into a reality," he added.
The company said it acquired BTC with the help of NYDIG, a Stone Ridge-run subsidiary firm that provides crypto services to institutional investors.
As reported, MicroStrategy said it will host the Bitcoin for Corporations online event on February 3-4 in order to help companies to develop & implement their Bitcoin strategy.
"When MicroStrategy issued the bond at par, in our assessment there was very little downside and an almost-free call option on bitcoin. MicroStrategy now owns more bitcoin than any operating company, which imbues some scarcity value above and beyond the value of the core business and the coins it holds," Bill Miller IV, portfolio manager at Miller Value Partners, and a son of legendary investor Bill Miller, said in his Income Strategy 4Q 2020 Letter.
"We have not fully considered MicroStrategy's new optionality between its direct data feed into the world's largest companies and its massive stash of Bitcoin, but it is likely that Michael Saylor, [the CEO of the company,] has," he said, adding that "there are probably not many other income strategies buying convertible securities tied to bitcoin."
At the time of writing (14:20 UTC), BTC trades at USD 34,772 and is up by 7.5% in a day, trimming its weekly losses to less than 6%. It rallied by 38% in a month and 305% in a year.
___
Learn more:
MicroStrategy CEO On Buying Bitcoin While Trillions 'Melting' In Treasuries
Corporate Treasuries Caught Between an Inflation Rock and Bitcoin
Bitcoin Mining in 2021: Growth, Consolidation, Renewables, and Regulation
---