Bitcoin Is Back Above USD 4,000. For How Long?
The market seems to be getting better as original cryptocurrency Bitcoin climbs above USD 4,000 for the first time since the beginning of December. With a price increase of more than 8% in the past 24 hours as of the time of writing (UTC 10:20 AM), many in the crypto community breathe a sigh of relief.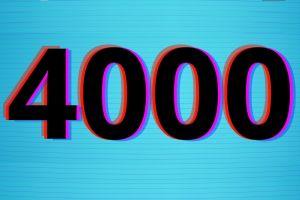 Bitcoin price chart: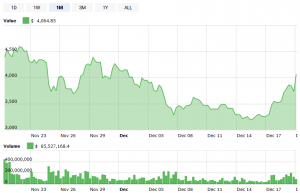 It may be too early to celebrate, however.
"The market is extremely oversold by most metrics - near the most oversold in Bitcoin's history," Mike McGlone, a Bloomberg Intelligence analyst in New York said on Wednesday. According to McGlone, Bitcoin will form a new floor in 2019, which will be even lower than current prices in spite of the coin's relative-strength index and its "extreme discount" to most moving averages. In either case, the fundamentals of Bitcoin and Ethereum networks have not fallen as much as prices have, author of the popular book Cryptoassets: The Innovative Investor's Guide to Bitcoin and Beyond, Chris Burniske, said in December.
Mati Greenspan, senior market analyst at eToro, a social trading and investment platform, thinks short covering, or the buying in of assets that have been sold short (typically to avoid loss when prices move upwards) is the only reason for the green market.
"Especially after the short squeeze, we saw on Monday, today's action is simply a continuation of that. Markets are made of people and it's likely that most people will be looking to reduce their exposure before the holidays. Over the last few weeks, there have been a lot of high leveraged short positions building up and when those sell positions are closed, it creates upward pressure on market prices."
According to Greenspan, the evidence of this can be found hiding in plain sight as Bitcoin Cash is up by more than 40% in the past 24 hours and represents proof of this reason for market movements.
"Take a look at how Bitcoin Cash, which has probably been the most controversial of coins and many have blamed for the recent slide, is up about double of what the rest of the market has done today," Greenspan adds.
Meanwhile, on Wednesday evening, a popular crypto trader, known on Twitter as Blackbeard, asked his 33,000 followers to share their bitcoin price prediction for the end of this year. Out of almost 200 replies the majority estimated that bitcoin will close 2018 in a range of around USD 3,000 - USD 4,000.
Other cryptocurrencies are also in green: XRP has gained around 5%, ETH is close to 7% and the others follow similar upward slopes, while Bitcoin Cash is the clear winner with a 40% increase. In the top 50 coins by market cap, the only "loser" is Maker with -1%.
Bitcoin's market capitalization also hit a two-week high of USD 70 billion, while the price itself had not been seen above USD 4,000 since December 4th.
____
Other reactions:
____
____
___
---