Bitcoin Extends Sell-Off Despite Luna Buying, Strong On-Chain Data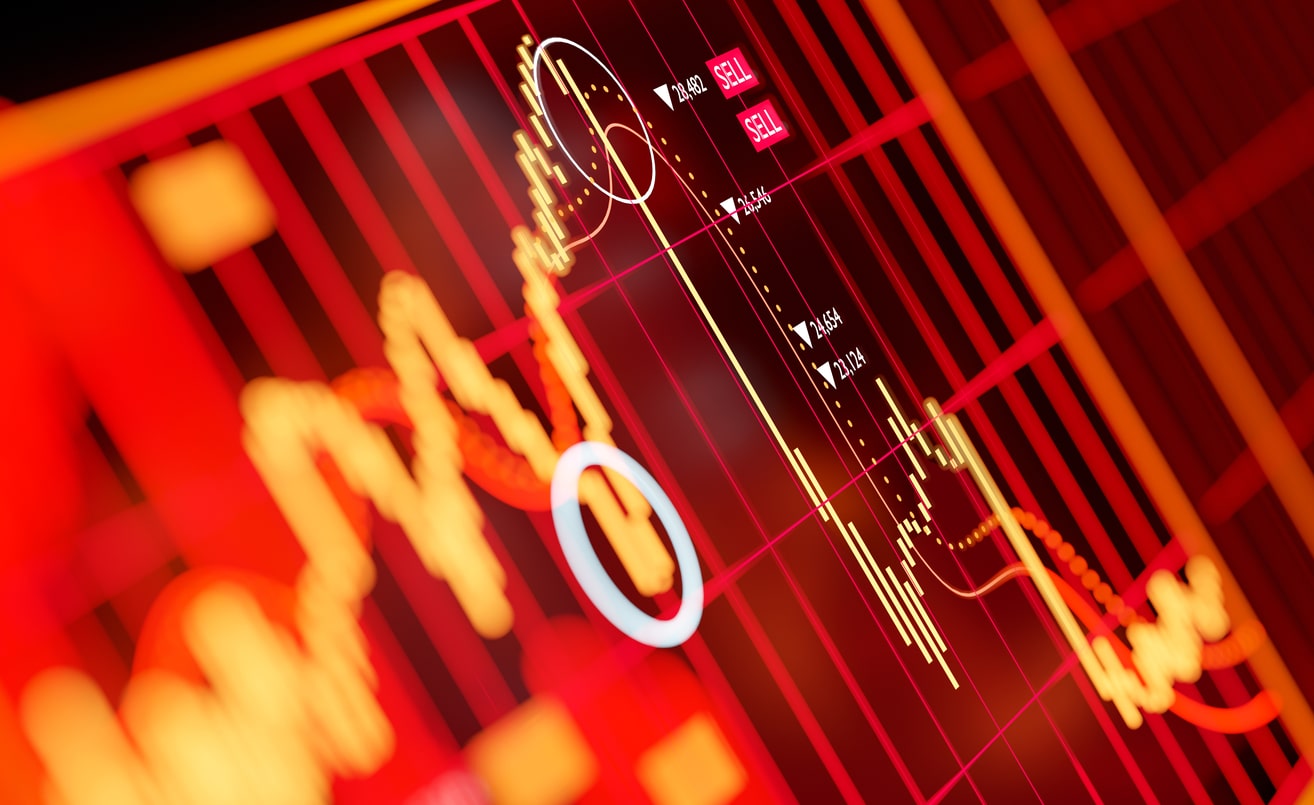 Bitcoin (BTC) and other major cryptoassets fell sharply over the past day, as stock markets around the world reversed earlier gains to losses after the US Federal Reserve (Fed) raised rates by 50 basis points. The sharp fall came despite massive bitcoin buying by Luna Foundation Guard (LFG).
At 11:23 UTC, BTC stood at USD 35,917, down 9% for the past 24 hours and almost 10% for the past 7 days. At the same time, ethereum (ETH) traded at USD 2,685, down over 8% both on a daily and weekly basis

The selling pressure in bitcoin over the past day did not ease even as news emerged that Terra (LUNA) founder Do Kwon's Luna Foundation Guard had purchased USD 1.5bn worth of BTC on the market. The latest purchase happened with the help of crypto hedge fund Three Arrows Capital, Do Kwon confirmed on Twitter.
The foundation's buying is part of an effort to partially back Terra's stablecoin UST with BTC. Do Kwon has previously stated that he wants to buy as much as USD 10bn worth of bitcoin for the task.
"For the first time, you're starting to see a pegged currency that is attempting to observe the Bitcoin standard. It's making a strong directional bet that keeping a lot of those foreign reserves in the form of a digital native currency is going to be a winning recipe," Do Kwon was quoted by CNBC as saying on Thursday.
The massive buying from Do Kwon's LFG quickly became a topic of discussion in the crypto community on Twitter:
On-chain fundamentals remain strong
Meanwhile, on-chain data from the blockchain analytics provider Glassnode showed that the amount of BTC that has not moved in over a year reached an all-time high in April, with more than 64% of all BTC in circulation.
Commenting on the finding, Noelle Acheson, Head of Market Insights at Genesis Trading, said that the data point shows that BTC is being held for the long-term, adding that this is "very hard to game."
With the amount of BTC not moving in a year at an all-time high, it is "definitely not nothin'," Acheson said.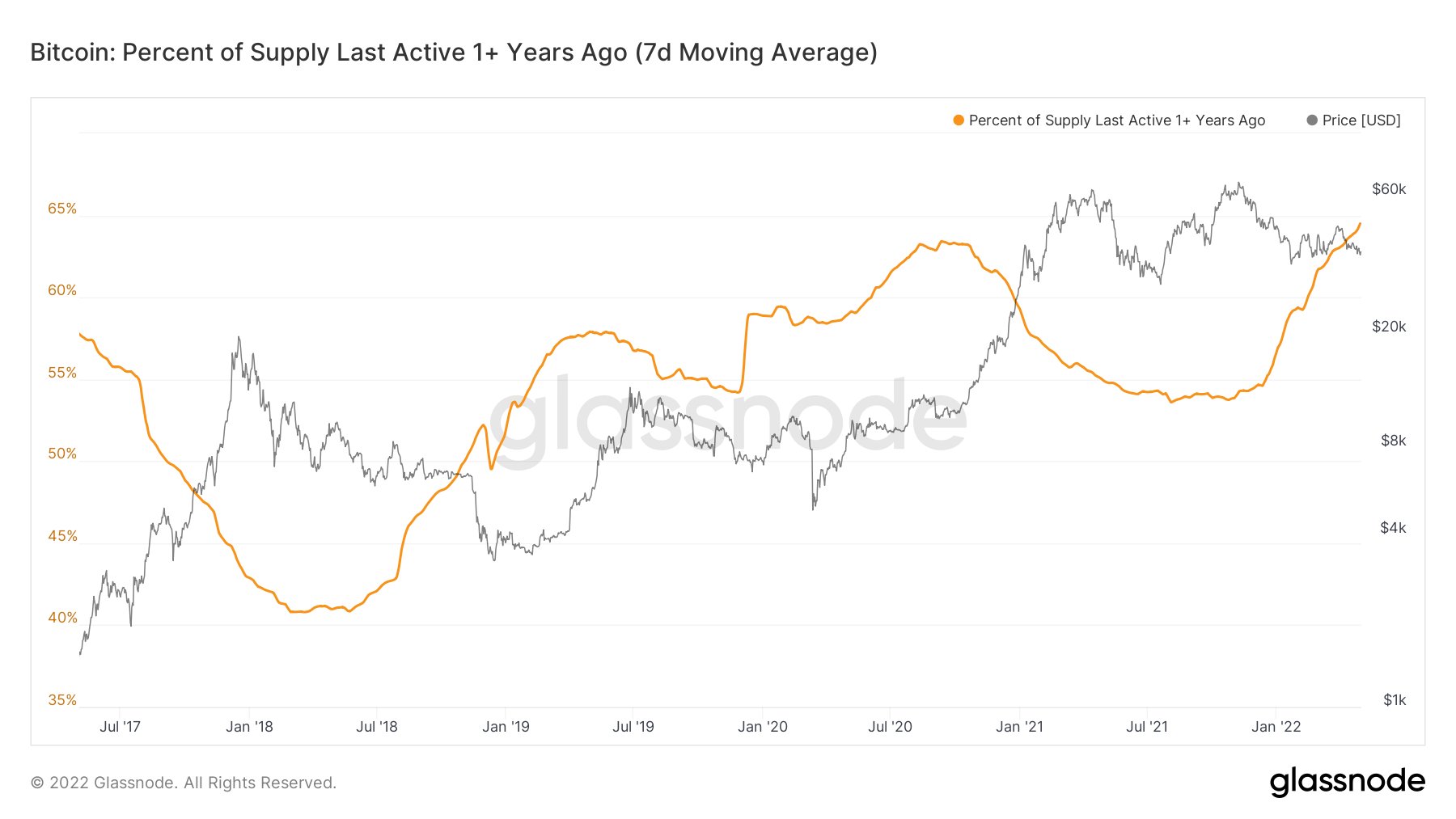 Meanwhile, crypto exchange Kraken also pointed to strong on-chain fundamentals for bitcoin in its monthly report for April published on Thursday.
According to the report, daily active addresses on the Bitcoin network rose by 0.2% month-over-month in April. And despite the rise being small, Bitcoin was the only tracked network – besides Solana (SOL) – that saw a rising number of daily active addresses in April.
For comparison, the number of active addresses on Ethereum dropped by 3% over the same period.
Despite these somewhat optimistic on-chain figures, however, analysts expressed a largely negative sentiment about the market after yesterday's sell-off.
"There's still a lot of fear out there," said Dennis Dick, a proprietary trader and head of markets structure at Bright Trading, to Bloomberg. "People thought [Wednesday] was the green light, but now they're getting caught again."
"Retail traders keep coming in and getting chopped up. The contrarians have been winning 2022," Dick added.
Meanwhile, Randy Frederick, vice president of trading and derivatives at asset manager Charles Schwab & Co., argued that the stock market witnessed "capitulation."
Frederick was cited in the report as saying that,
"People have been looking for a capitulation, where everyone just throws in the down. Perhaps today is that day. This is the first day that I would describe as a capitulatory day."
Perhaps the best summary of the situation was shared by Sven Henrich, founder of trading and analysis website NorthmanTrader, with this take:
____
Learn more:
- Short-Term Relief Bitcoin Rally Likely After 'Optimistic' Powell, Major Bottom Could be Forming – Analysts
- Russian Bitcoin Trading Remains Down on Binance

- 'Surprisingly Robust' Bitcoin Slips Lower as Market Awaits Next Fed Move
- As Bitcoin Keeps Tanking, Arthur Hayes Joins Chorus of USD 1M BTC Predictors and Warns of 'The Doom Loop'

- Get 'Mentally Ready' for Lower Bitcoin Prices as Rates Rise, Bitcoin 2022 Panelists Warn
- Once the Fed Pauses, Bitcoin is 'Going to the Moon,' Novogratz Says

- Bitcoin Price Forecast for 2022 Cut Once Again as Break 'Only' Above USD 80K Now Expected
- Ethereum Price Target for 2022 Cut Again But New Highs Still In Play - Survey
---