Bitcoin, Ethereum Slide, Liquidations Soar as Market Awaits US Inflation Numbers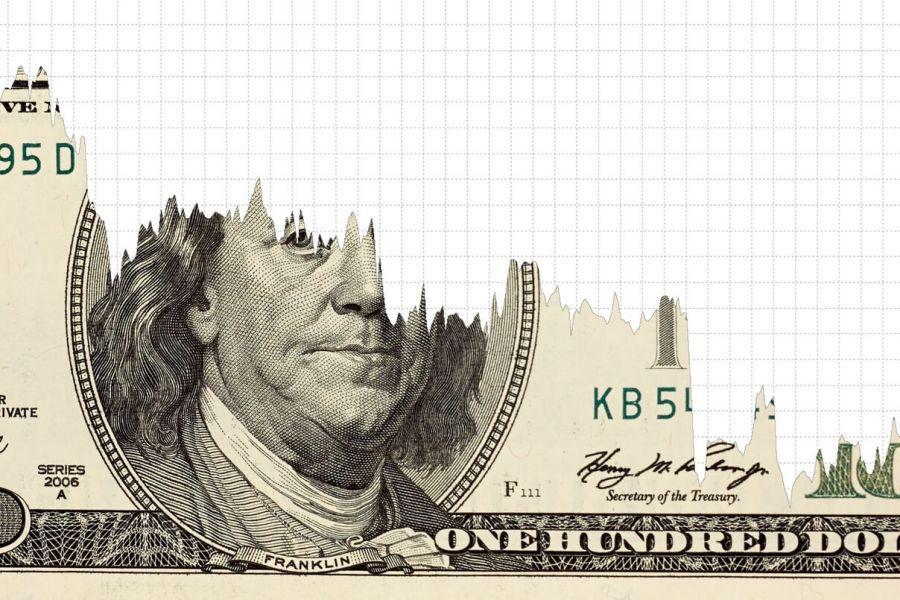 Bitcoin (BTC), ethereum (ETH), and much of the broader crypto market traded sharply lower today, with liquidations of leveraged long positions amplifying the price drop. The crash comes as the market prepares for yet another high US inflation figure, and follows a jump in prices yesterday after details on an Executive Order on crypto in the US became known.
Following a drop in the price of BTC of more than 7% as of 10:40 UTC to USD 39,245, liquidations of leveraged long positions in the bitcoin futures market also shot up.
At press time, nearly USD 43m in leveraged bitcoin longs had been liquidated during the 12 hours from midnight to noon UTC time on Thursday across exchanges. Notably, the long liquidations today followed a similar level of liquidations on the short side yesterday, when nearly USD 63m in bitcoin shorts were liquidated during the same time period.
For the crypto market as a whole, liquidations of long positions reached USD 108m during the same 12 hours today, data from the market tracking site Coinglass showed.
Bitcoin futures liquidations per 12 hours: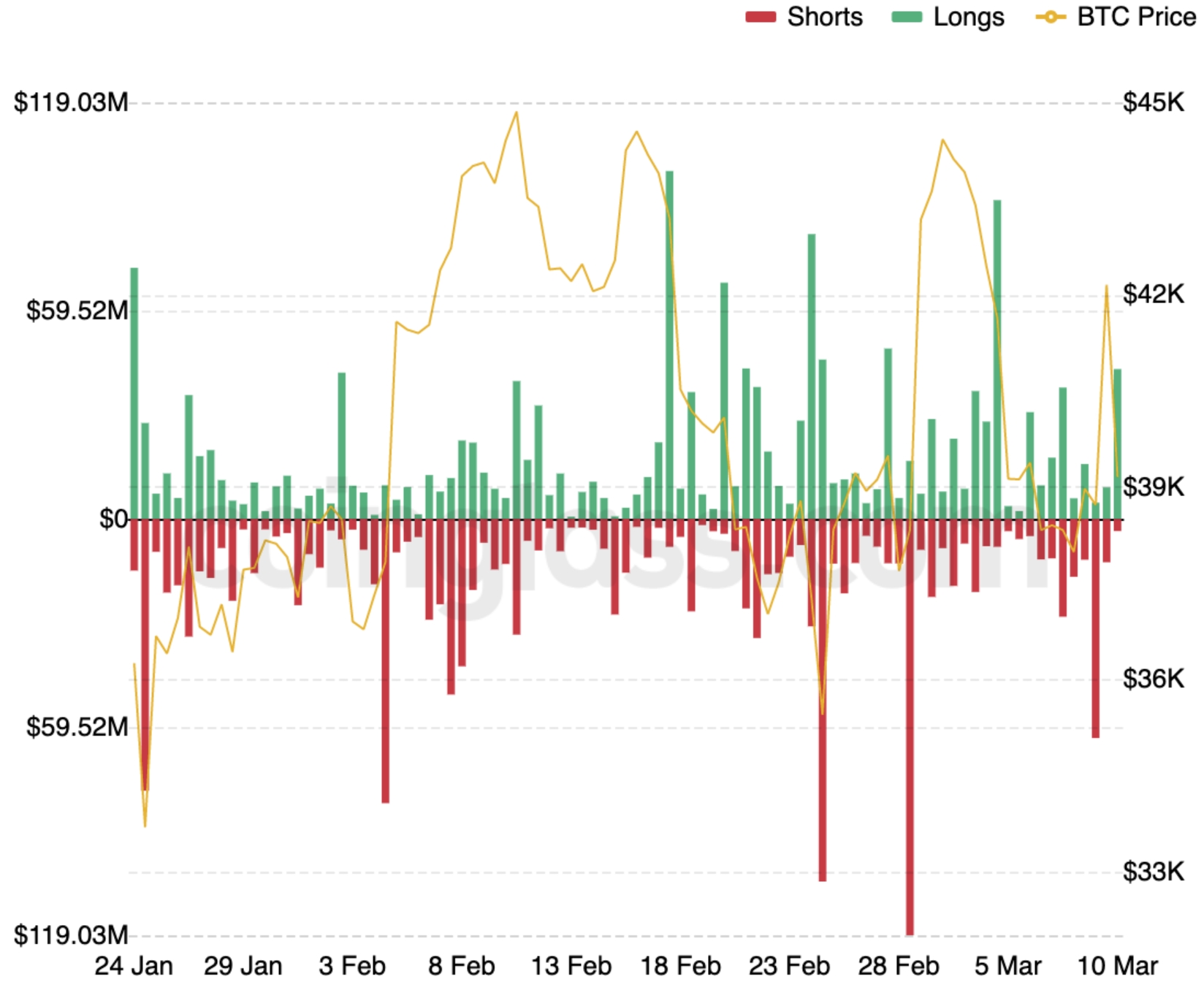 Along with the falling crypto prices, US S&P 500 stock index futures pointed to an opening lower on Wall Street, after a positive day yesterday.
The price of gold also continued lower in the early hours of European trading today after getting slammed yesterday from a high of USD 2,070, just USD 5 shy of an all-time high for the metal. As of press time, however, gold had once again staged a comeback, moving from a low of USD 1,970 to 1,997.
Yesterday, bitcoin and crypto more broadly surged higher in price after US President Joe Biden signed an Executive Order on digital assets that the market perceived as a generally positive step from the US government in its effort to regulate crypto.
The drop today also comes as the market awaits US inflation numbers for February. The figure, set to be released at 13:30 UTC (08:30 ET), is expected to come in at 7.9% year-over-year, up from 7.5% the month before, which already marked the highest inflation rate in 40 years.
"[…] we expect to see a high headline inflation in tomorrow's February inflation data," with "a key reason" being higher energy prices, White House Press Secretary Jen Psaki said about the Biden administration's expectations during a press briefing yesterday.
Attempting to explain the sharply falling bitcoin price today, Dylan LeClair, co-founder of the bitcoin-focused consultancy firm 21st Paradigm, said there was "no follow up in price or volume" from what he hinted was a derivatives-led rally yesterday. Short-term traders who attempted to exit their positions then "tanked the market," LeClair said on Twitter.
"[A] trigger that's been affecting the markets is the Consumer Price Index which will also be affected by next week's interest rate hike, which will essentially track how much consumers will be impacted in terms of loans, investments, savings, job prospects, and prices for goods and services," Eliézer Ndinga, Research Director at the index token issuer Amun, said in a comment shared with Cryptonews.com.
He added that this has led to the drop in crypto prices seen over the past week, combined with an inflow into commodities like oil and wheat.
Looking back at the month of February, the crypto exchange Kraken said in its latest Crypto Market Recap for the month that bitcoin's performance comes "as a slight disappointment," given historical data that shows February has been among the better-performing months.
With a return of 11% for the month, February this year marked the fourth worst-performing February in bitcoin's history, with BTC having now underperformed its historical monthly performance for four months in a row, Kraken added.
In March, average BTC monthly returns stand at 8%, while median returns are (-6%), per their data.
_____
Learn more:
- Correlation Between Bitcoin and Traditional Markets Might Break This Spring - Pantera
- BNB Won't Hit ATH This Year but Might Reach USD 2,500 by 2030 – Survey

- 'Far More Bearish' Survey Predicts Doubling of Ethereum Price This Year
- Bitcoin to Hit USD 93K This Year, According to Less Optimistic Survey
---