Bitcoin in Early Stages of New Bull Market, Widely Followed Technical Indicator Suggests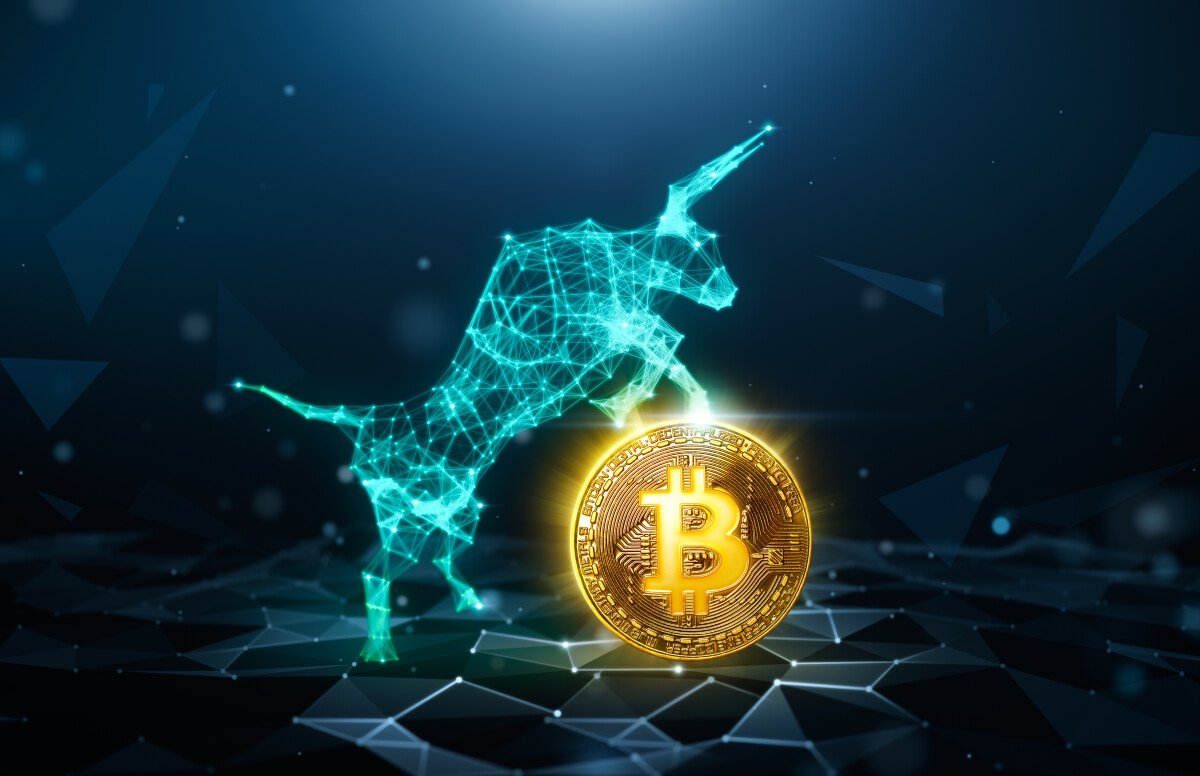 Bitcoin is in the early stages of a new bull market.
That's according to analysis of a widely followed technical indicator called the Market Value to Realized Value Ratio, or MVRV Ratio.
This ratio, which is calculated by dividing Bitcoin's current market capitalization by its market capitalization at the realized price (i.e. the average price at which each individual Bitcoin token last moved), recently hit 1.48, its highest level since last April.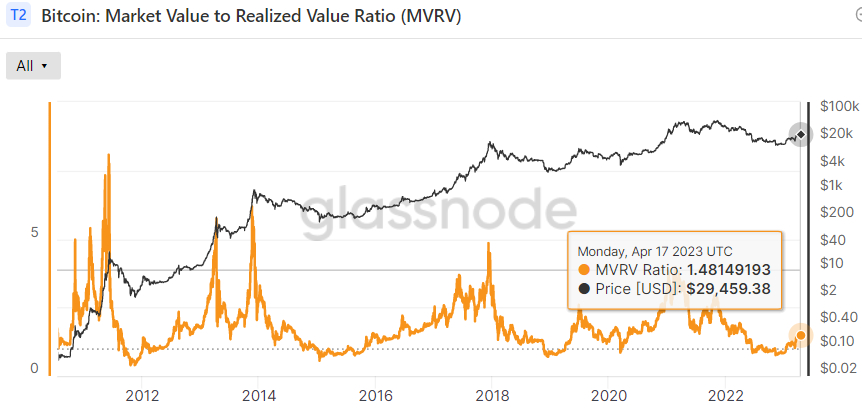 It rose back above 1 this January for the first time since November 2022 and has been rising ever since given the ongoing rise of the Bitcoin price.
As can be seen in the above graph, the MVRV Ratio falling below 1.0 has historically happened during the late stages of a Bitcoin bear market.
Indeed, the index rising back above 1.0 on a sustained basis has historically acted as a great buy signal, as it signals that Bitcoin has entered into the early stages of a bull market.
And that certainly seems to be the case right now.
MRVR Z-Score Sending Even More Convincing Bull Sign
Glassnode's preferred MVRV-related indicator to monitor is the MVRV Ratio's Z-score.
They calculate this by subtracting Bitcoin's market cap from its realized cap and then dividing by the standard deviation of Bitcoin's market cap throughout its history.
This Z-score was last at around 0.71 on Monday, having risen back above zero earlier this year in tandem with Bitcoin's price recovery.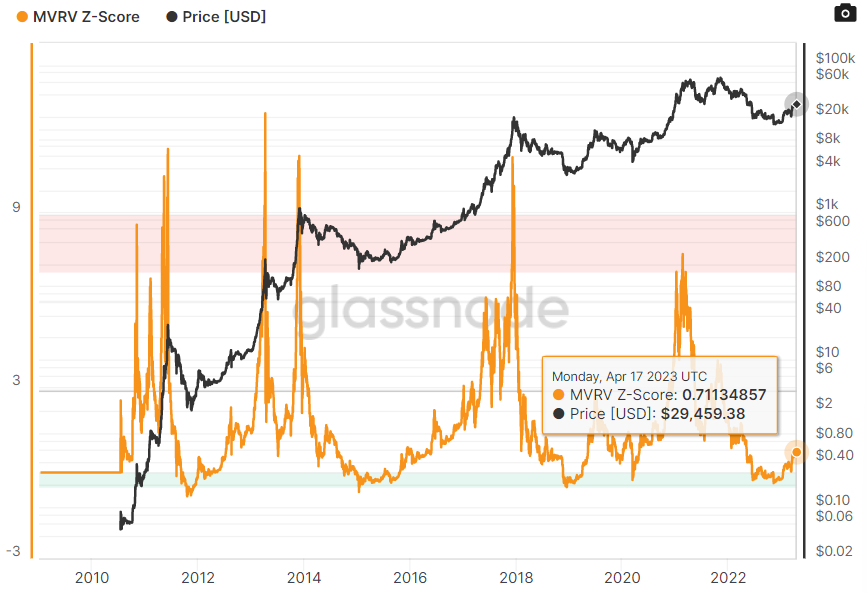 Typically a sustained recovery from sub-zero levels, as we are currently witnessing, has coincided with the early stages of a Bitcoin bull market.
How High Can the BTC Price Rise This Bull Market?
Assuming that a new Bitcoin bull market has begun, long-term investors will now be assessing how high prices could rise in the coming years as they assess at what levels to take profit.
The MVRV Ratio can be useful in determining when the market is overheating and a price top might be incoming.
As can be seen in the first chart, spikes in the MVRV ratio to above the 3 to 4 levels have historically coincided with the most intense stages of a bull market and have often come ahead of sustained price drops.
Glassnode presents a useful chart that plots the current Bitcoin price along with lines that show where the price would be at certain MRVR Ratios.
As of Monday the 17th of April, the price, if the MVRV Ratio was 2.4, would be around $47,700 and at 3.2 would be around $63.600.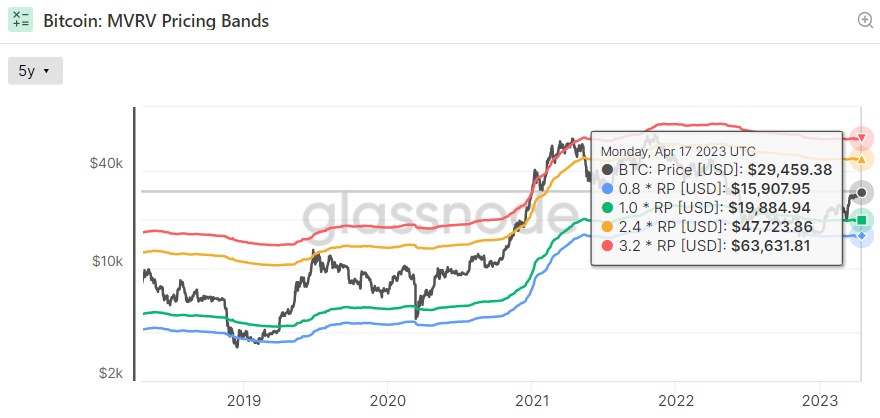 If Bitcoin's price was at these levels, then it would be fair to say that the market is currently very hot.
But it's worth noting that past bull markets have coincided with steep rises in the Realized Price, as more investors enter the market paying more for coins than in prior history.
As the Realized Price rises, this pushes the MVRV Ratio bands higher.
For example, the bull market of late-2020 into the first half of 2021 saw the Realized Price more than triple from around $6,000 to nearly $20,000.
This pushed the 2.4 and 3.2 MVRV Ratio bands three times higher as well to roughly in line with current levels (around $47,000 and $63,000).
If we are in a new Bitcoin bull market, the Realized Price is almost certain to see a sustained rise in the coming quarters and years and that will push the 2.4 and 3.2 MVRV Ratio bands higher as well.
How much higher? No one can know for sure.
But let's say it's 3x higher versus current levels, like during the most recent bull market.
That would see the 2.4 MVRV Ratio band into the $140-150,000 region.
The 3.2 MVRV Ratio band, meanwhile, would rise to around $190,000.
That suggests that we might feasibly be able to see Bitcoin's price rally into the upper $100,000s in the coming years before we start labeling the rally as getting dangerously hot.
---