Bitcoin at USD 50K 'in Sight' As There's 'Room to Run Higher' Before Correction
Disclosure: Crypto is a high-risk asset class. This article is provided for informational purposes and does not constitute investment advice. By using this website, you agree to our terms and conditions. We may utilise affiliate links within our content, and receive commission.
Bitcoin (BTC) is hitting one all-time high after another, today passing over USD 41,700 but what might come next? Per many insiders, BTC still has room to go higher before a more substantial correction happens.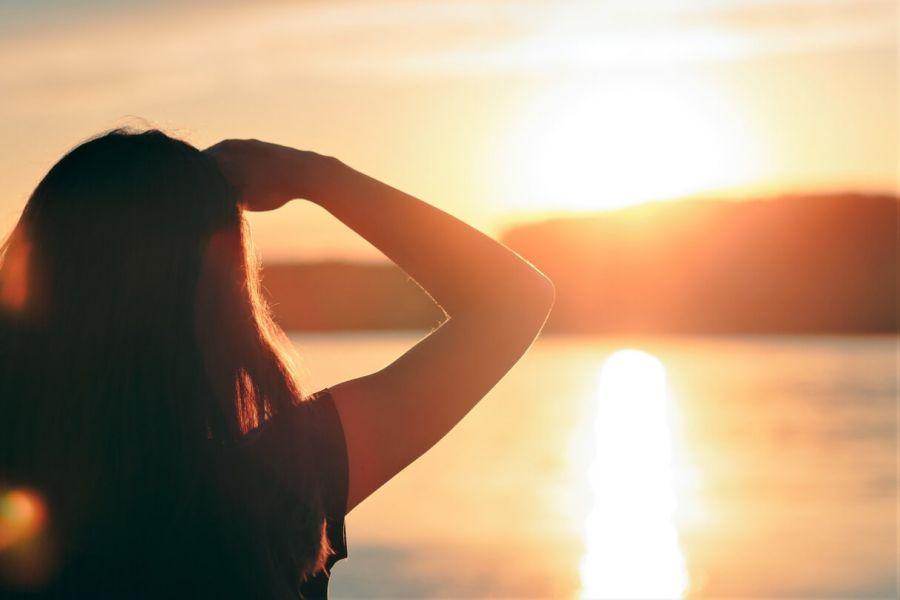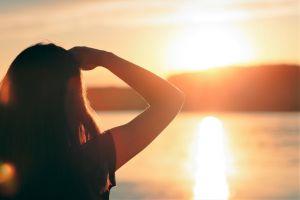 Source: Adobe/nicoletaionescu
BTC has gone up 10% in a day and 42% in a week to a price of USD 41,738 on Friday at 12:19 PM UTC.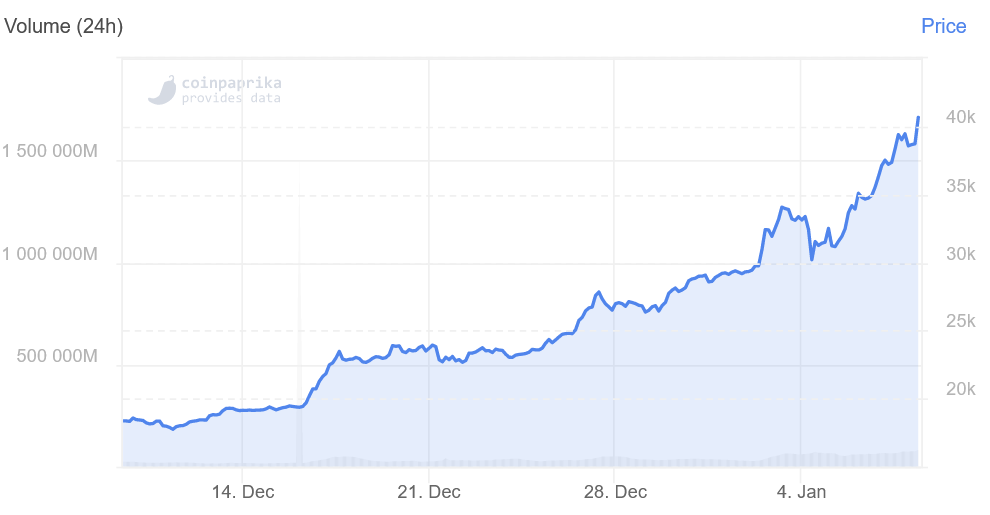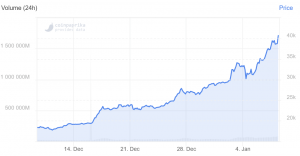 Source: coinpaprika.com
"Assuming history is destined to repeat, one could expect further upside appreciation until BTC trades at 10x – 15x its 200-week moving average; at a weekly close of [USD] 7,904, such would imply a price between [USD] 79,040 and [USD] 118,560," said Kraken Intelligence, the exchange's team of in-house researchers, in their December 2020 Market Recap & Outlook report.
Per the researchers, as BTC's correlation with both risk-on and risk-off assets has seemingly strengthened and petered out, the months before us "could bring a shift in trend amid an inevitable mean reversion." They argue, however, that BTC's rally is a sign of "market participants seeing incremental near-term upside despite historic price levels being realized." And that's not all the good news, as per the researchers' data,
"the case can be made that BTC has room to run higher."
But Kraken's researchers are not the only ones seeing more room for BTC to grow. Chamath Palihapitiya, CEO of venture capital firm Social Capital and Chairman of commercial spaceline Virgin Galactic, stated in an interview with CNBC that BTC is "probably going to USD 100,000, then USD 150,000, then USD 200,000." He couldn't say in what period will the price reach this level, but gave five or ten years as possibilities.
Also, Anthony Pompliano, co-founder of Morgan Creek Digital, argued in an interview that BTC is "at least 10x better than gold in every way, "so if you just think of a bitcoin product that is 2x better and market cap kind of follows that, that would put bitcoin at a million dollars a coin." Bitcoin's market capitalization will eclipse that of gold by 2030, he finds.
Furthermore, "we believe bitcoin's meteoric rise will continue, as institutional investors continue to recognize its finite nature and attempt to hedge against global inflation and uncertainty," said in an email Joe DiPasquale, CEO at crypto fund manager BitBull Capital. "Remember, a 300% rise like in 2020 is not out of character for bitcoin. Its median rise in the last 10 years is 182%, and in 2019 it rose 92%."
Institutions like MassMutual and Guggenheim Investments, and company treasuries like Square and Microstrategy, investing in BTC, as well as rumors of others entering the space, are "just the beginning of a stampede into a finite asset," he said, adding,
"Bitcoin at [USD] 50K is in sight."
And as BTC is finite, with demand for it is "now at over 3x new supply," the US has printed 68% more USD in the last 12 months than were ever in existence, "leading to a largely expected devaluation of the dollar," he said.
Let the PAMP continue! https://t.co/vOMCNQke99 pic.twitter.com/wlTAyPW5fV

— Ameer Rosic (@AmeerRosic) January 8, 2021
Meanwhile Galaxy Digital CEO Mike Novogratz stated in his recent interview that young people were using the previous stimulus checks to invest in BTC, among other things, so we can't know where the money from the next one will go to. "Some of that, if not a lot of that, will find its way into the markets. One of the most unique things last time is seeing how many people bought bitcoin with the exact amount of stimulus. The market is sensing all of that."
However, both the Kraken researchers and DiPasquale had some warnings to share as well, and even Novogratz said that the markets don't go up every day forever, meaning a correction is bound to happen. DiPasquale noted that bitcoin is inherently volatile, and "while we expect the volatility to continue, we also expect higher highs and more support, leading to higher lows."
Meanwhile, Kraken Intelligence said that, historically, the first quarter of a year is typically a negative-yielding period for the first coin by market capitalization, arguing that "market participants ought to be considerate of BTC and the broader market potentially posting less favorable monthly returns in 1Q21."
Others seem to suggest there will be a downward correction relatively soon, possibly after the price hit USD 40,000 – but also that the price will continue on its upwards trajectory, or as economist and trader Alex Krüger said, "Upwards trend is unscathed."
I like 35K => 36K => 40K => 36K => 50K better.

— Alex Krüger (@krugermacro) January 6, 2021
According to Chainalysis, since the bitcoin price went above USD 10,000 in late July, investors have bought 760k bitcoin from traders, reducing the amount of liquid bitcoin available to buy. Investors are those that retain more than 75% of the bitcoin they receive, while traders retain less than 75% of the bitcoin they receive.
"Until mid-November traders were the main suppliers of bitcoin to investors. However, as demand increased after mid-November, it appears that traders have not been able or willing to increase their supply of bitcoin to investors," Philip Gradwell, Chief Economist at Chainalysis, said in a report yesterday, adding that "older investors offered their supply – especially over the last few weeks."
He opined that longer-term investors likely require a higher price to part with their bitcoin than traders.
According to Gradwell, this supply curve will remain steep unless:
long-dormant coins enter the market;
external events change the price that current holders are willing to sell at (for example if macroeconomic stability increases and inflation expectations decrease).
"But if 2021 continues like it has started, I don't see that changing soon, although, as always, except volatility along the way," he concluded.
____
More reactions: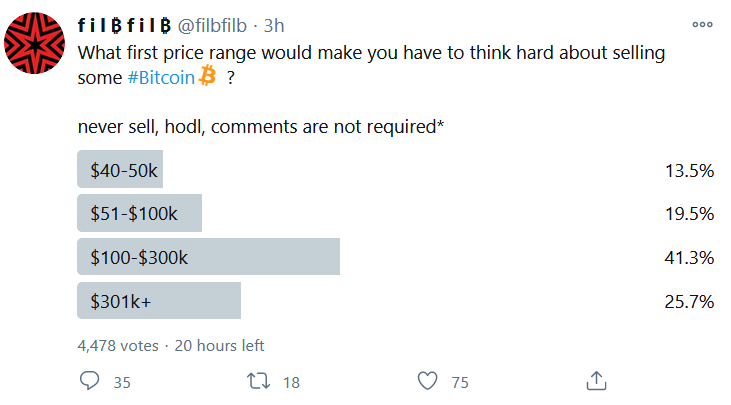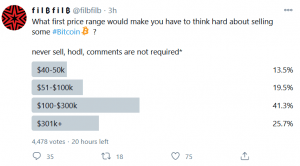 __
Bitcoin broke ATH with gold, the only meaningful chart we should look at. USD is too volatile to use it anymore! pic.twitter.com/CDGd8H4lGW

— zender ⬛🟨 bitcoinomad (@zndtoshi) January 8, 2021
__
Outlook Jan. Cryptos: #Bitcoin May Be Better Than #Gold –
Crypto assets in 2021 are initially about the diminishing prospects for Bitcoin to revisit old highs around $20,000 vs. the increasing potential of staying the course toward $50,000 and a market cap of about $1 trillion pic.twitter.com/OTYyEZUfHe

— Mike McGlone (@mikemcglone11) January 7, 2021
__
Looks like a new ATH for $BTC active addresses is in ladies and gents! Previous cycle benchmark–when aa's recorded new highs–was around late 2016/early 2017. pic.twitter.com/nlweUuQVlT

— Ξlias Simos (@eliasimos) January 8, 2021
__
Here's the market impact of the negative gamma I mentioned, quantifiedhttps://t.co/pOhkXjZmWD

— Alex Krüger (@krugermacro) January 8, 2021
____
Learn more:
Pension Funds Getting Set to Board Bitcoin Bandwagon, Say Insiders
Up or Down? Data Send Mixed Signals About Sell Pressure for Bitcoin & Ether
Crypto in 2021: Bitcoin To Ride The Same Wave Of Macroeconomic Problems
Bitcoin Wheel Cannot Be Stopped
Crypto Adoption in 2021: Bitcoin Rules, Ethereum Grows & Faces Rivals
Crypto in 2021: Institutions Prefer Bitcoin, Retail Open to Altcoins
Bitcoin is a 'Ponzi' With Infinite Supply – Skeptics Chime In
Economists Speak of 'Once-in-a-Millennium Change' in Monetary History
Bitcoin & Crypto Taxes In US: When to Sell and When to Hodl
Bitcoin Now Retail Inflation Hedge, Experts Agree – and Altcoins May Follow Suit
__
(This article was updated at 12:35 PM UTC with a comment from Chainalysis. At 13:01 UTC Google Trends data have been added).
---