Bitcoin and Hard Assets Will Win as Inflation Rises, Novogratz Says and Sees BTC at USD 500K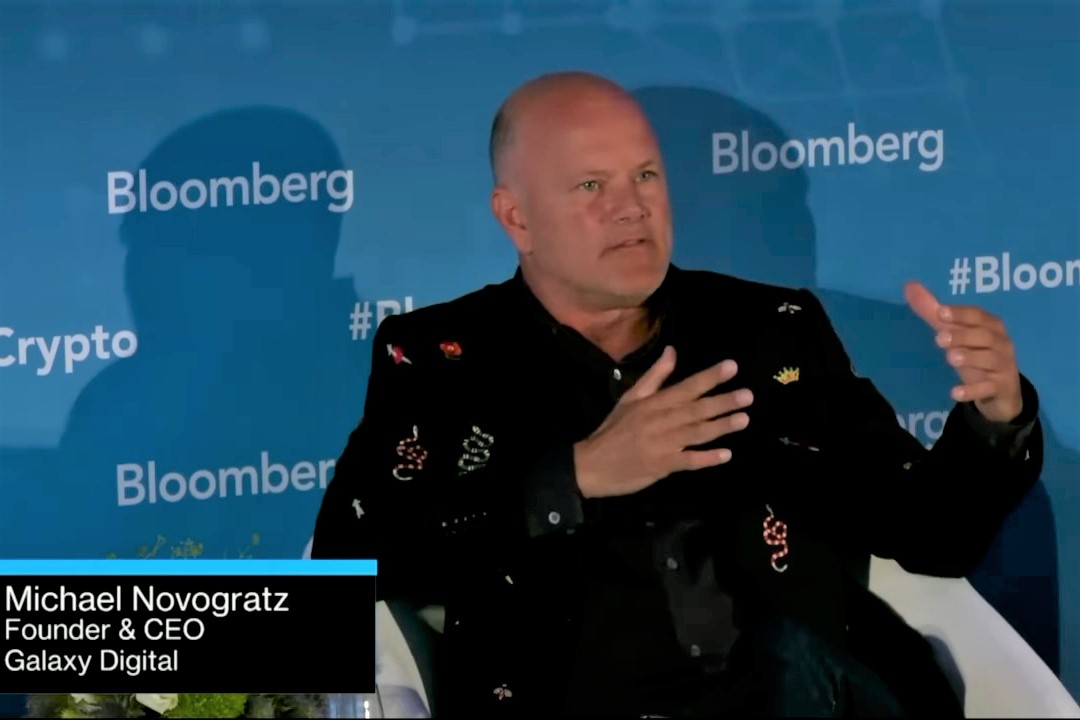 Bitcoin (BTC) and other hard assets will rise strongly in price as the world continues down a path of prolonged and high inflation, argued Mike Novogratz, founder and CEO of major financial services and investment management firm Galaxy Digital.
Speaking at the Bloomberg Crypto Summit on Tuesday, Novogratz stated that he does not believe the world will be done with high levels of inflation any time soon, and warned that we could even see "hyperinflation" going forward.
"We [the US] have debt-to-GDP of over 140%. That almost never ends without a debt restructuring or a hyperinflation," Novogratz said during the interview at the Bloomberg Crypto Summit in New York City.
Inflation reduces the value of debt in real terms, making it easier for governments to pay it down. That stands in contrast to the conventional way of lowering the debt-to-GDP ratio, which is to grow a country's economy (GDP) – arguably a more difficult task.
"We had 9% inflation this year, so they did a pretty decent job" of getting rid of some of the debt, Novogratz continued, explaining that with 3% interest rates and 9% inflation, debt is effectively reduced by 6%.
He added that the only way to get out of a situation with a debt-to-GDP ratio of more than 140% is "inflating your way out." As a result, "hard assets are gonna win," he said.
"Bitcoin is not the only hard asset. There are plenty of hard assets you should have in your portfolio. But Bitcoin is a unique one, and it is gaining adoption," Novogratz pointed out, arguing that Bitcoin adoption is spreading.
He added that,
"There will be a generation of people that really believe in [Bitcoin], and are convincing their friends, and their communities, and their institutions that this is a good way to store wealth."
He went on to call the number one crypto a "killer made to be an anti-inflation store of value," saying it is "easily transferable" and "better than gold in so many ways."
Adoption in practice is "people telling the story [of Bitcoin]" and other people believing in it," the former investment banker further said, while noting "that's how gold became gold."
"Gold is only valuable because we say it's valuable. It's the same way with bitcoin […] it's happening because of the network effect […] I don't think that goes backwards," he said.
Asked if he still stands by his earlier USD 500,000 price prediction for bitcoin for the next five years, Novogratz said, "I do, I do."
"We continue to see institutions in Europe, in the Middle East, in the US, who haven't gotten involved yet, and who look at this as an opportunity. They're not diving in with two feet right now, because people working at institutions are a bit more cautious, but once we get balance, once we get equilibrium and start a new narrative, they'll be back," the well-known crypto bull said.
At 10:15 UTC, BTC is trading at USD 23,590. It's up 7.7% in a day and 22% in a week.
____
Learn more:
- Analysts Discuss 'Inherent Resilience' in Bitcoin & Crypto as Rally Fades
- Crypto Winter Will End Before 2022 Is Out - Korbit

- Mike Novogratz Now Admits That Terra's Model Was Unsustainable
- Pandemic is the Biggest Threat to Markets in the Next Decade - FTX CEO

- Majority Expects Bitcoin to Hit USD 10,000 Before Moving Higher - Survey
- Bitcoin Could Fall to USD 13.6K This Year, Panel Says After Adjusting Predictions Once Again
---