Bitcoin and Altcoins Consolidating Above Yearly Lows
Bitcoin price traded below the USD 3,400 support and followed a bearish path. Ethereum declined below USD 90 while ripple was stable near USD 0.300. DEX and CREDO rallied more than 35% today.
Recently, there was a downside extension in bitcoin price below the USD 3,440 and USD 3,400 support levels. BTC/USD tested the USD 3,325 level and later started consolidating in a range above USD 3,350. Ethereum price also declined and traded below the USD 90 support. However, the price remained above the USD 84 low and it is currently (UTC 08:10 AM) attempting a recovery towards USD 94. On the other hand, ripple price was stable and dips below USD 0.300 were well supported. The current technical structure suggests range trading before bitcoin makes the next move.
Total market capitalization

Bitcoin price
There were further declines below the USD 3,440 level in bitcoin price . BTC/USD even broke the USD 3,400 support and traded towards the USD 3,300 level. It found support neat the USD 3,325 level and later the price corrected a few points.
The price is currently trading just below the USD 3,400 level, above which there are chances of a recovery towards the USD 3,450 level. On the downside, an initial support is at USD 3,350 followed by USD 3,325. If there are more losses, the price may trade to a new yearly low below USD 3,225.
Ethereum price
Ethereum price struggled to recover above the USD 94 and USD 95 resistance levels. ETH/USD declined further and it traded below the USD 90 level.
Buyers appeared near the USD 87 - USD 88 zone and the price is currently consolidating losses. On the upside, an initial hurdle is near the USD 92 level, above which the price may rise towards the USD 95 level.
Bitcoin cash and ripple price
Bitcoin cash price failed to stay above the USD 100 support and it recently declined around 3%. BCH/USD is currently trading near the USD 96 level, with an immediate support at USD 95 followed by USD 92. BCHSV declined below the USD 90 support recently before buyers appeared near the USD 85 level. It is currently recovering, but it may face sellers near USD 90 or USD 92.
Ripple price dipped below the USD 0.300 support level, but it quickly recovered. XRP/USD is currently up around 0.5% and it may climb towards the USD 0.308 and USD 0.314 resistance levels.
Other altcoins market today
Despite bearish moves in bitcoin, a few small cap altcoins climbed higher by more than 10%, including DEX, CREDO, WAVES, XTZ, REP and PAY. Out of these, DEX rallied around 45% and CREDO climbed close to 36%.
Overall, bitcoin seems to be trading in a range below USD 3,500 with a bearish angle. BTC/USD must climb above the USD 3,450 and USD 3,500 resistance levels to start a solid recovery. If not, there is a risk of more declines below USD 3,300 and USD 3,200 in the coming sessions. Similarly, ethereum could decline below USD 84 and USD 80 if it continues to fail near the USD 95 and USD 100 resistance levels.
_____
Find the best price to buy/sell cryptocurrency: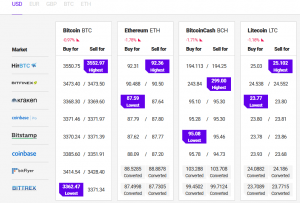 ---