Bitcoin Hits USD 16,400 as More PayPal Users Start Buying Crypto
Bitcoin (BTC) extended its gains following the news that online payments giant PayPal opened its new crypto services to all its users in the US (excluding Hawaii), doubling the maximum dollar amount that could be spent on cryptoassets. (Updated at 08:54 UTC to add the latest price data and a comment from George McDonaugh.)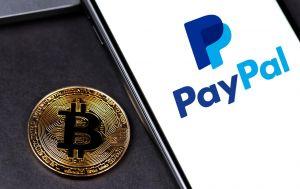 "We are pleased to announce that all eligible PayPal accountholders in the US can now buy, hold and sell cryptocurrency directly with PayPal," the company said yesterday.
BTC surpassed USD 16,400 earlier today before correcting lower.
At pixel time (08:47 UTC), BTC trades at USD 16,192 and is up by 2% in a day and 4% in a week. Among the top 10 coins by market capitalization, the most popular cryptocurrency is outperformed only by litecoin (LTC) (+5%, USD 62) which is is also available on PayPal.
The company is also offering ethereum (ETH) and bitcoin cash (BCH). ETH is up down by 1% to USD 459, BCH dropped by 3% to USD 251.
"Bitcoin has spent 0.32% of its life at 16k and above, which means there were relatively very few buyers at that level back in 2017. Also the space was smaller in terms of participants. This correlates to there being very few sellers at this level now, meaning there isn't a strong resistance band for the bulls to push the price higher," George McDonaugh, Managing Director and Co-Founder of publicly listed cryptocurrency and blockchain investment firm KR1, said in an emailed commentary.
He said he doesn't expect BTC to reach USD 20,000 in this current move as it will consolidate before going again and breaking through in early 2021: "That's how bitcoin has liked to behave in the past."
Meanwhile, in its FAQ section, PayPal confirmed that it has doubled the maximum dollar amount for weekly cryptocurrency purchases to USD 20,000, or more than was planned two weeks ago (USD 15,000). The maximum dollar amount for any single crypto purchase is also USD 20,000.
Also, until December 31, there are no extra fees for using these new services.
The company rolled out these services to 10% of its customers in the US around two weeks ago.
Back then, Dan Schulman, CEO of PayPal, said that their customers are "very eager" to start using crypto and their waiting list of new crypto users exceeded their expectations by "2-3" times.
As reported, the company plans to expand its new crypto services to other countries as well as Venmo, the company's digital wallet app, in the first half of 2021.
____
Learn more:
PayPal CEO: Financial System 'Not Working,' Users 'Very Eager' For Crypto
PayPal, Square, Revolut, and Robinhood: A Crypto Comparison
---