Bitcoin Above USD 14K While Prediction Markets Wave Goodbye To Trump
The most popular cryptocurrency, bitcoin (BTC), jumped above USD 14,000 for the second time in a day, reaching almost three-year highs, while crypto prediction markets increasingly favor the Democratic candidate, Joe Biden, over the still-President Donald Trump in a nail-biting US presidential election.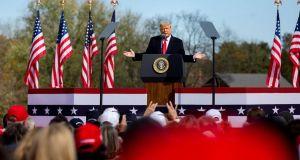 At pixel time (17:26 UTC), BTC trades at USD 14,152 and is up by 3% in a day and more than 8% in a week, reaching a level last seen in January 2018. Other major coins are also in the green today, while ethereum (ETH) is the best performer as it rallied on ETH 2.0 news. US stocks, bonds also rallied today.
Meanwhile, according to predictions markets, there is a 17% (71% earlier today) chance that Trump will win the race, compared with 84% (29% earlier today) in the case of Biden.
The Trump 2020 futures contract on crypto derivatives exchange FTX crashed to USD 0.17, while the Biden 2020 contract jumped to USD 0.84. These tokens allow people to speculate on the outcome of the election by buying tokens that can be redeemed for USD 1 if a candidate wins and USD 0 if they lose.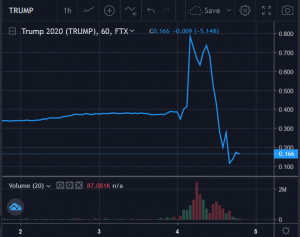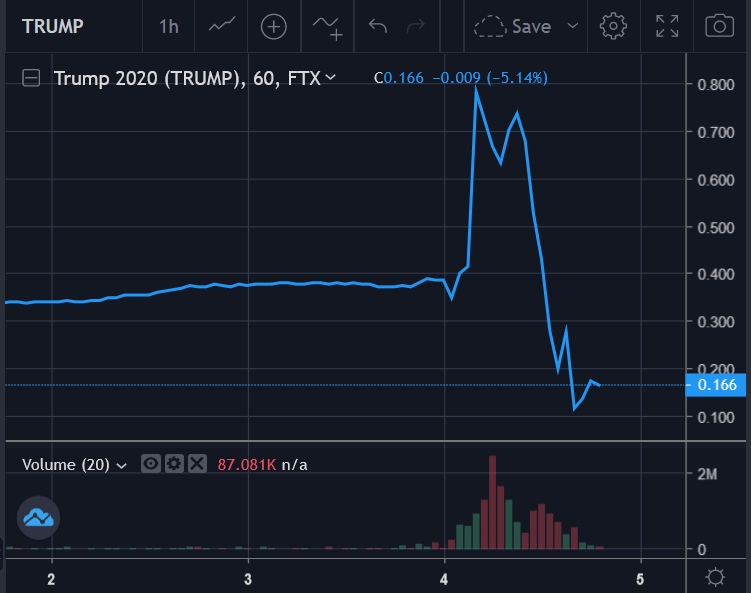 __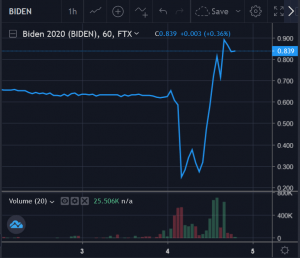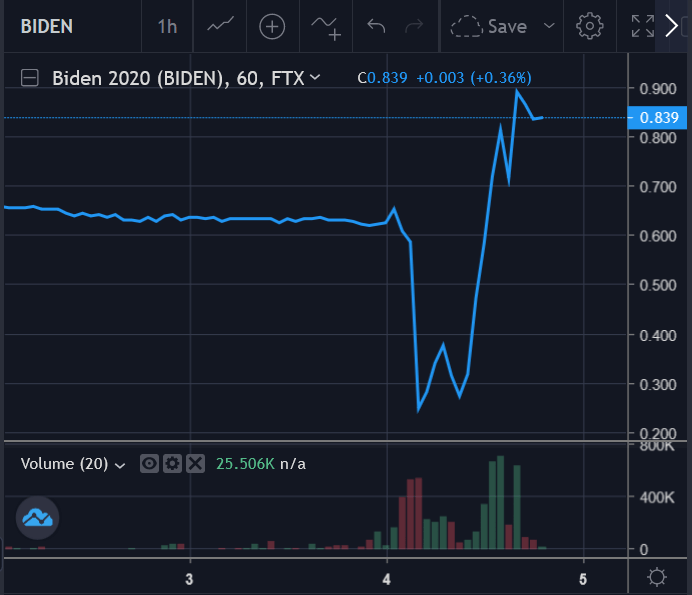 For now, Biden secured 238 electoral votes out of necessary 270, while Trump has 213, according to Bloomberg data. While Reuters and some other sources claim that Biden has 227 votes, Trump - 213. In either case, results are still coming in. Also, according to Bloomberg, close contests in five key states mean the US presidential election may not be decided for days, or longer.
"While crypto trading is, of course, speculative at best as a means of predicting election results, prediction markets can be used to gauge results ahead of time and potentially draw a more accurate picture than opinion polls. I am inclined to agree with Vitalik [Buterin]'s argument that these markets "incorporate the possibility of heightened election meddling, voter suppression" and other irregularities affecting the outcome, as opposed to "statistical models" that "assume the voting process is fair," Antoni Trenchev, Managing Partner of Nexo, a regulated financial institution for digital assets, said in an emailed comment.
Meanwhile, in his recent report, Ty Young, Cryptoasset Research Analyst at Messari, argued that the currently possible scenario of a Biden win and Senate dominated by Republicans paints a potential bearish outlook for BTC in the immediate term.
"If Biden eaks out a win, Trump will have little incentive to push through a deal for another round of stimulus, which could cause markets to sell-off in the short term. This sell-off could bleed into BTC. With a Red Senate, the stimulus could be delayed further sending markets lower," according to Messari. "A Biden win could also lead to further volatility due to fear of a hefty Biden tax on capital gains."
Also, a contested election might fuel further volatility in the market.
__
Other reactions
---