Binance Winds Down Derivatives In Europe While Malaysia Takes Action
The crypto exchange giant Binance has run into yet more regulatory trouble in Asia while it's making new preventive moves in Europe.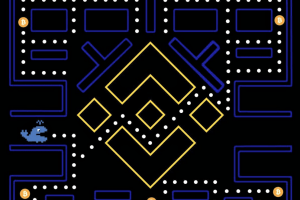 The platform issued a notice on its Binance.com website explaining that it "plans to wind down its futures and derivatives products offerings across the European region. It claimed that it would begin with its operations in Germany, Italy and the Netherlands, where, "with immediate effect, users from these countries will not be able to open new futures or derivatives products accounts."
Existing users have also been set a deadline, the exchange continued, explaining that "with effect from a later date to be announced in a further notice," customers in these countries "will have 90 days to close their open positions."
The announcement comes after regulatory pressure in Europe.
"Sometimes, small setbacks are necessary for bigger long term growth," Binance CEO Changpeng Zhao, tweeted.
He later added that "Regulatory compliance is a must, not a decision. And it leads to MORE market access and adoption, not less."
Meanwhile, the Malaysian financial regulator, the Securities Commission Malaysia (SC) said that it is now taking "enforcement actions" against the platform for "illegally operating a digital asset exchange (DAX)" – alleging that Binance has violated the country's 2007 Capital Markets and Services Act by operating a DAX without an operating permit.
The SC said it had issued a "public reprimand against Binance" for "continuing to operate illegally in Malaysia despite being included in the SC's Investor Alert List in July 2020."
It ordered the platform to disable web and mobile access to Malaysia-based customers, "cease all media and marketing activities" and block Malaysia-based users from accessing the Binance Telegram group.
A spokesperson for Binance told Cryptonews.com that the platform was "aware of the notice from the SC" and could "confirm that Binance.com does not operate out of Malaysia."
The firm added that Binance "takes a collaborative approach in working with regulators in navigating this emerging industry and we take our compliance obligations very seriously."
The spokesperson concluded:
"We are actively keeping abreast of changing policies, rules, and laws in this new space. Binance is ready to assist regulators from around the world and together find the optimal way to set a fair playing field – consumer protection is important to all of us. We want to create a sustainable ecosystem around blockchain technology."
This week, the CEO confirmed that Binance wants to set up regional headquarters and be recognized by local regulators as a financial institution, as the exchange would be breaking from its earlier decentralized model.
Also this month, the exchange said that its futures already started limiting new users to maximum 20 times leverage while it will also delist AUD, EUR, and GBP cross and isolated margin pairs in August. In July, the platform also announced that stock tokens are already unavailable for purchase on Binance.com, and this platform will no longer support any such tokens as the platform shifts its "commercial focus to other product offerings."
At 11:32 UTC, binance coin (BNB) trades at USD 310 and is down by 1.5% in a day, trimming its weekly gains to 6%.
Trading volume on Binance: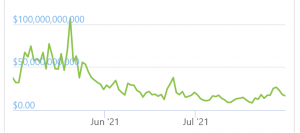 ___
Reactions:
_____
Learn more:
- Crypto Exchange Self-Regulation Kicks In as Regulators Start to Kick
- Investors Are Still Free To Use Binance, Says Polish Regulator
- BNB Rallies While Binance CEO Bows To Regulators Amid Another Setback
___
(Updated at 12:14 UTC with an additional quote from the Binance CEO.)
---