Biggest Crypto Gainers Today on DEXTools – GMAC, TIA, TRUMP
Disclosure: Crypto is a high-risk asset class. This article is provided for informational purposes and does not constitute investment advice. By using this website, you agree to our terms and conditions. We may utilise affiliate links within our content, and receive commission.

Major blue-chip cryptocurrencies are consolidating within recent intra-day ranges as traders keep their powder dry ahead of Wednesday's key US Federal Reserve policy announcement.
Bitcoin (BTC) was last moving sideways in the $34,200s, around the mid-point of its recent $33,400-$35,200ish range, while Ether (ETH) was last changing hands just under $1,790, around the mid-point of its recent $1,750-$1,860 range.
BTC's triangular-like formation could be a sign of bullish consolidation and that another pump is around the corner.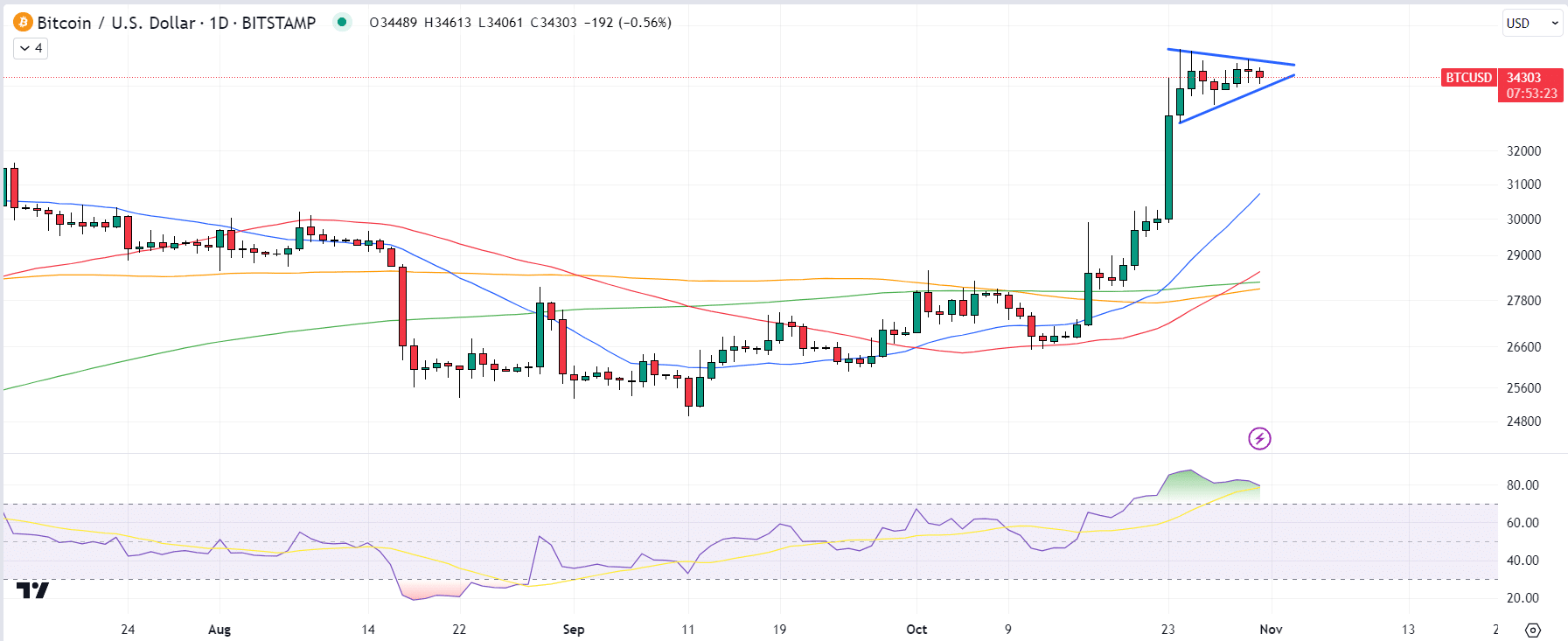 However, a pullback to prior 2023 highs in the $31,800 region is just as likely, which would wipe out weak hands that FOMOed in as Bitcoin pumped to new yearly highs and offer a new opportunity for longer-term bulls to load up on positions.
Indeed, the outlook for Bitcoin arguably remains very strong with 1) ongoing hype around near-term spot Bitcoin ETF approvals in the US, 2) a growing narrative of BTC as a safe haven as stocks and bond falter and 3) the April 2024 halving around the corner.
Major blue-chip altcoins were last trading mixed, with the likes of XRP (XRP) and Solana (SOL) last up around 3% each and Cardano (ADA) and Dogecoin (DOGE) last down around 4% each in the past 24 hours, as per CoinGecko.
With blue-chip cryptocurrencies taking a breather, traders looking for high levels of volatility will continue to turn to the highly illiquid shitcoin/meme coin market.
Here are some of the top-performing low-cap shitcoins as per DEXTools.
Gemach ($GMAC)

The native token of the Gemach Decentralized Autonomous Organization (DAO) ($GMAC), which claims to aim to organize, educate and empower people in the use of Decentralized Finance (DeFi), has pumped an impressive near 300% in the last 24 hours, as per DEXTools.
$GMAC was last trading around $0.0017 per token, close to its all-time high, and has a market cap of just under $900,000.
In a concerning sign for the bulls that the latest pump may lack conviction, 24-hour trading volumes are only around $70,000, which suggests a few big sell orders could quickly reverse the move higher.
The token last had around $126,000 in liquidity and just over 600 holders, while DEXTools' security audit identified three concerning aspects to its smart contract, including the token being mintable, transfers being pausable and the token's owner being hidden.
Tia Token ($TIA)

A shitcoin coin called Tia Tokan ($TIA) is up an impressive 100% in 24 hours, though actually remains locked within recent ranges, with its latest "pump" actually a result of a quick recovery from a strange 97% price dip on Monday.
$TIA last had a market cap of just over $500,000, liquidity of around $350,000, just over 450 holders and 24-hour trading volumes of around $40,000.
DEXTools' security audit has identified a few concerning aspects to the token's smart contract, including a modifiable tax and external call risk.
Morevoer, $TIA has a community rating of just 50%.
MAGA ($TRUMP)

A meme coin themed after ex-President and Presidential hopeful Donald Trump has been pumping back towards all-time highs recently and was last up close to 100% in the past 24 hours as per DEXTools.
The shitcoin last had a market cap of around $5 million, locked liquidity of just under $400,000, 24-hour trading volumes of around $300,000 and over 1,750 holders.
The token doesn't appear to have any concerning aspects to its contract, as per DEXTools' security audit.
Crypto Alternatives to Consider

Shitcoins can offer huge potential returns, but also come with a lot of risk.
Those looking for a better probability of near-term gains, an alternative high-risk, high-reward investment strategy to consider is getting involved in crypto presales.
This is where investors buy the tokens of upstart crypto projects to help fund their development.
These tokens are nearly always sold cheaply, and there is a long history of presales delivering huge exponential gains to early investors.
Many of these projects have fantastic teams behind them and a great vision to deliver a revolutionary crypto application/platform.
If an investor can identify such projects, the risk/reward of their presale investment is very good.
The team at Cryptonews spends a lot of time combing through presale projects to help investors out.
Here is a list of 15 of what the project deems as the best crypto presales of 2023.
Disclaimer: Crypto is a high-risk asset class. This article is provided for informational purposes and does not constitute investment advice. You could lose all of your capital.
---