9 Best Metaverse NFT Projects to Invest in 2023
Disclosure: Crypto is a high-risk asset class. This article is provided for informational purposes and does not constitute investment advice. By using this website, you agree to our terms and conditions. We may utilise affiliate links within our content, and receive commission.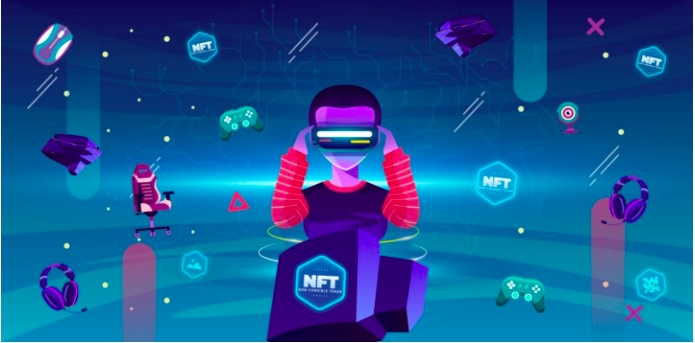 Disclaimer: The Industry Talk section features insights by crypto industry players and is not a part of the editorial content of Cryptonews.com.
Metaverse-based cryptocurrency projects have become the talk of the town in the past couple years, since Facebook's Mark Zuckerberg rebranded the company to Meta Platforms and set out to build a metaverse for business.
By introducing playable NFTs in the metaverse using blockchain technology, cryptocurrency projects introduce many more use cases to investors – crypto, NFTs and the metaverse have now become almost synonymous.
However, some investors may find evaluating and searching for the top NFT metaverse projects tricky. To help guide beginners, this article reviews and analyzes the best metaverse NFT projects to invest in 2023 wise.
The Best Metaverse NFTs to Invest in Today
The section below provides an overview of the best metaverse NFTs to invest in 2023.
Tamadoge – Newly Listed Token on OKX, Offering Playable NFTs
Silks – A Thoroughbred Horse Metaverse That Mirrors the Real World
Battle Infinity – Multi-Use Metaverse NFT Platform
Lucky Block – NFT Platform Offering Exciting Rewards
Decentraland – Cryptocurrency Project with NFT Real Estate Metaverse
Axie Infinity – Metaverse with $820,00K NFT Asset
The Sandbox – NFT Platform that Lets Investors Monetize Virtual Land
Adidas into the Metaverse – Limited NFT Collection Created by Adidas
MetaCity – Access a Virtual World with Human NFT Avatars
Analyzing the Top Metaverse NFTs
To get a broader perspective on the coolest NFT projects, it is essential to learn more about the platform use-cases, prices and key features. Therefore, the sections below thoroughly analyse the best metaverse NFT projects to invest in right now. 
1. Tamadoge – Newly Listed Token on OKX, Offering Playable NFTs
At the top spot on our list of the best NFT projects is Tamadoge (TAMA) – a play-to-earn (P2E) cryptocurrency offering in-game earning opportunities to platform members. As one of the best utility tokens, TAMA is the native cryptocurrency that can be used to participate in the Tamaverse – the platform's virtual ecosystem that offers playable NFT avatars and other exciting projects. 
TAMA can be used on the Tama store to purchase Tamadoge Pets – non-fungible tokens that take the form of virtual dog-like avatars. Each Tamadoge pet offers unique characteristics and is minted using smart contract functionality.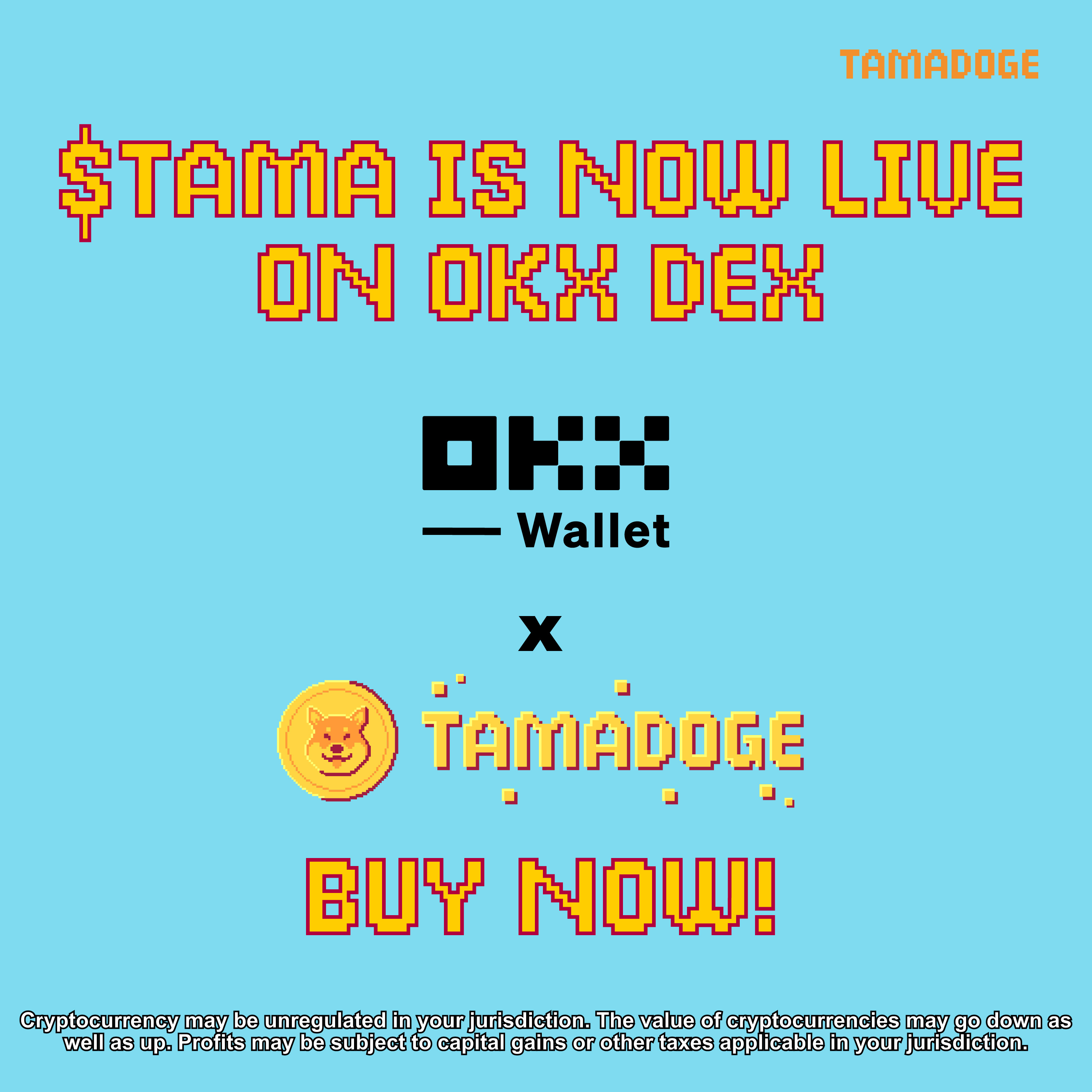 Players can also purchase virtual items that are utilized to grow and breed their individual pets. Eventually, the Pet NFTs will be used in community-wide competitions. At the end of every month, top performers are awarded TAMA rewards from prize pools. 
With a total supply of 2 billion, TAMA aims to be a deflationary asset. Moreover, 5% of all tokens spent on the ecosystem will be burnt to ensure the demand is higher than the supply. While 30% of the tokens spent will be set aside for marketing purposes, the remaining 65% will be re-distributed among P2E prize pools. 
In August, Tamadoge completed one of the best crypto presales of 2022. After raising $19 million, the token has now been listed on OKX – one of the largest cryptocurrency exchanges. With over 20 million users, OKX will allow investors to trade TAMA on its centralized (CEX) and its decentralized exchange (DEX). 
According to the Tamadoge whitepaper, Tamadoge aims to release an AR-based P2E app, a P2E-style arcade platform with physical rewards and make strategic partnerships with popular metaverse projects. Its ecosystem also the potential to become one of the best utility NFT projects. 
To stay up to date with the game's latest developments, investors can join the Tamadoge Telegram channel. Channel admins will not DM subscribers first.
2. Silks – A Thoroughbred Horse Metaverse That Mirrors the Real World
Metaverses are just virtual worlds, but what if you can marry the virtual world with the real one? That's what Silks does. This P2E game is all about thoroughbred horseracing, and it offers a lot of unique features because it mirrors real-world horse racing
You can buy, trade, breed, and race thoroughbred racehorses in Silks. The killer feature is that if a horse wins in the real world, it is reflected in the game and nets you rewards. The potential to collaborate with stakeholders in the horseracing world is high and could result in massive adoption potential.
The in-game rewards themselves take the form of NFTs, of which there are several collections. One of these is the Silks Avatars, which is currently going through a sale. Over 65% of Silks Avatars have been sold already. You need one of these to play the game so if you want to get in early, now's the chance. As an owner of a Silks Avatar, you receive such perks as a lifetime mint pass for the annual Genesis Yearling Sale, exclusive experiences, giveaways, and IRL events. Avatars have different traits and rarities.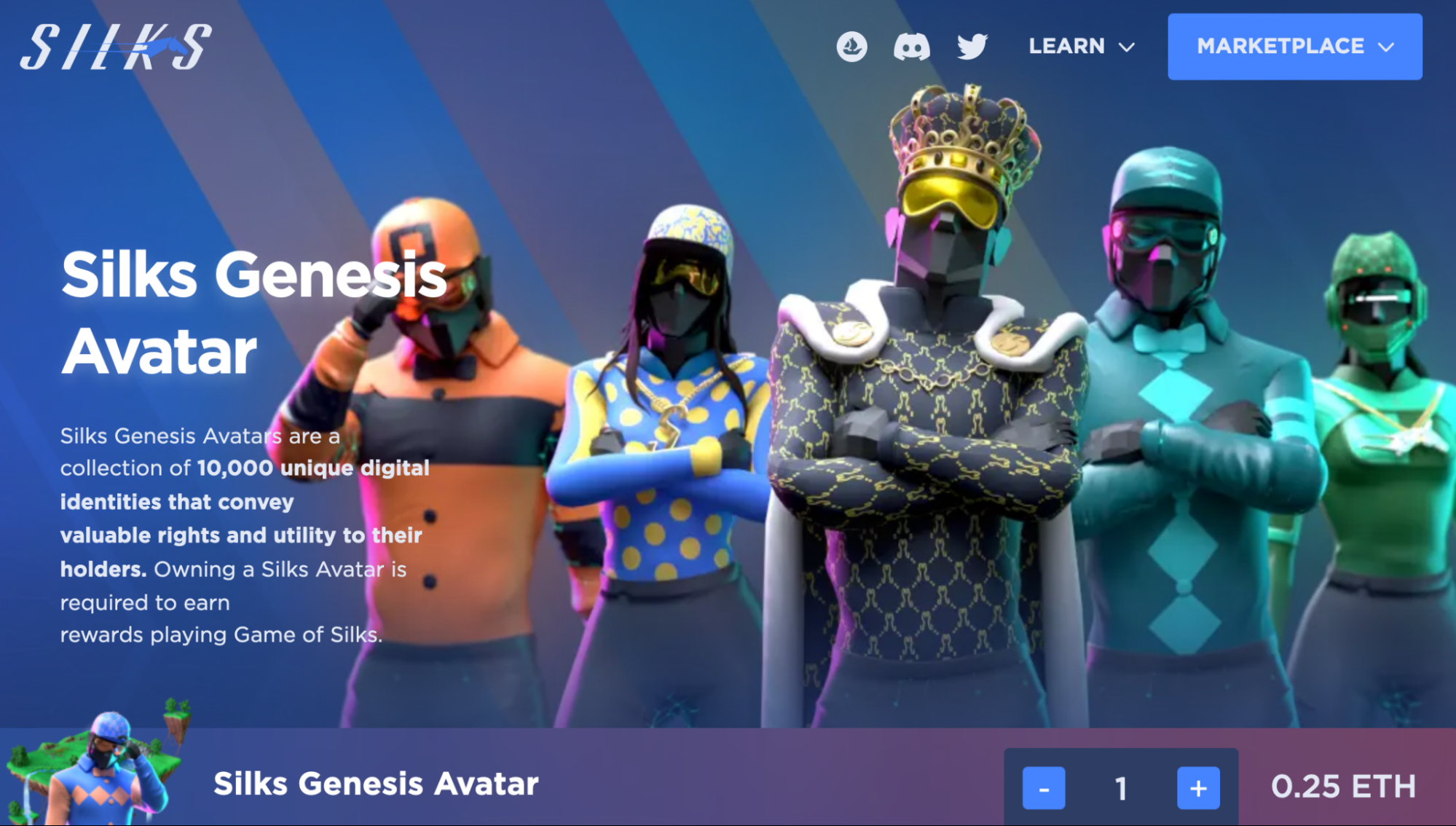 There are a total of 10,000 unique avatars in the Silks Avatars collection. Originally, there were 5,000, but there was such popular demand that the team released another set. The collection has become popular enough that it is in the top 10 sports NFTs on OpenSea and is considered by a growing crowd to be the number one fantasy sports Web3 game.
Silks NFTs are one of the key components of the game, as the various collections have an impact on various game mechanics. Other game mechanics include a Community Horse Farm, where you can stake to earn money on the platform passively. This is great if you don't have too much time to spare.
Silks offer one of the most unique metaverse concepts with its mirroring of the real world. On top of that, there are several ways to earn in the game, making this a metaverse worth watching.
3. Battle Infinity – Multi-Use Metaverse NFT Platform
Integrating NFT assets into its P2E metaverse, Battle Infinity is one of best cryptocurrency projects in 2023. Players can access 6 P2E elements on the game by leveraging IBAT – the native token. 
On Battle Infinity, you can access the IBAT Premier League – a decentralized blockchain NFT-based sports fantasy league. After using IBAT to purchase NFT passes, players can build their fantasy teams and compete in online leagues for rewards. 

NFTs are also an integral part of the Battle Arena – the game's metaverse reality where all virtual characters and items are minted as NFTs via ERC 721 smart contracts. Players can access and upgrade their own NFT avatars from Battle Infinity's NFT marketplace and join the Battle Arena via VR headsets. The Battle Market can also be leveraged by creators to mint their own artwork and list their projects for other participants to buy, sell and trade. 
Finally, players can also access the IBAT Battle Games P2E – a multiplayer game store allowing players to stake IBAT tokens to compete in various P2E NFT games. Thus, Battle Infinity hosts some of the best NFTs to buy in 2023. 
This metaverse platform also offers passive income opportunities through its staking platform. Players can stake IBAT on the Battle Stake to earn an APY (Annual Percentage Yield) of 12% – 25%, depending on the lock-up period. Offering a total token supply of 10 billion, nearly 10% of all tokens have been staked on the Battle Infinity exchange. 
IBAT completed a successful presale in 2022 after raising 16,500 BNB worth of IBAT. The token is available to purchase from top exchanges such as PancakeSwap. After launching at $0.0015 per token, IBAT reached an all-time high (ATH) of $0.0105. Currently, the token is trading at $0.0035 – see our latest IBAT price prediction article.
4. Lucky Block – NFT Platform Offering Exciting Rewards
Lucky Block is an NFT-based competition platform leveraging blockchain technology to offer weekly crypto & NFT draws to players. Entry to the various prize competitions taking place by purchasing one of the many NFT collections minted on the Lucky block platform itself. 
Offering exciting in-game rewards, prizes range from luxury watches, PS5 consoles, Lamborginhis and $1 million worth of houses. One of the popular NFT competitions is the daily draws for holders of the Platinum Rollers Club NFT collection. With only 10,000 NFTs in this collection, NFT holders get exclusive entry into the available draws. 

Notably, NFT holders can trade their assets on other NFT marketplaces after the competition end. Therefore, value can be generated from non-competition-based activities as well. 
The winnings are mostly paid out in LBLOCK – the native cryptocurrency of this ecosystem. Notably, LBLOCK has two token versions – a BEP-20 (V1) protocol and the newly released ERC-20 token (V2). 
The V1 token was launched in January 2022, instantly rewarding investors with a 1,100% price increase within two weeks. This token is listed on decentralized exchanges, attracting a 12% sales tax per transaction. On the other hand, the V2 token has been listed on popular centralized exchanges, including MEXC and Gate.io exchange. 
The ERC-20 token also charges no additional sales tax on transactions. Currently, LBLOCK's V2 token trades at $0.0004 per token. See our LBLOCK price prediction post.
5. Decentraland – Cryptocurrency Project with NFT Real Estate Metaverse
Built on the Ethereum blockchain, Decentraland is an NFT real estate metaverse game. Offering a virtual ecosystem where land can be built, bought and traded, Decentraland hosts various NFTs within its game to provide in-game earning opportunities. 
Each plot of land on Decentraland is minted as a non-fungible ERC-721 token. One plot of land is referred to as a parcel – 52 feet wide and 52 feet in length. On the decentralized platform, 90,601 Parcels of land can be purchased.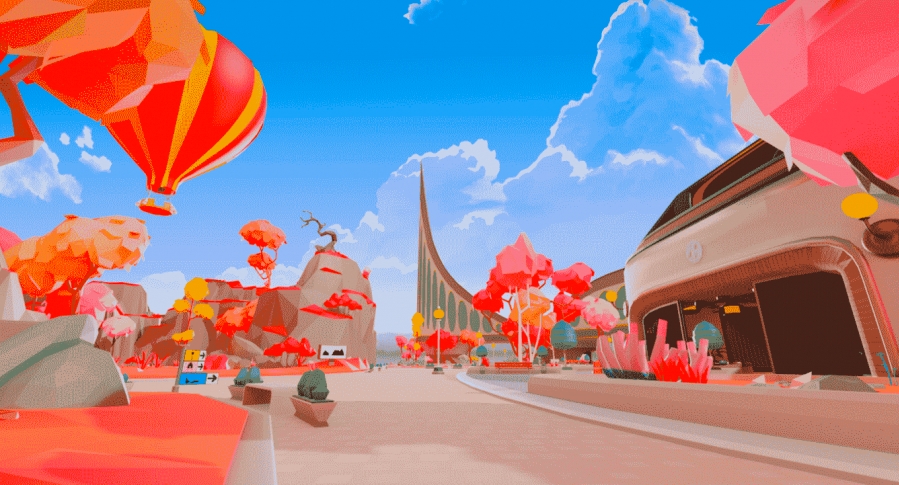 Players can also access an Estate – another ERC 721 token. An Estate represents merged parcels of land, which can be purchased together. On this platform, virtual land can be bought, purchased and traded with MANA – an ERC-20 token that acts as the native cryptocurrency of Decentraland. 
One of the best metaverse crypto coins to have emerged in the last few years, MANA has offered a return on investment of more than 2,600% since its launch. After being valued at only $0.025 in 2017, this ERC-20 token reached an ATH of nearly $6 in 2021.
One of the most popular NFTs in the market, Decentralands NFTs have an average price of more than $4,200 in the last 7 days, with a trading volume of over $180,000. 
Cryptoassets are highly volatile and unregulated. No consumer protection. Tax on profits may apply.
6. Axie Infinity – Metaverse with $820,00K NFT Asset
Axie Infinity is a popular play-to-earn metaverse game which leverages its in-game cryptocurrency to offer playable NFTs. On this cryptocurrency platform, players can buy, sell and trade playable NFT avatars known as Axies. 
Axies are used within the Axie Infinity for taking part in battles, building virtual items and hunting for in-game treasure. Players can collect a wide range of Axies and leverage them in 'Axie Battles' – a P2E feature where individuals can compete for rewards by using their Axies in competition.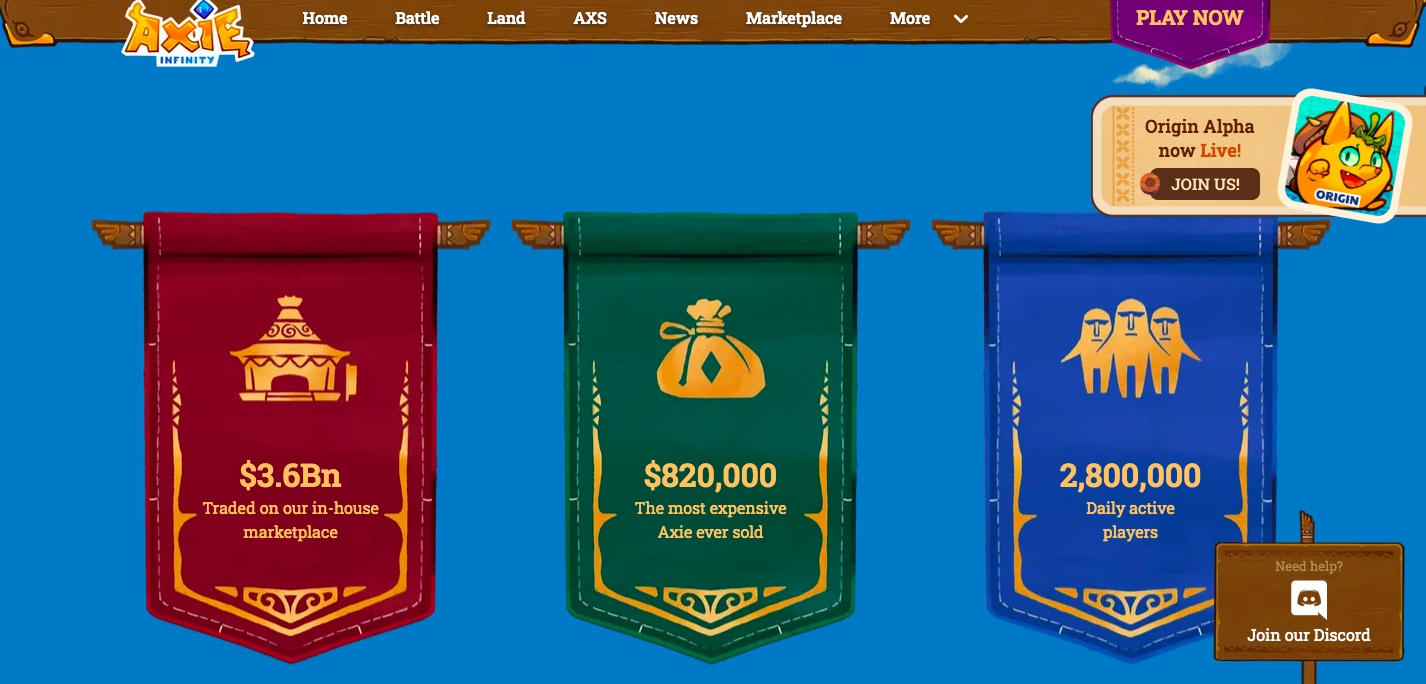 While each Axie hosts different genetics and character traits, players can breed multiple Axies to create new offspring and expand their NFT collections. Another tradable NFT within Axie Infinity is LAND – representing a digital piece of virtual land within the metaverse game. 
Notably, users can leverage an ERC-20 token known as Smooth Love Portion (SLP) for breeding their Axies and receiving in-game rewards. Players can take part in PvP and PvE battle modes to earn more SLP tokens. 
One of the most popular digital assets, the metaverse NFT price for the most expensive Axie was valued at $820,000. This popular platform attracts 2.7 million daily users and has a trading volume of more than $3.6 billion. For players looking for cryptocurrency benefits, the top-ranked players within the game are rewarded with AXS – the native cryptocurrency of Axie Infinity. 
Cryptoassets are highly volatile and unregulated. No consumer protection. Tax on profits may apply.
7. The Sandbox – NFT Platform that Lets Investors Monetize Virtual Land 
Sandbox is an open-world video game built on the Ethereum blockchain. Like Minecraft, the game features blocky characters in a free-to-explore map. Similar to Decentraland, players can own a piece of the virtual world by purchasing LAND – an individual piece of property on the Sandbox ecosystem. 
Notably, the creators of the game envision a completely decentralized game – where players can monetize their experiences by leveraging LAND to create custom experiences, hold events and more.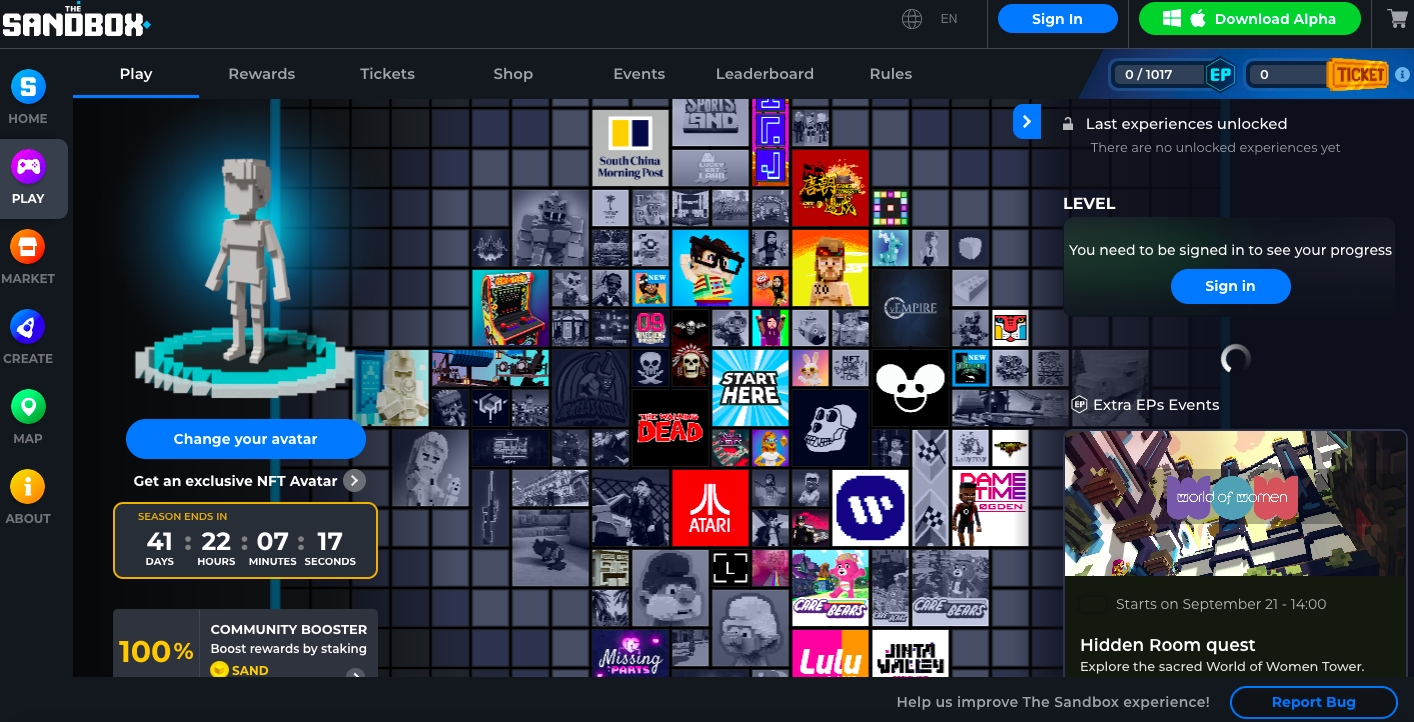 LAND is an ERC 20 token with a total collection of 166,464 pieces. Players can purchase LAND and trade it on NFT marketplaces such as OpenSea. Platform members also have the option to purchase multiple plots of LAND and rent them out to other players. 
Spending the last few years growing its list of celebrity-based sponsors, the Sandbox has partnered with the likes of Snoop Dogg, The Walking Dead and the popular game publisher Ubisoft. 
NFTs like LAND can be purchased on Sandbox with SAND – an ERC-20 token that acts as the in-game governance token of Sandbox. 
Cryptoassets are highly volatile and unregulated. No consumer protection. Tax on profits may apply.
8. Adidas Into the Metaverse – Limited NFT Collection Created by Adidas
Adidas Into the Metaverse NFTs became one of the most talked about NFT collections in 2021. One of the main reasons for the project's popularity is due to its collaboration with some of the top NFT projects – including the Bored Ape Yacht Club (BAYC) and CryptoPunks. 

With a total of 30,000 NFTs in this collection, Adidas sold more than $22 million worth of the NFTs within the first day of release. Purchasing the NFT collection gave the owners special access to physical accessories such as physical merch – including Adidas hoodies and tracksuits. 
To heighten the project's popularity, some of the NFTs from the collection were reserved for BAYC Club NFT and Mutant Ape Yacht Club NFT holders. After the success of the initial NFT launch, Adidas is working on phase 2 of into the metaverse. 
9. MetaCity – Access a Virtual World with Human NFT Avatars
MetaCity is an Ethereum-based metaverse reality which aims to operate as a decentralized Web3 city where humans can participate by leveraging various blockchain-based protocols. 
The MetaCity aims to host virtual human avatars who can access decentralized versions of real-life activities, such as accessing banks with decentralized autonomous organizations (DAOs), visiting malls and purchasing land. 

The human avatars in this metaverse-based game are called Humans of the Metaverse (HOTM). Interested readers can purchase one of the 6,500 virtual avatars that comprise the Humans of the Metaverse NFT collection. 
Players can purchase MetaCity real estate from NFT marketplaces like OpenSea – where individual land pieces can be bought. The HOTM NFT collections are also available to buy on NFT marketplaces. The HOTM NFT collection has a total volume of 133 ETH, equating to $183,000 at the time of writing. 
What is a Metaverse NFT?
Metaverse projects provide investors and players with a virtual ecosystem featuring in-game economics where NFTs and cryptocurrencies are leveraged to support P2E dynamics. NFTs and metaverse-based projects are slowly rising in popularity due to the multiple use-cases they provide. 
Along with NFTs being a popular investment asset, this form of digital asset can be leveraged as digital avatars in the metaverse ecosystems. A report published by McKinsey and Co. speculated that the metaverse could reach a market cap of $5 trillion by 2030. 
One of the biggest reasons for this bold estimate is the combination of two important elements – gaming and income-earning opportunities- using blockchain technology protocols. As the number of NFT metaverse projects has increased, investors are witnessing a rising number of virtual ecosystems they can participate in. 
From fantasy gaming projects like Axie Infinity, players can access real estate NFTs, metaverse Casino NFT projects and NFT collections being sold by global brands like Adidas. Many of the best NFT apps also provide access to new metaverse NFTs in 2023. 
Should You Invest in Metaverse NFTs?
Before making an investment decision on the best metaverse NFTs, investors should analyze the benefits of investing in this niche. Therefore, the sections below discuss whether investing in NFTs is a good decision by exploring some benefits.
Long-Term Growth 
As mentioned above, the metaverse sector has the potential to reach a market cap of $5 trillion by 2030. If such growth is experienced, investing in the best metaverse NFT projects can be a good long-term investment for traders. 
After a boom in the metaverse NFT sector in 2020 and 2021, the prices of top NFTs crashed the following year. In 2022, the virtual land prices of some of the biggest Ethereum-based metaverse games, such as Decentraland and Sandbox, crashed by around 85%. 
However, long-term investors may view this price correction as a potentially good opportunity to re-invest in the market. While there is no guarantee of future returns, high-risk high-reward investors may want to take their chances by investing in the best long term crypto projects. 
Entry into In-Game Competitions
Metaverse NFTs appeal to the GameFi sector – a combination of gaming with decentralized finance protocols. Therefore, players can look to earn rewards by taking part in the best metaverse NFTs.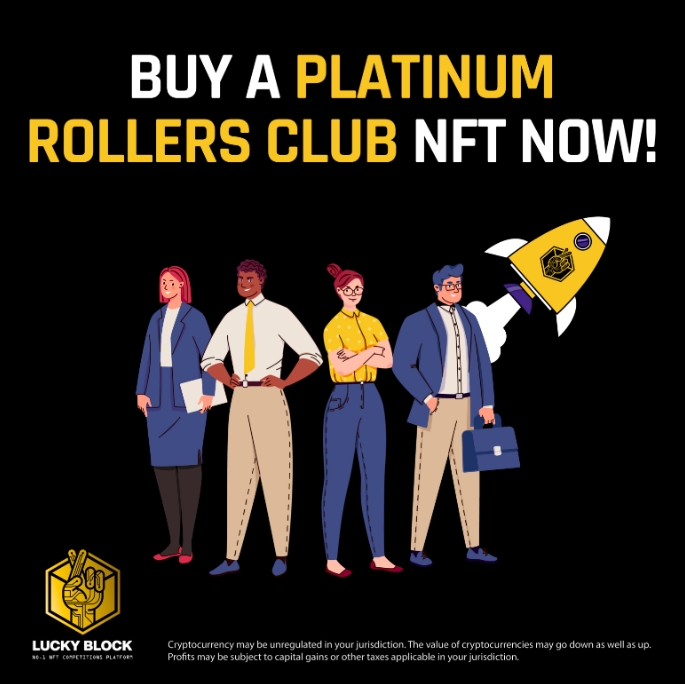 For example, Lucky Block allows players to stand a chance to earn exciting prizes by competing in NFT draws. However, entry is given to players holding Lucky Block exclusive NFTs on their respective wallets. Similarly, players can access exciting P2E gaming features on Battle Infinity by purchasing NFT passes. 
Multiple Income Streams 
Investing in the NFT metaverse is a great way to earn multiple income streams in the cryptocurrency sector. Players that participate and win NFTs on platforms such as Lucky Block, Axie Infinity and more can trade these digital assets on NFT marketplaces such as OpenSea. 
Moreover, metaverse gams such as Tamadoge offer cryptocurrency rewards for the top performers on their platform. For example, Tamadoge Pets can be used in competition, with the best performers being rewarded with TAMA. The TAMA tokens can be traded on OKX exchange, where players can exchange their tokens for fiat currency or swap their holdings for other digital assets like Ethereum and USDT.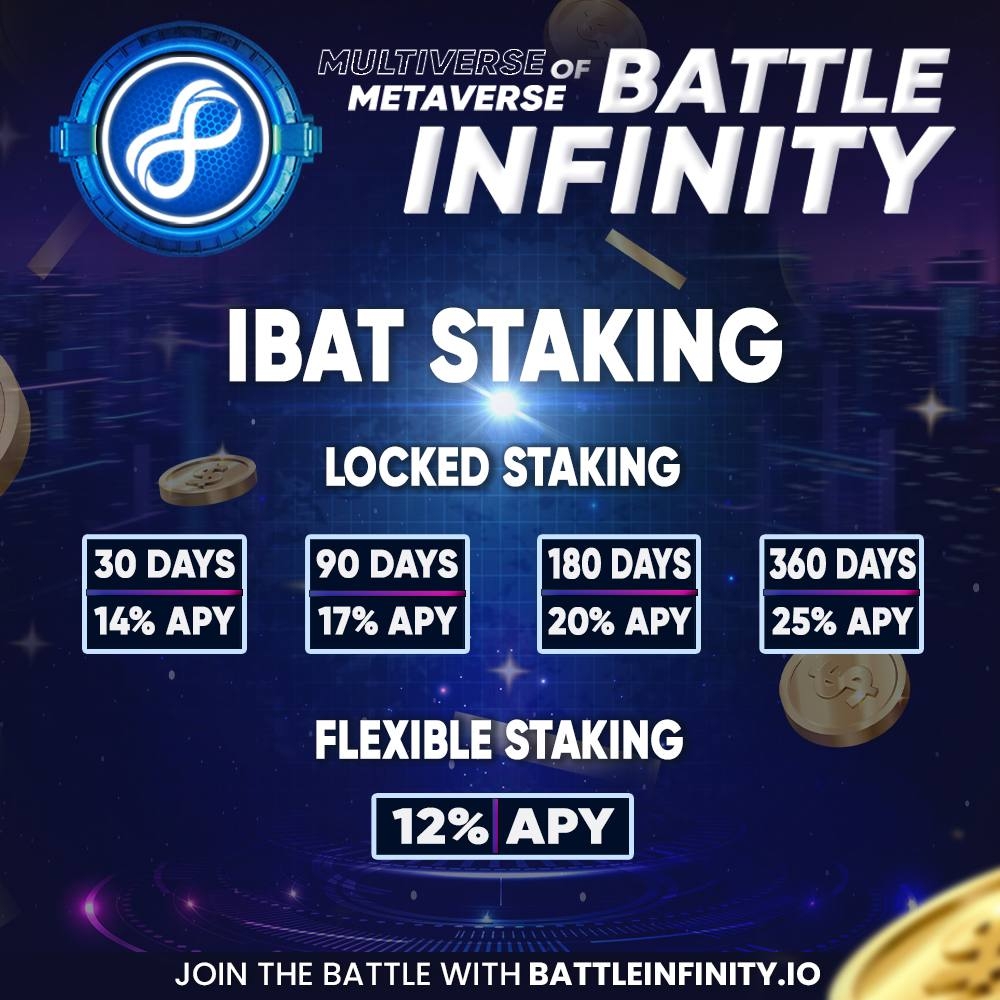 Furthermore, metaverse projects like Battle Infinity offer other use-cases such as NFT marketplaces, decentralized exchanges and staking options. One of the best crypto staking platforms, players can earn between 12-25% APY on IBAT, depending on their lock-up period. 
Conclusion
With the metaverse NFTs market expected to boom throughout the decade, players can leverage this space to earn in-game rewards. We recommend Tamadoge as the best metaverse NFT project to invest in 2023. 
FAQs
How are NFTs being used in the metaverse?
NFTs are used as in-game characters, avatars and items on various virtual ecosystems. Players can purchase NFTs to participate in metaverse platforms and earn NFTs as rewards for in-game competitions. 
What are the best metaverse NFTs to invest in?
We recommend FightOut as the best metaverse NFT to invest in. The project allows players to explore a vast virtual world, mining for resources and building impressive structures along the way. 
How much does a metaverse NFT cost?
The average price for a metaverse NFT differs per project. For example, the most expensive Axie (Axie Infinity) NFT was a staggering $820,000. However, other projects like Humans of the Metaverse have an average price of $15 – $30. 
 
---