8 Best IEO Cryptos to Buy This Year – Biggest Initial Exchange Offerings
Disclosure: Crypto is a high-risk asset class. This article is provided for informational purposes and does not constitute investment advice. By using this website, you agree to our terms and conditions. We may utilise affiliate links within our content, and receive commission.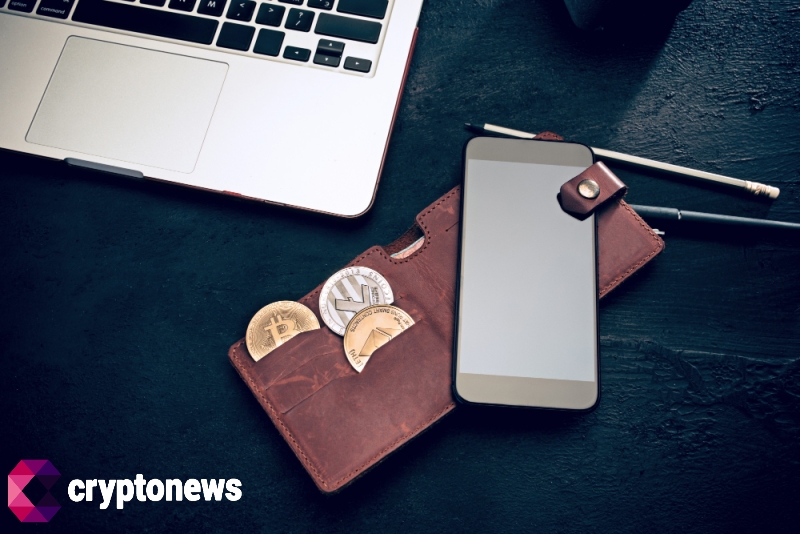 Disclaimer: The Industry Talk section features insights by crypto industry players and is not a part of the editorial content of Cryptonews.com.
Initial exchange offerings (IEOs) enable crypto startups to raise funds from the public by offering their native token in exchange for another digital asset, such as USDT, ETH, or BTC. 
However, unlike an ICO, the IEO listing is facilitated by a crypto exchange, which perhaps offers more of a safeguard for investors. 
In this guide, we discuss the 8 best initial exchange offerings this year. 
The 8 Best Initial Exchange Offerings Happening in 2023
For a quick overview of the best initial exchange offerings this year, check out the list below:
Bitcoin ETF Token – The best IEO this year with a generous staking APY of 500% and up to 25% token burn of the whole token supply. Investors have already shown interest, raising close to $500K within the first week of the presale.
Bitcoin Minetrix – Among the best IEOs to consider, this hot new project offers a unique Stake-to-Mine model. It offers transparency, security, and high APYs, having raised over $800K in just two weeks of its presale launch.
Wall Street Memes – Trending new community-backed meme crypto IEO that raised over $25 million in presale. $WSM is now listed on OKX on 26 September.
DeFi Coin – Decentralized exchange project built for the community.
Share Internet Data – Peer-to-Peer internet sharing platform.
Orion Protocol – Access DEX and CEX platforms via a single ecosystem.
Sportscash – NFT marketplace for the sports industry.
COTI – Decentralized app for customized payment solutions.
Analyzing the Best IEO Cryptos to Invest in
Searching for the best IEO crypto listings requires investors to conduct their own due diligence on both the project and the exchange that is hosting the fundraising campaign. 
Therefore, in this section, we take a much closer look at the best IEO cryptos of 2023. 
1. Bitcoin ETF Token – Best Upcoming IEO Offering With Over 2,000% Staking APY And Token Burn Mechanics
Bitcoin ETF Token is the latest token presale based on events around the spot Bitcoin ETF approval by the Securities and Exchange Commission (SEC). The team has set up five milestones, including the ETF approval and ETF launch, and when each of the milestones is reached, they will bury 5% of the total token supply as a deflationary measure.
Participate in the $BTCETF token presale by connecting your MetaMask wallet, or any other Ethereum wallet to the Bitcoin ETF Token presale site. Use ETH, USDT or card to complete the transaction and avoid using BNB and MATIC as you won't be eligible for the staking APY.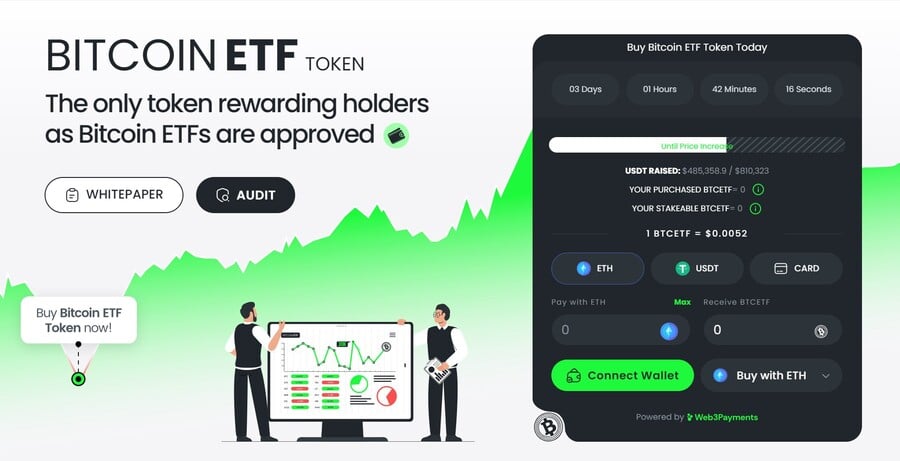 The presale runs in 10 stages where each stage has a higher token price than the previous one. During the first presale stage, you can buy $BTCETF tokens for $0.0050 apiece, while in the last stage, you'll pay $0.0068 per token. This makes it prudent to buy tokens as early as possible to lock in a better price.
But even if you buy in later stages, don't worry. Stake your coins and earn a generous APY of 500%. Of course, this won't last forever. As more tokens are bought and staked, the APY will drop.
Follow Bitcoin ETF Token on X and join the Bitcoin ETF Token Telegram channel to learn stay up to date with the most relevant information. Also, read the Whitepaper to learn more about the project. 
| | |
| --- | --- |
| Presale Started | 6 Noe 2023 |
| Purchase Methods  | ETH, USDT, BNB, MATIC and Card |
| Chain | Ethereum |
| Min Investment | None |
| Max Investment | None |
2. Bitcoin Minetrix – A New Bitcoin Stake-To-Mine Model For A Huge Passive Income Potential
Bitcoin Minetrix is a hot new upcoming IEO in the cloud mining sector, transforming how we perceive traditional Bitcoin mining methods.
Within only two weeks post-launch, Bitcoin Minetrix secured over $800,000, showing its increasing potential and the growing confidence of its community.
The platform boasts a substantial token supply of 4 billion. Notably, 2.8 billion tokens (70%) are dedicated to the presale. 
Initiated at a token price of $0.011, the rate will increase to $0.0129 by the end of the presale's 10th stage. Thoughtful allocation is evident, with 42.5% reserved for mining, 7.5% for staking, and segments set for community engagement.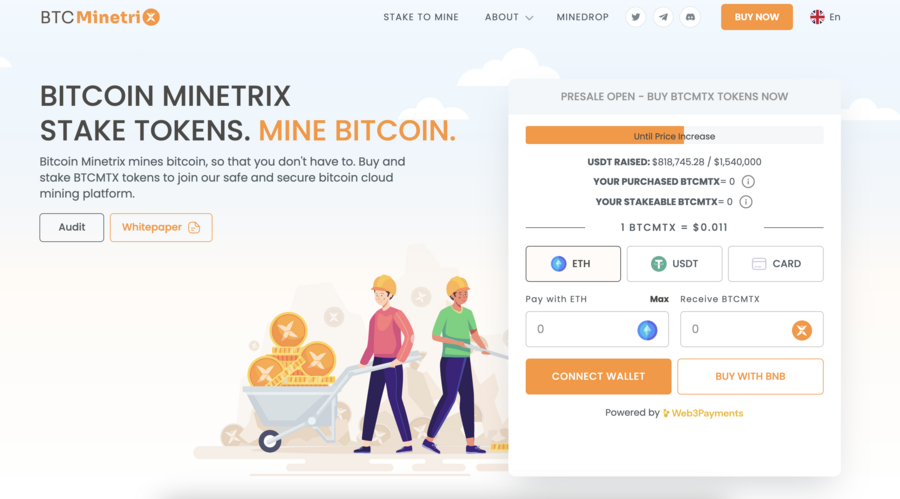 Steering away from traditional energy-intensive methods, Bitcoin Minetrix offers an eco-friendly cloud mining approach. This shift drastically reduces the environmental footprint of Bitcoin mining, making it an attractive choice for environmentally-conscious investors.
At the heart of Bitcoin Minetrix is its "Stake-to-Mine" system. This allows users to stake the platform's native $BTCMTX tokens and receive non-tradable mining credits. 
Per the Bitcoin Minetrix whitepaper, when these credits are burned, they yield BTC rewards. This user-friendly approach offers a sustainable alternative, bypassing the usual risks of traditional mining methods.
Notably, Bitcoin Minetrix also prioritizes user experience. Their integrated dashboard, accessible via desktop or mobile, offers a transparent view of mining activities. 
Users can effortlessly track hashing power, potential earnings, and statistics on mining credits. This transparency ensures even mining beginners can start mining with confidence.

The platform is designed to guard against common cloud mining scams. Introducing a tokenized structure, Bitcoin Minetrix guarantees tangible mining credits against staked tokens, heightening security and reducing fraud risks.
Additionally, users benefit from the freedom to unstake their tokens based on market fluctuations. Consider entering the Bitcoin Minetrix Telegram channel for the most recent updates.
| | |
| --- | --- |
| Presale Started | 26 Sept 2023 |
| Purchase Methods  | ETH, USDT, BNB |
| Chain | Ethereum |
| Min Investment | $10 |
| Max Investment | None |
3. Wall Street Memes – Meme Crypto Has Raised Over $25 Million on Presale, Now Listed On OKX
One of the top crypto assets to watch right now is Wall Street Memes ($WSM). This is a meme platform, which originated in 2019, and has a following of more than 1 million people.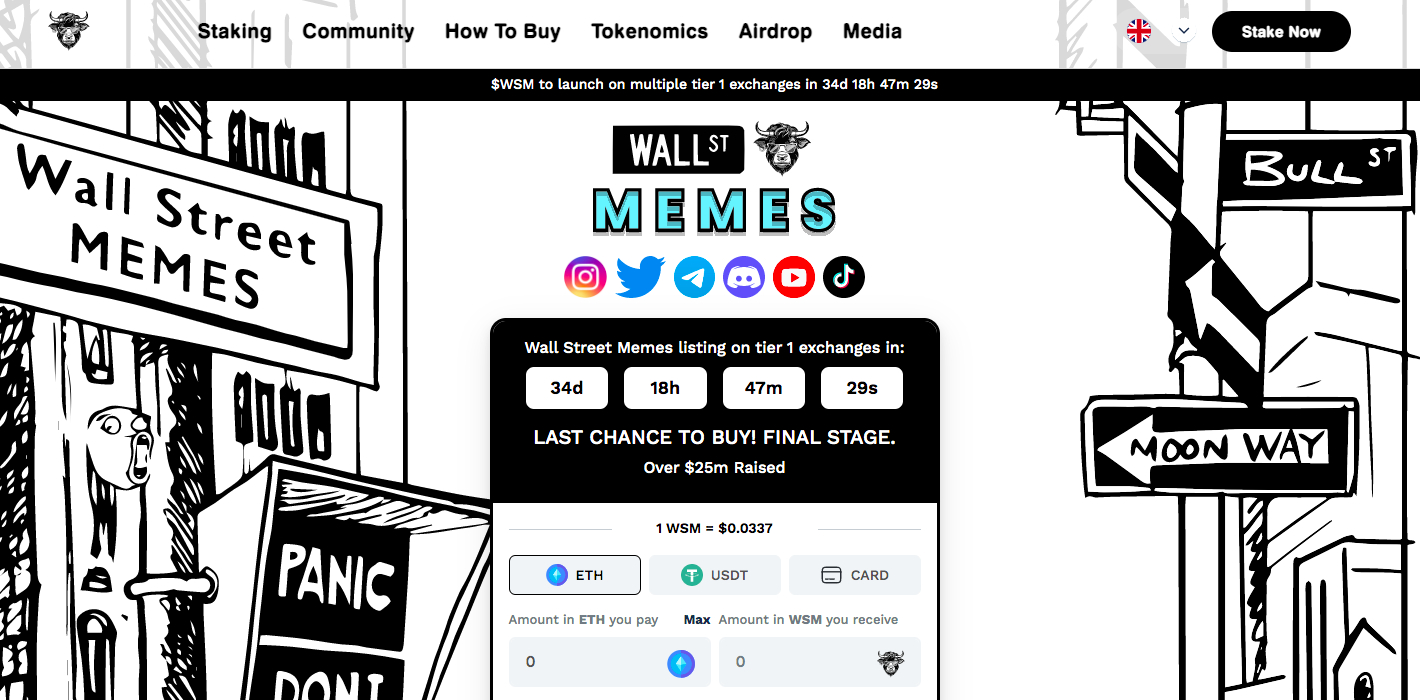 Wall Street Memes completed its presale phase by drawing in over $25 million, thanks to strong investor response. After its official listing on OKX on 26 September, the coin saw an impressive 275% growth within four days.
1 billion tokens had been allocated for the presale. Token holders can also stake the token on the ecosystem and get an APY (Annual Percentage Yield) of 55%. 30% of the token supply will be offered through staking rewards. 

20% of the token supply will be used for the exchange listing. Due to the popularity of this cryptocurrency, we can expect a potential rise in trading volume after the $WSM token lists on more exchanges. Learn more about this cryptocurrency by joining the Wall Street Memes Telegram channel.
4. DeFi Coin – New Decentralized Exchange Project Built for the Community  
Next up on this list of the best IEO crypto projects of 2023 is DeFi Coin. This up-and-coming project is building a decentralized exchange that is not only user-friendly but packed with features. At the forefront of this will be the ability to buy and sell crypto tokens instantly and anonymously, with no requirement to provide any personal details. 
The process simply requires the buyer to connect their crypto wallet to the exchange – which is branded as DeFi Swap. Through an automated market maker protocol, buyers can purchase their required tokens without needing a seller. Once the DeFi Swap exchange is launched – which is expected to happen in the coming weeks, the initial focus will be on BSc tokens.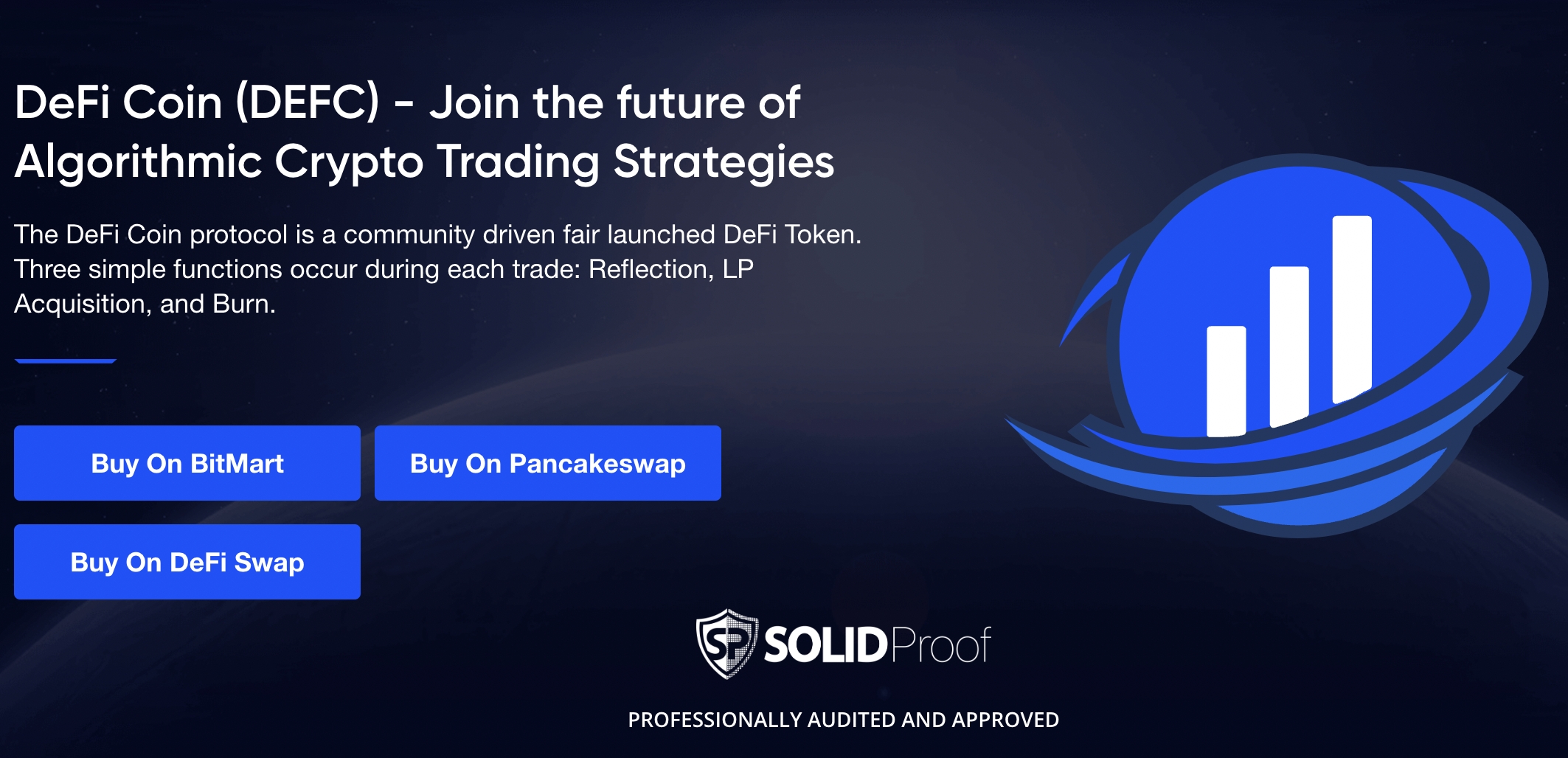 However, the team of developers is working on cross-chain functionality, which will likely support popular blockchain networks like Ethereum and Bitcoin. In the meantime, the DeFi Swap exchange will also be launching its staking facility in addition to a yield farming tool. Both of these features enable investors to generate a passive yield without requiring a third party. 
Those with an interest in DeFi Swap can invest in this project by purchasing DeFi Coin tokens from PancakewSwap Taking into account that the project has been working on the development of its exchange for nearly one year, the price of DeFi Coin will attract value investors. This is because the project carries a market capitalization of just $1 million. 
5. Share Internet Data – Peer-to-Peer Internet Sharing Platform 
Share Internet Data is the next project that makes this list of the best IEO crypto listings for 2023. In its most basic form, the project is building a peer-to-peer platform that enables users to share their internet resources with those in need. 
This can be achieved through the Share Internet Data mobile app for iOS and Android. After connecting to the system and sharing internet resources, users can earn rewards in the form of points.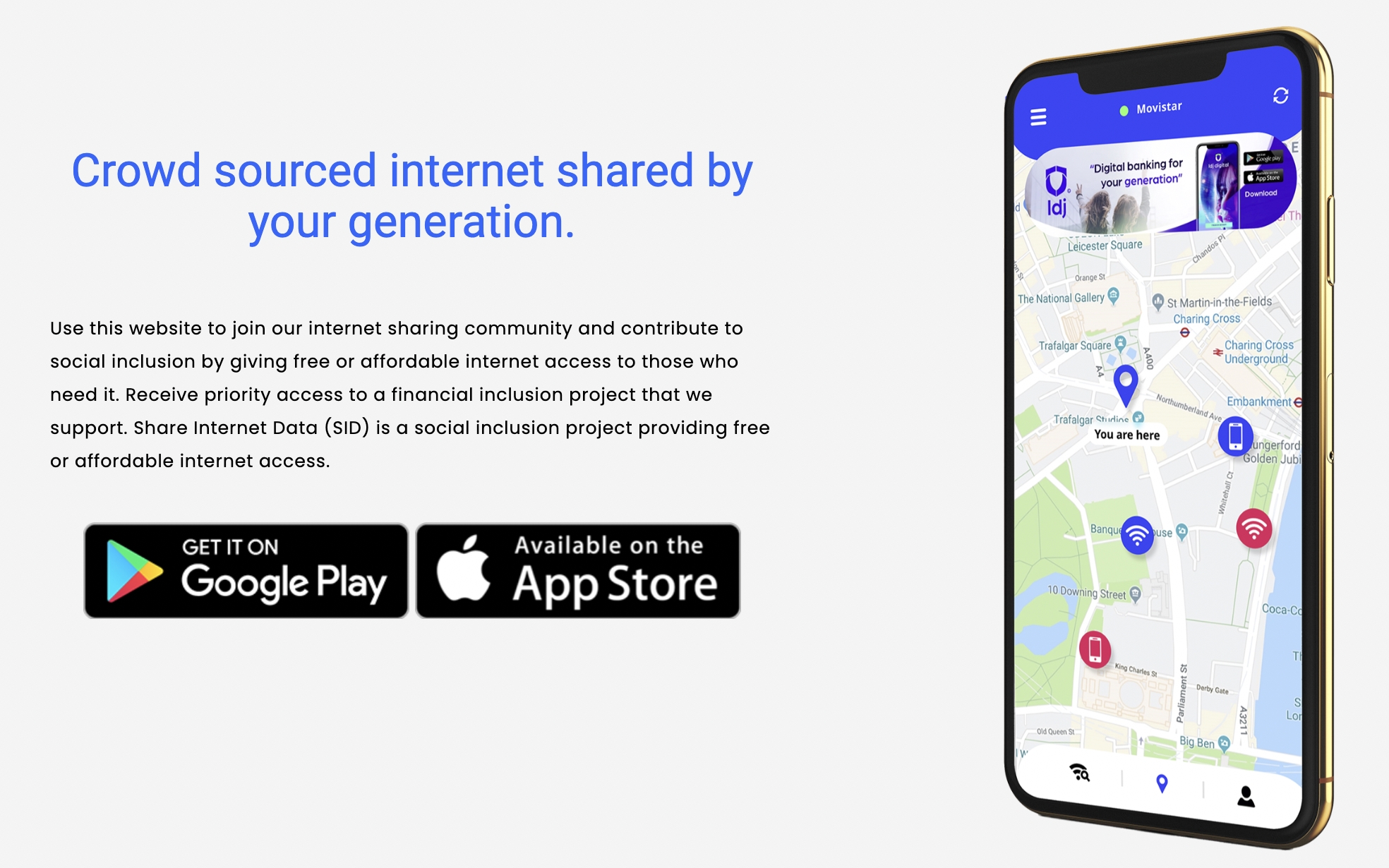 2 points are paid for each shared connection, with can be converted into 20 MB worth of bandwidth. Share Internet Data will also be launching its SID token via the upcoming IEO. In total, the project is looking to raise up to 80 million EUR. 
6. Orion Protocol – Access DEX and CEX Platforms via a Single Ecosystem
Orion Protocol is another option to consider when searching for the best initial exchange offerings this year. This project is building an ecosystem that will enable token holders to access a wide range of CEXs, DEXs, and swap pools – without needing to leave the user's wallet. 
One such advantage that this will bring is that there is no requirement to use multiple exchanges to access preferred tokens. Instead, investors can trade via Orion Protocol and access a plethora of exchanges in one single place.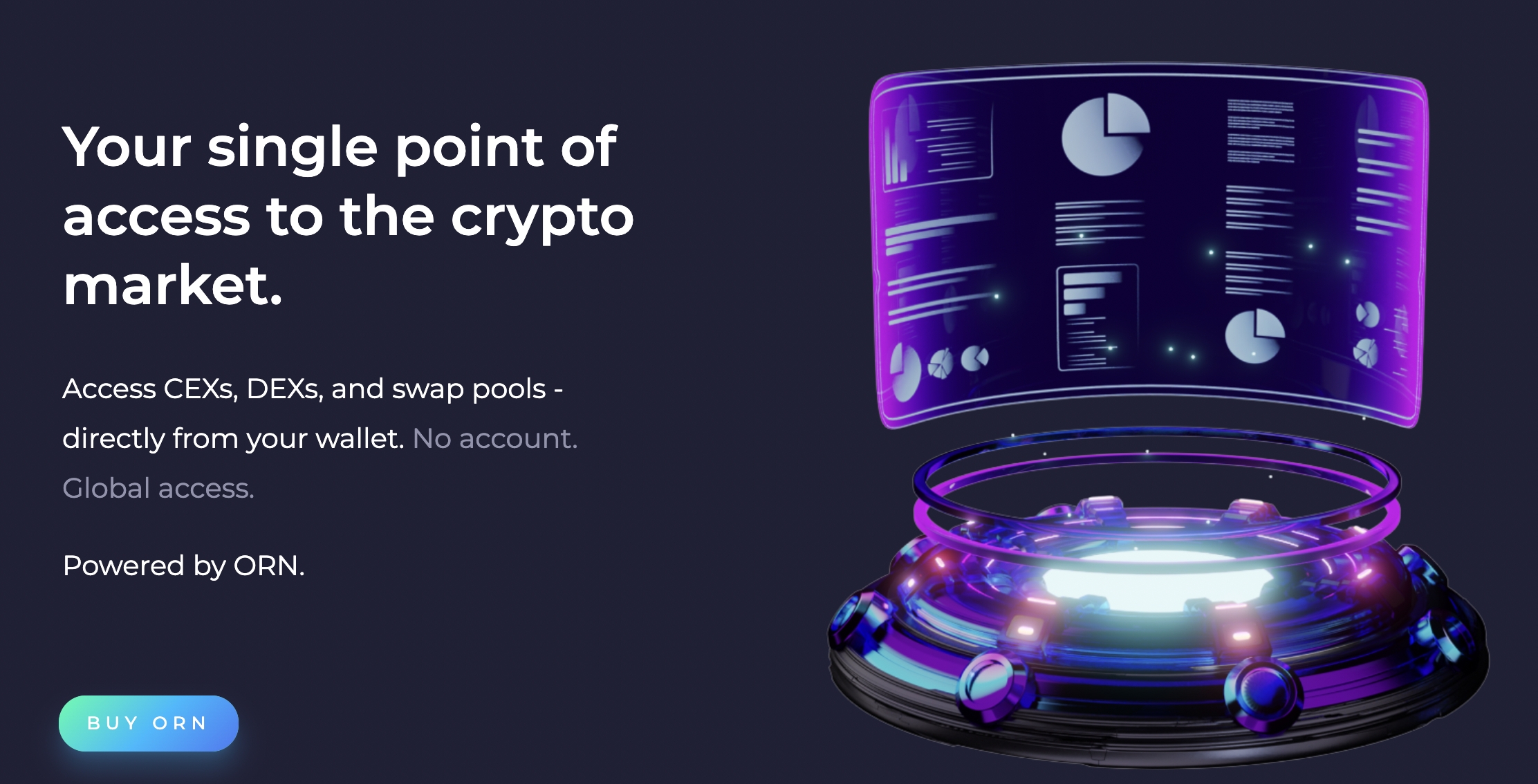 In turn, this also means that investors will have access to the best price possible when buying and selling digital assets. According to third-party sources, Orion Protocol will be launching its ORN token via an IEO later this year. The total hard cap that the project aims to reach is $4 million. The IEO will accept BTC, ETH, and HOLO.  
7. Sportscash – NFT Marketplace for the Sports Industry   
Sportscash could be the best IEO crypto launch this year for those with a passion for sports. This project is building an NFT marketplace that aims to attract sporting stakeholders – from fans and clubs to advertisers and agents. 
The marketplace will enable stakeholders to create and sell their respective NFTs via a decentralized ecosystem that is fueled by the SCOneX token. In total, this project is looking to raise $2 million via its IEO launch.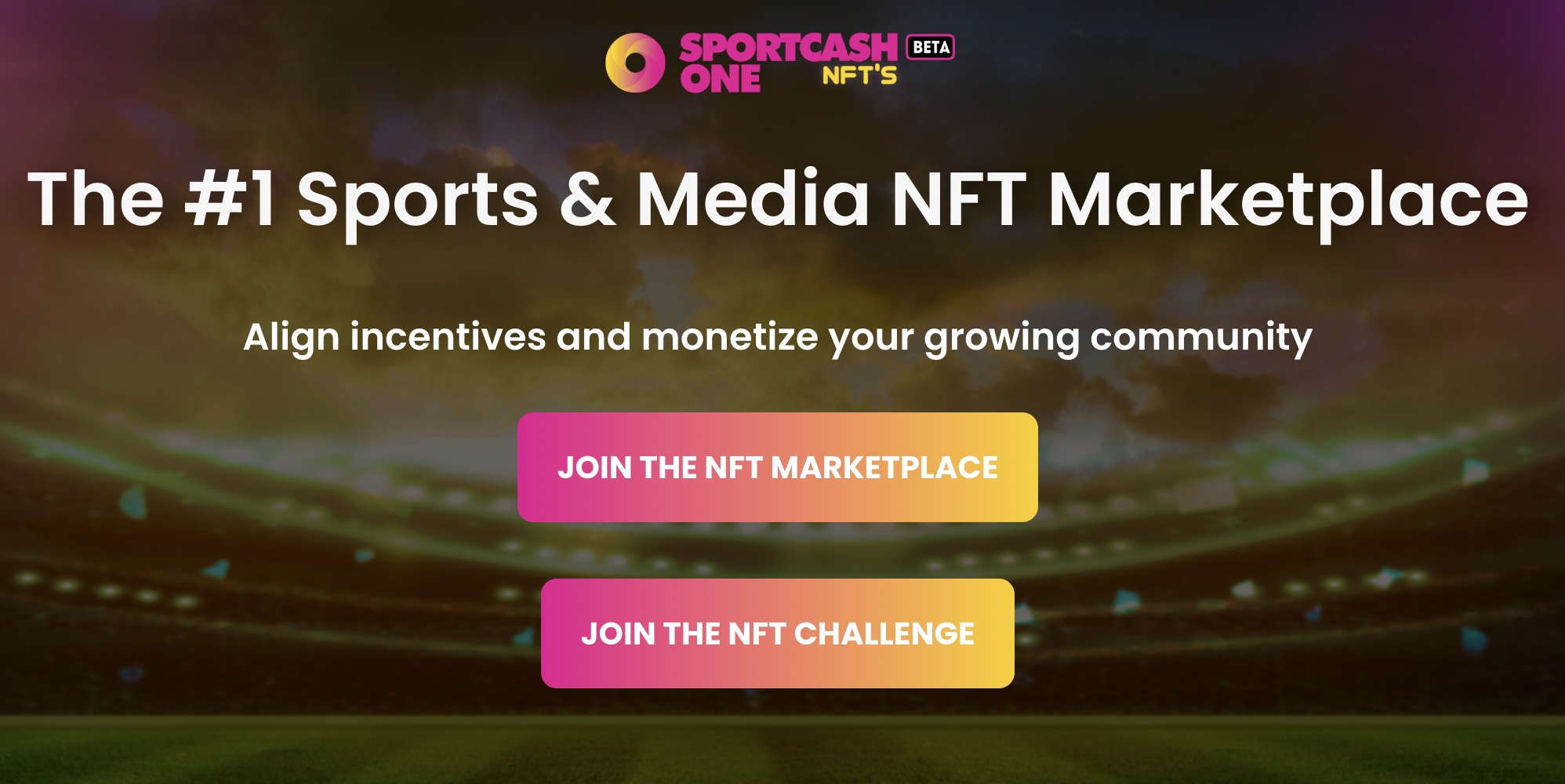 Bonuses are on offer for earlier investors, with the first and second IEO round offering an additional 25% and 10% in SCOneX tokens. The Sportscash IEO will accept a range of digital assets as payment, inclusive of Bitcoin, Ethereum, Waves, and XRP. 
8. COTI – Decentralized App for Customized Payment Solutions      
The final project to be discussed on this list of the best upcoming IEOs this year is COTI. This project is looking to develop a decentralized app that enables consumers, businesses, and government entities to access customized payment solutions. 
COTI claims that this will provide a gateway for cheaper and faster payments, in a burden-free manner. The gateway runs in conjunction with Trustchain, which COTI claims can process up to 100,000 transactions per second.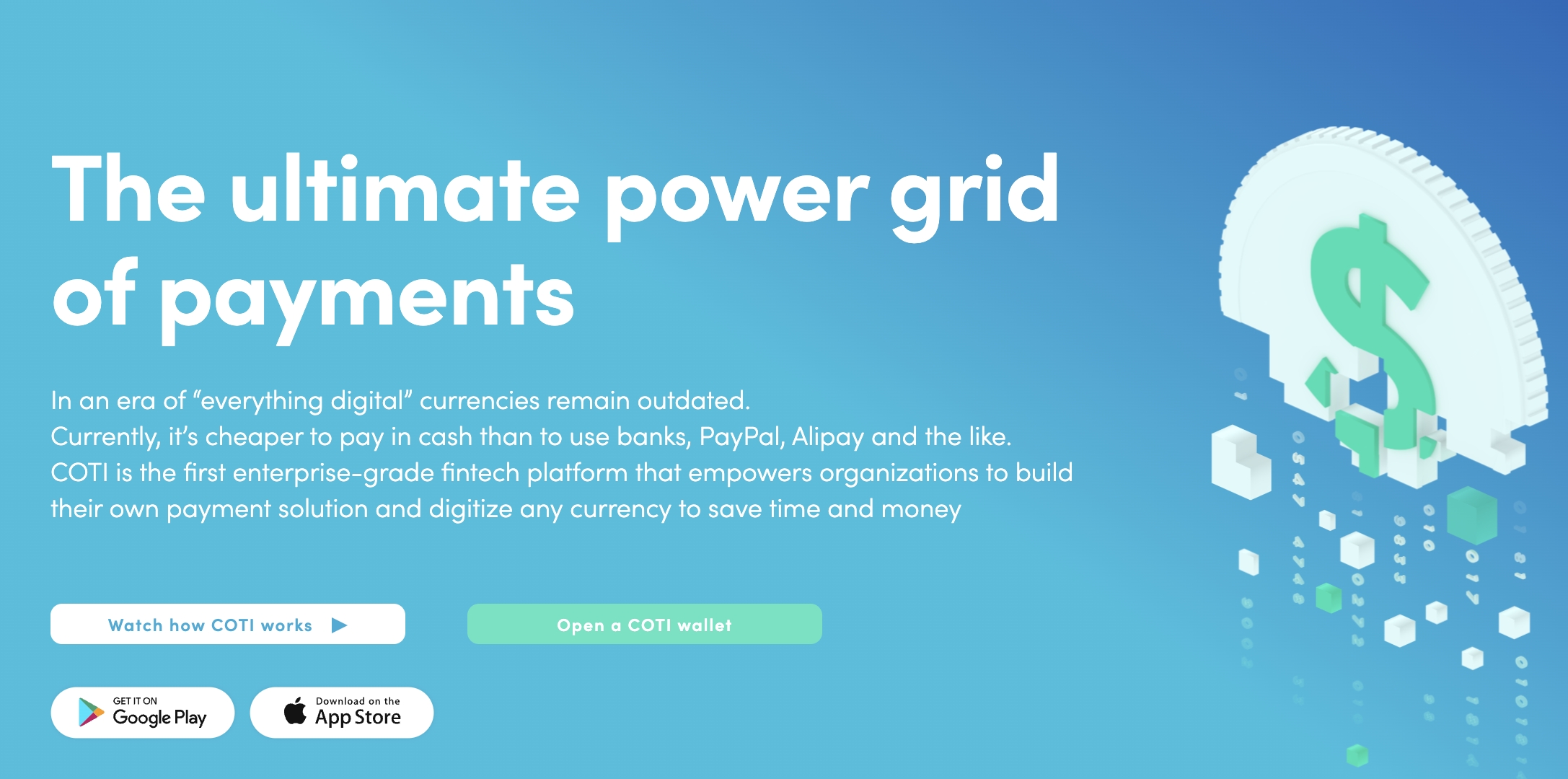 The COTI initial exchange offering is currently live and as of writing, has raised over $3 million. This represents 10% of its $30 million hard cap target. The IEO supports payment in BTC, ETH, and fiat. 
What is an IEO?
An initial exchange offering, or IEO, enables new cryptocurrency projects to launch their native digital token to investors. The process is largely similar to an initial coin offering (ICO), insofar as IEOs allow projects to raise much-needed capital. 
In most cases, the project will create its own token in exchange for large-cap digital assets, such as Ethereum or Solana. In turn, investors will receive the project's token after the IEO has concluded. 
The main difference between IEOs and ICOs is that the former is conducted via a crypto exchange. This means that in order to access the fundraising campaign, investors will need to open an account with the exchange in question. 
The theory is that by opting for an IEO, investors are provided with an additional safeguard. This is because the exchange will be responsible for performing due diligence on the IEO project and its founders. However, this doesn't guarantee that the crypto startup is legitimate. 
As such, IEO investors are advised to do their own research. This is also the case for those looking to invest in the best crypto STOs in 2023.  
How do Crypto Initial Exchange Offerings Work?
Although no two crypto IEOs are the same, the end-to-end process is largely similar across all listings. 
First and foremost, the crypto startup will contact their preferred exchange for the IEO listing, alongside an application that outlines the fundamentals of the project. The ball is then in the court of the exchange, which will determine whether or not it wishes to host the IEO. 
If it does, the crypto project will then release information on the fundraising campaign. In some cases, there will be just one IEO, while in others, there could be multiple. Each IEO will have its own hard cap total, which refers to the total amount of capital it wishes to raise.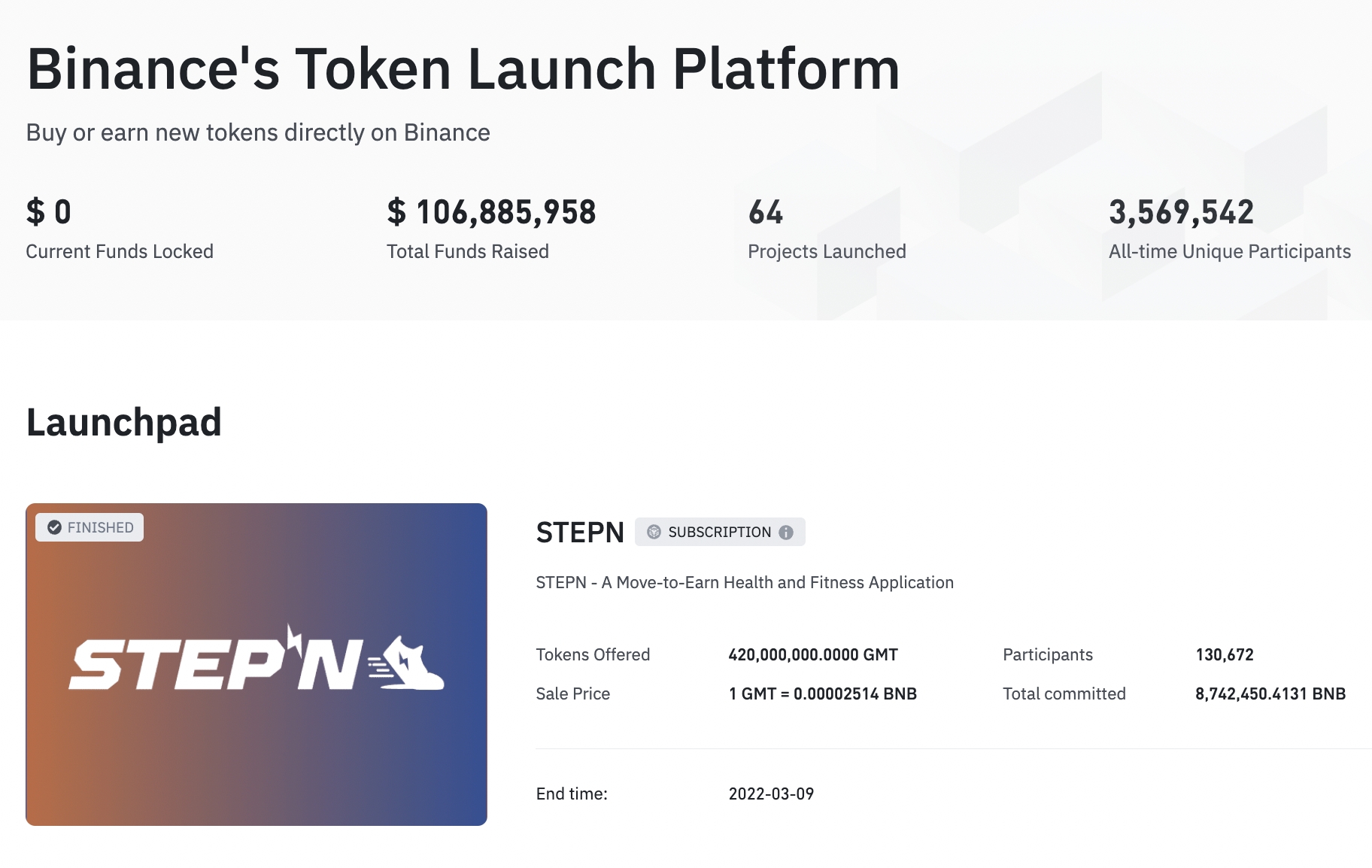 For example, Tamadoge set its hard cap at $19 million – which the project raised in its entirety. Once the IEO goes live, investors will then need to exchange a supported digital asset for their desired number of tokens. 
If the exchange is centralized, then this means that the investor will need to manually deposit the tokens through a standard wallet transfer. If the IEO is held on a DEX, then the investor can simply connect their wallet to the platform and initiate the exchange. 
After the IEO has concluded – either because it has reached its hard cap total or the investment phase is closed, investors will then receive their presale tokens. In many cases, the project will then proceed to officially list its token on an exchange, meaning it can be traded by the public. 
How to Find the Best Upcoming IEOs?
As we discuss in more detail shortly, the best IEO cryptos often offer investors an opportunity to buy into a project at the very start of its journey. 
In turn, this means investing in a project while it carries a modest market capitalization, meaning that there is plenty of upside potential to target.  
However, finding the best IEO crypto projects is the hard part – considering how many listings are being initiated in this space. 
IEO Launchpads
The first step in finding the best IEO cryptos is to spend some time researching leading launchpads. Top IEO exchanges include the likes of Binance, Kucoin, and FTX. 
By heading over to these platforms, investors can explore whether any IEOs are about to be launched. 
If this is the case, the platform will offer full details on the IEO in terms of the total token allocation, also price, and links to the project's website and whitepaper. 
Third-Party Platforms
Some IEOs are conducted on lesser-known exchanges, especially when the project prefers decentralized exchanges. 
As such, it is also worth using a third-party website that specializes in IEO (and ICO/IDO) listing announcements. 
This will ensure that upcoming IEOs are not missed. Some third-party platforms in this space also offer an alert service, which means investors will receive an email when a new IEO announcement has been made. 
Whitepaper and Due Diligence 
Having access to upcoming IEO listings is the easy part. Knowing which projects represent a worthy investment is significantly more challenging. 
A good starting point in this regard is to visit the IEO project's website and download the whitepaper. 
A legitimate crypto startup will offer a highly comprehensive whitepaper that explains everything there is to know about the venture – including but limited to its long-term objectives, roadmap targets, background information on the development team, and the tokenomics of its native digital currency. 
After reading through the whitepaper, IEO investors are then advised to conduct independent research on each and every claim that has been made. 
Only then should investors consider their next move. 
Are IEO Coins a Good Investment?
IEOs, in addition to ICOs and IDOs, will not be suitable for all investor profiles. 
As such, before researching upcoming initial exchange offerings this year, beginners are advised to make the following considerations:
Lowest Token Price Possible
First and foremost, in a similar nature to stock IPOs, crypto IEOs typically reward earlier investors with the best price possible on the respective token. 
In fact, the earlier that an investor gains exposure to IEO, the more favorable the cost price often is. 
For example, during the Tamadoge presale, the token price increased gradually as each tranche of tokens was sold. 
Small-Cap Projects 
The vast majority of IEOs are utilized by new crypto startups. This means that because the project is still in its infancy, it will carry a small market capitalization. 
This is not too dissimilar to investing in a traditional startup long before its IPO campaign. 
For example, when Lucky Block completed its presale campaign in early 2022, it carried a market valuation of just $16 million. In just a month of trading, Lucky Block went on to reach a valuation of over $1 billion. This represents growth of over 6,000%. 
Crucially, although risker when compared to large-cap projects, IEOs with a small valuation offer a much higher upside potential.    
Post-IEO Listing 
Perhaps the most anticipated part of the IEO investment process is when the respective token is listed on a public exchange for trading. 
This should not be confused with the exchange that the token is listed on for the purpose of the IEO. Nevertheless, the initial exchange listing offers an opportunity to those that missed out on the IEO fundraising campaign. 
If the project is solid and has created subsequent levels of hype, this can result in a huge wave of buying pressure after the exchange listing. 
If this is the case, this can benefit IEO investors greatly. 
How to Invest in $BTCETF
On its way to becoming a successful IEO, Bitcoin ETF Token is still in its presale stage. It offers buyers an excellent opportunity to make high returns, given its discounted rate. 
The steps below outline the process of buying $BTCETF
Step 1: Get a Wallet
First, make sure you have a cryptocurrency wallet such as MetaMask or TrustWallet. These can be downloaded from their respective websites. 
Step 2: Connect
Next, connect your wallet to the $BTCETF presale website by clicking on the "Connect Wallet" button. Verify that you have enough funds available for the purchase and, if not, consider using a service like Transak to acquire them.
Step 3: Buy $BTCETF
Once you have the necessary funds, you can purchase $BTCETF with ETH/USDT or card by clicking on 'Buy Now' and entering the desired quantity.
Step  4: Claim
Once the transaction fee is confirmed, the purchase will be complete, and you can redeem your tokens once the presale concludes.
Conclusion
This guide has ranked the best upcoming IEOs in the market right now, in addition to a selection of presales that have recently been listed on an exchange for the first time. 
Overall, from an investment perspective, Bitcoin ETF Token is the best upcoming IEO. The platform has raised close to $500K in presale in one week. After the presale ends, Bitcoin ETF Token will likely list the $BTCETF token on some of the tier-one crypto exchanges.
FAQs
What is an IEO in crypto?
An IEO refers to an initial exchange listing. The process enables newly launched cryptocurrency projects to raise funds from the public by selling their native token. An IEO is different from an ICO, not least because the fundraising campaign is facilitated by an exchange. The best IEO exchanges include Binance and Kucoin. 
How do IEOs work?
The cryptocurrency startup will make a predefined number of tokens available to early investors. The fundraising campaign will be hosted by an exchange, which usually means that investors will need to open an account and make a deposit in crypto. Then, the investor can swap a supported crypto asset for the token being offered via the IEO. 
What is the difference between IEO and IDO?
Both IEOs and IDOs (initial direct offerings) enable investors to gain exposure to a newly launched cryptocurrency project. The investment process is, however, different. An IEO will offer access to the new cryptocurrency token via an exchange. An IDO, on the other hand, will list its token directly on a decentralized exchange. This is also known as a 'fair launch' – as after the listing, market forces will dictate the price of the token. 
Are IEO cryptos worth it?
New IEOs are best suited for investors that wish to target above-average returns and are prepared to take on additional risk to achieve this goal. For instance, while some IEOs go on to generate returns of 100x, others fail completely. 
What are the best upcoming IEOs?
One of the best IEOs to keep an eye on in 2023 is Bitcoin ETF Token. This project has raised nearly $500,000 within the first week of its token presale.
---