15 Best Crypto Faucets in 2023
Disclosure: Crypto is a high-risk asset class. This article is provided for informational purposes and does not constitute investment advice. By using this website, you agree to our terms and conditions. We may utilise affiliate links within our content, and receive commission.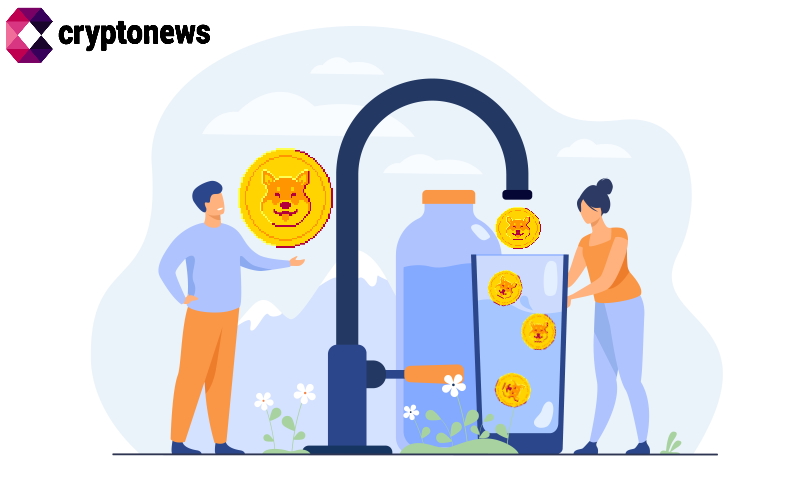 Disclaimer: The Industry Talk section features insights by crypto industry players and is not a part of the editorial content of Cryptonews.com.
A crypto faucet enables users to earn small rewards in return for completing simple tasks. These rewards are typically offered in the form of cryptocurrencies. 
This guide reviews the best crypto faucets for 2023. We also explain how crypto faucets work and discuss how to get started today to start earning free tokens. 
The Best Crypto Faucet Projects for 2023
The best crypto faucets of 2023 are listed below:
Bitcoin ETF Token – The best crypto faucet with a 500% staking APY and token burn mechanics that will remove 25% of the total token supply as events around the spot Bitcoin ETF approval by the SEC unfold. Within the first week, this presale has raised $500,000.
Bitcoin Minetrix – A hot new crypto faucet that offers a tokenized, eco-friendly approach to Bitcoin cloud mining. Users can earn passive income by mining Bitcoin without the initial cost and hardware barriers. It offers a $30K minedrop and has raised over $2.8 million in just over one month of launch.
Meme Kombat – An engaging new ERC20 crypto faucet with consistent APY during the presale, automatic 10% price appreciation in the next stage, and a number of betting options on meme vs meme battles. Presale has already raised over $900K. 
Wall Street Memes – Wall St Bulls, a brand with a strong reputation in the NFT market, has launched a presale for a meme token with the support of over one million social media followers. The project offers over 60% (APY) staking rewards and has already raised over $25 million and now listed on OKX.
Tamadoge – Emerging Meme Token Offering $100,000 Giveaway
Battle Infinity – Metaverse Platform With Crypto Giveaway
Lucky Block – Crypto Project Offering Exciting Rewards
Cointiply – Earn Crypto via an Android App
FreeBitco.in – Faucet Crypto Platform Offering Bitcoin Tokens Every Hour
Fire Faucet – Crypto Faucet Supporting 13 Digital Tokens
Altcoins.pw – Crypto Platform With AutoFaucets
BTC Clicks – Claim Bitcoin by Watching Advertisements 
Bitcoinker – Solve Captchas to Get Free Bitcoin
Moon Bitcoins – Earn Free Bitcoin via Mining
Rollercoin – Get Cryptocurrencies by Playing Games
To help choose the best crypto faucet – we have included reviews of the above-mentioned platforms in the following sections.
Analyzing the Top Crypto Faucets
Crypto faucets are relatively straightforward. On these platforms, users are required to carry out a variety of tasks in order to earn free cryptocurrencies. 
However, the type of task and the amount of free crypto offered can vary from one platform to another. 
Below, we have included comprehensive reviews of the top 15 crypto faucets that give away free tokens. 
1. Bitcoin ETF Token – Best Crypto Faucet With 500% Staking APY And Up To 25% Token Burn Mechanics
Bitcoin ETF Token is the best crypto faucet with a 500% staking APY and a low token price during the presale. This token also has a huge speculative value designed to leverage the Bitcoin spot ETF approval by the Securities and Exchange Commission (SEC).
Buy $BTCETF tokens on the Bitcoin ETF Token website with ETH, USDT or a card. You'll have to connect your Ethereum-based wallet first. If you have MATIC and BNB, you can use them to purchase $BTCETF tokens. However, you won't be eligible for the staking APY if you buy with these two coins.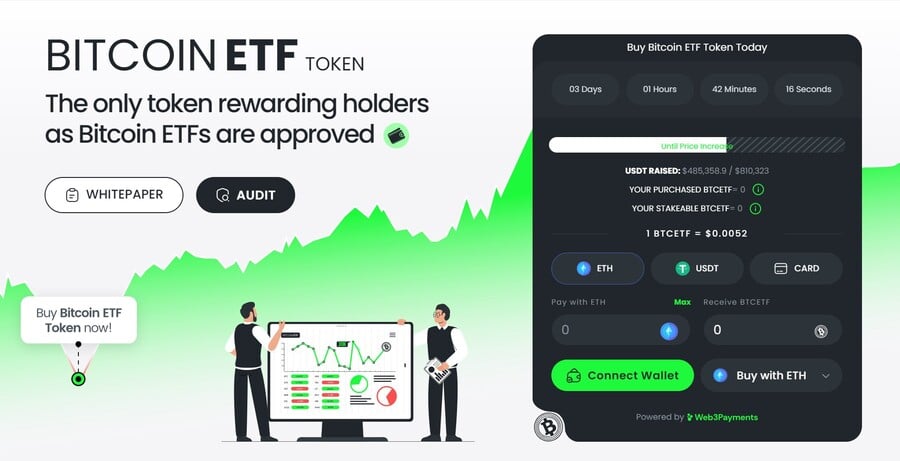 In the early stages of the presale, you get the lowest token price, starting from $0.0050 in the first presale page. If you wait until the end, you'll pay $0.0068 per token in the last stage of the presale.
This shouldn't concern you, though, as you can stake your tokens to earn more with a generous APY of 500%. Note, this will drop as more tokens are bought and staked on the Bitcoin ETF Token website.

To help the token price, the team will burn 25% of the total token supply in 5% increments as each milestone around the spot Bitcoin ETF approval is reached. This includes the approval itself, the launch of the first spot Bitcoin ETF as well as reaching $1 billion in total assets under management in all such ETFs.
Follow Bitcoin ETF Token on X and join the Bitcoin ETF Token Telegram channel to get the latest information. Also, make sure to read the Whitepaper for more details. 
| | |
| --- | --- |
| Presale Started | 6 Noe 2023 |
| Purchase Methods  | ETH, USDT, BNB, MATIC and Card |
| Chain | Ethereum |
| Min Investment | None |
| Max Investment | None |
2. Bitcoin Minetrix – An Eco-Friendly Crypto Faucet Revolutionizing Bitcoin Mining To Earn High Passive Income
Bitcoin Minetrix ($BTCMTX) is at the top of our list of the best crypto faucets, allowing users to earn passive income by mining Bitcoin via the cloud.
It is an innovative Ethereum-based solution designed to redefine cloud mining by focusing on sustainability and transparency. Since its launch, Bitcoin Minetrix has witnessed high community trust, raising over $2.8 million in just over one month of launch. 
The platform aims for a hard cap of $33 million. Funds raised will be channeled back into the system, fostering sustainable growth. With a total token supply capped at 4 billion $BTCMTX, 70% (2.8 billion tokens) have been set aside for presale. The current token price is $0.0113, which will rise incrementally at each stage. There are 39 stages in total. 

Innovative Stake-to-Mine Model
Bitcoin Minetrix's "Stake-to-Mine" approach enables users to stake their $BTCMTX tokens and, in return, earn non-tradable mining credits.
Unlike traditional methods surrounded by environmental concerns and third-party scams, this model ensures a transparent and eco-friendly mining method. Users can burn these credits to secure Bitcoin mining power, earning some of the mining revenue.
Such an approach reduces environmental impact and minimizes potential fraud risks in many cloud mining companies.

User Experience & Financial Flexibility
Bitcoin Minetrix has an integrated dashboard optimized for both desktop and mobile. It provides users a comprehensive view of their mining activities, showcasing vital metrics like hashing power and accrued mining credits.
Most importantly, users have the financial autonomy to unstake and trade their $BTCMTX tokens based on prevailing market prices.
For those keen on being part of the green crypto movement, Bitcoin Minetrix's whitepaper offers an in-depth view of the platform's vision and utilities.
Consider entering the Bitcoin Minetrix Telegram channel for the latest news and updates.
| | |
| --- | --- |
| Presale Started | 26 Sept 2023 |
| Purchase Methods  | ETH, USDT, BNB |
| Chain | Ethereum |
| Min Investment | $10 |
| Max Investment | None |
3. Meme Kombat – Stake To Earn Faucet With Over $900K Raised And Meme vs Meme Fighting
Meme Kombat ($MK) is an interesting crypto faucet that could make a big impact within the meme industry. In this ecosystem, some of the world's most successful meme tokens fight one on one. So you might see Doge vs Floki or Shiba vs Sponge in an upcoming battle.
This presale has already raised over $900,000 and the price per $MK token, currently $0.1667, is set to increase to $0.183. This means an investment now secures an automatic 10% ROI, just for buying and holding. More price increases could also follow as the presale progresses.

ROI from this crypto faucet can also be generated from betting on the fight outcomes. For example, an upcoming fight might have Shiba Inu at 2/1 to beat Doge. Spectators can conduct research to see if they would like to place a wager. Funds can also be split between either staking or betting, a neat feature for those looking to manage their balances.
The fights are also designed to be as engaging as possible, with AI rendered scenes to create vivid scenarios.The fights are selected at random by AI and blockchain process, meaning that the funds will be automatically allocated to the winning wallets. The Meme Kombat Whitepaper explains the process in more detail. 
This is a new innovation within the meme coin space. Season One offers 11 memes. After this is finished, more memes and battle styles will be introduced. There are a total of 120 million $MK tokens with 50% (60 million $MK) available in the presale. The founder of this project is doxxed, which is a positive indication in terms of overall transparency.

Those who are interested in this new crypto faucet should consider joining the Meme Kombat social accounts –  Telegram and Twitter – for key announcements.
| | |
| --- | --- |
| Presale Started | September 2023 |
| Purchase Methods  | ETH, USDT, BNB |
| Chain | Ethereum |
| Min Investment | $5 |
| Max Investment | None |
4. Wall Street Memes – The New Crowd-Favorite Crypto Faucet Offering Over 60% APY and Raising $25M+, Now Listed on OKX
Wall Street Memes (WSM) is next on our list of the best crypto faucets, thanks to its high staking rewards alongside solid community support.
Developed by the Wall St. Bulls creators, this new meme token has the support of over a million followers across several social media channels.
The platform is set to distribute a $50,000 airdrop for users who interact frequently on social media channels, offering five lucky winners a chance to earn free crypto. Users can check out the Airdrop section on the platform's official website.
After its late May launch, the Wall Street Memes presale saw a quick sell-out, raising over $25 million. The $WSM tokens, listed on OKX on 26 September, then rose by over 275% within four days post-listing.
Despite the inherent risks of investing in low-market-cap cryptos, those with solid community support often deliver over the long run.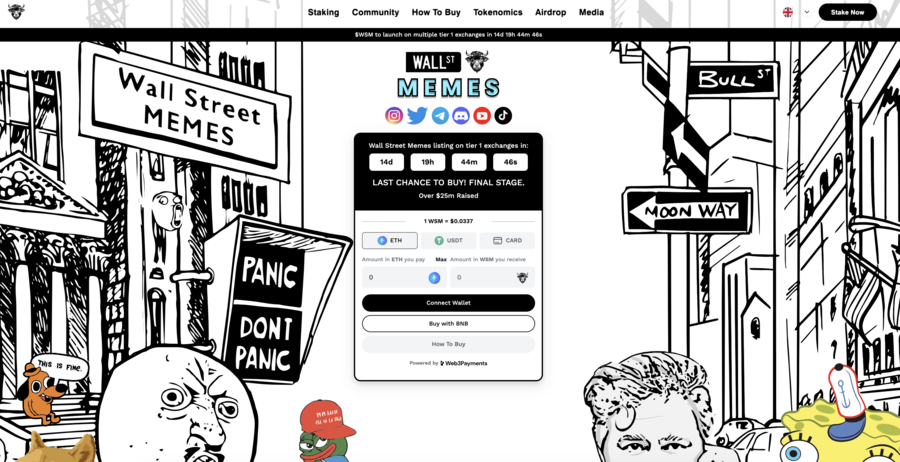 Wall Street Memes offers a staking mechanism to help investors earn passive income. With an estimated 60% annual yield, it is an exciting opportunity for early buyers wanting to capitalize on compound returns. 
At press time, stakers can earn 75 WSM tokens for each block added to the blockchain. 
So far, more than 320 million WSM tokens have been committed to staking in just a few months, showing strong community trust.
The platform aims to redefine "meme coins," often looked down upon for lack of utility by financial experts. Inspired by the GameStop surge, driven by Reddit's retail investors who took on Wall Street's big players, the project aspires to turn social sentiment into tangible gains while providing utility.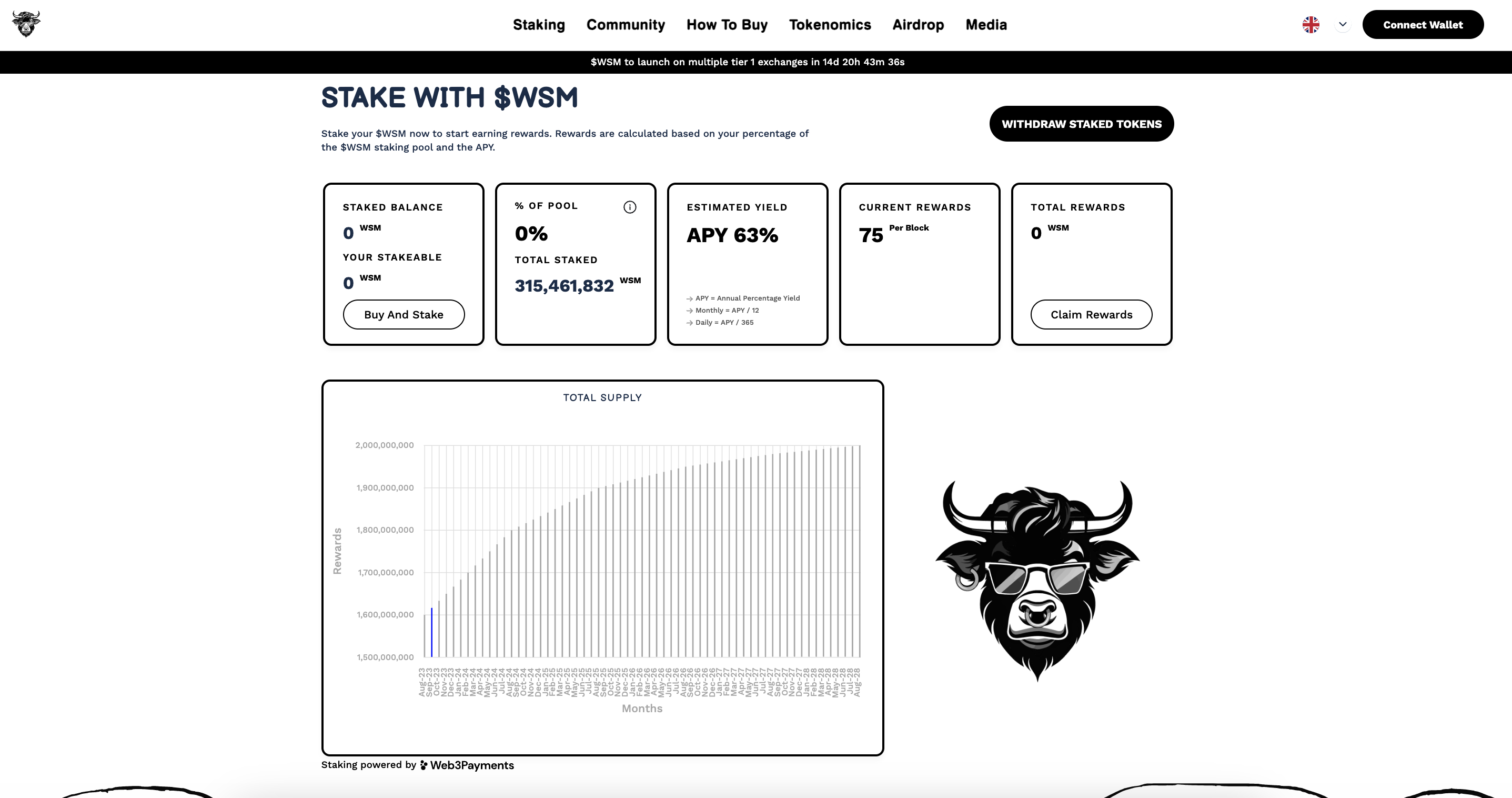 According to the official Wall Street Memes whitepaper, the total token supply sits at 2 billion, with no tokens set aside for the development team, reducing the likelihood of a rug pull.
Also, the project has caught the eye of big names like Elon Musk on Twitter. For more frequent updates, consider joining the Wall Street Memes Telegram group.
5. Tamadoge – Top Meme Token Offering $100,000 Giveaway
Tamadoge is a popular metaverse token that integrates P2E gaming with NFTs. The project raised more than $19 million during its presale and went on to reach 2,000% gains from its presale price after pumping following its IEO.
Tamadoge was one of the best new cryptocurrencies to launch in 2022 and has remained in the top 10 meme coins in volume since hitting exchanges – setting it up for a huge 2023.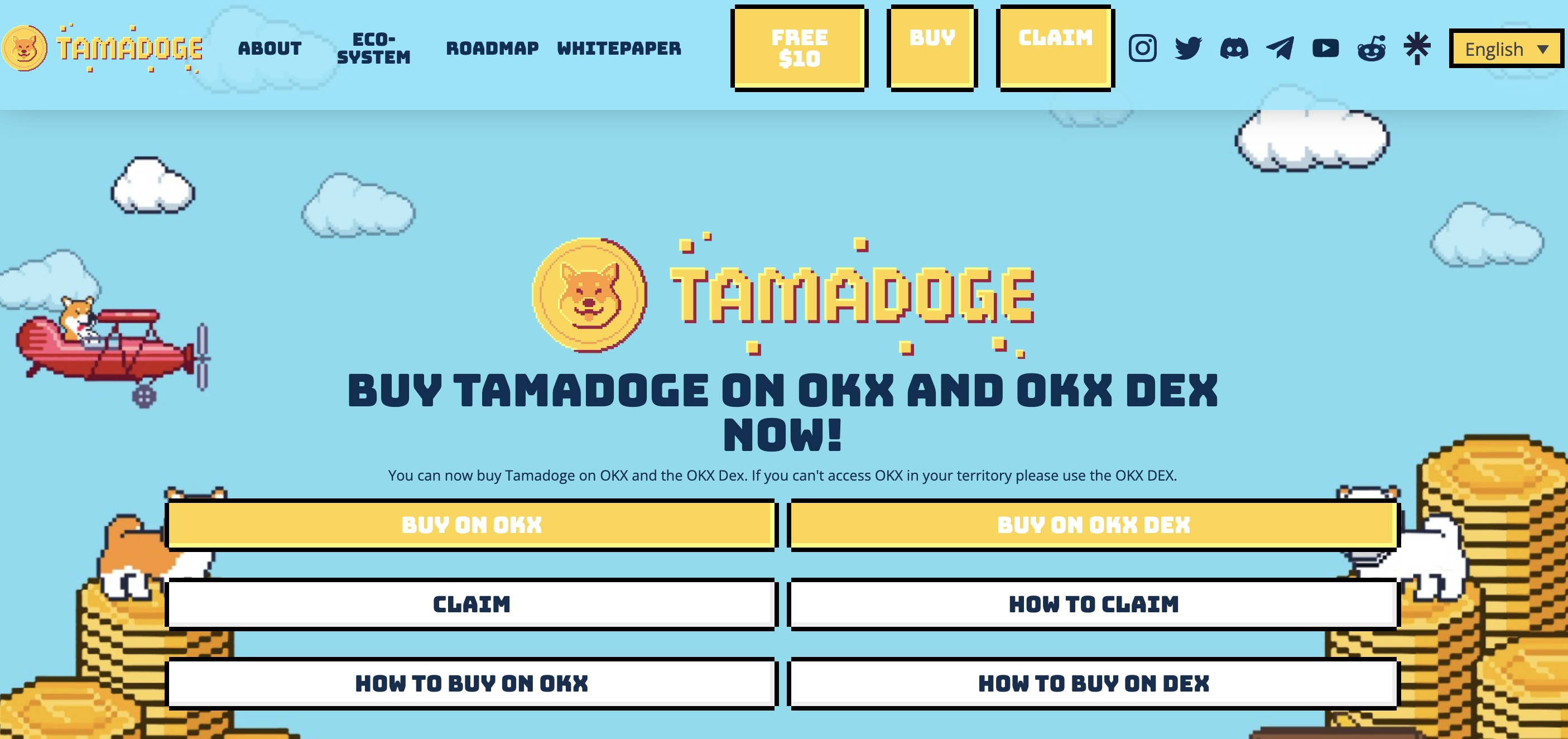 The Tamadoge project is offering a giveaway of $100,000 worth of TAMA tokens to one of its investors with those who hold $100 or more in TAMA tokens are eligible to participate in this giveaway.
Participants will also need to complete a variety of tasks – such as visiting Tamadoge on Instagram or joining the platform's Discord channel.  
An investor can get up to 17 entries by completing all nine tasks. The winner will be determined via a prize draw. The TAMA token is the native cryptocurrency of the Tamadoge ecosystem – which can be used to make purchases as well as for playing games. 
In this game, players have to gather, train, and battle Tamadoge pets – which are in the form of NFTs. The gameplay is set in the Tamadoge metaverse, aptly named the 'Tamaverse'. To start buying Tamadoge pet NFTs, players will have to exchange their TAMA tokens. 
Every time a TAMA transaction takes place on the blockchain, 5% of the amount will be burnt. Given the fact that there is a limited supply of 2 billion Tamadoge, this deflationary system may help drive up the price of the token in the future.  
By 2023, Tamadoge plans to launch several arcade games, as well as incorporate AR into the Tamaverse. Leading players of the Tamadoge P2E crypto game will also be offered additional rewards on a monthly basis. 
The Tamadoge crypto giveaway is one of the best free crypto faucets available right now – which allows players a chance to kickstart their gaming experience on the Tamaverse. 
6. Battle Infinity – Metaverse Platform With a Crypto Giveaway
Battle Infinity is another crypto project that combines NFTs and play-to-earn games. In August 2022, the platform offered its native token via a crypto airdrop event – rewarding investors with up to $3,000 worth of IBAT coins. 
Although this giveaway is no longer active, investors can expect more giveaways and crypto airdrops from Battle Infinity in the future.  The IBAT token is what fuels the entire Battle Infinity ecosystem. 
The platform's features are split into six different areas – the IBAT Premier League collection, play-to-earn games, a decentralized exchange, an NFT marketplace, and a staking platform. As is evident, the platform packs tons of features that appeal to gamers, investors, and NFT enthusiasts.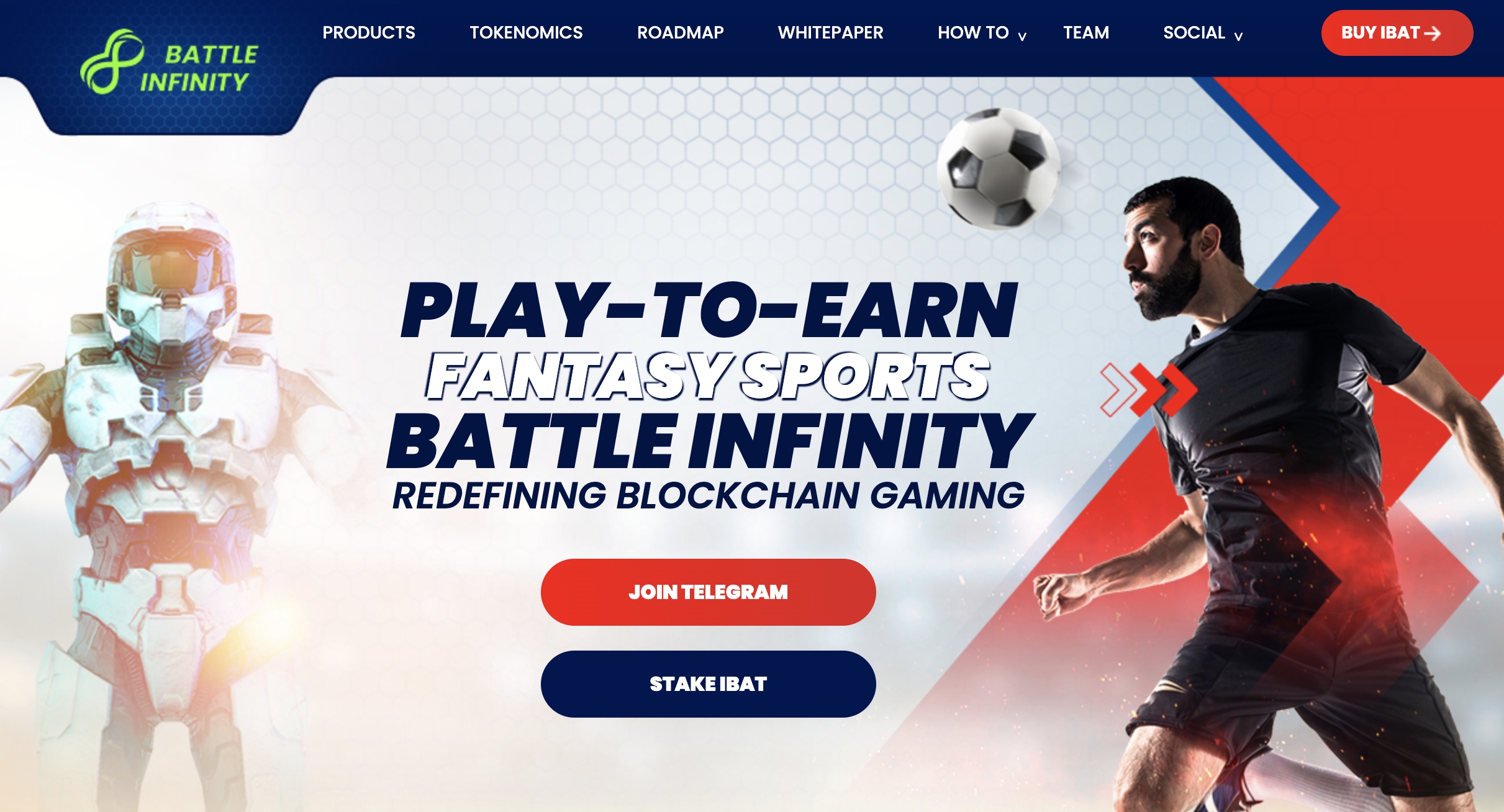 Battle Infinity had one of the best crypto presales in 2022, attracting huge attention from investors. The presale sold out in just 24 days, raising over $5 million. Today, investors can also boost their IBAT investments by staking their tokens – which offers up to 12% APY on a flexible term. 
Furthermore, there are also fixed staking pools that pay an even higher APY. To buy Battle Infinity, investors can head over to PancakeSwap, a popular decentralized crypto exchange. 
To find out more about upcoming giveaways and the best new crypto projects, join the Battle Infinity Telegram group.
7. Lucky Block – Crypto Project Offering Exciting Rewards 
Another alternative to a crypto faucet is to earn free digital tokens via competitions. Lucky Block is an innovative platform that makes this possible via contests and prize draws. This platform uses smart contracts to run its competitions, offering ongoing rewards to all entrants. 
By employing blockchain technology, Lucky Block also ensures fairness and transparency for its competition results. The platform features multiple competitions at this moment in time, and to enter, participants will need to hold a Lucky Block NFT. 
Moreover, for each competition, Lucky Block releases a new NFT collection.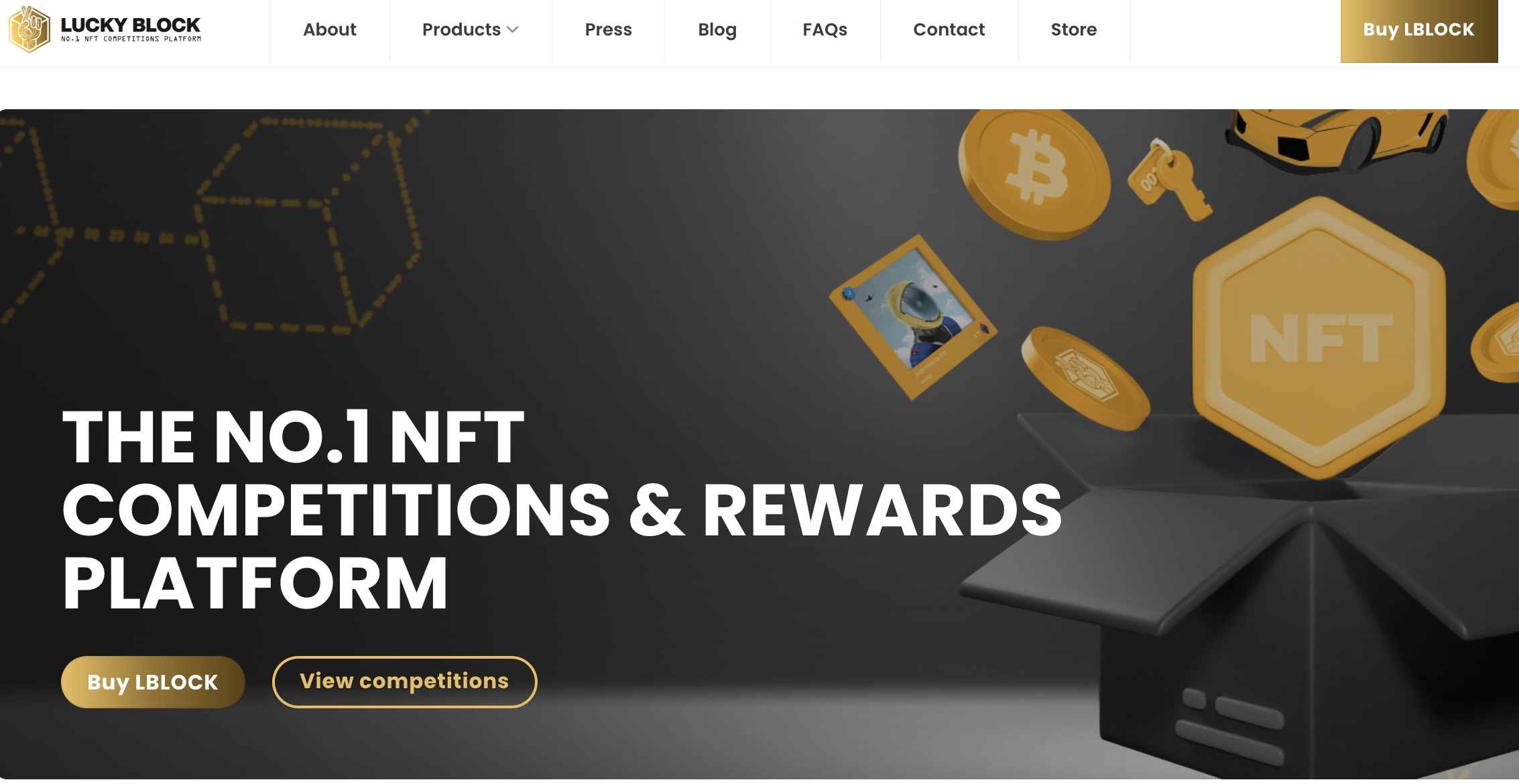 When the collection sells out, the platform draws a winner from its NFT holders. The type of reward changes from one competition to another. For instance, as of writing, Lucky Block has several active competitions – with prizes such as a Lamborghini, a $1 million house, a Bored Ape Yacht Club NFT, or $ 1 million worth of Bitcoin. 
Lucky Block also has a native digital token, LBLOCK, which is used as the transactional currency of this ecosystem. 
Investors can buy Lucky Block from a number of exchanges, including Gate.io and LBank. In a nutshell, Lucky Block can be a great way for investors to win not only free cryptocurrencies but real-world prizes. 
8. Cointiply – Earn Crypto via an Android App
Cointiply is one of the most popular crypto faucets out there. According to the platform, it has over 3 million users and has paid out more than $12 million worth of free cryptocurrencies. As of writing, Cointiply offers Bitcoin, Dogecoin, Dash, and Litecoin via its faucets. 
To be eligible for free cryptocurrencies, users will have to play games, watch videos, shop online, or share reviews of products. 
As per Cointiply, an average user can earn around $30 worth of cryptocurrencies via the platform. Users are eligible to make a withdrawal after accumulating the equivalent of $3 worth of digital coins. 
Moreover, Cointiply offers its services for free. That being said, some high-reward tasks or games may require additional purchases, but they are entirely optional. In addition to this, Cointiply also offers a loyalty bonus of up to 100% for users who log in every day. 
Users can also deposit Bitcoin to their Cointiply wallet and gain 5% interest. To make things easier for users, Cointiply has also launched a crypto faucet app that can be installed on Android devices. 
9. FreeBitco.in – Faucet Crypto Platform Offering Bitcoin Every Hour
With more than 50 million registered users, FreeBitco.in is one of the best crypto faucets for Bitcoin investors. As of writing, the platform has paid out more than 230,000 BTC tokens. FreeBitco.in users can collect Bitcoin every hour by playing the platform's in-house game. 
This is a Bitcoin dice game designed to be provably fair using blockchain technology. The game also features a jackpot that offers up to 1 Bitcoin as its top prize. FreeBitco.in users can also participate in P2P event prediction games to multiply their earnings. 
Like Cointiply, FreeBitco.in also offers interest on Bitcoin deposits made into the platform. Investors can add Bitcoin to their FreeBitco.in wallet and earn an APY of 4.08%. FreeBitco.in is also one of the best crypto faucets in terms of referral programs. 
Its referral contest offers winners a reward of $10,900 worth of BTC tokens every month. In addition to this, the site also hosts wagering contests on a monthly basis, and those who rank in the top 10 can earn up to $21,600 worth of Bitcoin. 
FreeBitco.in also has a weekly lottery contest, and users can get free tickets every time one of their referrals joins the platform. 
10. Fire Faucet – Crypto Faucet Supporting 13 Digital Tokens
Those seeking free crypto faucets that offer a wide range of digital tokens should look no further than Fire Faucet. This platform supports some of the most searched cryptos in the market – which include Bitcoin, BNB, Tether, Cardano, Ethereum, Litecoin, and more. 
Users can earn free crypto by filling out surveys, watching videos, and completing other simple tasks.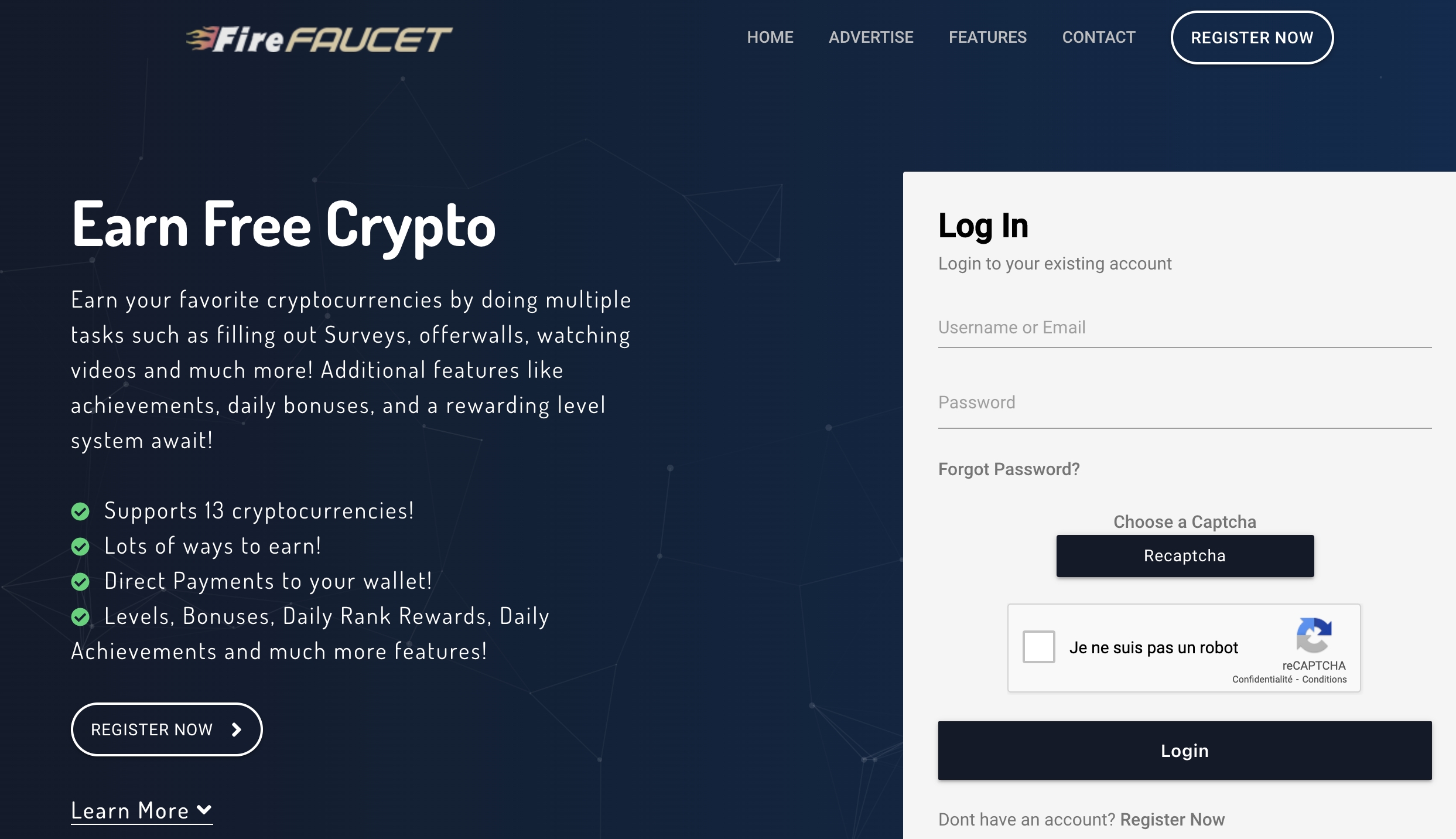 Moreover, Fire Faucet has a reward system in place to incentivize regular users. For every task completed, Fire Faucet rewards users with EXP. The top 20 users who accumulate the most EXPs at the end of the day will be offered additional rewards. 
In addition to this, we also found that Fire Faucet is one of the few crypto faucet sites that does not have any invasive ads such as popups. This makes the experience of navigating the platform seamless, allowing users to complete tasks without any intrusions. 
11. Altcoins.pw – Crypto Platform With AutoFaucets
Altcoins.pw is one of the best crypto faucets in the market today. What makes this platform most attractive is its 'autofaucet' feature. In a nutshell, users no longer need to manually perform tasks – such as clicking links – in order to claim free crypto. 
Instead, they can automate the process by letting the system make claims on their behalf. For this, users will have to first collect some 'autoclaims'.
It is also possible for users to choose the cryptocurrencies they wish to earn via this feature. The claim reward will be automatically added to the account balance, and the user can proceed to withdraw them later.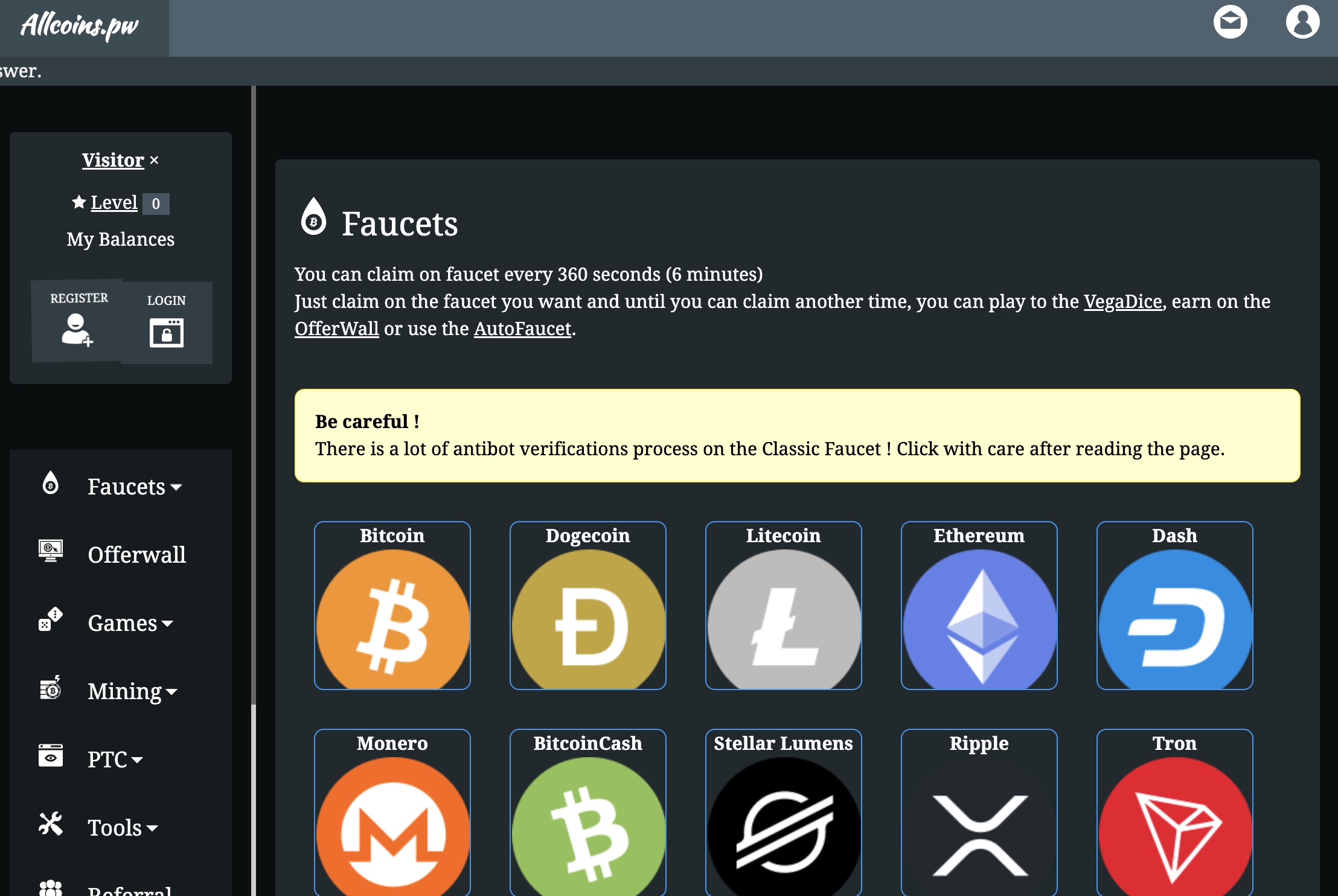 In addition to this, users of Altcoins.pw can also earn free crypto via traditional methods – such as completing surveys, visiting some websites, watching videos, and playing games. 
As of writing, Altcoins.pw offers faucet support for 14 cryptocurrencies – which includes Bitcoin and some of the best altcoins of today – such as Ethereum, Litecoin, Tron, Cosmos, Solana, and Elrond. 
12. BTC Clicks – Claim Bitcoin by Watching Advertisements 
BTC Clicks is another faucet crypto that has been in operation for a while. This platform offers free Bitcoin in return for watching advertisements. Users can claim up to 0.00005 mBTC for every click. 
BTC Clicks offers two types of memberships for users seeking to earn free Bitcoin. As is often the case, premium members are offered higher rewards for completing tasks. For instance, a standard member can earn 0.00090 BTC per day for click rewards.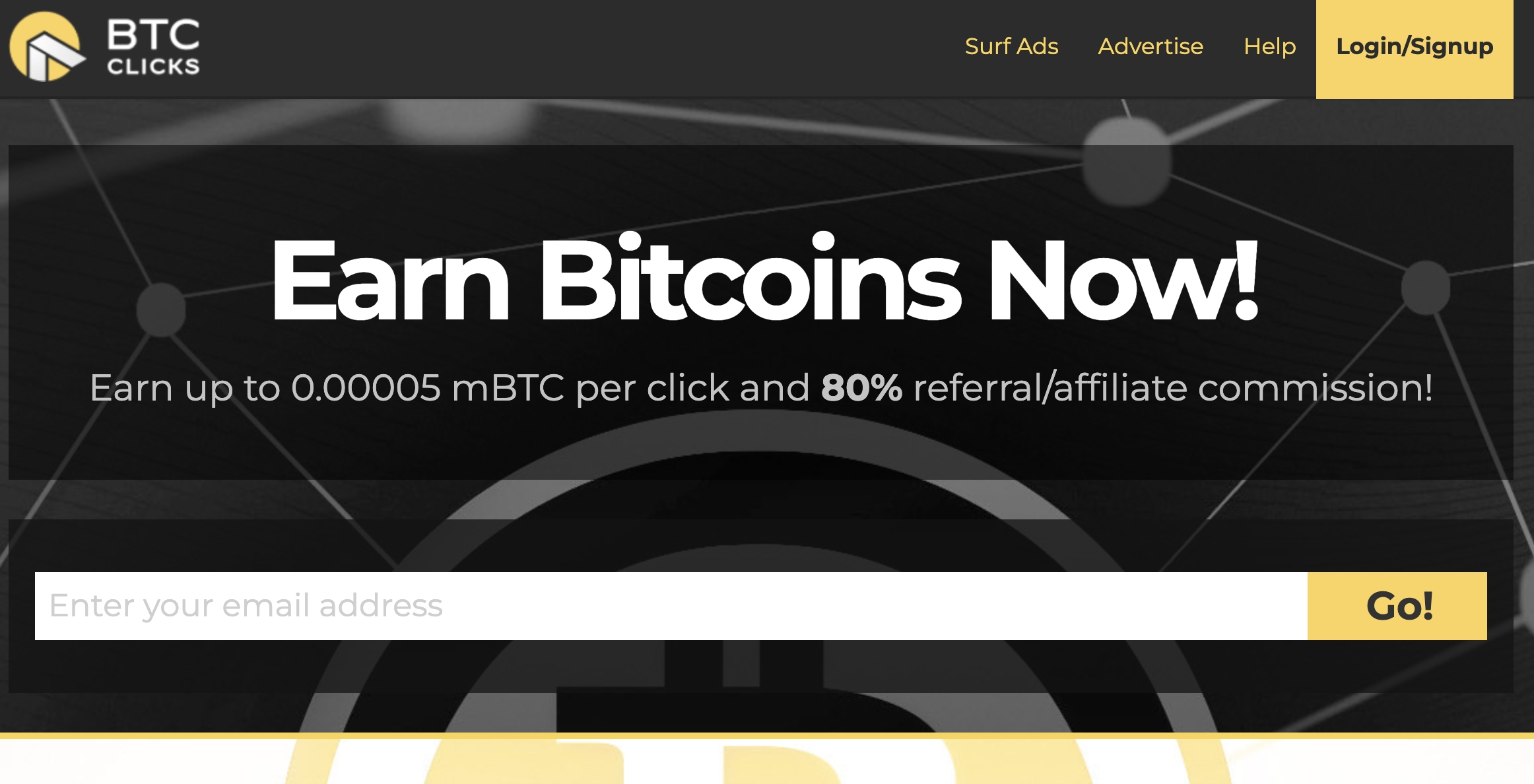 On the other hand, a premium member is offered double the amount for the task. However, the premium memberships cost 0.21600 mBTC for three months. So, this plan is best suited for those willing to spend a large amount of time on the BTC Clicks website. 
BTC Clicks also has a referral program that offers between 40% to 80% commission. The minimum payout here is 0.10000 mBTC. 
13. Bitcoinker – Solve Captchas to Get Free Bitcoin
Bitcoinker is a crypto faucet that pays up to 100,000 Satoshis every five minutes. For those unaware, one Satoshi is equal to 0.00000001 BTC. To claim this reward, users are simply required to solve captchas. 
A user can collect free cryptocurrencies a maximum of 120 times every 24 hours. The payouts are made on the first day of every month for accounts with a minimum of 20,000 Satoshis. 
As such, even if a user meets the threshold, they will have to wait until the beginning of the next month to collect the payout.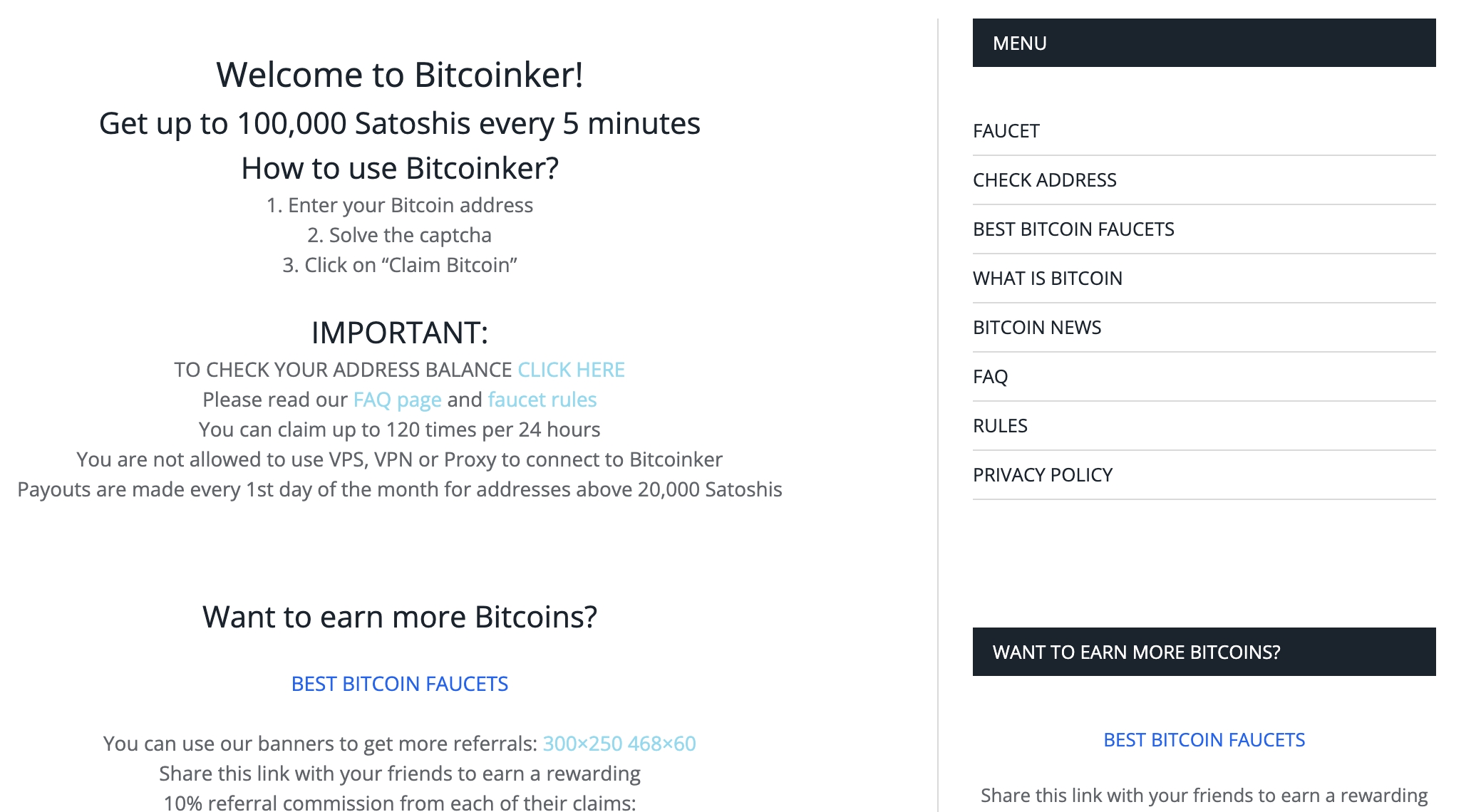 Bitcoinker is also one of the best free crypto faucets for those who seek additional bonuses. Active users of Bitcoinker will receive higher bonuses. For instance, those who have used Bitcoinker regularly for over 31 days will receive a 10% bonus on all payouts. 
However, by using Bitcoinker regularly for over 151 days, a user will get a 30% bonus. In other words, the more time spent on Bitcoinker, the higher the reward. 
14. Moon Bitcoins – Earn Free Bitcoin via Mining
Moon Bitcoin is not a typical crypto faucet. This is, in fact, a crypto mining website that offers free Bitcoin to its users. With Moon Bitcoin, investors need not worry about the cost involved with Bitcoin mining equipment, nor do they need any technical expertise.
Instead, they can turn to Moon Bitcoin and sign up for a plan. Moon Bitcoin offers several paid plans as well as a free subscription.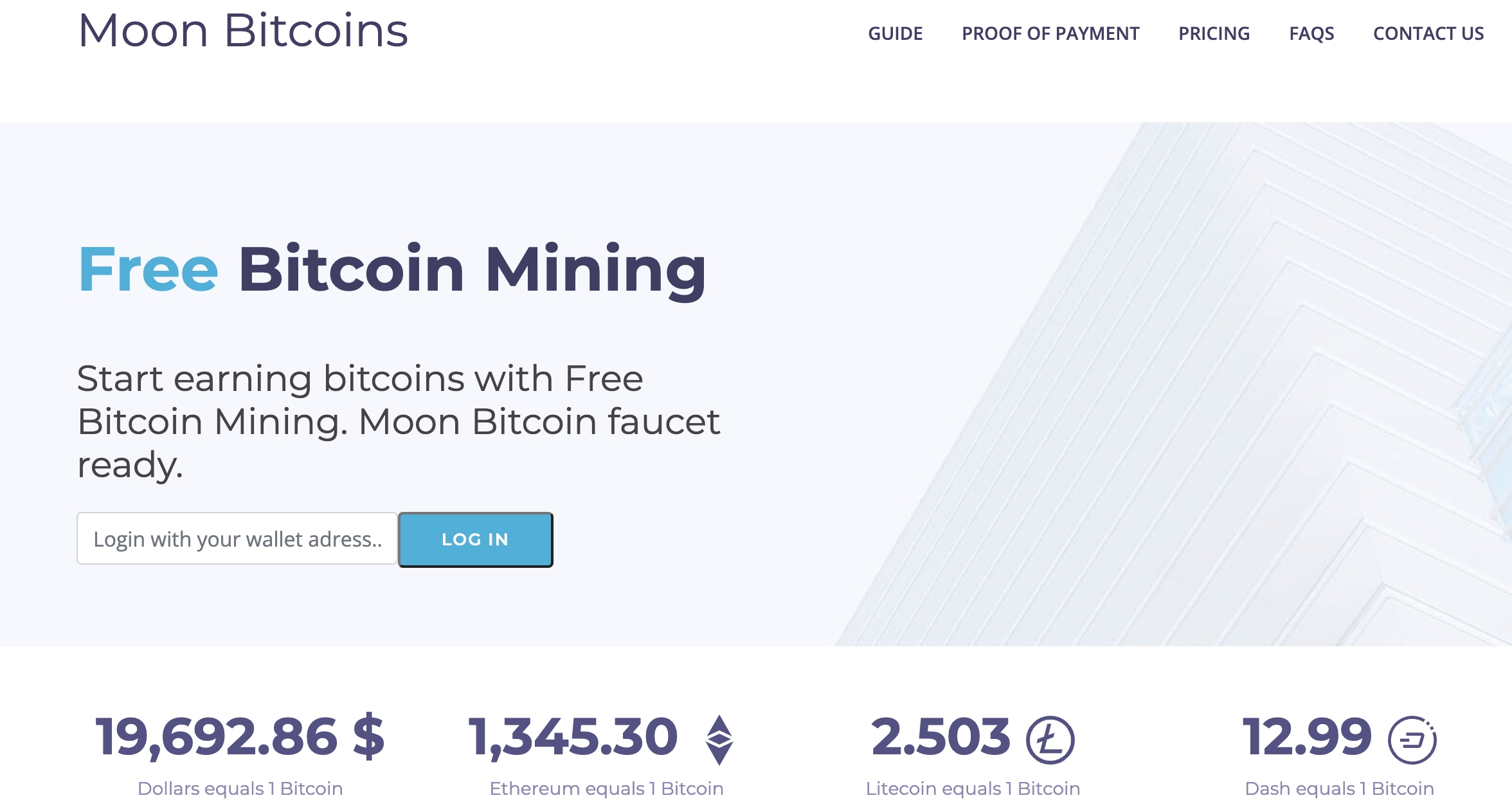 However, the free BTC tokens offered will be minute in quantity – very much like a crypto faucet for Bitcoin. The Bitcoin generated will be automatically transferred to the user's account on the website. 
15. Rollercoin – Get Cryptocurrencies by Playing Games
While crypto faucets usually have mundane tasks, Rollercoin takes a different approach, by gamifying mining.  Players can set up their virtual mining rig, maintain it, and make upgrades to boost the power. 
The game will distribute block rewards between players depending on their mining power capabilities. To make things more interesting, Rollercoin also features in-game challenges, encouraging players to compete against each other for more free Bitcoin.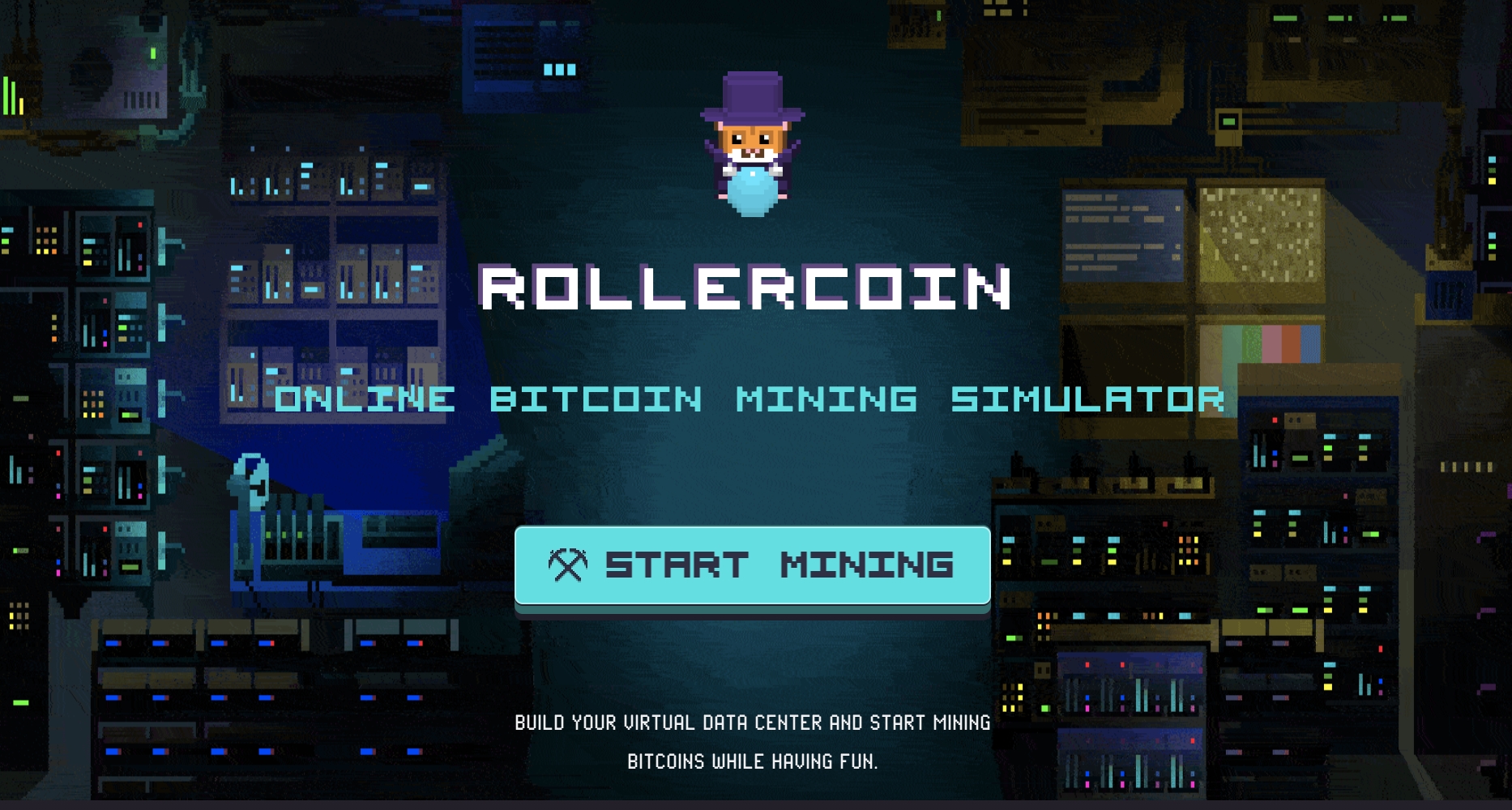 Players can withdraw their winnings or use the cryptocurrency to upgrade their mining rig – which will help them earn more. 
Needless to say, this makes Rollercoin one of the best crypto faucets in terms of innovation. The game also comes with a level system that rewards the most-hardworking players. It also regularly hosts contests and promotions that offer attractive incentives. 
What is a Crypto Faucet?
In a nutshell, crypto faucets are platforms that reward their users with free digital tokens when they complete certain tasks. The concept of crypto faucets was first created in order to spread awareness about blockchain technology. 
The metaphor is derived from how small drops of water from leaky faucets eventually fill a cup. 
Similarly, with crypto faucets, the rewards are extremely tiny. However, over time, they can add up. That being said, how much a user will earn will depend on the types of tasks they complete.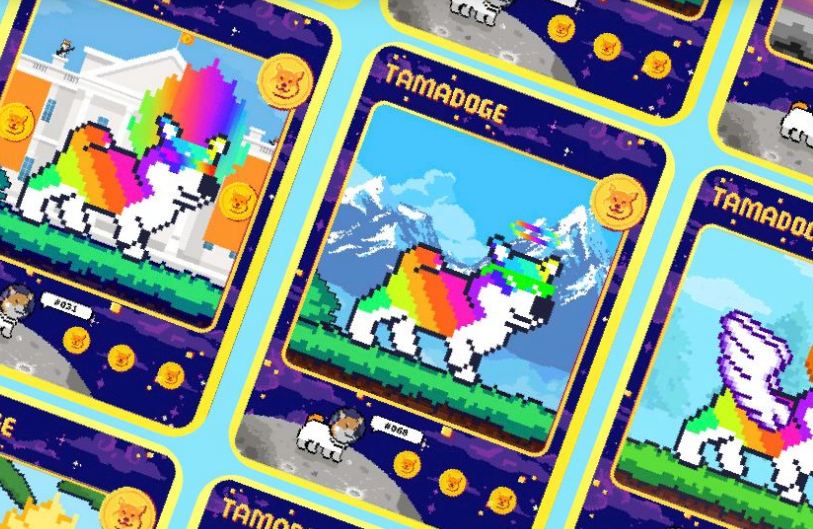 Now, naturally, the biggest question is how the best crypto faucets have the capacity to give digital tokens away for free. Usually, websites take money from advertisers or other sponsors to be able to provide free cryptocurrencies. 
However, as is evident from our reviews above, there are also many platforms, such as Tamadoge, Battle Infinity, and Rollercoin, that are coming up with creative ways to offer free cryptocurrencies to users. 
How do Crypto Faucets Work?
To get crypto rewards, investors simply need to sign up with the chosen platform and connect their wallet. Once they have completed all requirements, the rewards will be transferred to the wallet. 
However, as we noted above, crypto faucets require their users to complete a set of tasks to unlock rewards. 
These tasks will vary from one crypto project to another. However, most commonly, investors will need to complete one or more of the tasks listed below:
Play games
Complete captcha
Watch video
Click on ads
Complete a survey
Follow social media accounts
Share posts on social media
In addition to this, some crypto projects might also have prerequisites on who can access the faucet. 
Are Free Crypto Faucets Worth it?
Crypto faucets are one of the top ways for investors to get their hands on digital tokens for free. That being said, even with the highest-paying crypto faucets, users will have to be consistent in completing tasks. 
This way, tiny drops of the best cryptocurrencies could eventually add up to a meaningful amount. 
Using crypto faucets can turn out to be lucrative, especially if the market value of the specific digital token goes up. As it would take a while for the coins to add up, this strategy can be used to accumulate the best long-term cryptos. 
However, be sure to find crypto faucets that pay enough rewards to justify the time and effort.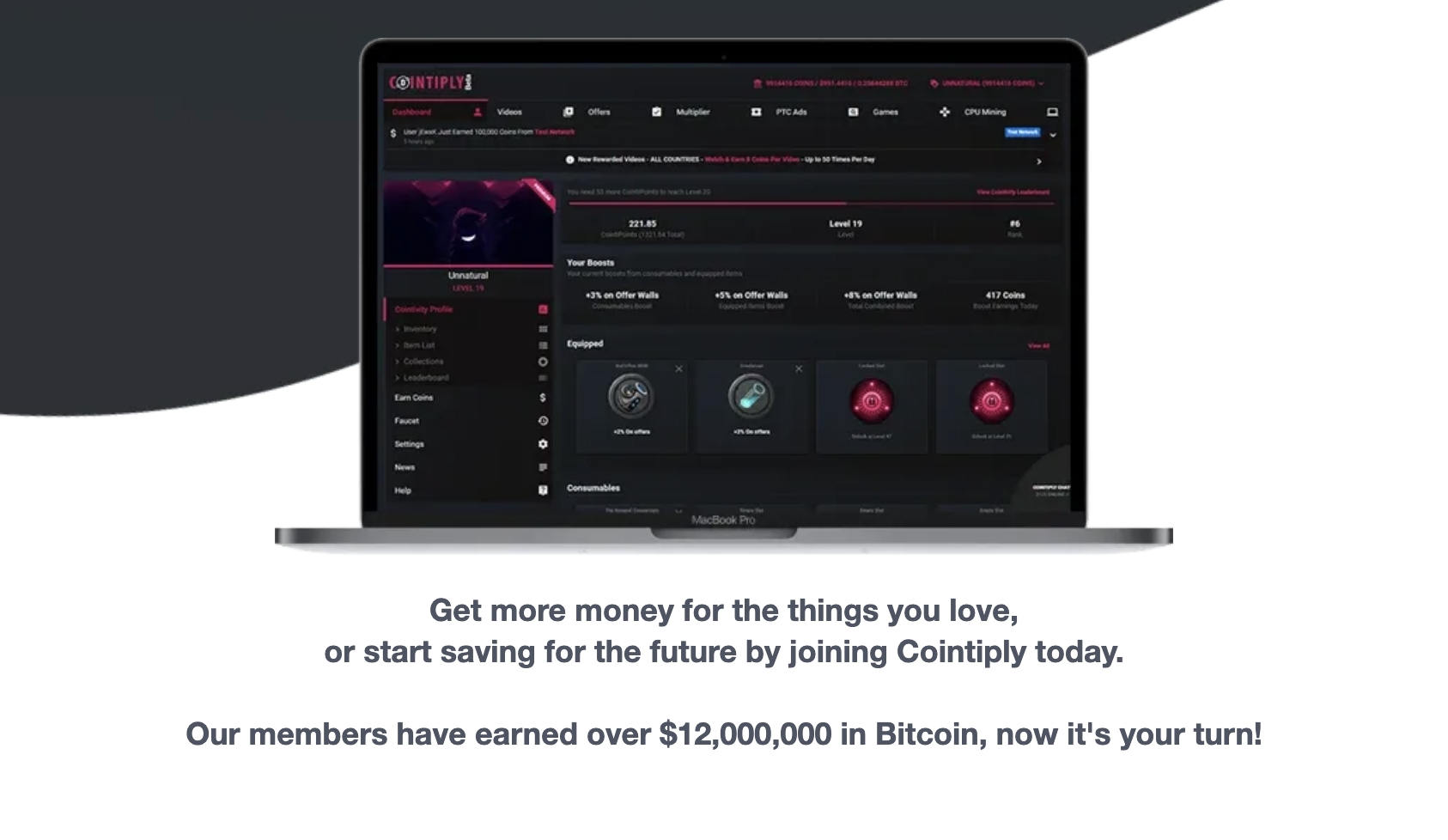 The first step when researching the best crypto faucets is to check for the credibility of the platform. These days, there are platforms posing as free crypto faucets only to infect the users' devices with malware. 
Some sites even refuse to pay out cryptocurrencies to users after they have completed tasks. Therefore, this reinforces the point that users need to do their own research.
It is also a good idea to follow the best crypto Telegram groups to track any upcoming giveaways or airdrops that offer access to free digital tokens. 
How to Get Crypto Faucets
Bitcoin Minetrix crypto giveaway is one of the easiest ways to get free crypto. 
BTCMTX tokens have already gained popularity. as such, could be a valuable addition to a crypto investor's crypto portfolio allocation. 
Below, we explain how to participate in the giveaway for a chance to win free Bitcoin Minetrix tokens. 
Step 1 – Check Eligibility
As we noted above, the Bitcoin Minetrix giveaway is slightly different from a typical crypto faucet. 
Unlike most platforms – which offer tiny amounts, Bitcoin Minetrix is offering 10 lucky winners $30,000 worth of BTCMTX tokens in one go.
However, as with other crypto faucets, investors will have to complete certain tasks. 
But before that, the first step is to make sure that the user has sufficient BTCMTX tokens in their wallet to enter the prize draw.
Step 2 – Complete Tasks
Next, investors can proceed to complete the required tasks. 
There is a total of six tasks – some of which include:
Follow Bitcoin Minetrix on Twitter
Enter the Bitcoin Minetrix Telegram channel
Conclusion
Crypto faucets have become more diverse when compared to several years ago. While many platforms continue to offer free cryptocurrencies for completing simple tasks, new blockchain projects are also getting creative. 
One of the best cryptos to look at right now is Bitcoin ETF Token ($BTCETF) due to its generous staking APY. Within the first week of the token presale, $500,000 have been raised, showing investor interest. At the moment of writing, one $BTCETF token sells for $0.0052.
FAQs
What are crypto faucets?
Crypto faucets are apps or websites that offer free digital tokens in return for carrying out simple tasks. This could be anything from filling out a captcha form, sharing a post on social media, or playing games. Faucets pay a tiny amount of crypto, however, so do bear this in mind. 
What are some crypto faucets?
Some of the best crypto faucets discussed on this page list include Cointiply, Fire Faucet, and Rollercoin. Those looking for alternative ways to earn free cryptocurrencies might wish to check out new crypto projects such as Bitcoin ETF Token.
Which is the best crypto faucet?
Bitcoin ETF Token is one of the best crypto faucet alternatives to try out now because of its high staking APY. 
Are crypto faucets worth it?
The best free crypto faucets allow their users to earn digital tokens easily. However, users should be willing to spend time completing tasks to accumulate free cryptocurrencies on the platform. Considering how low the payouts are, however, crypto faucets are rarely worth it. 
Are crypto faucets legit?
Yes, several reliable and reputable crypto faucets exist in this marketplace. Unfortunately, at the same time, there is no shortage of crypto faucet scams. As such, we strongly suggest conducting proper research and reading online reviews to find the best free crypto faucets. 
Is there a Crypto.com crypto faucet?
Crypto.com does not have a crypto faucet program. This popular exchange does, however, offer a referral program for new customers. This offers the chance to earn free crypto tokens simply for creating an account and meeting the minimum deposit threshold. 
---