03 Jan 2023
· 33 min read
16 Best Crypto Games to Play in 2023
Disclaimer: The Industry Talk section features insights by crypto industry players and is not a part of the editorial content of Cryptonews.com.
Blockchain games are a hot prospect for both players and developers, having the potential to reshape the way we think about the gaming experience and how we spend our free time.
By leveraging smart contracts, non-fungible tokens (NFTs), governance tokens, and play-to-earn economics, the best crypto games can provide an incredibly rewarding experience that blurs the line between rest and work — providing a potentially lucrative pastime and hobby.
In this piece, we'll dive into 16 of the best play-to-earn crypto games, and examine exactly what makes them so popular among gamers and investors. If you invest in or play P2E crypto games, this one's for you.
The Top 16 Crypto Games to Play Right Now
Our picks for the best crypto games to keep an eye on this year, almost all of which allow you to earn crypto playing games with a low minimum investment required.
Lucky Block (LBLOCK) - Best New Cryptocurrency Casino and Sportsbook
Meta Masters Guild (MEMAG) - Mobile-Based Web3 Gaming Cryptocurrency with Ongoing Presale
RobotEra (TARO) - Best New Crypto Game Supporting P2E/PVP Metaverse Games
Calvaria (RIA) - Popular Crypto Game with Scalability and High Bandwith
Silks (STT) - P2E Horse Racing and Breeding on the Blockchain
Tamadoge (TAMA) - Popular Crypto Game to Play in 2023
Battle Infinity (IBAT) - Ecosystem of Top P2E Crypto Games
MetaBlaze (MBLZ) - New P2E Project with Unique Rewards System
My Neighbor Alice (ALICE) - One of the Best Blockchain Games of 2023
Decentraland (MANA) - Metaverse and Blockchain Gaming Innovator
The Sandbox (SAND) - Ecosystem of Games to Earn Crypto
ApeCoin (APE) - Powering the Otherside Metaverse
Star Atlas (ATLAS) - Space Exploration Meets P2E Crypto Games
Illuvium (ILV) - AAA Grade Graphics and Futureproof Scope
Axie Infinity (AXS) - Biggest Blockchain Game Ever
Tezotopia (UNO) - New P2E Blockchain Game on Tezos
Best Cryptocurrency Games Reviews
With $2.5 billion poured into new blockchain games in Q1 2022 alone, it's safe to say that the crypto gaming landscape is one of the fastest-growing crypto sectors for investors. And it's not hard to see why, since blockchain games are frequently associated with impressive returns for coin/token holders.
As an industry brimming with innovation, the list of top crypto games is constantly being refreshed with new and exciting titles. We'll cover 16 of the very best today. Investors looking for the popular crypto games may also come across the best crypto faucets which allow users to earn free crypto after surveys and games have been completed.
1. Lucky Block (LBLOCK) - Best New Cryptocurrency Casino and Sportsbook
One of the best cryptocurrency games is Lucky Block's casino and sportsbook - the flagship product of the Lucky Block ecosystem, which also has its own token (LBLOCK) which grew to a market cap of nearly $1 billion at the start of 2022.
Offering over 2,700 games and a sportsbook to bet on, Lucky Block provides access to slots, poker, sports, eSports and more. The platform is working with over 80 of the best gaming providers in the space - including the likes of Pragmatic Play, Evolution, Gametech and Betsoft.
From the most popular live casino games to baccarat, blackjack and roulette to popular table games such as Sic Bo, Teen Patti and Live-Deck Poker, Lucky Block has it all covered.
Fans of the top slots games can play the likes of Dino Luck, Rumble Ratz, Medallions and Lucky Cloverland, while another top slots game available is Money Train 3 - which just came out in Q3 2022 and was recently crowned the 'Best slots game of the year' by iGaming Business.
Apart from the sheer range of games on offer, Lucky Block is offering some of the best bonuses to improve your experience.
Players are given 15% cashback on all losses during the first week after their account is created, with high rollers also eligible for reload bonuses if enrolled in the VIP program - those bonuses have no wagering requirements making them among the best on the market.
A simple platform to use and our best decentralized gambling site, Lucky Block does not require any KYC (Know Your Customer) forms to be completed during registration and players globally can access the site with a VPN.
All that is required is an email address and a new password and sign up should take less than a minute.
Lucky Block supports some of the top cryptocurrencies on its platform such as Bitcoin, Ethereum, USDT, Litecoin and Dogecoin, with a tiny deposit amount, rapid payouts and no fees or limits on deposits and withdrawals.
FIat deposit options - such as bank transfer, credit card and Google Pay - are also available and players can get started with as little as $1.
Tokens such as DOGE will be paid back in less than a minute, while Bitcoin will take between 20 minutes and an hour. Fiat options can take up to 48 hours.
| | | | |
| --- | --- | --- | --- |
| Crypto Bonus | Wagering Requirement | Minimum Deposit | Payout Time |
| 15% cashback for 7 days, high roller reload bonus | None | $1 | 1 to 60 minutes for cryptos |
As well as being a crypto casino, Lucky Block also has a leading sportsbook, with thousands of pre-game and in-play markets on more than 30 sports.
Soccer, Tennis, Boxing, NFL, NBA and more can be wagered on, as well as leading eSports games such as League of Legends and Counter-Strike.
With super competitive odds on top sports such as the Premier League and Champions League, NBA and NFL and boxing, Lucky Block is one of the top cryptocurrency games to begin using now.
2. Meta Masters Guild - Mobile-Based Web3 Gaming Cryptocurrency with Ongoing Presale
Our next pick is Meta Masters Guild - the world's first mobile-focused Web3 gaming guild. On Meta Masters Guild, players can access multiple mobile-based cryptocurrency games and earn rewards simultaneously. $MEMAG, the native token, is currently available to purchase during the first presale round.
With Venture Capital companies such as Andreessen Horowitz increasing their investments in Web3 gaming projects, this is one of the fastest growing spaces in 2022. Meta Masters Guild separates itself from the competition by positioning itself as a Play-and-Earn (P&A) platform. This is due to the platform's belief that players should receive a high quality gaming experience, and not just access Meta Masters Guild for the monetary aspects.
According to the project's whitepaper, Meta Masters Guild will let users collect Gems, the in-game currency. Gems can be earned as rewards and collected on all of the upcoming mobile games. Gems can be converted to $MEMAG, and also be used to purchase in-game NFTs. In the future, users will be able to stake $MEMAG within the ecosystem and enjoy additional rewards.
For instance, players can buy their own NFT items and participate in 'NFT Raid', an upcoming NFT fantasy fighting game which is currently being developed by the team. Players can also purchase Premium NFTs, which offer advanced characteristics within the game.
The first game that Meta Masters Guild will launch is Meta Kart Racers, a Player v Player racing game. The alpha version of the game is expected to be launched by Q2 2023 and is being developed by Gamearound, the popular Web3 gaming developer.
Finally, Meta Masters Guild is also working on establishing its metaverse ecosystem, Meta Masters World. All items in this virtual platform will be minted as NFTs.
Interested readers can buy $MEMAG for $0.007 during the first presale round. With a total token supply of 1 billion, 35% of MEMAG has been allocated for the seven round presale. $MEMAG will rise to $0.023 by the final round, which is a 228% price increase.
| | | | |
| --- | --- | --- | --- |
| Presale Stage | Price | Amount of Tokens | Raise Value |
| Stage 1 | $0.007 | 70,000,000 | $490,000 |
| Stage 2 | $0.010 | 63,000,000 | $630,000 |
| Stage 3 | $0.013 | 56,000,000 | $728,000 |
| Stage 4 | $0.016 | 49,000,000 | $784,000 |
| Stage 5 | $0.019 | 42,000,000 | $798,000 |
| Stage 6 | $0.021 | 35,000,000 | $735,000 |
| Stage 7 | $0.023 | 35,000,000 | $805,000 |
| Total | - | 350,000,000 | $4,970,000 |
Join the Telegram Channel to stay updated with this cryptocurrency.
3. RobotEra (TARO) - Best New Crypto Game Supporting P2E/PVP Metaverse Games
RobotEra (TARO) is a new crypto game blending the metaverse, NFTs, and robots to create an engaging and rewarding virtual world packed with creator tools, comparable to The Sandbox. The presale for RobotEra's native ERC-20 TARO token went live during Q4 2022, meaning it's a great time to get involved with RobotEra while the project is still in its early stages.
As one of the best gaming cryptos on the market, RobotEra features exciting gameplay likely to resonate with fans of existing crypto games or metaverse-centric projects like Decentraland. Investors wishing to learn more about the project can do so from the below video created by well-known YouTube analyst Jacob Crypto Bury.
The core gameplay of RobotEra takes place within a virtual metaverse world separated into plots of NFT-based land split into seven different continents.
On these continents, players can utilize a vast array of creator tools to build huge structures like sky gardens and underground bases, as well as monetizable play-to-earn (P2E) crypto experiences.
To reward players of the RobotEra crypto game, the team has implemented a host of different earning opportunities.
In addition to being able to build P2E experiences, players will be able to earn income by mining for resources, selling advertising space, growing sacred trees, and staking the project's native TARO token. More details can be found in the RobotEra whitepaper.
By utilizing NFT technology, RobotEra ensures that in-game assets are unique, customizable, and can be easily traded.
RobotEra NFT avatars (minting starts Q4 2022) act as the player's digital identity in the game and grant the holder the ability to receive NFT land through airdrops or purchases. Players can also build NFT-based robot companions to assist with various tasks.
RobotEra's native TARO token has a max supply of 1.8 billion and acts as a governance token, providing holders with the ability to vote on upcoming decisions regarding the project.
The token is currently in the first stage of a three-stage presale with TARO costing just $0.02. This figure will increase to $0.025 during the second stage before hitting $0.032 during the first.
| | | | |
| --- | --- | --- | --- |
| Presale Stage | Quantity of Tokens | Price of TARO | Stage Hardcap |
| 1st Stage | 90,000,000 | $0.020 | $1,800,000 |
| 2nd Stage | 90,000,000 | $0.020 | $2,250,000 |
| 3rd Stage | 90,000,000 | $0.020 | $2,880,000 |
RobotEra has garnered the attention of crypto games fans across the world thanks to its wide range of powerful tools that make building new experiences in the RobotEra metaverse a breeze.
Check out RobotEra today to secure TARO tokens for the best price. Join the RobotEra Telegram to stay informed of any updates.
| | |
| --- | --- |
| Presale Started | Q4 2022 |
| Purchase Methods | USDT / ETH |
| Chain | Ethereum |
| Min Investment | 1,000 TARO |
| Max Investment | N/A |
4. Calvaria (RIA) - Popular Crypto Game with Scalability and High Bandwith
Players who like collecting cards to strategically defeat opponents while earning rewards will enjoy Calvaria. The cards represent different characters that have unique abilities, and players must defeat opponents to receive upgrades and rewards.
The main game, Duels of Eternity, caters to a player's unique goals by enabling a single-player mode or player vs. player. In single mode, players proceed through the different levels and receive rewards in the form of cards or power-ups. Players can use their rewards in the player-to-player mode, which is the main game mode requiring players to defeat the enemy army in the best of three rounds.
Calvaria enables players to use cards of the same strength and combine them to buy higher-level cards. Players defeat their opponents by using the right combination of cards, and they can buy NFT card decks to strengthen their positions.
The Calvaria whitepaper details all the crucial elements of the game and its benefits.
The ability to collect unique sets of resources enables the player to choose the strategy required to beat opponents. Victorious players receive RIA tokens and own their unique set of resources collected, which are tradeable on secondary markets.
Players who want to buy in-game resources need to own RIA tokens. The best time for players to buy crypto tokens is during a presale.
Calvaria offered RIA tokens for $0.01 during the first stage of the presale and has seen huge excitement and already raised more than $2.66 million - and is now in its fifth and final stage and set to end at the end of January.
Early-round investors own an appreciating asset that has increased in price by 225% over the course of the presale.
Tokens are now on sale for $0.0325 each but fewer than 20 million tokens remain before it is listed on exchanges - where it is expected to rise further.
The RIA token presale is set to take place on leading exchange BKEX, with the dates to be announced in the coming weeks.
Calvaria Presale Overview
Total Supply: 1 Billion RIA
Presale: 150 Million RIA
| | | |
| --- | --- | --- |
| Stage 1 | 1 USDT = 100 RIA | Price: $0.01 |
| Stage 2 | 1 USDT = 66.67 RIA | Price: $0.015 |
| Stage 3 | 1 USDT = 50 RIA | Price: $0.02 |
| Stage 4 | 1 USDT = 40 RIA | Price: $0.025 |
| Stage 5 | 1 USDT = 30.76 RIA | Price: $0.0325 |
Investors can receive more information about the game and the tokens by subscribing to the Calvaria Telegram channel.
Players will need to buy collectible NFT assets frequently to advance in the game. That's one of the reasons that Calvaria developed both of the tokens at 0% sales tax.
5. Silks (STT) - P2E Horse Racing and Breeding on the Blockchain
Silks is a play-to-earn Web3 metaverse that mirrors the real world of horse racing. Using real data of thoroughbred racehorses linked to NFTs in combination with skills and strategy, Silks allows players to earn tokens when their horse wins a race or breeds. Silks aim to build an ecosystem where players are connected through a shared purpose and unique reward structure.
Players earn rewards in the form of NFTs when they perform activities in the game. Examples of this are racing and breeding horses. There are several NFT collections in the game, including Silks Avatars, Horses, Stables, and Land.
Silks Avatars are probably the most important — it represents players' unique identity in the ecosystem. Avatars come with different traits and rarities. Players must have a Silks avatar to mint a horse or earn tokens.
Silks is currently conducting a sale for its Silks Avatars. Over 65% has been sold already, and it has joined the top 10 NFT sports collections on OpenSea. If you want to get in on this unique crypto game, then maybe nabbing an avatar now could be smart.
Because of its fast-paced gameplay and strong community, Silks ranks among the top crypto games this year.
6. Tamadoge (TAMA) - Best Crypto Game to Play in 2023
Tamadoge is one of the best new cryptos to launch recently, combining the mass appeal of meme coins with the popular P2E crypto gaming format to create an ambitious new gaming metaverse known as the 'Tamaverse'.
As a meme coin, it has already garnered a huge amount of attention, selling out its presale in less than eight weeks and raising $19 million, as well as becoming one of the best trending DEXTools cryptos on the market. This will be funneled toward its gaming ecosystem — which blends crypto gameplay and DeFi features to produce a novel gaming experience.
The TAMA token forms an integral part of the Tamaverse — a place where players can mint, breed, and battle their Tamadoge pet in the Metaverse. TAMA can be used to breed, train, and fight Tamadoge NFTs critters to climb the leaderboards and earn rewards as users participate in games to earn crypto.
Digital food, treats and toys can also be bought in the pet store with TAMA tokens - with 5% of transactions being burned, making the coin deflationary.
TAMA is trading on OKX, the second-largest crypto exchange by volume, and prices pumped nearly 2,000% from presale price after its IEO.
The price has since settled but with numerous milestones on the roadmap in the near future, the price is expected to surge again.
As time goes on, its play-to-earn opportunities in the Tamaverse will expand with arcade games to be released and then into augmented reality, allowing players to use their NFTs in the real world.
As part of its goal to deliver the future of play-to-earn crypto gaming, Tamadoge has an ambitious roadmap ahead of it. Just some of the plans on its short-term agenda include:
Opening the Tamadoge NFT pet store
Multiple CEX listings
Tamadoge battle leader board
P2E leaderboard and giveaways
Partnerships with established metaverse projects
Tamadoge's contract code has already passed a full audit by Solid Proof and the team has been verified by CoinSniper and is doxxed — making it one of the safest crypto games around.
The first set of 100 ultra-rare NFT Pets became the top trending collection on OpenSea after raising 250 ETH in one day.
TAMA is expected to pump again when wider market conditions improve and with a number of major releases coming to the ecosystem in 2023.
7. Battle Infinity (IBAT) - Ecosystem of Top P2E Crypto Games
Widely regarded as one of the best P2E crypto games of 2023, Battle Infinity is redefining blockchain gaming by bringing fantasy sports and NFT-powered gaming to the masses through an ambitious range of products.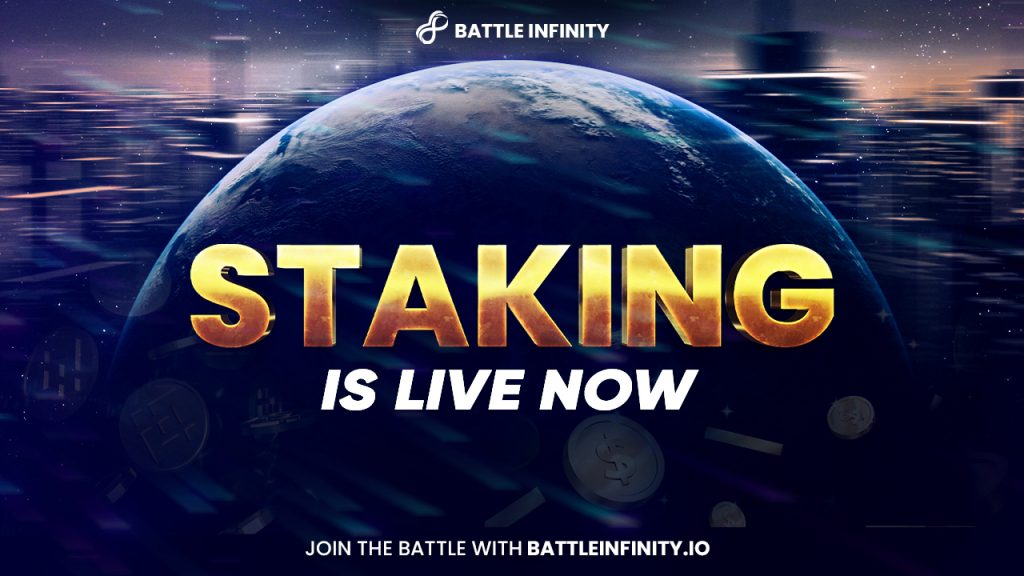 These include:
IBAT Battle Swap: A DEX that allows Battle Infinity users to directly purchase IBAT tokens and exchange their rewards for other tokens. This product is integrated with the Battle Infinity Marketplace (IBAT Battle Market), game store (IBAT Battle Arena), and arena.
IBAT Battle Games: An ecosystem of NFT-based play and earn games. Players can also trade their gaming assets and characters in the IBAT Battle Market and sell their NFTs.
IBAT Battle Arena: Here players can display and upgrade their unique Battle Infinity avatars with items bought from the IBAT Battle Market.
IBAT Battle Market: All the in-game assets, such as characters and weapons, are tokenized using BEP721 smart contracts and can be bought and sold on the IBAT Battle Market.
The first game to launch in the Battle Infinity ecosystem is IBAT Premier League, one of the first NFT-powered fantasy sports titles integrated with the metaverse. Through the IBAT Premier League users can create their teams and battle with other players while earning rewards.
The native IBAT token is currently available to trade on LBank and PancakeSwap, with more listings expected in the near future.
Staking also went live at the end of September and now has more than $3 million in total value locked (TVL), with holders earning between 14% and 25% APY on locked staking and 12% on flexible staking.
8. MetaBlaze (MBLZ) - New P2E Project with Unique Rewards System
MetaBlaze is a new project currently in the final stages of its token presale - with less than $600,000 to be sold before it reaches its $4 million hard cap.
Its NFT collection - MetaGoblins - also goes on sale on October 15, with the collection set to play a vital part in the MetaBlaze universe.
In a first for P2E games, MetaBlaze is developing a revolving rewards pool.
Rather than distribute their native token, MBLZ, to winners in their games, players can collect prizes of Bitcoin, Ethereum, Solana, and BNB.
That's not to say MBLZ will be without its own value, it will act as the in-game currency for its two games, while the developers are also set to burn 48% of the supply over time to increase scarcity and value.
MetaBlaze has focused on developing a narrative-driven RPG for its flagship game that will attract both hardcore and casual gamers. Although details are limited, the game will see players battle for control of the vast Galaxia Blue universe - taking over sectors and trade routes as well as completing quests.
The mini-game MetaMinez is strategic and time-bound. Players put together mining rigs for the chance to win prizes, with MetaGoblins acting as multipliers in the game, while players risk MBLZ to increase their mining power.
For more information on the project read the MetaMinez Whitepaper and join the Telegram group for the latest news.
9. My Neighbour Alice (ALICE) - One of the Best Blockchain Games of 2023
One of the most popular blockchain-based multiplayer builder games, My Neighbor Alice allows anyone to buy land, own virtual islands, and collect and build items while meeting new friends.
This game has a marketplace where users can shop for NFT-based land, animals, items, and other in-game assets.
LAND is the foundational asset in My Neighbor Alice. There is a total of roughly 100,000 units of land in the game — these are spread across six islands: Snowflake island, Medieval plains, Lummestad (the town), Nature's rest, Sandy coast, and Submerged islands.
The ALICE token allows token holders to play and speculate in the in-game economy. The token enables players to buy game items, earn staking rewards, participate in governance, and participate in its play-to-earn reward system.
The ALICE token is unusual in that it's supported by two of the most popular cryptocurrency exchanges — Binance and eToro. The latter of which is popular among newer traders thanks to its low fees and large number of deposit options.
Crypto assets are highly volatile and unregulated. No consumer protection. Tax on profits may apply
10. Decentraland (MANA) - Metaverse and Blockchain Gaming Innovator
Decentraland is one of the best crypto games running on the Ethereum network thanks to a pioneering range of features and its first-mover advantage.
In Decentraland, users can trade digital real estate and assets as they explore, interact and play games in the virtual world.
Two tokens help to power the Decentraland experience:
LAND are NFTs denoting ownership of digital real estate in one of Decentraland's districts
MANA is the currency that lets users buy LAND, virtual goods, and services on the platform.
Besides its popular gaming features, Decentraland also features a marketplace that allows participants to manage and trade LAND tokens priced in MANA. Owners can trade parcels and other in-game items such as wearables and unique names via the marketplace.
The MANA token has become one of the most highly valued tokens in the Metaverse — with the cryptocurrency seeing massive growth since its inception in 2017. The token has a huge array of uses, being used for governance, in-game payments, LAND purchases, advertising in Decentraland, and more.
Available on eToro and other popular exchanges, MANA is one of the best-supported gaming crypto coins out there.
Crypto assets are highly volatile and unregulated. No consumer protection. Tax on profits may apply
11. The Sandbox (SAND) - Ecosystem of Games to Earn Crypto
Another popular Ethereum-based blockchain game, The Sandbox is a virtual world full of unique gaming experiences.
Players can purchase digital parcels of land and use them to build and display their own content and experiences.
The Sandbox has two native tokens:
SAND tokens — used for transactions that are part of the gameplay, such as buying land and staking to participate in DAO governance.
ASSET tokens — NFTs representing in-game items that can be traded in the marketplace.
One of the main features of Sandbox is the VoxEdit tool. This allows players to easily create 3D graphics and models for The Sandbox. Using the gamemaker tools, users can create items to sell in exchange for SAND.
The Sandbox also enables users to upload their creations, which are registered on the Ethereum blockchain as ERC-1155 tokens.
Similar to other games, Sandbox relies on a hybrid structure. The servers that enable virtual reality are centralized, while information related to tokens and collectibles is stored on a decentralized blockchain network.
SAND is available to trade on eToro.
Crypto assets are highly volatile and unregulated. No consumer protection. Tax on profits may apply
12. ApeCoin (APE) - Powering the Otherside Metaverse
ApeCoin is a new coin designed to power a web3 economy that is controlled and built by the community. ApeCoin will serve as a decentralized protocol layer for initiatives that nurture and develop the Metaverse and its surrounding culture.
The Ape Foundation is the base layer upon which APE token holders (and DAO participants) can build. The foundation facilitates decentralization and community-led governance and delivers the decisions of the ApeCoin DAO.
Yuga Labs, the parent company behind ApeCoin, as well as the community and a range of established partners, will work together to build a comprehensive metaverse and gaming landscape known as 'Otherside'.
The Ape foundation takes care of growth and development through the ecosystem fund. Whereas users will be able to contribute and monetize their own content — in a similar fashion to other metaverses like Decentraland or The Sandbox.
Unlike many Web3 and gaming tokens, the total supply of ApeCoin is fixed. With a max of 1 billion units. It's designed to provide substantial utility to Otherside participants, providing governance and access rights, as well as providing the unit of exchange for all in-game transactions.
The APE token has been pumping in recent weeks amid news that staking could earn yields of up to 300% APY if certain parameters are met, such as owning a Bored Ape Yacht Club NFT and staking a set amount of coins.
Crypto assets are highly volatile and unregulated. No consumer protection. Tax on profits may apply
13. Star Atlas (ATLAS) - Space Exploration Meets P2E Crypto Games
Star Atlas is an ambitious new blockchain game with a dual token economy. As a player, you travel through space searching for NFT-based items.
A space-themed title built on the Solana blockchain, Star Atlas utilizes the latest technology to power an AAA-quality interactive gaming experience.
As a player in the Star Atlas metaverse, you can trade, buy/win and create NFTs — which benefit from the tangibility, true ownership, and value similar to real-world assets. Its underlying blockchain is considered fast, secure, and efficient, making it a suitable platform for a mass market game.
Star Atlas also features builder gameplay, allowing players to create cities and participate in a complex in-game microeconomy. They can even partner up and form a DAO to govern specific regions.
As part of the Solana ecosystem, Star Atlas directly integrates with the Serum decentralized exchange. Star Atlas' DeFi integration enables players to borrow/lend a variety of Solana and Serum assets.
The ATLAS token powers the economy of the Star Atlas metaverse. Whereas the game's secondary token, POLIS, provides holders with governance opportunities.
14. Illuvium (ILV) - AAA Grade Graphics and Futureproof Scope
Built on the Ethereum blockchain and available on PC and Mac later this year, Illuvium is a P2E sci-fi adventure game with play-to-earn features.
This game has seven unique alien landscapes across which players can hunt and capture over 100 Illuvials — deadly NFT beasts with hybrid and special abilities.
As a play-to-earn game, users can earn ILV tokens while playing, completing quests, and performing myriad tasks in the Illuvium universe. It can also be won alongside various other prizes in special events and competitions.
The ILV token can be used to wager on matches in the Leviathan arena — a PVP battle arena where players put their Illuvials to the test. Besides this, players can trade captured Illuvials, farmed materials, and other NFTs on the IlluviDEX — Illuvium's marketplace.
Illuvium is unusual among blockchain games in that marketplace trades are gasless, reducing barriers to entry.
Leveraging blockchain technology, Illuvium offers complete ownership of your in-game assets. Every capture, farmed material, or crafted item is an NFT minted and stored in your crypto wallet. These can be easily verified on the Ethereum blockchain, proving their authenticity.
The ILV token is available to trade on eToro, which supports deposits in over 20 currencies.
Crypto assets are highly volatile and unregulated. No consumer protection. Tax on profits may apply
15. Axie Infinity (AXS) - Biggest Blockchain Game Ever
This is a popular gaming platform that allows users to earn tokens by playing and contributing to the rapidly growing Axie Infinity ecosystem.
From a gameplay perspective, players can expect to participate in battles, collect and raise digital pets known as Axies, and buy/develop digital plots of land to earn rewards.
As a non-fungible asset, each Axie is unique, and its value cannot be replicated.
Axie Infinity runs two metaverse tokens: Axie Infinity Shards (AXS) and Smooth Love Potion (SLP). AXS is a governance token but can also be staked for users to earn rewards.
SLP, on the other hand, is earned through gameplay and by participating in events within the Axie Infinity ecosystem. Some uses of the SLP token include:
Breeding Axies
Multiplayer battles
Rewards for winning battles and in-game accomplishments
Axie Infinity is currently by far the top crypto game by the number of users and market capitalization. And both the AXS and SLP tokens are available to trade on eToro.
Crypto assets are highly volatile and unregulated. No consumer protection. Tax on profits may apply
16. Tezotopia (UNO) - New P2E Blockchain Game on Tezos
Tezotopia is a prominent new NFT game that allows you to earn a yield by farming NFTs called Tezotops or wage battles against other players to win loot boxes with various prizes.
It is widely considered one of the best crypto games on Tezos and is popular among play-to-earn aficionados.
The game has a complex internal economy centered around four main resources:
Unobtanium is the rarest and most valuable. It defies gravity and converts heat and pressure into energy to get more powerful.
Minerals are for the construction of buildings and machinery.
Energy is harnessed from geysers found beneath Tezotops.
Machinery is used to create new buildings.
Featuring two main game paths — landlord or warlord — Tezotopia provides a varied gameplay experience. It's also gathering a substantial player base and social community, making it a cryptocurrency to watch long-term.
How do Blockchain Games Work?
Blockchain games are a rapidly developing segment of the gaming sector and bear several differences from regular games.
The vast majority of the top crypto games take the form of a decentralized application (dApp) which is hosted on a blockchain network. This is accessed through a regular internet browser which also includes an associated Web3 wallet plugin or account — such as MetaMask or Trust Wallet. This is used to interact with the crypto features of blockchain games.
There is also a growing number of crypto games for Android and iOS, many of which have a built-in wallet — making it easier to begin playing.
A large proportion of blockchain games are so-called 'play to earn' titles. These allow players to earn crypto while playing games since they feature a tokenized gaming economy that rewards players for their progression, time, and achievements.
A large proportion of the best crypto games have some degree of play-to-earn capabilities.
Types of Crypto Games
The blockchain gaming landscape is growing at an extraordinary pace. According to a recent Binance report, there are now well over 1,500 blockchain games, many of which fall under the Play-to-Earn (P2E) crypto games umbrella.
The vast majority of these are available as web-based dApps, but there is a growing number of crypto games for iOS, Android, and other popular mobile operating systems.
Broadly, the top crypto games fall into one or more of four main categories:
NFT games
The vast majority of the best crypto games feature NFT capabilities, using NFTs to represent in-game items and digital real estate.
Many of these weave NFTs directly into the gameplay and what many consider to be the best crypto game of all time (Axie Infinity) is heavily focused on NFT use and trading.
Play-to-Earn (P2E)
As its name suggests, the play-to-earn sector includes titles that allow players to earn crypto playing games or participating in tournaments.
The best play-to-earn crypto games have a finely tuned token economy, helping to balance rewards with strong token utility to maintain its value.
There are a growing number of free play-to-earn crypto games, but most require an initial investment to get started.
Metaverse
A growing number of crypto games are beginning to develop their own metaverse, while others are developed within a pre-existing metaverse — like Decentraland.
Indeed, Axie Infinity — the current top crypto game by market capitalization — is developing its own metaverse, whereas The Sandbox allows developers to easily create 3D crypto games using its Game Maker toolbox.
Some of the best blockchain games to watch in 2023 have metaverse ambitions, including the likes of Tamadoge and Star Atlas.
Gambling
Crypto casinos often leverage blockchain technology to power their games, while standard blockchain games frequently have some gambling elements woven in — such as allowing players to wager their crypto game coins, buy loot boxes, or participate in play to earn games of luck.
That said, most popular games to earn crypto tend to avoid clear-cut gambling activities due to the regulatory hurdles this entails.
Why Play Crypto Games? Advantages and Benefits
Widely considered to be the future of gaming, crypto games provide players with an entirely new, and the best blockchain games can unlock a huge number of opportunities for players, brands, and developers.
A growing number of players choose to play P2E crypto games over traditional options since they provide real-world stakes. Given that players can often earn, wager, and stake their rewards and utility tokens while playing, it adds an element of real risk, suspense, and thrill.
The reward tokens for some of the best crypto games have gone on to multiply in value, generating potentially staggering returns for investors and players. This includes the likes of Axie Infinity's AXS token and My Neighbor Alice's ALICE token — which saw their price soar by more than 100-fold shortly after launch.
But more than this, top crypto games typically allow players to truly own the items they buy and collect throughout their gaming experience.
Thanks to the use of non-fungible tokens (NFTs) that can represent in-game assets like digital land, avatars, characters, skins, weapons, and more, owners can always display, sell, or trade their assets even if they decide to stop playing.
Upcoming Crypto Games
As an industry capable of delivering the unique potential and benefits of blockchain technology to the masses, the crypto game landscape is expanding rapidly, with dozens of new titles currently in development.
Several next-generation crypto games are already looking to push the envelope on accessibility, and experience, and deliver the unique benefits of crypto gaming to the masses.
These include:
Calvaria: A new project that has both P2E and F2P versions of its main game, Duels of Eternity, to attract traditional and casual gamers onto the blockchain and will rise 450% in price during its presale.
Tamadoge: a platform that blends the impressive properties of meme coins, the metaverse, NFTs, and play to earn gaming to produce a unique crypto gaming ecosystem and one of the most hyped crypto gaming coins (TAMA).
Battle Infinity: an extensive selection of blockchain-powered dApps centered around the IBAT utility token. Featuring a comprehensive play-to-earn crypto game arena, a digital marketplace for NFTs, and a finely tuned token economy. Battle Infinity is shaping up as one of the best games to earn crypto.
Lucky Block: an intuitive crypto competitions platform that leverages the unique capabilities of NFTs to make its games more exciting, rewarding, and accessible. Featuring the popular crypto game coin and reward token known as LBLOCK.
Illuvium: an AAA-grade open-world gaming title that features collectible digital monsters, auto-battle gameplay, NFT land, a unique battle wagering system, and top-quality graphics. It is widely picked as one of the best play-to-earn crypto games currently in development.
How to Play Crypto Games
Today, there are a huge number of top crypto games available, some of these are free play-to-earn crypto games while others have a small investment requirement.
The sections below show users how to access the Lucky Block casio site and sportsbook.
Step 1: Head over to the Lucky Block website and enter your email address and create a password.
Step 2: Deposit at least $1 worth of cryptocurrency. This can be done by accessing a cryptocurrency wallet and transferring the funds to the Lucky Block site. Alternatively, users can access the On-Ramp functionality on Lucky Block and directly use fiat payment methods to buy crypto.
Step 3: Choose the respective markets you wish to bet on Lucky Block and click on 'Place Bet' to complete the process.
Conclusion
Gaming is, without a doubt, one of the most promising applications of blockchain technology.
With the potential to disrupt the $190 billion global gaming industry, crypto games are quickly being recognized as arguably one of the most lucrative areas to invest in for 2023.
With that in mind, we've covered 15 of the very best crypto games that have an excellent chance of achieving staggering growth in the near future.
Lucky Block (LBLOCK) is a popular cryptocurrency ecosystem which has just released its own casino site and sportsbook.
On Lucky Block, players can deposit $1 and access slots, sports gaming, eSports, live casino games and more, as well as earn up to 15% cashback on losses.
FAQs
Can you earn money by playing crypto games?
Unlike most traditional games, it is possible to earn crypto gaming coins like AXS, ALICE, TAMA, and more simply by playing crypto games. This type of game falls under play to earn umbrella, which defines a class of games that provide crypto game coin rewards based on player achievements and performance.
What are the best crypto games?

The blockchain gaming and GameFi landscape is evolving rapidly, but it is widely acknowledged that the best crypto games are those with long-term potential and a large potential player base. Projects that allow users to earn crypto playing games frequently count among the most promising. These include established picks like Lucky Block, Meta Masters Guild, RobotEra, Calvaria, Axie Infinity, Splinterlands, and Gods Unchained. There are also a growing number of crypto games for iOS and other mobile operating systems, making them more accessible than ever before.
What games can I play to earn real crypto?
With more than 1,500 blockchain games to earn crypto with, there are options available for practically everyone. This includes crypto games for Android and iOS like Axie Infinity, metaverse games like Tamadoge and The Sandbox, as well as NFT games like Lucky Block and Silks.
What is the best gaming crypto?
The crypto gaming landscape is growing fast and there are now several projects in the running for the best gaming crypto title. This includes the well-known and widely played Lucky Block, Meta Masters Guild, RobotEra, Calvaria, Axie Infinity, as well as the up-and-coming RobotEra and Calvaria.
Are blockchain games free to play?
There is currently only a handful of free play to earn crypto games. Most blockchain games require a small investment to get started. Notable free-to-play blockchain games include My Neighbor Alice, Splinterlands, and Gods Unchained. For fans of this genre or those looking for the best crypto investment, Nakamoto games develop a wide variety of both free-to-earn and play-to-earn games.
What is the number one blockchain game?
Axie Infinity is currently the top crypto game by market capitalization, whereas the ​​best play-to-earn crypto games include RobotEra, My Neighbor Alice, Illuvium, and The Sandbox.
What's the best game to earn bitcoin?
Right now, the vast majority of P2E crypto games do not pay out rewards in Bitcoin. That said, the first games to pay users in Bitcoin are currently in development, including Nova MiningVerse — an ecosystem of top crypto games that allow users to mine BTC by playing. Some other leading Bitcoin mining sites include Copium Protocol and ECOS.
---