Best Crypto to Buy Today 9th January – FGHT, GALA, D2T, SOL, CCHG, ZIL, RIA, ADA
The cryptocurrency market has risen by 3.5% in the past 24 hours, leaving behind a disappointing start to the year as it reaches a total cap of $887 billion. This figure represents a 6% rise in a week, although the market's value is much the same as it was a week ago, undermining any claim that today's jump means it has turned a corner.
While the market as a whole has risen by 3%, a significant number of altcoins have comfortably surpassed this percentage. This article collects them into a list of the best cryptos to buy today, while it also incorporates a number of fundamentally strong tokens that are holding their respective presales.
Fight Out (FGHT)
Currently holding one of the most exciting new presales in the crypto ecosystem, Fight Out (FGHT) is a move-to-earn platform that combines real-life workouts with Web3. Running on Ethereum and aiming to go beyond earlier M2E platforms such as STEPN, it will track and reward a wide range of workouts, including boxing, weightlifting and yoga, while also offering a range of in-app and IRL courses at its own branded gyms.
Its token sale opened in December and has already raised over $2.7 million, with 1 FGHT selling at $0.0166 (this will increase in the later stages of the sale). This figure is an indication of just how popular it could become when it launches, and of how much FGHT may gain once it lists on exchanges.

Visit Fight Out Now
Gala (GALA)
At $0.03738092, GALA has risen by a whopping 56% in the past 24 hours. This also marks a 121% jump in a week and a 44% rise in the last 30 days.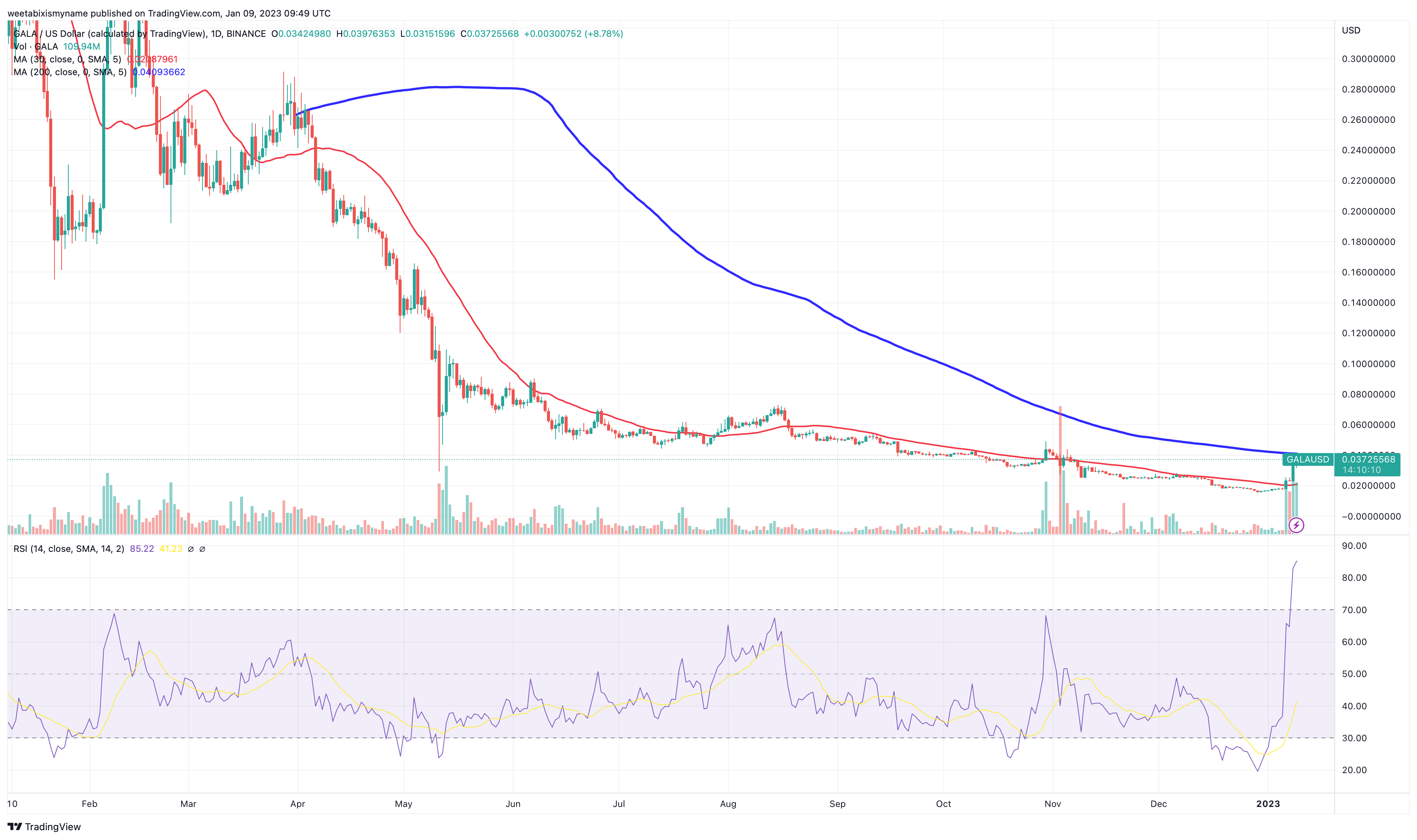 GALA's indicators reveal considerable momentum, with its relative strength index (purple) shooting to nearly 90 this morning. In parallel, its 30-day average (red) has turned upwards and has likely begun an ascent towards its 200-day, signalling the start of a rally.
There's a very clear reason as to why Gala has surged today: it has just announced that it's developing 2 films with Dwayne 'The Rock' Johnson and Mark Wahlberg, with Gala Games hinting that these two titles will be integrated with certain "digital items" that will require GALA (as gas) to acquire.
On top of this, Gala also announced in the past couple of days that it had acquired a mobile games stuido (which still remains unnamed), adding to the sense that 2023 could be a very big year for the platform and its native token.
Dash 2 Trade (D2T)
Another promising new presale, Dash 2 Trade is a trading intelligence platform set to launch in the next few months. Its innovative Ethereum-based dashboard will provide real-time analytics and social trading data, giving investors of all experience levels all the resources and tools they could need to make better trades.
The sale of its D2T token has raised over $14.6 million and has actually sold out, although there's currently an overfunding round before it lists on Wednesday. Confirmed support has already come from BitMart, Changelly Pro, Gate.io and LBANK Exchange, suggesting that early investors may be in for a big pump in a couple of days.
Solana (SOL)
SOL is up by 20% in the last 24 hours, having jumped to $16.32. This is a 63% rise in a week and a 20% increase in the last 30 days, boosted largely by the arrival of the BONK meme token, which runs on Solana.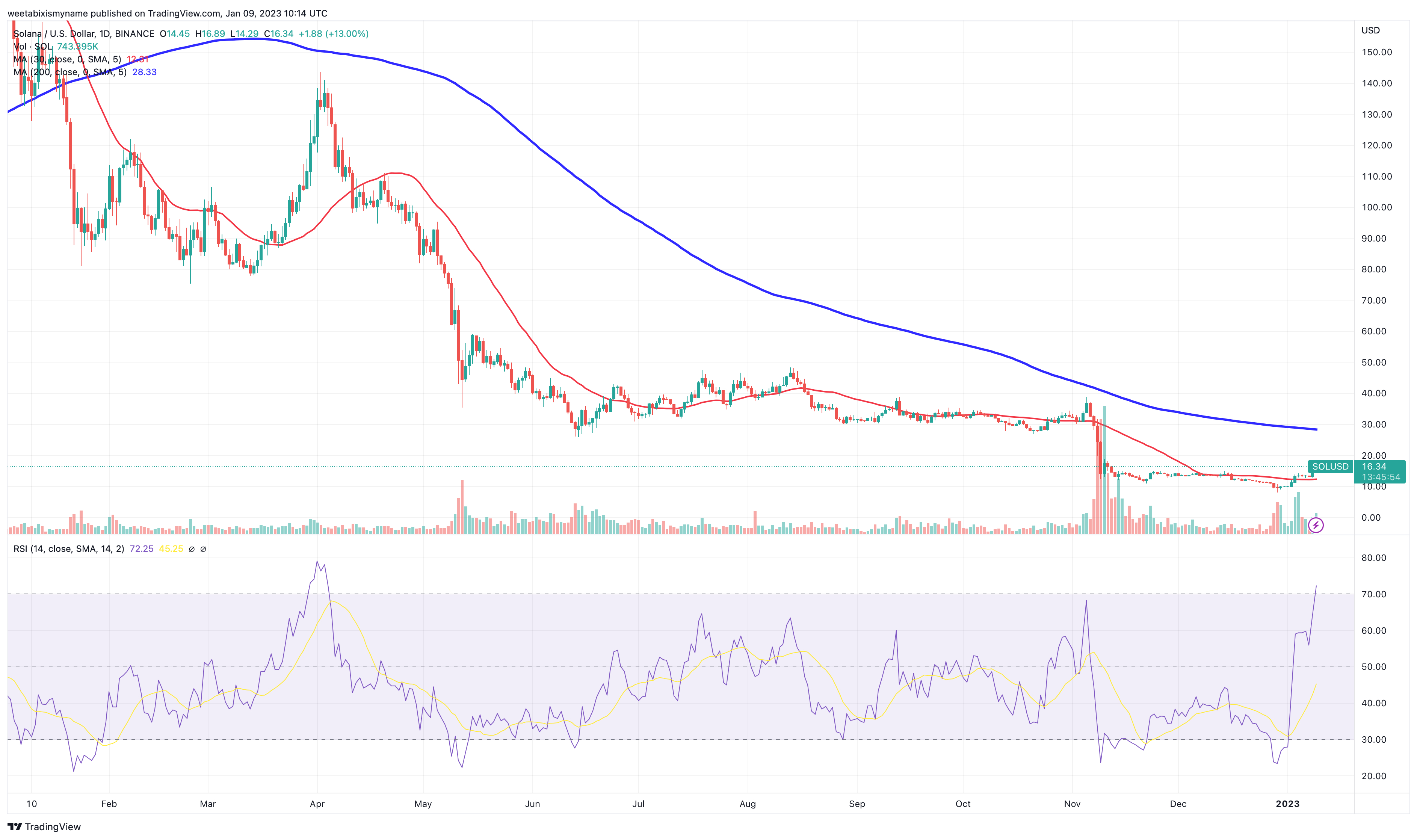 SOL's show a very steep climb upwards, counteracting weeks of negative price action that may have finally bottomed out. Its RSI has just passed 70 and could rise higher, while its 30-day moving average is just about to begin rising, suggesting a rally.
It's arguable that a big SOL rebound has been long overdue, seeing as how it had been so disproportionately impacted by the FTX collapse. When combined with the new BONK token (which has had more transactions alone than Ethereum over the past few days), it's perhaps not surprising that it's rising more than most other major coins during the current spike.
C+Charge (CCHG)
Running on BNB Chain, C+Charge (CCHG) is a peer-to-peer payment network for electric vehicle (EV) charging stations, one which aims to democratize access to carbon credits. It began its presale in December, with CCHG set to be used within its network by EV owners to pay to charge their vehicles.
C+Charge will also reward users with carbon credits for charging their EVs at its stations, while the platform has already signed a deal with Perfect Solutions Turkey, adding 20% of the EV chargers in Turkey to its network. This indicates how quickly it's already moving ahead, and how big it could become once it launches later this year.
Zilliqa (ZIL)
ZIL is another altcoin doing unusually well today, rising by 50% in the past 24 hours. At $0.0264730, it's also up by 63% in a week, and by 18.5% in a month.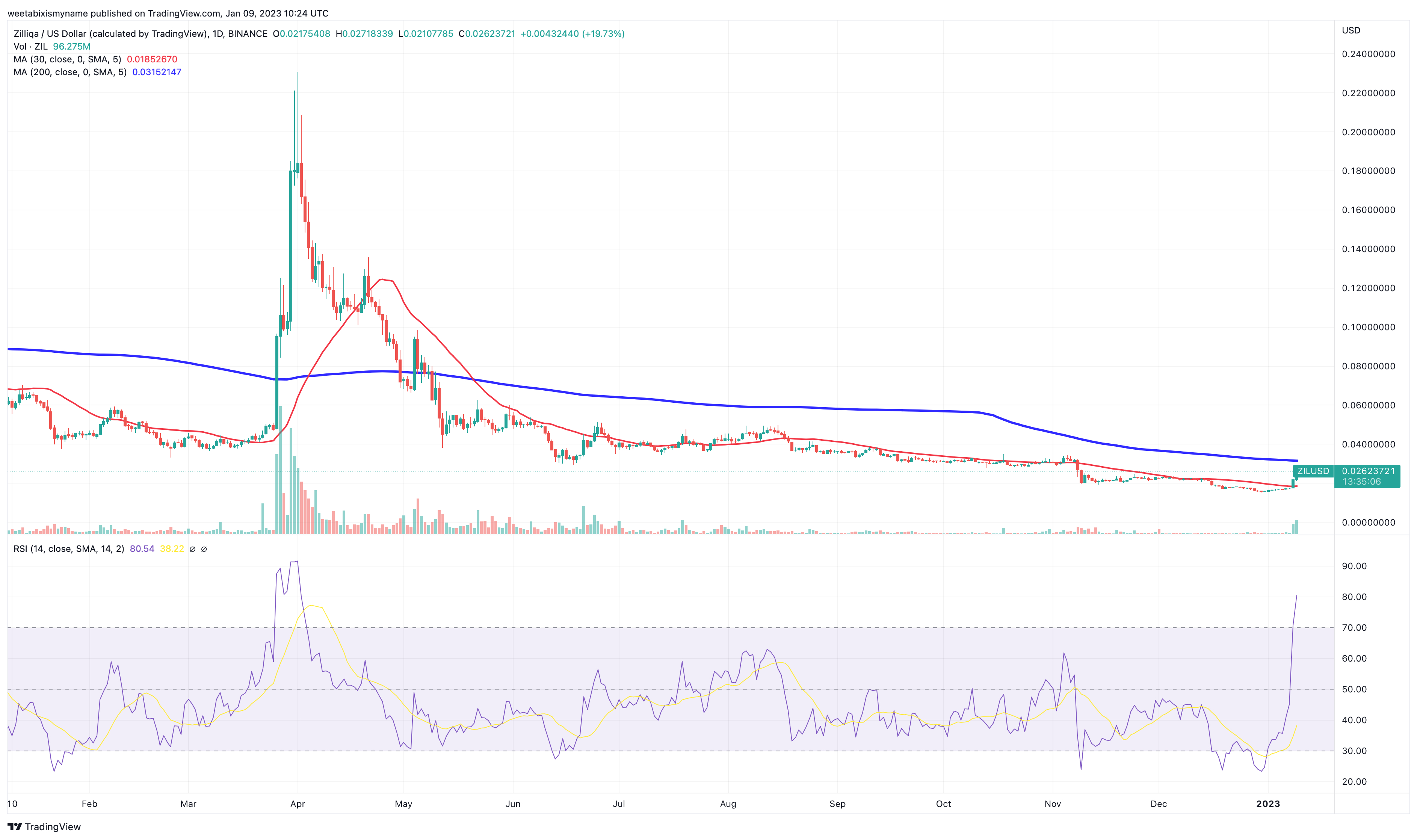 As with the other altcoins featured in this article, ZIL's RSI has rocketed upwards in the past few hours and looks set to rise a little higher still (before inevitably coming back down). As with most other coins in the market, it remains undervalued relative to its status as a fast layer-one blockchain network.
There seems to be no fundamental reason as to why ZIL is rallying today, although the Zilliqa network has been enjoying steady organic growth over the past few weeks and months. For example, address counts have risen by 50% since the start of last year, while smart contracts deployed on its chain have risen by 21%.
This organic expansion suggests that ZIL may finally be catching up with its 'true value,' although with the macroeconomic picture still uncertain, it's hard to say how it sustainable its rally will be.
Calvaria (RIA)
Having raised over $2.7 million, the play-to-earn (P2E) battle card game Calvaria is now in the final stage of its token offering. There are only 13% of available RIA coins remaining, meaning would-be participants have only a limited window of opportunity to invest early.
Available on PC and mobile app stores, Calvaria is striving to take the play-to-earn filed forwards, with gamers not actually needing any cryptocurrency to play it. This makes it an ideal entry point for newcomers to crypto and P2E, and may prove popular than many of its rivals.
As such, the game comes in Free-to-Play and Play-to-Earn versions. Its game world is set in a mythical afterlife, where players can earn and upgrade collectible cards used to battle with different factions in the game's universe. Based on the latest updates, its alpha version is due to go live in the next quarter of 2023.
Cardano (ADA)
ADA has gained by 15% in the last 24 hours, with its current price of $0.325847 also representing a 30% gain in a week and a 25% rise in a fortnight. That said, it's only 5% up in the past month, while remaining 89% down since reaching an all-time high of $3.09 in September 2021.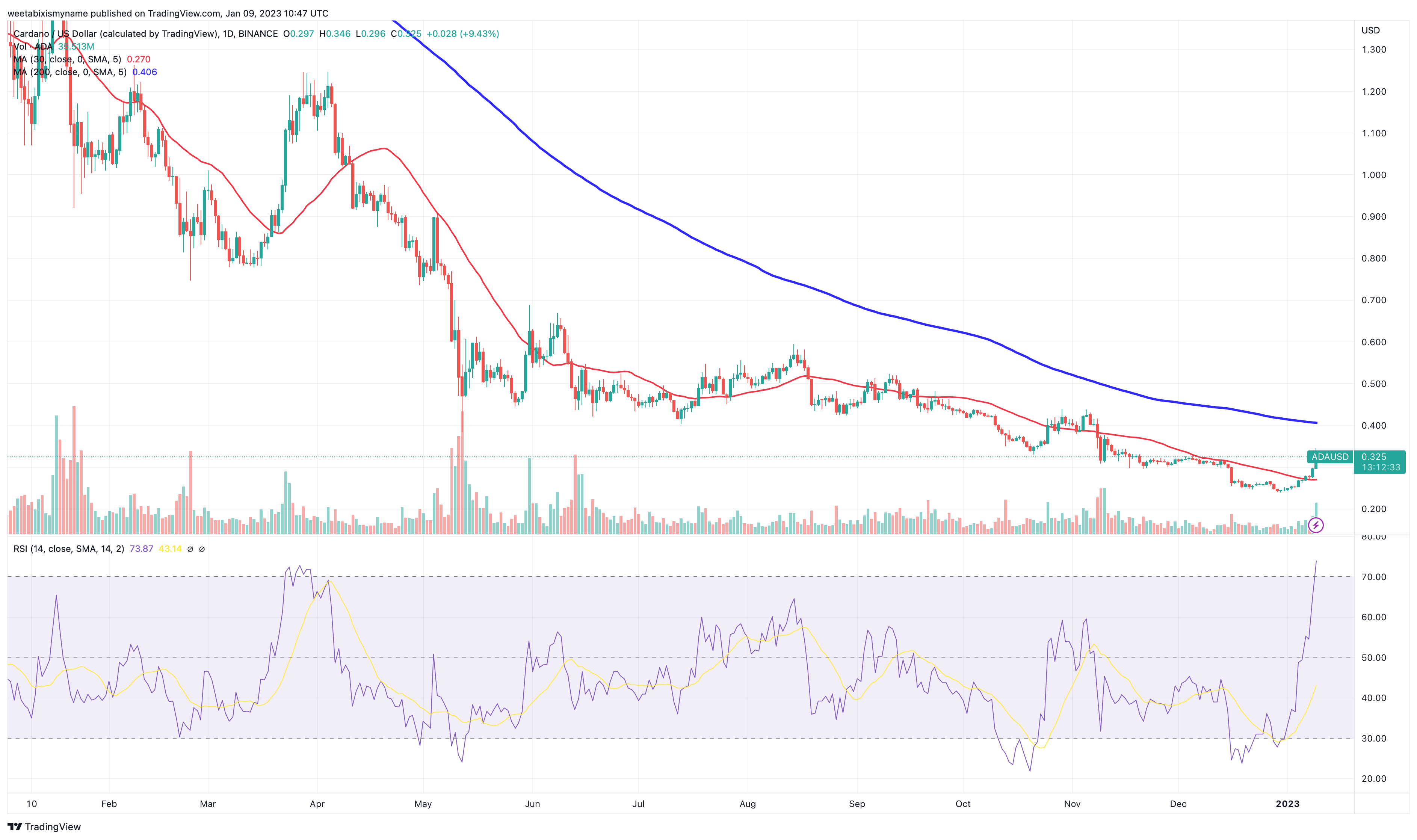 ADA is another coin witnessing a massive spike in momentum after a couple of months of being oversold and undervalued. With its RSI still at 70 and its 30-day average yet to overtake its 200-day, it still has plenty of room for further gains.
More fundamentally, ADA is arguably one of the most undervalued coins in the market. With Cardano continuing to witness steady development and expansion, it could become much more valuable in the not-too distant future.
For instance, Cardano boasts over 1,100 projects currently under development on its network, including 111 already launched and working. This is in addition to nearly 5,000 Plutus scripts (i.e. smart contracts), testifying to its growing activity.
In light of this, ADA is potentially a sleeping giant, and if the wider market continues to improve, it could be one of the chief beneficiaries.
---