Best Crypto to Buy Today 8 March – LHINU, CFX, FGHT, IMX, METRO, CCHG
Disclosure: Crypto is a high-risk asset class. This article is provided for informational purposes and does not constitute investment advice. By using this website, you agree to our terms and conditions. We may utilise affiliate links within our content, and receive commission.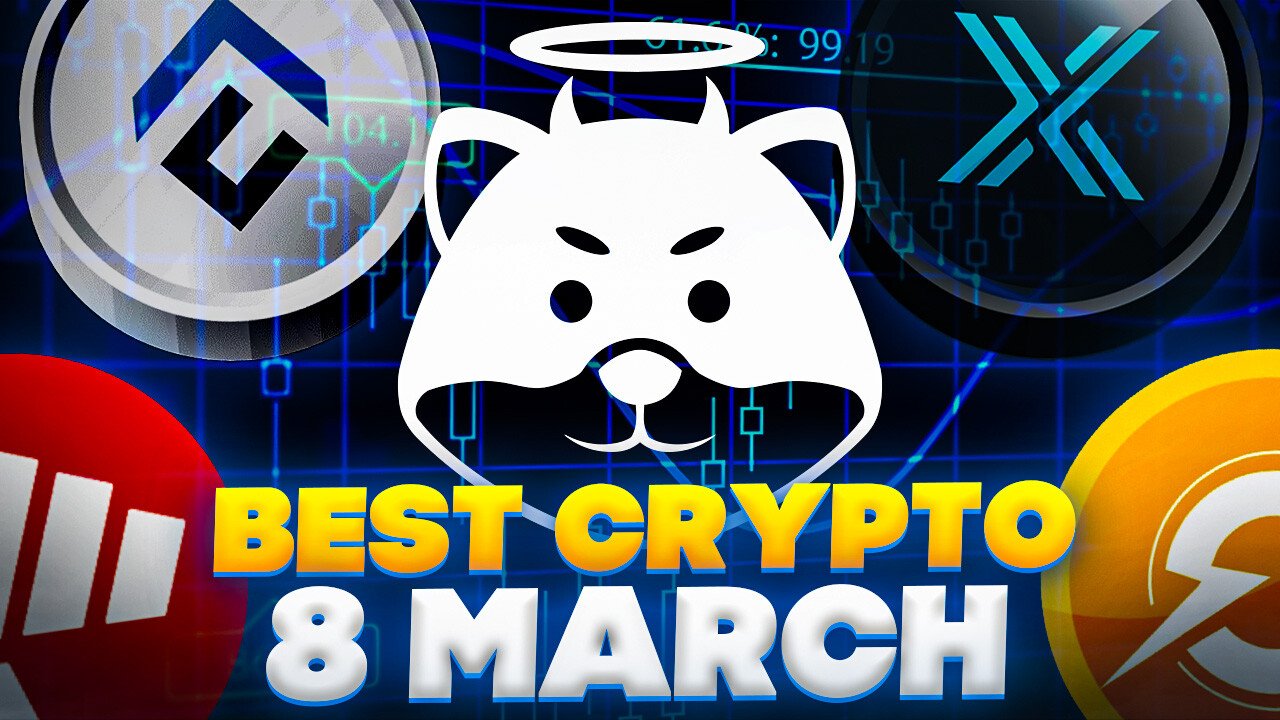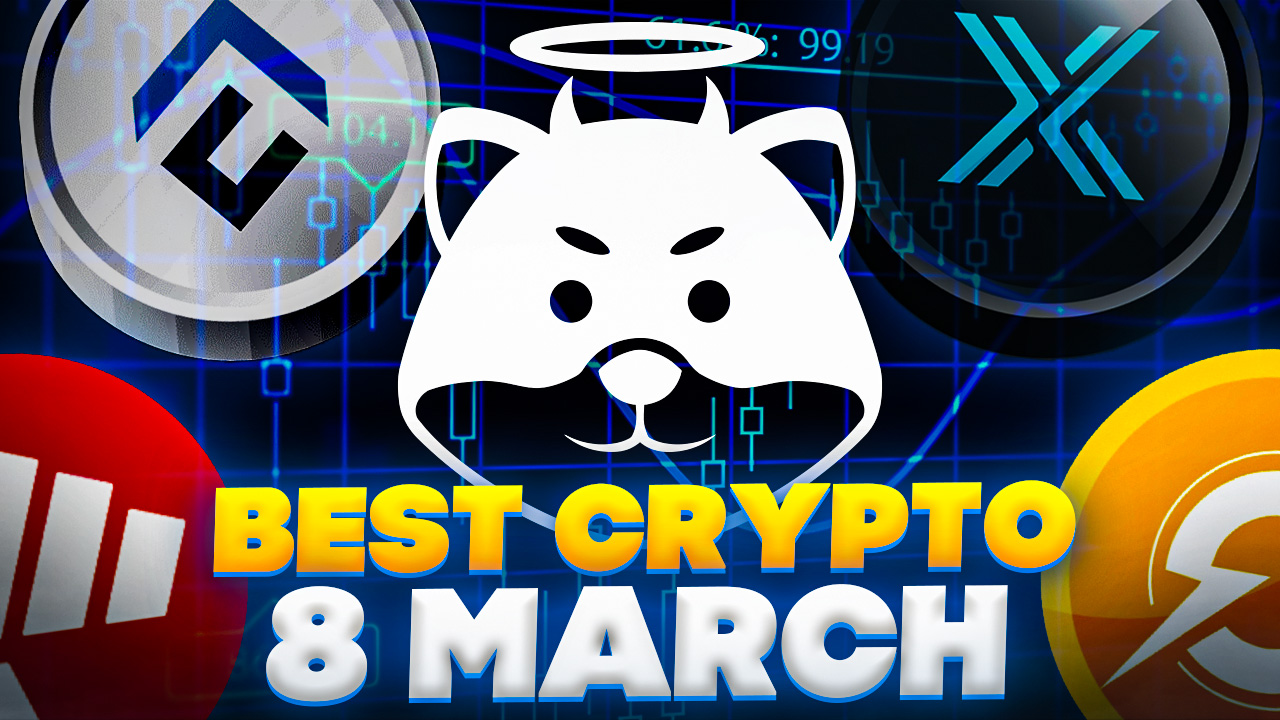 The cryptocurrency market, including Bitcoin, experienced a decline after Federal Reserve Chairman Jerome Powell's testimony to Congress on Tuesday, indicating the need for higher interest rates to tackle inflation amid the quick bounce back of the US economy from the pandemic.
As Bitcoin hovers around $22,000, marking a three-week low, what are the best cryptos to buy today?
https://www.twitter.com/business/status/16334522733711728641
Investors worry that the Fed's actions may erode the appeal of risk assets, including digital currencies like Bitcoin, which have had some bullish moments since the start of the year despite inflation and economic uncertainty.
Ethereum, the second-largest cryptocurrency, also suffered a decline, registering an intra-day low of $1,547 on Tuesday. It is currently trading at $1,559 with a decrease of 0.18% so far today.
According to Coinmarketcap's BTC/USD price analysis, BTC's price is currently being traded at $22,158, with a trading volume of $25 billion for the past 24 hours.
Powell's testimony and the resulting market uncertainty have caused investors to exercise caution, and the future direction of the crypto markets in the coming weeks and months is uncertain.
Given the current market uncertainty, investors are advised to exercise caution and consider both fundamental and technical analyses when choosing investment options. Based on these analyses, some cryptocurrencies, including LHINU, CFX, FGHT, IMX, METRO, and CCHG, may be among the best crypto to buy today.
Love Hate Inu Gaining Popularity on Social Media
Love Hate Inu (LHINU) has launched a new Vote-to-Earn platform, where users are rewarded in cryptocurrency for voting and staking tokens. The platform allows users to participate in voting polls on a variety of topics, including politics, entertainment, and social issues, and earn valuable tokens for doing so.
The voting system is based on blockchain technology, ensuring that the process is transparent, secure, and fair. Users can buy tokens using fiat or cryptocurrency, and the platform is designed to prevent spam and manipulation.
Love Hate Inu is built on the Ethereum blockchain and is subject to rigorous testing and auditing to ensure its security. The platform has already generated significant interest on social media, with its fun and shareable character illustrations.
Good morning everyone! 🌞

Welcome to the world of #LoveHateInu! 🚀🐶

If you're a fan of #meme #tokens that actually provide #utility, then you're in the right place!💰💡

Follow our official account for more content coming soon! 🔜👀#crypto #votetoearn #nftcommunity pic.twitter.com/obdfYrjByP

— Love Hate Inu (@LoveHateInu) March 8, 2023
LHINU is a utility meme coin, offering secure, reliable, and anonymous voting, encouraging healthy discussion on current topics. The project aims to disrupt the online survey market by introducing the first blockchain-powered voting platform capable of recording immutable results via distributed ledger technology.
The project's presale is divided into multiple stages, each lasting for a week, with the next stage seeing a price increase for the LHINU token. The presale of 90% of tokens ensures that the majority of tokens are distributed to the community members who believe in the project, and the remaining 10% will be used for exchange listings.
The project has already raised an impressive amount, with the presale having generated over $106k out of the total target of $956,250 in the first stage. The quickly growing interest in the project makes it one of the best cryptos to buy today.
Conflux (CFX)
Conflux (CFX) is gaining prominence as a Layer-1 blockchain network for decentralized applications (dApps) that require versatile and high-demand services. The platform's in-house digital asset, Conflux (CFX), is a multi-functional coin that facilitates staking and fee payments.
Amazing new Partnership with @Conflux_Network🎉
#Galaxy Blitz is the only large-scale GameFi project invested in by the Conflux Foundation and will carry out an in-depth long-term cooperation with Conflux.

Pre-Register for Galaxy Blitz game launch: ↙️https://t.co/9MY6DptFRD pic.twitter.com/3V8lROjwAR

— Galaxy Blitz (@GalaxyBlitzGame) February 27, 2023
In February, CFX witnessed a phenomenal surge, skyrocketing by an incredible 259%, fueled by the network's strategic partnerships with Galaxy Blitz, a renowned play-to-earn game, and China Telecom, which is set to introduce blockchain-based SIM cards.
On February 7, CFX once again emerged as one of the top-performing cryptocurrencies, closing with an impressive gain of 10.24%. However, CFX's price was rejected at $0.2240, and it has since lost most of the gain from the previous day.
Currently, CFX's price is trading at $0.1952, indicating a loss of 11.24% for the day. An analysis of its February 13 to February 21 performance using Fibonacci retracement levels shows that the Fib 0.618 at $0.1706 could provide significant support if the price declines further.
The Fib 0.382 level at $0.2456 has acted as an immediate resistance, with the price being rejected multiple times between February 25 and March 1. Traders and investors are advised to exercise caution and wait for further market developments before making any decisions.
Fight Out Enters Ring With Fitness and Fantasy Sports Platform
The Fight Out platform is an innovative new way to merge the realms of fitness and fantasy sports. By allowing users to build virtual squads of fighters and wager on actual fight results, it creates an unparalleled level of immersion for conventional fantasy sports players.
https://www.twitter.com/FightOut_/status/1633422972772818944/photo/1
The platform is built on the concept of move-to-earn (M2E), a popular fitness industry trend. Fight Out takes the experience to an entirely new level, merging fantasy sports with NFT avatars and granting users the ability to participate in virtual fights.
Fight Out also provides an extensive fitness solution with plans to roll out Web3-powered gyms all over the world. These gyms will have state-of-the-art equipment and Web3-powered features like digital mirrors and sensors to track workouts.
Users have the opportunity to acquire REPS tokens by finishing their workouts and competing for even more tokens with other fitness enthusiasts. These tokens can be exchanged for markdowns on app subscriptions, gym access, one-on-one coaching, and merchandise.
Exceeding $5.3 million so far during its FGHT token presale, Fight Out is drawing global interest as one of the best cryptos to buy today.
Immutable X (IMX)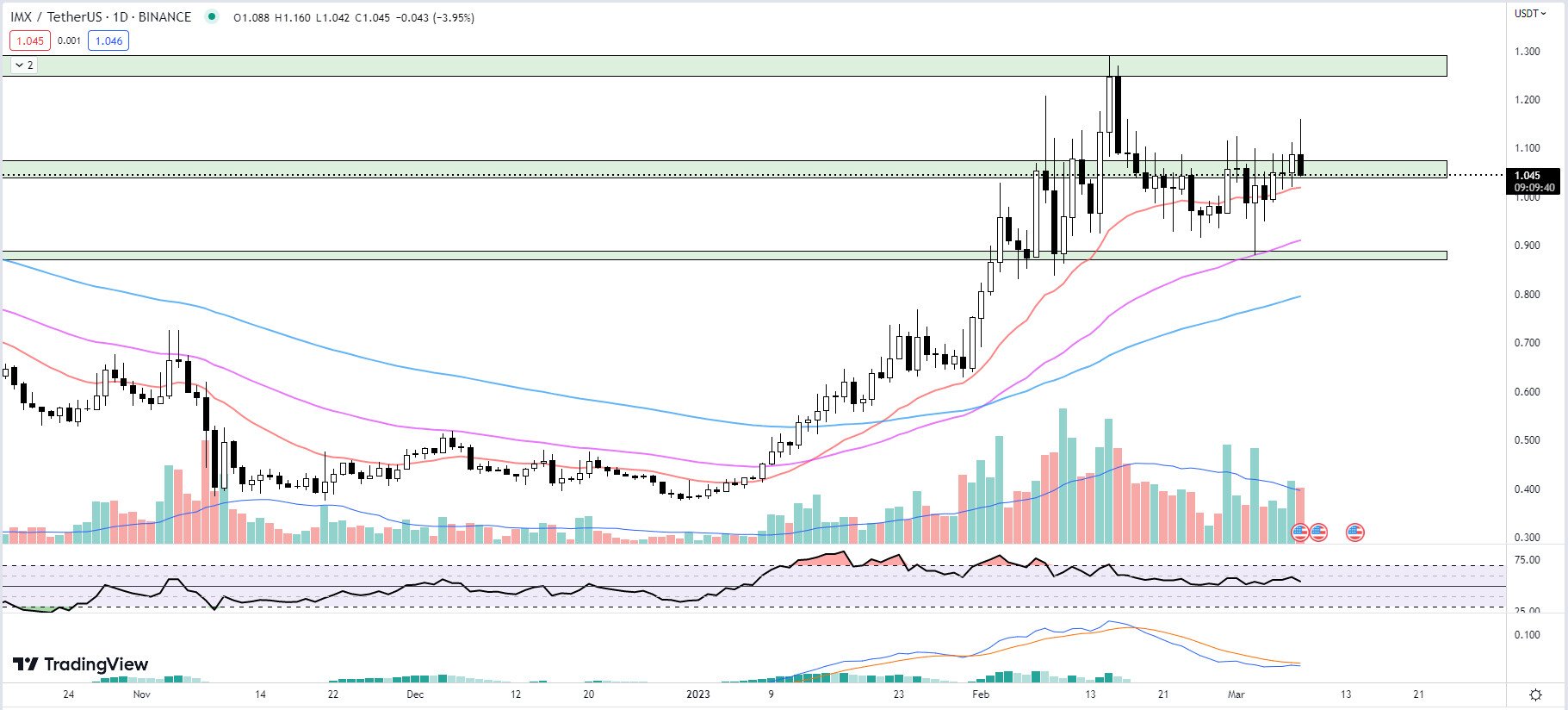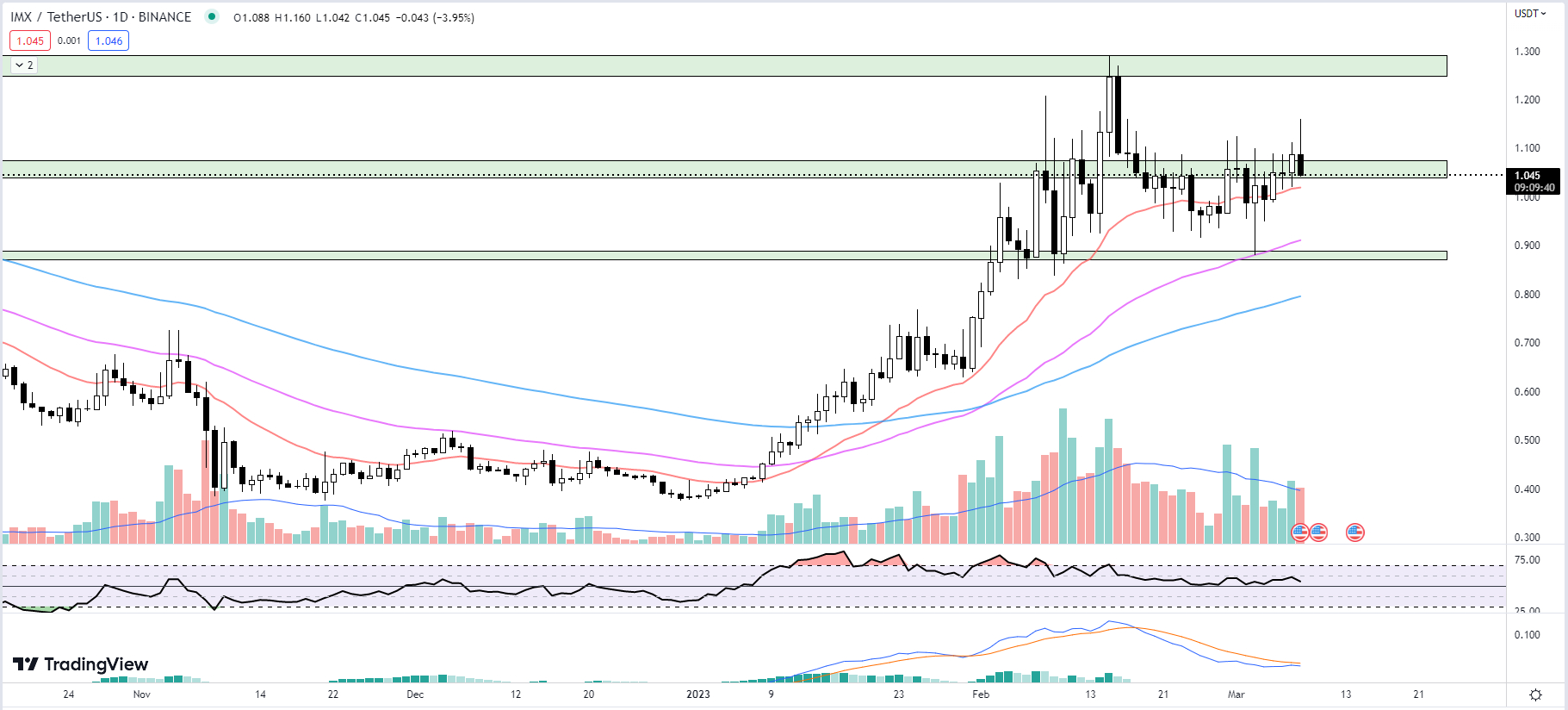 The price of the Immutable X (IMX) cryptocurrency has been on a steady upward trend recently, gaining 3.52% as it bounced off the 20-day EMA yesterday and closing at $1.088. This increase in value of over 23% from its lowest point this month can be attributed to the launch of Illuvium, a new interactive adventure and collectible game built on the Immutable X platform.
Illuvium: Beyond is officially live and the world of @illuviumio is expanding with their Illuvitars!

Join the Illuvium universe with their D1SKs as they contain random Illuvitars and accessories #onIMXhttps://t.co/JsDo9vbllw pic.twitter.com/lDQLRcaFXk

— Immutable (@Immutable) March 7, 2023
Despite attempting to break out from the horizontal resistance range of $1.308 to $1.076 and reaching an intra-day high of $1.160 earlier today, IMX has fallen back into the range it has been in for the past 19 days. The current price of IMX is $1.045, indicating a loss of 3.95% for the day.
The dynamic support of the 20-day EMA, which is currently at $1.019, may provide immediate support for IMX. The immediate resistance remains in the horizontal range of $1.308 to $1.076, followed by $1.160 where the price was previously rejected on February 17 and earlier today.
Metropoly Is The Revolutionary Real Estate NFT Marketplace for Crypto Investors
Metropoly is disrupting the real estate industry by offering real estate NFTs representing real property that are attracting investors looking for accessible investment opportunities. The platform eliminates typical investment hurdles such as credit checks, substantial upfront payments, mortgages, and paperwork.
Investors can receive passive income from automated rental payments, and investment management is made more accessible through real-time data and analytics. The platform's immediate liquidity also allows investors to sell their properties instantly or join an auction to obtain the highest bid.
Metropoly's NFTs for real estate are a unique concept in the industry, with each token illustrating a fraction of a physical property. The beta version of the platform is now available, demonstrating the company's commitment to a brighter future.
Metropoly has strengthened its presence in the cryptocurrency investment community by establishing strategic partnerships with ChainAdoption, Tenset, and more than 20 crypto influencers.
For crypto investors seeking to diversify their portfolios, Metropoly's NFTs provide an alluring choice with an entry point of just $100.
We have crossed $600,000 in the presale so far! 🤑

Your chances of buying $METRO at a bonus price are running low as we have almost reached our target! But you still have a chance so buy in now! 🔥https://t.co/tpOwICvgol pic.twitter.com/FoSd9bl7RH

— METROPOLY (@metropoly_io) March 7, 2023
Metropoly's presale is picking up steam, generating nearly $605K so far.
C+Charge: Shockingly Simple EV Charging and Carbon Credits
As the demand for electric vehicles surges, there is a growing need for more charging infrastructure. C+Charge has initiated a blockchain-driven platform that provides an eco-friendly solution to this issue.
The objective of the platform is to construct new charging stations while working together with current ones to establish a network that facilitates customers in easily identifying nearby charging stations and paying through the CCHG token.
Are your transactions secured with C+Charge?

Payments made with $CCHG #tokens are hash-encrypted using SHA-256

The copies of transaction details are accessible to everyone, however, they can't be changed

Join our #presale today⬇️https://t.co/ixe18bPqzI#ReFi #Crypto pic.twitter.com/NIL5RKOnGk

— C+Charge (@C_Charge_Token) March 8, 2023
C+Charge also offers its users the unique chance to earn carbon credits in the form of Goodness Native Tokens (GNT), which can be readily exchanged on their application.
The C+Charge presale has raised more than $2.6 million so far and its token price is set to increase soon, so grab your tokens before the next presale stage for the best deal.
---