Best Crypto to Buy Today 27th February – FGHT, STX, METRO, NEO, CCHG, SNX, TARO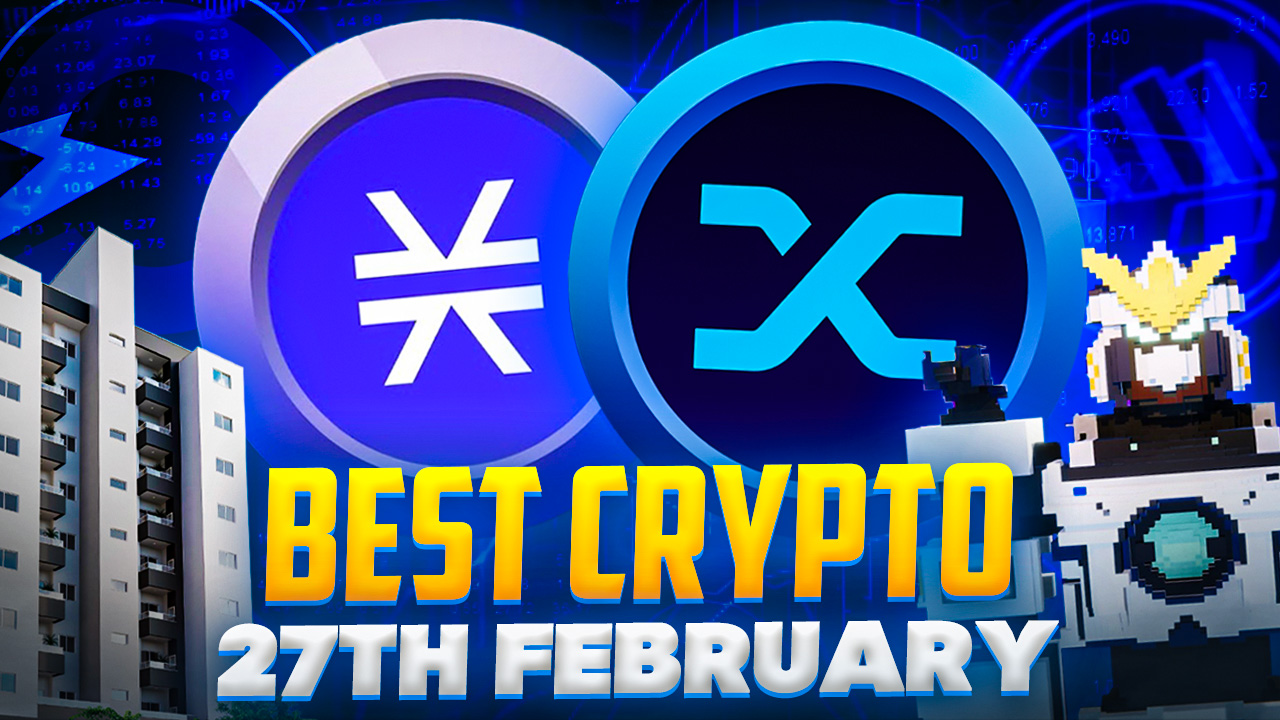 Investors looking for the best crypto to buy today are keeping a close eye on the cryptocurrency market as it prepares for a significant week of economic data. Later today, the United States durable goods orders are set to be released, followed by consumer confidence figures on Tuesday.
Bitcoin is currently trading below the $24,000 mark at $23,362, up 0.83% for the day as of writing. Meanwhile, Ethereum has had an impressive start to the week, breaking out on Sunday and surging above $1,600. Ethereum is currently trading at $1,631 with a 1.79% gain so far for the day.
Taking into account fundamentals and/or technicals, FGHT, STX, METRO, NEO, CCHG, SNX, and TARO are the best cryptos to buy today in the current macroeconomic climate.
Fight Out Fitness App Innovates with Web3 and M2E Tech
Fight Out is looking to disrupt the fitness industry with their pioneering Web3 and move-to-earn (M2E) technology, devising much needed solutions to current issues faced by everyday gym members such as high dropout rates and lack of motivation.
IHRSA reports that half of new gym members decide to quit within six months due mainly to a lack of motivation, connection, and personalized customer service. Since the onset of COVID-19, many gyms have had no choice but to close temporarily or even permanently; this has left a great number of customers without access or options for fitness services—with some countries experiencing closures as high as 40-50%.
Fight Out offers a comprehensive solution to those looking for an alternative, including a personalized NFT avatar showcasing fitness stats and custom workout plans, as well as REPS token rewards. These tokens can be redeemed for discounts on merchandise subscriptions and gym memberships, among other things.
In the fourth quarter of 2023, Fight Out will open its first gym equipped with Web3 tech such as digital mirrors displaying user profiles, and sensors tracking workouts for personalized advice.
This environment of community, individualization, and goal-oriented motivation is sure to make an impact in the fitness app market.
Investors can currently take advantage of up to 63% bonuses during the presale. The FGHT token has already reached nearly $4.8 million raised and is continuing.
Stacks (STX)
The popularity of Bitcoin-based non-fungible tokens (NFTs) continues to soar—and the Stacks (STX) token, which powers a blockchain solution that integrates smart contracts and decentralized apps (DApps) into Bitcoin, has benefited greatly.
As a result of the market excitement around Bitcoin-based NFTs, the price of STX has surged by more than 212% in the past month, from around $0.2660 to $0.92 as of writing, up by 18% so far for the day. The immediate resistance for the STX price is the psychological level of $1. Immediate support may be found at the swing low of $0.65.
Despite the recent price surge, STX remains 70% below its all-time high of $3.2560, recorded in December 2021. STX is currently ranked #43 on CoinMarketCap and is the top gainer overall, with a trading volume of roughly $511 million over the past 24 hours.
Metropoly's NFT Marketplace Brings Instant Liquidity and Passive Income
Metropoly's upcoming NFT marketplace is on the verge of disrupting real estate investments. Their unique fractional ownership model allows people to purchase properties anywhere in the world and have them managed by Metropoly with no requirement for credit score, down payment, mortgage or paperwork—making it easier than ever before to get started in real estate investing, with just $100 needed to buy in. Additionally, investors can enjoy passive income through automated rental payments, which provides a steady stream of revenue.
The traditional real estate market is also hampered by liquidity issues, but Metropoly provides a quick solution. Investors can choose to receive 70% of their property's value and sell their real estate NFTs instantly, or take part in an auction to receive the highest bid, aided by real-time analytics and data.
Metropoly hopes to expand its services to include other resource classes in the future such as gold, stocks, and art.
The company's NFT marketplace brings real estate investment to everyone with all NFTs backed by actual properties. Notable features like fractional ownership, immediate liquidity and real-time analytics make it stand out in the field and make it poised to reinvent the real estate industry as we know it.
More than $563K has already been raised during the presale period of METRO tokens, which will be sold at 9 increasing price stages—meaning now is a great chance to purchase some before the cost rises—making METRO one of the best cryptos to buy today.
NEO
NEO is making a strong bullish recovery, beginning an uptrend after bouncing off the Fib 0.618 level of $11.04, and is currently trading at $13.34. NEO's price is looking to take the next step in its recovery by breaking out from the Fib 0.236 level of $13.98. The 20-day, 50-day, and 100-day EMAs are at $11.02, $9.52, and $8.73 respectively. With the current price trading above all these significant EMA levels, the EMA indicates a strong bull market in both the short and long-term timeframes.
Despite this confidence however, traders are exercising caution as trading volume is lower than yesterday's; immediate resistance at the Fib 0.236 level exists in confluence with a price of $14 while there is immediate support from the Fib 0.5 level in conjunction with horizontal support levels between $12-$12.24. It is therefore recommended to wait for a clear breakout or breakdown before entering any trades.
C+Charge Enhances EV Experience with Blockchain-Based Platform
C+Charge aims to improve the charging and payment experience for electric vehicle (EV) owners through its innovative blockchain-based platform. The rise in EV adoption worldwide necessitates the development of alternative energy solutions that can match the growing demand, but current infrastructure falls short. C+Charge's novel platform has the potential to address this issue.
The company plans to build new charging stations while collaborating with existing ones, enabling customers to pay with the CCHG token and find nearby charging stations quickly. The blockchain technology behind CCHG ensures efficient and transparent payment processing. The platform's app also provides real-time information on local charging options and vehicle diagnostics.
In addition to faster payments, EV owners using C+Charge will receive Goodness Native Tokens (GNT) as carbon credits, which represent verified voluntary carbon credits and can be traded on the app. These tokens are supported by major venture capital firms such as a16z Crypto and Invesco.
The first phase of C+Charge's presale has been a success, raising over $1.18 million. The token's price is set to increase by 10.3% in the next presale stage.
Synthetix (SNX)
The recent launch of Synthetix's V3 on Ethereum and Optimism has caused the trading activity of SNX to skyrocket over the past few weeks. As a result, trading volume has seen a noticeable uptick, although Total Value Locked (TVL) levels have remained stagnant.
Despite this, investors have been encouraged by metrics such as increased demand in the futures market, elevated exchange outflow, and increasing positive user sentiment, which all bode well for SNX's future performance.
SNX is currently trading at $2.720 as it attempts to break out from the horizontal resistance level of $2.720 to $2.797, which has been acting as the resistance area for the majority of the month. If SNX successfully retakes this level, the next potential target is the psychological resistance of $3 in confluence with the previous horizontal resistance area of $3.031 to $3.169, which acted as resistance back in mid-August to mid-September of last year.
RobotEra: High-Tech Metaverse Game Combining VR and NFTs
As the latest frontier of Web3 technology, RobotEra (TARO) provides an unparalleled world building experience, taking Minecraft-like world building to a new level by introducing NFTs with virtual and augmented reality.
The game's straightforward user interface is designed to be easily navigable by gamers at any level of skill and expertise, who will be able to build and customize robots, land, and buildings easily with no coding experience.
With the TARO cryptocurrency that powers the economy within the game, players are able to acquire land, robot NFTs (non-fungible tokens) used in gameplay as well as other assets. As they advance through levels, users can customize their primary robots and companion bots alike – and build structures or revamp landscapes with immense potential for creative expression. Whether you want to build a palace in the sky or a fort in the depths of the earth, the possibilities are endless.
With its innovative idea, user-friendly design and multiple ways to make money, RobotEra has what it takes to captivate a broad audience of gamers – setting itself up as one of the frontrunners in the Web3 gaming sphere.
RobotEra has experienced remarkable success in its token presale, with $956K raised thus far. This places the company on a path towards an optimal launch and makes it one of the best cryptos to buy today.
---