Best Crypto to Buy Today 24 January – MEMAG, FTM, FGHT, CHZ, CCHG
Disclosure: Crypto is a high-risk asset class. This article is provided for informational purposes and does not constitute investment advice. By using this website, you agree to our terms and conditions. We may utilise affiliate links within our content, and receive commission.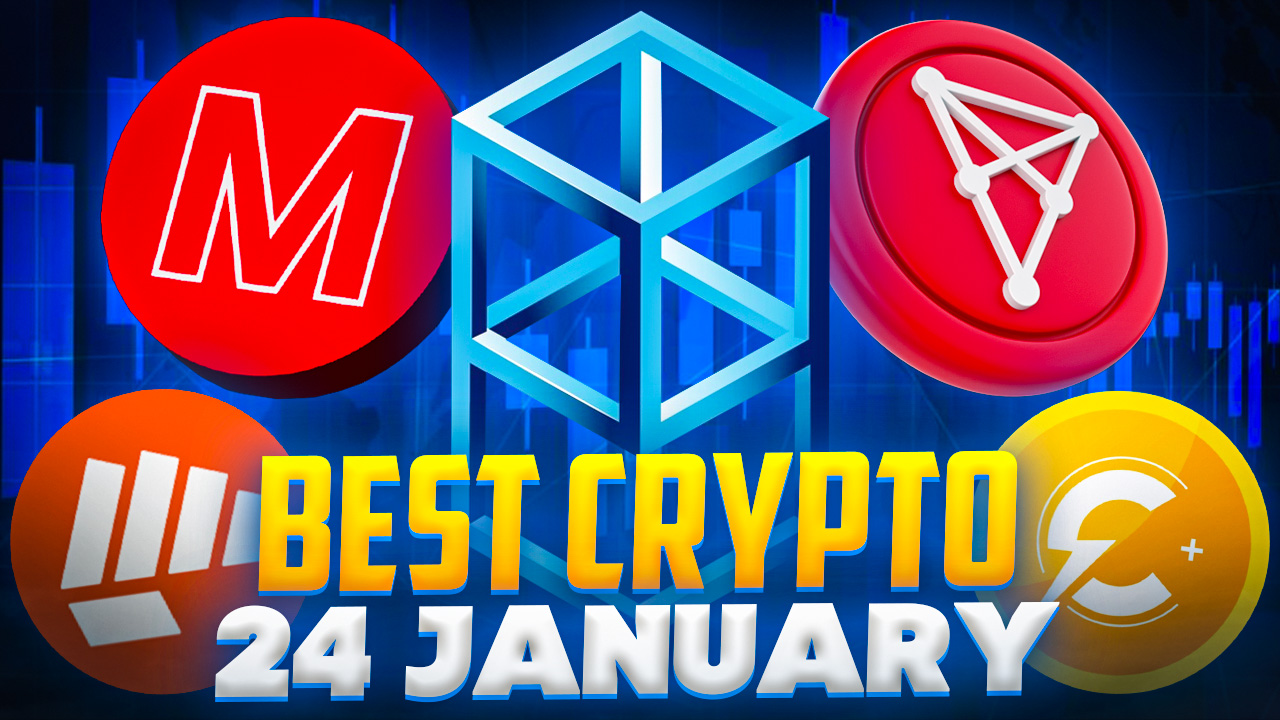 Crypto prices are on the rise again as the rally that began on January 9 enters its third week, showing only mild signs of slowing down amidst rising market optimism. The stock market has also paused on gains from the previous week as investors prepare for a busy schedule of corporate earnings announcements. So, what are the best cryptos to buy today in the current market climate?
Bitcoin (BTC) bulls defended support at $22,600 throughout the morning session and managed to push its price to a daily high of $23,161 in the afternoon. Bitcoin's price is at $22,944 as of writing and is down 0.43% for the day.
If you're looking to enter the crypto markets, large cap coins like Bitcoin and Ethereum could still be worth taking positions in, but it's also worth considering some of the other lower cap best cryptos to buy today based on potential for higher gains.
In light of this, it's worth taking a closer look at MEMAG, APT, FGHT, AXS, and CCHG, which based on fundamental and/or technical indicators, may be worth buying in the current market conditions.
Meta Masters Guild (MEMAG) Makes the Grade for One of the Best Crypto to Buy Today
Get set to revolutionize the way you experience mobile gaming with Meta Masters Guild (MMG). By uniting blockchain technology and a decentralized community, MMG is pioneering the next generation of gaming. Their ambition is to construct an engaging ecosystem that encourages both enjoyment and interaction while resolving modern issues gamers face.
The MMG platform was created to reward players for their hard work in contributing to the gaming ecosystem and will provide them with MEMAG cryptocurrency as well as complete control over all in-game components. Through the unrestricted game economy, they will be able to exchange digital inventory and currency using "Gems" rewards that can then be converted into actual money or items within the game.
MMG seeks to provide a just and open platform that will eliminate unfair practices while at the same time enhancing the overall gaming experience. To begin with, they are developing Meta Kart Racers–a game that can be enjoyed both as PVP or single-player on mobile devices. The company plans to incorporate more state of the art blockchain games into the ecosystem on an ongoing basis.
Crypto investors have seized the opportunity to join in on MEMAG's presale launch, which has already accrued a substantial $1.28 million.
Fantom (FTM)
Fantom (FTM) has followed the crypto market rally with a sizable rise in its price, reaching an intra-month high of $0.4155. The crypto seems to have found support at $0.373 and has faced resistance at $0.4275. Long-term technical indicators reveal a highly bullish outlook for the cryptocurrency, but short-term indicators are alerting traders to the possibility of a trend reversal.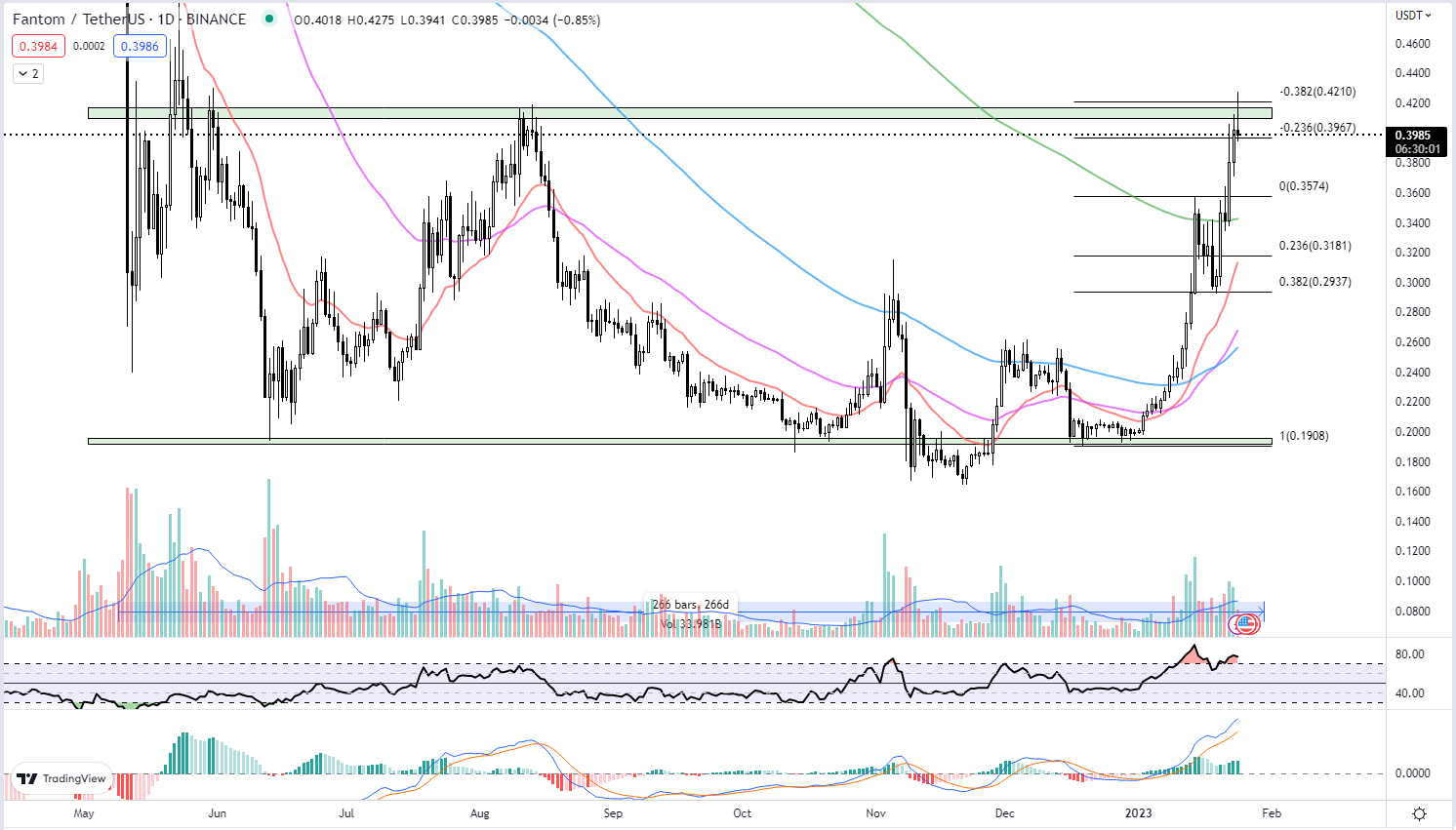 The market capitalization of FTM has increased by 8.26% to $1,147,457,027 due to growing interest, but the 24-hour trading volume has dropped by 6.05% to $377,457,158, indicating a loss of support for sustained positive price action.
Plotting an extended Fibonacci retracement level in its recent swing reinforces the significance of the horizontal resistance levels between $0.4095 and $0.4174. FTM's price is currently trading at $0.3985, within a channel between FIB -0.236 and FIB -0.382.
For the past 266 days, FTM has been ranging from a low of $0.1642 to a high of $0.4343. A clean price break out above the higher range together with volume confirmation could indicate a potential reversal in trend for this cryptocurrency.
Web3 Empowered Fitness: Fight Out (FGHT)
Fight Out, an innovative gym chain and move-to-earn app powered by Web3 technology, is looking to make fitness a lot more engaging and community-oriented. Not only will it create custom fitness plans tailored to individual needs but it will also reward users with REPS tokens for completing their goals–allowing them to stay motivated and earn as they sweat.
Developed by a team of accomplished professionals vetted by CoinSniper, the move-to-earn (M2E) app aims to disrupt the fitness industry. One unique feature of the platform will be a soul-bound NFT avatar that will level up as users achieve their fitness goals. Users can then fight their avatars for rewards.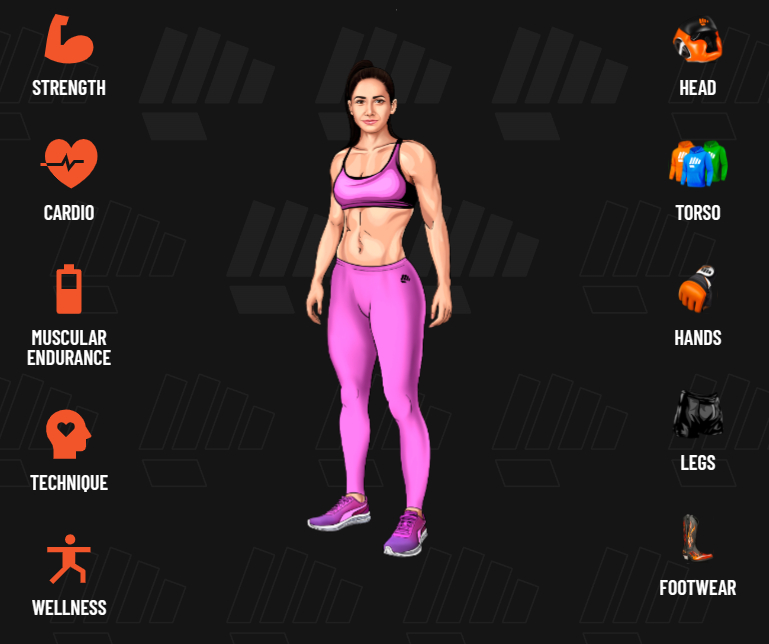 Fight Out is aiming to construct premier fitness centers around the world with advanced amenities like "mirrors" that showcase member profiles and sensors that offer instantaneous feedback on exercises, making exercising more engaging. This project has already amassed renowned athletes in its ambassador program such as Amanda Ribas from UFC, Taila Santos and Savannah Marshall, former WBO middleweight champion.
With a dedicated team and an attractive opportunity for investors to obtain tokens through the presale with bonuses of up to 50% on investments over $50,000, Fight Out is destined to make huge strides in the years ahead. To date, Fight Out has already amassed more than $3.39 million making it highly likely that its launch will be successful with a long runway already secured.
Chiliz (CHZ)
Chiliz, a digital currency that is used to participate in the sports and entertainment industry, is currently in a bullish phase with a YTD increase of 46.36%. With CHZ currently trading above its short-term and medium-term moving averages at $0.1462, the Exponential Moving Averages (EMAs) indicate a continued uptrend in CHZ's price.
The RSI is currently at 65.39, which is in the overbought zone. This means that the crypto is trading higher than what is considered normal, and a correction may happen soon. However, it's important to note that the RSI is not always a perfect indicator and should be used in conjunction with other indicators.
The MACD indicator, which measures the difference between a short-term and a long-term moving average, suggests bullish momentum. The previous day's MACD histogram is at 0.0020 and the current day's MACD histogram is at 0.0022. This shows that the crypto's momentum is increasing, which is a positive sign for bulls.
The volume is currently at 242.936M and the volume moving average is at 192.513M. This indicates a significant increase in trading volume, which confirms the uptrend of the crypto. The previous price close was at $0.1405, with a 4.46% movement on the day, and currently, the crypto is trading at $0.1466, with a 4.52% price increase.
Immediate resistance for CHZ is between $0.1474 to $0.1494 in confluence with the 100-day EMA, while immediate potential support is between $0.1318 to $0.1351 in confluence with the 50-day EMA.
C+Charge (CCHG) Brings True Utility to Blockchain to Make it One of the Best Cryptos to Buy Today
On the way to changing the EV charging market, C+Charge is set to introduce a cutting-edge peer-to-peer payment system and rewards app using blockchain technology to make charging electric vehicles more straightforward, accessible, and affordable. The platform will streamline transactions for EV owners and provides incentives in the form of CCHG tokens when users engage with the app–making it easier than ever before for EV owners to charge up.
C+Charge will not only ensure a secure and transparent system to track and authenticate electric vehicle (EV) charging sessions, but it will also utilize smart contracts to guarantee that all payments are accurate and timely. EV owners can look forward to an effortless charging experience–and with its token already highly sought after in the market, C+Charge is primed for revolutionizing the EV industry.
---