Best Crypto to Buy Today 21st January – APTOS, MEMAG, OP, FGHT, HBAR, CCHG, SOL, RIA, MANA, TARO, D2T
Disclosure: Crypto is a high-risk asset class. This article is provided for informational purposes and does not constitute investment advice. By using this website, you agree to our terms and conditions. We may utilise affiliate links within our content, and receive commission.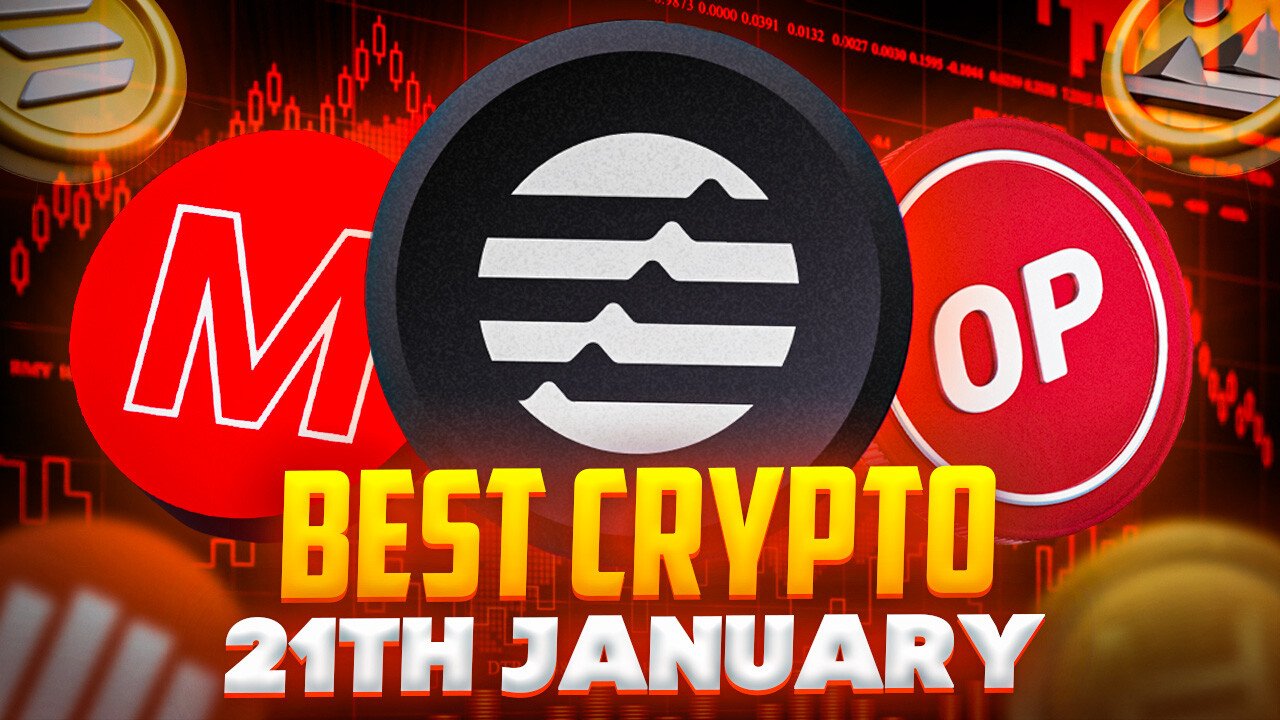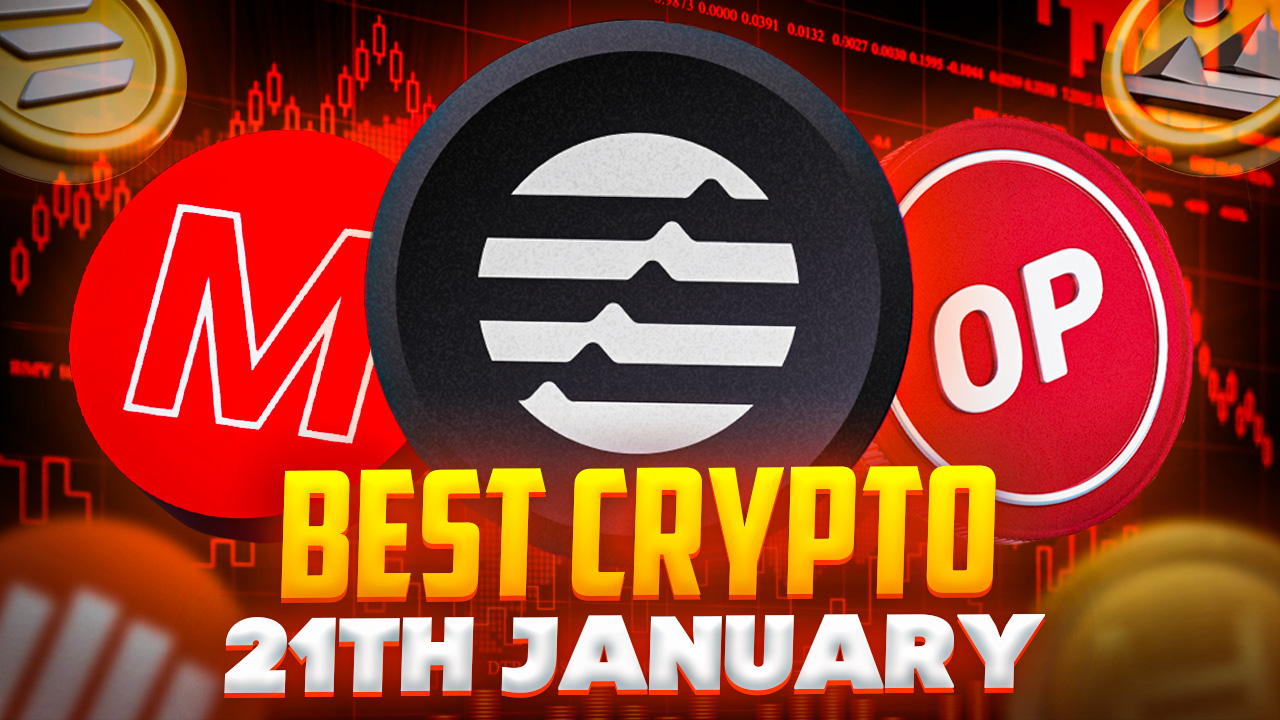 The global crypto market cap was $1.04 trillion on January 21. It is up 6.59% from the previous day. The total cryptocurrency market volume in 24 hours was $67.83B, representing a 68.33% increase.
The best cryptocurrencies to buy today include APTOS, MEMAG, OP, FGHT, HBAR, CCHG, SOL, RIA, and MANA. This list is updated every day to ensure that you are getting the best crypto opportunities at the moment.
APTOS
Aptos announced a partnership with Moralis, a Web3 infrastructure provider, on January 17. It will create customized Aptos APIs and support all current API node wrapper endpoints.
Developers will soon be able to create and distribute apps at scale using Moralis Web3. It has played a significant role in the coin's explosive growth.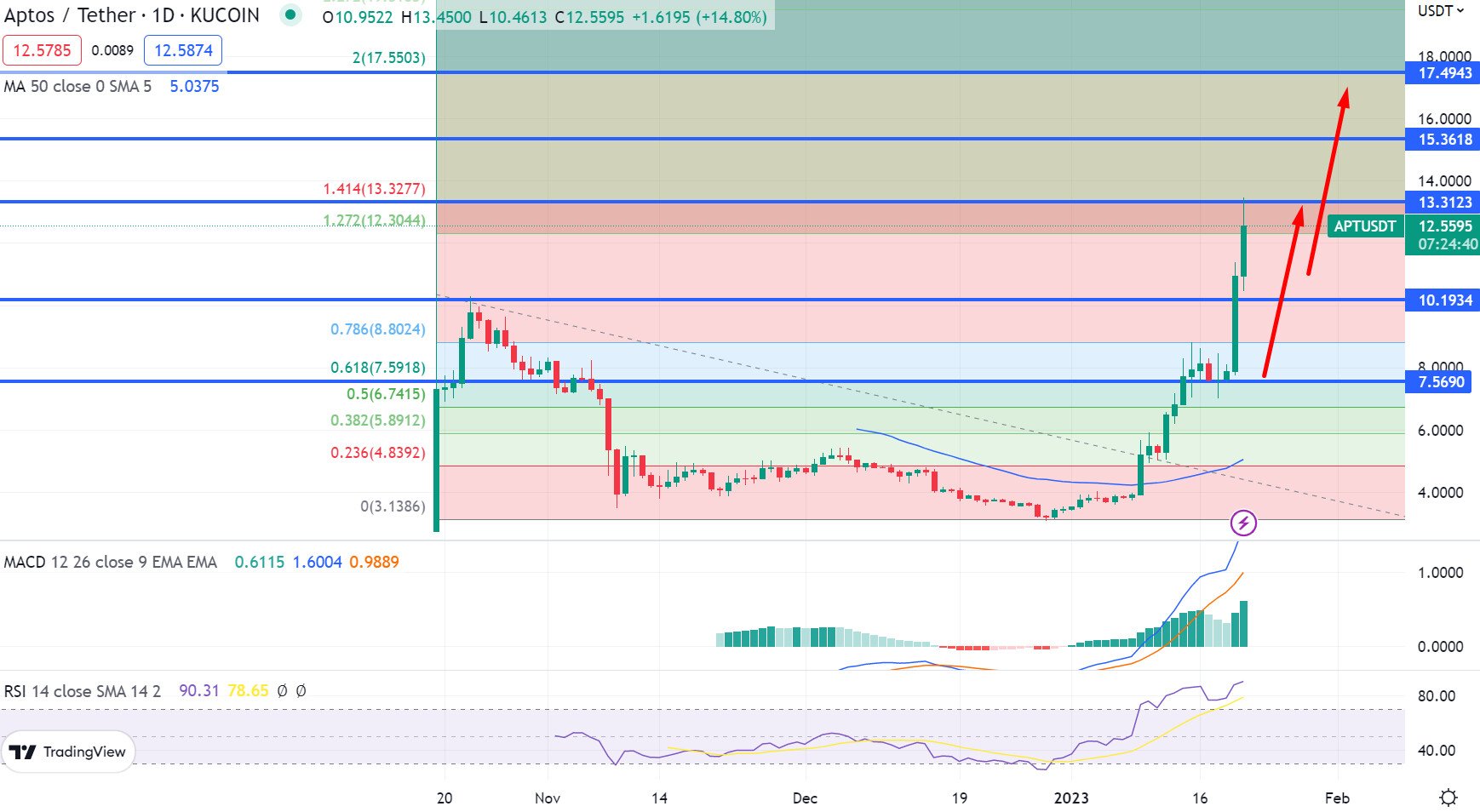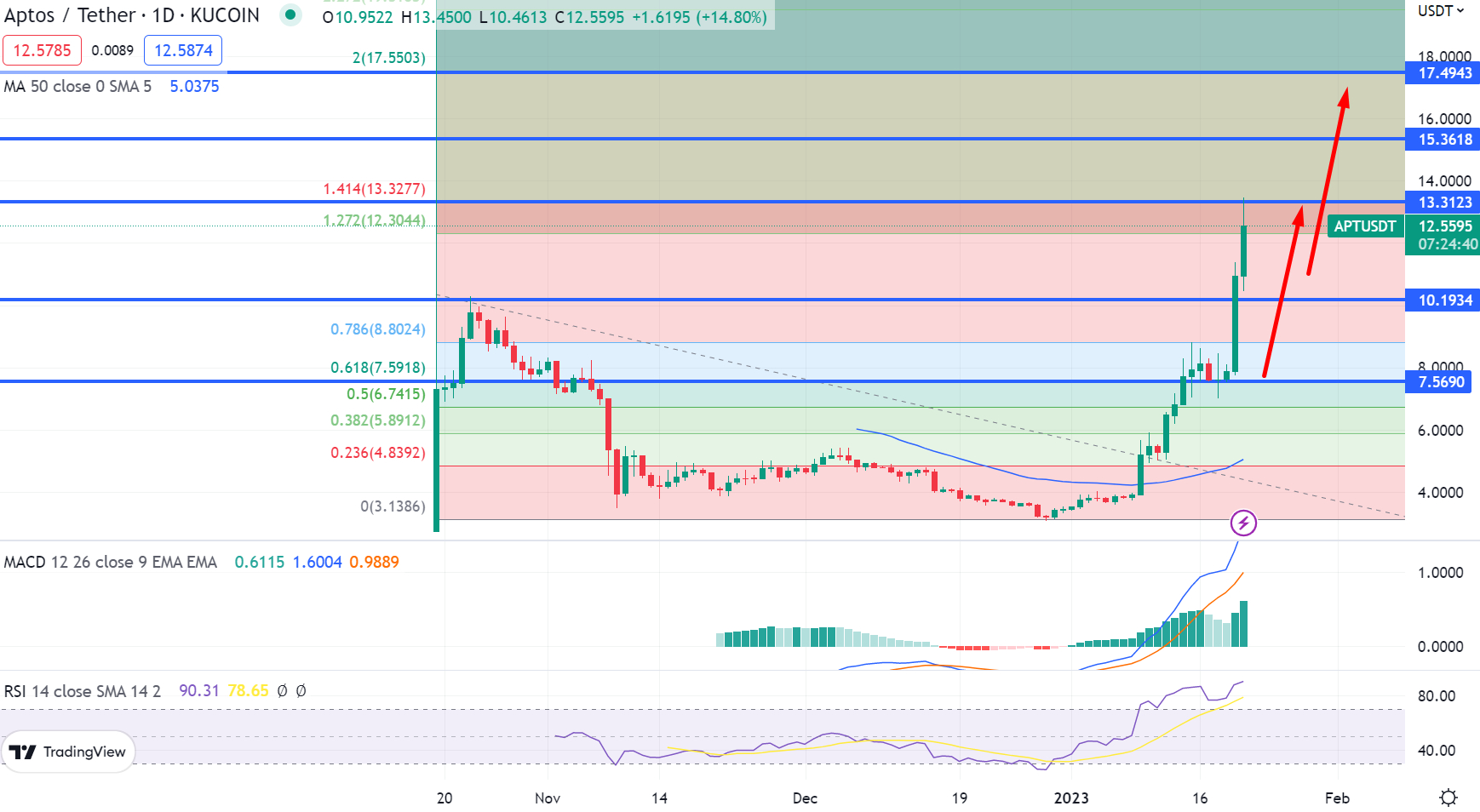 Long-term investors should keep an eye on Aptos due to its enormous growth potential. At the time of writing, APT/USD had risen 51.67% in the previous 24 hours and was trading at $12.29.
Meta Masters Guild (MEMAG)
MEMAG, a new mobile gaming guild, aims to improve the P2E experience by providing fun games that encourage players to stay on the platform.
The native token MEMAG is present in stage 2 of its presale and serves as the ecosystem's foundation. In eight days, the price will rise from $0.01 to 0.013. The value of the tokens will rise during the presale.
🚀 The #MEMAGFAM is growing fast, and so is the value of our tokens! 🚀

💰 We have raised over $650K!! 🤯

Let's keep making $MEMAG a success! 💪 Get in on the action now before the price increases! 💰https://t.co/SBqVjX5mWn#mmg #memag #memagpresale pic.twitter.com/H0QvV27yQy

— Meta Masters Guild (@MEMAGgames) January 19, 2023
The network is also giving away $100,000 in MEMAG tokens to one lucky winner to demonstrate the community's progress and the ongoing success of their presale.
Optimism (OP)
Synthetix was one of the first projects to commit to building on Optimism, and its popularity has grown significantly in recent months. Synthetix has seen a six-fold increase in total transactions over the last three months, with a seven-day average trading volume increasing from 1,000 to 7,400.
Optimism was also making moves in the NFT market, in addition to increasing its transaction volume. Daily active users and mints on the network were increasing, indicating a growing interest in NFTs on the Optimism network. It contributes to the growth of the coin's value.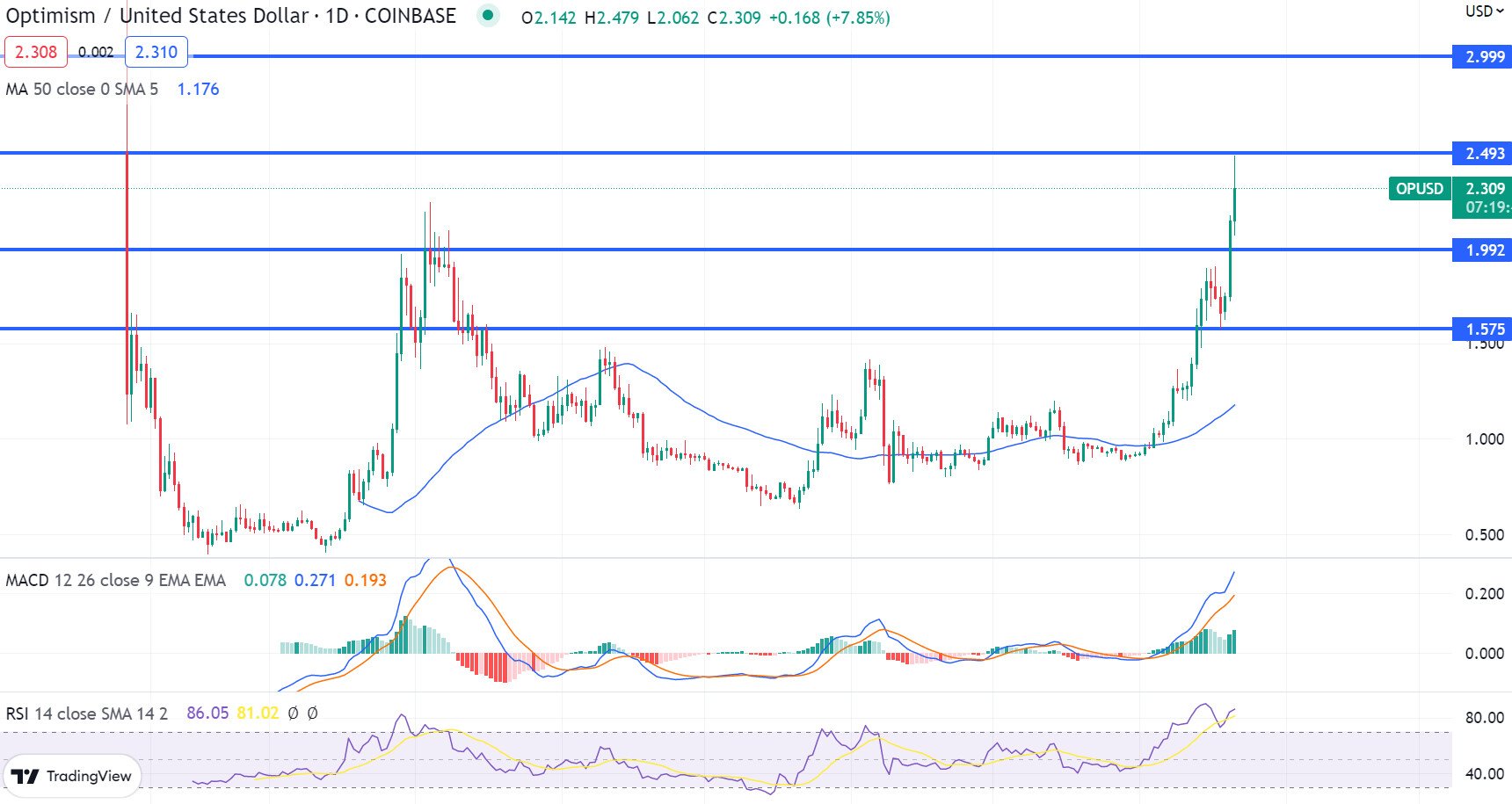 At the time of writing, OP/USD was trading at $2.38, up 35.00% in the previous 24 hours.
Fight Out (FGHT)
Fight Out, a brand-new cryptocurrency project, provides a one-of-a-kind opportunity to earn money while utilizing a cutting-edge Move-to-Earn (M2E) strategy. It is based on the concept of functional strength in general and promotes a type of fitness with a purpose.
Join our presale now and don't get left behind! Early adopters can get up to 50% bonuses with $FGHT purchases! 🔥

Go to https://t.co/z34Nkx3ffi to get involved! pic.twitter.com/hIf6AkI2od

— Fight Out (@FightOut_) January 12, 2023
It would be extremely beneficial in attracting new customers. Investors still have two days to purchase tokens at the minimum presale price of 0.0166 USDT, according to the FightOut website.
When the presale ends on March 31, the price will gradually rise to a maximum of 0.0333 USDT. Furthermore, in the first week of April, FGHT will be listed on centralized cryptocurrency exchanges for $0.0333. (CEX). The coin is already listed on LBank Exchange and BitForex.
Huge milestone #FightOutCrew! 👊

We have just raised over $3M in our stage 1 presale! 🔥

⏰ Only 5 days left until the stage 2 price starts increasing! ⏰

Don't miss out – Get up to a 50% bonus with $FGHT! https://t.co/uoCKFB3X3n pic.twitter.com/b44ZDKaHXt

— Fight Out (@FightOut_) January 18, 2023
The project has raised a remarkable $3.1 million in presale investments of its FGHT tokens so far, and presently investors can receive 50% bonus tokens for being part of the presale.
Hedera (HBAR)
According to a January 20 tweet, Hedera has experienced rapid organic growth. According to the post, the Hedera network processed more than 323 million transactions at an average speed of 535 TPS in the previous seven days, setting a new throughput ATH of 8,061 TPS and completing transactions in 3.56 seconds (avg.).
Over the past seven days, the #Hedera network:

⚫️Processed >323M transactions, averaging 535 TPS.
⚫️Reached a new throughput ATH of 8,061 TPS.
⚫️Achieved transaction finality in 3.56 seconds (avg.)

Speed. Security. Volume. Utility. #HelloFuture

🔗https://t.co/zNYyknLLnT pic.twitter.com/ILOXSdLcnJ

— Hedera (@hedera) January 20, 2023
Furthermore, at the World Economic Forum on January 16, it announced a partnership with security and digital ID management firm Wisekey.
The current price of HBAR/USD is $0.072364, up 17.88% in the last 24 hours. This really is heavily influenced by the growth of HBAR's native platform, Hedera.
C+Charge (CCHG)
C+Charge is working on a comprehensive peer-to-peer (P2P) payment system for EV charging stations. Each user will receive a CCHG utility token, which they can use to pay for EV charging in their digital wallet.
With the $CCHG token, you can:

🌱 Receive carbon credits
🌱 Use real-life utilities in every #EV charge
🌱 Be rewarded with our partners' incentives and free charges
🌱 Reduce carbon emissions

Join our presale now ⬇️https://t.co/ixe18bPqzI

— C+Charge (@C_Charge_Token) January 15, 2023
Furthermore, the network will encourage users to be more environmentally conscious by providing them with NFT-based carbon credits. CCHG is currently trading at $0.013. Furthermore, it raised $348,585 of a total of $2,080,000.
In the coming months, user participation may cause it to grow quickly. The first CEX launch will take place on March 31, 2023. It will benefit the ecosystem and significantly increase the value of the token.
Solana (SOL)
According to a tweet from Solana Daily on January 19, SOL was ranked second in terms of the number of NFT sales among the top ten blockchains. With the exception of Ethereum, the network outperformed every other blockchain in the NFT ecosystem.
Top 10 Blockchains by NFT Sales Volume Last 30D

🥇 $ETH @ethereum
🥈 $SOL @solana
🥉 $IMX @Immutable $ADA @Cardano$MATIC @polygon$FLOW @flow_blockchain$BNB @binance@PaniniAmerica$XTZ @tezos$RON @Ronin_Network@cryptoslamio #Solana $SOL pic.twitter.com/YlIW8JcEA1

— Solana Daily (@solana_daily) January 18, 2023
According to a recent report, Solana is the fastest-growing developer ecosystem, with over 2,000 total developers by 2022. Solana's recent performance pleased investors by showing signs of growth, in addition to the NFT market expansion.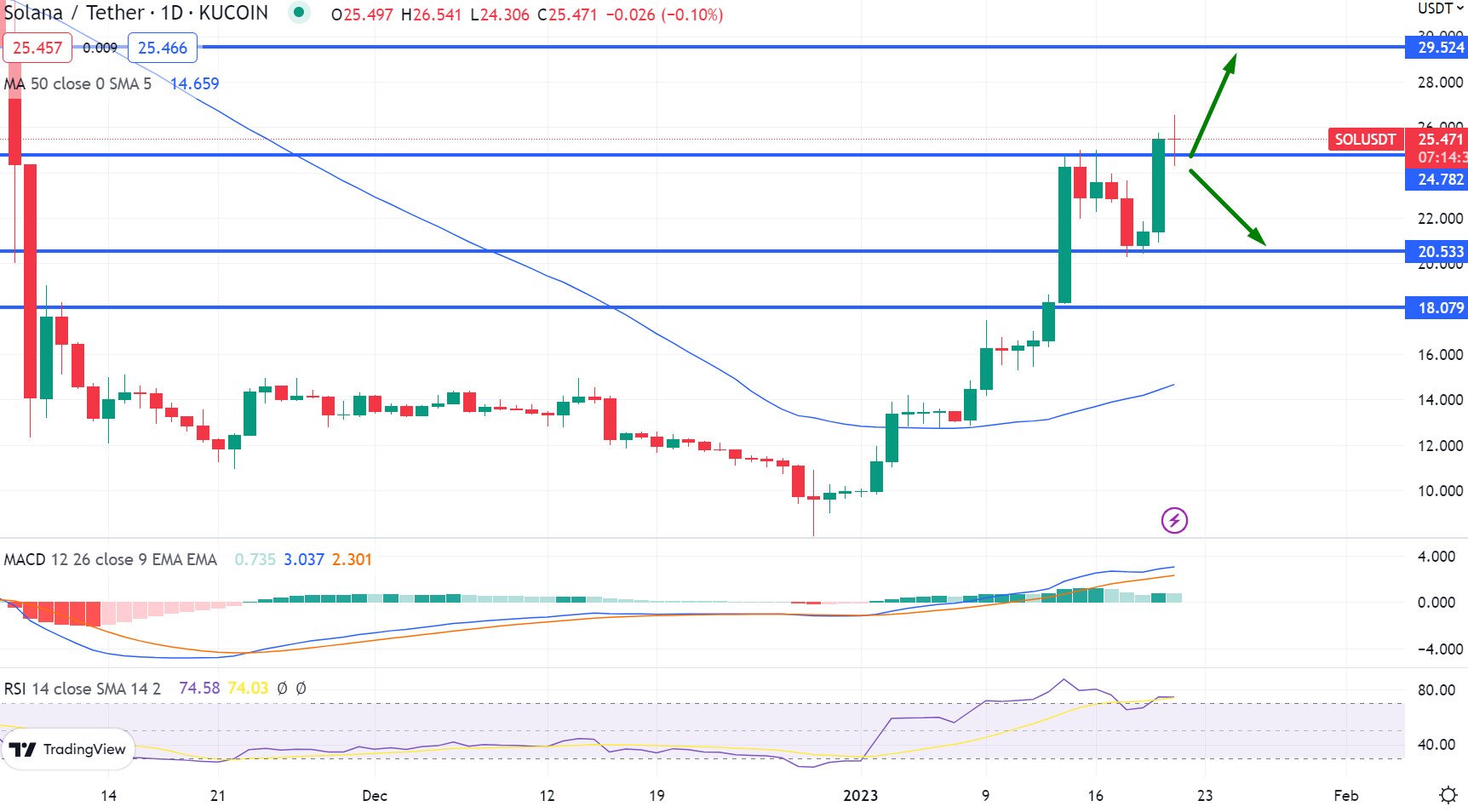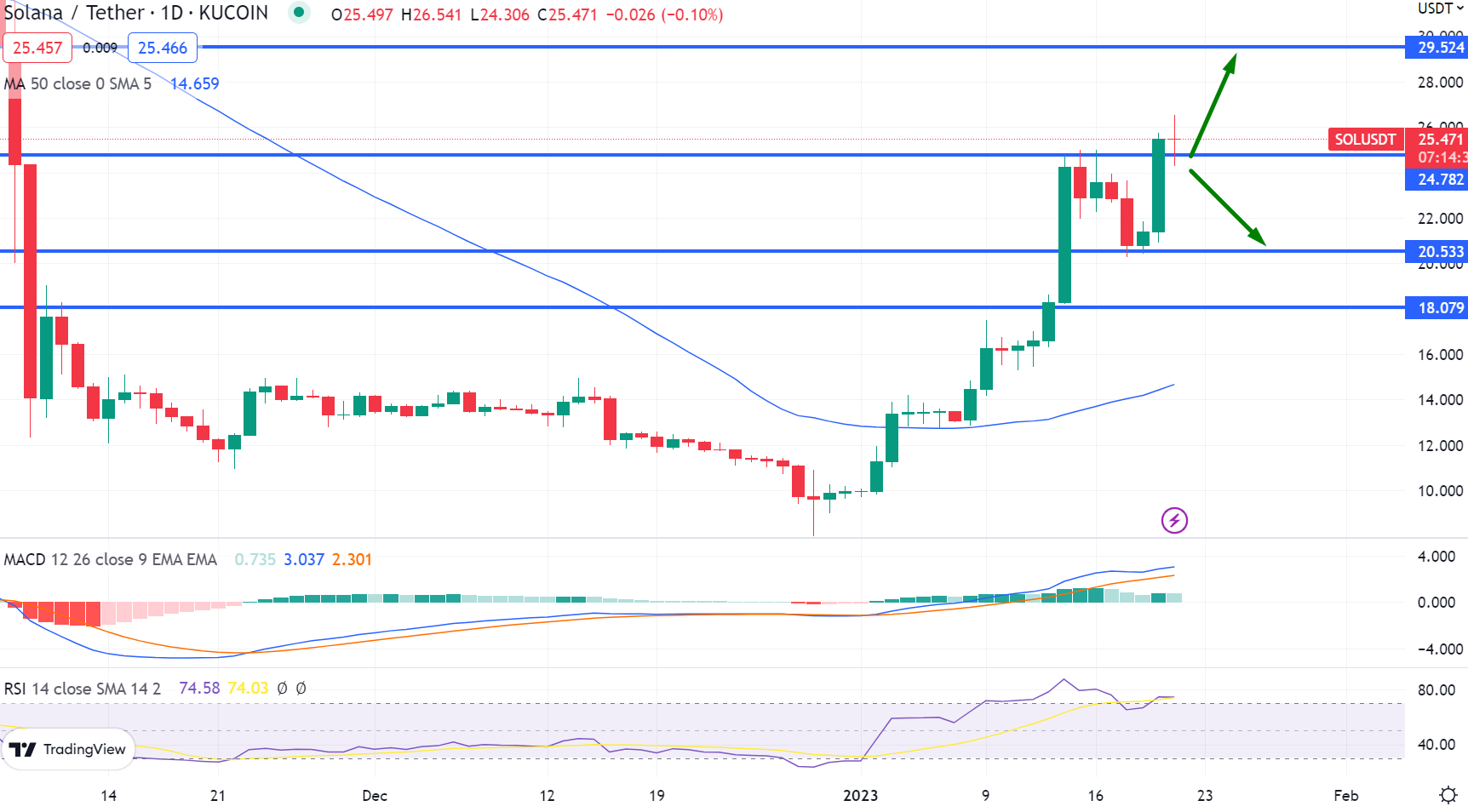 SOL/USD is currently trading at $25.34, up 18.83% in the last 24 hours. On the upside, Solana's immediate resistance stays at the $29 area, while support continues to hold around $24.50 or $22.
Let's consider looking for a buy trade over $24.50 as bullish, with the RSI and engulfing patterns suggesting a buying trend.
Calvaria (RIA)
Calvaria is a new cryptocurrency game where players compete for control of a fantasy underworld. The RIA token is extremely important to the ecosystem. In Duels of Eternity, a play-to-earn game from Calvaria, players use their accumulated NFT battle cards to engage in strategic duels against one another.
To trade RIA on the BKex centralized exchange, the network will use a one-of-a-kind initial exchange offering. Once the RIA is listed on BKex, it will be listed on the LBank exchange in Hong Kong.
The Calvaria presale is currently in its fifth and final stage. Only 6% of the tokens are for sale, but it has already raised over $2.8 million.
MANA
On January 19, Decentraland released its 2023 manifesto, announcing the key concepts on which it intends to focus its efforts and advances. One of its many goals is to expand its network of content creators.
In its goal for 2023, the blockchain metaverse has chosen to make the DCL platform easier to use so that it can add more features without excluding any authors.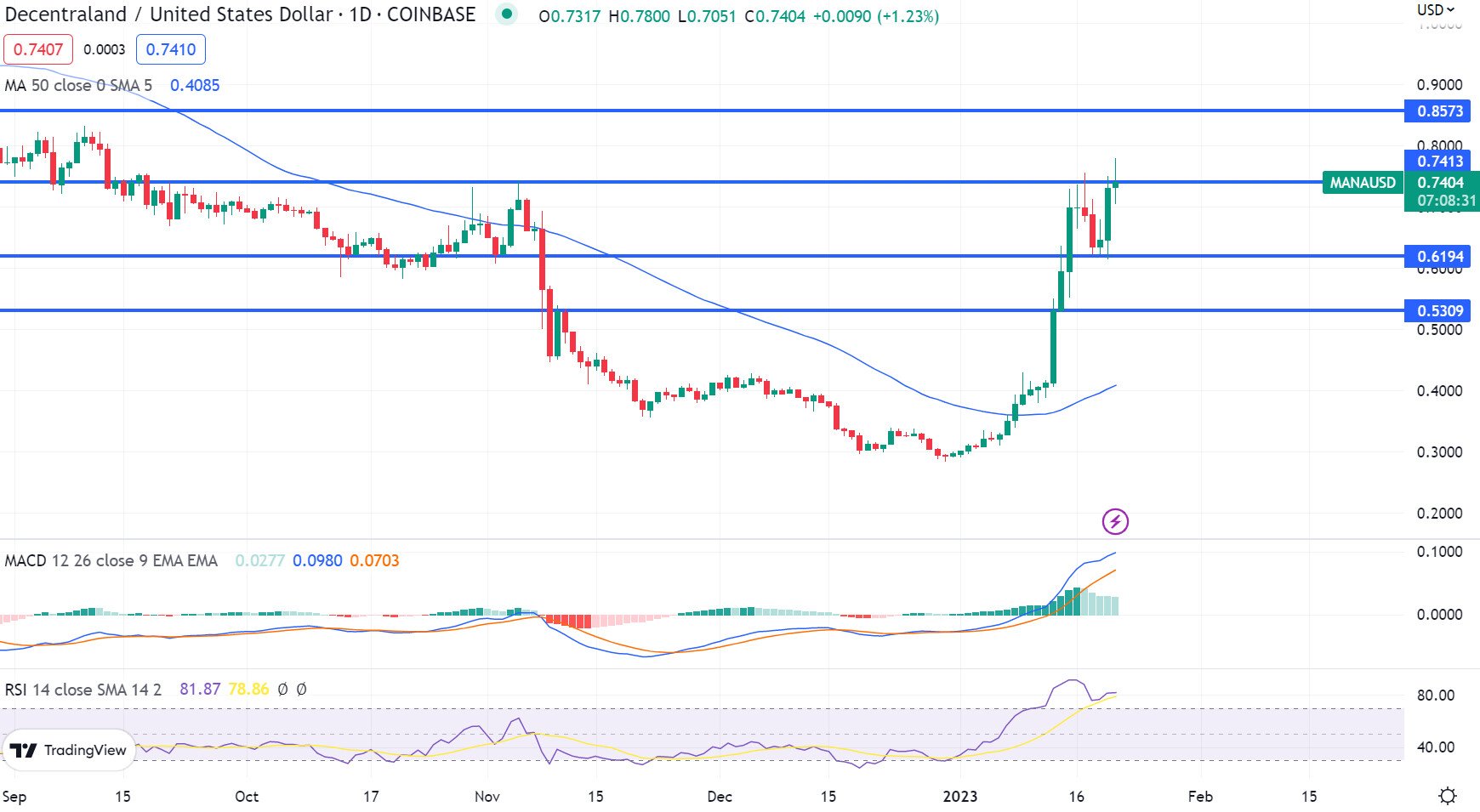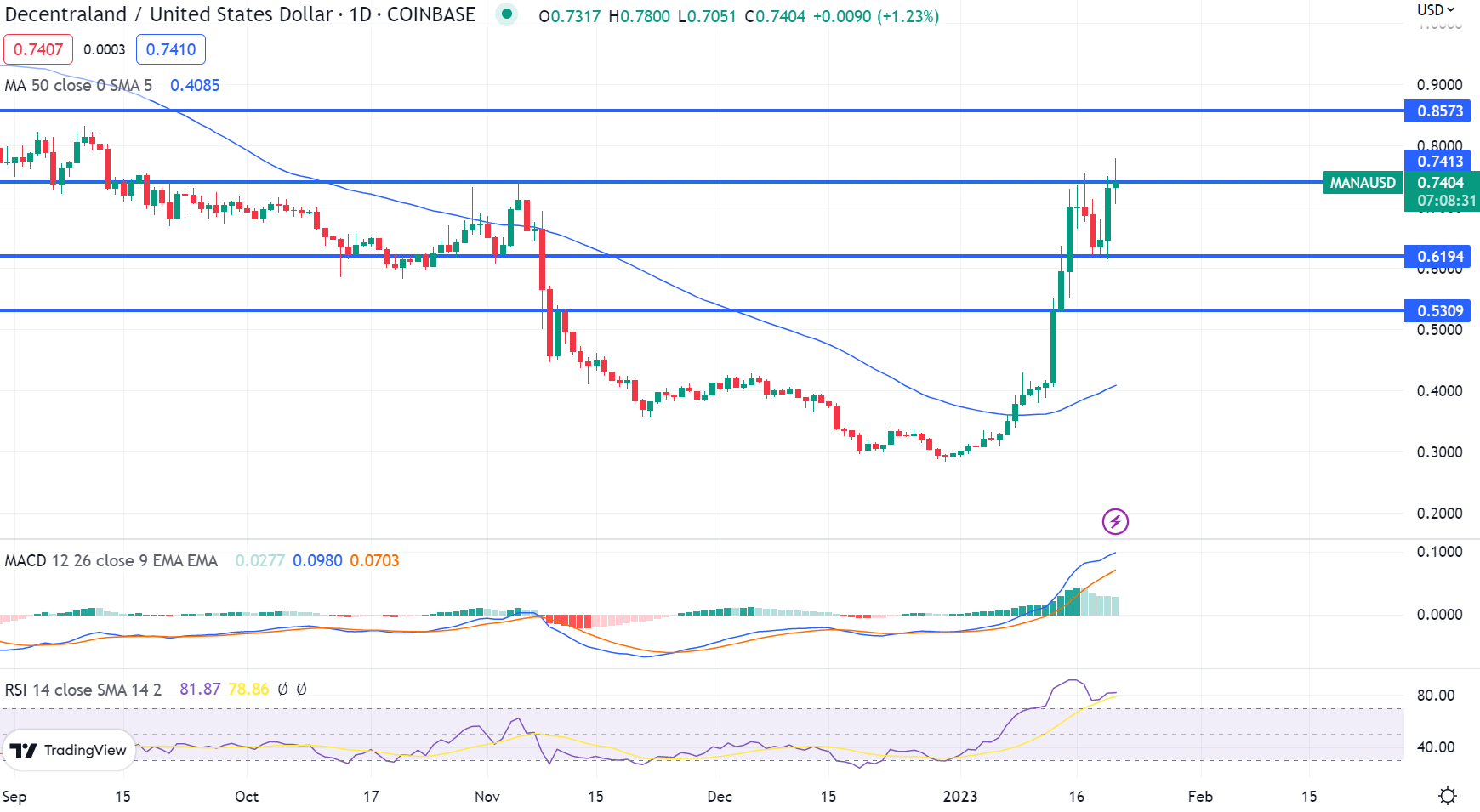 It is one of the factors that has helped the token to become the best-performing crypto asset. MANA/USD is currently trading at $0.752080, up 19.08% in the last 24 hours.
RobotEra (TARO)
RobotEra is a metaverse that rebuilds planets. Its primary utility token is TARO. Questing, participating in community activities and concerts, planting holy trees, mining, staking, and other passive and active income-generating activities are available to RobotEra players.
The $TARO presale is your chance to join the global crypto community and become a part of the #RobotEraArmy! 🤖🚀

🔥 Take advantage of this unique opportunity and join us now!

Learn more about the #RobotEra ecosystem ⬇️
https://t.co/UJ3inomU89 pic.twitter.com/E4hjJLYIPI

— RobotEra (@robotera_io) January 21, 2023
At the moment, 1 TARO equals 0.020 USDT. Presale 1 is coming to an end with a $0.025 price increase. As a result, it is one of the most appealing investment opportunities.
Dash 2 Trade (D2T)
Dash 2 Trade is a trading intelligence platform. Investors will have access to real-time analytics and social trading data via its own trading dashboard, which will also include all of the tools and resources that users may require to inform and improve their trading.
The network has completed the listing process and is now available on major exchanges such as Gate.io, LBank, Changelly Pro, BitMart, and Uniswap.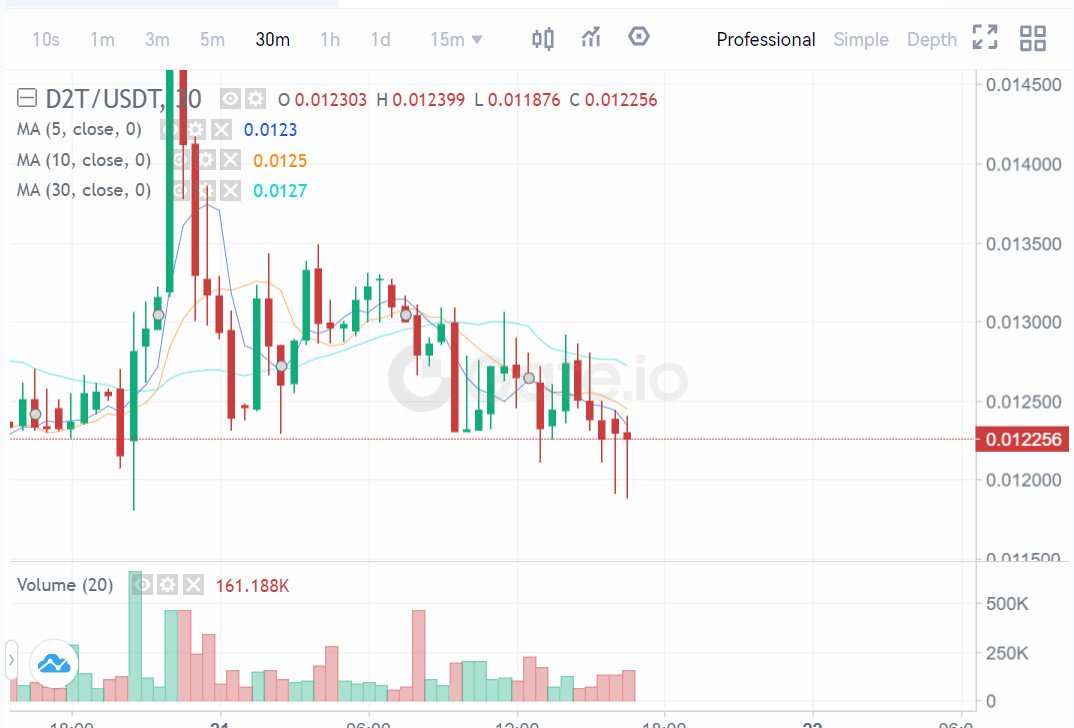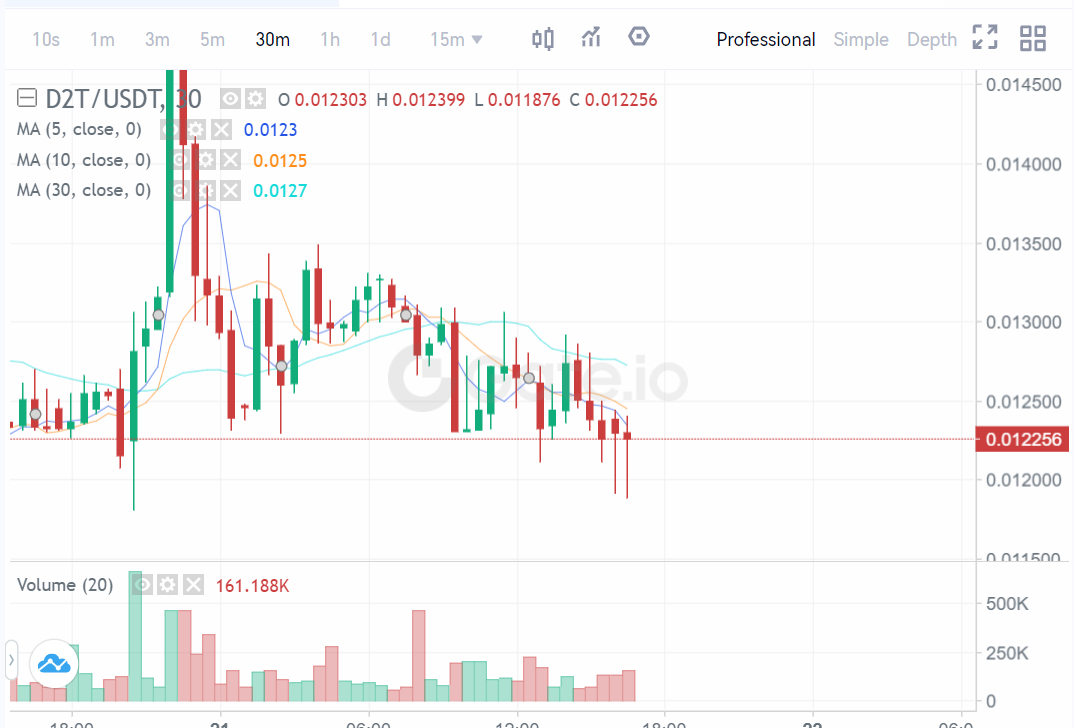 The current D2T/USD exchange rate is $0.01225, up 3% from the previous day. At the moment, D2T is gaining immediate support near $0.01200, and the closing of candles above this level has the potential to drive an uptrend in the D2T price.
On the plus side, D2T's immediate resistance is likely to stay near the $0.01300 level.
---