Best Crypto to Buy Today 20 February – FGHT, STX, METRO, FIL, CCHG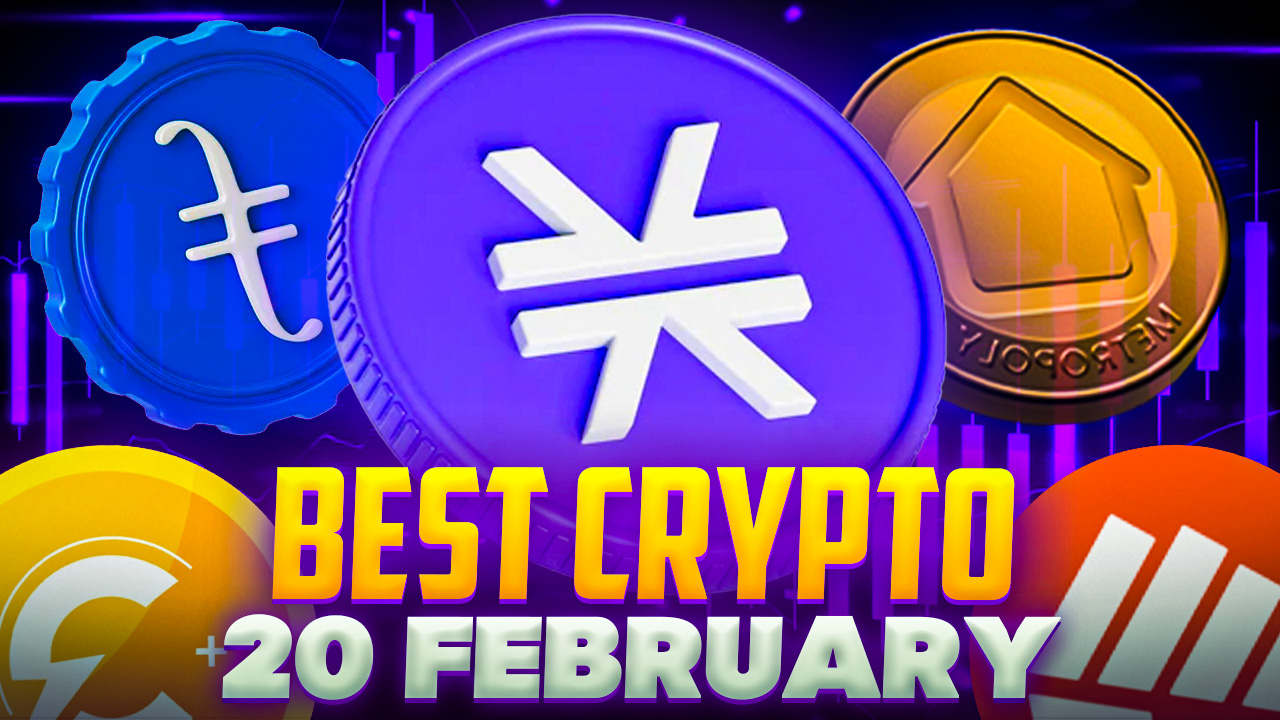 Crypto begins this week poised. With crypto markets today in a general pattern of retracement and consolidation following an impressive weekend.
Last week, Bitcoin (BTC) reclaimed a key psychological level at $25,000. Now trading at $24,890 (+2.52% 24hr), bulls seemed to have found legs to support continued pressure on resistance.
With increasingly positive macro sentiment from Bitcoin, breakouts are back on the cards. This has carried over to rejuvenate altcoin markets which have struggled so far into February - reeling from January's explosive end to a year of crypto winter.
Narratives have become the key price movers this alt-season. Markets have already experienced pumps for AI coins and ZK-centric projects this year.
But it doesn't stop there. Further hype has engulfed the market over the past week from the emerging narrative around Chinese crypto.
Regulators in Hong Kong announced a new HK Virtual Asset Service Providers (VASP) regulatory regime.
Plus the People's Bank of China seemingly intent on delivering a significant package of quantitive easing.
Both of these announcements have served to smash the FUD gripping the industry around Gary Gensler and the SEC's war on crypto.
And this has fuelled huge pumps for so-called 'Chinese coins' such as Filecoin (FIL), Polkadot (DOT), and Vechain (VET).
So with markets on edge - poised and ready for another push up - investors are taking stock.
What are the best cryptos to buy today? Find out below!
Unleash The Warrior Inside: Fight Out (FGHT)
Move-2-Earn made waves last year with projects such as STEPN setting out to monetize simple activities such as walking. But interest collapsed as STEPN's unsustainable economics became apparent.
Fight Out plans to change that and reignite interest in the Move-2-Earn space. To tackle this challenge, Fight Out is shaking up the world of the possible by delivering a complete monitoring system that can record any exercise from your time in the weight room to your hours down the Dojo.
With more than $4.3 million raised in a presale launched toward the end of Q4 2022. Fight Out hopes to remove the barriers to entry that come in the form of Web3 knowledge and expensive starter NFTs associated with platforms like STEPN.
The main approach is to open the web3 industry so that everyone can benefit while living a healthy lifestyle.
The Fight Out app acts as a fitness-hub platform that enables the user to track, plan, and fine-tune their routines, sleep, and diet - within the bounds of a monetized in-app economy.
This will see users who join this new ecosystem accessing to live coaching, training classes, PVP stat battles and a chain of physical gyms spread around the world.
What's more - this presale superstar is giving away $250k! Enter here.
Fight Out rewards all types of exercise – and really pays with the native $FGHT token empowering an entire marketplace of physical and digital rewards. With presale token prices increasing every 12 hours - don't miss out on the future of M2E!
Smart Contracts for Bitcoin? Meet Stacks (STX)
Ever consider how much Bitcoin (BTC) volume could grow if there were an effective platform for BTC smart contracts for DeFi, NFTs, and apps? Meet Stacks (STX).
An open-source blockchain network aiming to bring dApps and smart contracts to Bitcoin. Native token STX can be used to settle transaction fees across the open Stacks network, and is also lockable in DeFi products to earn BTC rewards.
This spotlight project is also the first token to ever qualify successfully with the US Securities and Exchange Commission (FUD proof?). And markets are taking notice.
With a current trading price of $0.58 (24-hour change of -10.25%).
STX price action is in local retracement following a sensational pump over the weekend.
The breakout from 6 months of suffocating bottom-feeding price action came quickly as market interest finally banded around the promising BTC project.
Yesterday saw prices surge an eye-watering +110%. The rally topped at a local high of $0.85 - before sinking into the current consolidation zone around $0.60.
Despite the RSI 14 riding high at 69 (bearish divergence), the STX MACD is sat happily at 0.0291 (bullish divergence).
With downside risk to the local support zone at $0.40 (-30%), and upside potential targeting historical resistance at $1.00 (+70%).
Stack's Risk: Reward ratio is 2:32 making this an extremely good entry into a worthy project.
DeFi Tokenization of Real Estate: Metropoly (METRO)

Metropoly is a promising real estate crypto project aiming to become the premier platform for the tokenization of real estate.
The platform is creating a fully decentralized real estate marketplace based on the blockchain, with the goal of democratizing access to real estate projects by enabling even fractional shares in real estate investments.
The platform utilizes NFT technology to provide proof of ownership and allows investors to claim a share of passive income flows.
Metropoly aims to reduce barriers to entry in real estate investment, enabling even the smallest retail investor to gain exposure to real estate.
The platform also reduces the average buy time for real estate from 60 days to 20 seconds and helps remove the capital barrier to entry with a small investment need of $100 instead of a 15% deposit.
Metropoly has already raised $500k in funding through its presale, and its tokenomics are favorable with an egalitarian initial token distribution.
The $METRO token serves as the primary means of settlement on the Metropoly platform, used for the purchase and sale of real estate on the marketplace and to pay out passive income flows from properties owned.
The platform is set to launch its first properties in the coming month, with plans for a CEX listing, GameFi connectivity, and proposed lending functionality in the future.
Chinese Coin of the Year: Filecoin (FIL)
Filecoin (FIL), the leading decentralized storage protocol that enables anyone to rent our spare hard drive space on their computer, has undertaken a sensational rally this week.
With a current price of $8.59 (a 24hr change of +1.45%).
Hammering green candles appeared on February 17 to push a breakout from a month-long consolidation zone over the past weekend.
By Sunday, Filecoin has seen a 75% pump, stopping just shy of key resistance at $10 - a level not seen since August 2022.
Yet still a world away from FIL's All-Time High of $237. Meaning there could be a whole lot more of this multi-leg rally to go.
Filecoin price is now reeling following the move, with current price action characterized as a local retrace of 10%. This comes as bulls fight to establish supportive legs above $8.
FIL's RSI 14 is sat high at 76, signaling the recent pump has pushed into overbought territory. The MACD is also reflecting this bearish divergence, sitting at a low of -0.023.
This gives an immediate downside risk to $5.50 (-34.96%) and an upside target at historical resistance of around $11.50 (+35.98%). Overall providing a Risk: Reward of 1.03.
Read my full analysis of Filecoin price action here.
This whopping rally came as the Chinese coin narrative took hold of markets over the weekend.
With bullish news from Hong Kong regulators and the Chinese bank, this rally could become a multi-leg saga - watch this space.
C+Charge (CCHG)
Do you believe there is huge profit potential from the green energy revolution and the advent of electric vehicles?
Look no further than C+Charge (CCHG), a new cryptocurrency that's set to revolutionize the green tech industry.
As electric vehicles (EVs) become more prevalent with the likes of Tesla. The demand for EV charging stations is skyrocketing.
And with the projected $2.4 trillion growth in the carbon credit industry by 2027, there's never been a better time to jump on board.
But why should only big EV manufacturers like Tesla reap the benefits?
C+Charge offers a game-changing solution.
Its Peer-to-Peer (P2P) payment system for EV charging, powered by blockchain technology, enables EV owners to have a chance to earn carbon credits and share in the industry's growth. Don't miss your chance to own a piece of the pie.
The pre-sale of the CCHG token is already underway, offering early investors a chance to get in on the ground floor of this eco-friendly project. Plus, there's a $50k giveaway for early birds.
Join the C+Charge movement today and be a part of a project that's not just profitable but also making a difference for the environment. Invest in a brighter, greener future.
Disclaimer: The Industry Talk section features insights by crypto industry players and is not a part of the editorial content of Cryptonews.com.
---