Best Crypto to Buy Today 15 March – LHINU, AGIX, FGHT, STX, METRO, TARO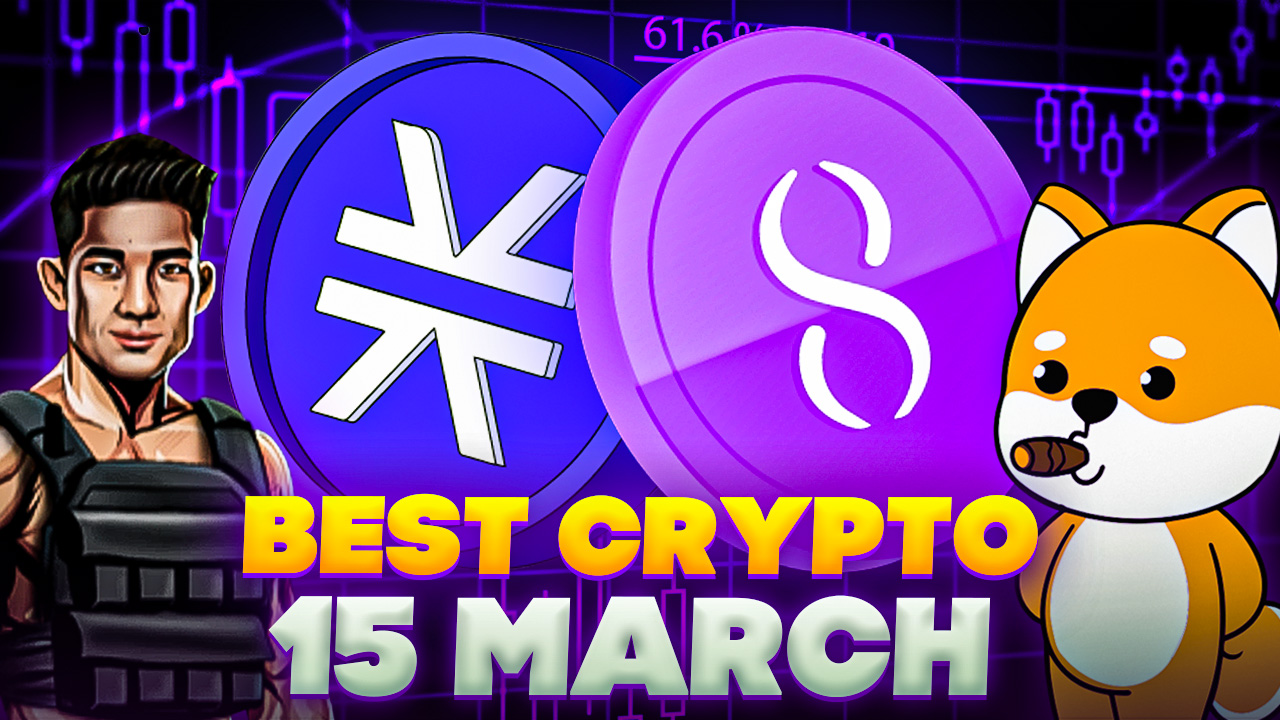 Global banking turmoil continues to mount as Credit Suisse, one of the world's largest financial institutions, faces possible collapse. The bank's shares have plunged more than 24% in a day--and Saudi National Bank, the largest shareholder in Credit Suisse, has declared that it won't provide additional capital to aid the bank.
With concerns about the safety of today's banking system spreading worldwide, we'll consider how these recent developments may impact the best cryptos to buy today.
The decline in Credit Suisse's shares has been so rapid that the Swiss market experienced an automatic trading pause as reported by UPI. The recent shutdowns of SVB and Signature Bank in the United States have also contributed to the aforementioned banking concerns.
In response, the Biden administration has pledged to create a new facility that will lend money to banks needing additional capital to remain operational. Depositors have been assured that they will be fully compensated.
While all of this is happening, Bitcoin has reached a yearly high, with its price rising from $19,559 to $26,534 at one point in just a few days. The idea that Bitcoin can provide a solution to traditional banking problems seems to be gaining traction with global searches for "Bitcoin bank" surging in the past week.
According to data from CoinMarketCap, BTC's price has declined to $24,425 at the time of writing, which is a drop of 2.74% within the past 24 hours, after reaching its annual high.
Credit Suisse's situation underscores the precariousness of the modern banking system, and Bitcoin's rising popularity reflects people's concerns. Although Bitcoin's price is volatile, its decentralized and self-sustaining structure may address the deficiencies of traditional banking.
Given the recent developments and concerns about the safety of today's banking system, investors are advised to exercise caution and carefully consider their investment options.
Before making any investment decisions, it is recommended to perform both fundamental and technical analyses. Based on these analyses and the current market uncertainty, some of the best cryptos to buy today are LHINU, AGIX, FGHT, STX, METRO, and TARO.
Love Hate Inu's System Allows Anonymous Voting
Love Hate Inu (LHINU), a meme coin crypto, has recently introduced new features to its blockchain voting platform. The platform allows users to vote anonymously on a range of topics such as social issues, entertainment, and politics while also providing an opportunity to earn cryptocurrency rewards through the "Vote-to-Earn" approach.
The LHINU voting platform, built on the Ethereum blockchain, has gained a significant following on social media due to its unique character illustrations. Users can purchase LHINU tokens with fiat or cryptocurrency.
The token presale is ongoing, and LHINU has divided the process into seven-day stages, gradually increasing the token's price. During the initial phase, 90% of the tokens are being distributed to supporters, and the remaining 10% will be allocated for exchange listings. The presale has raised over $771k so far, with a goal of $956,250.
LHINU's goal with the voting platform is to encourage meaningful conversations on current issues while ensuring a secure and transparent voting process. By utilizing distributed ledger technology, blockchain-based voting ensures that the process remains tamper-proof and fair.
The latest updates to the LHINU voting platform aim to enhance the user experience by introducing new features such as increased accessibility, streamlined voting procedures, and improved security measures. These updates will ensure that the platform continues to provide a reliable and trustworthy space for users to share their opinions on various topics.
Overall, Love Hate Inu's commitment to providing a secure and engaging blockchain voting platform has established it as one of the best cryptos to buy today.
SingularityNet (AGIX)
On Tuesday, AGIX experienced a surge of 24.05% due to the excitement surrounding the release of OpenAI's GPT-4, which caused a rally in AI-based cryptocurrencies in general.
OpenAI had announced that the latest version of their language model, ChatGPT-4, is sophisticated enough to outperform most individuals on the SAT scores, providing more accurate responses and the ability to process images.
AGIX reached an intra-day high of $0.56220 earlier today, the highest it has been since early February. However, the gain was short-lived as the broader cryptocurrency market, including Bitcoin, experienced a selloff, leading to AGIX currently experiencing a downtrend. As of now, the current price of AGIX is $0.45265, which represents a decrease of 6.29% from the previous day's closing price.
When analyzing support and resistance levels, SingularityNET's AGIX may encounter resistance at the Fibonacci retracement level of 0.786, located at $0.56065. Conversely, AGIX may find support at the Fibonacci retracement level of 0.5, located at $0.41622, which coincides with the 20-day EMA. Traders should keep a close eye on AGIX's price action to determine whether a continuation of the current downtrend or a potential reversal is on the horizon.
The price surge of AGIX reflects the growing interest in the AI cryptocurrency market. Investors hold a positive outlook on the potential of AI-based applications that utilize blockchain technology. SingularityNET stands as one of the top contenders in this market. If AGIX continues to rise, buyers may set their sights on the year-to-date high of $0.66778, which was established on February 8.
Fight Out Launches Play-to-Earn Gaming Ecosystem with Train-to-Earn Model
New fitness and fantasy sports app Fight Out is entering the play-to-earn space with its gaming ecosystem that incorporates a train-to-earn model.
Fight Out provides users with a customizable NFT avatar that represents them in the gaming ecosystem, allowing players to upgrade their avatars based on training and earn rewards by participating in challenges against other users. The train-to-earn model lets users earn REPS, an in-app currency, by completing workouts and challenges, which can be redeemed for training equipment, apparel, and discounts on monthly memberships.
Fight Out's four elite athlete ambassadors will produce content in the app. The team has been KYC-verified by CoinSniper, and the FGHT token contract has been audited by Certik. Throughout the presale event, 9% of the maximum 10 billion FGHT tokens will be made available for purchase. 4.5% of the tokens will go to the bonus pool while 10% will be held in reserve for exchange liquidity purposes. The tokens that remain will be under a vesting period of five years.
An upgraded reward scheme presents an opportunity to obtain extra bonus tokens of up to 67% when a purchase is over $50,000, with a holding period of 36 months. An airdrop of 10% will be also be given to previous investors.
The maximum presale price is $0.0333, increasing every week by 28%, with a 5% USDT referral program. With over $5.5 million invested so far, the FGHT token presale on the platform has emerged as one of the best cryptos to buy today.
Stacks (STX)
Stacks (STX) showed bullish momentum by closing yesterday's candle with a gain of 21.20%. STX continued this upward trend earlier today when it reached its multi-month high of $1.0890. However, Bitcoin has since experienced a downturn, impacting STX together with the majority of the broader cryptocurrency market.
The current price of STX is $0.8786 with a loss of 9% so far today. Despite today's retracement, STX's price is still trading above 20-day, 50-day, and 100-day EMAs at $0.7286, $0.5870, and $0.4720. This indicates that the short to long-term bias for STX is still bullish. The Relative Strength Index (RSI) is currently at 61.32, which suggests that STX is in a neutral zone.
The MACD Indicator for STX also shows signs of bullish momentum. The previous day's MACD histogram was at -0.0042, while the current day's MACD histogram is at 0.0010. This indicates that there is a bullish crossover between the MACD and the signal line.
The immediate resistance is at the fib 0.786 level at $0.9660, followed by the intra-day high of $1.0869. On the other hand, the immediate potential support is at Fib 0.618 at $0.8711. Investors may want to keep an eye on these levels for potential entry and exit points.
Metropoly Launches NFT Marketplace for Real Estate Investments
Metropoly has introduced a new NFT marketplace for real estate investments that presents a lucrative opportunity for cryptocurrency investors. Using fractionalized NFTs, Metropoly has created an alternative investment solution to traditional obstacles, including credit checks, paperwork, and mortgages.
Investors can earn a passive rental income through the platform, which also provides real-time analytics for investment management. They can either sell their assets instantly or participate in auctions to receive the highest bid.
The NFTs offer a minimum investment entry of only $100, making it a viable option for investors to diversify their portfolios. Additionally, the NFTs are backed by real estate, protecting investors against inflation while generating a monthly rental income with the potential to increase in value over time.
Metropoly has so far raised $837K during its presale, with prices experiencing a rise in nine stages. The company has formed partnerships with more than twenty crypto personalities, ChainAdoption, and Tenset, thereby solidifying its foothold in the cryptocurrency investment arena.
The platform's beta version is now accessible to the public, offering a unique opportunity for crypto enthusiasts to enter the real estate market.
Robotera Emerges as One of the Best Crypto to Buy Today With Metaverse Play-To-Earn Features
The metaverse gaming project by RobotEra (TERA) has taken the lead in the competitive metaverse space, providing a play-to-earn experience that combines entertainment, creation, interaction, exploration, and decentralized governance.
One of the standout features of RobotEra is its use of cryptocurrency and digital assets, allowing players to earn profits from their in-game contributions. The platform also features virtual and augmented reality elements and intuitive building tools, promoting innovation and creativity.
RobotEra's commitment to community governance and decentralization is another aspect that sets it apart from other metaverse games, empowering players to suggest or decide on the implementation of their faction's plans and how their treasury tokens are utilized.
RobotEra is also constructing an environment that fosters player cooperation, exchange, and commerce, generating a great environment where gamers can link their individualized properties to produce connected locations, amusement parks, museums, and additional social establishments.
Recently, RobotEra's TARO token has seen a surge in popularity, with TARO's presale raising more than $1 million so far.
---