Best Crypto to Buy Today 10 March – LHINU, KAVA, FGHT, ATOM, METRO, KLAY, CCHG
Disclosure: Crypto is a high-risk asset class. This article is provided for informational purposes and does not constitute investment advice. By using this website, you agree to our terms and conditions. We may utilise affiliate links within our content, and receive commission.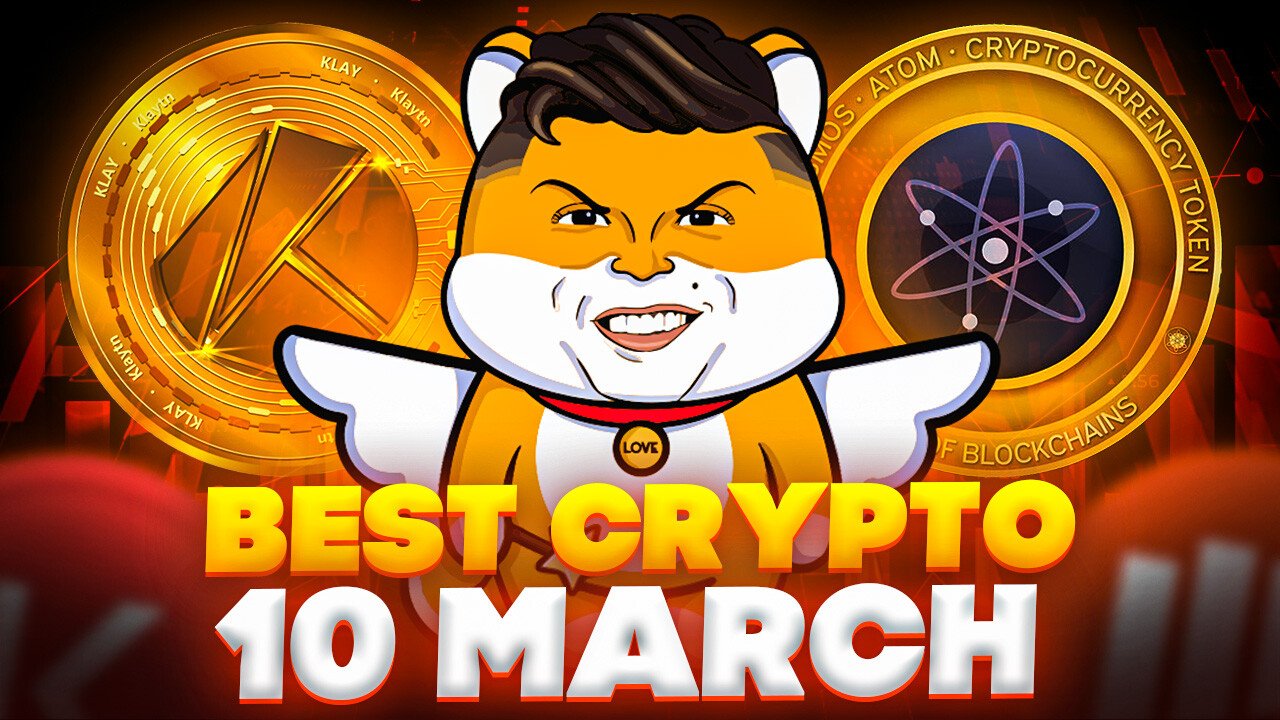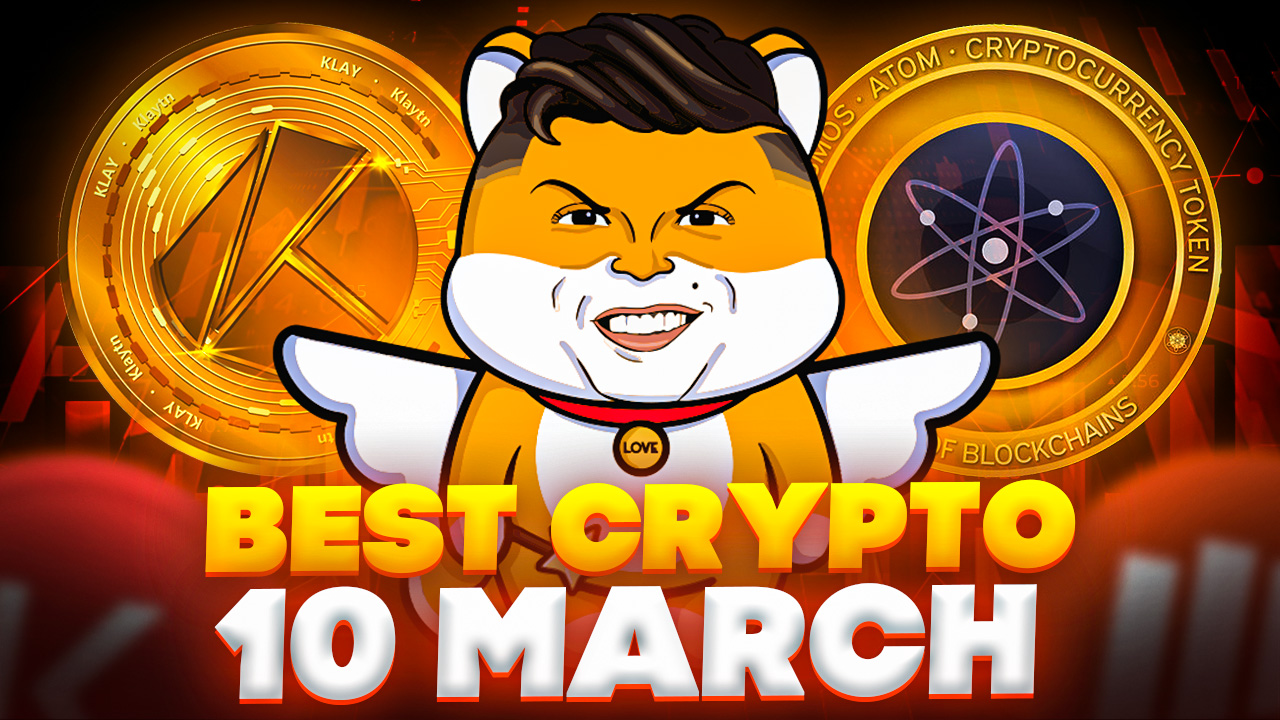 Bitcoin has fallen below the $20,000 mark for the first time since early January, following a significant sell-off that began late Thursday and extended into Friday morning. This comes as the broader cryptocurrency market experienced a sell-off driven mainly by negative news.
With Bitcoin trading below the significant level of $20,000 on Friday, many may wonder what the best cryptos to buy today are in the current bearish climate.
Silvergate Bank, which grew fast by catering to cryptocurrency traders, said late Wednesday that it would liquidate amid mounting losses and regulatory pressure. https://t.co/64uZkRA75z

— The Seattle Times (@seattletimes) March 10, 2023
The decline is being attributed to the sell-off in the US stock market and the downfall of Silvergate Capital, a major crypto lender that is winding down its operations and liquidating its bank. Silicon Valley Bank sold off its holdings worth $21 billion at a loss of $1.8 billion, which is also considered a significant contributor to the current downturn.
Silicon Valley Bank invested in US Treasuries, which have depreciated due to increased interest rates by the Federal Reserve. As a result, the bank was compelled to sell its bonds at a loss to strengthen its financial position.
Over the course of 24 hours, the cryptocurrency market lost more than $70 billion in value, while Bitcoin and Ethereum lost more than 6% on Thursday's candle close. Bitcoin reached an intra-day low of $19,559 earlier today, and as of writing, is hovering just below the $20,000 mark at $19,990 with a loss of 1.75% so far today. Ethereum is currently trading at $1,409 with a loss of 1.90%.
Given the current market uncertainty, investors are advised to exercise caution and carefully consider their investment options. It is recommended to perform both fundamental and technical analyses before making any investment decisions. Based on these analyses, LHINU, KAVA, FGHT, ATOM, METRO, KLAY, and CCHG are among the best cryptos to buy today.
Love Hate Inu Launches Blockchain-Powered Voting Platform with Crypto Rewards
A new blockchain-powered voting platform with a "Vote-to-Earn" focus is being introduced by Love Hate Inu (LHINU). This platform incentivizes anonymous voting on a range of topics, including politics, social issues, and entertainment, with cryptocurrency rewards. LHINU is a meme coin that aims to bring blockchain technology to online surveys and voting.
Greetings, #LoveHateInu community! 🌞🐶

Who's eager to become a part of the Love Hate Inu world? 🚀🤩

You will be able to discuss very interesting topics on our platform! 💬🤝🌍

Join us now and experience the fun!📣

🔗 https://t.co/Pu2Bo8WOUy#cryptocommunity #memecoins pic.twitter.com/lDw2BT538z

— Love Hate Inu (@LoveHateInu) March 10, 2023
Built on the Ethereum blockchain, the voting system provides a secure and transparent process, reducing the risk of manipulation and spamming. The platform allows users to buy tokens using either fiat or cryptocurrency. LHINU's amusing character illustrations have attracted a substantial audience on various social media platforms.
The presale of LHINU is being held in stages, each lasting seven days and incrementally raising the token's price. During the initial phase, 90% of the tokens are being allocated to supporters of the initiative, while the remaining 10% will be reserved for exchange listings. As of now, the presale has raised over $259k of its $956,250 goal.
The objective of the voting platform is to encourage constructive conversations on present issues while providing secure and anonymous voting. Leveraging distributed ledger technology, blockchain-based voting maintains tamper-proof records, ensuring a transparent and fair voting process. The launch of LHINU's voting platform signals a significant advancement towards blockchain-based voting which makes it one of the best crypto to buy today.
Kava (KAVA)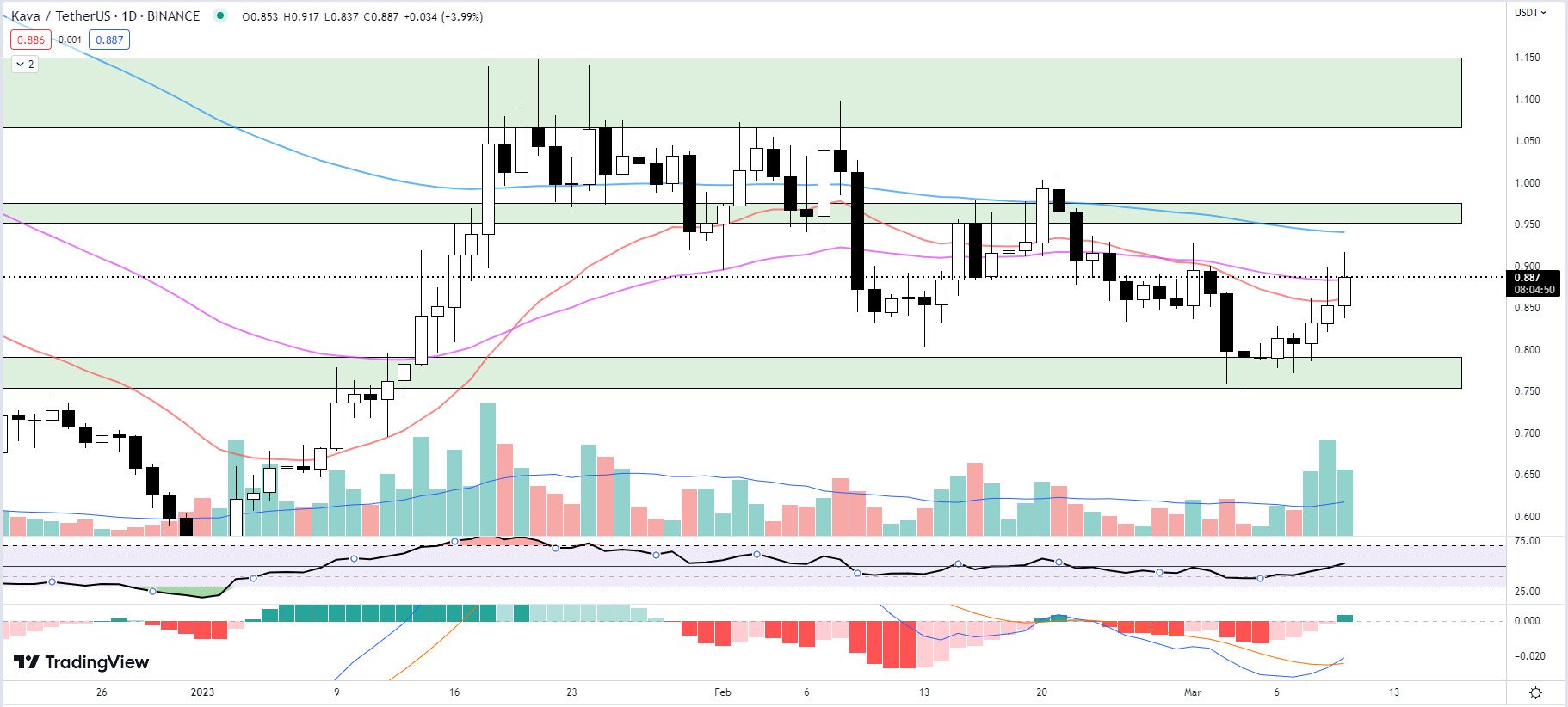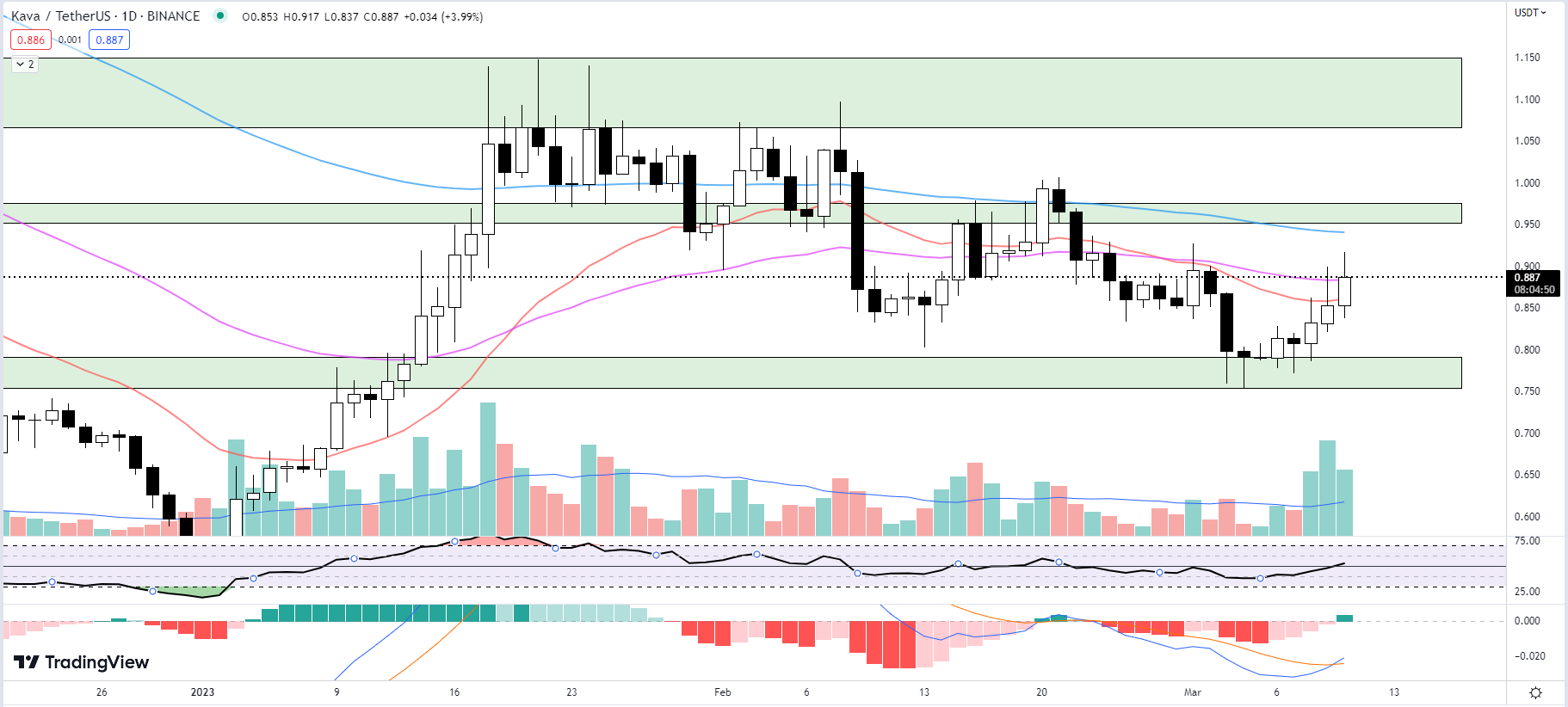 Despite the crypto market's recent bearish trend, KAVA has shown resilience by becoming the biggest daily gainer with a volatility of more than 9% and ultimately an increase of 2.52% on Thursday.
March 8, 2023
The token's recent price actions can be attributed to the launch of validator incentives. These ecosystem funds have increased the token's price as more validators run their nodes on the KAVA blockchain.
Additionally, an incentive was offered to validators to migrate their cloud infra to Akash, resulting in increased network activity.
KAVA's technical indicators suggest that the cryptocurrency could experience continued bullish momentum in the near future. The 20-day EMA is currently at $0.8607, with the 50-day EMA at $0.8832 and the 100-day EMA at $0.9406.
KAVA is currently attempting to break out from the 20-day and 50-day EMA. Though still in a bearish bias long-term, a successful breakout from 20-day and 50-day EMA is an indication of recovery.
The RSI is currently at 52.68. While this is not in overbought territory, it is still a positive sign as it suggests that there is potential for further upward momentum. The MACD indicator shows a positive sign as well.
The previous day's MACD histogram was -0.002, while the current day's MACD histogram is 0.003 indicating a newly formed bullish crossover. This indicates that KAVA may be gaining positive momentum.
Volume is also a significant factor in determining the strength of a trend. KAVA's current volume is 13.683 million, with the previous day's volume at 19.831 million. The volume moving average is at 6.927 million, which suggests that the trend is gaining strength.
The current price of KAVA is $0.887, with a gain of 3.99% so far today. This suggests that there is a potential for a bullish rally, as the price movement is positive.
The immediate resistance for KAVA is at the 100-day EMA at $0.9406, which is in confluence with the horizontal resistance area of $0.951 to $0.975. If KAVA can break through this resistance, it could continue its upward momentum.
The immediate potential support for KAVA is at the horizontal support of $0.753 to $0.791. Traders should keep an eye on KAVA's price action to make informed trading decisions.
Fight Out Fitness App Changing the Game With Virtual Sports Betting
Fitness enthusiasts looking for a new way to stay motivated and engaged in their workouts can soon turn to Fight Out, a fitness app that's making noise in the fitness industry. Fight Out combines fitness and fantasy sports, offering users a unique virtual sports betting experience.
The app lets users create teams of real-life fighters and place bets on their fights against other users, providing an unprecedented level of engagement that traditional fantasy sports can't match.
Train hard, fight easy, and win big with #FightOut 👊⚡️

Join our community and get ready to play-to-earn your way to the top. 🚀

👉 https://t.co/9pikKGRjSd pic.twitter.com/klTex2CfoZ

— Fight Out (@FightOut_) March 10, 2023
In addition to virtual sports betting, Fight Out provides a comprehensive fitness solution. The project includes plans to introduce Web3-powered gyms worldwide, complete with state-of-the-art equipment and Web3-enabled tools like electronic mirrors and detectors that offer guidance and knowledge to users.
Users can earn REPS tokens by completing workouts and competing with other fitness enthusiasts. These tokens can be used for markdowns on application memberships, access to workout centers, one on one training with fitness professionals, and merchandise.
Fight Out will also offer an impressive selection of PVP and PVE games that allow users to unleash their inner fighters. Users can participate in leagues, tournaments, or exclusive competitions to win amazing prizes by paying with $FGHT. They can even do battle with NFT avatars, engaging in virtual battles that are tied to their real-life fitness progress.
Fight Out's FGHT token presale has been a success and is entering its next stage in 6 days, with over $5.396 million in investment so far. This has made it one of the best cryptos to buy today.
Cosmos (ATOM)
Cosmos' ATOM has been gaining traction in the market as more developers and enterprises adopt its technology to resolve one of the most significant challenges facing blockchain technology: the inability of various blockchain networks to exchange data and communicate with each other.
In the face of a broader cryptocurrency sell-off, Cosmos (ATOM) has managed to stay afloat.
Looking at the technical indicators, Cosmos (ATOM) is currently trading at $11.167 with a previous-day price movement of 0.68% and a current daily price movement of 1.23%. The RSI is currently at 32.97, indicating that the asset is still in oversold territory.
The MACD indicator is showing a slight improvement, with a previous day MACD histogram of -0.199 and a current day MACD histogram of -0.186. This suggests that the crypto may be experiencing a reversal of the bearish trend, which could be an encouraging sign for traders.
In terms of support and resistance levels, ATOM faces immediate resistance at the horizontal resistance level of $11.230 to $11.328. If the asset can break through this resistance level, it may experience significant upward momentum toward the next resistance level of $12. On the other hand, the immediate potential support is at $10.493 to $10.647, which could act as a cushion against any further declines.
Traders should keep a close eye on the support and resistance levels, as well as the MACD indicator, for potential trading opportunities.
Metropoly Introduces Real Estate NFT Marketplace for Crypto Investors
Metropoly has launched a real estate NFT marketplace that offers a lucrative and accessible investment opportunity to crypto investors. By using fractionalized non-fungible tokens (NFTs), Metropoly provides a solution to traditional investment barriers such as credit checks, paperworks, and mortgages.
Investors can gain passive income from rental payments through the platform, which simplifies investment management using real-time analytics. Investors also have the ability to immediately sell their properties or participate in auctions for the highest bid.
Diversify your investments across various properties through fractionalizing! 🔥

Join Metropoly and multiply your wealth now! 💲

Start by investing as little as 100 USD… get started today! 🔥

Beta 2.0 is live and running! 👉 https://t.co/ILh6PskuV6#realestate #Web3 pic.twitter.com/c6PLtMXHDg

— METROPOLY (@metropoly_io) March 9, 2023
Investors can diversify their portfolios through Metropoly's NFTs, which have an entry point of only $100. The real estate-backed NFTs provide protection against inflation, and a monthly rental income, with the potential to appreciate in value over time.
Metropoly's presale has already raised almost $645K, with prices quickly increasing in nine increments. The company has formed strategic partnerships with more than 20 crypto influencers, ChainAdoption, and Tenset, which have strengthened its presence in the cryptocurrency investment community.
The beta version of the platform is available now.
Klaytn (KLAY)
Klaytn is a blockchain platform that offers metaverse developers and creators the necessary tools for building virtual infrastructures and applications. It integrates stablecoins and NFT marketplace development while providing various packages, such as IPFS solutions, chain explorers, and smart contract libraries, to assist developers in building highly functional applications.
KLAY entered the list of top crypto gainers on Thursday when it posted a gain of 4.74% despite the broader cryptocurrency sell-off. Klaytn (KLAY) is experiencing a 0.75% price increase at its current price of $0.2161 so far today.
The technical indicators show that KLAY is currently in a bearish phase, with the RSI at 40.18, indicating oversold conditions. The previous day's MACD histogram was at -0.0109, while the current day's MACD histogram is at -0.0099, indicating a negative trend.
KLAY is trading below its 20-day EMA of $0.2434, 50-day EMA of $0.2344, and 100-day EMA of $0.2211, indicating that the bears have the upper hand. The immediate resistance is at the 100-day EMA of $0.2211, which would need to be breached for any bullish movement to occur.
Looking at potential support levels, the psychological level of $0.20 is a key area of support, in confluence with the horizontal support area of $0.2016 to $0.2048. If KLAY breaks below this level, it could lead to a decline to the next potential support of $0.19, indicating further bearish momentum.
C+Charge Platform to Enhance EV Charging Experience as One of Best Cryptos to Buy Today
C+Charge is a platform that utilizes blockchain technology to locate charging stations and enable direct payments.
🔌The energy transition from fossil fuels to electricity is quickly migrating in private vehicles and public transports

Parking lots integrated with solar energy chargers are also evolving ☀️

Join the $CCHG #presale today and be part of the transition⬇️https://t.co/ixe18bPqzI pic.twitter.com/2kVKD4AFMF

— C+Charge (@C_Charge_Token) March 10, 2023
C+Charge plans to build new charging stations while also collaborating with existing networks to achieve its goal of making EV charging more accessible and simpler.
The integration of blockchain technology ensures a seamless and transparent payment process using CCHG tokens, while the accompanying app provides real-time updates on regional charging options and vehicle charging diagnostics.
EV owners who use the platform will also receive Goodness Nature Tokens (GNT) as rewards, which can be traded within the app. These tokens represent verified carbon credits and are supported by large venture capital firms.
The presale of C+Charge comprises eight phases, each lasting a week before the token's value rises again.
The presale has already raised more than $2.675 million, and the token price will rise further in the next presale stage, making it one of the best cryptos to buy today before its next price increase.
---