Beeple's USD 69M NFT Enters Art History
Disclosure: Crypto is a high-risk asset class. This article is provided for informational purposes and does not constitute investment advice. By using this website, you agree to our terms and conditions. We may utilise affiliate links within our content, and receive commission.
A non-fungible token (NFT) piece of art thirteen years in the making was just sold for a whopping USD 69.35m at famous British auction house Christie's, becoming the most expensive NFT ever sold, and positioning the author among the top three most valuable living artists. (Updated at 15:27 UTC with the price realized. Updated at 15:49 UTC with more reactions. Updated at 17:02 UTC: updates throughout the entire text. Updated at 17:49 UTC with a report about Justin Sun. Updated on March 12, 04:28 UTC with a clarification about Justin Sun. Updated at 05:25 UTC with a tweet from Justin Sun.)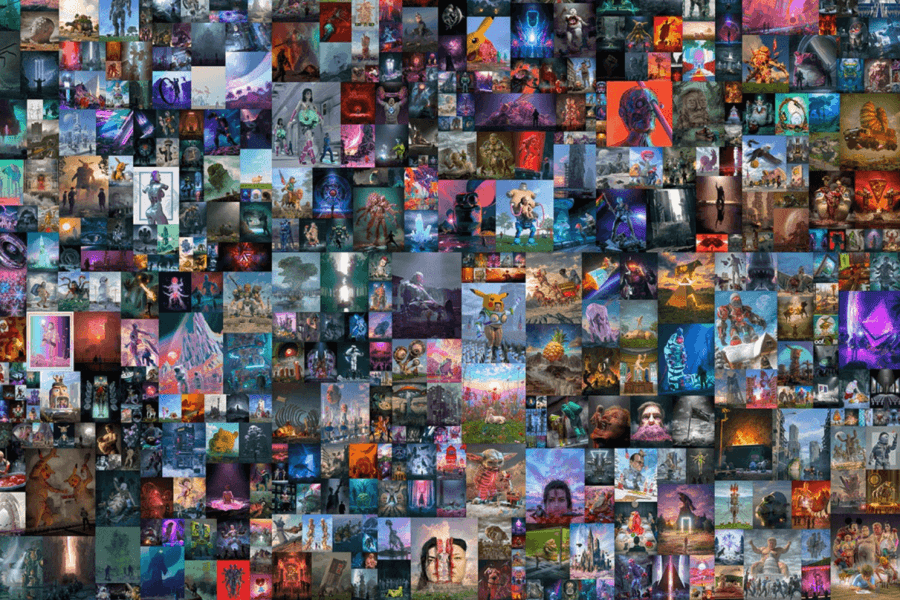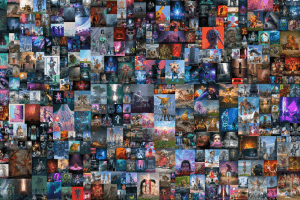 Initially it had appeared that Tron (TRX)'s Justin Sun, gave the winning bid of USD 60.25m according to information provided by a Tron representative to Bloomberg. Later, the statement was clarified to say he was outbid at the last minute by a mystery buyer. A spokesperson for Christie's declined to name the buyer.
Justin Sun also confirmed that he was outbid:
(Learn more: Justin Sun: Christie's Tech Glitch Stopped Me Paying USD 70M for Beeple NFT)
According to Bloomberg, prior to the sale, Christie's Noah Davis said that "there have been a handful of really dogged, really serious clients pursuing it, and they are mostly people who are very steeped in crypto."
Titled 'Everyday: The First 5000 Days' and created by prominent digital artist Mike Winkelmann, known as Beeple, the piece, consisting of almost 444m pixels, was on online auction from February 25 until March 11, attracting 353 bids – with the highest one of USD 60.25m set to take it home. However, the final purchase price of a lot, which includes the hammer price with the buyer's premium, or the price realized, hit USD 69.35m.
Just two hours before the end of the auction, there were 165 bids, and the highest bid was USD 13.25m. And then, the real race started:
20 minutes left: 171 bid and USD 14.75m.
10 minutes left: 193 bids and USD 20.25m.
5 minutes left: 211 bids and USD 24.75m.
1 minute left: 223 bids and 27.75m.
Extended by 1 minute: 315 bids and USD 50.75m.
The end of the auction: 353 bids and USD 60.25m
Bidding opened at USD 100 and hit USD 1m on the first day.
___
___
The auction house has enabled payment in ethereum (ETH) for this piece, stating that the payment must be made from a wallet maintained with Coinbase, Coinbase Custody Trust, Fidelity Digital Assets Services, Gemini Trust Company, or Paxos Trust Company.
Per the auction website, this unique NFT was minted on February 16, 2021. The lot essay states that in May 2007 Beeple decided to start creating and posting a new work of art online every day, thus creating a new digital picture every day for 5,000 days straight until January this year – showing the artist's evolution over time.
"Individually known as EVERYDAYS, collectively, the pieces form the core of EVERYDAYS: THE FIRST 5000 DAYS," it says. In it "the artist has stitched together recurring themes and color schemes to create an aesthetic whole. Organized in loose chronological order, zooming in on individual pieces reveals abstract, fantastical, grotesque, and absurd pictures, alongside current events and deeply personal moments."
In recent years, Beeple often reacted to political events. "I almost look at it now like I'm a political cartoonist," he said. "Except instead of doing sketches, I'm using the most advanced 3D tools to make comments on current events, almost in real-time."
The South Carolina-based artist collaborated with major brands, such as Louis Vuitton, Apple, Space X, and Nike, as well as performing artists such as Imagine Dragons, Ariana Grande, Childish Gambino, and Katy Perry.
"We must recognize the record-breaking sale of Beeple's opus as what it is: a watershed moment for our industry. This sale will allow the public to see the capabilities of NFTs in the art space, however, it is just the beginning of the NFT revolution, which will ultimately change the way we live," Justin Banon, CEO and Co-founder of Boson Protocol, the developer of a "capture resistant dCommerce ecosystem" using NFTs encoded with game theory, said in an emailed comment.
According to him, NFTs are fueling the rise of decentralized commerce and remove the need for arbitration in the fulfillment of digital to physical redemption.
Meanwhile, Nifty Gateway shows Beeple's artwork sold out in December, two of which went to their new owner 'pablo' for USD 66,666.66 each. "Crossroad," for example, is a token that changed based on the outcome of the US election. Many of the pieces have been resold for higher prices, earning the artist his share of the pie with each sale as well. For example, as reported, the Trump-themed work named "Crossroad" was resold on the secondary market for USD 6.6m.
"That was a real wake-up call for all of us […] to see such significant sums being paid," Christie's Noah Davis is quoted as saying by the New York Times.
Davis is also quoted by The Art Newspaper as saying that this auction and accepting payment in ETH are "the perfect opportunity to explore cryptocurrency because we have the perfect seller who is happy to receive payment in ETH."
As reported in October last year, a bitcoin (BTC)-themed work named Block 21 fetched USD 131,250 at a Christie's auction – seven times above their estimate. Block 21 was created by British artist Ben Gentilli who engraved it with 322,048 digits of original Bitcoin code.
___
Reactions:
___
Learn more:
– Second-Hand NFT Market for NBA Top Shot Packs Appears on eBay
– Consider These Legal Questions Before Spending Millions on NFTs
– NFT Overtakes Litecoin, Bitcoin Cash, and XRP on Google
– Grimes and Paris Hilton Go Full NFT – But Some Warn of Trouble Ahead
– Check These 4 Make-Your-Own-NFT Platforms
– Non-Fungible 2021: Prepare Your NFTs For DeFi, Staking, and Sharing
– 'Traditional' Art vs. Crypto Art: How to Value It
– NFT: Can Burning A Banksy Make It More Valuable?
---