Axie Infinity Shows New Signs of Life, Despite Still-Falling NFT Sales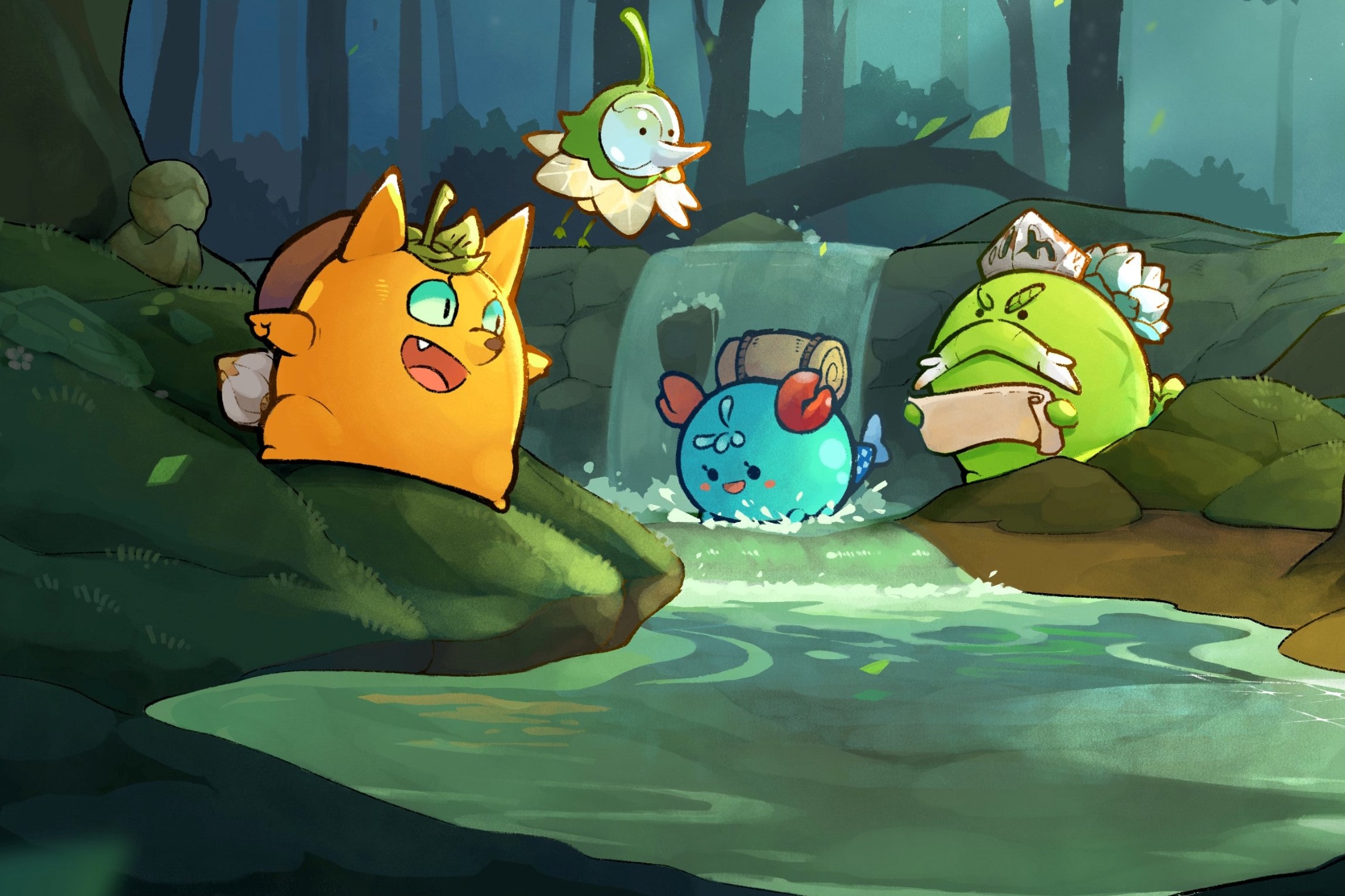 The crypto-powered play-to-earn (P2E) game Axie Infinity (AXS) is again showing signs of life, after being hit hard by a price collapse in the NFT and P2E sectors in crypto. However, sales of NFTs for the game have still fallen significantly in May and June.
One sign that the worst might be over for the game is the price of the game's AXS token, which recovered about 10% from its low of USD 11.80 on June 18. Since then, the token reached as high as USD 18.50 on June 25, before once again sliding in recent weeks.
The stabilization of the AXS token price came as Axie Infinity embarks on a journey to transition its model to what it calls play-and-earn, rather than the traditional play-to-earn.
As it turned out, play-to-earn was extremely popular among users as long as prices of the tokens used rose in value. This was especially true in developing countries, where earnings from these games were often higher than average salaries.
When token prices started falling, however, the weaknesses of the model became more obvious, and players were left with only minuscule earnings.
The new play-and-earn model is what Axie Infinity's new Origin version is based on, Philip La, Game Product Lead at Sky Mavis, the developer of the game, wrote in a blog post from Sunday, where he addressed what he called "misleading narratives" around the game.
"Sky Mavis is aware of economic imbalances. That is a major area Origin was built to bring balance to with the introduction of more ways for players to spend on things they value. It will evolve the Axie Infinity model so it is not player growth-dependent," La wrote.
He added that he understands "some players will leave" as Axie Infinity transitions to "the more sustainable play-and-earn model," but said that "core believers will stay."
"[…] we have many ways to grow in the future off the strong core base," Sky Mavis' Game Product Lead added.
Meanwhile, positive sentiment was also shared by Jeff Zirlin, co-founder of Sky Mavis, who last week said that sales of Axies – virtual creatures collected as NFTs by players in the game – had picked up.
"22,000 sold in the last 24 hours," Zirlin declared, while comparing it to a sales figure of just 7,000 "a few weeks ago."
He added that the Ronin Bridge used to move assets from the Ethereum (ETH) blockchain to Axie Infinity's own chain Ronin (RON) is now "back up," and said virtual land in the game, 90% of which is staked, is generating AXS tokens.
The Ronin Bridge was closed for an extended period after a major hacking incident in March this year, but re-opened on June 28.
The tweet from Zirlin came before data from CryptoSlam showed that Axie Infinity as of Tuesday had generated USD 1.35m from sales of its game-related NFTs over the past 7 days, an increase of 174% compared to the prior 7 days. The sales were generated from close to 23,224 unique buyers, the data showed.
Virtual land in Axie Infinity is traded as NFTs, with sales picking up from a low point after a new land staking feature was introduced on July 1.
Axie Infinity NFT sales since May: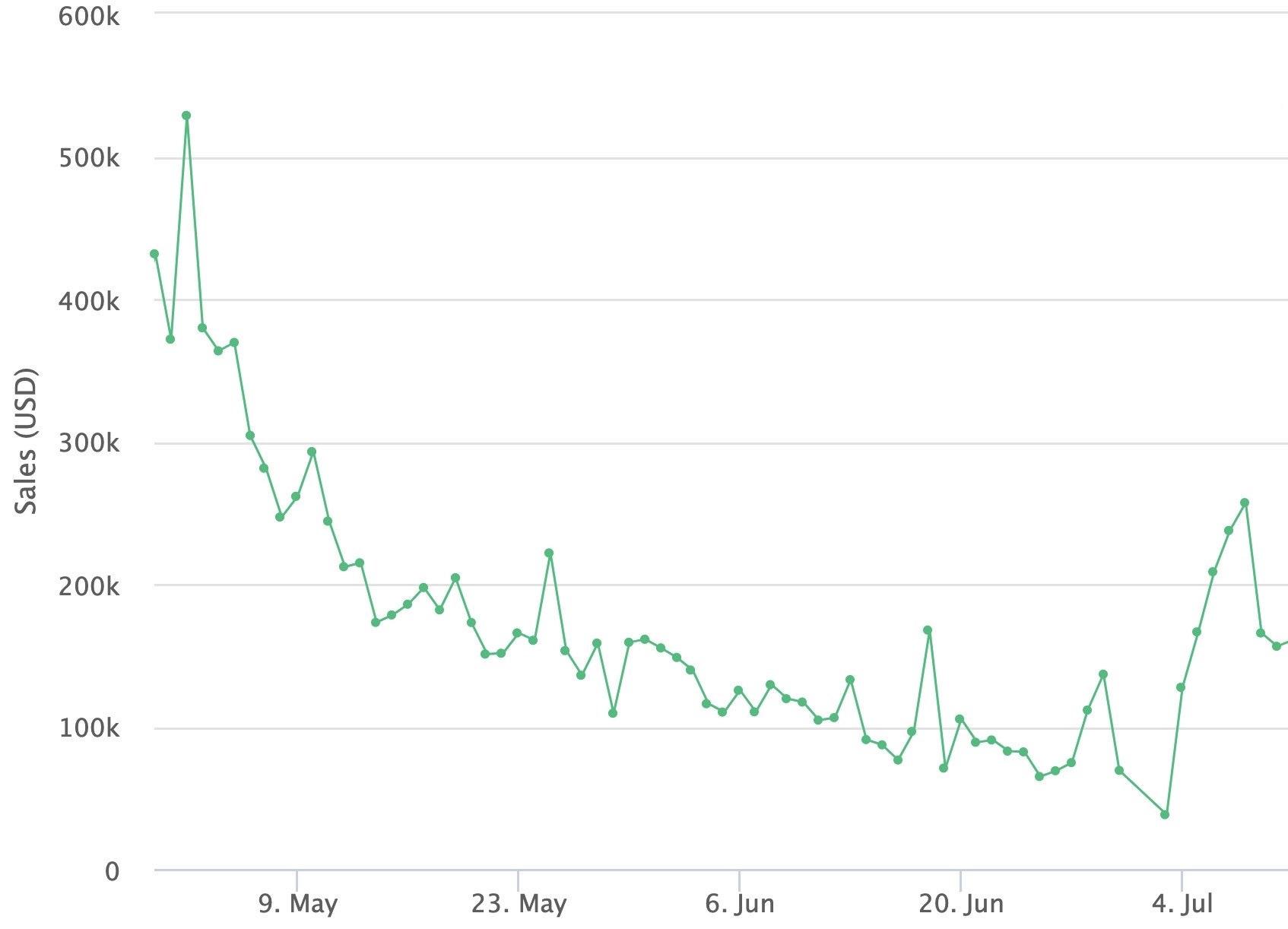 Still, there is no way around the fact that Axie Infinity's NFTs have struggled this year, with sales continuing to fall in May and June.
Over the past 30 days, Axie Infinity's NFT sales totaled USD 3.3m, significantly lower than other, not gaming-related popular NFT projects such as Bored Ape Yacht Club and CryptoPunks, which brought in USD 70m and 50.3m, respectively.
____
Learn more:
- Play-to-Earn Bitcoin Games: How Lightning Network Enables Gamers to Earn Sats
- Blockchain Games in 2022: Play-to-Earn, Gamification, Interoperability and Major Publishers

- VC Play-to-Earn Investors Now 'More Cautious', Game Engagement Still Strong - Animoca Brands

- Blockchain Games See a Drop in Users and Volume After Strong Performance in May
- Top 5 Play-to-Earn Games on Ethereum
---