As Spot Gold Surges Higher, Tether's Gold Token Lags Behind
While gold-backed crypto tokens are being touted as an alternative to USD-pegged stablecoins, a previous price premium on these tokens has now turned into more of a mixed picture as one popular token leads, while other lags behind the soaring traditional spot gold price.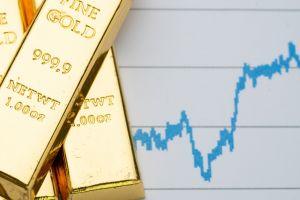 At the time of writing on Wednesday (06:54 UTC), Tether's XAUT token traded at USD 1,838, while Paxos' PAX Gold token traded at USD 1,877, according to Coinpaprika's reference prices. This compares to a spot price for gold of USD 1,860, according to data from Goldprice.org.
This price difference between spot gold and the two gold tokens places Tether's gold token roughly 1.2% below the spot price of gold, while PAX Gold traded about 0.9% above the spot price. As seen in the chart below, however, the price discount on Tether's XAUT token was even more pronounced on the crypto exchange Bitfinex, where ounces of digital gold changed hands for only USD 1,828.9, or 1.7% below the spot price.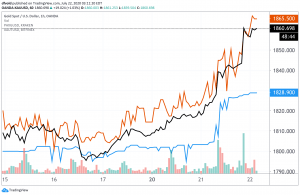 Today's situation differs from the situation shortly after both gold, stocks, and crypto markets took a major hit as the COVID-19-triggered panic spread to financial markets in mid-March. Back then, gold-backed tokens generally traded at a premium to the spot price of gold, likely in response to nervous crypto investors who sought safety in the more stable yellow metal.
The premiums paid by crypto traders for access to gold on the blockchain can be seen when zooming out to the daily timeframe and analyzing prices between March 20 and April 20 this year.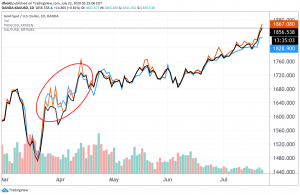 And while the reasons for the current discount on Tether's gold token remains unclear, it does have a shorter track record than the Pax Gold token, circulating in the market only since January this year. Further, while Paxos has worked with the Australian government-owned Perth Mint to supply and store the gold that backs the tokens, Tether has chosen another path and instead works with the less known private company TG Commodities Limited.
---