Is ApeCoin the Next Cryptocurrency to Explode On APE Staking Launch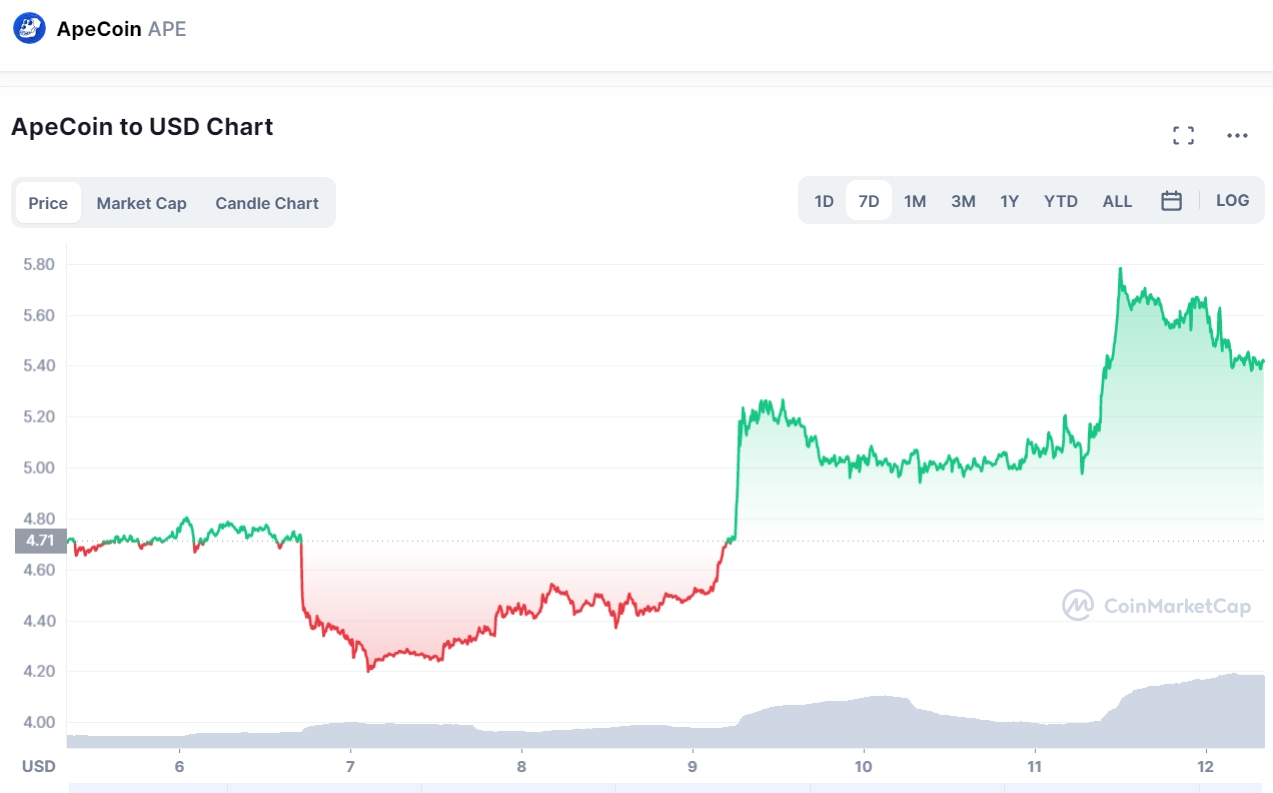 ApeCoin appears set to pump in the coming days and weeks ahead of staking for APE going live.
The coin has made steady gains in the last seven days, up 15% on the week and 7% in the last 24 hours, with more growth expected after Horizen Labs announced they would hold a Twitter Spaces on the subject on September 22.
It remains unclear when exactly staking will go live, with some holders expressing annoyance and disappointment on social media that it hasn't happened yet.
However, the general sentiment on APE is now bullish and the market could see more growth both pre- and post-staking going live, with investors rushing to buy up the coin and then take it off the market.
What is ApeCoin and the Bored Ape Yacht Club?
The Bored Ape Yacht Club (often referred to as BAYC) is one of the premier NFT collections in crypto.
Despite billions being drained from the NFT market and many collections in the red, the cheapest BAYC is still on sale for 72 ETH (approx. $125,000) and during the NFT bull run last summer, multiple Bored Apes sold for tens of millions of dollars.
The collection has a number of celebrity backers, with Eminem, Snoop Dogg, Madonna, Jimmy Fallon and many others.
The BAYC universe also includes other collections - the Mutant Ape Yacht Club and Bored Ape Kennel Club - which are secondary collections and go for significantly less but are still highly sought after.
ApeCoin is an ERC20 token that acts as that the governance token within the APE Ecosystem and the ApeCoin Decentralized Autonomous Organization (DAO), it is a community-driven initiative allowing holders to vote on ideas, projects and other tasks within the ecosystem.
It also allows holders exclusive access to other things such as merchandise, events, premium games and services and we named it among our top 10 best new cryptos to buy.
APE reached an all-time high of $25 in May and although it's price has dropped significantly, it has remained in the top 40 coins by market cap based on the desirability of the Bored Ape ecosystem and the strength of the community, despite its general lack of utility compared to some projects.
What is APE Staking?
The ApeCoin DAO has released full details on what staking will entail.
But in summary, ApeCoin will be distributed to all Bored Ape and Mutant Ape holders that stake their NFTs plus APE coin. It offers great incentive for holders of the NFT to buy more APE with the sole intention of staking it and the more that do the higher the rewards will be.
However, for holders to generate max returns they have to hold a set amount of APE (10,094 for BAYC and 2,042 for MAYC) and many holders do not earn close to that.
Twitter user Ouroboros Capital has broken down APE staking, NFT holder wallets and the potential amount BAYC and MAYC holders could earn and concluded that APE will become a must buy for them soon.
Not only will that see increased demand but once staking goes lives, the supply of the coin is set to be sucked out of the market.
One alternative coin with similar growth potential in the coming weeks is Tamadoge.
The project is currently enjoying an extremely successful presale and has raised almost $15 million in just over a month, with around just 15% of the presale allocation remaining.
---