AI Meme Crypto Presale AiDoge Hits $10 Million Raised - Now 70% Sold Out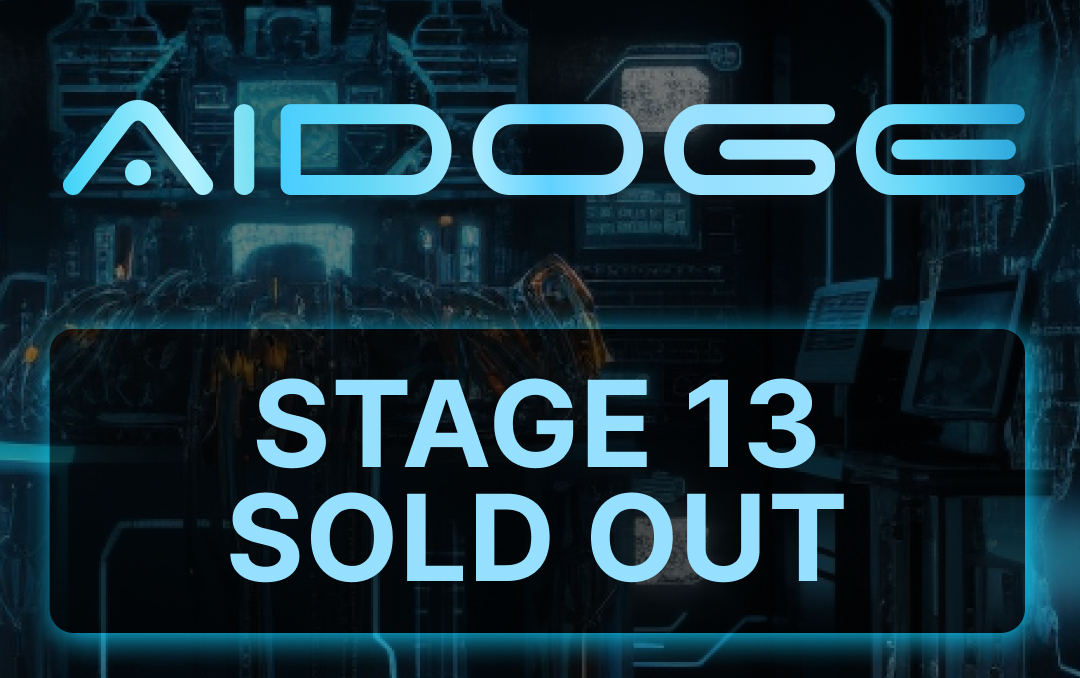 New AI powered meme generation tool AiDoge.com has now passed the $10 million mark in its ongoing presale, now over 70% complete.
The meme coin project, which introduces crypto's first meme-to-earn model, has been generating a buzz in the crypto space. It is raking in funds at a brisk pace, having raised $10,136,059 at the time of writing.
And by passing the $10 million milestone the presale has jumped into its 15th stage, meaning the price of AiDoge's native crypto token $AI is now $0.0000316.
Crucially, the presale has less than a third of its target left to raise, which means interested crypto buyers need to move fast to secure the tokens at the lowest possible price.
$10 Million Raised in One Month
The AiDoge presale began on April 25th, 2023, raising its first $100k within minutes, $1 million within days, and now $10 million in less than a month.
Market participants are on the hunt for coins in the two popular niches of AI and meme coins, and AiDoge ticks both of those boxes.
Consequently, FOMO is raging as investors hunt for the next Pepe or Shiba Inu.
The crypto project's presale only launched around one month ago, and investors have been ploughing funds into the project at a pace of around $300,000-400,000 a day.
That can probably be explained by the perfect timing of AiDoge's presale launch, which has coincided with crypto markets entering a new period of meme coin frenzy.
Clearly, thanks to AiDoge's impressive value proposition/use-case that gives the $AI token real utility, investors think that $AI could be the next coin to explode.
In the video below Crypto Gains, who has 105,000 subscribers, tipped the AiDoge presale for potential gains of up to 20x.
One of the fastest growing cryptocurrency projects this year, the AiDoge presale's $14.9 million hard cap could be hit in as little as a few weeks.
Investors who get $AI at the current presale price of $0.0000316 will be sat on a paper gain of around 6% by the time $AI lists across major exchanges at $0.0000336 next quarter.
Adding Utility to Meme Coin Projects
While the market is still very much dominated by utility-lacking meme coins such as Dogecoin (DOGE), Shiba Inu (SHIB) and Pepe (PEPE), AiDoge is at the tip of the spear of a new wave of meme coins, characterized by strong use-case and utility.
The $AI token derives its value from functioning as the primary currency within AiDoge.
$AI has three key use cases. It is used to purchase credits to generate memes using the platform's AI technology.
Secondly it can be staked, allowing users to receive daily rewards and other benefits.
Lastly, as the native asset of the ecosystem, $AI is the token in which rewards are earned by community members voting on memes and generating popular content.
Another great feature of $AI is that it is issued on the Arbitrum network, an Ethereum layer-2 scaling solution, meaning transactions will be faster and gas fees exceedingly low.
With AiDoge boasting such a strong value proposition/use case, some analysts are predicting that $AI could be the next big crypto to watch this year.
Popular crypto presale analysts think that, at the very least, we could be looking at a 10x meme coin in AiDoge.
AiDoge Presale Growth Potential
When $AI lists on exchanges at $0.0000336, it will be a $33.6 million fully diluted market cap coin, thanks to its total token supply of 1 billion.
If it was to 10x, that would make it a $336 million market cap coin.
AiDoge plans to generate significant traction by delivering on its roadmap in the coming months to attract a substantial user base and engaged community.
Assuming that we are in the early stages of a new crypto bull run, the potential for 100x gains to a $3.36 billion market cap should not be discounted.
And even if calling the bull market call is slightly premature, AiDoge.com price has all the properties to pump higher.
Supporting evidence for that comes from Pepe. Earlier this month Pepe briefly hit a market cap of $1.8 billion, despite having no actual use case.
Add to that the fact that utility-lacking Dogecoin and Shiba Inu both have market caps of around $10 billion and $5 billion respectively, the sky is the limit in terms of growth potential.
First Meme to Earn Project
AiDoge, which sits at the intersection of the meme and AI worlds, is building a revolutionary new social platform that allows users to generate memes using AiDoge's cutting-edge generative AI technology.
AiDoge's platform "employs advanced AI technology for creating relevant memes based on user-provided text prompts," states the crypto project's whitepaper.
"Users provide text prompts for meme generation… the AI processes the input, creating relevant, engaging memes, making meme creation accessible to all".
Meme creators post their content to the public wall and the community can then vote on their favorites.
The platform has an inbuilt mechanism to promote the best memes and reward their creators with $AI tokens.
AiDoge thus offers meme creators their first viable avenue to an income stream related to their hobby, all whilst the blockchain technology that underpins the AiDoge platform protects their ownership rights over their content.
The revolutionary social platform is thus being referred to as "meme-to-earn" (M2E), a ground-breaking new concept that is proving to be a hit amongst the broader crypto investing space.
AiDoge has taken off because it is increasingly seen as the best offering in both the AI and meme coin space right now.
Yes, crypto is speculative like all new tech sectors and industries. Yet the savvy investor can narrow down the risks by homing in on those projects most likely to succeed.
Read more about AiDoge's upside potential here.
---