William Wendt, Ecosystem Growth Manager at Oasis, on Web3 Decentralized Infrastructure, Privacy, and Security | Ep. 226
Disclosure: Crypto is a high-risk asset class. This article is provided for informational purposes and does not constitute investment advice. By using this website, you agree to our terms and conditions. We may utilise affiliate links within our content, and receive commission.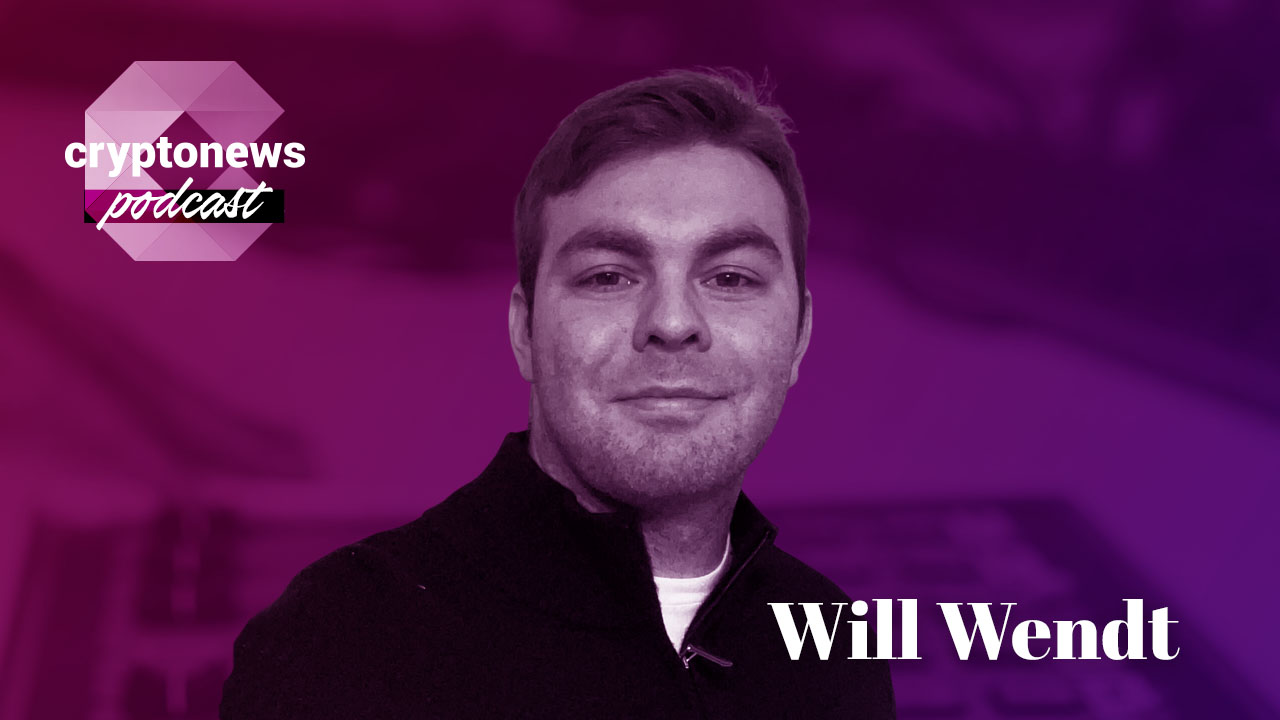 In an exclusive interview with cryptonews.com, William Wendt, Ecosystem Growth Manager at Oasis, talks about how blockchain is open and transparent, the intersection of AI and web3, and user protection in the web3 ecosystem.
About Will Wendt
William Wendt is the Ecosystem Growth Manager at Oasis, where he is working to build the future of web3 with a focus on decentralized infrastructure, privacy and security, and open-source environments. Prior to Oasis, Will worked on the Product Development team at The Nature's Bounty Co., where he managed stability trials and logged different products and materials for compliance with various GMP guidelines.
Will holds a BS in Chemistry from Towson University, where he was also a Division 1 athlete on the Men's Swimming and Diving Team.
Will Wendt gave a wide-ranging exclusive interview which you can see below, and we are happy for you to use it for publication provided there is a credit to www.cryptonews.com.
Highlights Of The Interview
Oasis Labs, and the new Oasis Privacy Layer.
How blockchain is open and transparent, but the inability of most blockchains to support confidentiality where it is needed is a serious limitation that needs to be addressed.
The fact that regulators have concerns about privacy as it is often equated to anonymity, which can lead to illicit uses of technology, and how there will be a focus shift to empowering developers to better protect their users' privacy in their applications.
The institutional shift that will occur this year regarding the expansion of options for user protection in the web3 ecosystem.
The intersection of AI and web3, and the importance of privacy within that convergence.



Full Transcript Of The Interview
Matt Zahab
Ladies and gentlemen, welcome back to the Cryptonews Podcast. We are buzzing as always. Super pumped to have today's guest on the show, William Wendt, Ecosystem Growth Manager at Oasis, where he is working to build the future of Web3 with a focus on decentralized infrastructure, privacy and security, and open source environment. Prior to Oasis, Will worked on the Product Development team at the Nature's Bounty Company, where he managed stability trials and logged different products and materials for compliance with various GMP guidelines. Will also hold a BS in Chemistry from Towson University, where he was also a D-1 athlete on the men's swimming and diving team. Super pumped to have you on Will, welcome the show, my friend.
Will Wendt
Hi, Matt pleasure to be here. Thank you so much for having me on.
Matt Zahab
Pumped to have you, man. I mean, the one thing that pops out at the Bio right away, D-1 athlete for swimming and diving. I have such a crazy amount of respect for swimmers. I have pretty good cardio used, play hockey growing up. Was always a bit of an athlete. I can still humble brag, and still crank out a good 5K and, like, Sub 20 without training, which is not bad. I'll toot my own horn there. But whenever I get into a pool, and sometimes I'll swim at the pool in my building, I'm like, how the hell do these guys and gals do this, it is such a different beast. It's crazy.
Will Wendt
Thank you so much. Yeah, no, it's a different kind of sport, but I loved it. It was a great time. The memories of bonding with our teammates and all the hard work. Yeah. I just have a tremendous amount of appreciation for that opportunity I was given and for the time that we put it in, the friendships that I made. And also to say to yours, your Sub 20 minute 5K. That's very impressive. If you can pop that out without training, I think that was like, yeah, I can't even come close to that.
Matt Zahab
No, it's all mental. You just got to keep the pace and cook it. But how do you get into diving? Because swimming is pretty standard. Like, most people swim, and I feel like if you're a good swimmer and you throw up some good times and you're a beast in the pool, it's just like, okay, well, I'm going to swim. I'm going to get good at this. But how do you get into diving?
Will Wendt
Yeah, so swimming and diving is just the name of the team. I was a swimmer. I didn't actually participate in diving events. Similar to track and field, right? Like track run are runners and then fields do their shop put or hammer throw or whatever their other so I didn't participate in diving at all, but I got into swimming because both my parents were D-1 swimmers at St. John's, and that's where they met and sort of it's been in my blood and my family forever.
Matt Zahab
I love that. So, well, swimming aside, let's get into the bread and butter, the show. Let's get into Oasis Labs for a second. You and the team are frontrunners and are truly working some magic in building an open and transparent Blockchain and obviously doing a bunch with the ETH community as well. I'd love if you could start off by just giving us the quick little elevator pitch, the TLDR on Oasis Labs, and the new Oasis Privacy Layer, and then we'll get into the fun stuff.
Will Wendt
Yeah. So Oasis has a modular architecture, which I think has become popular recently with, like, ETH 2.0 shifting this direction, and other protocols like Cosmos and maybe Polkadot as well, trying to build this type of direction. But basically what it means is that we have a separation of Consensus and execution. So Oasis has an underlying Consensus layer which handles just governance, staking transfers of our gas token on the Consensus layer here. And then really what it does is validation of transactions that happen on our execution layer. And so our execution layer is made up of parallel runtimes, which we call paratimes. In a lot of ways, they can be thought of this roll ups similar to roll ups on the ETH 2.0. There's a few differences, but that's a good framework for people to think about it. So we have this separation of Consensus and execution with multiple parallel execution environments. The first execution environment we launched was Emerald. Emerald is basically our transparent EVM chain, similar to Polygon, similar to Moonbeam, a vaccine based. It's a high through put low gas cost EVM chain, and then that was our first one. We also have Cipher, which is our confidential smart contract platform supporting WebAssembly. We'll maybe get into that a bit later, but the one that we're really here to talk about today and the one that we're really excited about is Oasis Sapphire. So Oasis Sapphire is the first ever confidential EVM chain. So what that means is it's an EVM network that supports the ability to create confidential smart contracts with encrypted state. So normally, the way I explain this is through different examples. So, for example, if you wanted to build a DEX on an EVM chain, everything is transparent. As we all know, on Oasis, you could actually build a confidential DEX. So a DEX, which hides everything. So it could hide the slippage parameter, it could hide the wallets making the transactions, the tokens they're buying, tokens they're selling, the amount they're buying, the amount they're selling, it could hide everything. That would be like entirely encrypted state, but maybe for a variety of different reasons, you don't want to create entirely confidential DEX. And what the really cool thing about Oasis is you can sort of move through the spectrum of entirely transparent to entirely confidential anywhere in between. And so, like, for example, instead of hiding all aspects of state, you can encrypt just the slippage parameter or just this order book. And if you reduce something like that, you could create like, an MEV resistant DEX. Because now these bots and these actors that are trying to front run you and Arbitrage, these slippage that you might have on these trades, they no longer would have access to the information, and they wouldn't be able to see beforehand how profitable they might be. And so you can create, like, an immediate, resistant DEX in that way. And so I think the DEX example is a great way of showing what confidentiality and encrypted smart contracts can do, which is really just, like, create more sophisticated applications that offer better user experiences. And by the better user experience, I mean saves you 1% on every trade, but at the same time, you don't lose anything. It operates, from the user perspective, exactly the same way any other DEX would.
Matt Zahab
Will, that was great. Can you also just take a quick, deep dive into Oasis Privacy Layer as well, if you don't mind?
Will Wendt
Yeah. So, everything I explained previously that's, like, the Oasis Sapphire, building the stacks on Oasis would be native to Oasis. The other really cool thing that we sort of realized quickly after launching Sapphire is that we can offer other EVM networks the ability to also sort of leverage Oasis Sapphire to incorporate confidentiality into their applications through sort of messaging bridges and gas relayers. What do I mean by this? I mean, again, the best way to probably explain it is through examples. So, right now, if you're on Ethereum or Polygon or Binance Smart Chain and you have a DAO, it's impossible to have an onchain governance vote, which hides sort of which wallet address voted which way, and for lots of reasons that might incorporate bias into your governance process. I think most of us in the traditional world are used to having anonymous governance processes, but on an entirely transparent EVM network, that's impossible. But so what you could do instead of moving your whole application, let's say, and all your assets to the Oasis Sapphire network instead, what you could build is you could build, like, a parallel governance module on Sapphire. So that basically when the governance process starts. When a governance proposal starts on Polygon, it sends a message over a messaging bridge like layer zero, multi chains, any call, C bridge message bus. Like, there's lots of messaging bridges, so it sends a message over one of these messaging bridges, which triggers the governance proposal to start on Oasis Sapphire. From that point on, when the user sort of gets when they go to the Governance dashboard of that DAO and they try to submit their vote, it'll automatically switch to Oasis Sapphire. They will send their encrypted message at the end of the governance process. All the encrypted messages will be aggregated together, and the result will be sent back over to the origin chain. And should the message pass, should the governance proposal pass, then the changes will take place. You can do, like, very similar things in gaming, where you have maybe an RPG game on Polygon, where 90% of the game has no need for confidentiality, but you want to put like, a riddle in the game with an unknown solution. So instead of building the entire game on Oasis Sapphire, let's say you're already on Polygon and you have a large user base. Instead of building an entirely new game on Sapphire, you could just build a module for that riddle on Sapphire. So what the user experience would look like is you sort of are playing the game. You get to the point of the game where you need this riddle, network switches. You submit your encrypted solution to that riddle. If the solution is correct, a message gets sent back over to Polygon, where your onchain NFT or your onchain experience or something like that is unlocked. And so, in this way, you can sort of use Oasis Sapphire to offload your confidential computation needs while keeping the majority of your application on the network that is currently on or whatever network you choose for maybe liquidity or maybe just the amount of users that exist there.
Matt Zahab
Interesting. So, yeah, you guys are utilizing a lot of heavy tech here to give the most efficient, cost effective, and privacy focused solution to consumers, which is like, three obviously massive areas and pain points of Crypto. How do you guys like, how does your approach differ from others leveraging ZKPs? Because I know, you know, ZK rollups are sort of the talk of the town. Everyone's I mean, last year we so everyone was sort of like, oh, 2022 will be the year. I think 2023 will be the year ZK rollups are going to pop off this year. But just curious to understand how your approach differs from everyone else in your use of ZKP tech.
Will Wendt
Yeah, so, I mean, that the really interesting thing is that Oasis doesn't use ZKP. We don't use any any zero knowledge at the moment. Although it's possible to create like a ZK in the future, which, you know, I think, like you said, ZK is like sort of the hot topic. And this is where everyone is thinking about in terms of privacy. Oasis instead uses trusted execution environments. So trusted execution environments is like a trusted hardware that operates as a black box that all the validators on our network run. And so the way that the outcomes are very similar to ZK, but there's different trade offs. And so basically what happens is all transactions are encrypted by default. Then when they're submitted to these validators, that goes inside the black box where it is then decrypted and then sort of the computation is done within this black box and then reencrypted it. The outputs are reencrypted based off of the parameters that are set by the developer and the user and all that. And so the sort of, I guess, advantage that we see over ZK technology is the fact that within this black box, everything is operating as like a normal EVM. No one can see what's going on, but it sort of operates exactly like a normal EVM. And so from a developer perspective, there's far less friction because you can just code in solidity and it just works right? Like, it just works out of the box where that thing came with a lot of ZK tech, specifically ZK that is working on privacy versus scalability. There's a lot of different ZK circuits that have to be built, often different languages and things of that nature. So developer friction is one that I think is really great. The other one is like the ability to create these, like I said, applications that range from entirely transparent to entirely confidential and anywhere on the spectrum in between. And so it gives a lot of flexibility. So you can create, let's say, an ERC-20 wrapping standard where only the sender gets to view all the data associated with the sender and the receiver, the sender, the receiver, and maybe the third party application who created that ERC-20 token, but no one else can. And so by doing that, you create a lot of flexibility and then the other one is like composability, right? It's like the generalized smart contract execution. All this private data is capable of talking to one another within this black box, because within the black box, it's actually not private, it just runs open. And so you can create a very composable network, which is sometimes hard with ZK, because ZK is not the best at aggregating lots of confidential data together to create a single transaction or a single computation or something along those lines.
Matt Zahab
Interesting. On that note, on sort of the whole privacy note, the one thing that I've heard you discuss before is sort of the whole issue regarding regulators having concerns about privacy. It's often equated to anonymity and regulators who perhaps aren't too read up on and switched on in regards to the whole Crypto market have this fallacy that no one will never be able to see where money was sent. And this can lead to illicit uses of tech. I know you and the team have spoke about this. I'd love to just get your two cents on what's going on in regards to the whole regulators having concerns about privacy and how you guys are shifting to empower developers to sort of better protect users privacy in their apps.
Will Wendt
Yeah, absolutely. I think the key thing that I always think about in terms of the privacy discussion in Web3 is that up until this point, a lot of the discussion on privacy has been about these entirely anonymous transactions. When people think of privacy, they think Manero, they think CCASH, they think privacy coins, they think about, how can I make a transaction that's entirely anonymous? And I think Oasis is a bit different than that. In many ways Oasis basis about more sophisticated smart contract applications enabling more sophisticated smart contract applications and the possibility of offering better user experiences through privacy, but also through confidential computation. So, for example, that DEX example I talked about where there was MEV resistant, that has nothing to do about anonymous transactions, right? That's hiding some aspect of your transaction, but it's not hiding who made the transaction, but it's offering a better user experience and a forcephisticated smart contract in terms of other examples. Gaming, so in gaming right now, you can't currently build a lot of compelling games entirely native to Web3. And what I mean by that is most compelling games involve some aspect of confidential logic. So a card game requires you to not know what's in the other player's hand and you can't know what the state of the current deck is, right? Strategy game often has this idea of, like, Fox Wars, where, like, an area of the map or some some coordinates on the map have hidden resources, or the enemy units can't be seen if they go into that area of the map. Even like role playing games have quests riddles puzzles with some hidden solution, right? And if you were to try to build that on an entirely transparent EVM, anyone could view this confidential data and the game basically wouldn't be a game if anyone tried to do that. And so Oasis, for the first time, enables these games to be able to incorporate this confidential logic into their game while remaining entirely on chain so they no longer have to make this trade off of, hey, if I want privacy, then I have to take it off chain, and then I lose the Web3 high integrity and trustless nature. So now they can be high integrity, trustless, and also have this confidential computation. And also the other area I would say, is like data tokenization. So by enabling privacy, it also enables people to own their own data. So if you want to create your genetic data and sell that to some pharmaceutical company, well, that actually means that data has to be private or else anyone could just take it. And so these are like areas where I think it's not about anonymous transactions, it's not about hiding who you are from the world, but it's more so enabling, like I said, more sophisticated smart contract applications with better user experiences.
Matt Zahab
Totally makes sense there. It is such a crazy issue. Will, what's your hypothesis or hot take perhaps, if you have one in regards to regulation in Crypto, because again, things have really been getting spicy over the last couple of months. More specifically with the whole crackdown on Binance. Obviously, we had the FTX blow up back in Q4 of last year. Are we getting close to regulation? What's going on in that regard? And again, of course, for the listeners at home, the biggest chunk of our audience does come from USA, and Will does reside in USA, so he could speak to that much better than I can as his neighbor north of the border in Canada. And again, we pretty much do whatever you guys do. But yeah, what do you think about that? What's going to happen over the next couple of months? Are we getting close to having actual legitimate, solidified, concrete rules and regs put into place, or is that still years out?
Will Wendt
I mean, I don't have any inside knowledge or anything along those lines. I get all the same information that everyone else does. But I think that we're probably getting pretty close if I had to guess. If you just watch the news and you watch Congress, congressional hearings and stuff like that, I think it's like, pretty clear that the gears are working. At least our representatives are thinking about regulation it's coming up more and more frequently now, maybe, you know. There's still a lot of education that needs to take place in order to get the regulations where the crude industry would want it to be. But I do think regulation is coming. And even with sub optimal regulation, I do think it is beneficial for the industry because I think a lot of people sit out on the industry due to the lack of clarity. I just did my taxes, and I can tell you that was the whole nightmare in itself, just trying to figure out, does this count for this? There's just so little clarity and you don't want to mess up. And so I think that regulation is coming. It might be suboptimal, but over time, we can hopefully get that to a place that we want it to be and then back to the Oasis and a lot of people think that privacy is, I guess, in conflict with regulation for one reason, the reason that we talked about it earlier, that privacy is not all about anonymous transactions. I think that's not the case. But also at the same time, if you think of the traditional industries, there's actually a lot of regulation that enforces privacy, right? In finance, you have to protect your customer and their data. In Europe, we have like GDPR and stuff like that, allowing users to own their data or at least have access to see where their data is being sent and how it's being used. And so I think if Web3 wants to compete with Web2, actually privacy and confidentiality are like, needed in order to be regulatory compliant and to compete on that same stage.
Matt Zahab
And it's such a pillar of Crypto as well. It's like, you talk about these pillars and obviously privacy probably being at the forefront of it. And then the cross border payments, another big one. We really need to start as a whole, all of us. We really need to start shipping just incredible products that non Crypto native folks can use in order for us to go mainstream. Right? It's like, without it, there's talk in the talk and then there's walk in the walk, right? We gotta start walking the walk before stuff actually happens. But Will, we gotta take a quick break here. Got a huge shout out to our sponsor, the show, and that is PrimeXBT. We love PrimeXBT longtime sponsors of the Cryptonews Pod and longtime friends of cryptonews.com these guys and gals created a robust trading system for both beginners and professional traders. It doesn't matter if you're a rookie or a vet, you can easily design and customize your layouts and widgets to best fit your trading style. PrimeXBT is always offering innovative products and professional trading conditions to all customers, and are blessing the Cryptonews Pod listeners with a huge bonus. After making your first deposit, 50% of that first deposit that has 50% will be credited to your account as a bonus that can be used as. Additional collateral to open positions. The promo code is CRYPTONEWS50. That is CRYPTONEWS50 all one word to take advantage of this offer and receive 50% of your deposit credited to your trading account. And now back to the show with Will. Will I'd love to get into the convergence of AI and Crypto, or AI and Web3, such a hot topic right now. It seems like every single day, at least my Twitter, and I feel like everyone in Crypto has a pretty similar feed, but my Twitter is now I'd say 20% of my feed is just AI stuff, and perhaps that's just the algo learning that I've been clicking and learning about a bunch of different AI tools and tech. But this reminds me of almost 2021. Like Q2, Q3 2021 when it seemed that new DeFi platforms, new protocols, new NFTs every single day, there were dozens of actual I mean, they seem legitimate at the time, 99% of them are Insolvent now, but nonetheless, it gives me that kind of vibe where it's just like it's a Momentum City population AI, just like it was Momentum City population Web3 back in Q2, Q3 2021. What's going on right now? Talk to me about the convergence of AI and Web3 and just a little segue and how Oasis is bringing privacy to that intersection.
Will Wendt
Yeah, I think everyone's seeing the same thing in terms of AI all over their newsfeed ChatGPT, like really beat the drum of what can be done with AI. I think overnight everyone realized, like, oh my God, this thing that we thought was five years, ten years down the line is like, shit's, here to stay. Yeah, it's here right now. And then it went from three to four in the matter of a couple of months or something like that and got even more powerful. So it was really exciting. And I think, yeah, I've been having a lot of fun also playing with all these AI tools, diving into it seeing what can really be done. And I think that we've only really scratched the surface of that. In terms of the convergence with Crypto, I think that they have a very interesting sort of synergy, maybe in some places, like conflicting sort of ideologies. In one sense, like AI is very centralized, but in the sense that it requires a large computational power. And normally it's like one entity who owns this AI model or something like that, they can sort of modify it in the ways that they see fit, which was such a powerful technology, could be kind of dangerous. But the cool thing about Crypto is that it can help offer more decentralized solutions to that. So there could be ways with federated learning and Crypto networks to do more distributed AI models. I think there's of people working on that. So that basically you can democratize this power of these AI models. But from the Oasis perspective, one of the things that we really try to do is work on the privacy of data because an AI is as strong as the amount and the quality of the data that it has, right? So with a lot more data and a lot of high quality data, AI models become very strong and that means that we want to give it as much data as possible. But there's a lot of data that is potentially very sensitive to you and that you don't want to be leaked to the public, especially if it's like the centralized entity that has this data and they're using for this model. But maybe they save this data and they're going to use it for something that you don't agree with at a later point in time or something along those lines. There's a lot of different nuances to what can be done with that and so that's where Oasis really gets involved in the picture. So we talked a bit about Sapphire, the Oasis Sapphire Network. And one of the infrastructure points that we didn't talk about is basically that the way that Oasis handles privacy is it has, like, this key manager which gives you access to encryption and decryption keys to view certain events or to permit you to have access to these events. And you can use that key manager to sort of give users the ability to own their own data and then have this ability to grant and revoke permissions to access that data. So the architecture would look something like along the lines of storing data in some sort of encrypted IPFS or it could even be a centralized service like Google's Confidential VMs or like AWS Nitro, which all use like sort of trusted execution environments or some sort of encrypted technology. And then you could use Sapphire for the key management. So basically I own this data, only I can view it, but I can grant this wallet over here access to that data to do X, Y, and Z, for six months, given some fee has been paid. And so you can use smart contracts to sort of make sure that the permissions and the access controls are being enforced in a high integrity and trustless way while also keeping everything private. And then we have a really cool product being built by one of our previous engineers. It's called Escrow, and it's being built by Nick Hines. And so that enables is sort of all chain, confidential computation. So in the same way that we talked about the black box earlier, where transactions go unencrypted, they get decrypted, they run in there, and the output is encrypted. You can do the same thing with, like, an AI model. So you can imagine this data that exists in encrypted IPFS. You can allow some AI model. You can create some black box where that data goes into the black box. The AI model goes into the black box. The AI runs and gets the feedback from that data, and then it comes out of the black box. Your data comes out. And the AI model has now improved because it's seen that data. You've retained that control over it. The AI has never told the parent company anything about you. And so that's sort of how Oasis can be used to enable a more responsible data economy. And why that's really important, I think, is because there's lots of areas that have, like HIPAA and all these regulations, like, for example, healthcare data. And it's impossible to get different healthcare data providers to talk to one another because they have all these regulations in place, which is good, right? Because it means that your health care data is being protected. But at the same time, think about how advanced our health care can be as AI becomes more powerful if AI had access to that data. So we have to find the right way to allow AI to access that data while preserving privacy. And so this is sort of why we're building out all this infrastructure.
Matt Zahab
Interesting. That's so cool. Another thing that you guys did is the partnership with Meta AI. That's freaking massively. That's something to write home about. That's something to tell mom and dad about. How did that go down? That's crazy.
Will Wendt
Yeah. So I work for Oasis Protocol Foundations. That's like a labs partnership. There's sort of two different entities. But I couldn't be more excited about what we're doing with Meta in that same way that we talked about earlier with AI. We talked about the need to protect sensitive information. But I think with Twitter, with Meta, with all these social media companies, we also have heard massive amounts of claims of bias, right? Like whether it's bias towards some political group or some demographic, any sort of demographic. And so it's very important to be able to assess bias. Right? But in order to assess bias, you would then have to access currently you would have to access all the data that's being used. You'd have to actually know what every single person's socioeconomic class or what their religion or ethnicity or whatever the demographic you're assessing bias for, you have to get all that data, which is potentially like, a massive privacy breach. So what we're doing with Meta is essentially a privacy preserving computation technique using secure multiparty computation in order to preserve privacy while being able to assess the bias. Specifically, a questionnaire of Instagram ads or something along those lines.
Matt Zahab
So cool. Will, that was a great rip on Oasis, but we barely spoke about you. How did you get into Crypto? Walk me through your sort of Crypto inception story.
Will Wendt
Yeah. So as you did a brief intro earlier, I originally went to Towson and got my Bachelor's in Chemistry, did a few years working in chemistry labs, and then eventually actually got into Crypto through Chainlink like, the Chainlink community. One of my friends is a very big Chainlink proponent, so I got very involved in their unofficial Discord and their community and learned a lot about Crypto in that community. I think what really drew me in was I felt sort of late it was like 2018 and I felt like late to understanding Crypto and Ethereum smart contracts.
Matt Zahab
That's early 2018, come on.
Will Wendt
I know, but at that time it felt so late and so I thought about what is the thing that's going to drive the next wave of adoption? And in my opinion from whatever everything I researched it was creating more sophisticated smart contracts through access to off chain data. So basically what Chainlink is doing price feeds and now enable. Aave it enables these lending protocols, it enables all these new ideas of what Chainlink would call hybrid smart contracts. So I did that for, I spent time in that community but never really started working for a while and then basically Chainlinks I guess that sort of thesis played out and I started thinking about what's the next thing? And so I found these papers that were co written with Ari Juels from Chain Link and Dawn song from Oasis, and they were all about privacy and confidential computation and that sort of thing. And so, yeah, I just dove right in, started doing lots of research, eventually joined our ambassador program. We have a great ambassador program with hundreds of members. That is a chance to sort of help grow the community and evangelize the network. So I spent a lot of time in our ambassador program. Eventually joined a subsect of our ambassador program called the Business Development Ambassador Program. So in that part of the program, you spend a lot of time creating leads and sort of trying to help grow the ecosystem. And then after, I guess, a bit of time in the BD ambassador program, I was eventually offered a job to work part time at Oasis as a business development lead. After a few months of that joined the growth team as the ecosystem growth manager. And so sort of it was just a very organic transition into Crypto.
Matt Zahab
I love that. Getting in on the Discord, down and dirty, doing some work.
Will Wendt
A big fan of Discord. I think that if I had any advice for anyone who's joining Crypto podcasts are great and everything, but join, like, five or six Discords that are highly knowledgeable in the areas that you like.
Matt Zahab
Be a sponge.
Will Wendt
Yeah, exactly. Just absorb all the information. There's so much questions from a community of like minded people.
Matt Zahab
I love Discord as well. My only thing with Discord it is I just find it very distracting. Right? Like the friggin notifications. Even on the left side of your Discord bar, you just have all the notes. Even if you turn your sound off, which I do, I just find it to be a lot there's just so much thrown at you. But again, when you can use it properly, the influx of info that you can obtain is just absurd in the best way possible. And it really comes down to will. Right? It's like not will is in Will, who I'm speaking with, will is in willpower. It's like, how much will power do you have? How badly do you want it? Do you want to learn about Crypto? And it's not just for Crypto, obviously, Web3 sort of lives on Discord, but I assume there's a Discord server for almost anything on the planet. Just a great place to learn.
Will Wendt
Yeah, and I would say my experience has been similar. It's getting to be overwhelming, but I think that's as I have reached, whatever, 50 Discord groups, but when you first start starting, if you get, like, six or four small groups, I think it's pretty manageable, and it can be very helpful.
Matt Zahab
Agreed. Well said. Will, thank you so much for coming on. I really appreciate it. Truly a treat. Before we let you go, can you please let our listeners know where they can find you and Oasis online and on socials?
Will Wendt
Yeah, so we have our Twitter, that's probably the best place to engage. So we have Oasis Protocol Foundation, which is obviously our foundation side, and we also have @OasisLabs on Twitter. From there, you can hit up our link tree, get access to our Discord. We also have a forum for anyone who has maybe more on the developer side and has questions on how to build applications on our network. And then also, if you just type in Oasis Protocol Foundation into Google, it should bring you up to our web page where you can find all the information that you have on Oasis.
Matt Zahab
And then Will's too humble to plug himself. But on Twitter, Will is @willfullhodl. That's willfullhodl. So hit him up there. LinkedIn as well. Will, really appreciate you coming on, man. Thank you so much. Looking forward to round two and and just literally congrats to you and the team. You guys are absolutely buzzing and creating a bunch of incredible products that we all need and will truly be using a lot. So appreciate you and the team huge shout out.
Will Wendt
Thank you so much Matt, I appreciate you having me on. And, yeah, thanks. I hope that everyone enjoyed the podcast and joins our community and does a little bit more research on Oasis. Thanks everybody.
Matt Zahab
Folks, what an episode with Will Wendt from Oasis, dropping knowledge bombs left, right and center. Tons of incredible insights on privacy, Web3 decentralized infrastructure, security, you name it, it was all here. Huge shout out to Will and the team at Oasis for hooking this up. If you guys enjoyed this one, I hope you did, please do subscribe. It would truly mean the world to my team and I. All of the subs really do matter on all podcast platforms. Hit us up on YouTube as well as we are trying to grow that bad boy. Also, to the listeners, love you guys. Thank you so much for everything. To the team, you guys are the GOATs. Love you. Justas my amazing sound editor appreciate you as always. And back to the listeners, love you guys. Keep on growing those bags. Keep on staying healthy, wealthy and happy. Bye for now and we will talk soon. Ciao.
---