What Is Bitcoin Dust – and How Can You Clean it?
Spring is in the air for those of us in the Northern Hemisphere, and that means it is time to get started with some spring cleaning – especially for those of us with crypto holdings.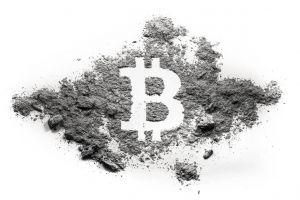 If you trade cryptocurrency on a relatively frequent basis, you will probably have tiny sums in exchange wallets that are too small to trade or withdraw as they fall below the transaction value requirements to take such actions.
Some types of dust can even be harmful – especially if you are not the one who accumulated it.
Fortunately, there are a number of ways to address the problem of accumulating all this "crypto dust."
Learn what crypto dust is – and discover what you can do about it.
What is crypto dust?
In the crypto markets, dust refers to a fraction of a cryptocurrency token that is so small that it cannot be traded. As a result, most crypto dust lies idle in exchange wallets.
In some cases, the holdings in questions are exceptionally small, to the extent that they cannot even be moved off the exchange and into a personal wallet as they do not meet minimum withdrawal value requirements.
While crypto dust may not sound like a massive issue, there is actually a substantial amount of capital effectively locked away in wallets that could otherwise be deployed to provide market liquidity and help the industry grow.
Can I do anything about my crypto dust?
Your ability to deal with crypto dust will depend largely on the policies of the exchange where it has been piling up.
Unfortunately, most exchanges have done little or nothing to address this issue.
Most exchanges have minimum trade size requirements, such as 0.001 of a token, and have a minimum withdrawal value requirement to cover transaction fees.
However, if you happen to have any smaller holdings on Binance, you can use the exchange's "Convert into BNB" feature, which lets users to convert all holdings – including crypto dust – into the company's native Binance Coin (BNB) with the click of a button.
But even if your exchange does not offer this sort of feature, there are other ways of getting around your dust problems.
One more obvious solution involves topping up the cryptocurrency dust to the point where its value meets the minimum trading limit. From there, you can convert it to your token of choice.
Alternatively, you could top up your dust to the point where it meets your exchange's minimum withdrawal value requirement. Then you can transfer your smaller holdings to an exchange, and use available crypto dust cleaning features.
From there, it should be an easy process if you want to withdraw the funds to your bank account – as long as you have a verified account and have set up a fiat on/off-ramp.
The dark side of dust: Dusting attacks
You cannot talk about crypto dust without mentioning dusting attacks. While crypto dust piling up on exchanges can be a mild annoyance for traders, the threat of a dusting attack for privacy-conscious crypto users is arguably a much more serious matter.
Generally speaking, dusting attacks involve malicious actors attempting to uncover the identity of the users of a public blockchain network such as Bitcoin (BTC). They do this by sending a tiny amount of cryptocurrency to a BTC wallet.
The subsequent transactional activities that make use of these addresses can then be tracked in an attempt to gain insight into fund flows and, potentially, the real-world identity of the owners of the addresses they target.
The developers of the privacy-focused bitcoin wallet Samourai Wallet warned of the dangers of this type of attack on Twitter back in October 2018, stating:
"If you have recently received a very small amount of BTC in your wallet unexpectedly, you may be the target of a "dusting attack" designed to de-anonymise you by linking your inputs together."
If you value your privacy, it pays to be very skeptical if any small, inexplicable cryptocurrency payments turn up in any of your wallets – even those you rarely make use of.
If you do receive a small transaction like this, you may want to run your coins through a mixing service to ensure your privacy is not compromised.
Dust-busting pays – whether you are responsible for its creation or not, clearing it up can be both profitable and safe.
---