To FTX or Not to FTX and 20 Crypto Jokes
Disclosure: Crypto is a high-risk asset class. This article is provided for informational purposes and does not constitute investment advice. By using this website, you agree to our terms and conditions. We may utilise affiliate links within our content, and receive commission.
Well, this was certainly a week. Following rumours that FTX is in financial trouble, Binance said it would liquidate the entirety of its FTT holdings, and FTX CEO Sam Bankman-Fried denied insolvency rumors amid mounting speculations that the exchange was facing liquidity issues, while he also revealed the reasons for not investing in Elon Musk Twitter takeover. But then, news hit that Binance would acquire FTX, crypto prices crashed as FTX collapsed, and the US regulators were already looking into FTX. But then but then, Binance pulled out of the deal to buy FTX, citing mishandled customer funds and regulator investigations, and it was reported that most of FTX's legal team left the company. But then but then but then, FTX searched for rescuers yet again, and Tron's Justin Sun said he had a solution. But then but then but then but then, FTX filed for bankruptcy.
Meanwhile, Binance will follow Gate.io 's and Kraken's example and start doing Proof-of-Reserve audits, Coinbase experienced 'network connection issues' amid market turbulence and Kraken saw 'connectivity issues', while Crypto.com suspended deposits and withdrawals of USDC and USDT on the Solana Blockchain. Ethereum gas fees skyrocket 10x amid the on-chain panic, ETH once again turned deflationary, Vitalik Buterin released an update to the Ethereum roadmap, Tim Draper was sticking to his earlier $250,000 price prediction for BTC, Mastercard's CEO Michael Miebach said that it's a long way to go before crypto becomes mainstream, and we looked into the XRP price as the final court verdict approaches. Circle plans to bring Euro Coin to Solana in early 2023, Beeple announced a collaboration with Solana, a16z launched trustless access to Ethereum offering 2-second synchronization, Cathie Wood's Ark Invest bought $21 million worth of Coinbase shares, LG Electronics wants to hire two new CTOs to lead its Web3 and blockchain technology operations, Japanese mobile firm NTT plans to invest $4 billion in Web3 technology, and the number of Bitcoin ATMs in Canada jumped 28% in one year, while Meta joined the growing list of tech companies that are letting workers go.
We found out that the US government owns more than 1% of the total bitcoin supply, the DOJ seized BTC 50,676 in its second-largest crypto seizure in history, the US SEC won a court case against LBRY, and the US Treasury Department re-designated sanctions on Tornado Cash citing North Korean involvement. In South Korea, an academic said that Seoul must take steps to stop Pyongyang from hacking crypto targets, a crypto fraud ring sucked victims in with promises of Rolex watches and ETH giveaways, and the country claimed a cross-border CBDC success while the Chinese bank chief said e-CNY would boost trade. While the outcome of the US midterm elections could have a larger impact on the future of crypto regulation than many think, the Central Bank of Russia released a report that focuses on digital assets and their integration into the traditional financial system, while still opposing the use of crypto in settlements and "accounting" scenarios, and Hong Kong's securities regulator suggested it would go ahead with plans to allow retail investors to access crypto futures ETFs. And in Argentina, a businessman and a surgeon were jailed for their part in selling fake tokens they claimed were "affiliated" with OneCoin.
Jokes!
__________
GM, CT! Wait…
https://www.twitter.com/DegenSpartan/status/1590025466282676227
__
One more time: GM, CT! What's up?
November 8, 2022
__
A surprising appearance.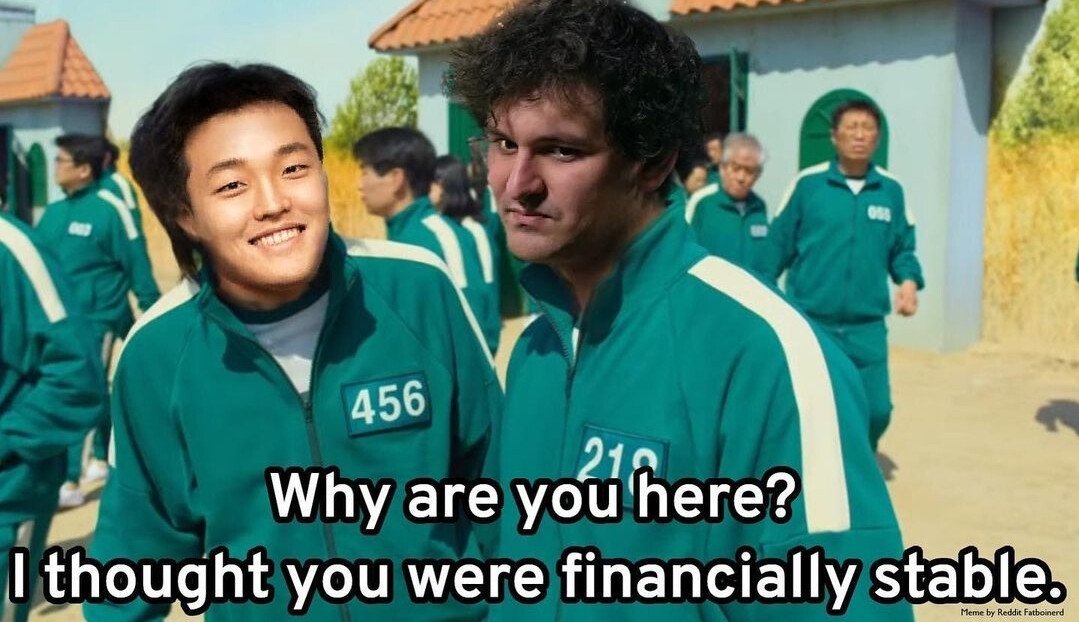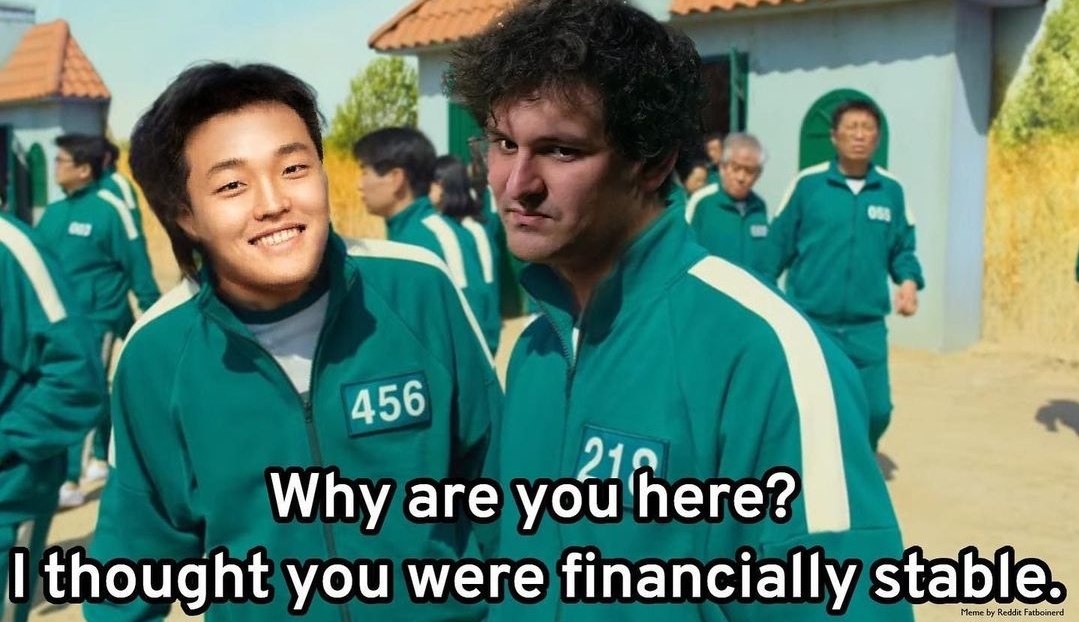 __
Let's all hear what Sam has to say.
CEO of FTX – 🤡🌏 pic.twitter.com/vR0G79sRnE

— Tyler (@ApeDurden) November 11, 2022
__
It was a bloody week…again.
Cz after murdering FTT and SOL ecosystems with a few tweets pic.twitter.com/SvQ5e4Zamh

— scooter (@scooterxbt) November 8, 2022
__
Let that safu in.
__
'You've been CZed! Briefly at least.'
my boy Cz woke up this weekend like…

you love to see it as a cash maxi. pic.twitter.com/XgcTm4POPN

— Ninja (@Ninjascalp) November 7, 2022
__
At the meeting about the potential FTX acquisition.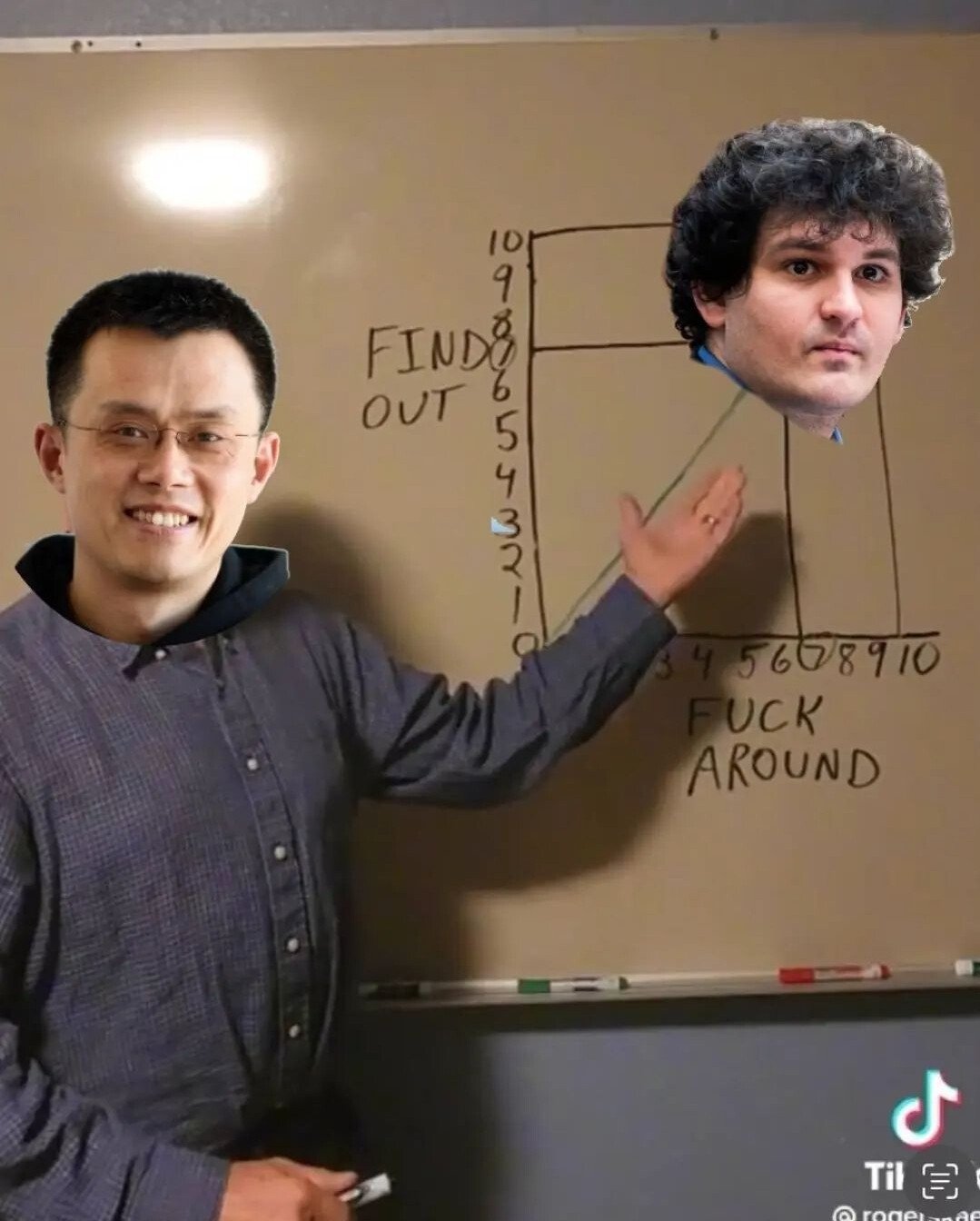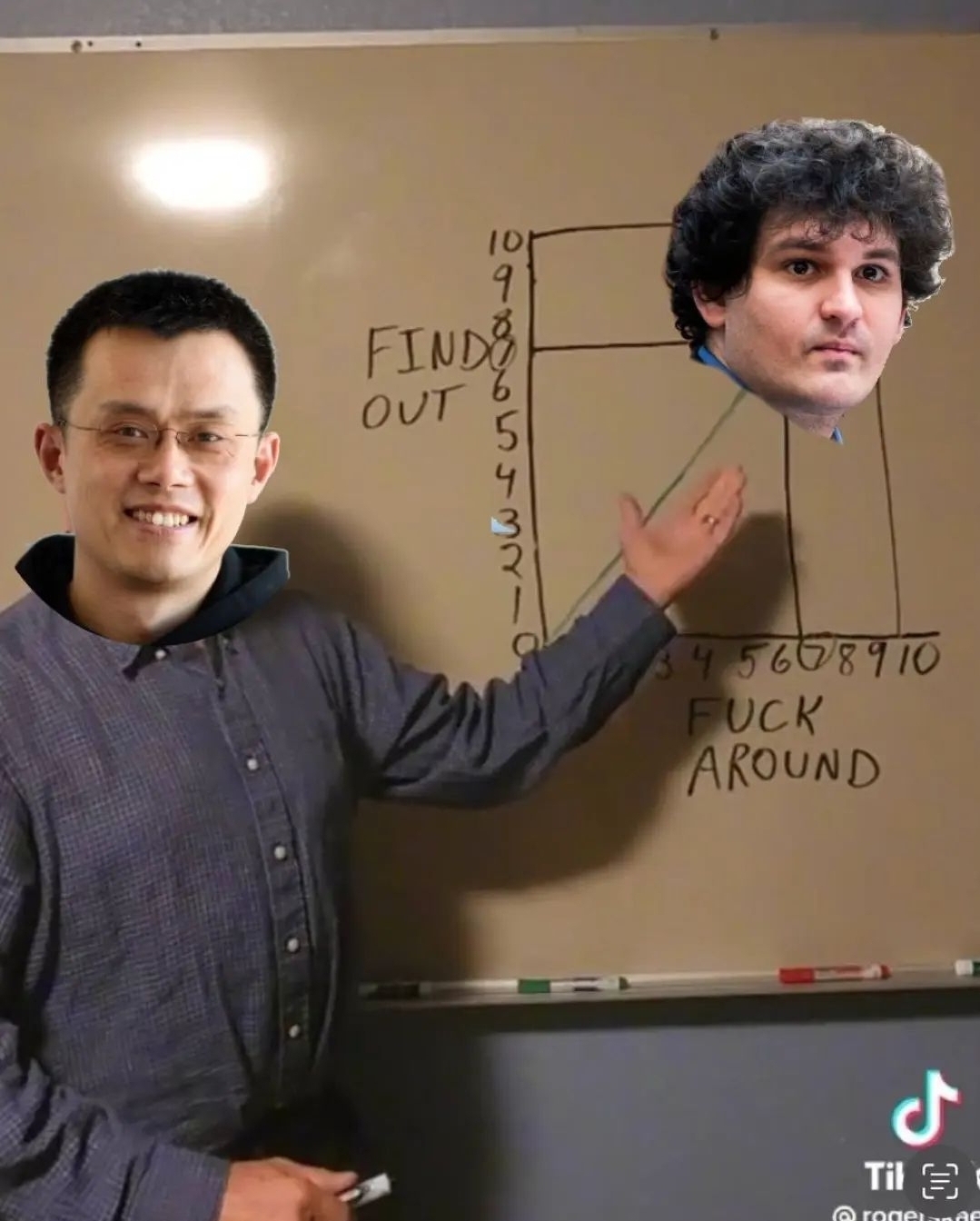 __
How about some Binance?
https://www.twitter.com/CryptoDonAlt/status/1590018114413920256
__
Bro, plz.
__
Some offered a technical analysis through a socio-historical prism of the FTX-BNB dynamics.
#Bitcoin https://t.co/yTeH6ggDcB

— naiive (@naiivememe) November 8, 2022
__
He knew.
Larry David predicted FTX's demise in a commercial for FTX pic.twitter.com/ZoQavJG3z1

— LilMoonLambo (@LilMoonLambo) November 9, 2022
__
And we're going live back to Thursday.
BREAKING: FROM FTX HEADQUARTERS pic.twitter.com/VKL79KvHiZ

— zubin koticha (@snarkyzk) November 10, 2022
__
Cryptoverse this week:
__
That makes all of the senses, yes…
FTX Customers: "Why is my BTC withdrawal taking so long?"

FTX Support: pic.twitter.com/jeK37MgYqB

— GANDALF (@BTCGandalf) November 7, 2022
__
Just wanted to retire, but nooo!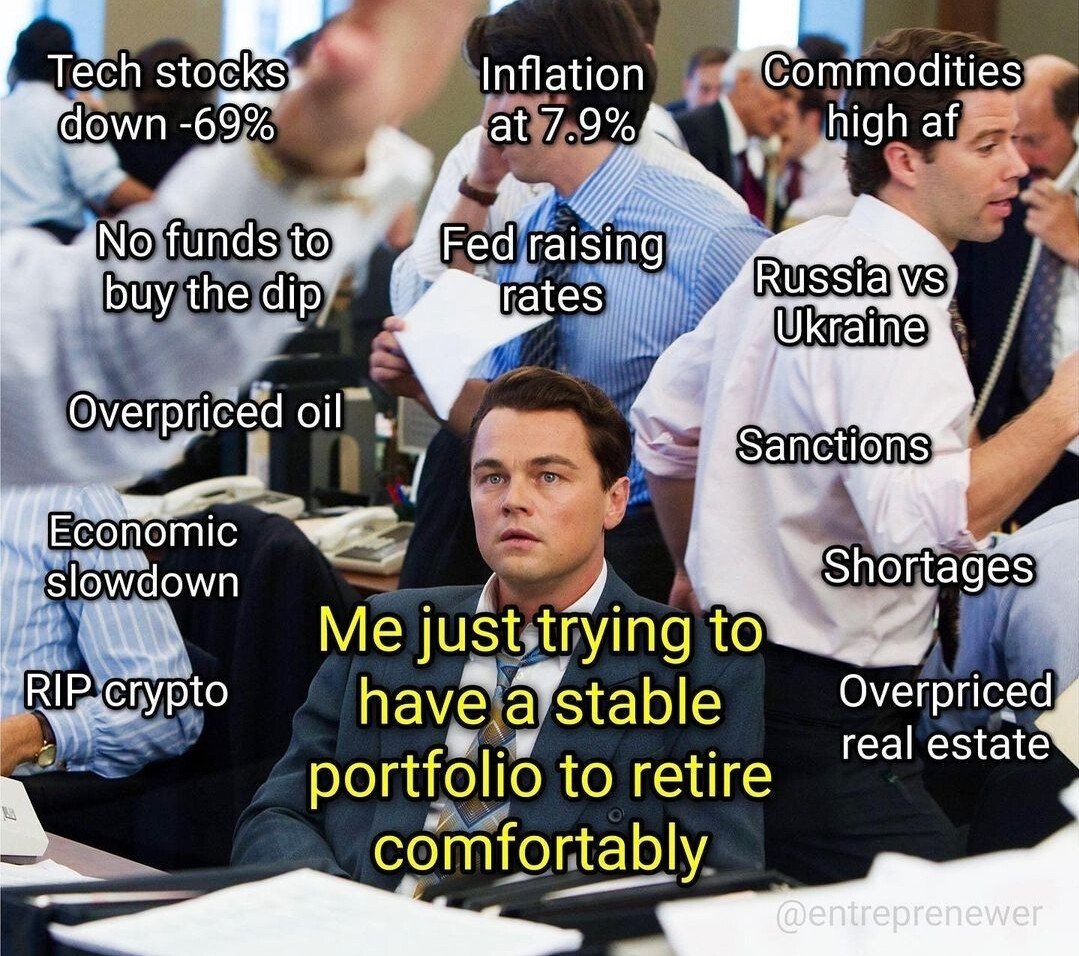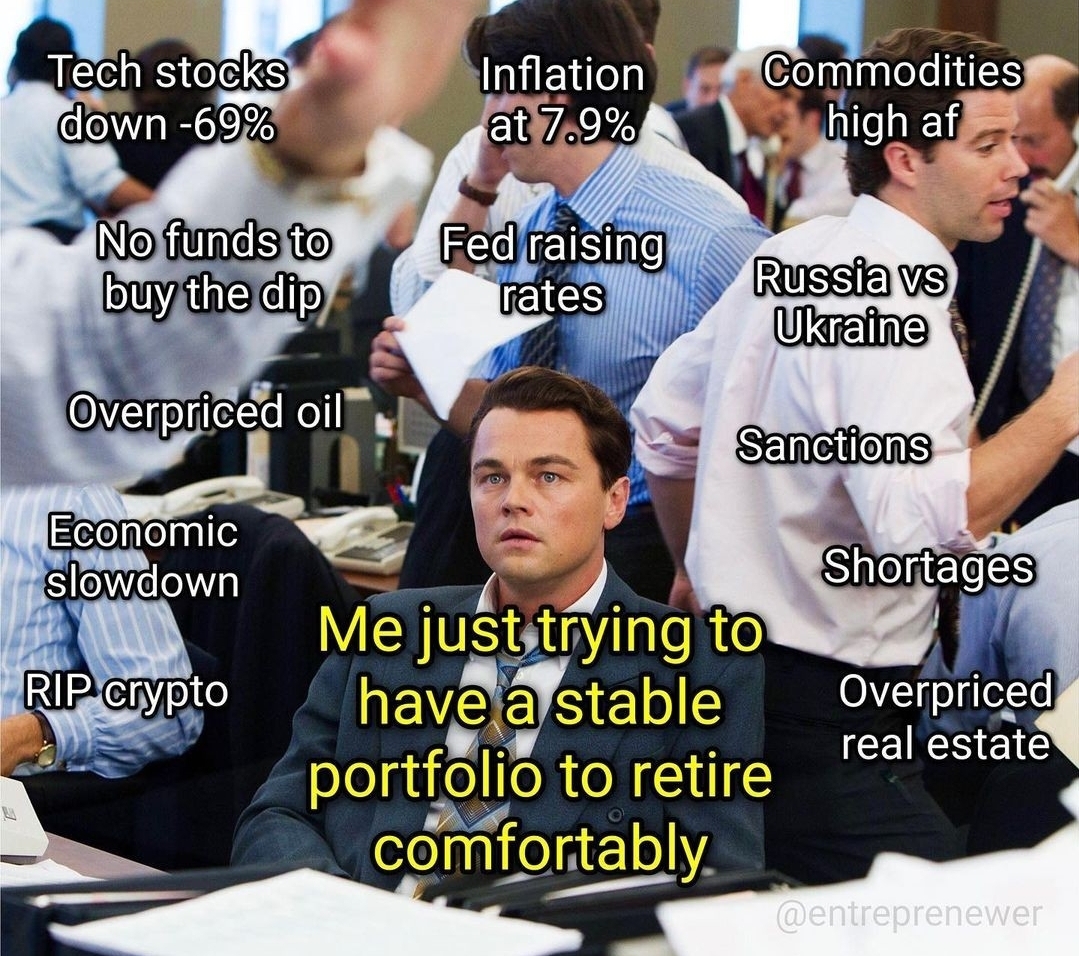 __
Got to keep buying that dip.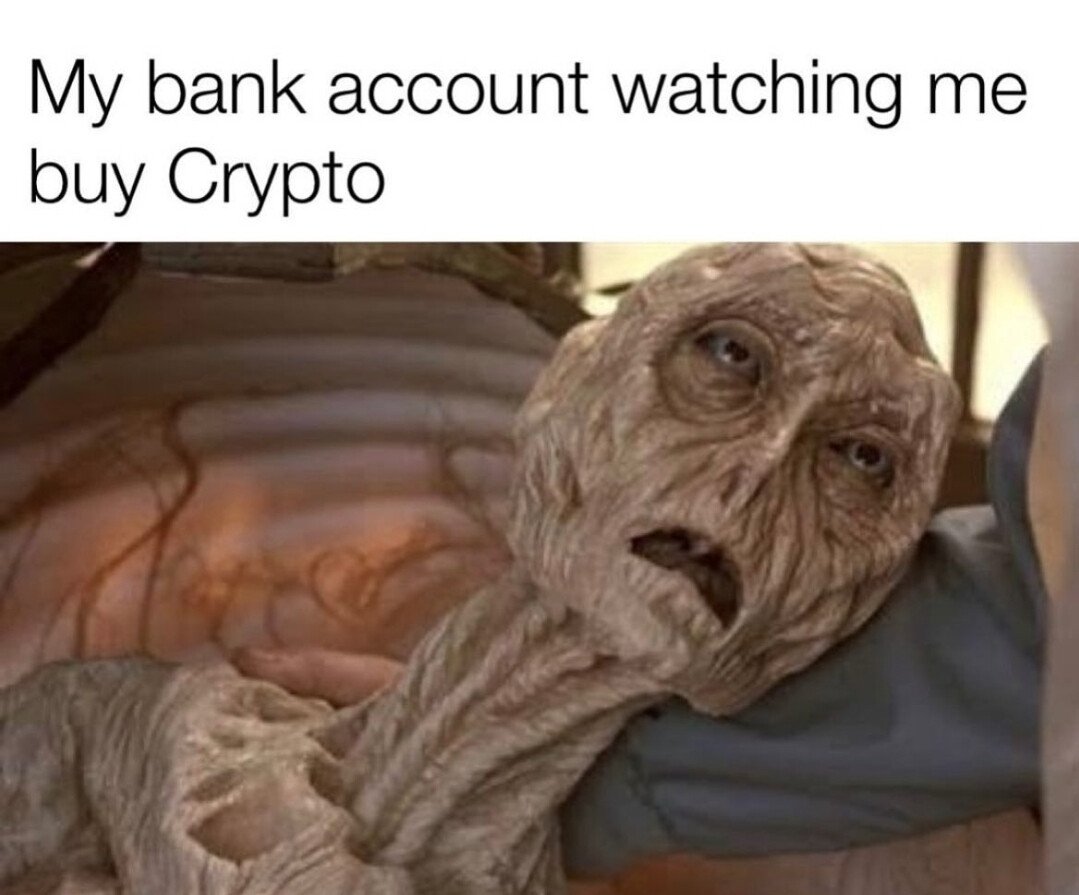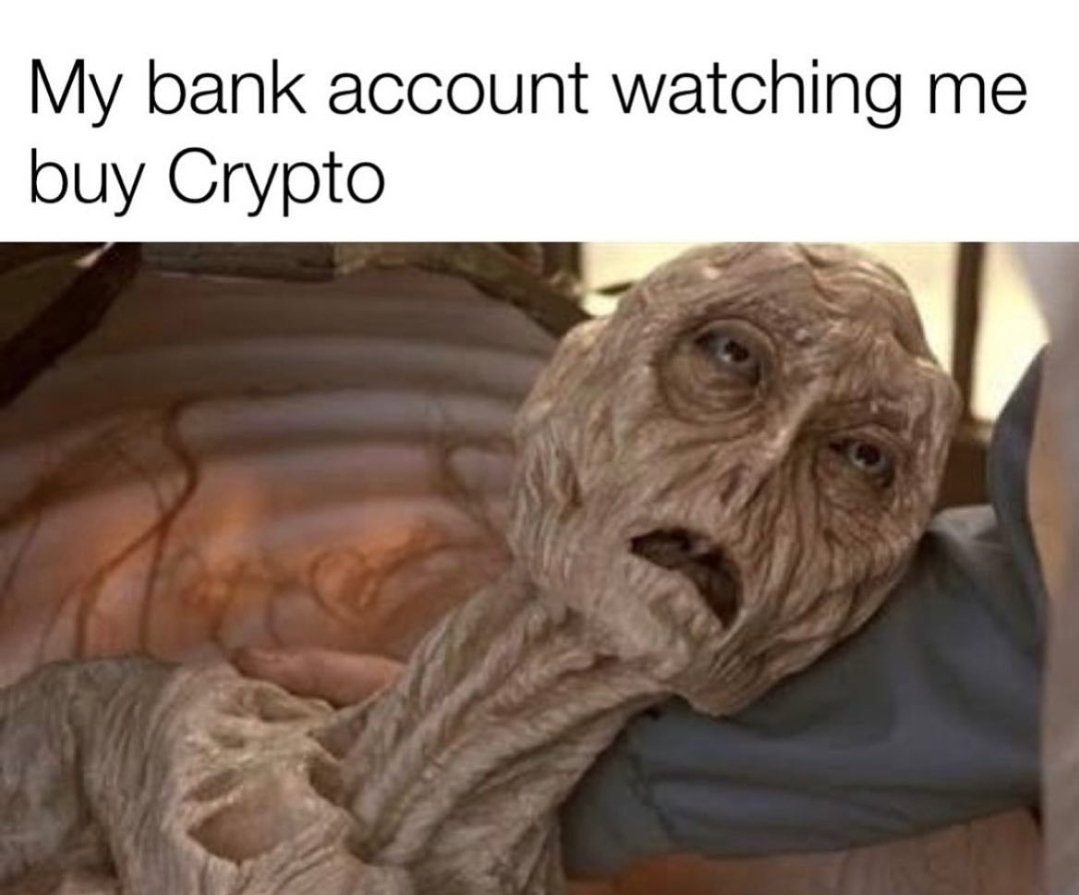 __
An excellent one. Very dippy.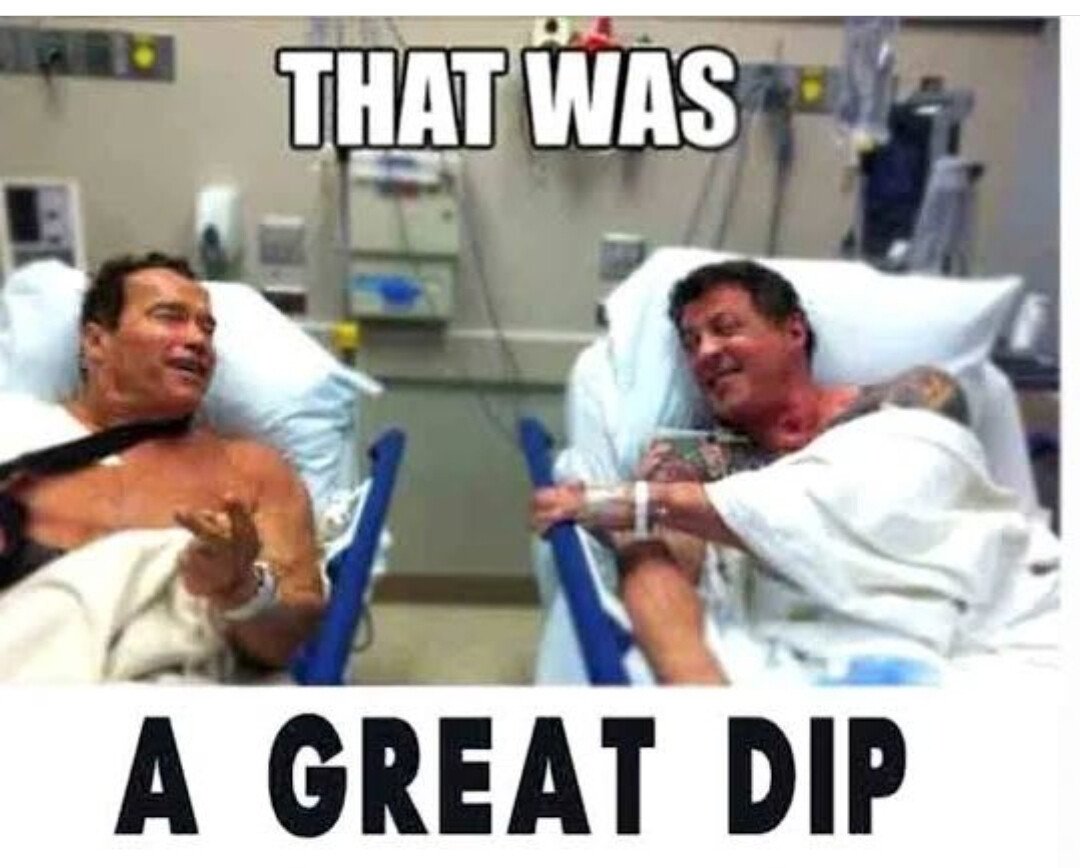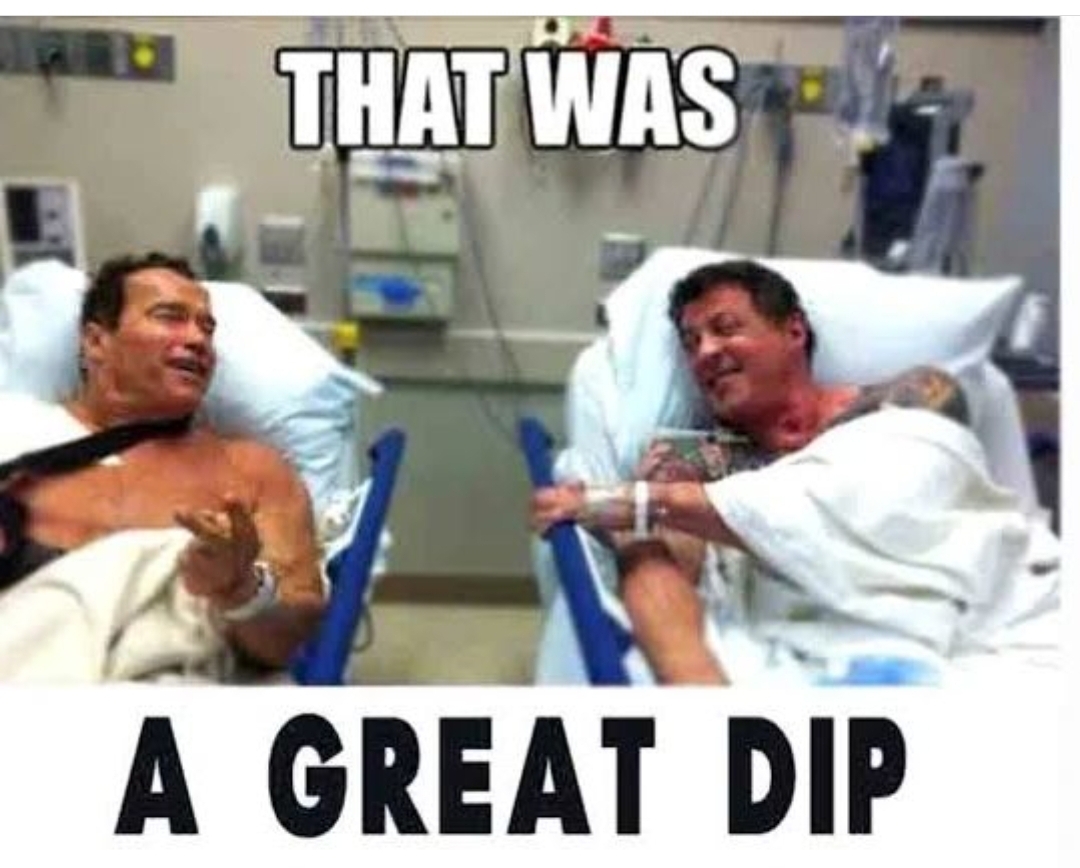 __
Got some wisdom to share.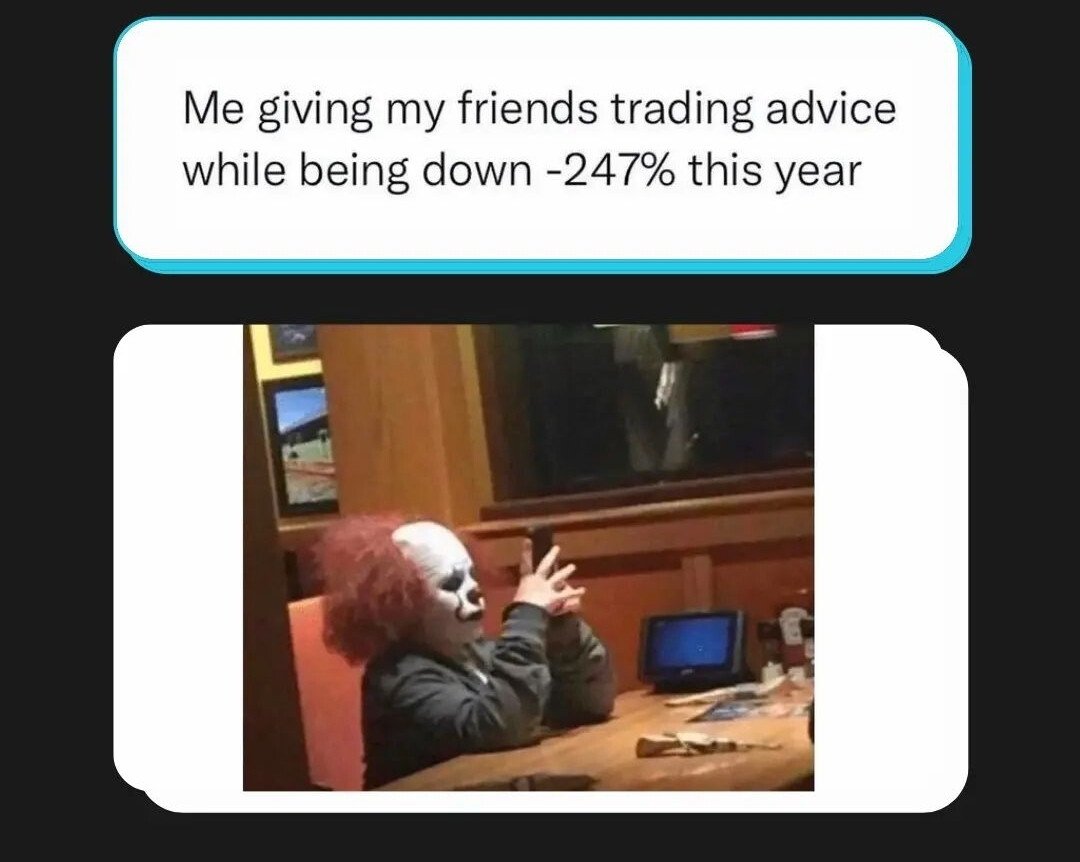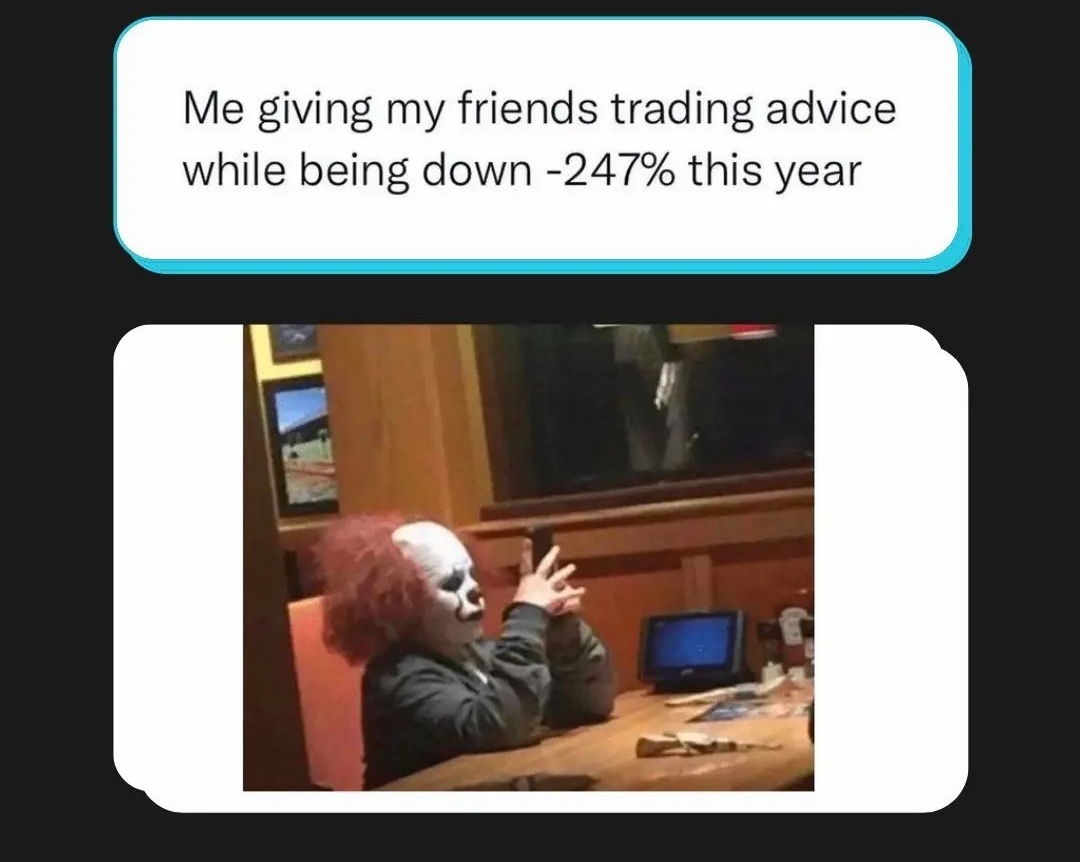 __
Just a tad painful.
investing in 2022: pic.twitter.com/85KaH1u4S7

— LilMoonLambo (@LilMoonLambo) November 5, 2022
---