Sasha Tityanko, CEO and Art Director at Sensorium, on The Concept of Virtual Beings and The Next Iteration of the Internet | Ep. 197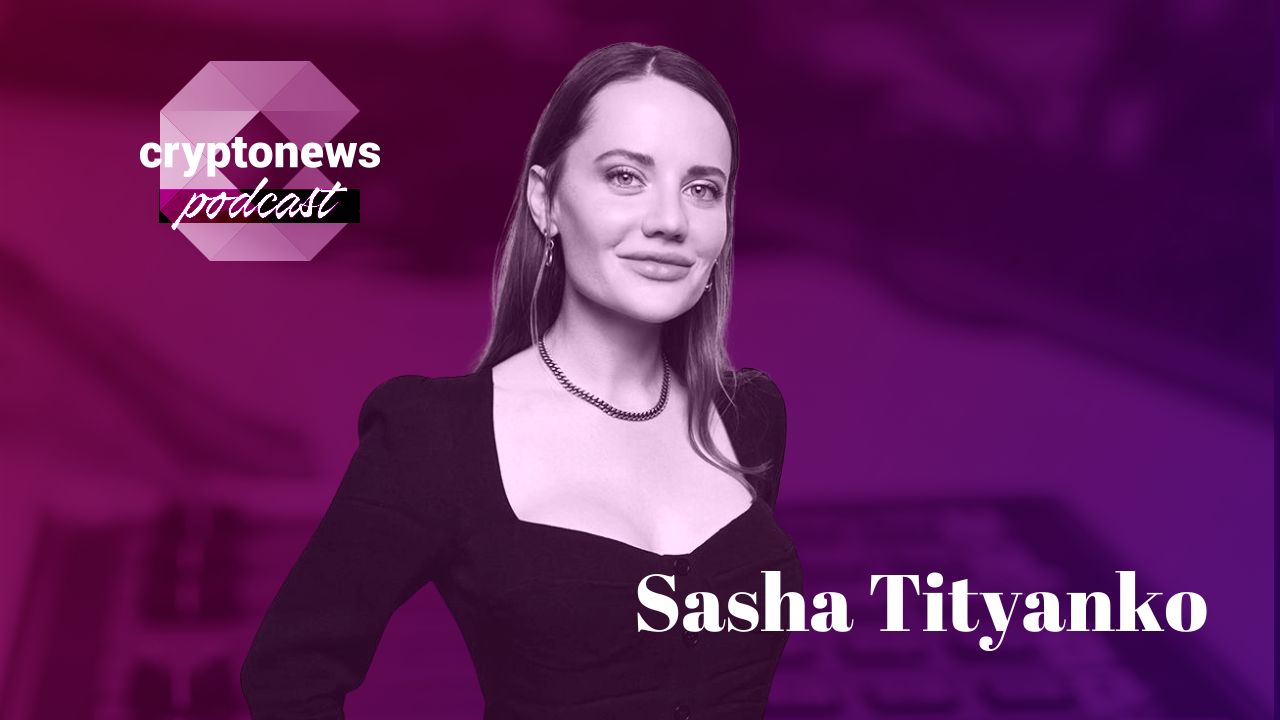 In an exclusive interview with cryptonews.com, Sasha Tityanko, CEO and Art Director at Sensorium, talks about the concept of virtual beings, social AI, moving from traditional art to web3, and the next iteration of the internet.
About Sasha Tityanko
Sasha Tityanko serves as Deputy CEO and Art Director at Sensorium. With over 15 years of experience in the international entertainment industry, Sasha is behind the virtual creations and product marketing campaigns of Sensorium Galaxy — a next-generation social metaverse developed in collaboration with the world's top artists, producers, and media partners.

Before joining the company, Sasha represented global music superstars, including Eurovision winner Dima Bilan and internationally-acclaimed duo t.A.T.u. She's also worked with top music labels EMI Music and Interscope / Universal Music to collaborate with performers from the United States, the United Kingdom, Japan, and Latin America. Sasha also has extensive experience in marketing and PR, having led major international projects in Russia and abroad, including the Mikhail Gorbachev Prize and the Gorby 80 in the United Kingdom.
Sasha Tityanko gave a wide-ranging exclusive interview which you can see below, and we are happy for you to use it for publication provided there is a credit to www.cryptonews.com.
Highlights Of The Interview
Concept of virtual beings: The next iteration of the internet
Unique traits: Having a virtual being can serve as virtual doppelganger creation
Social AI: There aren't real digital companions today, and there needs to be
AI-powered functionalities: AI is central to unlocking experiences that have eluded internet users until this day
Moving from traditional art to web3: a new wave of self-expression and creating legacy



Full Transcript Of The Interview
Matt Zahab
Ladies and gentlemen, welcome back to the Cryptonews Podcast. We are buzzing as always from beautiful Mexico and our guest Sasha Tityanko is buzzing in the one and only crypto hub of the world, Dubai. Time for the intro. Sasha currently serves as the Deputy CEO and Art Director at Sensorium, has over 15 years of experience in the International Entertainment Industry. Sasha is behind the virtual creations and product marketing campaigns of Sensorium Galaxy, a Next Gen Social Metaverse developed in collaboration with the world's top artists, producers and media partners. Super pumped to get into this Sasha, welcome to the show.
Sasha Tityanko
Hi Matt, lovely to have this chat with you today. And Hola.
Matt Zahab
Thank you. I appreciate it. I love the Spanish as well. How's Dubai treating you also the office looks beautiful.
Sasha Tityanko
Thank you. Yeah, it's actually brand-new office in Dubai. And it's actually a very beautiful building by Zaha Hadid called the Opus Tower. So it's beautiful on the outside. And we are making it beautiful on the inside. So hopefully with what we create for Sensorium.
Matt Zahab
I love that. So as someone who is not artistic at all, and myself, I feel like in life, you're either sort of an athlete or an artist, very few people are both, fortunately, or unfortunately, depending on how you'd like to look at it. I was blessed by my parents with some athletic genes, but I have zero artistic genes in me whatsoever. So whenever I get to speak with someone like yourself, who is incredibly talented in all aspects of art, I love to sort of get inside that noggin of yours and see how you view the world because I literally cannot even fathom putting my feet in your shoes. It's just nonsensical for me. I don't have it in me. I don't have the fibers. Walk me through sort of your history in art. How did you get into it? What makes you tick in the art world?
Sasha Tityanko
Yeah, thank you for this introduction. But I'm sure you do love music, you know, maybe you will know which one you like. But right now I've been working with things centered around music and the artists most of my life, let's say in different genres. And in Sensorium Galaxy now within this project at this stage now we are currently focusing on the electronic music, which also is a great source of inspiration. You know, to us. It's also very technological, just due to its, you know, the nature of how its born, and as you know, for this particular project, we've gotten so collaborations with some of the most outstanding musicians so far today in the field of electronic music from David Guetta to Carl Cox to Giorgio Moroder, who is considered to be the godfather of electronic music from Black Coffee, Starship, such exceptional artists there's Charlotte de Witte or Nina Kraviz, and we are super excited Eric Prydz. We're super excited to have them as collaborators for this very new pathway and this very new experience that we are creating together with them for the Metaverse, for the VR version of their shows for the multi-dimensional performances. I will say.
Matt Zahab
So walk me through what exactly happened in your Metaverse. Now there's, you know, dozens if not hundreds of Metaverse out there right now. But the angle that you guys gave, just like you talked about is the very unique VR focused sort of digital entertainment angle where someone like David Guetta, one of the most famous sort of, you know, EDM DJs of all time, can throw a concert and you can literally be there through your goggles on you are either backstage or beside them or in the crowd, walk me through that whole process. And what is it like on the consumer side and on the artist side of things?
Sasha Tityanko
Sure. So us through Galaxy is Metaverse that is an inhabitants Metaverse that is filled with AI controlled virtual characters. So based on cutting edge, conversational AI and other AI based capabilities these avatars for represents one of the major investments of the project. Entertainment is a part of this Metaverse, which we feel with performances of both real-life artists and virtual artists form we also do creates within Sensorium Galaxy. The process for the real life for artists and for the virtual artists is a bit different. Because the real life one needs to have his avatar created. And we go full craze and AAA quality avatars, based on the most advanced technologies of them, motion capture, been able to catch every slightest glimpse and every specific movement of the artists. And so transfer all of this data to attach it to the artists avatar and to transfer it into the virtual environment in which the artist performs with Sensorium Galaxy to create the those environment and to fill it with experiences, to fill it with what we call the out-of-this-world shows where the rules of gravity and when you other earth like features that just do not apply. And you can basically create a show which is not possible to build in real life. For that we do the scans of the artists, we do the motion capture sessions with them, as I mentioned with transfer all this data in addition to the state-of-art avatars, and then together with the artists, we are creating their shows, which is built on very many layers. And then we invite over both our virtual beings that inherits our Metaverse in any case, which are AI driven. And of course, then the real users of the platform, which is Cross-Platform. So you can from the user standpoint, you can either enter it in with a VR equipment or not, I would, I would say the most immersive and the most profound experience with opportunities that VR provides. But Sensorium Galaxy shows are also available Cross-Platform, you can watch it in our mobile app. You can watch it on our YouTube channel, on our Metaverse streaming channel, on our product, on our website, so it's available. I will say from any device to you.
Matt Zahab
Available everywhere. So Sasha, I'm so curious, how did you in the team might come up with this concept because this is not just like a one stop shop, you guys are doing a whole lot, you know, baked within a bunch of different products inside of you know, the Sensorium Galaxy, like what was the sort of inception process? Was that an idea at a beach club in Dubai, which then turned into the magic that is Sensorium today? Like how did the whole Galaxy Metaverse team partnerships, how did this all get formed?
Sasha Tityanko
Well, from like the point of view of getting together with the artists and talking about that side of things, this side of Sensorium team also comes from like the entertainment background. With of all as such as myself, we've been working around music and artists most of our life. And this is our passion, I would say this is something that we have worship, and will be excited about forever. And having these new opportunities and possibilities. Not only it's so operates in the in the standard realm, yeah. But to extend their artistic possibilities, you know, to extend the visionary of the some of the greatest minds of today into the virtual realm was something we might have only dreamt about, you know, a few years ago. But now see, it's possible of course, due to the future advancement of technologies in this sphere. Because, you know, like in our joint opinion, you know, we want this experience to be very true to your perception, to be bigger and better than life to some extent and not to be simple and cartoonish, of course for which we need special technologies. So now we're already using Unreal Engine 5, and it's getting better and better such technologies I mean from on a day to day basis. Right. Then we got to use the motion captures so that you can have your digital alter ego, moving exactly just like you being your really virtual doppelganger. And then, of course, the latest AI advancements and AI has always been one of the pillars of the projects. Yeah. And this is one of the key things on which we work to. It also gives us lots of possibilities in terms of creating this kind of Metaverse. So that's all our virtual beings that inhabit this Metaverse. All this virtual alter egos that the people can create. They have what we call Point Pyramids. And it's something that allows much deeper communications between the users, between the real-life person and the virtual being. We also have a program, what we call the Digital Immortality, basically, and it's talking about the legacy of things. Because as you know, it's important for almost any artist to be remembered to be memorized by not only the audience of today, but also by the generations of the future. So thanks to such AI technologies that gives an opportunity not only to visually recreate an artistic person, but also to, with the help of AI to build his digital consciousness, to feel is the certain traits of character to feel it's with most of the information that is valuable to this or that person that he would like to share with his audience that he would like to be attached to his identity. And that's gonna stay as long as we have electricity.
Matt Zahab
I love that. Sasha one, another aspect, I keep saying, One, there's many aspects that interests me, but one is the unique traits of sort of these virtual beings, and I know you and the team are very passionate, and are believers in the concept of virtual beings and how it will be one of the next iterations of the internet. It won't be you know, Matt, or Sasha, on Instagram, or on Twitter or whatever it will literally be, you know, in multitudes of different Metaverses an actual virtual Matt and a virtual Sasha, what does the next step of this look like? How far away are we from this happening? Like, can you see this happening in two years where, you know, we'll be browsing the internet through a pair of VR goggles, whether it's, you know, the Apple glasses that are supposed to come out, I know, that's more AR, but still something like that with a virtual being walked me through this. And you know, how far away are we from this actually coming to fruition?
Sasha Tityanko
Well, I think that, of course, such companies like Apple and their launch, which we're all waiting for, will also drive a lot of them mass adoption of such new technologies which includes in VR and AR to also we see now, companies like Pico, you know, stepping into the market as well, and also developing like new contents, and we'll see how it will turn out. Sure, it'll be some exciting new opportunities, you know, for the audience, in this regard. Talking about ourselves, well, we're all of course, super much accustomed here with how you can customize your avatar in any video game by picking up a skin for him or like picking up an outfit for him. And of course, we've seen the rise or fall digital fashion thing coming. Of course, we do create about, we create the virtual fashion collections for avatars with some great artists such as Jason Ebeyer, Australian for the artists were for we already created two generations of the avatars, for Sensorium, and this one part of this thing, but also what's seen to us like a deep component is that we can customize our avatars, in terms of their consciousness and the terms of their soul. If we can refer to them like this. We do something that we call the Mind Pyramid, like I mentioned, and simply put, this is a configurator that allows you to create a virtual being with a unique biography, which can be the same as yours or it can be different so you can reinvent yourself or you can invent a circular in you be. So it's about his biography, it's about his personality about his digital presence. And then these virtual beings can either be controlled by the use of stem cells, or you can create such beings and basically let him go and live its own life in the Metaverse living basically autonomously there, and also evolved in there. And that's something completely new, and also very exciting to us. And because we can see that there, of course, lots of Chatbots now. But they are all mostly based on scripts and pre written scenarios. While our goal is and what we are developing is totally different angle. Because when we forward, the virtual being with AI our visual beings can establish meaningful relationships with human users as they have memory capabilities, and they have conversational AI tools that enable avatar to engage with you in organic conversations. And they don't just follow any scripts, they can really touch upon a very wild angle of topics. And then based on all the knowledge they get, they become real companions in the Metaverse, they can become a trusted companion to call me you can come back, and it remembers the stuff you discussed in previous times as it takes that into consideration. So he remembers your previous conversations as well.
Matt Zahab
That's crazy. And that's that couldn't be done without AI, right?
Sasha Tityanko
Yeah, that's the tool that's like the below on we show, we're able to grow these abilities of the virtual beings and then while the virtual thing is created for the Metaverse it can actually like in real life, you choose who you want to become wherever you want to become an artist really wants to become a DJ or you want to become a performer right now, here we are focusing on such source you know, professions or of hobbies for the virtual beings. So, yeah, they can become virtual artists, they can become virtual performers. And for this particular thing, we use another development also in the field of AI, which is AI generated music, and for which we've partnered with some of the pioneers in this field, a company called Mubert. So what we have there is that we are having about 60 plus different genres and sub genres of music, the samples of which can be taken by our virtual artists put together great music on top of that, and basically is just, they're able to create the infinite streams of music, which never repeats or ends, and of the visual DJs that we have. They now operate in different divisions of electronic music, you know, some of them are more into techno, some of them prefer house music, you know, there is like, afro house. We can also do hiphop even now. So it's a wide range of music styles. And of course to experiment with them is truly exciting. Then after we get that infinite stream of music, we can cut it into a piece, you know of any length. And here you go. You have a DJ set from a virtual artist, and they already do perform them within the Metaverse.
Matt Zahab
Sasha, this is all absolutely crazy. And I got asked about the partnerships, you and the team have locked up some absolutely massive partnerships. But before we get into that, we got to give a huge shout out to our sponsor of the show and that is PrimeXBT, who has been friends of Cryptonews for a hot minute. We absolutely love the team at PrimeXBT group of incredible people who have built a robust trading system for both beginners and professional traders. It doesn't matter if you're a rookie or a vet, you can easily design and customize your layout and widgets to best fit your trading style. PrimeXBT is also running an exclusive promo for listeners of the Cryptonews Pod. You get 50% of your deposit credited to your trading account. That is a massive 50%, Five Zero Percent of your deposit credited back to your trading account. The promo code is CRYPTONEWS50. That's CRYPTONEWS50 to receive 50% of your deposit credited to your trading account. And now back to the show with Sasha. Sasha, the partnerships, the huge names not, you know, little niche indie artists we're talking about, we're talking about the crème de la crème, the biggest artists in the space, you've also partnered with Roc Nation. That is Jay Z's talent agency, and a bunch of artists as well that me and myself I'm not familiar with, because again, I am a bit of a rookie, when it comes to the art space, but like you said, they are huge. And when I did research on them, I was like, wow, is that they are indeed huge. How did you lock up all these big names? Absolutely massive list client list. How did you get this? How did you make it happen?
Sasha Tityanko
Well, of course, to get into collaborations and partnerships with such, you know, legends, and such names within the industry, I think, of course, you need to be talking the same language with them. And you need to relate so to have a mutual understanding, you know, of what all of this world of electronic music and of music in general is about, you know, and, of course, I think they all pretty much and very much after the visual side of things, you know, after the art direction of the side of things, I think each of the our collaborators was after us creating a AAA graphics flashes show, you know, rather than panel having some low key or cartoonish content, also, I think it's, of course, it's a great team effort. And since we work with some of the biggest creators and producers are already work with these artists to create their shows in real life, but now can also use their expertise, you know, to pass it together with us into a virtual realm, it was another was another thing that's really helped us to, to get to this sort of partnerships and collaborations. And it's a really exciting process from day one, you know, from creating an avatar artist in the studio to having them select the music for the virtual shows. And also, the development of such shows is such a thing where every almost every step is completely new, from the virtual graphics to the virtual lightshow design to the choreography that is now performed by virtual beings in very different choreography genres. This is all something we're all doing for the first time. And I think the experiments part of it is also amazing.
Matt Zahab
Sasha, let's get into you for a sec here. I want to learn more about you and why you fell in love with crypto. Why did you know, take the jump from the traditional art space over to Web3?
Sasha Tityanko
Oh, well, because working with entertainment, I would say working with the artists, working with advance in real life has always been it's still great. But it's always had a certain limitation. And in times, for example, like pandemic, we all witnessed. Exactly, which are those limitations, though, not all of them appeared during pandemic of course, you know, we were always surrounded by the boundaries, it was always territorial. While we I think all wanted it to create something which has no boundaries, you know, which available to a fan from artists, from any angle, you know, of most furthers location of this world. This is firstly then secondly, we want these creations and every I think performance, every show when the great artist is a piece of art. So we want it to be available to everybody who was a fan, not dependent on his social status, on his financial abilities as well. Because we think that the Metaverse and the virtual shows they do present a much more democratic way for a fan to enter it in order to have his personalized experience to become closer to the artist that he loves. Even though he would maybe never or not very often would be able to afford it in real life. And that's what the virtual realms allows us to do. So we see just as a new video not.
Matt Zahab
It's not going to replace it.
Sasha Tityanko
Yeah, not to replace. A new extension.
Matt Zahab
Right. So what do you say to your you know, some of your peers and well respected artists ho trashed Web3? And like, again, I understand some of the.
Sasha Tityanko
Our's don't.
Matt Zahab
Well, I, obviously the ones that you guys are partner with don't but I'm sure there's been others who you perhaps have tried to partner with. And they've been like, I don't believe in crypto, I don't believe in Web3, so on and so forth. How do you handle their objections? Do you know where those conversations sound like?
Sasha Tityanko
Ah, you know, we often remind them of the old times, for example, then people were asking, why do we make movies you know, movies is not a real thing, go to the theater. Don't make movies. What is their sister's Chester's? That's not correct. You know, and, in general, if this is an evolution, and this is, part of the evolution in how to evaluate it is one thing, you know, what, we cannot stop the protests, I will say, you know, and we will always have their pros and cons, you know, and we will always have supporters and the people always say it was better in the old times, you know.
Matt Zahab
Right.
Sasha Tityanko
Without that.
Matt Zahab
That's true.
Sasha Tityanko
I think that's the angle from which we see is we have all freedom of choice, you know, you can always do the old school stuff, you know, which we also love, but you can, you know, perceive new opportunities, and, in general, you know, all of this matters. And we're free thing, it does open new opportunities to the artists, such as, for example, new opportunities, were discovered to the artists with a series of YouTube. Yeah. And we remember the times when an artists could do almost nothing, you know, without being signed, for example, to a major record label and guessing that deal, you know, and you could be like, super talented, but it was just the chance, you know, whether you get signed or not. And then we had an era of YouTube discoveries, yeah, as we might be expecting an era of Metaverse, discoveries now, both from like the real-life artists or virtual artists, or it can be hybrid formats as well. Because now with some of the projects that we work now, such as SVORA, for example, it's a virtual incognita artists, with whom we are working on creating his show for Sensorium Galaxy. We don't even know for sure who stands behind that project. How many? Is it like many people, is one person? They call it Virtual Collective Act. And how do we choose stand? It's digital, the which extend is human is unknown, and uncertain. That's kind of a new hybrid forums that appear there due to the presence of Web3 to the presence of Metaverse. That's we're having now starting to have now. I would say.
Matt Zahab
What's next for Sensorium? What do you guys have planned next?
Sasha Tityanko
Well, we are looking of course to the rolling out of much more contents within the Galaxy. So we are to release the shows of the artists we are looking to add cover in the new exciting things that we will be announcing in due time that they are also related. So AI components you know, and so the virtual things components of the project. We have a lot of things to tell our audience and the world involved in in 2023 I would say.
Matt Zahab
Well Sasha this has been a treat I know we're getting a little tight for time couple more questions and we will wrap up we have a segment on the show called the hot take factory where you and I jump into the hot take factory, we put our you know our knee-high shit kicking boots on and we let a couple of hot takes fly. What are some Sasha hot takes a couple of things that perhaps only you believe in that most other people do not, doesn't have to be crypto or Metaverse related can be, you know, art, fashion, politics, food, geography, space, AI, you name it. One of my favorite ones. And this is this actually isn't for me, this was from Naval Ravikant, who is the founder of AngelList, he has a famous quote called "happiness as a choice". And I do believe in that I think that at any given time, you can you know, fake being happy and in turn, you will be happy, right? And I feel like a lot of people who perhaps aren't happy enjoy that identity sometimes. And yes, obviously in life, everyone has battles. And obviously that's unfortunate, but it's about it's a choice and it's one that you know, when I've said out loud or in public a couple of times, I've definitely gotten some negative feedback and I understand where they're coming from but again, that's all it takes. That's the point of it. You know, another hot take would be like pineapple doesn't belong on pizza. I'm fine. I don't mind pineapple on pizza but anything like that.
Sasha Tityanko
Okay, interesting. Uh, well, I can share such a thing like when I was growing up when I was a child, I have had very strange idea that we all live in a dream that I live in the dream but not like the dream, like, I have a dream by Martin Luther King, but I'm actually sleeping and when I wake up, I wake up to a different reality, where I will, for example, you also girl by the offer a bit different age with a bit different parents, not because like it was my life would be better or worse. It's just what I had this concept of a third of life in my childhood for I don't know, for which reason, and now, I think, what it was just a childish thing or whether I was feeling something, you know, that's true, that's what happening. Because for example, now, this so much connects to what we are creating when we are doing this project, for example, because we understand that we do create some sort of parallel life, and that its sole kind of minds play, you know, and I would agree with those who say that we all live in a simulation, you know, and we don't know what whether we are creating that sort of another reality or, it's really exists. And we're just unveiling it now together and we think that way. But yeah.
Matt Zahab
Love that. Sasha that's great. Thank you so much for coming on. Really appreciate it. This was a lot of fun. And I learned a ton and I definitely have some work to do I have some homework, I need to do a bit more research on the concept of virtual beings and how it can really shape sort of the Next Iteration of the Internet. But until next time, can you please let our listeners know where they can find you and Sensorium/Sensorium Galaxy online and on socials?
Sasha Tityanko
Yeah, sure. So we have our main websites, sensoriumgalaxy.com, and @sensoriumgalaxy on Instagram, on Twitter, on TikTok, on YouTube. So yeah, that's where you can follow us. Stay updated. Stay tuned to have lots of exciting new sneak peeks from the Metaverse, news trimmings from the Metaverse coming up. So we'll be waiting for you there. And it was lovely to talk to you today.
Matt Zahab
Thank you so much, Sasha, folks, what an episode with Sasha Tityanko, Deputy CEO and Art director of Sensorium. She was bringing the noise and drop knowledge bombs left right and center we absolutely love to see it. As always guys do go check out Sensorium and Sensorium Galaxy. I will include everything in the show notes. Speaking of the team love you guys, thank you so much for everything. Justas, thank you as always my amazing sound editor and the listeners you guys are the GOAT. Keep on growing those bags and keep on staying healthy, wealthy and happy bye for now and we'll talk soon.
---