No Reprieve for LocalBitcoins Traders whose Bitcoin Remains Locked up
Bitcoin (BTC) traders say they are still waiting to regain access to their tokens two weeks after peer-to-peer cryptocurrency exchange LocalBitcoins quietly suspended their accounts. Account-holders say they have been severely inconvenienced by the move, which has brought their trading operations to a halt.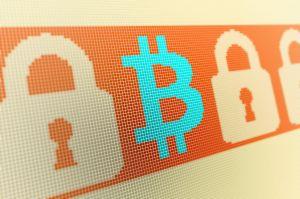 LocalBitcoins is a Finland-based platform that allows buyers and sellers to trade Bitcoin directly. It incorporates escrow for security and is licensed by the Finnish regulator, the Finnish Financial Supervisory Authority.
The platform is accessible in over 248 countries and generates annual revenues of USD 31 million. According to data from Owler, the firm has 67 employees.
In June 2019, the exchange tightened its compliance requirements, removing its "in-cash" person option. But it appears that it is now following up with alacrity, suspending the accounts of many of its long-standing customers – sometimes, without prior warning.
Customers in many countries in Africa say they have been affected, predominantly those in Nigeria and Uganda.
Account-holders in some parts of Asia have been affected, too, including many in Afghanistan and Pakistan, as well as some in the Middle East.
Cryptonews.com also understands that some traders in the United Kingdom believe that their accounts have also been suspended.
Traders say they have been asked to withdraw their bitcoin holdings and delete their accounts if they cannot wait for activation. However, many say that they have been unable to take actions like these as their accounts had already been suspended – leaving thousands of dollars' worth of bitcoin locked away.
Rizwan Ali from Pakistan says he is one of the traders hit by the move.
Talking to Cryptonews.com, Ali said he had been left distraught by LocalBitcoins' move. He claimed that the exchange's decision to suspend his accounts without warning was ruining his livelihood – and could even be illegal.
Ali said,
"It's devastating. The exchange suddenly blocked our funds and suspended accounts without any warning. My 0.5 BTC is blocked, and I am waiting for it to be released. It's been 14 days today since I made my account deletion request. There was no notice. They violated their own terms of service. I am sure what they are doing is illegal."
Ali shared the response to his request for account deletion with Cryptonews.com.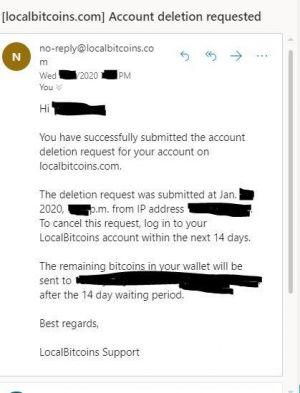 Another anonymous LocalBitcoins user in Nigeria said he could not access his account even after he had received notifications about customers willing to sell him bitcoin, Forbes reports.
The account holder stated,
"One of my customers was due to travel out of the country and had to sell some of his bitcoin to be able to go – only to notice on his way to the airport that he could not even access his funds."
Meanwhile, in Uganda, a user says his account was suspended. Speaking to BitcoinKE, the customer says he received a LocalBitcoins email asking him to delete his account and withdraw his Bitcoin "if he wasn't willing to wait for activation."
Altcoin scrutiny
And it appears that bitcoin holders are not the only ones under intensifying scrutiny from LocalBitcoins.
Users have complained that they have been ordered to provide details about their altcoin ownership.
A trader in the UK, who says his account remains suspended, took to Reddit to say he has been trying to pass Tier 3 verification since September 2019.
On January 6, 2020, he claims that over BTC 1 was locked, even though LocalBitcoins "knew he was a broker." The user says he has had a LocalBitcoins account for over three years and now "can't operate."
He wrote,
"The thing is, when I was doing their tier 3 questionnaire I said I have other coins than BTC, (some altcoins here and there) and they asked me for proof of that, which I sent it to them but didn't show my full name so it got rejected few times in September/October. Then I uploaded a statement with my altcoins balance with my full name on the invoice and I am still waiting for approval."
He added, "My main income comes from their website, but they don't seem to care."
Some account holders and internet commenters have speculated that the exchange's move could be tied to the EU's Fifth Anti-money Laundering Directive (AMLD5), which came into force on January 10 this year.
The new protocol requires that centralized cryptocurrency exchanges and wallet providers identify their customers and provide data to the authorities.
'As soon as possible'
A LocalBitcoins spokeswoman told Cryptonews.com via email that the exchange's decision had been made following advice from the European Commission's call for enhanced due diligence when dealing with clients from Afghanistan, Bosnia and Herzegovina, Ethiopia, Guyana, Iraq, Laos, Sri Lanka, Pakistan, Trinidad and Tobago, Tunisia, Uganda, Vanuatu, and Yemen.
LocalBitcoins added,
"The process for enabling the accounts of residents in those countries is currently in development and will be made available as soon as possible. We apologize to the users who were negatively affected by the delay and confirm that affected users will be able to continue using LocalBitcoins services after completing the enhanced due diligence process to be launched in the near future."
Although some agree that compliance-related matters are becoming ever more complex for crypto exchanges, other traders say LocalBitcoins' support has been "poor," and urged the exchange to hire more customer service staff.
One trader who spoke to Cryptonews.com stated,
"I also understand that due to new regulations they had to choose this path and lock everyone who hasn't passed a certain verification level out. But they did it in a horrible way with no support at all for months prior to the deadline."
The trader concluded,
"Their Twitter support is also awful as they reply to people's complaints [saying that] their support ticket has been replied to. But in fact [they have just been provided with] an automated reply saying that they should wait for an admin to respond and that the process will take between five and seven days."
____
Learn more: P2P Bitcoin Trading: Bisq & Paxful Grow, LocalBitcoins Slips
---