Medha Parlikar, Co-Founder and CTO of CasperLabs, on Enterprise Blockchain Solutions and Future Proof Blockchain | Ep. 213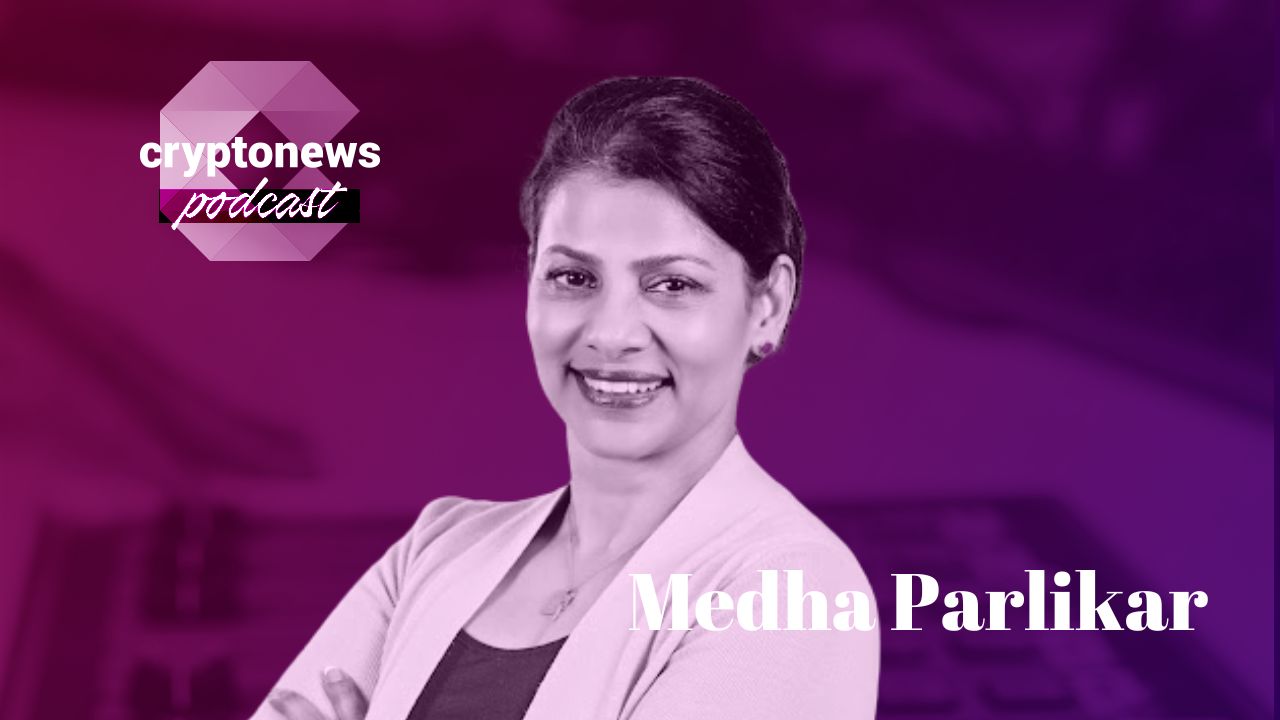 In an exclusive interview with cryptonews.com, Medha Parlikar, Co-Founder and CTO of CasperLabs, talks about how blockchain needs to be future-proof, blockchain tech providing a trust layer for enterprise, and the origin story of Casper Labs.
About Medha Parlikar
Medha Parlikar is the Co-Founder and CTO of CasperLabs. Medha started working with technology in the early 80s. For the past two decades, she has been delivering production software at Adobe, Omniture, Avalara, MP3.com, and DivX. She strives to deliver high-quality production software while inspiring technical teams to solve tough problems and do their best work. She fell down the blockchain rabbit hole in 2017 and has been an avid fan of the promise of decentralization and open-source software. This led her to co-found CasperLabs in 2018.
Medha Parlikar gave a wide-ranging exclusive interview which you can see below, and we are happy for you to use it for publication provided there is a credit to www.cryptonews.com.
Highlights Of The Interview
How Casper started, how and why the protocol was built
How blockchain needs to be future proof
Blockchain tech providing a trust layer for enterprise
Blockchain infrastructure compatibility with Rust / WASM and existing programming languages as a driver for adoption
Casper Labs adding Google Cloud adds to its growing portfolio of Web3 partnerships
IPwe Inc & Casper Labs announcing the largest enterprise blockchain deployment in history at Davos, Switzerland, during the week of the World Economic Forum
Full Transcript Of The Interview
Matt Zahab
Ladies and gentlemen, welcome back to the Cryptonews Podcast. We are buzzing as always and today my guest is not too far away from me in Mexico. Today we have Medha Parlikar coming in hot from the one and only beautiful sunny tropical Puerto Rico. Medha is the Co-Founder and CTO of CasperLabs. Medha started working with technology back in the early 80's and for the last two decades she has been delivering production software at Adobe ever heard of them Omniture, Avalara, MP3.com what a throwback and DivX. She strives to deliver high quality production software while inspiring technical teams to solve tough problems and do their best work. She fell down the Blockchain rabbit hole in 2017 and has been an avid fan of the promise of decentralization and open source software ever since which led her to Co found CasperLabs in 2018. Super pumped to have on Medha welcome to the show.
Medha Parlikar
Matt, thanks so much for having me on. I'm really excited to be here today.
Matt Zahab
Pumped to have you on as well. Before the show we chatted a little bit about your life in Puerto Rico, which seems to be such a hotbed for Crypto people we'll get into that later on but I got to start you've worked for some crazy companies, Adobe absolute powerhouse we all, heck I feel like most of us use some type of Adobe related product almost every day they've turned into an absolute behemoth an MP3.com I got to start there. When I was doing research for the show. I was like what a throwback. What was life like at MP3.com back in the day?
Medha Parlikar
Oh man. So MP3.com you know it feels a lot like 2017 in Crypto, not to bring the conversation back to Crypto. But during that time, it was the.com boom, right? We at MP3.com, I still use the term "we" because it was such a defining moment for me in my career, you saw the future of digital music. We were really pioneers, and in that way again it feels the same way I do today, right? We can see the future. We saw the future back then of using a device like the iPhone with iTunes on it, or Spotify or Shazam, we even envisioned the Shazam application where you just point your phone at the radio and then click to buy.
Matt Zahab
Come on, back that long ago?
Medha Parlikar
Back then in 1999, I absolutely remember sitting down with the CTO at that time. So you can just imagine taken a device you point it, and it listens because the technology that MP3.com had built it was a random seek of the CD. So we had a binary representation of the Compact Disc. So when you put the CD in your computer to get access, you had to prove ownership of the physical CD in order to get access to the service, and we would actually do a random seek of the actual disk, and then share that with the servers and only if you could actually prove that you had the physical CD in your possession, did you get access to the digital media, and it's really unfortunate that the RIAA shut us down because we were ready to share all the royalties and profits of the streaming service, right? And back then, in 1999 we were able to deliver an MP3 within three to five seconds, and so the technology that we built back then we had over a terabyte of streamable data and being able to deliver that content at that rate at that speed at that level of service. It was absolutely phenomenal what that technology team built right, we had a YouTube back in 1999 and 2000. We called it MP4.com. And so we had a streaming service of video streaming service that individuals could upload their own video content, right. That's what MP3.com was you could upload your own music you had can build your own fan site it was Web2 when most companies were putting out Web 1.0 informational websites, right? We had dynamic website, a dynamic website where you could build your social community, and so it was really unfortunate that the company was destroyed by the RIAA in a copyright lawsuit. It's really too bad because we were able to leap frog the current industry right so but it was fascinating that I learned a ton about technology, how to build and deliver Web2 products at scale. When I was at MP3.com so it was definitely a real fulcrum in my career.
Matt Zahab
So you guys were like the Robinhood Napster kind of thing?
Medha Parlikar
Yeah. I mean, we were trying to legitimize what Napster was doing illegally, right? Napster was just doing all this sharing, and we said look, if you make it really easy for people to get access to the content that they want, you can charge them for that and then you can distribute those royalties all digitally like that's what we saw. That's what happens at all the digital music platforms today, and we had actually built out all of that infrastructure, all of the analytics, all the data tracking, all of the delivery mechanisms, and that's what we were trying that was our strong message to say look, right now you're putting out a CD that has maybe one song, it's really expensive for you to create that content to distribute that content, you don't get any visibility or insights into how people are using that content. Let us streamline your distribution model and put you in direct content with your consumers, then you'll be able to just sell the individual song, and they were not they simply weren't ready, right? And the mistake that we made is, even though we had the large war chest, we really tried to go head to head with them, instead of just waiting it out and let the letting the transformation happen naturally and I think, you know taking from that a lot of lessons learned around how governments are approaching Blockchain, how enterprises are approaching Blockchain, that they are going to, you know first, we have a lot of education to do right, and going head to head with them isn't necessarily going to help us win, right? So what we really need to do is collaborate with them and help them understand and really work with them and bring them along.
Matt Zahab
That's such a crazy story. You guys were so ahead of the curve. My goodness, you had Spotify locked and loaded and you had YouTube locked and loaded MP3.com could have been you know, a Google or Apple type company like that's insane. Also the domains, Medha who even owns MP3.com and MP4.com, because those are like that those domains gotta be five mil a pop kind of thing.
Medha Parlikar
Yeah, I have no idea who owns the domains today. I can tell you, you know in addition to that, like we also had a Just In Time, like a real time CD creation service. So a user would order a CD from an artist and then that CD would then go into manufacturing, like the moment you click it, the entire process of creating the CD was all automated, including artwork, burning the CD, shipping it out that entire Just In Time manufacturing process was also something that we had built, in addition to like, business music, right? So you know, business is stream music you go to a store, and you hear the music that's all licensed, and so I believe this product is actually still functioning today from the original MP3.com technology. But there are little boxes that we shipped with licensed content from the artists and we would actually pay the royalties, and so you could actually get a music streaming service for your business with the box and the box would phone home and get new content depending on what genre you want it and you could create playlists and all of this. So there were multiple really interesting enterprise plays that we were actually building in conjunction with the core technology.
Matt Zahab
That's so cool. He gave me goosebumps from the MP3 story. Goosebumps on a Monday morning, you'd love to see that. I want to sort of talk about the synergies and parallels with the incredibly high hockey stick growing companies that you worked for, like MP3.com and Avalara and Omniture and of course Adobe, everyone's heard of Adobe, and Crypto present day, you helped grow these companies crazy amount, you held very high positions at these companies, and of course now you're a CTO at a you know, blue chip Blockchain company. What are some of the similarities that you saw back in the day? When do you know Web 1.0 and 2.0 was ripping like crazy and present day with Web 3.0 ripping like it is?
Medha Parlikar
Yeah, so definitely a lot of similarities. You know the curve of crossing the chasm is a real thing, right? So all of these industries get very frothy. There's a lot of excitement. There's a hype cycle, there's a trough of disillusionment, and then there's the real build, right? And I've been through that this is my third run through this. The first one was the dot com boom, the second one was the cloud boom, and this is the you know, Web 3.0 right. So I believe that persistence is really key, and the companies that focus on delivering value are the ones that are really going to succeed. So you have to listen to your customers, you have to be able to iterate on your product. So you learn from the market and you have to deliver value, right? These are super important, and the companies that do that, and they're very conservative with their burn in their cache, they focus on delivering value, and they focus on bringing people along and educating them are going to win, and so here at CasperLabs, we've been really focused on those lessons learned and we see the parallels between the adoption of cloud, the adoption of, you know the Internet technologies and how enterprise adopts these, and so we're going to take those lessons learned from the other two cycles and we're just going to apply them so I I'm quite confident in our ability to succeed here, just based on I think there's a formula and how you do this right? It is execute extremely well support your customers and deliver great value.
Matt Zahab
And you just give me a perfect segway into Casper, you and your co founder, you started Casper back in 2018. Not too long after you really discovered Crypto in 2017. That's pretty quick. Normally people, you know jump in, they do the discovery phase, they go down the rabbit hole, they sort of pick a niche and build company. It's very rare to go straight like B2B enterprise. Why did you and your co founder start Casper? And why did you choose to go to the enterprise route, especially back in the day in 2018 were like now no shit of course, there's such a need for enterprise solutions within Crypto. But back in the day, I feel like perhaps and maybe I'm way off to lunch here. But I feel like you guys sort of saw the future because I really feel like there wasn't such a need for enterprise back in the day in 2018.
Medha Parlikar
100%. Right, so it's a really funny story. So you know my background, I come from enterprise software as a service enterprise SAS, BDC with MP3.com, B2B with Adobe, and Omniture and Avalara. Those are pure B2B software service companies at scale, and my co founder was actually looking to invest in a red hat type of company in the Blockchain space. So he was looking for a company because he was an investor, he and I met on the open source project that I was managing in 2017, and when he came into the space, he's like I want to invest in the company that servicing the enterprise. Because, you know when did the internet really cross the chasm? When did it go big, right? When did it start permeating our lives? It was really when we had large enterprises adopting, or large companies building right they may have been startups in but they become a very large scale to consumer, and when we saw that happen, is when really the internet permeated everybody's life, right? It wasn't just about messaging and AOL online and email, it became like really the foundation in the way business is done, and when we hear people in Web3 talk about mass adoption, that's really what they're talking about is that Blockchain permeates our life, right? That's going to happen by way of enterprises. So I knew that, and my co founder Ronaldo knew that. So he was looking to look at the Sherpa. Where was the Sherpa, the company that was going to hold their hand those enterprises hands and walk them through this journey, because that's the way enterprise implements new technology. That's just how they do it. It's the way they've always done it, and he couldn't find one and so when he couldn't find that company, and he was working with, you know an investor in this open source project, and he saw the work that I was doing, he's like okay, she's already built a Blockchain. Let's have her co founders company that will be the Sherpa that will build the open source Blockchain, just like Red Hat was a core contributor in Linux. Let's do the same thing with Blockchain protocol, and it'll be enterprise Blockchain protocol, right? And then from my perspective, I built the Blockchain that I would use. So when I'm wearing the MP3 director of engineering hat, or the Avalara director of engineering hat or any of those companies, I understood very well what it meant to be a server service, a back end protocols service, be it an oracle being an Apache web server be it whatever you're using MySQL, what are the things that I needed from an engineering perspective in order for that protocol to really become part of an enterprise B2B stack, right? I went beyond just thinking about a solution in the enterprise. I thought about, well if Avalara wanted to implement Blockchain, or if Salesforce wanted to implement Blockchain, or if Airbnb or Uber wanted to implement Blockchain directly into the Uber app, what did they need? How would they deliver software at scale? How would they integrate that software, that system into their application? And so that's what we built because I was responsible for quality control and delivery. So anytime I walked into a company, their first question would be is like, we can't seem to deliver high quality software out to our customers at scale. Can you please help us get there? And so that was my area focus and so there was a whole bunch of things I had to do within the organization to help them get to that place.
Matt Zahab
Such a cool story. I want to buzz on that topic for a bit. What is the most common bottleneck or issue or problem per se, when an enterprise grade company can't deliver the world class software that they want to at scale? Like, obviously, there's no, you know, blueprint? I'm sure it's very gray. It's not black and white, but like are there themes or trends that just keep popping up when you go into a new company and consult for them or work for them or whatever the case may be like, what are those ones where you're like of course, this is it. You know every single time, time after time?
Medha Parlikar
Yeah, it boils down to a couple of themes, really. One of them is change management and control. Companies need to be able to iterate rapidly you get customer feedback, you have bugs, you have issues, you need to be able to replicate those issues, know that you fix them know you didn't break anything else, and release them to production with a high degree of certainty and quality, right and quickly, that what we call that engineering or delivery pipeline, setting that up can be very complicated, and when you think about a Web2 system, you know when you have your production system, it's very different than your development system, right? Like when I worked at on Mature, and I'm sure it's a much bigger set of farm they have 35,000 servers in the server farm, and this was back in 2009 35,000. That was then so imagine the rollout of software, right? Think about Google's servers, Google's servers just for indexing, they basically have a copy of the full internet, right there data center that they built in Finland is cooled by the Nordic sea. Like they literally are diverting the sea into their data centers to cool it. Like, that's the kind of scale you're talking about in these enterprise systems, right. So I'm sure Salesforce has got 10s of 1000s of nodes that they're building in AWS, right? So when you start thinking about deployments at that scale, right? And operations at that scale, you need to know for certain, and these are complex applications, right? So there's all kinds of edge cases, there's all kinds of so it's really around, you know system integrated testing, managing all of your environments, being able to do things like well, if I have this bug in production, can I reproduce that bug on the developers desktop, so the developer knows for a fact he fixed it, right? Those kinds of issues as you scale an organization, you know both from a technical perspective and documentation perspective and a release engineering perspective, they grow exponentially more complex, right? So you find yourself that in order to get developer productivity, you need to invest a lot of time and resources in building out your test and release infrastructure, and so just the Casper protocol is really purpose built to drop into those pipelines. It's a really important piece of the puzzle, and the reason it does that is because we built it that way from the ground up, like we built it for that reason, because I feel like, for me it would be a non starter, it would absolutely be a non starter, right. Like I wouldn't use any of the Blockchain protocols that are out there today, because they look at Immutability as a hard and fast rule, and that just doesn't work in the enterprise.
Matt Zahab
You are absolutely on fire Medha with these stories, I need one more story, and then we'll go deep dive into Casper. What is the craziest sort of shipping, a massive update or piece of software story you have that involves a absolute bananas, crazy bug, like I'm talking, you in the team ship something huge, and there was a huge, there must have been some crazy story where you thought the whole world was gonna be set on fire?
Medha Parlikar
Oh, okay. Let me think about this. A lot of these wind up being at night, what I will tell you is every single release of a big chunk of the releases when I was at Omniture, what happened very late at night, and so when you talk about rolling out the software to 35,000 servers, we would start the rollout around four o'clock by staging the software, and then it would start propagating. So the releases would take somewhere in the order of 9 to 12 hours. So we would start at 4pm and we usually wouldn't leave the office until four or five in the morning. Because we would be there all night, waiting for the software would have to propagate out that we would need to validate each server would need to check in and validate to make sure that there weren't any dropped bits, right that the software actually got there. Then it was staging the upgrade and rebuilding all the cubes, because it was particularly if there was any kind of logic change around the you know, Omniture did web analytics, right? So they're the largest web analytics provider for the enterprise, and so when you had to build the metrics, you had to rerun the computation. So you know, if you look at you go to Google Analytics, and you'd look at, oh you know, what does my conversion funnel look like? Well, that's a cube, right? So it takes a whole bunch of data and it pushes it through an algorithm and processes that information then presents an answer to you. So it has to rerun like whenever you change that it has to rerun all those cubes new logic and rebuild all the reports, and so you know we would have to check off and make sure that okay, all the servers actually received the update and as the cubes are reprocessing, everything is working and then we would start working with some of our lighthouse customers to verify now start looking at some of the actual systems in production to make sure that everything is working correctly, you can't replicate that, right? So when you're talking about your beta environment or your test environments, there are things that are very unique to production, like how you roll out at scale to 35 50,000 machines, that is something that you can only do in production right there wrapper scripts that wrap around the base software, and so you still have to manage that kind of that risk, and sometimes we have to rebuild, we run into it, we see a problem the first few servers we have to go back and rebuild the software, address the issue and then read, you know so yeah I've seen and many deployments, it's all a bit of a blur.
Matt Zahab
That's crazy.
Medha Parlikar
Yeah, and so it set us up really well to support that public Casper protocol right, because we've seen some crazy issues with the Casper protocol, and so our most recent release, you know it's been in testing for a really long time, and the reason for that is, we're actually able to take a snapshot of the data from production, and we're pulling it into our test environments, and we're running the software against it, and we're running into specific data issues in production. So we're actually resolving bugs that were finding in production in this latest release, which is a really fantastic thing because it D-risks the deployment in production, right of even the Casper main net. So a lot of the lessons learned are very salient today in my work.
Matt Zahab
It's crazy how little the general consumer knows about what goes into these massive products chips like, you know we're sitting here and we're like, oh you know, product or service X is down from 11pm to 4am. Not that I'm going to probably use it at that time, but Oh, wonder what they're doing where it's like, there's a full on war going on in the background, and we're just like, Oh, I'll wake up tomorrow and refresh my browser for an update, like so foreign to me. Crazy. Let's jump into Casper, one of the things that I absolutely love about Casper and doing my research for the show. You and the team are so locked in to the theme of Blockchain needing to be future proof, and again, I've listened to your stuff in the past. I'd love for you to just go on a little tangent about that specific topic and how it's so bloody paramount to succeed and for Blockchain to become, you know mass adoption that it needs to be future proof.
Medha Parlikar
Yeah, definitely. Like, if you think about any infrastructure today, right? They have gone through major upgrades and manage to stay relevant in the light of new silicon. Just simple example, new research new technology and so when we talk about Casper being future proof, we have an architecture that's very pluggable, and so there's a lot of components that go into Blockchain infrastructure into the architecture of the Casper technology itself right, which is what bootstraps the Casper network. Things like Consensus, right? Like I don't believe that Consensus is a particularly interesting topic from a consumer or enterprise perspective. The only thing Consensus needs to provide a security and speed. Those are the most important things and decentralization, and so the Casper protocol is really agnostic to which Consensus model is ultimately we use right so it's very pluggable from its architecture perspective and in fact, in our in Casper 2.0 we're going to be rolling out a new Consensus protocol, and the reason we're doing that is because we continue our research, we have found a better Consensus protocol and so we're going to go ahead and release it, and in sharp contrast to Ethereum, that took seven years to do that, we're going to be doing it in less than three years, right after our launch, we launched in 2021, and sometime this year, we will be launching with a new Consensus protocol, and that new Consensus protocol has already been in testing for several months. It's already coded and in fact the protocol can run to Consensus protocols, it can alternate between the current one and the new one, and the reason it can do that is we want to do side by side testing, right? Like given a single Blockchain, is there any performance difference between running it at this Consensus protocol versus this Consensus protocol on the same data set and you'll see that that very purposeful testing thinking how you deploy software in a very low risk way, permeates everything that we do, right? So rather than doing a hard cut over and saying, well now the code only runs this Consensus protocol? What if you have a problem? What are you gonna do? You're gonna roll back your software? Well no, I mean, what we could do with Casper is just change a configuration, and boom it'll revert back to the other Consensus protocol, which is much easier, right? You don't have to go through a whole new code update. So we think about problems in a very future proof and low risk way for the enterprise, right. We support multiple key types, we support, you know very much a separation of concerns between Consensus and the execution of smart contracts. There's reasoning behind that that D-risks, how we roll out software, how releases are rolled out to enterprise, and also for enterprise they can say, okay great. If there's new Consensus research, we know that the Casper completed if there's new virtual machine research, we know that the Casper protocol can pull it in. That's the purpose of being future proof. That's what we mean when we say that.
Matt Zahab
You guys have a world class team how do you, I feel like you don't hire anyone who's not beyond world class, like walk me through your guy's sort of hiring process, and because again, there's a lot of, you know I've worked with a lot of incredible teams, and I've worked with a lot of good teams where it's like, let's just get someone in quick to fill hole X, I feel like with the software that you guys ship, and with the overarching goal of making Blockchain future proof and being an enterprise solution, you must have an absolute bananas hiring process where you only pull in just the top talent in the world.
Medha Parlikar
Yeah 100%, I think our metrics are somewhere between one to 3% hiring on the engineering side. So for every 100 candidates we interview, we hire one. So yeah, we're extremely selective and that's for the core protocol engineers, even for the full stack developers that work on our team, we actually we get a lot of candidates that want to apply and want to work with us, we actually go through a mini hackathon, and so if you're applying to be a full stack developer, these are core protocol engineers, these are folks that are building our professional services for our clients, they have to go through a mini hackathon where there may be 60 70 80 applicants and the top one or two are selected based on you know, the output that they're able to deliver and then of course the interview process on top of that, so we are very selective, and the reason for that is building Blockchains is hard, and we want to hire the best talent, because engineers want to work with really smart people. That's their number one motivation, right? You talk to any engineer, they want to use their creativity, right? And what I love to do is just point engineers at a problem and tell them use your creativity to go solve that problem. I myself, am a very product focused CTO, right? I haven't coded in a long time I understand architecture, I understand first principles, I understand, you know all the things that are on software delivery and what a right architecture and infrastructure looks like. But I haven't coded in many years full disclosure, but I think it's good because there's a very clear separation between myself and my team. My team's say Medha, we want to handle that technical implementation. We want to use our creativity to deliver to you what you're looking for the customer, and it's a very nice separation of concern, and so we'd love to hire engineers that are entrepreneurial, right? They say, give me a problem and just let me go do my best work to fix it. So it's a very specific type of profile that we like to hire here at CasperLabs.
Matt Zahab
It's crazy. I feel like the industry standard for Blockchain, like with so few developers that there are, it's got to be 25%. I feel like for every four that go to an interview, one gets hired and again, I'm making that number up completely. But even just in my experience, and working with other CTOs and sitting in on the interviews, where I candidly probably shouldn't even been setting it. It's more I'm just going on the call side. They're doing all the quantitative side of it, but seems like 25% industry standard, so for us to buzz out 1 to 3 that is crazy. Medha we got to take a quick break and give a huge shout out to our sponsor the show that is PrimeXBT our longtime sponsor of the Cryptonews Podcast. PrimeXBT offers a robust trading system for both beginners and professional traders. It doesn't matter if you're a rookie or a vet, you can easily design and customize your layouts and widgets to best fit your trading style. PrimeXBT is also running an exclusive promo for listeners of the Cryptonews Podcast after making your first deposit 50% of that first deposit will be credited to your trading account that can be used as additional collateral to open positions. The promo code is CRYPTONEWS50 that's CRYPTONEWS50 all one word to take advantage and receive 50% of your deposit credited to your trading account and now back to the show with Medha. Medha, you guys have locked up some absolute huge mammoth partnerships. You added Google Cloud to your growing portfolio of Web3 partnerships walk me through this whole story. I'm so curious, I wish I was a fly on the wall. How did this all happen? I don't think there maybe there couldn't have been a better partner to pull on board. How did you in the team make this happen?
Medha Parlikar
Oh, gosh. So we were at the World Economic Forum right so CasperLabs hosts the Blockchain Hub at the World Economic Forum, right? And as part of those conversations, we were able to connect with folks from Google through our business development team, and we were able to come away with a fantastic collaboration where customers and users of the Google Cloud Platform can now run private and public networks, public nodes and private networks on the Google Cloud infrastructure, and so we're super excited about this to support you know, Google Cloud has dip into Blockchain infrastructure, we think we're very well aligned. Because we focus on a lot of the same principles that Google does. If you've ever heard of the term Site Reliability Engineering, it was something that was coined at Google, and it's very much a process that we use in engineering and preparing the Casper node for release. We go through a site reliability engineering type of process, and so I feel from a technology perspective we're extremely aligned in what we want to deliver and the quality of our product.
Matt Zahab
And you also announced the largest enterprise Blockchain deployment in history at Davos at the World Economic Forum and that was with IPwe walk me through that what happened there and why is this so important for Blockchain as a whole?
Medha Parlikar
Well, definitely. So I believe, you know public Blockchain suffers from a legitimacy problem, and it's like well, okay, fine. So beyond Crypto and you know your monkeys, right? Monkey NFT is like, why should I care about Blockchain, right? When you talk in the enterprise, there's a very strong vein of this, right? And so it's a hugely important deployment because it demonstrates a real world use case of taking an illiquid asset that is very valuable attaching provenance to it, attaching trust to it, and then creating a marketplace around that, and we partnered with IBM, we're now one of the only public chains that is a partner of IBM. The Casper protocol is the public Blockchain that IBM is has decided to partner with, and in collaboration with IPwe and IBM, we're creating this hybrid Blockchain deployment where portions of the IPwe technology uses a private Blockchain and the provenance and the custody and the transfer of these NFTs these highly valuable patents is secured by the public protocol, and IPwe will be minting 25 million patents on the Casper protocol, and providing provenance, right and valuations for these patents and Future Work is really like I'm really excited this is so this is super exciting in terms of a real use case for NFTs that's the first thing. The second thing that gets me really excited about is in Future Work, you'll be able to do things like auctions of the patents using an auction contract that CasperLabs has built where you don't have to trust the auctioneer, you can do a blind auction for your patent, and the Blockchain delivers that trust. You can also do things like bundles of patents. So you can put patents in a smart contract, bundle them and distribute the royalties, according to the participants. So you could take competitors like Samsung, Toshiba and Qualcomm that are all doing mobile patents, and they could collaborate because they don't trust each other. But they could put their patents together in a bundle or a patent pool, and then sell that pool for more than each individual patent could be worth, and if you think about it, if I'm a if I'm looking to acquire intellectual property, even trying to go source, which patents I want the purpose of those patents, getting a valuation for those pants, and then being able to acquire those patents in a bundle? It's really hard today, it's next to impossible and a good chunk of patents that were sold before IPwe solution. were being sold by somebody that didn't even have the rights to sell them, right? So this notion of who actually owns the patent, do they have the right to sell it? What are the terms of sale? What is the patent worth? And can I prove that I own this patent? And am I in compliance with my ownership agreement? All of these things are what the IPwe platform is going to solve, and I think it's going to be huge demonstration to the world. That NFT technology really has a use case well beyond the pump cycle that we saw for these images for just you know the gifts right there a lot more than that.
Matt Zahab
Medha why was this not mainstream news like this is I've heard of 1000s of nonsensical use cases for NFTs a couple dozen really good ones, which I'm really hoping will come to fruition in the next couple of years. But like I candidly don't think I've ever heard of the NFT x patent use case before why did this go mainstream?
Medha Parlikar
You know, it's not sexy. I mean, to be perfectly candid with you, right? And you'll find like if you think about Avalara what does Avalara do? They do sales tax calculation. That is not sexy. That doesn't mean it's not important, and it's not a phenomenal business, right? In fact, going and search for the bread and butter of business is where you'll find the billion dollar valuations. This is where you'll find the most amazing businesses out there. Is it something that's just isn't sexy? Right? But it is very essential, and it is extremely valuable, and I think that's one of the things that has been a little bit of a running theme with Casper, right? We are not in search of the hype cycle, right? What we're building isn't sexy, but it is extremely valuable, and so I would say that's one of the reasons why you probably don't see it in the mainstream news cycle, right? Because it's not sexy, but it is very valuable.
Matt Zahab
What was life like at the World Economic Forum, because again like I've obviously never been, but you see all the crazy stories on Twitter and the world leaders aren't there, and everyone on Twitter is chirping the world leaders for questionable things they've done and then showing up at the World Economic Forum and there's this whole buzz towards it. What's it actually like? They're like one, Davos is one of the nicest cities in the world. That was also hosts. I'm a huge hockey fan. They host a huge hockey tournament every year, and when I was young, I was like, oh, Davos, I keep seeing it. I'm playing with a team on NHL, I want to learn more about it. So Davos has been front of mind for me for, you know, over a dozen years. But what's it like being there during World Economic Forum? It must be crazy.
Medha Parlikar
It's definitely crazy. I lost my voice at the end of it. I think it was there for a week and by the end of it, I had like no vocal cords left whatsoever. It is, gosh how do I want to this, it's um, you get to meet and talk to people that you would otherwise never have an opportunity to talk to. So I would say that decision makers across industries are extremely accessible, and you're able to get in front of them and have conversations that would otherwise simply not be possible at all right. So we had the Chief Product Officer of Metta in the Blockchain Hub, right talking to Semaphore we had, you know the head of Tech Mahindra, the CEO of Tech Mahindra talking at the Blockchain Hub, and we have had IT ministers from Karnataka and Telangana from India, show up at the Blockchain Hub, and so I was able to meet you know, leaders at Cisco just walking over to their Cisco Hub and having a conversation directly with them. It's very accessible and I think that's probably the biggest value proposition is that we're trying to connect with those IT leaders in these large organizations in the Hub in Davos is a really unique opportunity for you to just connect with them as people, and it's really about connecting with them as individuals, I find that people there really aren't there to necessarily pitch, but really to build connections with individuals and talk about the problems that we have in the world today.
Matt Zahab
That must be the biggest conference like in the world, right? Like you probably have like the G20 the G8 and then like the World Economic Forum.
Medha Parlikar
Yeah, definitely. Although I'd say you know, the white badges we call them the white badges. They're very selective about where they go, and so it's not like we are at the World Economic we're not at the Congress Center, right talking there. We're all in Davos on the Promenade, and so for us it's beneficial to talk to the other heads of companies, right? So the CTOs CIOs and CEOs of the Fortune 1000 will be at the World Economic Forum and they oftentimes are the ones that step out of the Congress and come to the other hubs and the other venues in the promenade.
Matt Zahab
I love that. Medha you have been absolutely on fire you've taught me a just a such a huge amount I really appreciate you coming on one last segment before we wrap up the hot take factory you and I jump in we put our shit kickin boots on knee high shit kickin boots get a little down and dirty. Give me a couple of Medha hot takes that only you believe in whereas most other people do not. Doesn't have to be Blockchain related can be health, wealth, happiness, politics, if you want to get spicy food, AI you name it. Give me a couple of Medha hotcakes before we go.
Medha Parlikar
Well, man so my hot take around the news today is that, you know they shouldn't be pointing a finger just at Crypto for failing because left Newsflash, right? Run on the banks as real as well. So they definitely don't get to sit on their high horse and just say that the problems only exist in the Cryptospace they got plenty of their own, and so they definitely need to adapt and evolve and we're here to help. So definitely need to start thinking about our banking infrastructure in new way that's in line with technology for today, right? So that's one definitely one hot take. Another one that I would share is, you know we have as individuals a lot more sovereignty and power that we give ourselves. So I would say tell people my hot take is, you know if you change nothing, nothing will change and the greatest change in the world you can make is yourself, right? And so be brave and be courageous, and don't be afraid to make a change for yourself in your life.
Matt Zahab
Phenomenal line. I love that. We might as well buzz on SVB for one quick second, I had two friends today and about three friends yesterday, who one family member as well who sent me various articles about SVB, and in the articles that literally only talked about how the regulator's are stepping in just to save, not the 1000s of companies that are exposed, but just the Crypto companies right, the circles and the ripples and whoever else was exposed. It's like in the mainstream articles on the business insiders and a lot of them you know, no bueno websites that it's just clickbait now, they didn't even talk about Web 2.0. It was just all the regulator's stepping in to save a Crypto friendly bank. It's just I find it absolutely bananas. Of course, it's you know, it's par for the course. But my question to you Medha me personally, I don't like the ethics of it, but I do believe the Fed had to step in and save the bank and all of its depositors that would have caused an absolute shitshow where you and I in the same yacht there, or did you sort of want to see everything blow up?
Medha Parlikar
No, I think you had are in the same yacht there because the contagion would have spread way further than just the bank right, that contagion would have actually I would go as far as they would have caused a housing crisis right because think about all the people that wouldn't get paid then you would have a mortgage loan mortgage default right? So it would have been just massive now a how they're going to pull this rabbit out of their hat is not going to be pretty they're going to have to print money they're just going to have to print money so it's not a good situation at all personally from a generational perspective the other day and literally apologized to my daughter said I'm so sorry for the mess that we're leaving you with, and so you know I'm here showing up with Casper to try to do something better to build a better future for this generation that's coming up because I don't want to leave them holding the bag right so that's one of the reasons why I show up every day is to try to find an alternative so that they can have a brighter future right so we just don't leave this mess for them.
Matt Zahab
Medha absolutely incredible episode thank you so much for coming on really appreciate it. Before we let you go can you please let our listeners know where they can find you personally and CasperLabs online and on socials?
Medha Parlikar
You can find us at casperlabs.io the public network is casper.network and you can find me on Twitter at @MParlikar thanks so much Matt for having me online.
Matt Zahab
Medha you are very welcome truly an incredible episode and would love to have you on for round two. Folks what an episode with Medha Parlikar she was dropping knowledge bombs left right and center told some incredible stories as well. Her and the team at Casper are moving and grooving do go check them out. As always I will include everything in the show notes. If you guys liked this episode, and I'm sure you did, please do subscribe. It would mean the world to my team and I. Speaking with the team love you guys, Justas you're the man appreciate everything you do, and to the listeners love you guys keep growing your bags and keep on staying healthy, wealthy, and happy bye for now and we'll talk soon.
---